Pilotwings Resort Nintendo 3DS Review
Pilotwings may be a good series, but how does it fare on the new 3DS?
Published
2 minutes & 58 seconds read time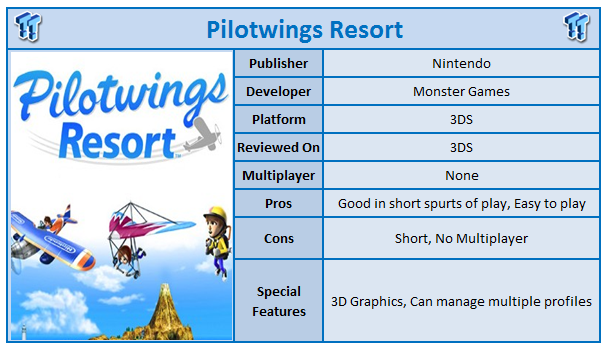 Pilotwings as a series is an interesting one. First launched on the Super Nintendo system, the game is either derided or loved by each gamer with a Nintendo console. The fact is that the older games were hard, incredibly hard in fact; so difficult that you could get stuck for hours on end with nothing to do just trying to beat one challenge. However, for many gamers that is what made the game so appealing and when we heard that it was coming to 3DS with 3D graphics we were excited. However, we also had a worry that given the casual market that Nintendo now targets, it would be toned down and unfortunately this is only the beginning of its problems.
In Pilotwings 3DS you visit Wuhu Island (which many of you may remember from Wii Sports Resort) and have to complete a number of challenges in various different aircraft to progress. This is a great setting for the game and those who have played Wii Sports Resort will recognise many of the landmarks such as the Volcano and tunnels which are present on the island.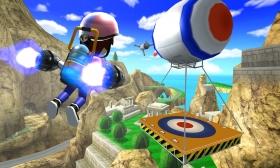 The game is split into two game modes; free flight and challenges. In free flight you have three minutes (and considering this, should it be called free flight?) to complete a number of tasks such as popping balloons or completing stunts in a particular order. After three minutes your flight ends and based on the performance, you will unlock new things in the game. This is the games first problem; there is no mode where you can just fly around the island at your leisure which is a real shame.
The other mode is the challenges. Starting off easy and becoming quite difficult (although no where near as difficult as the original Pilotwings games), the challenges give you an aircraft and a task to complete in a certain amount of time. You are ranked as to how quickly you finish the task, whether you made mistakes and whether you hit all the targets. After which you are given a score and that score determines how many stars you get.
The stars are what unlocks the next level of challenges and so it's important to do well. There are only five groups of challenges and this is where the second problem with the game appears. It's just too short and there is not much to it. We managed to complete Pilotwings Resort in around three hours which for a full priced 3DS game is not good enough. Yes, there is always the challenge to come back and perfect your score, but that's not for everyone and considering there is no online leaderboards, what's the point anyway?
There is also only a limited number of aircraft available in the game and the missions are generally the same all the way through, just more difficult. There are some unique missions such as acting as a water bombing plane or finding alien ships, but they are few and far between. Had the developers put more of these interesting missions in the game it would have significantly increased the replay value of the game.
The aircraft generally are not hard to control, however as mentioned before, there is not many of them. You either have a slow plane, fast plane or a jetpack with the jetpack proving to be incredibly frustrating to use. Control wise the game generally gets the job done, but even with the analogue stick, it still can be frustrating at times.
[img]2[/img]
Obviously a main selling point for Pilotwings Resort is the 3D graphics and whilst they are impressive, we had to turn them down to be able to play the game for any extended period of time. The frame rate remains solid throughout, although we did notice some drops and the music of the game suits the style of the game well.
The game contains absolutely no multiplayer and this is the almost killer blow. There just isn't enough in this game to justify purchasing it at full cost. You will be done with it in at most 5 hrs, and from there you need to make up reasons to play it. Generally as you would expect, it's a good game for a quick bash on the bus or plane, but given the heritage of the series and how challenging and big some of them were, Pilotwings Resort is a massive disappointment. Rent it at best.

PRICING: You can find products similar to this one for sale below.

United States: Find other tech and computer products like this over at Amazon.com

United Kingdom: Find other tech and computer products like this over at Amazon.co.uk

Australia: Find other tech and computer products like this over at Amazon.com.au

Canada: Find other tech and computer products like this over at Amazon.ca

Deutschland: Finde andere Technik- und Computerprodukte wie dieses auf Amazon.de
We openly invite the companies who provide us with review samples / who are mentioned or discussed to express their opinion. If any company representative wishes to respond, we will publish the response here. Please contact us if you wish to respond.