F1 2010 PlayStation 3 Review
Rev those engines up. The Formula 1 circus is in town on PlayStation 3. Find out what we think of this petrol burning monster.
Published
4 minute read time
For years F1 fans have had to put up with an interesting quality of racing game. In the early days, Psygnosis showed how good an F1 game could be before EA took the licence for a few years and finally Sony took an exclusive deal during the late PS2 days and early PS3 days. For years everyone wondered if one of the premier developers of racing games, Codemasters could ever get the licence and if they did, how good the game would be. Well, a few years ago Codemasters did acquire the licence to the FIA F1 series and F1 2010 is their second game out of the blocks after the Wii and PS2 versions last year. Codemasters has taken its time with this game and it shows with F1 2010 becoming one of the better F1 simulations of the modern era.
In the past we have seen developers of F1 games put together the cars, teams and tracks into a package and ship it year in year out. This led to quite repetitive gameplay and nothing to keep you going. If you can race with the best car in the field season one, what motivation is there for you to keep going? - When Codemasters took command of the licence, they decided to do things different and right from the outset of starting the game up for the first time, it is clear that this title has been a labor of love for the developers.
The main crux of the game revolves around 'live the life'. Codemasters has tried to capture the life of the F1 driver in the modern world and in many ways has succeeded, but in other ways failed. Right from the outset you are asked to name yourself, choose a home country and pick a team from the bottom three on the grid (Virgin, Lotus and HRT). From there if you choose to take the career mode on, you fight your way to top ten finishes if possible and start to get the eye of other teams.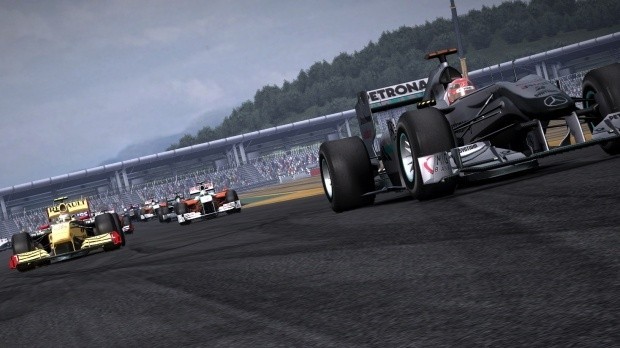 Of course, there is nothing new to this. This kind of progression has been part of F1 games for years and is part and parcel of the sport now. However, it is a lot more dynamic in this game. Get frustrated in the game and start to smash cars on purpose? Expect all teams to start looking the other way very quickly. Teams reward consistency and performance. Bringing home a bad car in a top ten finish goes a long way to taking you the way of Ferrari and Mclaren etc.
Aside from driving around a race track, you have other areas to deal with. Your manager will spruik you to teams and let you know when one wants to talk as well as you having to deal with the media. The game features a full interview system where either in the pits or the meeting room after the race you are asked some questions. Answers to these questions can affect how your team or other teams view you.
But perhaps the toughest challenge you generally face in the game is the team mate challenge. As you move between teams you gain harder team mates, as you would expect, and it is your job to prove to the team that you are the number one driver. Once you have, you gain access to choose where the research and development effort is placed on the cars and also receive new parts for the cars before your team mate, just like in the real world generally.
[img]2[/img]
However, what about where it matters; the race track? - Codemasters has used the EGO engine which has powered Dirt 2 recently and the engine is just as successful here. There is no doubt that Codemasters has put together the finest F1 simulation on console to date. At high speed you feel like you are driving a monster that could lose control at any moment and with all assists off you are in for one heck of a time. Expect days, if not weeks of perfecting lap times and driving in expert mode before being able to take on these monstrous cars without any help. At high speed the slightest mistake can send you spinning and racing in the game is intense.
It is highly unlikely you will be able to race more than two tracks without a break, as it is quite tough to maintain concentration. You can also enable expert mode options such as tyre degradation and an acceleration of fuel usage. The game as you would expect also allows you to tweak your setup, but for the F1 novice, the game can help you with this as well.
Where the game starts to fall over somewhat is the AI. They will drive into you around corners (and you will be penalised for causing a collision for some reason) and generally swerve around the track in a weird fashion. They also seem to brake very early, even on the higher difficulties which can lead to a smash, as you are not expecting it. By far the best way to play F1 is in multiplayer with humans who are driving properly and not brake testing you like the AI can sometimes be accused of doing.
[img]3[/img]
As you would expect with the licence, F1 2010 comes with all the drivers, tracks and teams from the 2010 season. Performances of the teams reflect that of the 2010 season as well with Red Bull generally dominating the early races and McLaren and Ferrari picking up the slack later in the season. It is a shame the AI is so poor because Codemasters could have put different personalities into the drivers based on their real world tactics and instead you never feel like you are driving directly against Mark Webber or Lewis Hamilton, rather just an AI robot. You can take on individual races and choose your driver and car right away if the career mode does not suit your wants.
Visually the game is stunning, but it does have its down points unfortunately, and this was not expected from a Codemasters game. On some tracks, especially Monaco, the frame rate can dip and a slide show can begin to occur, especially when there is a lot of action. Aside from that, the game is gorgeous and the track detail is really second to none and the weather effects not only look stunning, but also have a direct impact on the racing itself.
F1 2010 is a good start for Codemasters, but there are a few problems we did not expect to see. The fact the game can slow down significantly on some tracks is disappointing, as is the AI swerving all over the track, but considering the scope of the game and the 'live the life' elements, they have done incredibly well. It will be interesting to see what they come up with next year, but for now F1 2010 remains a must buy for F1 enthusiasts, although I wouldn't say the same for the casual racing fan.
PRICING: You can find products similar to this one for sale below.

United States: Find other tech and computer products like this over at Amazon.com

United Kingdom: Find other tech and computer products like this over at Amazon.co.uk

Australia: Find other tech and computer products like this over at Amazon.com.au

Canada: Find other tech and computer products like this over at Amazon.ca

Deutschland: Finde andere Technik- und Computerprodukte wie dieses auf Amazon.de
We openly invite the companies who provide us with review samples / who are mentioned or discussed to express their opinion. If any company representative wishes to respond, we will publish the response here. Please contact us if you wish to respond.