Forza Horizon 2 Xbox One Game Review
Forza Horizon was one of the best games during the Xbox 360 generation. Can its successor FH2 live up to the next-gen hype on Xbox One? Let's take a look.
Published
4 minute read time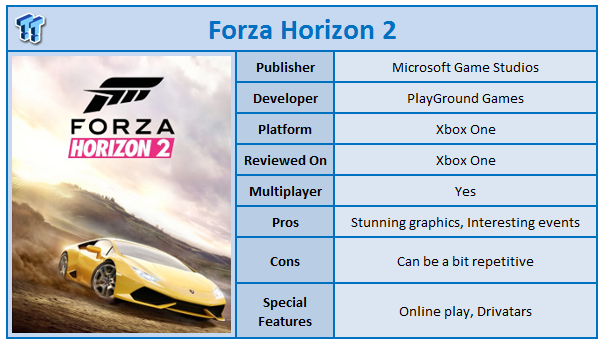 When Forza Horizon released on the Xbox 360, Microsoft proved that not only could it produce a game that would compete with Gran Turismo (Forza), but could build an arcade style racing game that took much of what makes Forza such a formidable series and opened it to a wider audience, those that may not necessarily care about tuning and configuring cars.
Forza Horizon was a smash hit and one of our personal favourite games of that generation, but with the Xbox One comes Forza Horizon 2, a game which promises to take the extra grunt available in the new generation system, whilst keeping true to its original style from the 360. Thankfully Playground Games has managed to balance this well, and in many ways, eclipsed the Forza release from last year.
Like the original, Forza Horizon puts you in the middle of the Forza Horizon festival. A party mix of racing and music festival, this time set in the middle of Europe, and seemingly with a larger focus on European supercars from manufacturers such as Koenigsegg. The core gameplay remains the same as its predecessor; enter a Horizon festival location, take part in some races before moving onto the next location. However, it's in the main racing where you will find a lot of changes that make the game even better.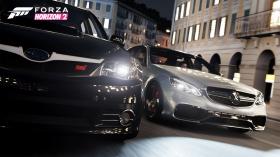 Whilst Forza Horizon kept you on the tarmac, FH2 introduces off-road racing, along with its more traditional counterpart. Quite simply, in particular championships, you will be roughing it in the middle of fields and paddocks, trying to keep hold of the powerful engine sitting in the light chassis. It adds a new element of challenge to the series and offers some of the tensest racing around. There is nothing like driving through a field not being able to see in front of you, trying to determine where the next checkpoint is. The drivatar model from Forza Motorsport 5 is present here as well with friends making up the bulk of your competitors. Along with this change comes the Bucket List, the chance to drive super powerful cars before being able to afford them in the game.
The bucket list spreads many of the game's most powerful cars throughout the world for you to find. Once found, you can begin the challenge, which is twofold; beat the time the game wants you to, as well as beat the current leaders of the challenge. It's not long in the game before you find these cars and it really is a smart move on the part of PlayGround Games because saving up to buy some of the best cars in the game can be a lengthy process. To assist with this, each time you level up, now you are offered the opportunity to spin a poker machine style wheel to either win money or a new car to use in a different championship. Again, this is a clever addition, because it gives a lot of reason to continuously gain levels.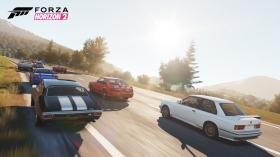 The events on offer remain much the same as the previous game, but this should not be seen as a negative, as FH really did a lot of things right the first time around. Events range from point to point races, circuit races, races that include off-road segments, and finally the road trip. The road trip for each Horizon festival location is unlocked by beating a championship. After doing so, you are offered the chance to take the road trip to the next location. This is basically how you unlock each section of the map for events (though the map is completely unlocked from the outset). To unlock the whole map takes about four hours of play, but the actual game is quite a bit longer than this. There are also some novelty events to take part in such as racing against fighter jets and trains.
The map itself is significantly larger than Forza Horizon and as previously mentioned is set in Europe. More specifically, the game is set in the south of France and the north of Italy. This offers some stunning vistas to race in to say the least and a good variety of events and areas to play in. With the map unlocked right away, there is nothing to stop you just going for a cruise and the game actively encourages this by tracking how many streets you have found on the map - there are 315 overall - as well as experience points, whilst you cruise around.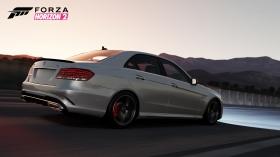 Where you will find most improvement though by the jump in generation is not surprisingly the graphics. The visuals and draw distance in FH2 are stunning and we really do think this is the first racing game we have played that shows the generation jump and what is possible. The location of Europe offers some stunning visuals and one of the hardest things to get right in a racing game, the cockpit view, is utterly perfect. Usually we find the engine slows down, or the car feels slower from the cockpit view, but the developers have knocked this one out of the park. You simply must play FH2 from the cockpit view. Music wise, there are numerous radio stations that range from dance style music through to classical, although not all are available from the outset with many being unlocked, as you progress through the game.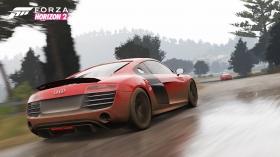 Multiplayer is handled via the online road trip. Basically, you drive to a specific location in each Horizon festival location and join up with an online crew for that session. You can then choose to either just cruise the map or take part in more structured events. With the Drivatar system from Forza Motorsport 5 used this time around, it also means that basically you are always online, and at any point in the game, whilst cruising, you can challenge these drivatars to a one on one race by pressing X.
Forza Horizon was one of our most loved Xbox 360 games and at the time we felt that the developers were well on the way to eclipsing the Forza Motorsport series. Turn 10 better watch their backs because, in our opinion, Forza Horizon 2 delivers and does eclipse the most recent Forza game. A game that was seen as something to compliment the mainline series has in our opinion now become the better game. There simply is right now no better racing game on Xbox One, and if you have any liking of the racing genre, this is a must play. We can't wait to see what Playground Games does next.
PRICING: You can find Forza Horizon 2 for Xbox One for sale below. The prices listed are valid at the time of writing but can change at any time. Click the link to see the very latest pricing for the best deal.
United States: Forza Horizon 2 for Xbox One retails for $59.99 at Amazon.
Canada: Forza Horizon 2 for Xbox One retails for CDN$64.95 at Amazon Canada.
PRICING: You can find products similar to this one for sale below.

United States: Find other tech and computer products like this over at Amazon.com

United Kingdom: Find other tech and computer products like this over at Amazon.co.uk

Australia: Find other tech and computer products like this over at Amazon.com.au

Canada: Find other tech and computer products like this over at Amazon.ca

Deutschland: Finde andere Technik- und Computerprodukte wie dieses auf Amazon.de
We openly invite the companies who provide us with review samples / who are mentioned or discussed to express their opinion. If any company representative wishes to respond, we will publish the response here. Please contact us if you wish to respond.