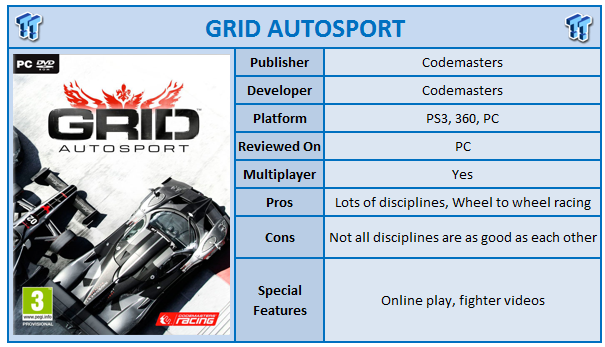 In the past few years, Codemasters has tried stretching out and away from their traditional racing roots. A few forgettable titles followed this decision, and consequently, Codemasters made the decision to purely focus on racing from then on. As the current holders of the F1 gaming license, they know their racing, and have been famous since their breakout hit, Colin Mcrae Rally. As part of this racing heritage, Codemasters has tried to expand their craft to numerous types of racing formats, and this is where GRID Autosport comes into play. GRID Autosport is a game that is similar to Gran Turismo, with many different racing genres and features included. However, it may have been better for Codemasters to try something else, because in general, GRID Autosport comes up a bit short.
The key element of GRID Autosport is the fact that it contains numerous styles of racing. In total, there are five different types of racing included: Touring, Endurance, Open Wheel, Tuner, and Street. Each type has its pros and cons, but all must be completed to at least some degree to unlock the area where the game really begins to shine, the Autosport Series.
In a surprising change, unlike some of the previous titles from Codemasters along these lines, there is no real storyline to speak of. Instead, the player is tasked with becoming proficient to a moderate level with each discipline featured in the game. Once you have reached at least level 3 in all disciplines, the main Autosport Championships are offered, which basically has you jumping between disciplines for each race, offering what the game clearly sees as the ultimate driving challenge.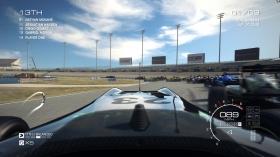 When it comes to the different disciplines in the game, the results are a bit hit and miss. The areas where Codemasters has traditionally been a strong developer have turned out well, including the Touring and Open Wheel disciplines. None of the other disciplines are bad per se, but they don't seem to feel as good when racing as the two aforementioned disciplines.
To become competent in each discipline, you take on seasons, and pick which teams you wish to drive for. Generally, these seasons are short, but once you start a season, you can't start another. Given that the game offers the flexibility to jump all over the place almost all the time, it is a bit disappointing to see a sudden lack thereof.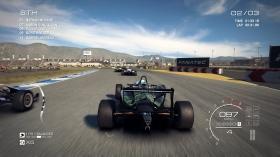 Along with becoming competent in each discipline, there are two other challenges you take on as part of these seasons that can affect the XP you gain. The first challenge is to beat your rival for each season, and the second challenge is meeting the objective the sponsor has placed upon the team for the season. Of course, finishing up the grid helps, but in the beginning, don't expect to be placing too highly in this game. Codemasters has always been quite good at representing what it's like to start out as a racing driver in small, unknown teams, and GRID Autosport is no different.
Once you actually get behind the wheel, the experience Codemasters has in the racing genre really begins to shine. The game runs at a fast pace, and the sense of speed given to you as the player is very good, even in the cockpit views. The bumping and grinding that Codemasters' racing games have been known for is very prevalent in this game, with wheel to wheel racing generally being the order of the day. You can either place this game in a realistic simulation mode where damage affects the cars drivability, or you can choose to incur only cosmetic damage. The greater the challenge you give yourself in the game by adjusting AI, steering, and etc., the more XP you can gain by completing the challenges.
There is also a few options for those who just want to race, or make the game a bit easier. Players are given rewind style options to rewind the on-screen play if an incident occurs, so the player may retry that part of the race. Also, if you choose not to, you do not have to partake in the qualifying process in the Seasons mode. Although, it is generally a good idea to do so, because skipping it places your car in last place every time, making it harder to get the XP required to take on the main Autosport Championships.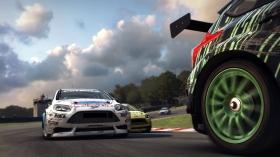 The game is as you would expect; full of officially licensed cars and tracks. On the surface, the track number seems average, with twenty two full tracks available, but these tracks are configured in different ways to give the game over one hundred different variants. Some of the world's most famous racetracks are represented, including Spa Francorchamps in Belgium, and Mount Panorama in Australia. There are also some fictional tracks that are set in famous cities around the world, like San Francisco, and Paris. In terms of cars, there are cars from Mercedes, Alfa Romeo, Ford, Holden, and Audi, just to name a few. These cars can be customized and tweaked in many ways for the race, so the petrol heads of the gaming community will feel at home.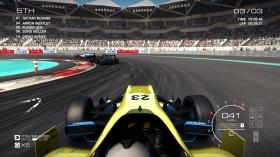 Visually, the game is slightly disappointing for a PC game. Although the graphics do the job well, it is clear that the game is primarily designed for the old consoles, which has held the PC version back. The cars are a not as detailed as you might expect from the more recent consoles, and the tracks are somewhat the same. Codemasters has promised to boost the PC graphics with an update, so this could be an indication that PS4 and Xbox One are due to get this game as well. In terms of sound, the effects do the job well, with each style of car having a different sound. Overall, the engine sounds are realistic.
GRID Autosport is a moderately impressive game. Codemasters has focused on what it knows best for this title, although there is something that really puzzles us. Since Codemasters made so much of its name with one of the greatest rally game series of all time, it puzzles us that this game, which has multiple disciplines, does not have any rallying. This is a missed opportunity for sure, but what we are left with is still sufficient. The touring car section reminded us of TOCA Touring Cars, and the other disciplines are also generally enjoyable to drive. GRID Autosport is one of those games that ticks all the boxes, but never really excels beyond that level.
PRICING: You can find GRID AUTOSPORT for sale below. The prices listed are valid at the time of writing but can change at any time. Click the link to see the very latest pricing for the best deal.
United States: GRID Autosport (PC) retails for $49.99 at Amazon, GRID Autosport (XBOX 360) retails for $49.96 at Amazon, and GRID Autosport (PS3) retails for $49.96 at Amazon.
Canada: GRID Autosport (XBOX 360) retails for CDN$54.99 at Amazon Canada, and GRID Autosport (PS3) retails for CDN$54.99 at Amazon Canada.
Australia: GRID Autosport (PC) retails for $64.99 AUD at Mighty Ape Australia, GRID Autosport (XBOX 360) retails for $69.99 AUD at Mighty Ape Australia, and GRID Autosport (PS3) retails for $69.99 AUD at Mighty Ape Australia.
New Zealand: GRID Autosport (PC) retails for $79.99 NZD at Mighty Ape NZ, GRID Autosport (XBOX 360) retails for $89.99 NZD at Mighty Ape NZ, and GRID Autosport (PS3) retails for $89.99 NZD at Mighty Ape NZ.