How MMO-RTS Kingdom Under Fire II was inspired by Tekken
Kingdom Under Fire II, a MMO-RTS mashup, was directly inspired by a fighting game. Yes, really.

Published
5 minute read time
Introduction
Developer: Blueside
Publisher Gameforge
Genre: MMO, RTS
Release Date: November 14, 2019
MSRP: $29.99
When I first saw Kingdom Under Fire II, one thought came into my head: This looks a lot like Dynasty Warriors. The five hero classes slice and dice enemies with ease, cutting huge swaths in dozens of enemies. There's that kind of invincible empowerment from Koei Tecmo's games that inspire a kind of sadistic glee as baddies go flying off the screen.
This is something Blueside hears a lot. But Kingdom Under Fire II's core mechanics borrow from a different type of game, one that's centered around the Iron Fist Tournament, ultra-cheap combos that keep your opponent bouncing off the floor, and perfect timing.
Blueside's ambitious MMORPG-RTS mashup took direct inspiration from my favorite fighting game series of all time--Tekken.
It was hard to believe at first, but after actually playing the game, I could see the similarities as clear as day. Kingdom Under Fire II has devastating combat attacks that require precise sequencing and timing, just like Tekken does. There's a string of attacks that must be carefully placed in a certain order to pull off the huge attack. If you mess up, you risk failure, so the combat feels alive and rather tense.
That's a weird thing to type when describing an online-driven MMORTS hybrid, but there it is.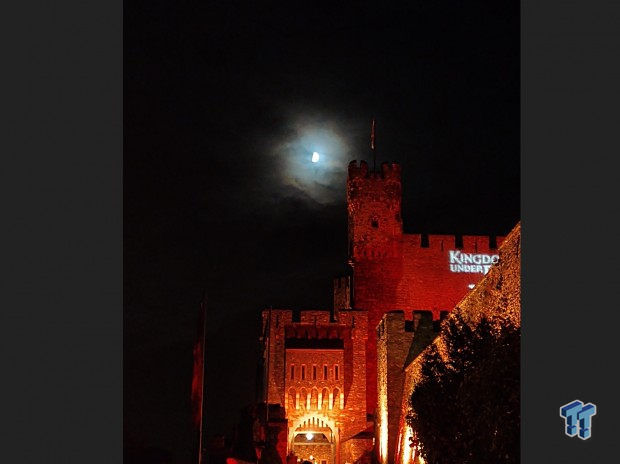 Read Also: Kingdom Under Fire II gameplay impressions: Burning bright
This interview was conducted in a rare locale: An actual authentic German castle.
Burg Reichenstein looms over the Rhine like a giant from another age, all rough-hewn grey stones that contrast the blazing yellow, orange, and green vineyards of Bingen across the Rhine. It has a kind of majestic beauty to it, one that's ageless and fascinating. It has hundreds of years of history in its walls--sword fighting, sieges, fires, executions, and massive feast-time celebrations all come to mind.
This past week, publisher Gameforge flew us and a bunch of other press out to Germany to check out Kingdom Under Fire II and interview developers from Blueside.
While housed in the intimidating yet absolutely incredible berth of Burg Reichenstein, I learned a lot about game development, about German culture, and about mythical fantasy video games. But most importantly, I learned that sometimes games aren't what they seem--sometimes they're a mix of many influences regardless of their set genres.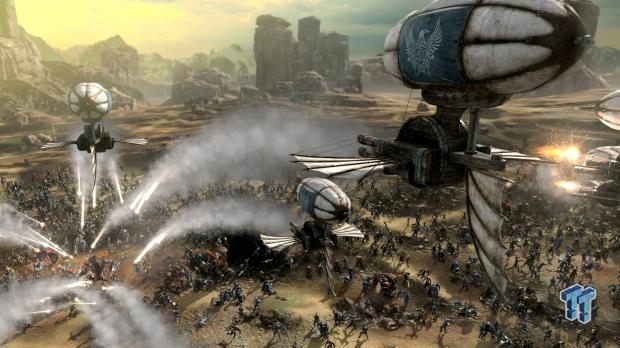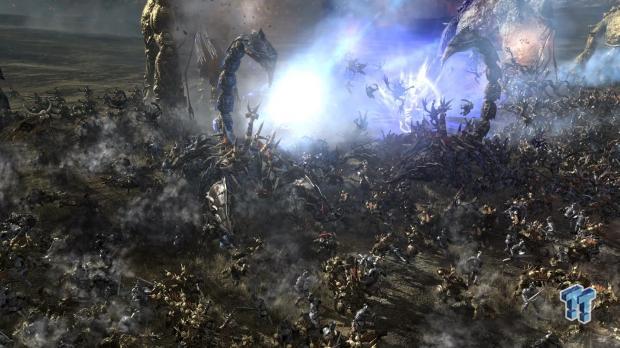 Kingdom Under Fire II has been in development for more than a decade. It represents the culmination of lots of iteration, scrapped prototypes, and tireless hard work from the Korean developers at Blueside. The question the team heard the most was simply, why? Why did the game take so long to make?
The answer wasn't so straightforward. But it was the answer to our second question that really blew me away.
The Interview: Game Development and Tekken Inspiration
In the ornate inner chambers of Burg Reichenstein, I sat with three experts on Kingdom Under Fire II. The scenery was absolutely magnificent: Horns and hunting trophies adorned the walls, treasures like 12th-century jewelry gleamed in glass cases, huge wall-sized paintings depicted scenes of grand battles, and suits of armor stood as silent metal sentries against unseen threats.
It was an atmosphere I won't soon forget.
The ancient place commanded respect, and had an air of reverence about it--it was a living monument to history, something that's been lived-in but modernized with today's creature comforts (even Wi-Fi). It was here I braved many a quest like climbing ultra-slippery rock-carved steps to a tower only to do 30 push-ups for a gruff barbarian as a test of might, or met the castle's scout and gathered intel from an actual eagle (they actually let us hold eagles and falcons).
It was also here Blueside revealed the inner workings of Kingdom Under Fire II from a game development perspective.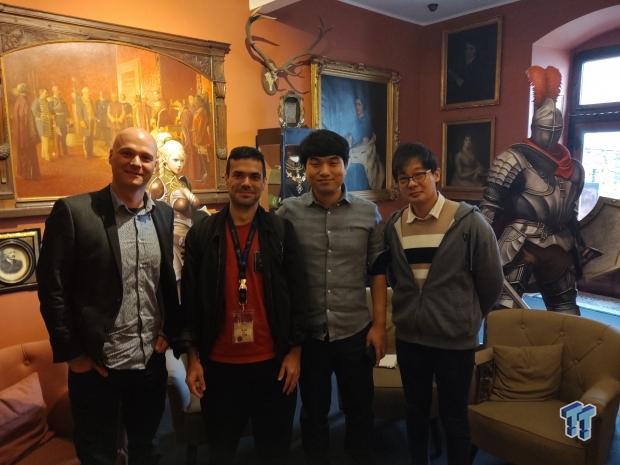 From Right to Left: Botond Nemeth (Executive Producer, Gameforge), Me, Jubo Kim (Creative Director, Blueside), David Wang (Business Development Manager, Blueside)
TweakTown: Kingdom Under Fire II has been in development for a long time. What were some of the hurdles in merging the RTS and MMO worlds? What were some of the hardest tasks you solved?
Jubo Kim, Creative Director at Blueside (as translated by Business Development Manager David Wang): I think the most significant hurdle would be the view. If we focused the view on the character, the player would naturally concentrate on the character. The nature of the game itself is you completing a certain mission while utilizing the troops--the troops actually play a significant role--but we had a very hard time finding the perfect view, and finding a way to steer players focus more towards the troops.
TweakTown: So you had to bounce back and forth?
David Wang: Yeah. Finding that balance, finding that optimization was a true hurdle. You have to play as both the troops and the hero. There are certain quests where you can only play as the troops, and others where you can only play as the heroes, but the majority of the missions--especially the ones that really have high difficulty--require you to utilize both.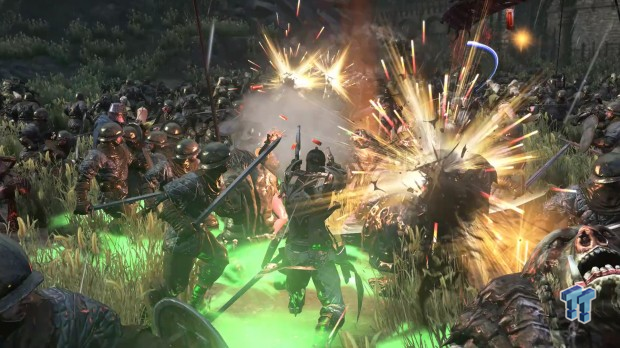 TweakTown: When I see the trailers for KUFII, the first thing that pops in my head is Dynasty Warriors. How much has that game influenced the development of Kingdom Under Fire II?
Jubo Kim: So Dynasty Warriors... if you just look at KUFII, you might see some resemblance, but Dynasty Warriors didn't really inspire us because the systems [we use] are extremely different. The game Tekken actually inspired us more.
Tekken is more psychological. When you play against another player in our game in PVP, for example, the control systems are very delicate.
TweakTown: Kind of like a fighting game.
Jubo Kim: Yeah. You have certain situations where you attack, where it could be a hit or a miss depending on your stats or the situation--if they're in the air, for example-- there are certain situations where your attack will work or won't work.
TweakTown: It makes sense because Tekken is all about exploiting weakness, finding openings, and being opportunistic.
David Wang:Exactly. So being opportunistic like you said. All our characters, even when fighting troops, you really have to utilize all your skills and find the weakness of your opponent with tactical strategy, gear, or timing.
In that sense, Tekken has inspired our game more than Dynasty Warriors.
TweakTown: I noticed in the presentation there was mention of combos. Are those combos based on button presses--are they based on timing, or do they happen automatically?
Jubo Kim: It's not automated, it's actually a combination of buttons and timing. The first two are a combination, and then there's actually a connection of skills. So one skill after another--like a sequence--and timing is very important. At first, it might be difficult for users, but it's actually there for users to explore combos, and once they get a hang of the combos and understand the formula and memorize the combos, the gameplay becomes extremely satisfying.
Combos are also different between classes. There are certain classes that require more delicate care when triggering combo sequences.
How you perform combos is directly tied to your skill.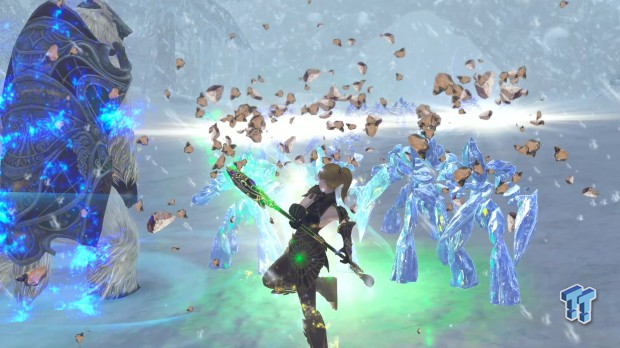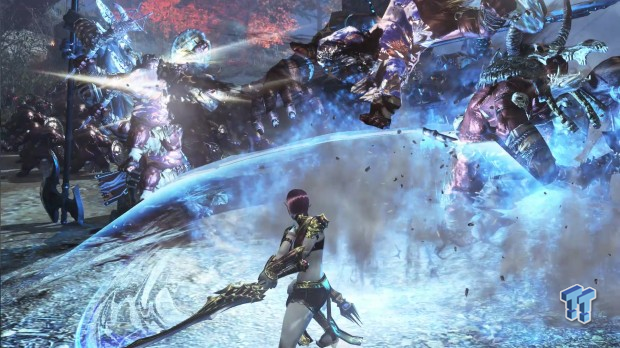 Botond Nemeth, Executive Producer at Gameforge:Also adding this in...the game shows you all the information on each combo, and even shows on-screen prompts on how to execute the combos. At the beginning, you don't really give too much attention to it, but after a while, when you get the hang of combos, you see you can chain different attacks.
David Wang: Just to give you an example of one of my favorite things about combos...when you take on a big boss, and the boss is very close to dying, the game suddenly tells you to push a button to perform an execution. If you press that button at that exact moment, it shows you a short movie-like finishing attack.
After playing Kingdom Under Fire II, I can honestly say the combo system is fantastic.
It's something that never really gets old. The nature of the game is heavily action-based, and although it's an MMORTS mashup, the game really feels like a Devil May Cry crossover with a fighting game. The sequencing of skills is there from an MMO like Final Fantasy XIV, but the raw electric intensity of the battles really feels innovative.
The Tekken influence is apparent, and the hero-based combat is probably some of the best I've experienced in an MMO. It's just plain fun and enjoyable, especially when you pull off that chaotic combo and knock down enemies like so many bowling pins.
Kingdom Under Fire II releases on November 14, 2019 for $29.99 exclusively on PC.
We openly invite the companies who provide us with review samples / who are mentioned or discussed to express their opinion. If any company representative wishes to respond, we will publish the response here. Please contact us if you wish to respond.