Kingdom Under Fire II impressions: Burning bright
A decade in the making, Blueside's MMORTS sequel was worth the wait.

Published
6 minute read time
Introduction
Developer: Blueside
Publisher: Gameforge
Genre: MMO, RTS
Release Date: November 14, 2019
MSRP: $29.99
In Bingen, Germany, Gameforge transformed an ancient castle into a real-life MMO. Journalists and influencers were turned into players, and the castle was filled with quests complete with NPCs. It was pretty wild.
There was an alchemist who brewed you a special potion, knights and barbarians in full metal armor smashing each other in a big battle royale, a gauntlet of skill-based mini-games (snake-ring tossing, archery, and even a surprisingly-tough "nut hitting" challenge where you smashed rolling nuts with a hammer), and the castle's scout even let you hold a falcon on your arm.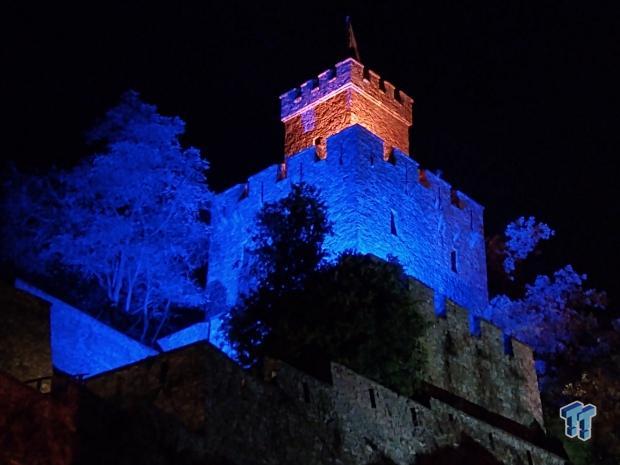 When it was all over, and you gathered your trinkets, baubles, and certificates, the final quest saw you being judged by an actual blacksmith.
If the blacksmith thought you were worthy, you'd get to make your own coin by smashing a hammer onto a mold. Mostly everyone failed (myself included) and had to ask for the blacksmith's help.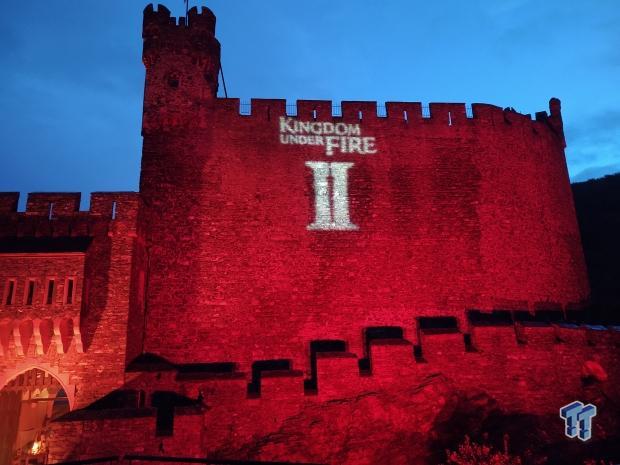 Burg Reichenstein rises above the Rheinland like a monolith from a long-ago time. The atmosphere is utterly enchanting: Burg Reichenstein oversees rolling hills of colorful vineyards and thousands of trees, making for a picturesque landscape right out of a postcard. The Rhine winds its way through, boats constantly skimming its waters.
Germany is rife with splendid castles straight out of medieval history, but this one is special: It housed a gameplay event for Kingdom Under Fire II, an MMORTS mashup that's been in development for more than a decade.
In Burg Reichenstein outside of Frankfurt, Gameforge and Blueside created one of the most engaging, memorable, and fun gaming events I've experienced.
But how was the game? The short answer: Pretty good.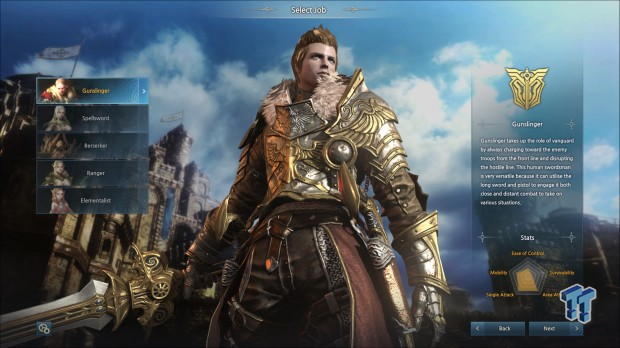 I have to admit I was skeptical that an MMO-RTS mashup could actually work. I'm terrible at RTS games, and pretty decent at MMOs thanks to their time-sinky nature. But Kingdom Under Fire II innovates on both fronts, creating something that's unique but also familiar enough to speak to traditional MMO fans.
Kingdom Under Fire II has the trappings of any good MMORPG. There's a huge detailed pane for stats and passive bonuses, a big inventory management screen with your usual equipable armor, weapons, and accessory slots, a customizable skill tree, and a bunch of other UI indicators, quest HUD markers, and a mini-map.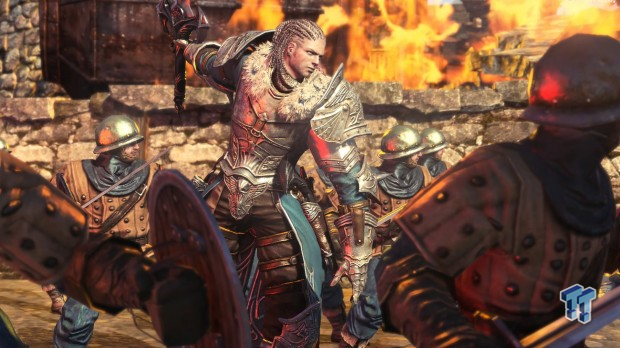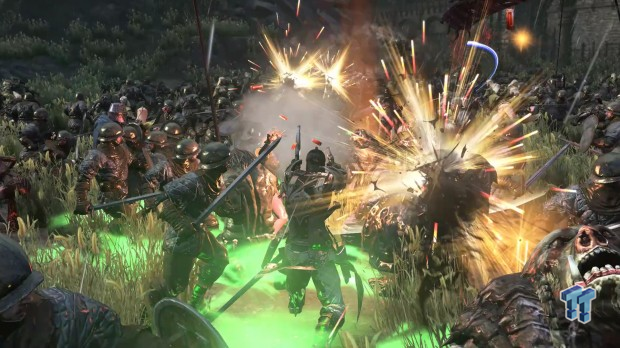 Controls are tight and responsive--and rightly so, given the action-packed combat--and the camera swivels effortlessly. Everything feels and acts as it should, and any MMO player will transition into it with ease.
On the surface, it looks like most of Gameforge's titles. There's a third-person view with a skill bar and a medieval fantasy setting. But when you look closer, Kingdom Under Fire II's depth becomes apparent, and it becomes obvious why it took so long to make. Blueside has been very, very busy.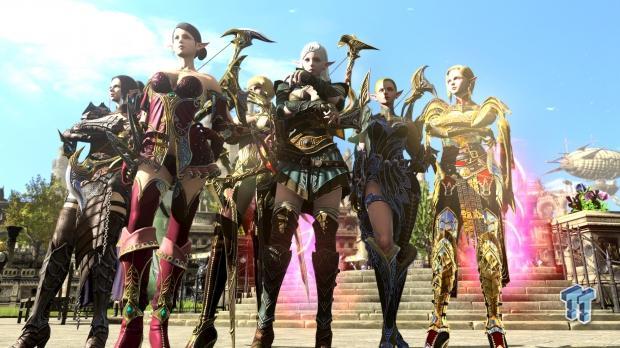 The game has five main classes--the swashbuckling Gunslinger, the flashy Spellsowrd, a very tanky and brutal Berserker, the magic-blasting Elementalist with her pet polar bear, and the agile and quick Ranger.
Every class has some sort of melee attacks, even the magic users. It makes combat feel engaging and fun no matter what you're fighting.
I tried the Gunslinger, and he was a total blast. I played for about 20 minutes or so and solved a few basic quests, got a mount, and took on an absolutely massive RTS battle that only gave me a taste of the rather expansive scope of the game.
MMORPG Combat with Tekken Influences?!
Combat is where Kingdom Under Fire II shines brightest.
At its core, the sequel feels a lot like Dynasty Warriors. It combines the thrilling hack-and-slash action of Devil May Cry's frenetic havoc-induced slicing with the massive enjoyment of city-spanning battles. It's tremendously satisfying to watch an entire group of enemies fly away as you unleash devastating combo attacks.
There's a sense of true power as your hero character slices and dices through hordes of enemies in the all-out war battle modes, making combat addicting, chaotic, and, most importantly, plain enjoyable.
Apart from the seamless switch from RTS, the combo system is probably the most innovative thing about Kingdom Under Fire II. It's really the best part of combat, bringing the dashing strategy of Devil May Cry while also borrowing from the precise timing in fighting games like Tekken.
Combos are a mix of two things: Sequencing and timing.
The sequencing is right out of an MMORPG like Final Fantasy XIV, where specific attacks are best used before or after other moves. Timing is right out of Devil May Cry or Tekken: Gamers have to press the right command at the right time, or the combo is ruined. It makes combat feel alive, electric, and engaging, and once you pull off the combo, it's always satisfying.
The basic combo structure is familiar and brings to mind BioWare's formula. Kingdom Under Fire II has a basic system that looks something like this:
Main attack -> Secondary Attack -> Finishing Move
There are tons of skills you can string together in combos, and depending which moves you add in determines their effects.
For example, the Gunslinger has several combos he can pull off. Forward Slash into Spinning Slash can deliver a brutal Multislash attack that just chews through groups of enemies. Every skill has a cooldown timer, so you have to be careful to hit the timings just right or you're stuck to other attacks.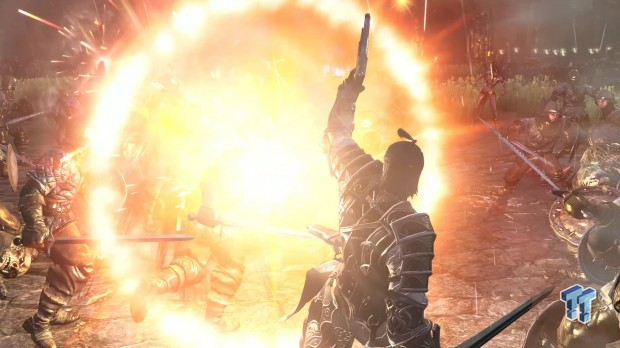 The timing adds a thrill to combat. You always want to pull off that sweet combo and unleash absolute carnage on the battlefield. It never gets old.
The MMORPG elements weren't really that apparent right off the bat, but they're still there. Players can team up with each other and go questing, join guilds, and trade items. Kingdom Under Fire II covers a lot of the bases in this regard and will let players ally together to take on huge hulking monster bosses in raids and other activities.
RTS Carnage
RTS is a big part of Kingdom Under Fire II's main selling point and was a big reason why Blueside delayed the game for so long. The devs simply had a lot of trouble getting the camera system to work correctly. Switching between RTS mode and third-person hero mode is no small feat, but I'm happy to report the transition is seamless and impressively good.
The real-time strategy elements aren't too demanding, either. There's lots of potential here for insane customization for big RTS players, but I was able to skate away with a cursory understanding. Remember, I only played a beginning portion of the game, not the huge endgame activities, so I was only exposed to a taste of what KUFII offers.
But even still, that taste was quite savory.
The RTS elements are masterfully designed and bring to mind Warcraft-esque strategy. There are no resource-generating buildings, but you're still managing your army nonetheless. The best part of Kingdom Under Fire II is that you can switch between commanding your army in an RTS mode and jumping right into the chaos as a hero at will.
One second you're commanding your troops to fire arrows at a swooping dragon, the next you're jumping right into the fray and mowing down enemies. It's a mix of in-depth tactical finesse with the brute fun of massacring whole fields of monsters. You're in full control over your army and what it does, for better or worse, so you'll always need to pay attention to what's going on in the battle. There's a very strong tension here, further making each fight feel dire and alive.
RTS gameplay is basically siege warfare, and it's pretty rewarding. You really feel as if you're at the center of an epic battle, determining the outcomes of your followers with your battle awareness.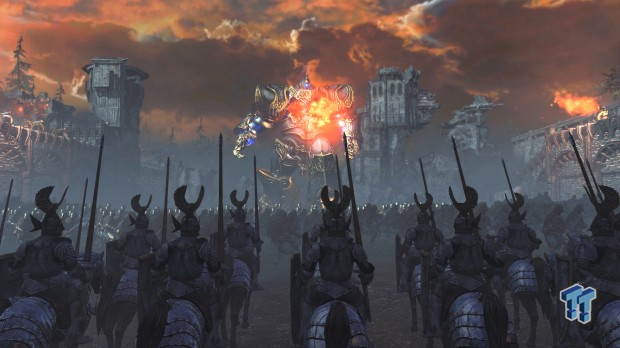 Troops are the lifeblood of your army, and Blueside has added lots of different types and classes for you to choose from. Some archers pepper foes from afar with arrows, and even blast siege vehicles with devastating mortars. There are hulking ogres led by shamans who smash your enemies with insane ground-breaking attacks. And you can even build your own steampunk scorpion to slice up hordes while arsonists unleash fiery chaos on the battlefield.
Other troop classes include:
Royal Wizard (mage)

Crusader (tanky fighter)

Heavy calvary (tanks on horseback)

Halbredier (pike platoons)

Scorpion (massive siege DPS)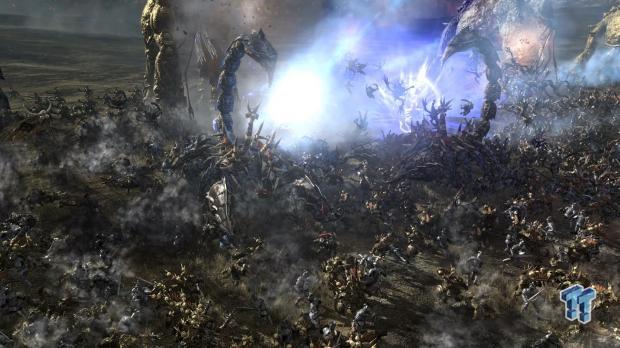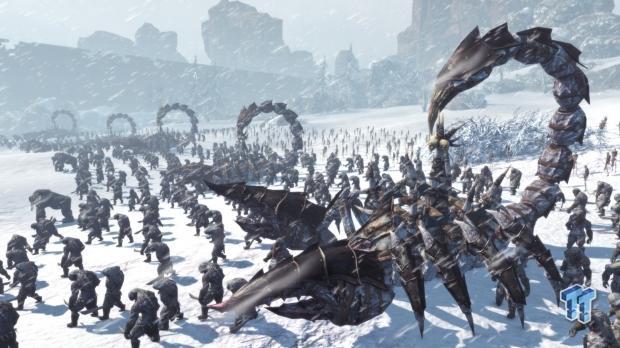 Troops all have their own level systems, skillsets, stats, and rankings. Managing your troops is crucial to survival, and there's also a combo system with troop abilities, adding a huge dimension of possibility to combat.
The neat thing about troops is that they give you different passive synergies to your main character during combat, so mixing and matching different troop types is extremely important.
The RTS combat is very fluid, dynamic, and has a wealth of potential in the right hands. There's a very intense feeling of cohesion and symmetry between the action-based hack-and-slash chaos and the strategic play.
Wrap-Up
All in all, I'm impressed with Kingdom Under Fire II. Although it looks like the kind of free-to-play games Gameforge is known for, it definitely feels like a premium product (and rightly so since it's buy-to-play this time around).
While the graphics weren't too amazing, even on an NVIDIA GeForce RTX 2070 SUPER GPU, the gameplay has been polished to a fine sheen and is pretty fun. That's really what matters most.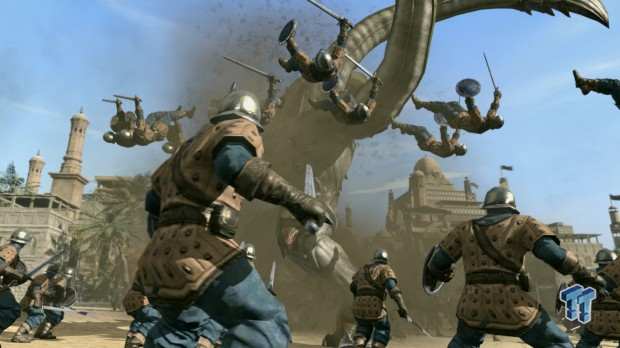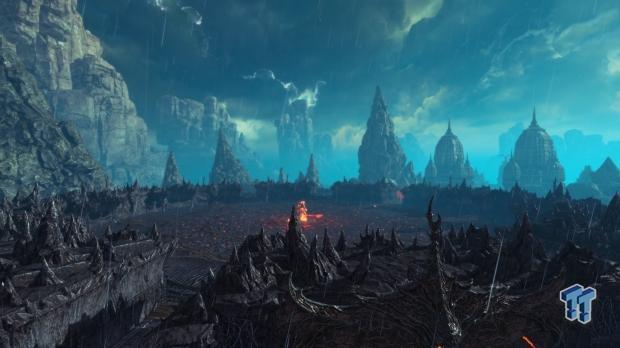 The combat is tremendously streamlined and enjoyable, creating an environment for massive replayability, customization, and huge min-maxing capabilities. Combos make every fight feel like a medieval fantasy Tekken of sorts and bring a very chaotic thrill to the battlefield. The social hooks are all in place, too, and I can only imagine the high-level chaos that ensues when seasoned players duke it out in PVP or team up to face screen-spanning uber bosses.
Kingdom Under Fire II's RTS elements are masterfully crafted, honed to a fine sharp point, and should delight strategy gamers everywhere.
Definitely keep this game on your radar when it releases on November 14, 2019, exclusively on PC.
We openly invite the companies who provide us with review samples / who are mentioned or discussed to express their opinion. If any company representative wishes to respond, we will publish the response here. Please contact us if you wish to respond.