Introduction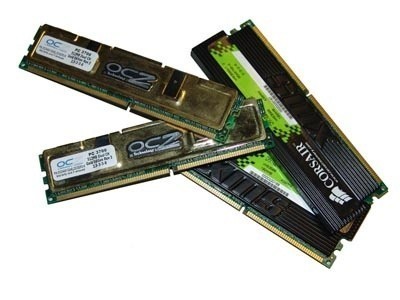 There isn't a lot of motherboards on the market that enthusiast users think are truly capable of holding their special Athlon 939 processors - be it an Athlon 64/FX or newly released Opteron. The few motherboards that sit highly in a lot of overclockers mind is small and is really only dominated by two manufacturers right now: ASUS with their A8N-SLI Premium and newly released A8N32-SLI Deluxe and the other is DFI with their LANPARTY UT nF4 Ultra D and nF4 SLI-DR which has just been replaced by the SLI-DR Expert.
The chances are you own one of these motherboards if you're into getting the absolute most out of your Athlon processor. Today we will be having a closer look at the A8N32-SLI Deluxe - the latest bad boy to hit the ASUS motherboard line up - and what it is capable of when it comes to overclocking. VGA performance was a bit all over the shop when we looked at the board last time but this time our emphasis will be more concentrated on low resolution benchmarking along with programs that concentrate more on the motherboard/chipset side of things. Last time we didn't get a chance to look into overclocking because we only had the motherboard in our labs for 24 hours but now it's a resident in the labs and we've had plenty of time to get down and dirty with it.
We have got with us in the black corner a set of brand new Corsair XMS-3500LL PRO memory which Corsair and ASUS say have been designed specifically for this particular motherboard. Sitting in a lovely gold tinge we have a set of PC3700 Gold Edition OCZ modules, which we'll be putting up against the Corsair memory.
We won't go into too much detail on the modules nor will we put too much emphasis on the motherboard we are using since
a full review was posted
on it not too long ago.
The Memory
- Corsair XMS-3500LL PROA brief rundown
Looks wise the latest Corsair memory is no different from the other modules that sit in the PRO line up. The LED activity lights found on the top of the module, while cool looking, aren't all that useful to most people but still it's a unique selling feature which may well convince people to go with Corsair over another brand while looking in computer stores.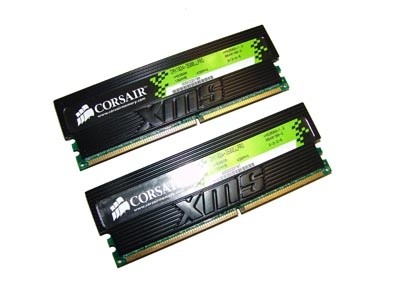 Corsair and ASUS have worked together to make this module the "Must Have" item for users of the A8N32-SLI Deluxe motherboard. The kit consists of 2 x 1GB modules that utilize an aggressive setup of 433MHz (PC3500) with the timing set at 2-3-2-6 which some people might not think is the best but as soon as we add the fact that these also support 1T at this speed, the modules are excellent for mild overclockers.
Overclocking the XMS-3500LL PRO
The general rule of thumb is that 1GB modules will not overclock as well as 512MB modules. When it comes to overclocking memory you can be there for literally weeks trying to find exactly the right settings, so when it came to overclocking these modules we used the stock timings of the OCZ PC3700 Gold Edition Rev 3 modules as a guide.
Utilizing the timings 2.5-3-3-8 with the 2T command rate we were able to achieve a maximum of 257MHz (or 514MHz DDR) @ 2.8V. The stock speed on these modules are 218MHz so an increase to 257MHz is fantastic and there is no doubt in our heads that there is a little bit more head room there, especially if you want to spend hours and hours tinkering for the highest overclock.
- OCZ PC3700 Gold Edition Rev 3A brief rundown
The OCZ are the more astatically pleasing model as there is no denying they are one set of sexy looking modules. There isn't a lot to say about the OCZ memory, it doesn't have any fancy LEDs on it and it hasn't partnered with anybody making it a lethal combination with a particular motherboard. They are just a set of cool looking high speed modules.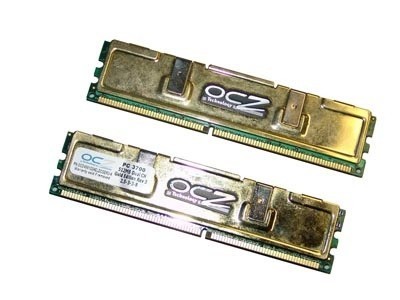 The OCZ memory comes at a higher clocked 466MHz but does come at the cost of timings. While Corsair uses the very aggressive 2-3-2-6 timings at 433MHz, OCZ relax them out to 2.5-3-3-8 to achieve the higher front side bus.
Overclocking the OCZ PC3700 Gold Edition Rev 3
When it came to overclocking we didn't have to adjust the timings because we wanted to find what the maximum front side bus was at these timings against the Corsair memory.
We really did expect them to perform a fair bit better then the Corsair because the OCZ sticks are rated 33MHz DDR higher at stock speeds then the Corsair and while we didn't think this would all carry over to the maximum overclock, we did expect a bit more then the 6MHz DDR (higher than the Corsair memory) which we did get.
The OCZ PC3700 modules a maximum overclock of 263MHz FSB or 526MHz DDR. This is a nice 30MHz increase from the standard 233MHz. While this isn't as major increase, it is a healthy one none the less.
Benchmarks - Test System Setup
Test System SystemProcessor(s):
AMD Athlon X2 3800+ @ Various Speeds
Motherboard(s):
ASUS A8N32-SLI Deluxe (Supplied by
ASUS
)
Video Card:
2 X ASUS 7800GTX TOP (Supplied by
ASUS
)
Hard Disk(s):
WD Raptor 74GB 10,000 RPM SATA (Supplied by
Western Digital
)
CPU Cooling:
Gigabyte G-Power Pro Cooler (GH-PDU21-MF) (Supplied by
Gigabyte
)
Operating System:
Windows XP Professional SP1
Drivers:
nVidia ForceWare 81.94 and DX9c
Each memory module will be tested in two configurations:
- Corsair XMS-3500LL PRO @ 218MHz @ 2-3-2-6-1T (default SPD)
- OCZ PC3700 Gold Edition Rev 3 233MHz @ 2.5-3-3-8-2T (default SPD)
This is the default speed for both memory modules; we will then loosen the Corsair timings to the same as the OCZ and move forward to find a maximum overclock. The OCZ will remain at the same timings and we will continue to increase the front side bus.
- Corsair XMS-3500LL PRO @ Max OC @ 2.5-3-3-8-2T
- OCZ PC3700 Gold Edition Rev 3 @ Max OC @ 2.5-3-3-8-2T
These setups will show us a few things:
- Can the A8N32-SLI Deluxe overclock?
- Does lower FSB and tighter timings beat higher FSB and looser timings?
- What modules overclock higher @ the loose timings?
- Can 1GB modules keep up with 512MB ones?
We will be running through our normal array of benchmarks when testing memory which include low resolution game tests 640 x 480 and 1024 x 768 along with SiSoft Sandra which I personally feel like I haven't touched in months thanks to ATI and nVIdia releasing non stop graphics cards and finally we will throw in some PCMark 2005 for good measure.
The maximum overclock we were able to achieve was 263MHz on the front side bus and this was capable with the OCZ memory using the timings we mentioned above. The Corsair XMS maxed out at 257MHz with the relaxed timings. While the Corsair did max out slightly lower then the OCZ, this is an excellent overclock considering they are only rated @ 218MHz and are also 1GB modules as opposed to 512MB modules that OCZ have on offer.
Benchmarks - SiSoft Sandra
SiSoft SandraVersion and / or Patch Used:
2005
Developer Homepage:
http://www.sisoftware.co.uk
Product Homepage:
http://sisoftware.jaggedonline.com/index.php?location=home&a=TTA&lang=en
Buy It Here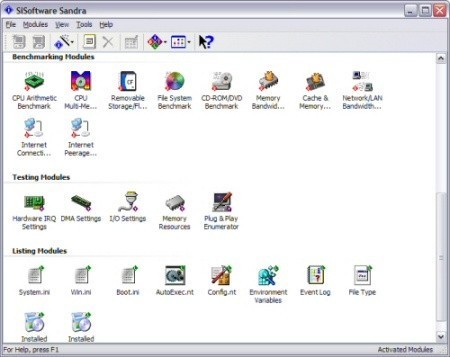 SiSoft Sandra (
S
ystem
AN
alyser,
D
iagnostic and
R
eporting
A
ssistant) is a synthetic Windows benchmark that features different tests used to evaluate different PC subsystems.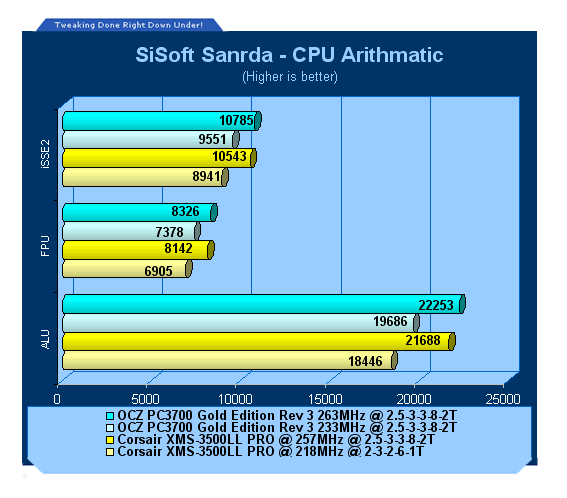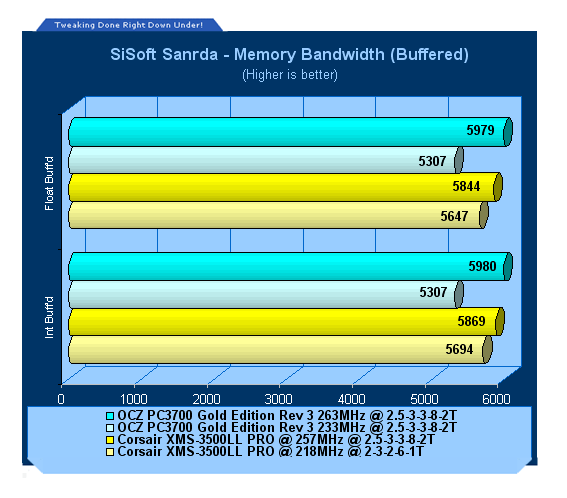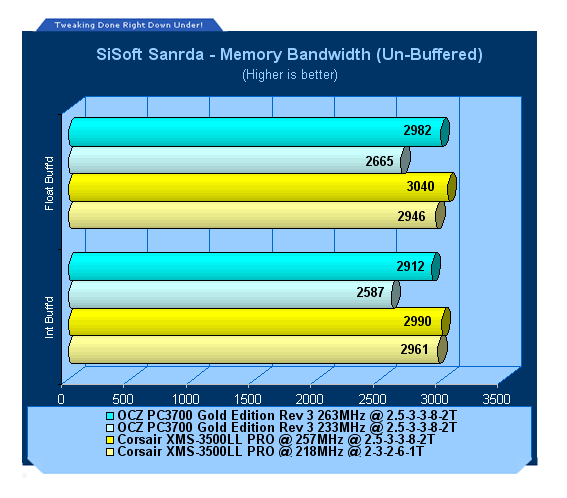 In our CPU arithmetic test we can see that its all front side bus and the tighter timings don't impact the performance here.
When we move onto our memory tests though we can see that the tighter timings bring performance almost on par with memory clocked 40MHz faster. This shows that tight timings really do win but if this goes much further then our synthetic tests we will find out soon enough.
Benchmarks - PCMark
PCMarkVersion and / or Patch Used:
2005
Developer Homepage:
http://www.futuremark.com
Product Homepage:
http://www.futuremark.com/products/pcmark04/
Buy It Here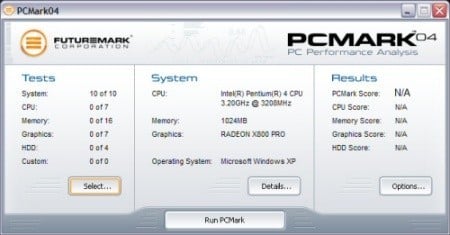 PCMark is a multipurpose benchmark, suited for benchmarking all kinds of PCs, from laptops to workstations, as well as across multiple Windows operating systems. This easy-to-use benchmark makes professional strength benchmarking software available even to novice users. PCMark consists of a series of tests that represent common tasks in home and office programs. PCMark also covers many additional areas outside the scope of other MadOnion.com benchmarks.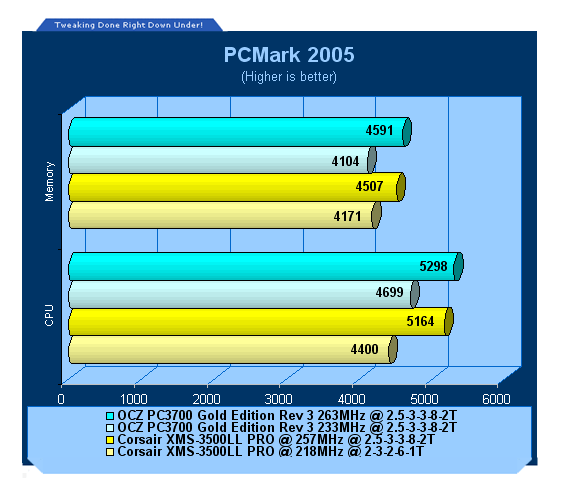 The tighter timings on the Corsair memory brings performance up to that of the OCZ memory but when it comes to the overclocked modules they really out run the tighter timings. OCZ also just sneak ahead overall due to the slightly higher overclock.
Benchmarks - 3DMark05
3DMark05Version and / or Patch Used:
Build 120
Developer Homepage:
http://www.futuremark.com
Product Homepage:
http://www.futuremark.com/products/3dmark05/
Buy It Here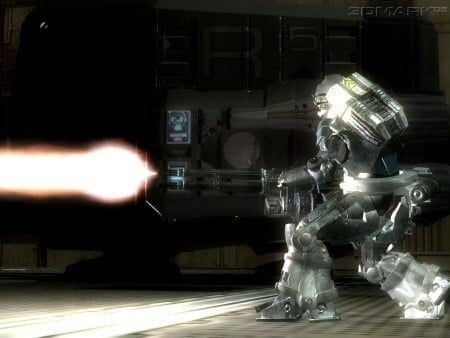 3DMark05 is the latest version in the popular 3DMark "Gamers Benchmark" series. It includes a complete set of DX9 benchmarks which tests Shader Model 2.0 and higher.
For more information on the 3DMark05 benchmark, we recommend you read our preview
here
.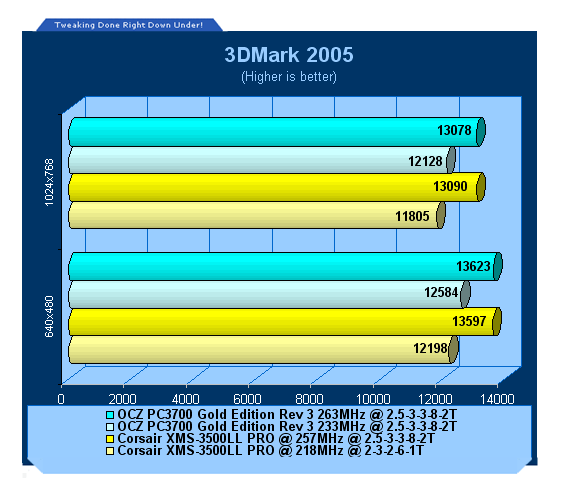 Only the overclock really shows us movement. 218MHz on the Corsair to 233MHz on the OCZ show a slight performance increase then up to 257MHz and 263MHz we again see another big jump in performance.
Benchmarks - Far Cry
Far CryVersion and / or Patch Used:
1.3
Timedemo or Level Used:
PC Games Hardware Demo
Developer Homepage:
http://www.crytek.com
Product Homepage:
http://www.farcrygame.com
Buy It Here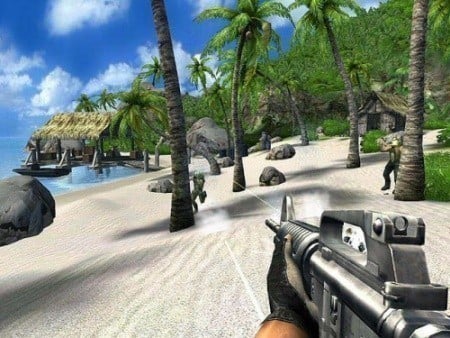 There is no denying that Far Cry is currently one of the most graphic intensive games on the market, utilizing PS2.0 technology (the latest versions support Shader Model 3.0 with DX9c) and offering an exceptional visual experience there is no denying that even some of the faster graphics cards struggle.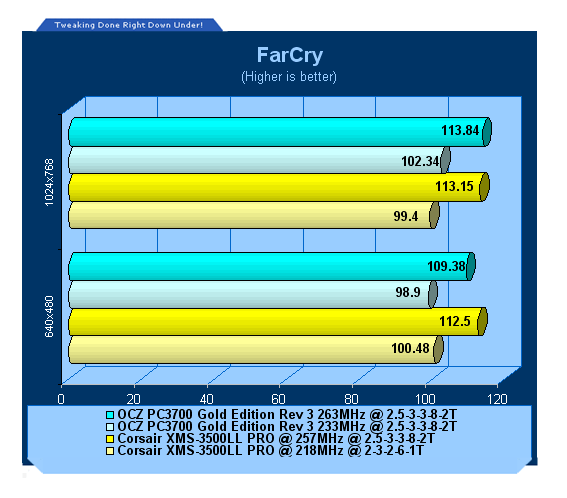 Moving to a game that is very CPU limited we can see at the lower resolution the tighter yet slower clocked Corsair modules are slightly faster then the OCZ.
We also see even though the FSB is lower on the Corsair at maximum overclock it still wins out against the OCZ. When we move to the higher resolution, the performance simply moves between the FSB adjustments with it scoring as expected - the lower clocked Corsair being slower and the OCZ with its 263MHz FSB coming out on top.
Benchmarks - F.E.A.R.
F.E.A.R.Version and / or Patch Used:
Unpatched
Timedemo or Level Used:
Custom Timedemo
Developer Homepage:
http://www.vugames.com
Product Homepage:
http://www.whatisfear.com/us/
Buy It Here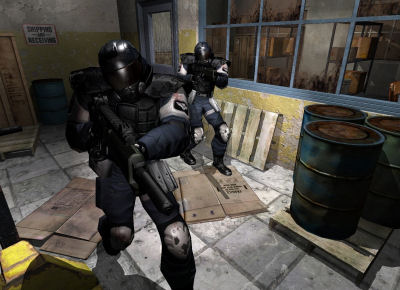 F.E.A.R. (First Encounter Assault Recon) is an intense combat experience with rich atmosphere and a deeply intense paranormal storyline presented entirely in first person. Be the hero in your own spine-tingling epic of action, tension, and terror...and discover the true meaning of F.E.A.R.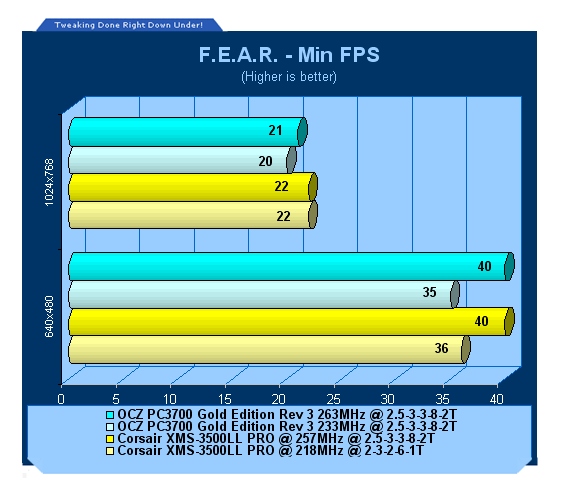 F.E.A.R. at the higher resolution seems to really like the tighter timings that the Corsair memory has to offer. Even with such massive FSB differences we can see that the results are all very close to each other. The only module that really stands out is the OCZ clocked at its default timings and not in a good way, it is consistently slower on all results.
The Answers and Final Thoughts
The Answers- Can the A8N32-SLI Deluxe overclock?
Absolutely, we didn't have any troubles at all when it came to overclocking with the most recent motherboard from ASUS. It is extremely obvious why this board has become so well accepted in the enthusiast community. All you have to do is know your safety limits; for example what volts your memory and processor can handle, and start increasing the front side bus and hope you have a dandy of a processor to back it all up.
- Does lower FSB and tighter timings beat higher FSB and looser timings?
Yes and no, in a synthetic benchmark that shows pure memory performance the tighter timings are able to keep up with memory clocked more then 15% faster then it when using looser timings. When it comes to actual games and other benchmarking programs the tighter timings really don't come into play as much because the programs are able to make better use of the increased CPU speed.
- What modules overclock higher @ the loose timings?
The OCZ memory... just, but what we have to remember is that the OCZ modules are 512MB as opposed to 1GB and since the lower modules are commonly known for overclocking better, we did expect results from the OCZ memory to be higher. The other reason we also expected it to be higher is that the stock speed on the OCZ is also higher then the Corsair. So while the OCZ does overclock higher, the Corsair overclocked better. Which you prefer is up to you.
- Can 1GB modules keep up with 512MB ones?
From an overclocking perspective, the answer is no. 512MB modules at the moment show us that they generally overclock better, not from just this article but just general experience across multiple forums across the web. If you're going to do nothing but run loops of 3DMark on your PC, you are better off with 512MB modules. If you intend to do some gaming, you're better off opting for 1GB modules.
Final Thoughts
So, what is the better module you might be wondering? The Corsair modules for this board are where it's really at. We lost 6MHz when compared to the OCZ modules we have here but gain twice as much memory.
For this reason we have given the Corsair XMS-3500LL PRO our TweakTown "MUST HAVE" Editors Choice Award as they really performed exceptionally well here today.