A look at Dell rugged products in the lab and wild
Dell invited us to its offices in Texas to experience firsthand its work on its rugged notebooks and tablets. Panasonic Toughbook, look out.
Published
9 minute read time
Dell's Rugged and Extremely Rugged Products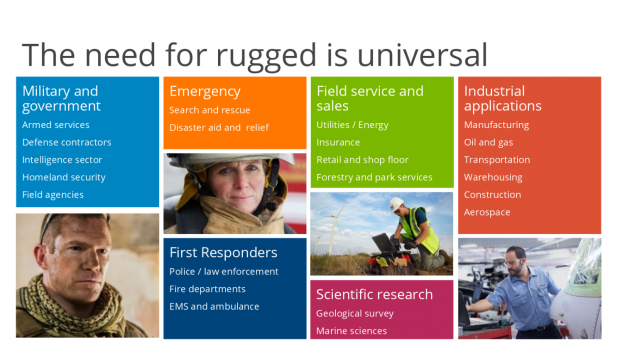 A rugged military-grade product might not be what first comes to mind when you think of Dell, but over the past years, the company has shifted more resources towards building rugged notebooks to compete with the likes of the infamous Panasonic Toughbook. Rugged laptops and tablets have many uses ranging from the obvious military usage scenarios to the less obvious ones such as right through into the kitchen. Dell was kind enough to invite me to Texas where they gave me a firsthand account of their progress with their "Rugged" line of products. I also toured their labs and one of their Global Command Centers. Dell is not only a hardware company but they are also heavily invested in services. Dell's support system for their customers is one of the major benefits of Dell products, and all of their Rugged products will utilize Dell's in-house Global Command Centers, instead of an outsourced partner.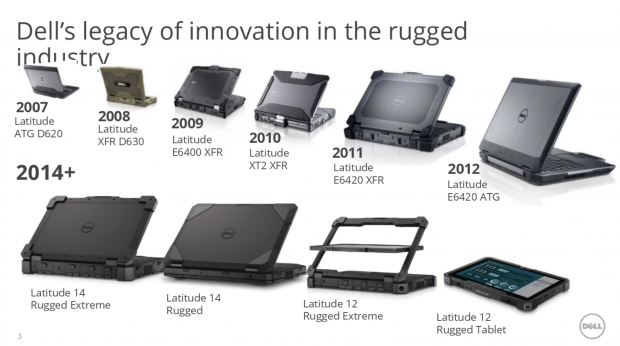 Dell's four main products they showcased include the Latitude 14 Rugged, Latitude 14 Rugged Extreme, Latitude 12 Rugged Extreme, and their Latitude 12 Rugged Tablet. All of these products offer MIL-STD-810G certification, which they get from an independent lab. Over the years, their "Rugged" series of products has shifted from rebadged consumer counterparts, to fully redesigned products that might only use a part of the consumer version's PCB.
Since the target audience for these new products isn't your average consumer, but rather a corporation or governmental body that only upgrades once in a while, Dell is looking to hit very important upgrade cycles when it comes to hardware performance. It's the reason that the new products will mostly be based on Intel's Skylake microarchitecture, as it should serve customers well into the future.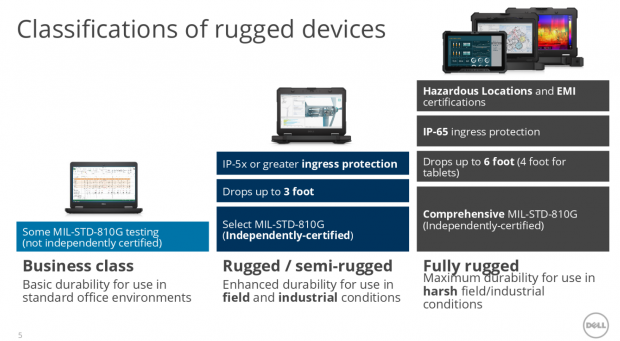 Their Extreme Rugged (Fully Rugged) products offer IP-65 ingress protection, should survive a 6-foot drop, are EMI shielded for use around explosives and hazardous locations, and provide "comprehensive" MIL-STD-810G certification. Their Rugged (also called Semi-Rugged) series offers IP-5X or greater ingress protection and will survive a 3-foot drop. From their experience building rugged products, Dell has realized that to provide a better product, they must build their products to exceed the requirements of certifications such as MIL-STD-810G. Dell even says that after the 6-foot drop test, their Rugged Extreme notebook might still be IP certified, which is something not widely promised by other brands.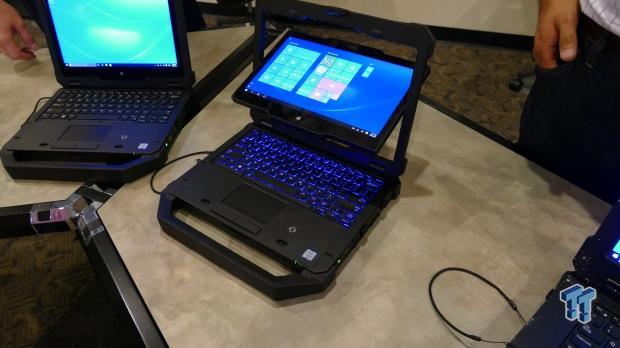 I will be reviewing a few of Dell's Rugged products, but I thought you might appreciate a little overview of what they have to offer. Dell has taken what looks to be a physically weak concept of the convertible tablet/notebook and produced the fully-rugged Latitude 12 Rugged Extreme. While some might question the frame and rotating display, the product should stand up to a beating just like the Latitude 14 Rugged Extreme. You might have noticed the RGB keyboards, but they aren't there only for show. Dell mentioned that in different lighting conditions, different colors could be useful, such as red at night.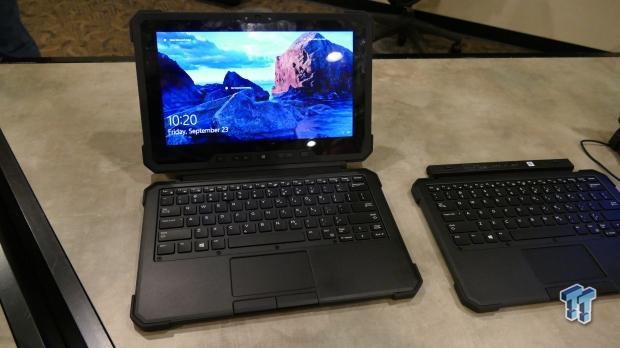 Dell's Latitude 12 Rugged tablet is attached to a keyboard dock in the picture. A rugged tablet has many uses out in the field, particularly when there is no need for a keyboard, such as an interactive map. We used these tablets attached to jet skis to display a map of Lake Travis, and we proceeded to race around the island as our position was tracked in real-time and displayed on the tablet.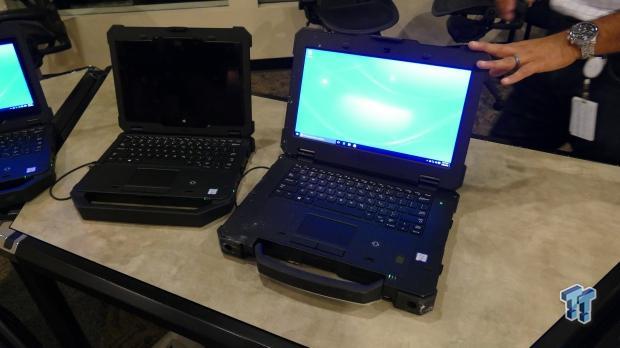 The Latitude 14 Rugged and Latitude 14 Rugged Extreme are what we traditionally think of as a rugged computer. Both carry Dell's 14-inch daylight-readable display and are equipped with the latest in high-performance hardware. Dell is using solid state storage instead of spinning disks, which makes a lot of sense considering the nature of the device. Both are the latest Dell has to offer in terms of durability, and we actually tossed the one on the right off a boat onto a rocky island multiple times. The notebook survived with some external scratches, and there it sits the day after.
Testing Out Dell's Claims - Part 1
Testing out Dell's claims at a lake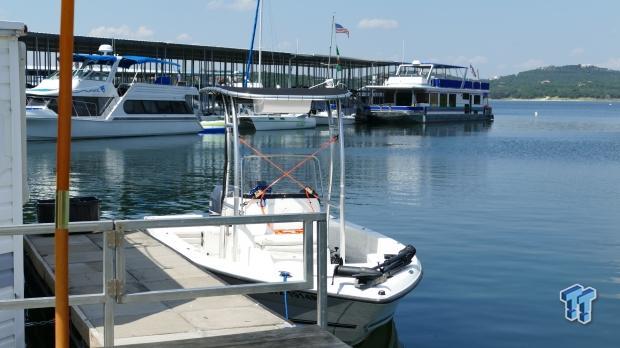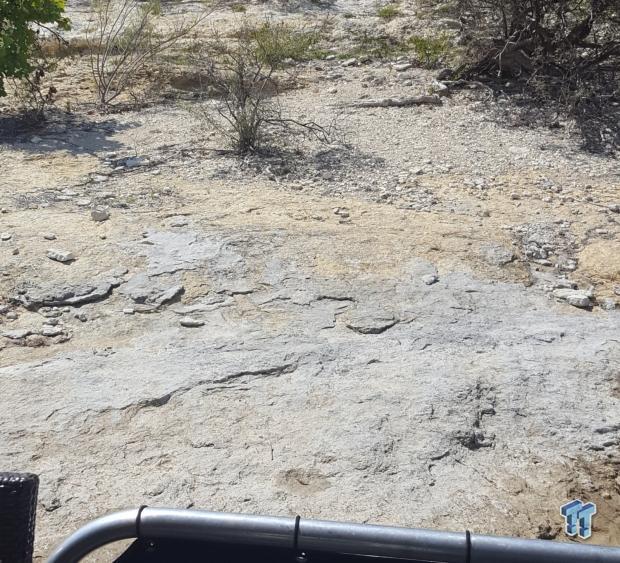 I spent two days in Texas to see and experiment with Dell's new rugged lineup. The first day we all boarded a boat and two jet skis on Lake Travis and proceeded to beach at a limestone island in the center of the lake.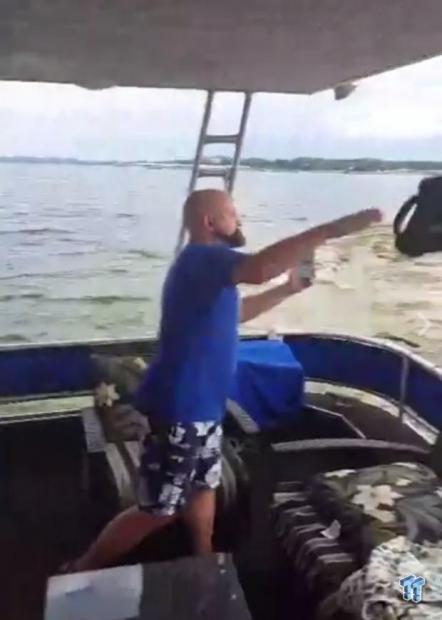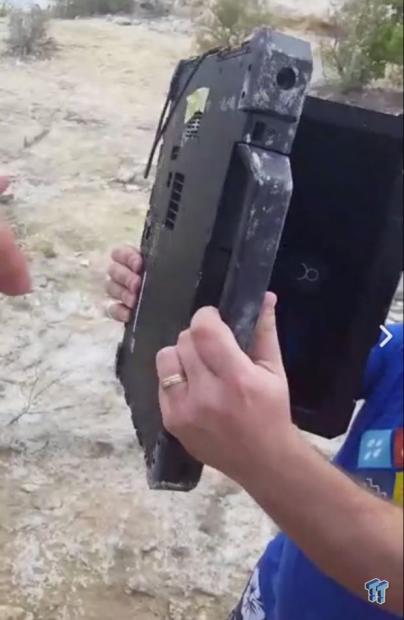 Here, Dell's Chris Morley is throwing a Latitude 14 Rugged Extreme from the boat onto the island. Chris wanted us to see that they [Dell] are "kicking Panasonic's ass." Chris threw the notebook multiple times onto the hard, rocky island.
I should mention that I captured all this on a Facebook Live video, which is embedded below. The notebook was very durable and was even on display on the following day when we went to Dell's office.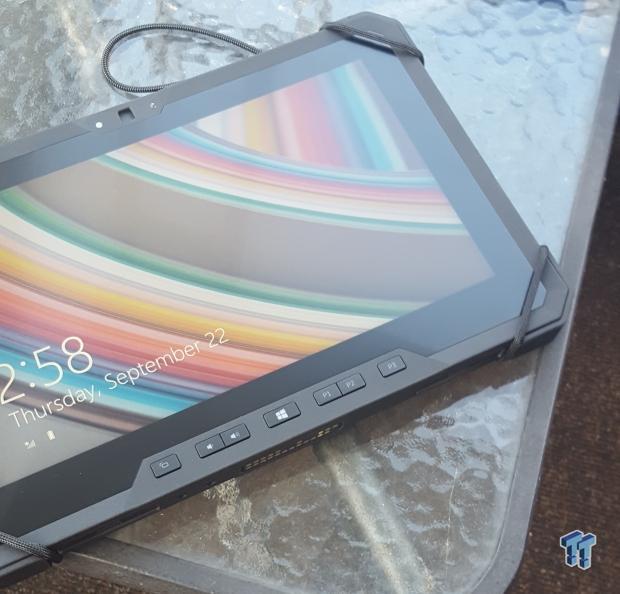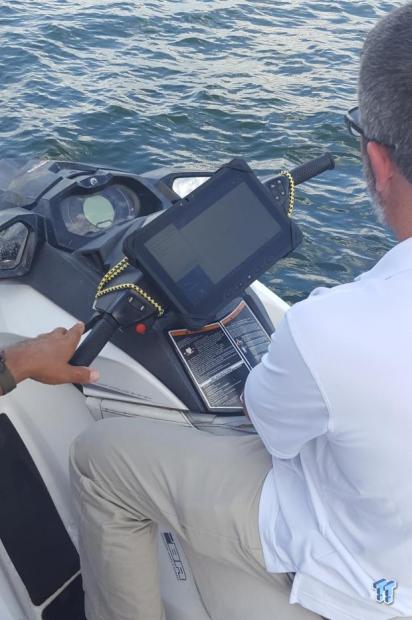 A more interactive experience was with the Latitude 12 Rugged tablet, which was loaded with an interactive map that would ping its GPS coordinate and then display it on the map. An image of the course was setup, and boundary lines were drawn on the map. I have to admit, it was a little difficult to track my position on a lake while going 55MPH, but nevertheless, the data gathered showed how terrible I am at following directions while enjoying the jet ski. I also documented this on Facebook Live - it's embedded below.
Testing Out Dell's Claims - Part 2
Testing Out Dell's Claims in a Lab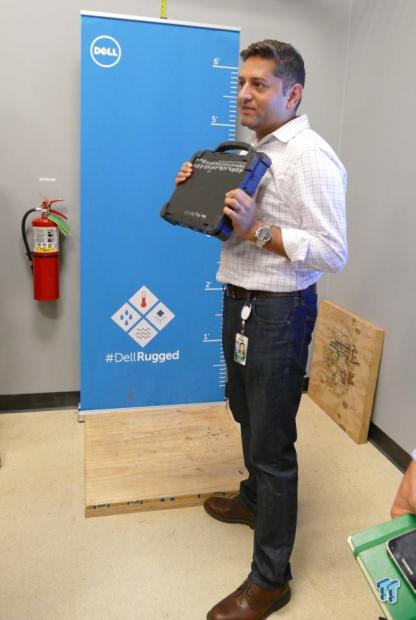 Dell also gave me a tour of their testing lab, where they test out their products. To be clear, this lab isn't their validation lab, so it's more of a hands-on, easy to configure testing facility where theory meets reality, and customers can see the durability of the product for themselves in person.
The first thing you get to do is drop a notebook 6 feet, a hands-on activity that leaves an impression. The entire lab reminds me of engineering labs at Georgia Tech, where things are basic yet scientific.
The non-manual drop test raises the notebook 6 feet in the air and then proceeds to drop it to see if it breaks. The notebook they used has a bunch of tally marks on it because it had been dropped more than 20 times without damage.
The hinge test works the hinges of the notebook until failure. Some users might ponder as to why this is an important test, as it's very uncommon for a notebook's hinges to give out before its hardware. The importance of the hinge testing became apparent when I learned that proper protocol for a police officer is to open and close their notebook screen every time they leave the car. Every traffic stop, every pit stop, and with multiple shifts around the clock, the hinges of the notebooks must last for many years before failing.
This next test is a water intrusion test for IPX3 which is for splash protection. Water is shot in many directions around the perimeter of the notebook. The semi-rugged notebook is rated IP-52, and this chamber can rain on it, the fully-rugged notebooks are rated higher and can be submerged.
Dell also had a nice way of showing off the bathing ability of their Rugged Extreme products. Hosing down a notebook is much more fun than you might think.
The dust test blows a fine talc powder into the atmosphere for at least 6 hours, while a negative vacuum is created inside the device to try and produce a worst case scenario, then the device is torn down and inspected to see if there is any powder. Dell mentioned that the difference between IP-5x and IP-6x certifications is that IP-5x allows for dust to enter but not cause a system shutdown, but IP-6x has to be 100% clear of dust particles. The dust test is important to determine the device's ability to survive in desert conditions - think Afghanistan or a desert in Nevada.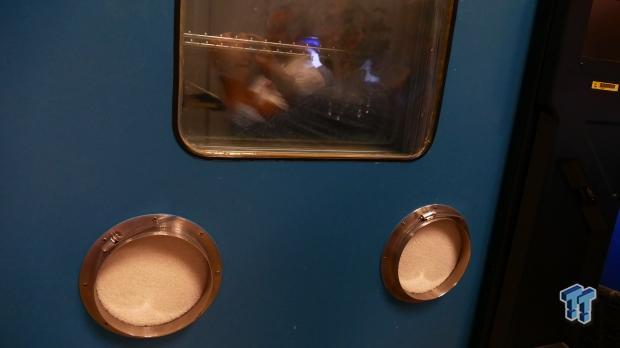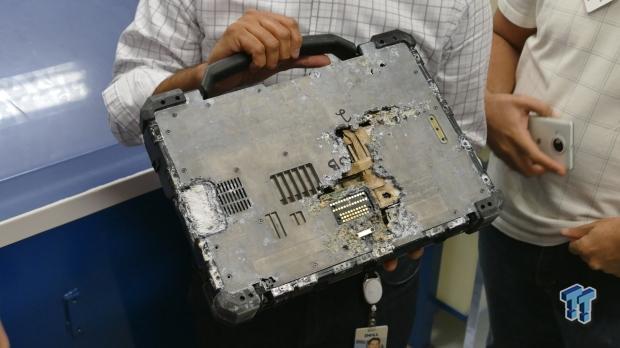 Temperature and humidity are also two things that need to be tested, and they have a special chamber to control the environment. They also need to test out the effects of salt water on their products, as it eats away at most devices.
Global Command Center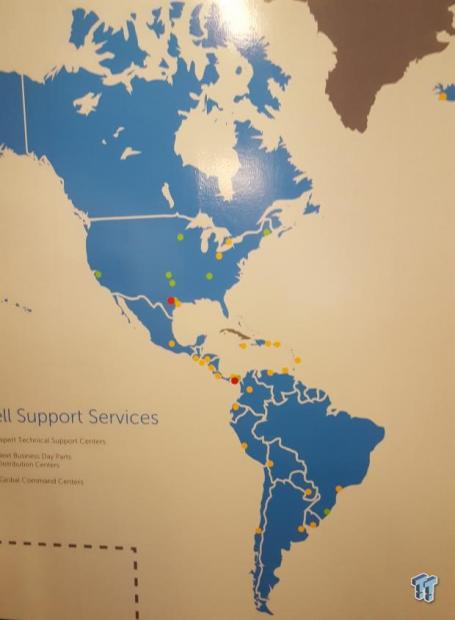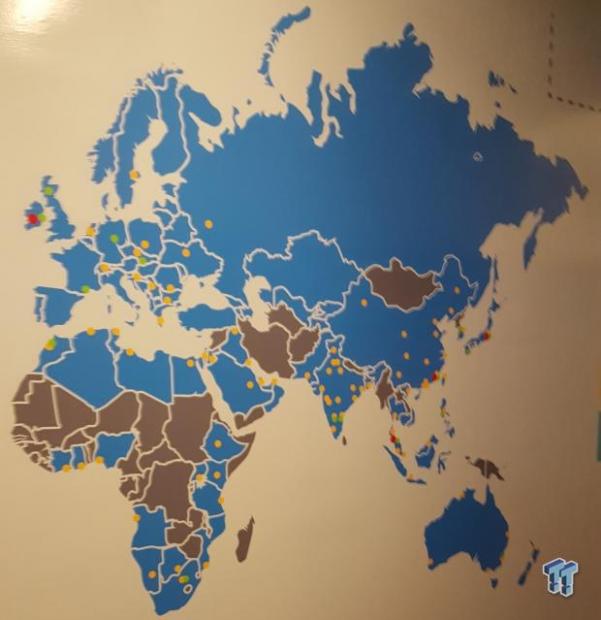 Dell is also in the business of providing support for their customers. They have two command centers in the building I toured; the first is a Global Command Center, and the next is a Federal Support Center. Their Federal Support Center handles sensitive accounts for US government agencies, and I was not allowed to take pictures of what I saw in there. Their Global Command Center in Round Rock, Texas is one of six.
Dell's next day replacement policy is wonderful for business; my father uses Dell for his practices for this very reason. All of Dell's rugged products get in-house Global Command Center support. The world map indicates where Dell's support assets are located, and the red dots are where their Global Command Centers are located around the globe. The map does not indicate where EMC assets are located.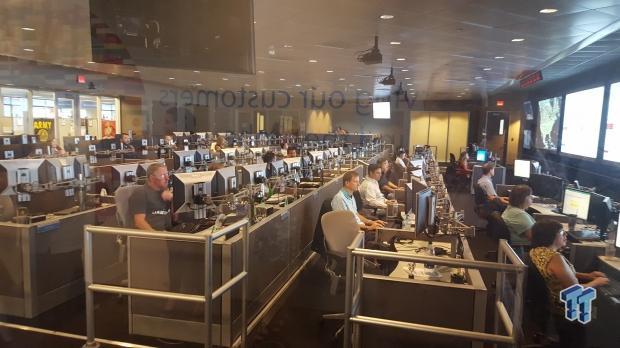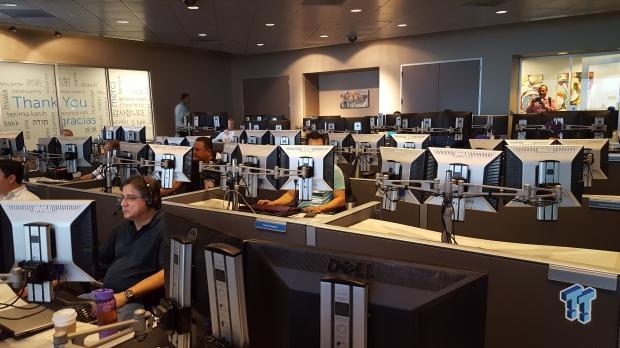 The Global Command Center is showcased well, and they do a fair amount of tours to show it off. It looks like NASA's mission control center and Dell monitors client issues here. Each station is set up with triple Dell monitors, to provide more than enough productivity workspace for operators to get things done.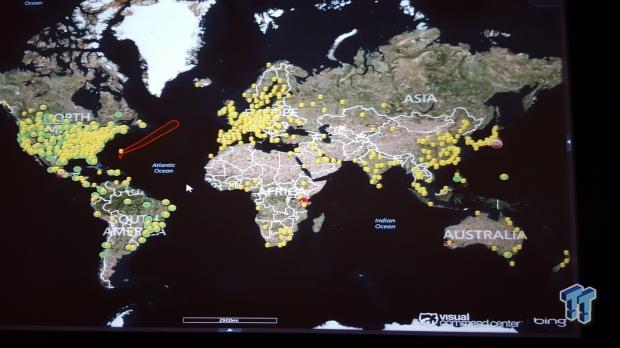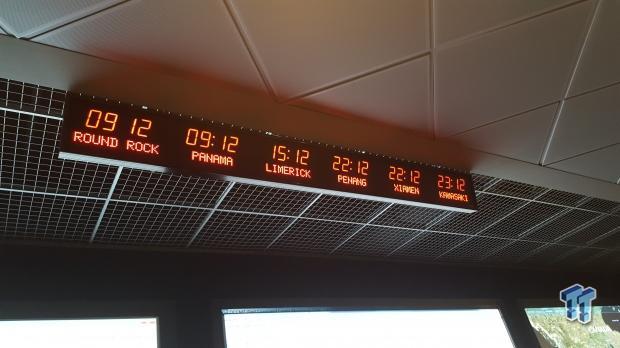 The map shows a real-time global view of problems and potential problems. By using past data on major disasters and events (such as hurricanes), Dell can proactively place assets in the right position to make sure critical infrastructure and important clients face as little downtime as possible. To ensure uptime, even if one Global Command Center goes down, each center has a sister that could pick up the slack. The sister center to Round Rock is located in Panama, and some of the employees at the Round Rock facility have to speak Spanish in case the two centers need to communicate in emergency situations.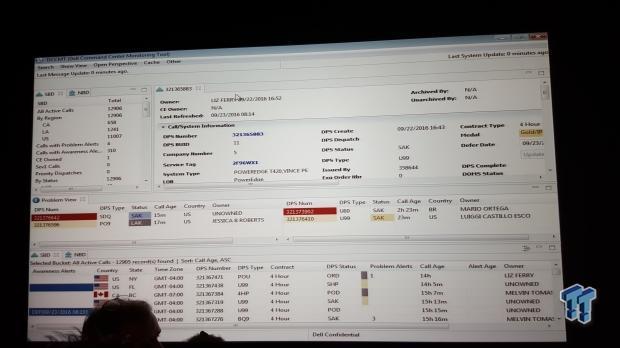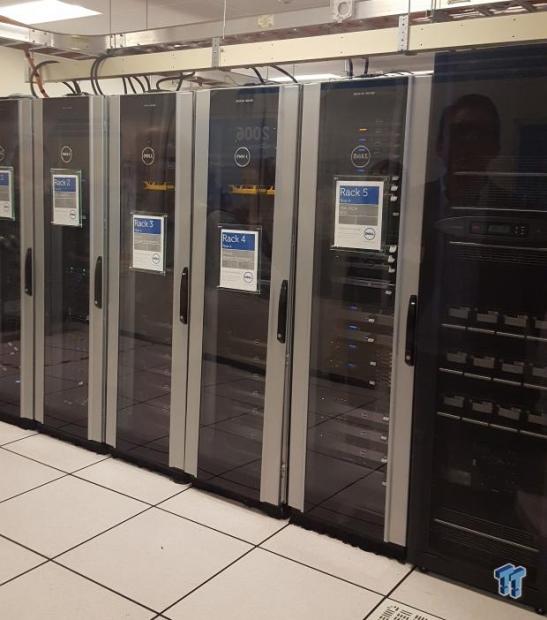 One of Dell's tools to monitor and handle tickets is called the Dell Command Center Monitoring Tool (DCCMT), and it shows problems in real-time. Dell also showed us a room with the latest in rack configurations, even if they don't use Dell technology, so that Dell can quickly and rapidly replicate customer issues.
Where Dell Is Headed
Instead of shooting over a bunch of marketing slides and copy, Dell decided to take a more story-like approach to show us how rugged their products are. There is no better way to showcase an anti-glare screen than actually experiencing the device in the field on a sunny day. There is no better way to showcase waterproofing than actually putting the device through a bath, and there is no better way to showcase physical durability than throwing the device.
I can attest from jet skiing on a sunny day on a lake with the rugged tablet hooked up to the jet ski, that the anti-glare screen does a great job of maintaining readability even with strong glare. With all the water that splashed onto the rugged tablets throughout the day, the two tablets never gave out over the five-hour period they were used. Seeing the lab where they experiment with their new products was a nice way to see what type of torture the tablets and notebooks can withstand.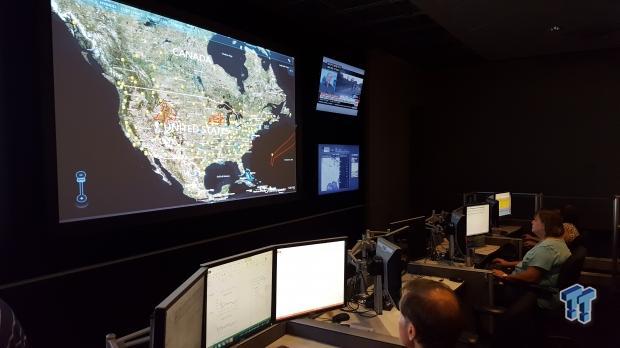 Dell's Global and Federal Command Centers did an excellent job of showcasing Dell's support capabilities. Having that type of support system and network of support locations worldwide instills a level of trust and reliability, and seeing it firsthand would impress me if I needed a company who could be there when I needed them. Dell's spokespersons told us multiple stories, one of which was quite impressive. Since Dell has seen what large disasters can do to their clients, they anticipate the required response beforehand. They knew a huge snowstorm was going to hit Manhattan, so in anticipation, they sent out techs to stay in hotels near their critical clients.
When the storm hit, they got special permission to bring in replacement parts that were needed and sent them to a central Fedex hub. From their hotels, the techs walked to the central hub and then back to their respective clients, ensuring that critical clients systems were up and running. As a society, we aren't used to the internet going down. When we are off work because it's snowing, we still expect Netflix to stream content our way, and that is only possible because Dell is there to support their clients no matter the conditions.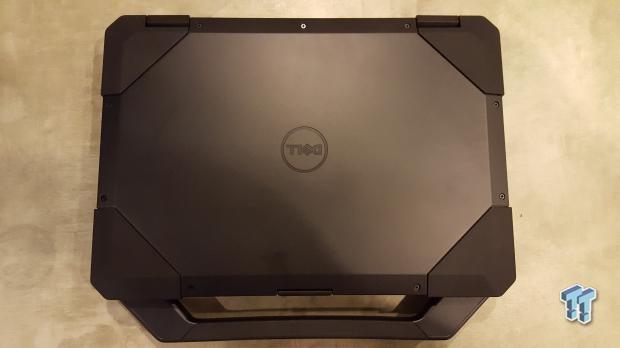 Dell didn't leave out their statistics. In a study by Technology Business Research Inc. (TBR) earlier this year, 83% of Dell Rugged respondents indicated less than one day of downtime (12% above competitors), the remaining 17% indicated one to two days of downtime. The study also found that 68% of respondents were likely or very likely to recommend Dell devices (45% more than competitors), and 81% indicated they were likely or very likely to purchase Dell rugged devices again (49% more than competitors). While these numbers are very high, Dell's chief competitor (Panasonic) seems to be slipping in terms of support within the USA. Dell's current rugged customers are many yet small, but Dell has positioned itself to take over the market.
When Dell first launched their rugged platform, their products were little more than slightly hardened versions of their consumer counterparts, but the latest Dell rugged products are entirely different animals - they're truly rugged.
PRICING: You can find products similar to this one for sale below.

United States: Find other tech and computer products like this over at Amazon.com

United Kingdom: Find other tech and computer products like this over at Amazon.co.uk

Australia: Find other tech and computer products like this over at Amazon.com.au

Canada: Find other tech and computer products like this over at Amazon.ca

Deutschland: Finde andere Technik- und Computerprodukte wie dieses auf Amazon.de
We openly invite the companies who provide us with review samples / who are mentioned or discussed to express their opinion. If any company representative wishes to respond, we will publish the response here. Please contact us if you wish to respond.