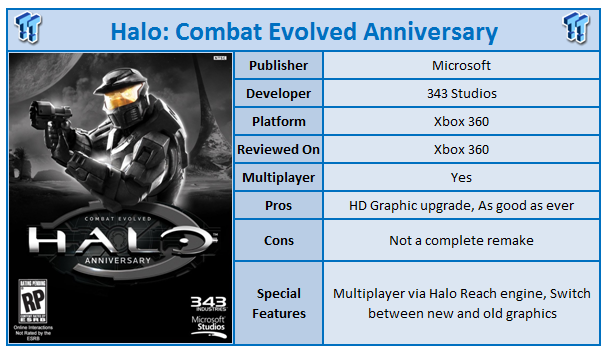 Ten years it's been since the introduction of the Xbox gaming system. Microsoft took a huge risk to take on the (at the time) formidable Sony and its PlayStation with a system that really launched with a load of very bad games, and one very, very good one. To say that Halo made the Xbox launch is an understatement. Without it, the system could have been in serious trouble very early, but Bungie managed to do what seemed at the time as impossible - a strong console first person shooter.
Halo's influence on the industry is significant. It proved that First Person Shooters could work on a console and work well. So ten years later we get this homage. A remake of the game with the same physics, but with HD graphics. And you know what? The game is just as good as it was a decade ago and that is quite a triumph.
Halo is where it all began. Master Chief is in a large spacecraft when it is attacked by the Covenent forces and all allies abandon ship via the escape pods landing on the mysterious planet, Halo. From there you need to discover where you are, why you are there, what Halo is and why the Covenent want it so much. The story is presented exactly as it was a decade ago, aside from a few changes.
First of all, on each mission you can find a secret terminal which unlocks a video that shows a bit of the back story of Halo. These terminals are entirely optional, but given we have now had many Halo games, they fill in a lot of gaps that were present in the original Halo such as just where did Guilty Spark come from. The cut scenes have also had the HD makeover which makes them look even better.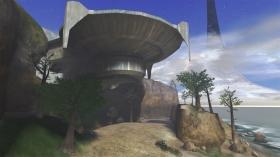 Which leads us to the most stand out feature of the game and that is the ability to switch between the old and new graphics. Although it's not instant, you can do it at any time in game (unfortunately during cut scenes it's not possible) and it only takes a few seconds. This shows in stark detail the difference between a launch Xbox title and the graphics we have come to know and love in this day and age. The graphics changes are so startling that often we found ourselves having to flick back to the old style graphics just to remember what section of the game we are in.
Other than that, the game is very much the same as it was ten years ago (although we are happy to say that 'The Library' is fixed to an extent). As soon as we picked up the control we were once again hooked. There is something about the combat and gunplay in Halo which feels just right. However, having had many Halo games since then, you do have to get used to playing the original again in that some of the features in Reach for example (such as Dual Wielding) are not present in the original.
Also for those of you who have played first person shooter blockbusters recently, you may find it hard to get used to some of the old tropes of first person gaming. Things we haven't been accustomed to recently include a lack of re-generating health and having to find health packs, but primarily not being handheld by the game to tell you where to go. This is not a problem, although in Halo it is very easy due to the architecture to get lost. We found ourselves sometimes having to switch back to the old graphics to figure out where to go.
On that note, the quality of the graphics is good, but in some ways it could have been better.
[img]2[/img]
343 Studios put a rule on the game that they weren't going to touch the physics engine or objects themselves and instead just give the entire game a HD makeover by updating the textures. And in many ways it's admirable that they wanted to pay that respect to the original (Bungie even appears in the credits before 343), but in some ways we can't help but wonder if it's limited the game somewhat.
The visuals of the game whilst an improvement obviously on the original graphics, are not as good as they could have been. Many of the objects in the world still feel very blocky and when you compare it to some of the blockbuster shooters of recent times, it does not hold up. However, the point of this remake was not to build a mind blowing graphics experience, it was to recapture the essence of Halo 1 and in that regard it's a success.
[img]3[/img]
On the multiplayer side the game is significantly different. Instead of updating the engine used for Halo 1 to work over Xbox Live and the matchmaking systems, they have merely used the Reach engine and whilst it serves the job and features the matchmaking and forge systems we've come to know and love of Halo, we can't help but feel it's a real shame that they did not port the originals multiplayer. The weaponry featured is from Reach, not Halo and that means the super overpowered pistol present in the single player game is not featured. Other than that, the multiplayer is serviceable, but it's nothing we have not seen before.
Halo: Combat Evolved Anniversary is an interesting game for many reasons. It clearly shows how far the industry has come in ten years, but also proves that a game can be timeless. Many times gamers look back on titles with rose tinted glasses only to be disappointed when they revisit the title five or ten years down the track. Not so with Halo. 343 has captured the essence of Halo perfectly and this remake proves that there is life in older games yet. Not just for the Halo fans!