Smartphone Showdown - Galaxy S5, Note 3, Xperia Z2, G3 and Nexus 5
We pit five of the best phones on the market against one another, in a battle of the flagship Android smartphone showdown. Who takes the benchmark crown?

Published Oct 28, 2014 4:04 PM CDT
|
Updated Tue, Nov 3 2020 6:59 PM CST
7 minute read time
The Contenders
There has never been a better time to buy an Android-powered smartphone, as there are some seriously powerful handsets on the market right now. Sony has a great smartphone in the Xperia Z2, with a fully waterproof smartphone that packs a 20.7-megapixel rear-facing camera that is nothing short of beautiful. It sandwiches glass and metal perfectly, to provide users with a gorgeous smartphone that packs a powerful punch.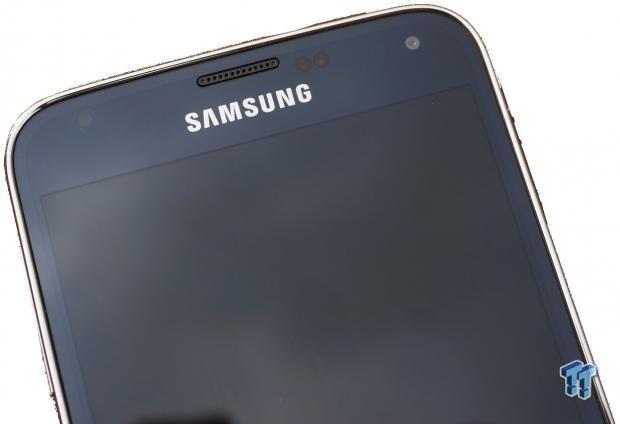 Moving onto LG, which has two great smartphones on the market right now - the G3 smartphone, and the Nexus 5. The G3 features a 5.5-inch 2560x1440 or "QHD" display, which is something that truly needs to be seen in order to be believed. It has some serious internals to match the gorgeous, high-resolution display. The Nexus 5 is still a great contender, as it's a cheap smartphone when compared to the rest. This doesn't mean it's not worth your money, but even more so. Performance isn't everything either, which is something to remember going into this article.
Then we have the two flagship smartphones from Samsung: the Galaxy Note 3, and the Galaxy S5. The Galaxy Note 3 is Samsung's 'phablet' measuring in with a 5.7-inch display, while the Galaxy S5 sports a 5.1-inch screen. Samsung sells boat loads of these devices, so it'll be interesting to see how two of the most popular handsets on the market fair against the rest.
Clash of the Handheld Titans
Let's get into the specifications of what we have in front of us today, which are five of the best Android smartphones on the market. What you'll see below is that most of them are actually very similar, running the same system-on-a-chip (SoCs), and similar RAM amounts and display resolutions.
As you can see from our chart above, we have very similar chipsets and specifications in our handsets. The LG G3 stands out from the crowd with its beautiful, high-res 5.5-inch screen with a resolution of 2560x1440.
The Sony Xperia Z2 has a more-than-capable 20.7-megapixel rear-facing camera that is capable of shooting 4K video. This is one smartphone that has a serious rear camera, but it doesn't mean the other smartphones lose out in this category. LG has baked in a laser autofocus-capable 13-megapixel rear-shooter into its G3 smartphone, which is somewhat of a big surprise.
Smartphone Performance Isn't Everything
When I decided to write this article, I really sat on the fence. I hate comparing smartphone performance, benchmarking the devices and showing you, our readers, raw numbers. Sure, some phones come out on top while others lose, but you should never buy a smartphone based on synthetic benchmarks - or any benchmarks for that matter. Screen size and quality, battery life, the rear-facing camera and so much more go into your purchasing decision. Don't buy a smartphone because it has X processor inside, or Y camera. If you want something that is a great smartphone with a better-than-average rear-facing camera - then you should look at something like the G3 or Z2.
If you already have a Galaxy S3/S4 or a Note 2, then you would most likely slide right into the warm embrace of the Galaxy S5 or Note 3. Every Android phone in this comparison article is a phone worthy of your money, let's put it that way. We're going to talk about this more on Page 3, but for now - let's see what these smartphones are really capable of when we make them go through smartphone benchmark boot camp.
More Numbers Than You Can Handle
Software Used
I've decided to use three pieces of mobile software to benchmark our devices, starting with Basemark X, then we head into 3DMark and finish with GFXBench 3.0. Basemark X has a bunch of great benchmarks for us to see different parts of the phone perform better (or worse), while 3DMark is a staple benchmark, finishing with GFXBench 3.0 that has some upgraded, and new benchmarks we're going to see the numbers on.
For our first test, we run Basemark X Gaming Performance test at 1080p with and without anti-aliasing at the high quality setting. This will provide us with a good look at one of the harder benchmarks Basemark X has to offer, to see who comes out on top.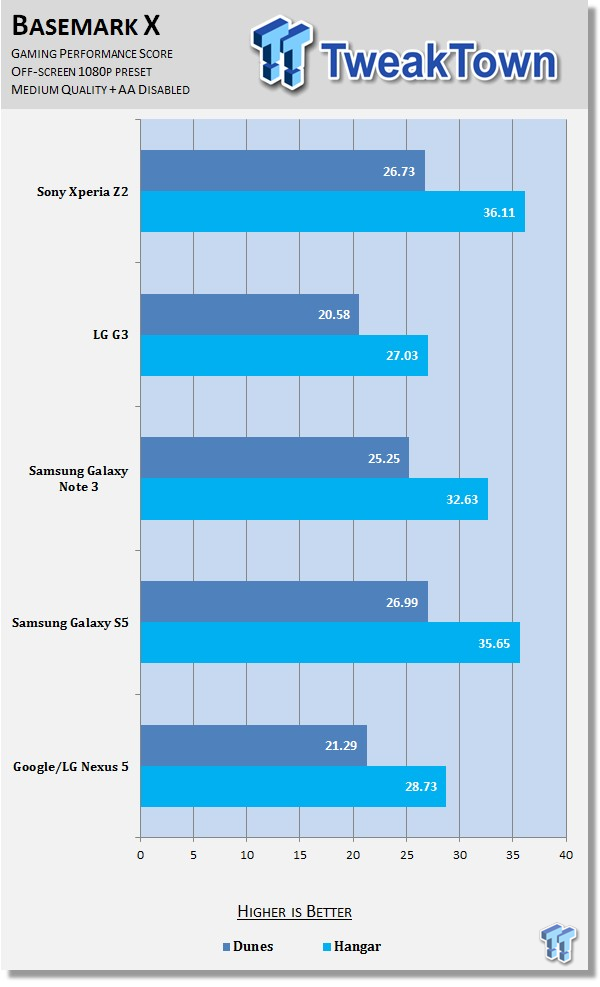 As you can see, Sony tops this benchmark, but it had some hot competition on its heels. We have LG and its G3 right behind it, and both the Galaxy S5 and Galaxy Note 3 from Samsung aren't far behind it either. The slightly older, but much cheaper Nexus 5 doesn't actually do too bad in this test, considering it's the cheapest smartphone in this battle.
Next up, we have the results from the Gaming Performance score, but this time split into frames per second for the separate tests: Hangar and Dunes. We ran this test identical to our first test, with the high quality option enabled, and we ran it twice - once at 1080p, and again with 8x AA enabled.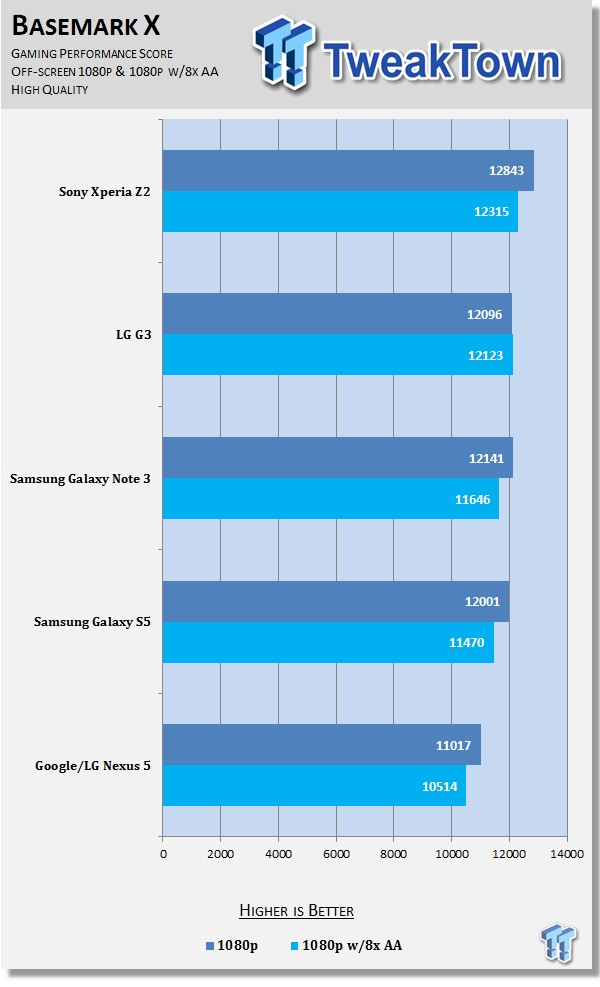 Sony does it again, with the Xperia Z2 taking the lead, but not by much.
Futuremark's 3DMark has been a staple of benchmarking for what seems forever, so we gave the mobile version of it a whirl for our testing. We only ran the Ice Storm Unlimited test for this one.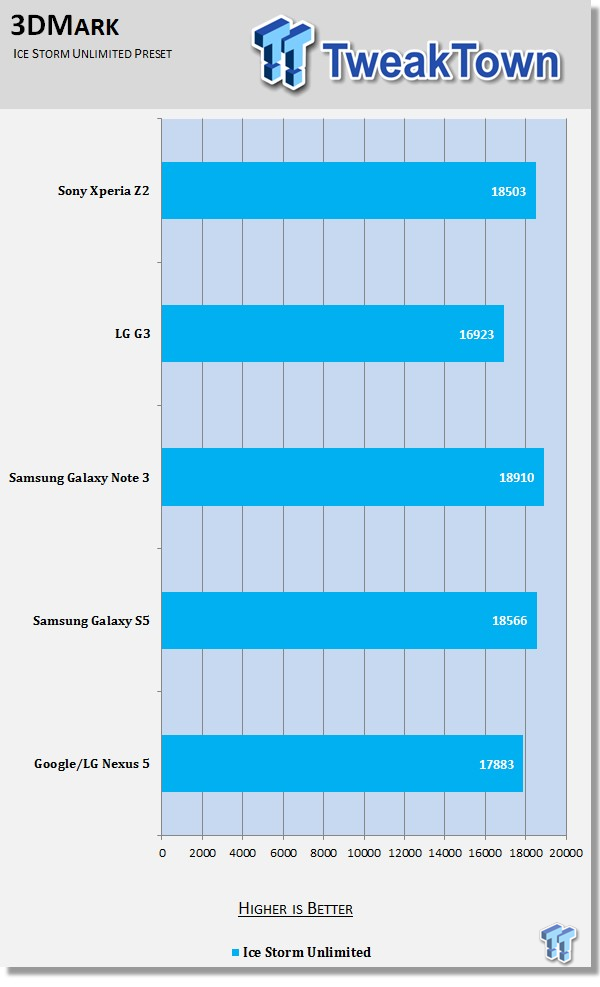 Sony was on a roll until 3DMark, where both the Galaxy S5 and Galaxy Note 3 from Samsung beat the Xperia Z2, slightly. LG falls behind with the G3 in this test, while the Nexus 5 surprisingly does well, beating the G3 and coming up on the Xperia Z2.
Now we move onto some testing with GFXBench 3.0, with three separate tests. The first of which is the Manhattan and T-Rex tests, done at 1080p.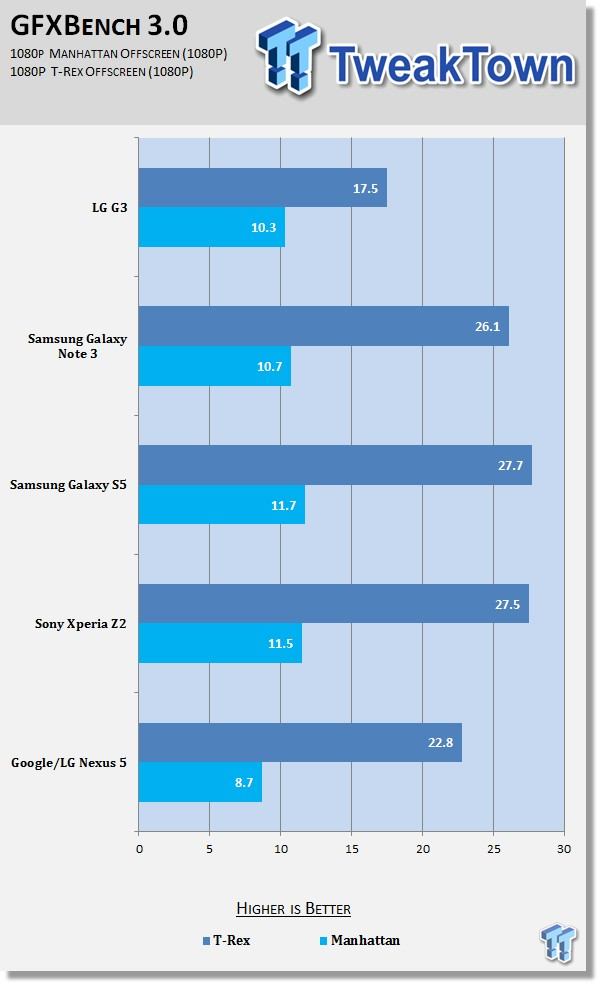 This is where things get really interesting, with the Xperia Z2 losing to the Galaxy S5, by 0.2FPS in both tests. The G3 starts to really lose its power here, but the Nexus 5 shows off that it is still a force to be reckoned with.
Our next test with GFXBench 3.0 is its Fill Rate benchmark, run at 1080p.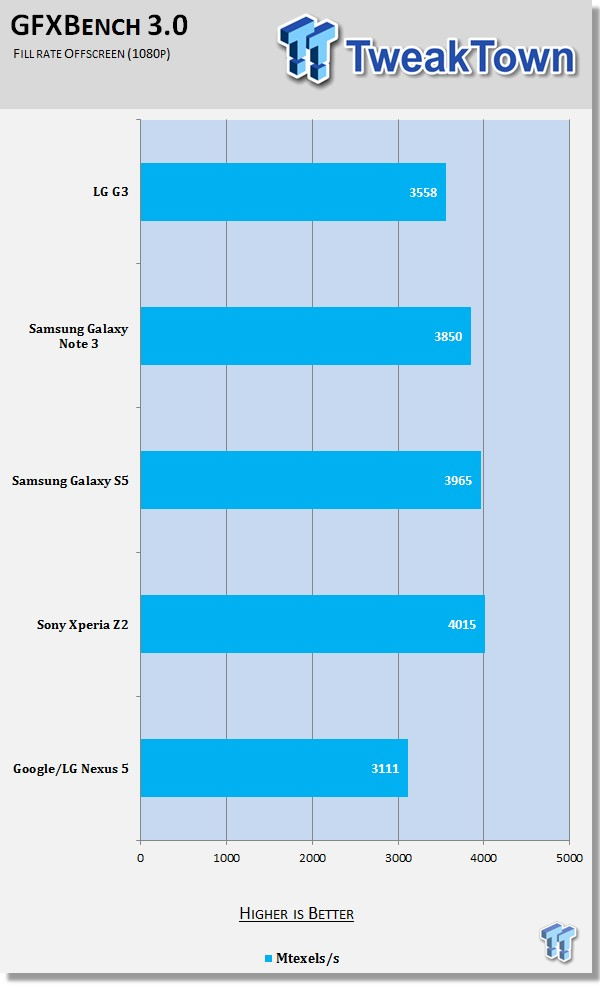 Sony continues its rampage here, beating out the competition. LG falls behind once again, allowing both of the Samsung devices to pin it down, while the Nexus 5 is puffing in last position.
The last of our GFXBench 3.0 benchmarks is the ALU test, once again we run this at 1080p.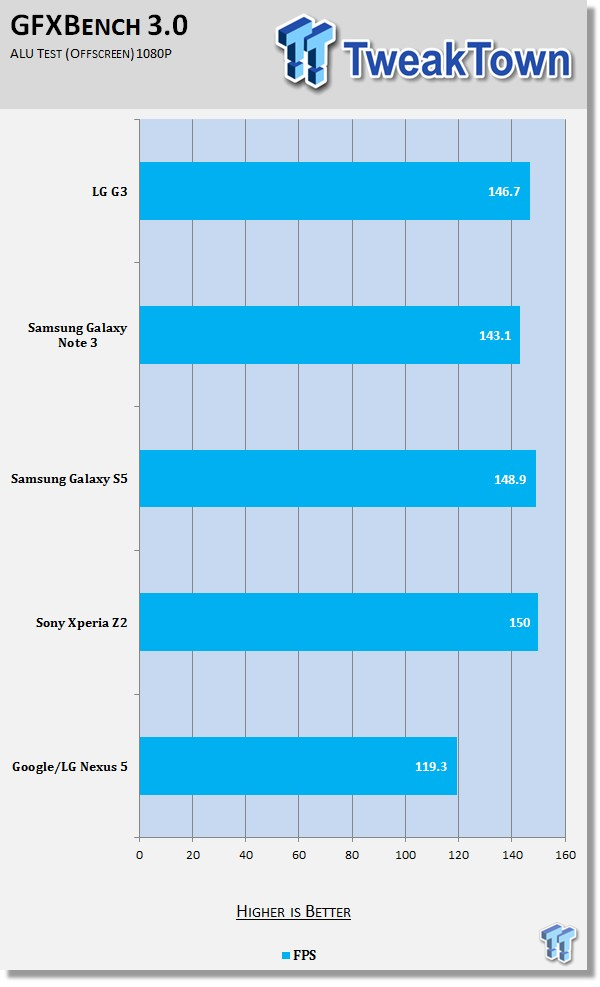 This is a much tighter test, with all of our smartphones apart from the Nexus 5 scoring within a few percent of one another. But, Sony still comes out on top, just.
What Does It All Mean? Should This Sway Your Purchasing Decision?
What Does It All Mean?
I've talked about mobile benchmarks not only in my reviews, but to my peers, to friends, to many people. I understand why they're relevant, but to most people, they need to be invisible. These benchmark scores, at the end of the day, mean nothing to 90% of people. Sure, the Xperia Z2 from Sony pretty much dominated our benchmarks here today, but what does that mean? It came number one in what exactly?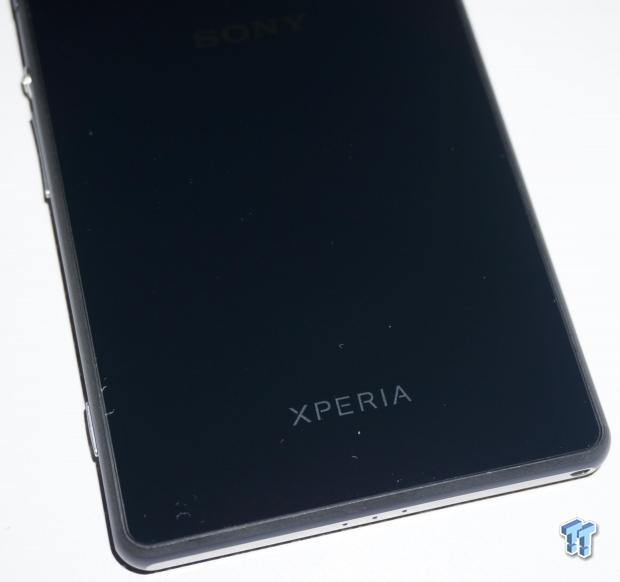 Most people will buy a smartphone and use Facebook, Twitter, WhatsApp, Instagram, Vine, Chrome, YouTube, Spotify, iTunes, and countless other applications without even giving a second thought to something called "3DMark" or "GFXBench" or "Basemark X" in the sea of applications on their respective digital stores. These benchmarks are used by professionals to gauge performance between devices to see if something funny is happening on them, or by the companies making the smartphones.
The standard consumer has no need to know about these benchmarks, as the Nexus 5 could score 300% above all other smartphones - but would it matter? If the Nexus 5 scored 500FPS in GFXBench 3.0's ALU test instead of the 119.3FPS that it did, compared to the fastest smartphone in our benchmark scoring 150FPS, being the Xperia Z2, would it make headlines? No, no it wouldn't. It would need to consistently score higher than the rest, but even then, most people wouldn't notice that in their Facebook news feed, and it surely wouldn't make the front page of a newspaper or tech site for long.
Benchmarks on desktop and gaming PCs is something I'm down with. The performance you receive from a synthetic benchmark can be equated between GPUs, CPUs or whatever other part you're testing. I could go into that, and say that these benchmarks don't really do much apart from overclockers busting these world records easier and easier these days, because it doesn't roll through to real-world performance in games. This is something that deserves its own editorial, but I'm sure you see where I'm going with that. Desktop benchmarks have their place, but mobile benchmarks? Not so much in my opinion.
Should This Sway Your Purchasing Decision?
Should the results of mobile benchmarks sway your purchasing decision? Definitely not. Anyone that told you so, would have a really hard time explaining themselves to you. "Oh, but I really think you should buy XYZ smartphone because it scored 130FPS in benchmark 7!" How do you reply to that? How would a normal consumer reply to that? "Oh, um, that must mean it is really fast then, right?" This is how it would go 9/10 times, and after working in IT retail for close to 10 years, this is definitely how I have seen it happen in front of my eyes, for me to convince a customer that performance in a benchmark is something that is not worth running after.
When it comes to purchasing a new smartphone, there are far bigger things that you should consider: screen size and resolution, battery life, which operating system is it running (and does it get regular updates), its camera, does it feature wireless charging, is it waterproof or water-resistant, and so much more. These are probably the biggest things you should be considering, but we're not here to sell you a smartphone now, are we? But if we did, any of these smartphones are great devices for you to own.
Final Thoughts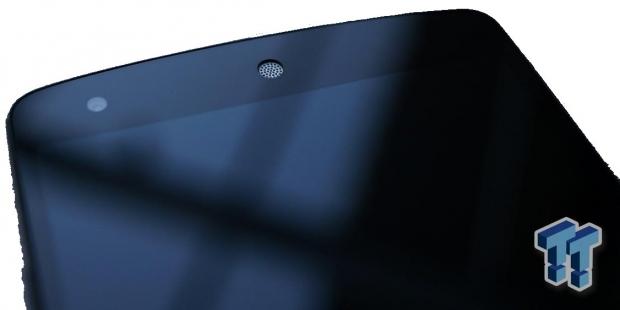 When I first thought about doing this article, I hadn't benchmarked any of the smartphones. I thought the G3 would've trumped the rest, but the Xperia Z2 from Sony is truly one of the best smartphones I've ever used. At the time of writing, I'm using the Samsung Galaxy S5 as my daily driver so I can write my review of it in the coming weeks, and I have reservations on that device. On one hand, it is a much better step up from the Galaxy S4 than I thought it would be, but it doesn't come close to the Xperia Z2 or G3, that's for sure.
In the performance department, if that's what you're here for, the Xperia Z2 wins. The Xperia Z2 isn't just a powerful smartphone either, it's a beautifully made device with more features than you can poke a stick at. It has an amazing 4K-capable 20.7-megapixel rear-facing camera that is nothing short of stunning.
Mobile benchmarks are a funny thing, and while I'm not totally for them, I'm not completely against them either. You can be sure to see mobile benchmarks used more and more here at TweakTown, especially now that we have a good selection of devices to play around with. I'm looking forward to throwing in some NVIDIA Tegra K1 devices into the mix in the near future, which should really mix things up a bit. NVIDIA has some truly powerful goodness with its Tegra K1 processor, something that I'm excited to see what it can do in my hands.
Moving on from mobile benchmarks, we're going to take a look at the camera abilities between these smartphones in the coming weeks, as well as the battery life. As we acquire more devices, we'll be adding these into the mix so that we can build up a slew of mobile goodness here in the labs of TweakTown.
PRICING: You can find products similar to this one for sale below.

United States: Find other tech and computer products like this over at Amazon.com

United Kingdom: Find other tech and computer products like this over at Amazon.co.uk

Australia: Find other tech and computer products like this over at Amazon.com.au

Canada: Find other tech and computer products like this over at Amazon.ca

Deutschland: Finde andere Technik- und Computerprodukte wie dieses auf Amazon.de
We openly invite the companies who provide us with review samples / who are mentioned or discussed to express their opinion. If any company representative wishes to respond, we will publish the response here. Please contact us if you wish to respond.