A close-up look and discussion of Crucial's upcoming DDR4 Memory
Things are heating up in the DDR4 arena as we get close to the actual release. Let's take a look at two different sets of DDR4 memory by Crucial.
Published Sun, Jun 29 2014 10:10 AM CDT
|
Updated Tue, Nov 3 2020 6:59 PM CST
Getting acquainted with Crucial DDR4 server RAM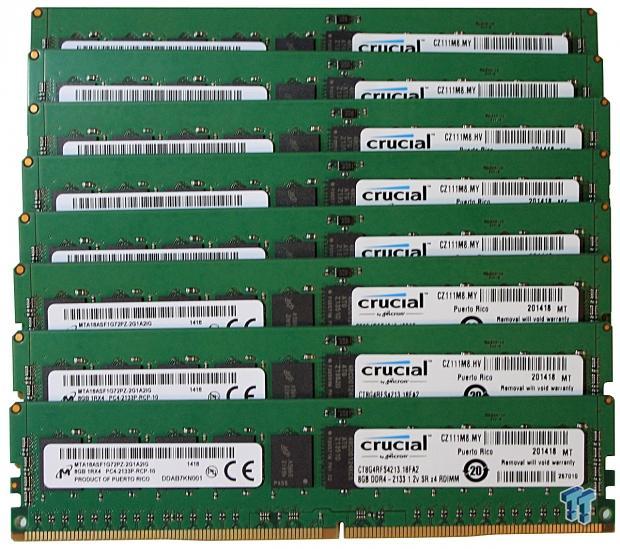 Micron announced its first fully functional DDR4 module back on May 7, 2012. These memory modules were co-developed by Nanya and were based on Micron's 30nm technology. The memory modules were expected to be the industry's most complete lineup, including RDIMMs, LRDIMMs, 3DS, SODIMMs, and UDIMMs in standard and ECC versions.
At that time, the JEDEC definition of DDR4 was very near finalization, and Micron put significant effort in making the first DDR4 products as JEDEC compatible as possible.
Crucial memory modules are based on 30nm technology, and we can expect volume production by the end of this year. DDR4 technology is being driven by streaming video, cloud-based applications and storage, plus an increase in mobile connectivity. This makes DDR4 perfect for manufacturers looking to increase bandwidth needs now and in the future.
When you consider that hundreds of millions of photos are uploaded to Facebook and billions of images are viewed each day, you can see that there is a strong need to increase bandwidth to feed these hungry systems now and to supply future needs.
According to the Cisco Visual Networking Index (VNI), mobile video use is expected to increase to 7.5 exabytes in 2017. Mobile web and data is also expected to increase to 3.0 exabytes in this time frame. Some of the key benefits that you can look forward to with DDR4 memory are:
Two times the speed
The introductory data rates start at 2133 MT/s and will get even faster as this technology matures. Bandwidth also increases to 17 GB/s.
DDR3 server memory can top out at 1866 MT/s on platforms that can support it, and bandwidth can reach about 9.6 GB/s in some of our tests in the lab. This should allow us to see about double the bandwidth over DDR3 based systems. We will now have a fatter pipe to memory for data to flow through when using DDR4.
Two times the Capacity
Using higher density components allows DDR4 modules to be twice as dense.
With DDR3 memory, a normal load out of RAM might be in the range of eight 8GB sticks for 64GB total. Yes, you could use 16GB DDR3 sticks, but these were often very costly and hard to find. For your everyday, average server, 64GB of RAM is plenty, but as system requirements grow with the new X99 platform and Haswell-E server platforms, we expect the RAM load out to grow to 128GB for the norm. Systems will become more capable, and this will drive consolidation of servers into higher performing systems.
Up to 40% more energy efficient
Crucial DDR4 memory will use 20 percent less voltage over DDR3 memory. The new DDR4 technology uses 1.2V vs DDR3 at 1.5V. This does not sound like a huge amount--only 0.3V--but when you configure 16 memory sticks in a 2P system, that's a savings of 4.8V. This adds up to a large amount when you figure in a full rack of servers.
Not only does DDR4 technology reduce power use, but it also runs cooler. This is another huge factor in server rack setups. Lower power use and running cooler helps reduce costs associated with server farms and high density racks.
Enhanced cloud computing, big data, HPC and more
Crucial has maximized DDR4 memory capacity and achieved next-generation performance. Crucial's DDR4 is optimized for the new Intel Xeon E5-2600 v3 processors. With the ability to double up on memory, we will start to see applications taking use of this to achieve higher performance. Besides CPUs, memory is the next biggest performance enhancement that you can do in a server.
With almost double the bandwidth of DDR3, applications can push more data through the pipes at a faster rate. Many databases can reside in memory with increased memory load outs.
Crucial DDR4 Overview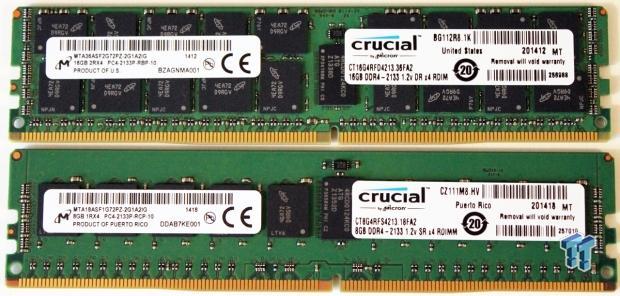 Here we are looking at two different memory sticks by Crucial. The top memory stick is 16GB and the bottom is 8GB. You can see in the 16GB stick that memory modules have been doubled up to achieve the higher density.
Also notice the pin contact area at the bottom of the memory stick has a ramped edge to reduce insertion force.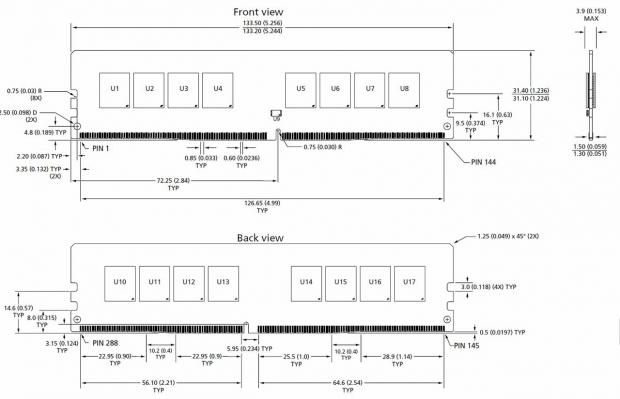 The actual dimensions of a DDR4 memory stick are very close to a DDR3 stick. They are not taller than DDR3 as we have seen some websites state.
As DDR4 does have a different pin out at the bottom, these sticks have a groove in a different location to prevent them from being inserted into a DDR3 memory slot.

In this chart, we can see the different modules that will be used in Crucial's DDR4 memory. The main differences in these are the speed bins used.

Here we can see how Crucial will roll out different speed grades of RAM sticks. Just like in DDR3, slower speed memory can have a lower clock cycle (CL) rate. CL CAS (column address strobe) latency is the number of clock cycles it takes before data starts to flow after a command is received.
Another big concern we see on forums is the CL15 timings that will be used. This is not far off from DDR3 timings at the given speeds. Yes, some DDR3 memory kits have been binned to achieve higher memory speeds with lower CL timings, but consider that DDR4 will have double the bandwidth versus DDR3, and this is what is important in server based memory. DDR4 will also typically have double the cycles per transaction compared to DDR3.

Here we can start putting DDR4 into perspective. Clock rates are double those of DDR3. This means faster access to data stored into memory. The data rate of DDR4 is twice that of DDR3 and with higher density. Not only will we be able to access our data at twice the speed of DDR3, we can move double the amount of data at the same time.
As time goes on and the DDR4 technology improves, we are sure we will start to see even faster memory showing up.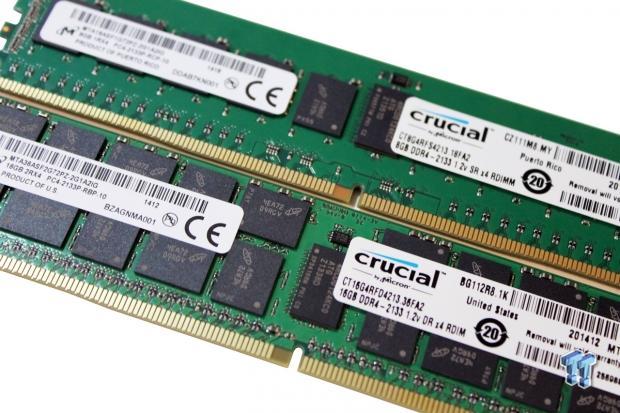 The new DDR4 standard will greatly improve server limitations from cloud computing, virtualization, HPC, and more. Memory dependent applications will get larger RAM pools that are faster and have higher bandwidth. More VMs will be able to run that are more responsive to user demands.
Add to that the lower power use, and cooler running RAM will help to lower running costs. As DDR4 becomes more commonplace, we should start seeing larger density RAM sticks become commonplace. Crucial has been one of the first to get samples of the new DDR4 out into the hands of major OEMs and users with the Crucial DDR4 Technology Enablement Program (TEP), so we all can be ready when server platforms start being released.
Here in TweakTown's Enterprise Lab, we have Crucial DDR4 memory testing and ready to go, so look forward to seeing our performance reviews later this year.
PRICING: You can find products similar to this one for sale below.

United States: Find other tech and computer products like this over at Amazon.com

United Kingdom: Find other tech and computer products like this over at Amazon.co.uk

Australia: Find other tech and computer products like this over at Amazon.com.au

Canada: Find other tech and computer products like this over at Amazon.ca

Deutschland: Finde andere Technik- und Computerprodukte wie dieses auf Amazon.de