An early look at DDR4 RAM performance vs. DDR2 & DDR3 with Crucial memory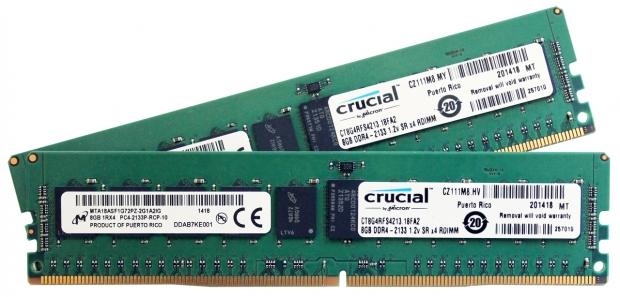 Back in early June, we received our first sets of DDR4 RAM from Crucial, which we posted about in an article called, "A close-up look and discussion of Crucial's upcoming DDR4 Memory".
We now have had a chance to run these DDR4 memory sticks through some preliminary testing to see just what we can expect from DDR4 in terms of performance. Before we get started on the actual performance tests, let's look at a breakdown of memory types and bandwidth over the years.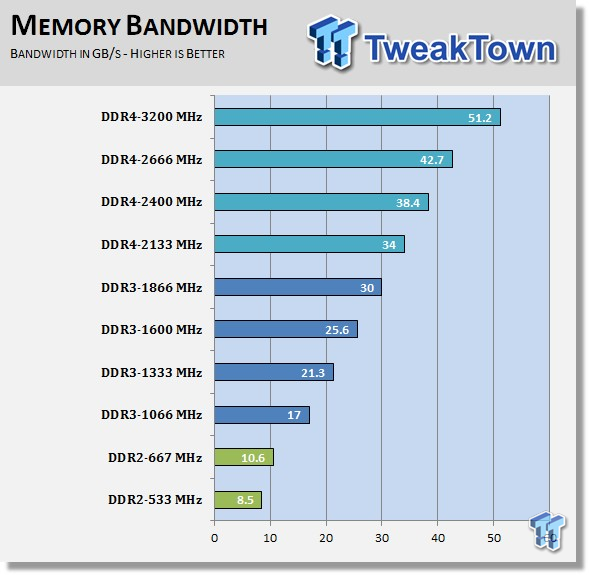 This is a breakdown of how memory has improved over time. From the early days of DDR2 in 2005, we started with around 8.5 GB/s and 533MHz memory speeds. Overtime, faster memory sticks became available, and around 2007, we started seeing DDR3 show up with much improved bandwidth and speeds. DDR3 speeds started to cap out around 2011 with bandwidth of 30 GB/s and 1866MHz speeds. But most systems still use the slower 1600MHz rated DDR3 sticks these days.
With memory advancements, we will begin to see new DDR4 showing up very soon on upcoming Intel platforms. Not only has memory speed increased to 2133MHz for desktop users, but server platforms with DDR4 support will be making its first showing in the 2133MHz speeds and bandwidth of around 34 GB/s. For normal server DDR3 platforms running at 1333MHz and 1600MHz, we can expect to see anywhere from 8.4 GB/s to 12.7 GB/s improvement in bandwidth.
In addition to memory speed and bandwidth improvements, we will see improved error correction ability with Cycle redundancy checks (CRC) and on-chip parity detection for integrity of command/address. Let's get on with our testing now.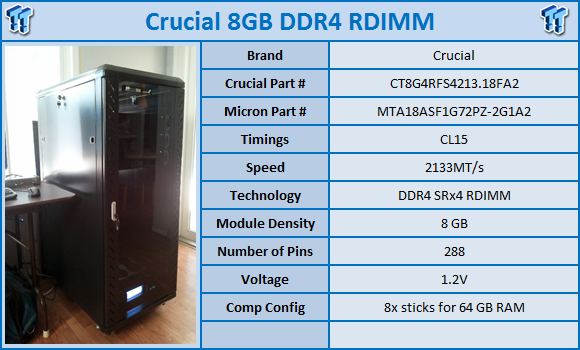 For our testing of DDR4, we will be using the Crucial DDR4 8GB 2133MHz CL15 sticks that we received back in June from Micron. We are unable to state the rest of the test system specifications at this stage. This overview early look is designed to be a preview of DDR4 performance, without providing exact details. Let us get started with AIDA64 Memory test to see where we stand. AIDA64 Memory benchmark measures the maximum achievable memory data transfer bandwidth with highly optimized code.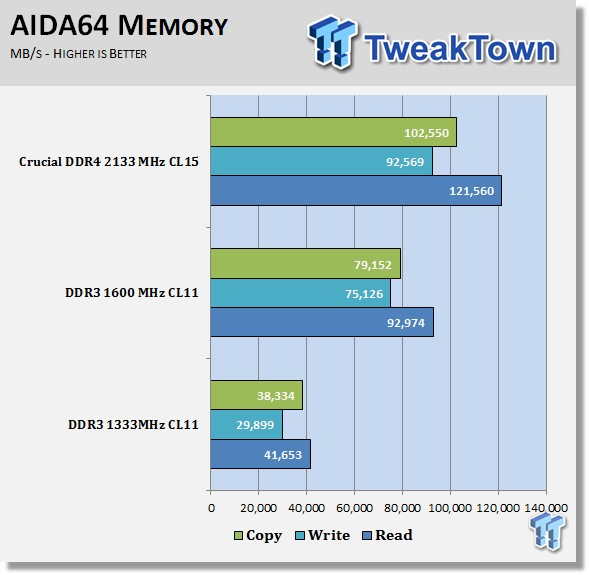 Here we see our first test results from AIDA64 Memory test. We have gone back through our reviews and pulled data from earlier tests to show different DDR3 results. As you can see, DDR4 has improved memory performance a great deal. Moving up to DDR4 2133MHz memory over standard DDR3 1333MHz systems is a huge improvement. What we see happening now is bandwidth measurements going from MB/s to GB/s because the amount of data moving has become so much larger and faster.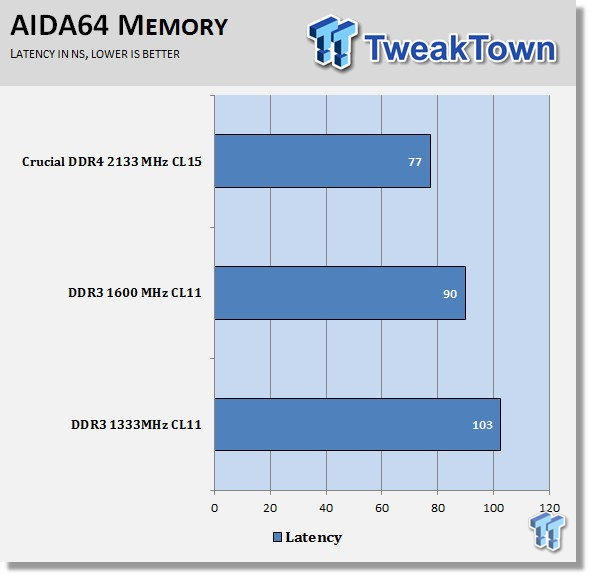 Not only has memory bandwidth improved, but latency has also lowered a great deal. Lower latency means faster system response, and that improves performance overall. Just like with SSD's that improve system response because of faster access times and improve performance over spinning drives, reduced latency in memory does the same with a similar concept.
Overall, we see big improvements in DDR4 versus current DDR3 memory sticks used on server systems. The big picture is improving application response times, data transfers to other systems on the server, and databases will benefit a lot from moving to DDR4. In our tests, we see that the slower CL15 rating has not had big impact on DDR4 memory performance. In fact, it has helped to increase the memory speed to faster levels. If memory ratings were tighter, these kits would most likely have to reduce memory speed.
The problem for memory manufacturers is deciding on whether to release memory with tight timings and slower speed, or loosens up the timings and increase speed. In fact, both of these two systems can even out in the benchmarks, so the manufacturers must decide on a process and go forward with their decision. Therefore, the CL15 rating is not much of a concern at this time. As time goes on and manufacturing processes get better and more advanced, we might see memory ratings get lower, but only time will tell.
The last thing to talk about is the lower power consumption of DDR4. The new memory modules have not only increased in size, but lowered power use and improved bandwidth. We have moved from a system with eight DDR3 memory sticks using 10.8 to 12 volts in total, to eight DDR4 memory sticks at 9.6 volts. That in itself does not sound like a lot, but add up the number of servers that an enterprise company will use and you can start to see big reductions in power use, which also means less heat output, reducing other costs for datacenters such as cooling bills - it all adds up.
Here in TweakTown's Enterprise Lab we have started Crucial DDR4 memory testing and ready to move forward on system performance reviews soon. Stay tuned!