3D printing a GoPro camera mount
One of the questions I am asked most about 3D printing is about the practicality of a hobbyist-grade printer and its ability to print useful items instead of just trinkets and toys. My go-to answer is usually to reach into my backpack and pull out a small red case that houses my Raspberry Pi. I printed this case when I first got my Pi, and have since printed a few dozen for friends and strangers who wished to buy one from me.
Over the weekend, I hosted a 3D printing booth at the Super Happy Block Party in Augusta, GA, which was hosted by my makerspace, theClubhou.se. During this event, I must have had that very question asked to me about fifty times.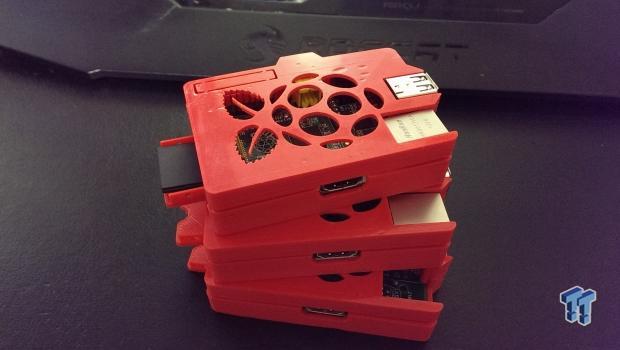 About half way through, I realized that many of the people who were asking these questions had never heard of a Raspberry Pi or understood what it was or why it needed a protective case in the first place. It was then that I decided to switch up my example and show off one of the small zip tie mounts I have been printing for GoPro action cameras.
This example seemed to ring more true with the booth's visitors as many of them were into wakeboarding, longboarding, biking, and kayaking, all sports that the GoPro is frequently found in. The mounts I have been printing are quite unique in the fact that they can be mounted to any surface by using two to four 12-inch zip ties. The mount features recesses for the zip ties, and it makes for a very strong and secure mount.
So today, I decided to write a quick article on this mount and show you how I print it. The mount is freely available on Thingiverse, so if you have a printer or access to one, you can print this awesome little mount. For those interested, I have included a video of an entire printing session with one of these mounts below.
I first printed these mounts in PLA, but quickly found out that PLA's natural hardness makes it very brittle, and the mounting ears would crack and break off after just a few uses. I experimented with different infill percentages and even tried it solid. Nothing seemed to fix it.

This is where I finally decided to print them from ABS with a 50 percent infill to save on weight. Since then, I have printed about 25 of these mounts for personal use as well as to give to friends, and I am proud to report that every one that was printed from Voltivo ExcelFil and Lulzbot ABS filament are still in use today and have yet to crack or break. Unfortunately, I did print a few with cheap ABS I was testing from China, and the $25-per-spool filament was just not up to the challenge of the abuse these mounts take.
Back to the practically of 3D printing, I find this GoPro mount to be the perfect example of using this hobby's technology to save not only money, but time as well. If you were to order a GoPro mount from Amazon, you would not find anything similar to this, and an official mount would cost anywhere between $25 and $50 depending on the model.
Anyone with a 3D printer, or access to one, can queue up this mount and have it sitting in their hand ready to use in about 25 minutes. Additionally, the mount at 50 percent infill only uses about $0.50 worth of filament, meaning that you can print off a dozen of these and leave them strapped to wherever you want to mount your GoPro. I would recommend coating them with paint if the installation is going to be in the full sun for extended periods of time, though, to prevent UV damage.
The Raspberry Pi case is also an excellent example, but for those who have no idea what a Raspberry Pi is, explaining it may be too time consuming. I am going to begin looking for more practical uses for 3D printing in and around the home over the next few months and will be posting articles on the objects here at TweakTown as I find them. If you know of any good examples, please email or message them to me on Facebook.
I would like to thank Lulzbot and Voltivo for sponsoring this post. Without Lulzbot, I would not have the 3D printers on hand to create this kind of content. Voltivo helps out as well by providing me with the highest quality 3D printing filament in the world, and I cannot thank them enough either. If you are in the market for a 3D printer, check out Lulzbot, and then head over to Voltivo and check out their ExcelFil 3D Printing Filament.