Introduction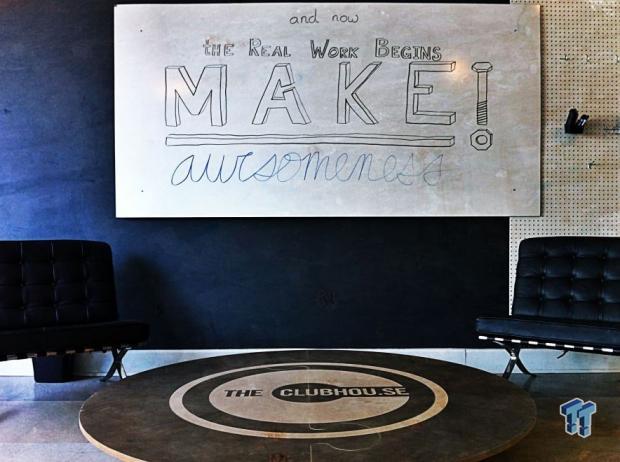 Within the last decade the DIY movement has grown from projects in basements and garages to a collective movement of people gathering together in cities and across the country to something much larger than it ever was before. Some attribute this to the downturn in the world economy, and while that may be true, I suspect a major portion of it is due to the movement to share everything on the internet.
Back in the day, well before I was born, kids grew up with hobbies that urged them to make things with their hands such as the popular Heath Kit DIY electronics kits. Another popular DIY set for kids was the Erector set that let users build their own mechanical devices out of real metal parts. Often times, kids would help their parents repair the lawnmower, fix the carburetor on the car, or even sew a quilt to help keep them warm in the winter. At some point, day-to-day life got so complicated that families were forced to pay someone to do these things for them. This new "just hire someone to do it for me" attitude combined with the rise of cheap manufacturing in places like China, Mexico, and India, left many of the do-it-yourself skills forgotten by much of the population.
While some kept this knowledge alive as a hobby, others were forced to continue the DIY tradition out of sheer necessity because they could not afford to hire the TV repairman or the plumber to fix it for them. Sometime in the late 70's, and through the 80's and 90's, we lost track of these skills even more as the global economy began to boom and the consumerist lifestyle began to grow.
Fast forward to the last ten years and we have begun to see a resurgence in DIY at the same time that the technological world is experiencing a growth in innovation that can be described as a new industrial revolution. Spawning off of this movement is something that can be considered a revolution all on its own, the Maker Movement. The Maker Movement is comprised of a growing population that is embracing the DIY philosophy of life and is sharing and collaborating to push the world of DIY to the next level.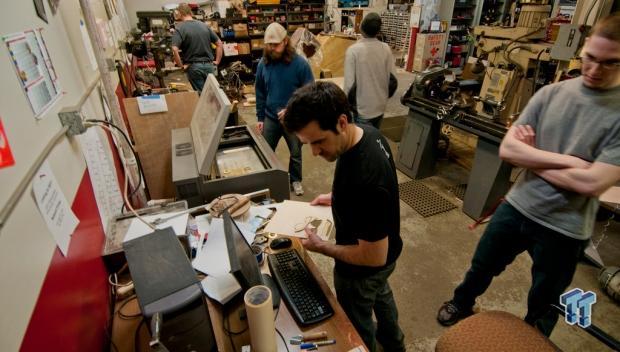 For many years, this collaboration took place after-hours in classrooms at universities as well as in garages and living rooms around the world. In Germany back in 1995, a group of Makers formed C-Base, which is widely believed to be the first public Hackerspace. But it was not until a few years ago that the concept really took off and bloomed into a thing of its own. I like to give credit to Bre Pettis and NYC Resistor as the first truly public Makerspace / Hackerspace in the USA. Out of NYC Resistor, several companies and products have been born, including the MakerBot and the Sanguino development board.
What is a Makerspace or Hackerspace?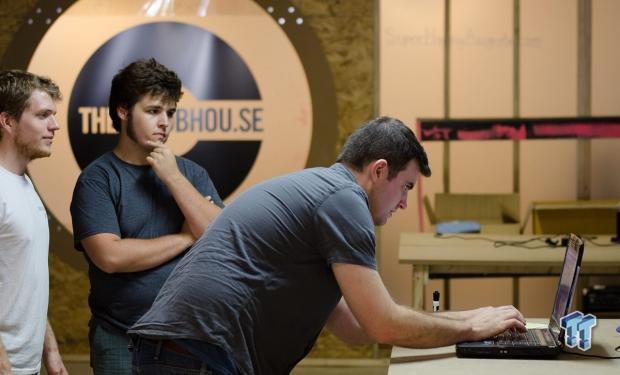 Makerspaces, Hackerspaces, tech shops, or fab labs are all basically the same thing when you break them down into their core components. They consist of people who pay a monthly membership fee to be part of a collective of likeminded technologically inclined individuals. In laymen's terms, a Makerspace is a building where members can regularly meet to work on, discuss, or plan projects.
These spaces typically have machinery and other equipment available to use that may be too expensive for an individual to justify purchasing for just a few small projects. Makerspaces typically have at least basic hand tools, a 3D Printer, and a laser cutter, but each space is unique, and depending on membership levels, funding, and overhead cost, could have much more or much less.
While Makerspaces are generally more adapted for those who like to make physical things such as robots, 3D printers, projects involving embedded electronics, and more hands-on types of projects, Hackerspaces, on the other hand, are usually likened to the coding side of things. They are filled with individuals who are proficient in app, web, game, and coding development in general.
There is usually some cross over, and in my experience, many makers are also coders, while not many coders are makers. At the same time NYC Resistor was branded as a Hackerspace, it included just as many makers as it did coders. Personally, I feel that the Makerspace and Hackerspace names are interchangeable and we should not limit collaboration based on technical skill set as everyone has something to bring to the table.
So why are Makerspaces important?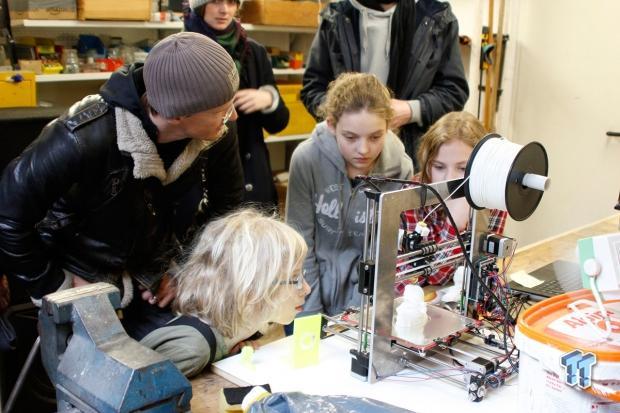 As I mentioned earlier, with the modern on-the-go lifestyle and ever increasing cost of doing anything yourself, having a space you can visit to work on your project is priceless to some. At a Makerspace, you do not have to worry about disturbing your neighbors by using a power saw, or violating HOA rules when you open your garage to work on a project. The added benefit of having others around who may be more knowledgeable to help with your project is quite handy as well.
Some of the biggest innovations in modern DIY tech grew out of Makerspaces. Take for example 3D Printing. Before MakerBot's CupCake CNC 3D Printer was born at NYC Resistor, the only way to get your hands on a desktop 3D Printer was to build one piece by piece that you sourced from a Bill of Materials on RepRap.org. Bre Pettis and NYC Resistor are truly the reason we have affordable, high-quality 3D Printers today.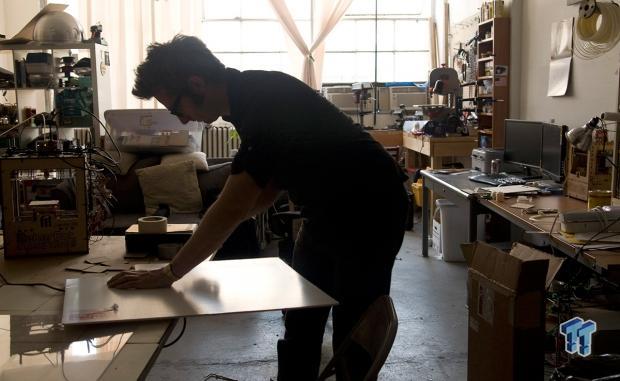 Products are not only the thing to come out of Makerspaces that carry value though. Makerspaces routinely hold classes to educate not only their members, but the general public as well. These classes can span from simple Arduino coding sessions, all the way to full-on DIY welding classes. The Makerspace that I am a member of hosts a class every other Thursday for teens aged 11-17 that teaches them how to program, recycle components, and build projects from start to finish. I happen to be one of the instructors for that class, and get to see firsthand the impact this type of STEM education has on the next generation.
For the most part, the sharing of knowledge is what lies at the core of every Makerspace in the world. Many of their members take pride in being able to empower others to do it for themselves, and to help people buck the consumerist lifestyle everyone seems to be living these days. Imagine the innovation and positive community impact that would be generated if just one percent of the population joined Makerspaces and collaborated together to improve the world around them! It would be like nothing we have ever seen before.
Makerspaces are generally open to adults as well as teens. This allows our youth to be introduced to engineering and coding concepts well before they reach college, and is something our already struggling school system just cannot do due to a lack of funds and time. Makerspaces are the places where the next generation will develop their skill sets, and where they will hatch their ideas and plans for the next wave of technological innovation.
My personal experiences with Makerspaces and an interview with a Makerspace founder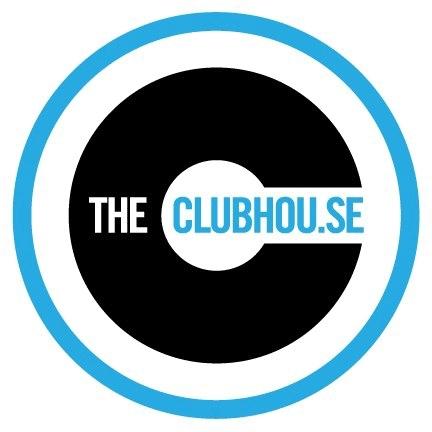 Shortly after NYC Resistor went live, I began researching Hackerspaces and while I always wanted to open one of my own, I never had the time or the funding to do so. Fast forward a few years and a few of the local makers in my area have formed a club that would meet once a month to discuss what they were working on. Around that same time, a coding club formed as well. At some point, members of the CSRA Makers and HackAugusta joined forces to form theClubhou.se.
As much as I would like to take some of the credit for this, I have only recently been able to join this Makerspace due to its formation unfortunately aligning with the time my home burned down last year. Nonetheless, I am a member now and I am working hard with the other members to make it even more awesome than it already is.
As I mentioned earlier, I am an instructor for a group of intelligent teens we call the Young Makers. Every other week, we meet at theClubhou.se and give a lesson on something maker related. One week we may learn how to make servo motors work using Arduino microcontrollers, then the next class may be dedicated to deconstructing electronics to salvage parts we might use in future projects. We like to call these events Deconstruction Derbies.
Regardless of the scheduled activity we always have a hard time ending the class because the children simply want to continue learning. I will be the first to say that when you have to end a coding class over an hour late because of the kids' desire to continue coding, you feel a great sense of accomplishment as well as a lot of confidence in the next generation of innovators.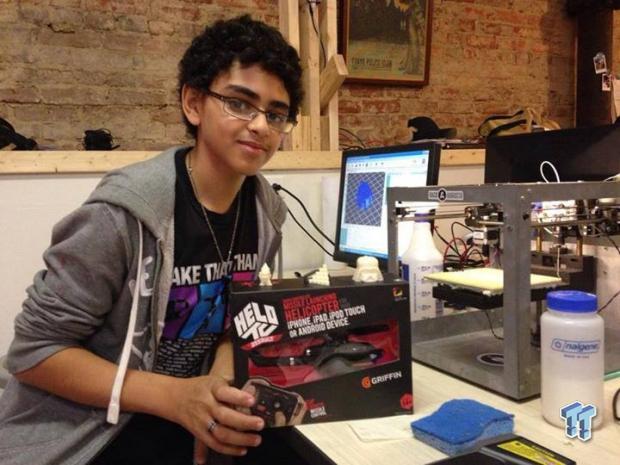 In general, I tend to get along with almost everyone who happens to cross my path in life, but I can honestly say that some of my best friends are also members of theClubhou.se. Even though I have only been an official member for two months now, I feel like I have been a member from the beginning. Everyone welcomes me and my ideas openly because that is what a Makerspace is all about. It's not about being closed-minded, secretive, and trying to one up someone else, but is more centered on sharing knowledge, helping fellow makers succeed, and empowering each other to do what we love doing.
I asked one of the founders of theClubhou.se, Chris Williamson, if he would be interested in a short interview for this article, and being such a good friend, he agreed. I sat down with Chris and asked him a few questions that may lend some insight into why a Makerspace may be a good choice for you, the reader, to consider joining. So without further adieu, here is a transcript of the interview.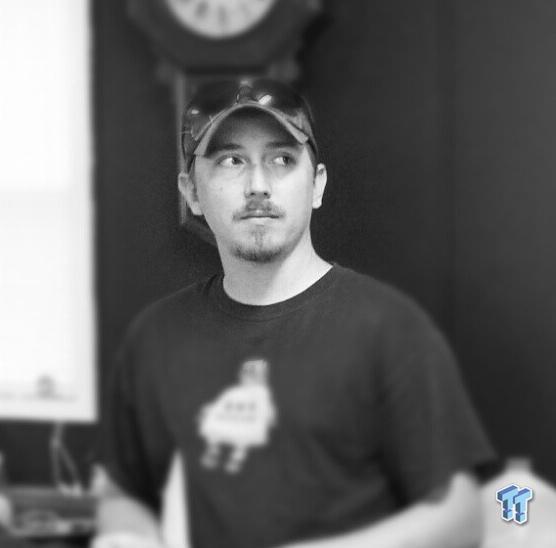 Charles: Chris, you are one of the founding members of The Clubhou.se, a Makerspace located in Augusta, GA. Why did you feel that it was important to bring this type of collaboration space to your area?
Chris: I felt that we needed a place to get together with likeminded folks. Being in robotics for ten plus years, I was sad to have no one interested in the same things as me that I could find locally, so I reached out to people finally, and ended up meeting some awesome people in the process.
Charles: What improvements have you seen come to your area that are a result of theClubhou.se's existence?
Chris: More widespread robotics education, early introduction of technology to kids, as well as bringing connectivity and networking to our highly varied technology community in Augusta. More technology outreach to the general public, including Wounded Warriors, and other groups have been tremendous.
Charles: Has your Makerspace played a pivotal role in launching any successful startups that may have never happened without it?
Chris: We currently have three or four startups that are being worked on in the space. We are all successful in our own right so far, but none have been publically launched. My personal start up is 'txtcam', a new type of camera device that allows you to get rid of those selfies, and also never leaves anyone out of a photo! I have a second start up that is 'SpacePRIDE', which involves robotic technology and pushing the boundaries for the NASA Sample Return Challenge.
Charles: On the maker movement in general, some say that it is a passing fad, while others insist that it is the future of innovation, and that Makerspaces will lead the charge in defining the next era of technology. What are your thoughts on this?
Chris: I believe that community spaces in general will be around for a while. The amount of knowledge that you can pack into one place at a given time is just amazing. Sure, lots of ideas are thought up when you're sitting at home by yourself, but allowing yourself to collaborate with others on the idea can really bring it to light and push it out the door much faster. Technology moves in an alarming rate, and by collaborating with people, you can help keep yourself on the leading edge.
Charles: Do you prefer the term Makerspace over Hackerspace, and why?
Chris: I actually prefer the term Makerspace only because I am more of a 'Maker' than a 'Hacker'. I believe the two terms are actually very different, and you can have a space of each. Hackers leaning more towards the programming side and software side, while Makers lean more on creating things and being more hands on. Although, I could see an argument of either side having the same traits.
Charles: You and I have been friends for quite some time now, and have both witnessed each other build some amazing projects. Can you tell me about some of your latest endeavors that have benefited from theClubhou.se, and the maker movement in general?
Chris: My current projects are 'txtcam' and 'SumoBot League'. txtcam is a hardware start up built around creating a new device for streamlining the ability to make memories and capture them for social media. SumoBot League is a robotics curriculum that I'm currently writing to help get more people interested into robotics. This curriculum will entail everything that is STEM education, from soldering, to hands-on building, designing, programming, and competing in a very fun environment.
Charles: If you had one piece of advice to give to someone who was looking to join a Makerspace, what would that advice be? Likewise, if you could offer advice to someone wanting to launch their own Makerspace in their city, what would you tell them that might better prepare them?
Chris: JOIN! You'd be crazy not to join up and just be able to hang out with likeminded people. Makerspaces are always needing support, and if you're looking to join, then they can definitely use your support! On the other hand, if you're looking to start a space, I have this to say: Be ready to pull your hair out. Literally, running a space is a very complicated matter and does get scary sometimes, but as soon as you get everything put together things will start working out. Just keep strong and keep pushing!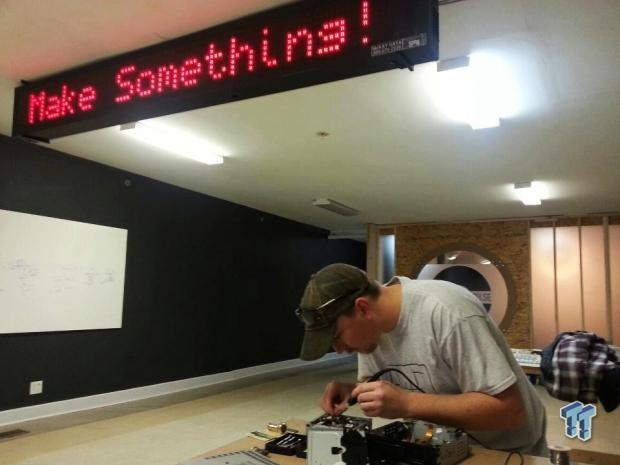 His last answer pretty much sums up why anyone should join a Makerspace. The ability to meet up with likeminded people, work on projects in a collaborative manner, and the ability to not only gain knowledge but share it with others, is a very appealing thing. I cannot urge you enough to seek out a Makerspace in your local area, visit it during an open house event and join at the highest membership level you can afford if you feel it fits your needs. Remember that just because it is not perfectly fitted to you, does not mean that it cannot add features that better suit your needs. With every paying member, the spaces ability to purchase additional tools, equipment, and other things grows and as such, so does the Makerspace.
At the moment, there are two directories on the internet that independent Hackerspaces and Makerspaces list themselves on. Hackerspaces.org is a wiki-style website that lists almost every active Hackerspace in existence in its directory. Likewise, Makerspace.com lists many of the active Makerspaces around the country. Not all Hackerspaces and Makerspaces are listed on these sites though, so check out your local listings as well as contacting local universities and tech clubs to find out if there is one near you.
Image Credits: Some images appearing in this document were provided by NYC Resistor, theClubhou.se, IN-Berlin, FabLab, and Chris Williamson.