Introduction and The Package
Introduction
Just over a week ago we looked at our first Llano motherboard which came from GIGABYTE in the form of the A75-UD4H. It looked good, but until we're able to throw our AMD APU into it, we won't know the full potential of both the board and the platform. While we're still a few days away from the NDA lifting on the APU itself, ASUS has lifted the NDA on their motherboard today which gives us the opportunity to give you a preview of what exactly they're offering.
Because we're doing a preview, the main focus is of course the board itself. This means we'll start by looking at the package to see what ASUS are including in the bundle. Once we've done that we'll move onto the board itself to have a look at what kind of expansion slots they're offering and what's happening on the I/O side of things.
Once we've done that, we would normally just have a bit of a look at some of the specific features that ASUS are offering, but because our AMD APU has arrived, we thought we'd fire up the board and check out the BIOS to see what's going on. Of course, we'll be blanking out any information that's related to the CPU model / speed, but we'll at least in the meantime be able to get a good idea of what's happening in the BIOS.
Once we've looked at the BIOS, then we'll check out some of the specific features that ASUS are going to be promoting before we wrap everything up in our final thoughts. As mentioned, though, let's first get into the box / package and see what ASUS are going to be offering us come launch day of the new AMD Llano platform.
The Package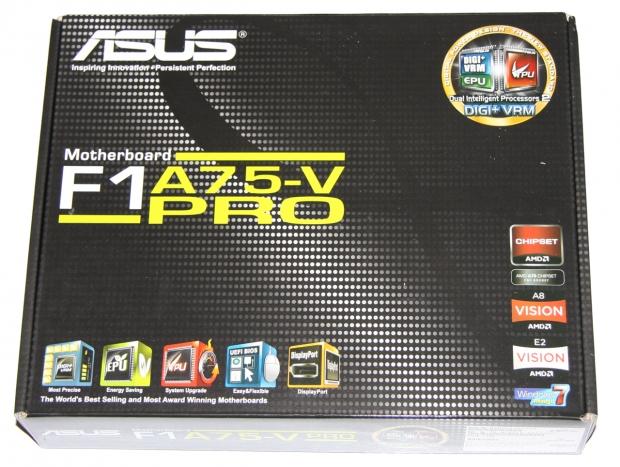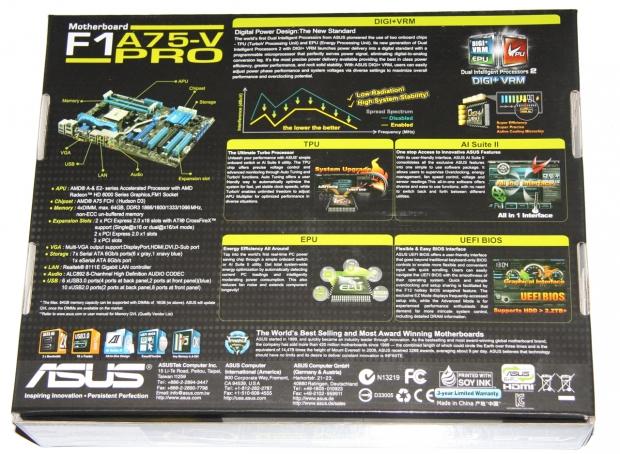 Looking at the board box, it follows the overall design over other "Pro" series boards we've seen from ASUS. The front gives us the model and a rundown of some of the main features the board offers, while turning over we get a picture of the board and some more detailed information on some of those features that ASUS mentioned on the front of the box.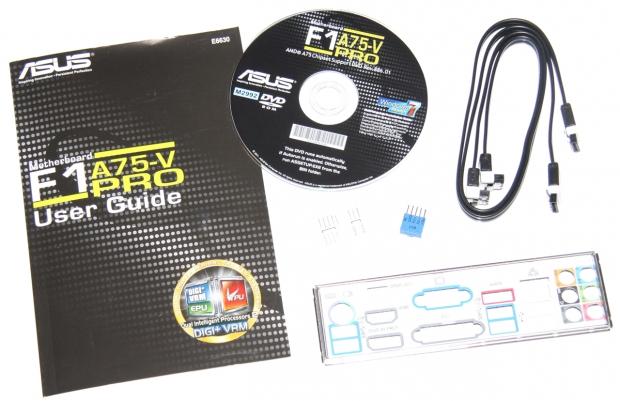 As we move inside, we're not greeted by a huge package, and considering the target audience for the Llano platform (Mainstream), it comes as no surprise. We've got a manual and driver CD along with our ASUS quick connectors, two SATA cables and our standard I/O shield.
ASUS F1A75-V Pro - The Board
When you look at the board you can see that it follows the similar color design to what we've seen from other "Pro" series motherboards from ASUS. The main stand-outs are the blue heatsinks connected by a heat pipe.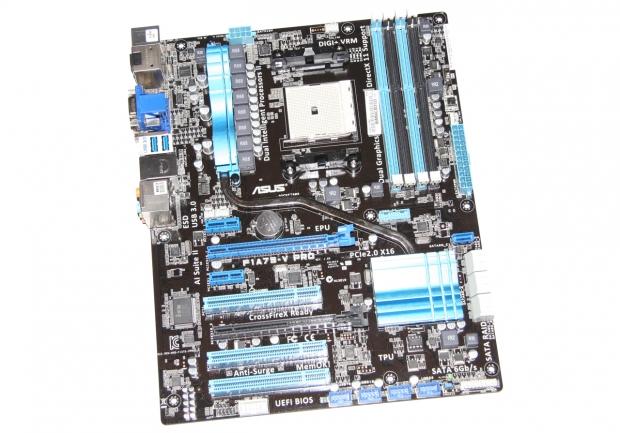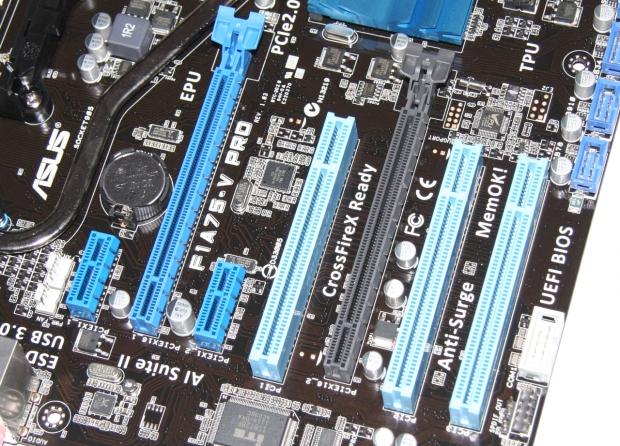 Moving in closer to the board, you can see our expansion setup. We've got a total of seven slots split amongst three legacy PCI, two x1 PCI-E and two x16 PCI-E. Of course, as you'd expect, both x16 slots don't run at x16; instead the dark blue one does which is your primary while the black one is wired up for only x4 speeds.

Moving across the bottom, we haven't got heaps going on, but all the normal bits and pieces are present. On the far left we've got a S/PDIF and COM port header; next to the UEFI BIOS logo we've got four USB 2.0 headers and on the far right we've got our main system header.

Turning the corner, you can see we've got a total of seven SATA ports with one of them facing upwards verse outwards. All seven of the SATA ports are SATA III, but are ran off two different controllers. The six white / gray ones all run natively off the AMD A75 chip, while the blue one sitting alone runs off the ASMedia PCI-E SATA III chip.
ASUS F1A75-V Pro - The Board Continued
Getting into the top half of the board, we've of course got our four DIMM slots which support up to 64GB of DDR3 memory with speeds ranging from 1066MHz DDR to 1866MHz DDR. Below that we've got our standard 24-Pin ATX power connector.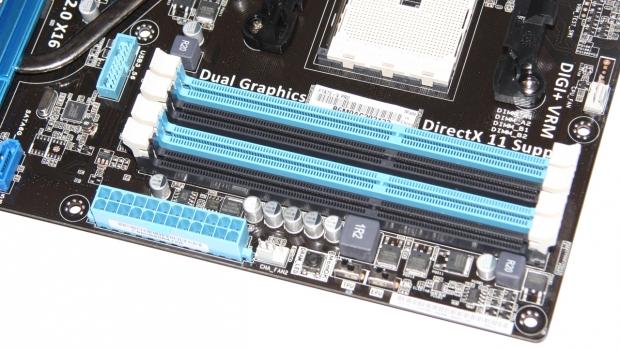 A few other stand out features around here include the USB 3.0 header to the left of the RAM slots and our MemOK, EPU and TPU button and switches located next to a fan header which sits next to our main 24-Pin power connector. These switches can be used to enable and disable certain features; they can pretty much be done in the BIOS, but if you don't want to venture there, then this is an easy option.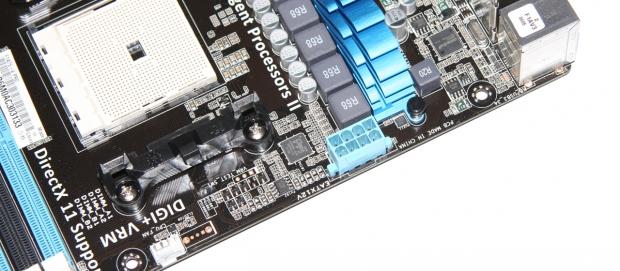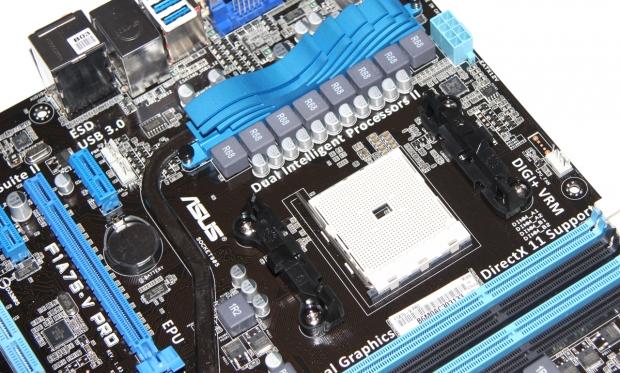 Getting around to the CPU area, you can see our main 8-Pin CPU power connector and of course the socket itself. You can also see that the A75 based board uses the new cooling bracket which AMD says helps provide better airflow and in between that we've of course got our FM1 socket.

Looking at the I/O side of things, we've got a PS/2 combo port on the left and below that two USB 3.0 ports in blue. Just skipping a few connectors for a second, we can see another two USB 3.0 ports in blue a little further up. One pair of these is controlled natively via the AMD A75 chip, while the other pair is running off the ASMedia controller.
Moving back over, we've got an optical-out port and four video connections in the form of HDMI, DisplayPort, VGA and DVI-D. As for the VGA power behind them, well, that depends on the APU you use. It's not something we can really get into at the moment because of the NDA attached to the APU side of things.
Moving on, we've got those other two USB 3.0 ports we mentioned; above that an eSATA port controlled via the ASMedia controller, two USB 2.0 ports, Gigabit networking via the Realtek RTL8111E chip and six audio jacks that run via the Realtek ALC892 codec.
ASUS F1A75-V Pro - BIOS
While the ASUS board did arrive before our GIGABYTE, we did the GIGABYTE board first as it didn't have an NDA attached to it. Between then and today, though, our AMD APU arrived and when we organized the preview for this board, the AMD APU was in our hot little hand, so we thought we'd take the preview a step further than normal by offering you BIOS shots. Of course, anything related to the APU model number / speed has been removed, but we're still able to get a good look at the BIOS and what's going on.
Hitting DEL and getting into the BIOS, you're greeted by that UEFI interface we're quickly becoming used to from ASUS. It looks great and "EZ Mode" is easy; options are limited as you'd expect and we've just got readings of some of the important numbers like temperature and voltage levels. You've also got a basic run down of BIOS version, motherboard and APU model along with RAM and speed it's running at.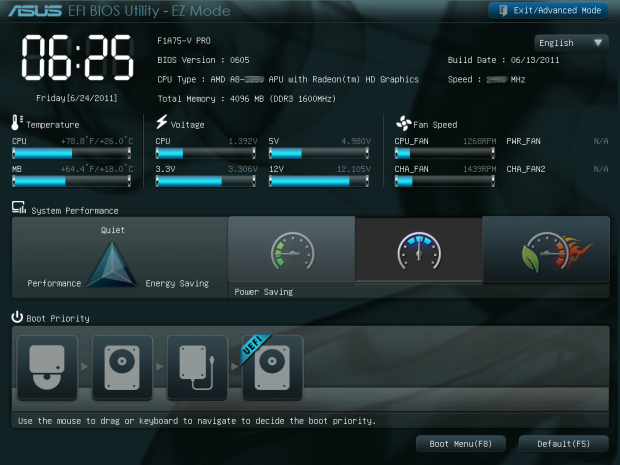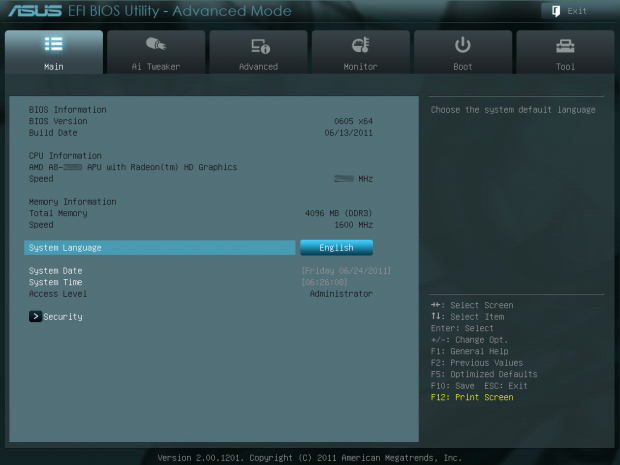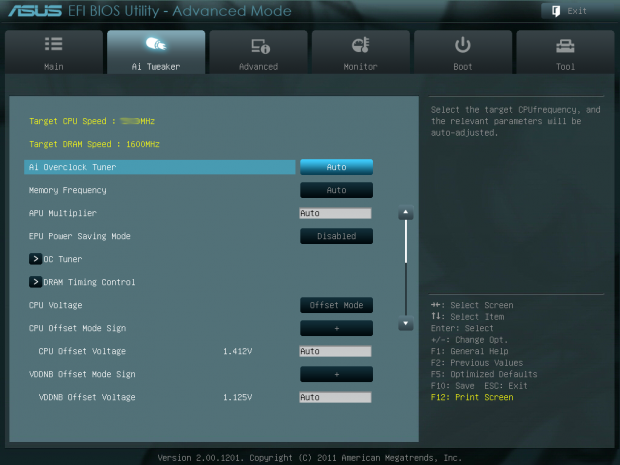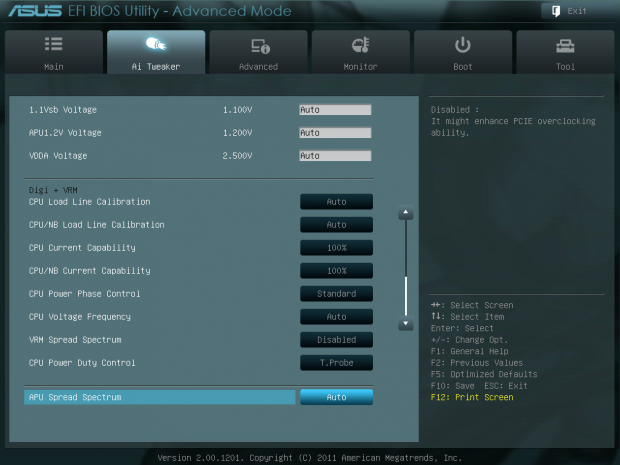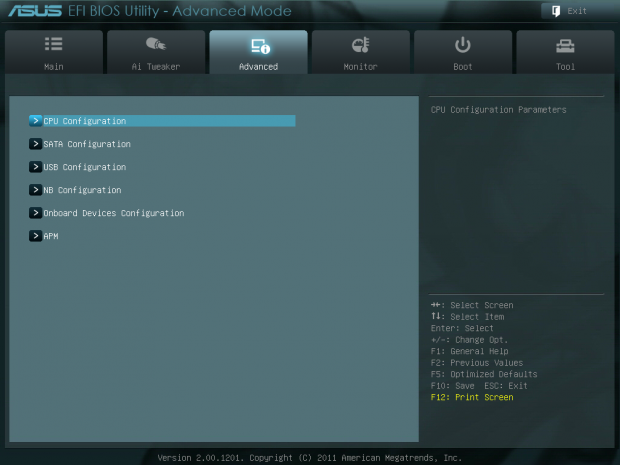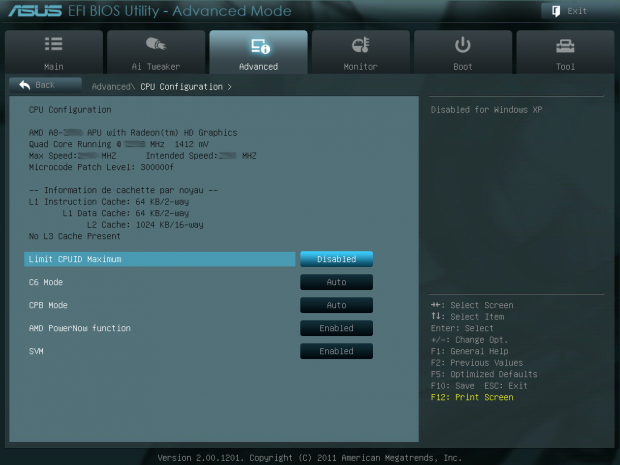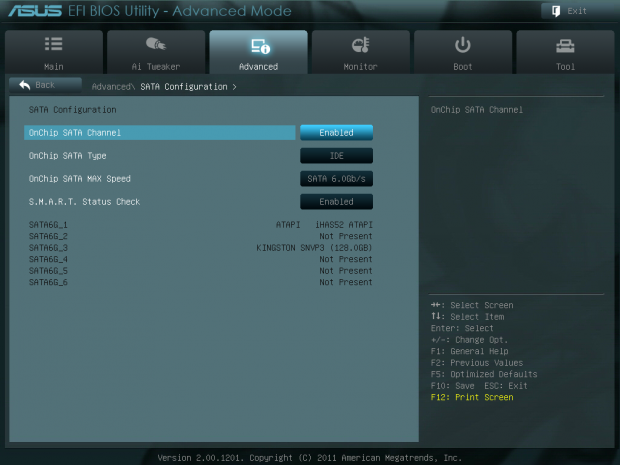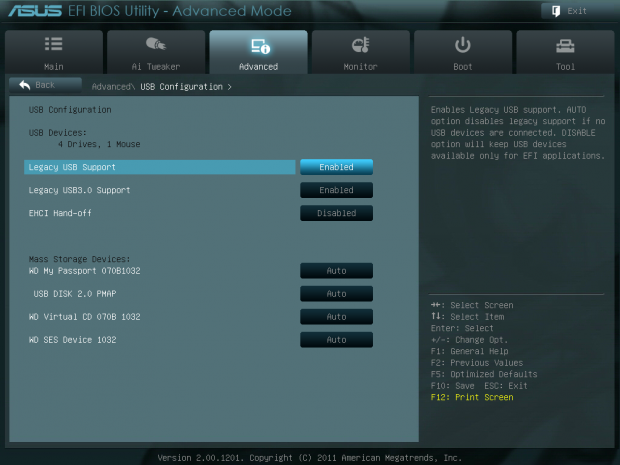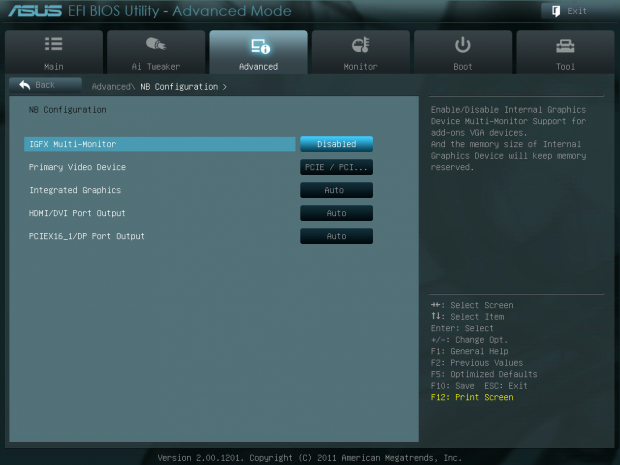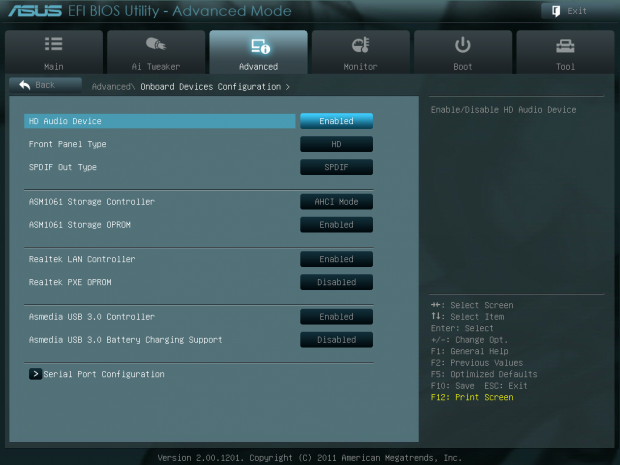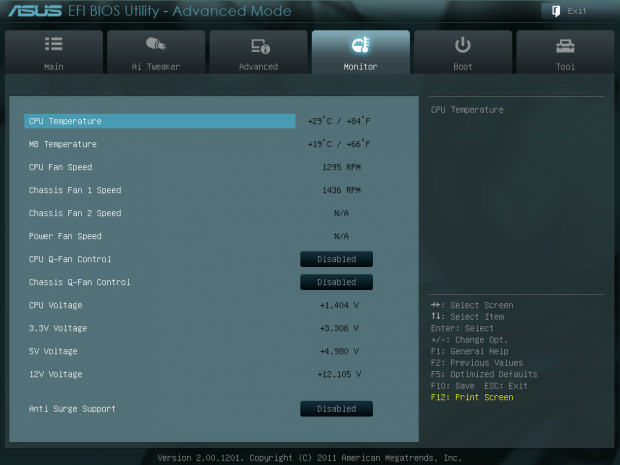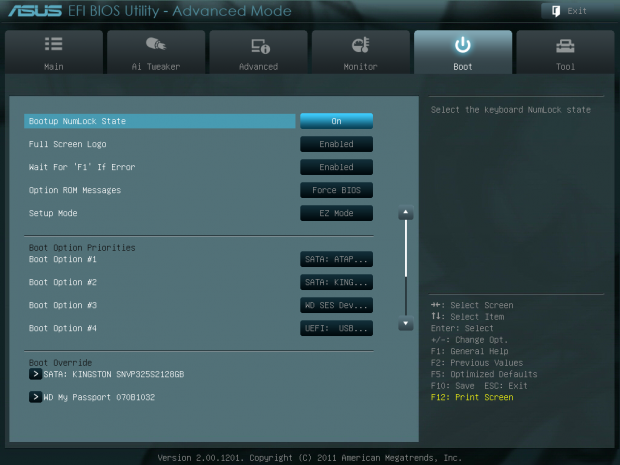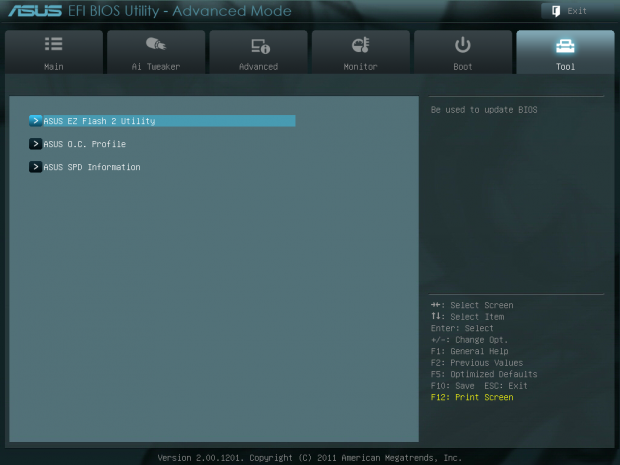 Once you get out of EZ Mode and into advanced mode, the setup is very similar to that of the ASUS Intel and AMD boards. Options throughout are all close and as for menus and sub menus, they're near identical. As you can really see from all the above images, though, if you've seen or used the ASUS UEFI BIOS, you should find yourself at home. The main thing people will need to get used to is finding out sweet points in regards to voltages etc. for overclocking. That will all come in time, though.
ASUS F1A75-V Pro - Features
A couple of features that stand out would be the two switches on the board that are labeled as EPU and TPU. What these two switches do is activate some presets; EPU is related to power saving. You've got two ways to really enable the EPU function; you're able to use the switch as we just mentioned or you can go into the BIOS and under AI Tweaker you can adjust EPU Setting.

The other button is TPU and that relates to performance in the terms of auto overclocking. Like EPU, this feature can be enabled two ways. The first is you can use the switch onboard, while the other option is to jump into the BIOS again and under AI Tweaker you can go to OC Tuner and select Ok.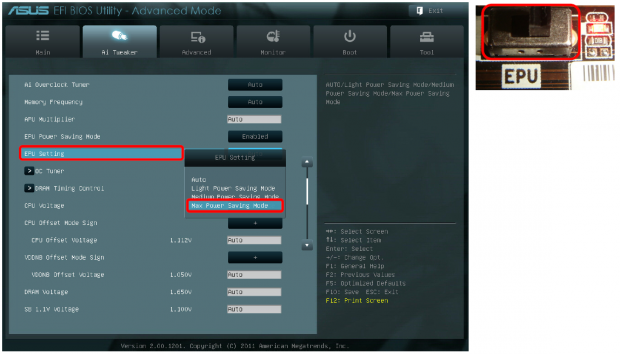 The other standout I find on ASUS boards would have to be AiSuite II and the way it's able to handle the overclocking of your processor. Auto overclocking isn't anything all that new; ASUS do it via the TPU feature and a lot of companies offer it on their motherboards. What makes ASUS stand out and AiSuite IIs TurboV EVO, is the way it overclocks.
Instead of using a pre-determined preset, be it a multiplier or set front side bus / BCLK, TurboV EVO slowly works at your CPU by upping key areas to increase speed while testing it each step of the way. Unlike other ways, it's a little slower because of the way it tests, but it has so far brought us the biggest overclocks when compared to other Auto Turning options.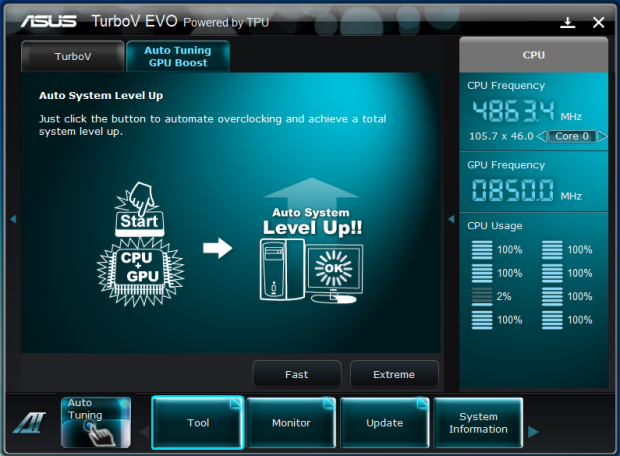 It will be really interesting to see how the TurboV EVO software handles the new APU from AMD and what kind of performance it's able to offer us via the auto overclocking feature. It will then be interesting to see how it compares to our manual overclock. Of course, this and more will be discovered when the NDA on the APU itself is lifted in just a few more days.
Final Thoughts
It comes as no surprise that ASUS has put together a really good looking board. We've got a strong feature set and it looks like we've got everything a person would want when it comes to building a mid-range system around this new platform. The most important thing is going to be performance out of the platform, though, and we're still a couple days away from that.
For the most part it feels like AMD are going into a bit of uncharted territory here. While the Brazos platform was aimed to take on the Atom one from Intel, the Llano one is a little different. You could say it takes on the Z68 platform / i3 setup, but with graphics power being something that's important to the APU platform, it does look like the offering from AMD will be a lot more attractive verse Intel graphics.
Outside of performance, the other big key point that sits in the air is price. While we know the Llano platform is aimed at that key mid-range market, we're not sure what the cost for a system that revolves around Llano will be, especially in the terms of motherboard and APU.
These are just some of the questions that will get answered in the coming days as the NDA on the Llano APU, Lynx, is lifted. Until then, we just have to enjoy those rumors and leaks that float around the internet.
For me, though, it's time to get out of the BIOS and start to see what this platform is really able to do as we bring you coverage on the Lynx APU as soon as the NDA is lifted on the 30th.
For now, though, we've left you with the taste of another Llano board and hopefully you're getting as excited as us about the platform as it's great to see AMD really step up the Fusion platform with a more powerful option. How much more powerful? We'll know soon enough.