Introduction and The Package
Introduction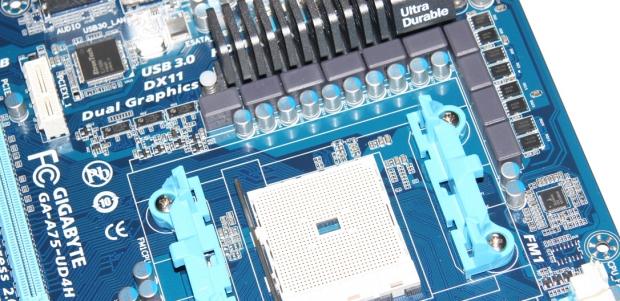 Towards the end of this month we'll see AMD launch its new Llano desktop platform which is part of the Fusion family that AMD are really concentrating on these days. Earlier this year we saw AMD launch the Brazos platform in the form of the E series APU.
If you haven't already, it's worth looking at our
GIGABYTE E350N-USB3 Review
which covers what exactly the Fusion platform is along with how the APU we're hearing about now differs to the CPU that we've known for years. Fusion is what AMD will no doubt be seeing as the next big thing when it comes to desktop and notebook computing.
To be honest, they've done a good job with Brazos, but as a desktop platform it's not as powerful as you'd probably like. Mainly aimed for cheaper netbooks or people who wanted to build a small HTPC, it's a great platform, but it just doesn't have the power you'd want if you were using it as an everyday PC that does everything.
This is where the Llano platform comes in. Earlier this week we saw it launch for notebooks and the reception was extremely positive. Towards the end of the month we'll see it launch for desktops. While we don't have the APUs themselves yet, we do have boards starting to arrive; some we can speak about, some we can't. Today we show you one we can - the GIGABYTE A75-UD4H.
So with that said, let's take the time to have a look at what exactly we're dealing with today. We'll be taking our normal preview approach which means we'll start by looking at the package before moving onto the board itself. We'll then have a look at some of the specific features that GIGABYTE is bringing to the table before we wrap everything up in our final thoughts.
The Package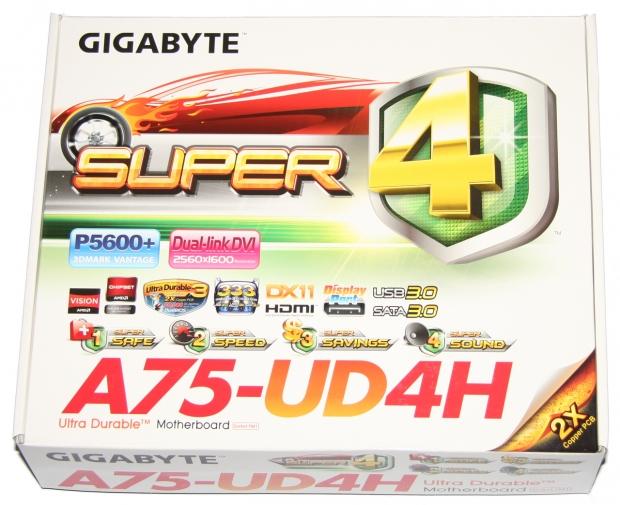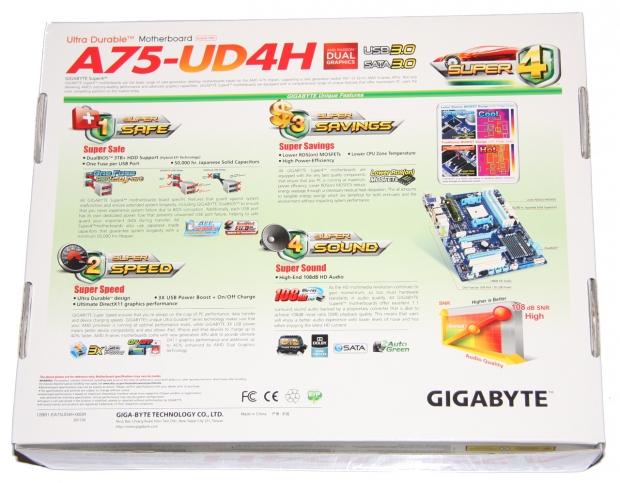 The front and back of the board is quite busy with a load of logos all over the front which let us know some of the main features of the board. We can see a large amount of the focus is in regards to this new "Super 4" that GIGABYTE have launched recently. On the back of the box we get more of an explanation about what Super 4 is, along with a look at the motherboard.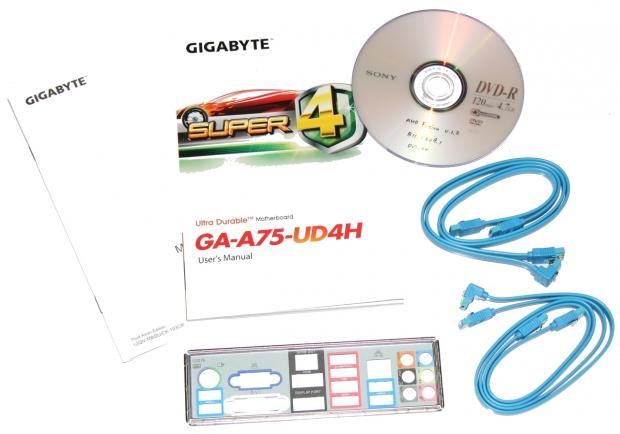 Moving inside, we've got two pieces of paperwork along with a driver CD. Don't worry, retail board driver CDs won't look like this. Along with this we've got our backplate and four SATA cables. This should be the final package minus the Driver CD looking a little fancier. We'll indeed update you with any changes in our full review, though, once the NDA has been lifted.
GIGABYTE A75-UD4H - The Board
Moving away from the package and onto the board, you can see it doesn't have that fancy all black PCB design that we've seen on a lot of GIGABYTE boards recently. Instead it uses the blue setup that we've come accustomed to seeing on some of the cheaper mid-range GIGABYTE boards.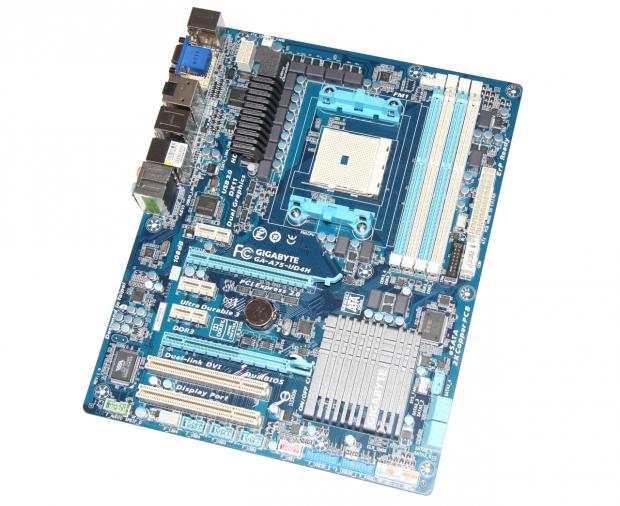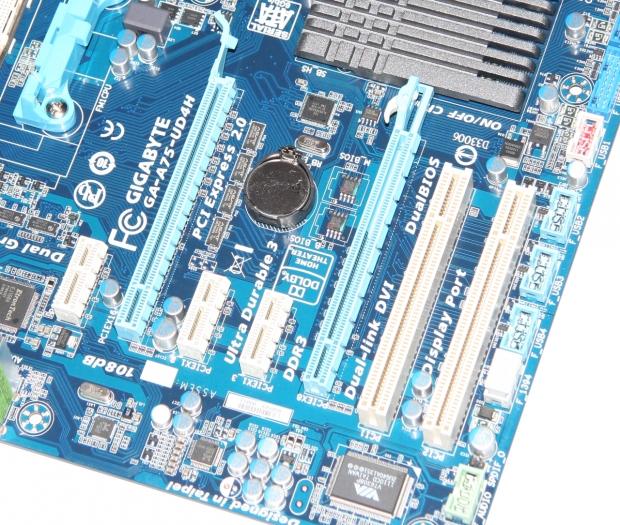 Moving in closer to the board we can start to have a look at what exactly is going on. When it comes to expansion slots, we've got two Legacy PCI slots, three PCI-E x1 slots and two PCI-E x16 slots that run at x8 / x8 when CrossFire is being utilized.

Looking at the bottom of the board, we've got a huge amount of headers. On the left side we have a front panel audio and 1394 Firewire header; on the far right we've got our standard system panel headers. In between those we have a total of six USB headers; four are USB 2.0 while the larger two are USB 3.0.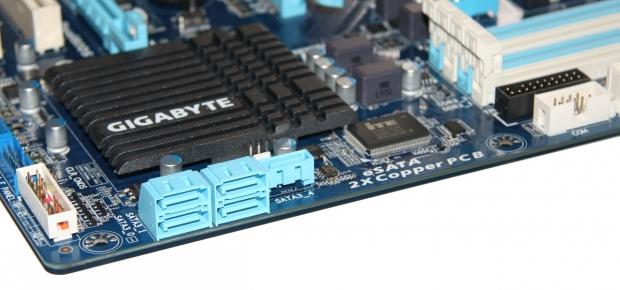 Moving around the corner, you can see we've got a total of five SATA ports, all of which are SATA 3 and are supported natively by the A75 chipset. Apart from the SATA ports there's not a whole lot else to see at this corner, so let's move further up on the board on the next page.
GIGABYTE A75-UD4H - The Board Continued
Moving up towards the top of the board, we can see four memory slots. Next to that you can see a little CPU fan header and below our memory slots you can see our main 24-Pin power header.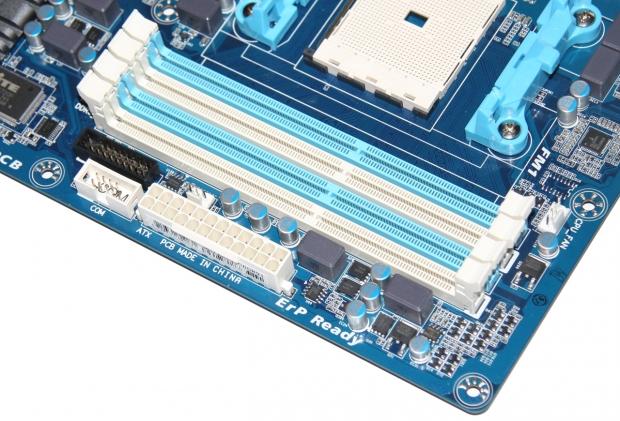 Moving back onto the memory slots themselves, we've got four DDR3 slots that support speeds of 1066 / 1333 / 1600 / 1866MHz DDR in dual channel form. As for the total amount supported, we're not too sure at the moment, but the chances are we'll see support for up to 32GB of DDR. Again, we'll update you if anything changes when our full review goes live after NDA.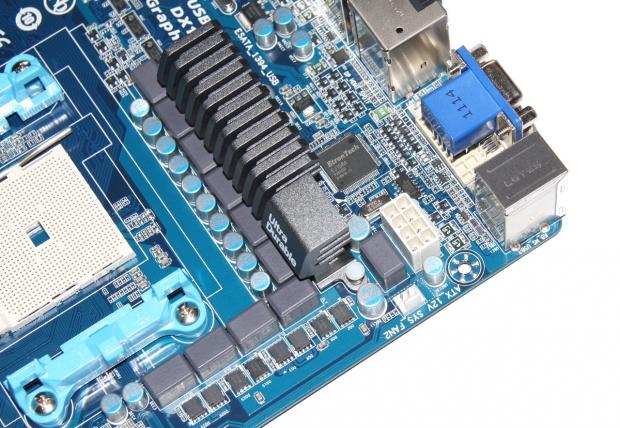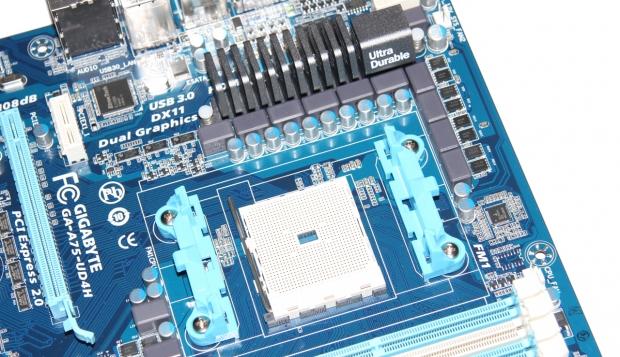 Moving around to the CPU side of things, we can see our main 8-Pin CPU power connector and another CPU fan header. Around the CPU / APU area itself we don't have heaps going on; we've got the FM1 socket which will support the A-Series APU and around that not much else except the brackets for our cooling solution.

Getting into the I/O side of things, we've got a combo PS/2 port, while below that we've got two of the four USB 3.0 headers that are seen here which are controlled natively via the A75 chipset. Next to these we've got four video outputs including VGA, Dual-Link DVI, DisplayPort at the bottom and above that HDMI. Further above that is a S/PDIF-out port.
Next to these connectors we've got two USB 2.0 ports and a 1394a Firewire port, below that we've got a single eSATA3 port. Next to this we've got our other two USB 3.0 headers and above that we've got Gigabit networking. Finally, we finish off the I/O side of things with 8 audio jacks that run off the ALC889 controller.
GIGABYTE A75-UD4H - Features
One of the big features we saw launched from GIGABYTE just this month was "Super 4". This feature is split into four categories; Super Safe, Super Speed, Super Savings and Super Sound. Within each category are features that we'll begin to see on more and more GIGABYTE boards.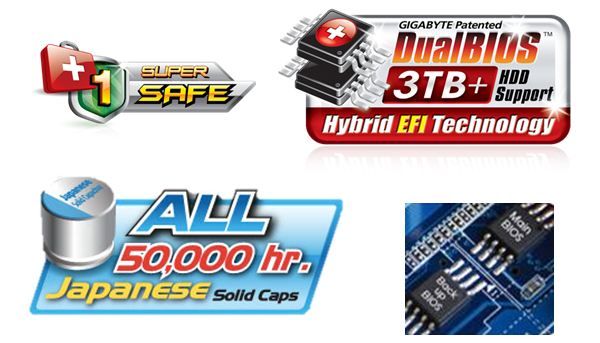 Super Safe refers to a Dual BIOS being implemented to help recover from any BIOS failure, Hybrid EGI support and 3TB+ HDD support. Another feature is each USB port has a dedicated power fuse. In the event that a fuse is blown you will only lose that single USB port versus a board that carries multiple USB ports running off a single fuse. Finally, the last big feature refers to the use of all Japanese solid capacitors; this just helps maintain the life of your board.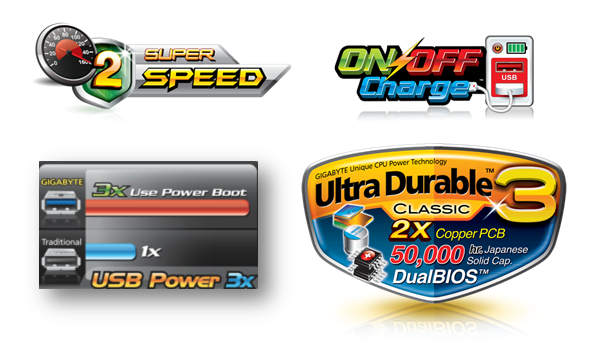 Super Speed refers to the board carrying the Ultra Durable 3 design which refers to some things that are in Super Safe, but also a 2oz Copper PCB design. The other big feature included is 3x USB Power Boost which allows that well known On / Off charge feature GIGABYTE has had for a while.

Next on the list is Super Savings and that refers to the use of Lower RDS(on) MOSFETS. What this does is allows the area around your CPU to run cooler and offers higher power efficiency. Less heat and less power draw means less money to run your PC.

Finally, we have Super Sound. This refers to the high end audio codec that GIGABYTE implement which allows for Lossless audio via Blu-ray and a higher Signal-to-Noise ratio compared to the competition.
The New Super 4 feature is a combination of a lot of features that we've seen GIGABYTE offer before in a more condensed easy to remember name. It really helps users know that they're getting all the quality features they'd expect from a GIGABYTE board.
Final Thoughts
The GIGABYTE GA-A75-UD4H really begins to give us a taste for what we can expect from the new Llano platform when it launches later this month. Multiple PCI-E x16 lanes, dual channel DDR, strong layout and all those other things that make for a good mainstream board are here.
The Brazos based E350 board we looked at from GIGABYTE was good, but like we said in our introduction, it's probably not quite powerful enough for an everyday machine. Instead we've seen few motherboard manufacturers really push the Brazos / E-Series platform and it's been implanted into netbooks more so.
The same shouldn't be seen with the Llano platform, though. Multiple APUs available in both the A6 and A8 series, dual and quad core plus companies launching multiple versions of boards to go with the APUs. Looking at the GIGABYTE Media Kit which we've got on hand, GIGABYTE seems to have 12 boards coming that will support the new A-Series APUs.
Brazos was good, but Llano is a platform that we're really going to have use for. Really nice servers that run on low power, internet machines, light gaming machines and more. You can see why AMD are excited about the new Fusion platform and why we're getting excited about it too. Sure, you're not going to be gaming at 2560 x 1600 with AA and AF on, but that's such a small part of the market anyway.
There's some serious performance to be had out of the platform considering the price point and if you want to see what the GA-A75M-UD2H is capable of, you can see it smash the IGP world record in our
forums here
. Good times ahead and I really can't wait to get our Llano benchmarking on!