Kingston HyperX MAX 3.0 External USB 3.0 Preview
Kingston prepares to take portable storage to the next level by mixing SSD speed with USB 3.0 connectivity.
Published Dec 1, 2010 5:50 AM CST
|
Updated Tue, Nov 3 2020 7:02 PM CST
Introduction, Specifications, Pricing and Availability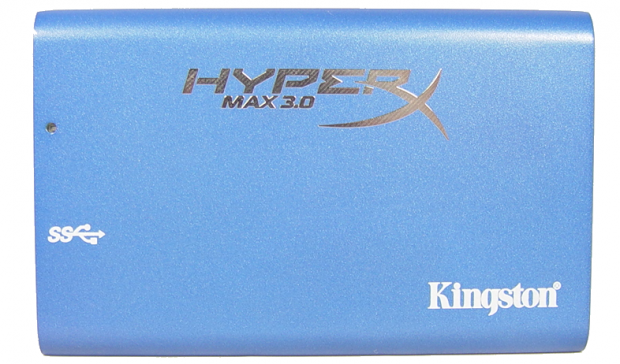 Introduction
Over the last two months you have been hammered with USB 3.0 articles and that isn't going to change anytime soon. Last year GIGABYTE and ASUS worked very hard to integrate USB 3.0 into nearly all of their motherboards and now the second half of the equation is bearing fruit. Just about everyone, and I do mean everyone, is hitting the ground running with USB 3.0 storage products. We've seen small, large, medium sized and even micro sized USB 3.0 storage drives. Some of these products sell with drives and others are just enclosures, but one thing is for sure, more are on the way.
Those looking at USB 3.0 enclosures are doing so for one reason, speed. USB 3.0 is a 5Gbps interface and so far we've seen up to 240MB/s being transferred over a single cable. To be able to achieve high levels of performance you need a high performance target and it doesn't get any faster for storage than solid state.
Kingston's HyperX MAX 3.0 is a solid state drive, the same one used in the new V+100 models. The MAX 3.0 and V+100 use the same flash and more importantly the same Toshiba T6UG1XBG controller. This is our first run with this controller, but we've heard a lot of positive things about its ability to withstand solid state fragmentation. Since TRIM commands currently are not supported with any USB interface, this is an area of great importance for any true SSD being used with USB 3.0.
We've spent a lot of time with USB 3.0 storage and USB 3.0 solid state drives. Today we will take a look at Kingston's new HyperX MAX 3.0 that is just starting production (our drive didn't even have a serial number) and compare its performance to a few other high end USB 3.0 products.
Specifications, Pricing and Availability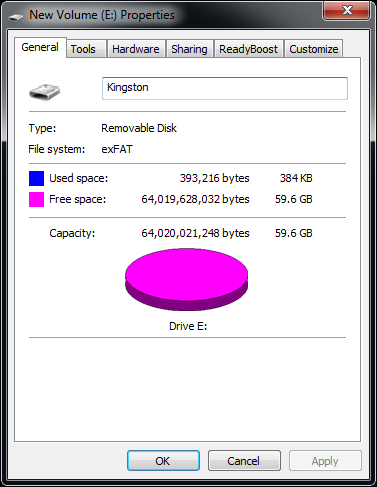 Being a preview product that isn't even mentioned on Kingston's website, we don't have a list of official specifications today. Kingston has been very quiet on the pricing details as well, but we do know the MAX 3.0 will be offered in 64 (our sample), 128 and 256GB capacities.
The MAX 3.0 consists of three main parts. First there is the all-aluminum enclosure that is engineered very well, something that we will go into detail on later in this article. The second piece to the MAX 3.0 is the solid state drive. As we mentioned, the MAX 3.0 uses the same drive configuration as the new V+100 solid state drive that is already on sale.
The third piece is a SATA 3G to USB 3.0 bridge. We've seen this same bridge in countless products over the last couple of months.
The Kingston HyperX MAX 3.0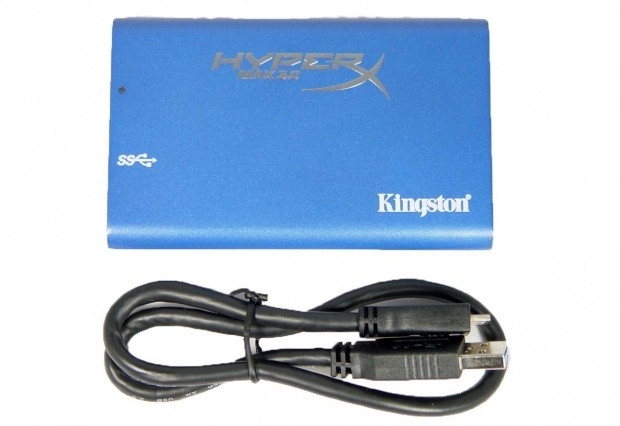 Our Kingston HyperX MAX 3.0 arrived just as you see it here. Kingston is hard at work on the retail packaging, manuals and such that finish everything off.
The MAX 3.0 weighs more than it looks, although I wouldn't call it heavy. The enclosure is all aluminum and thicker than a standard notebook style drive.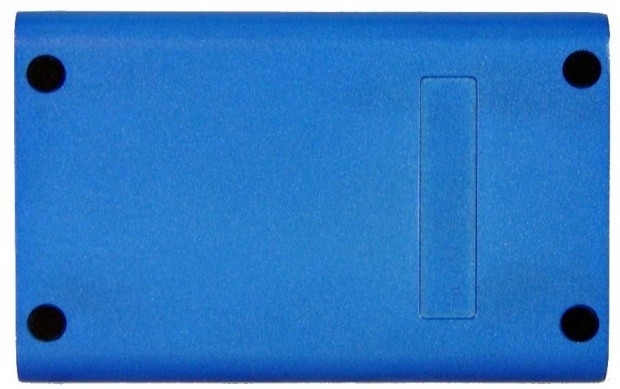 The bottom of the drive has four rubber pads that keep your drive from sliding easily.

Here we see the MAX 3.0 from the side.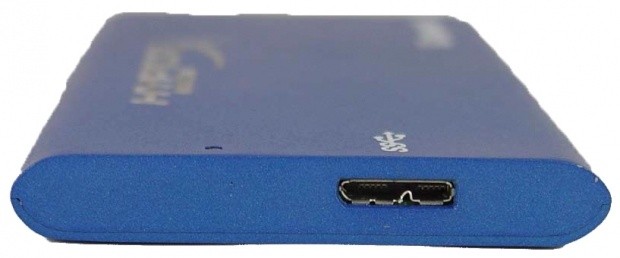 The MAX 3.0 has a single mini USB 3.0 port and can use used in a USB 2.0 or 3.0 port on your PC.
The Internals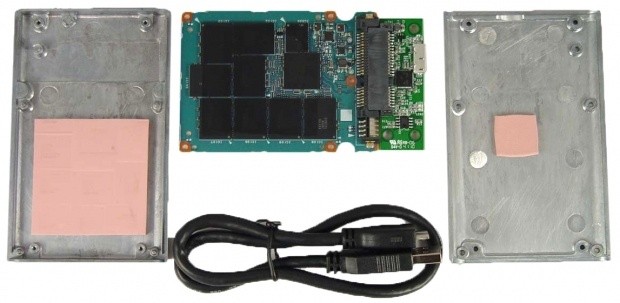 With the enclosure separated we can take a look at the internals of the MAX 3.0.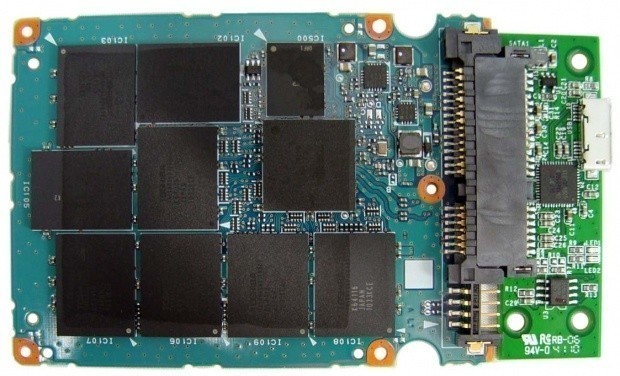 As stated previously, the HyperX MAX 3.0 is a basic solid state drive with a SATA to USB bridge adapter.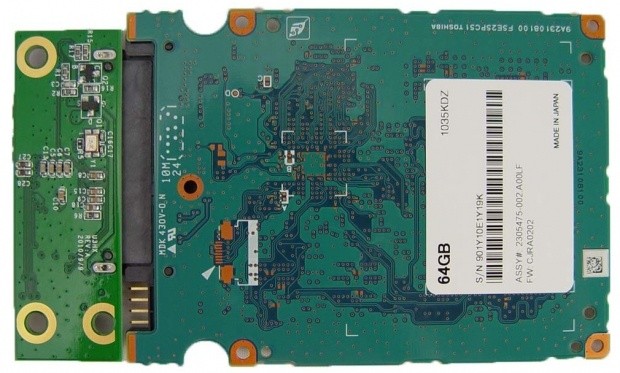 The back of the actual SSD portion is even labeled the same way Kingston labels their SSDs.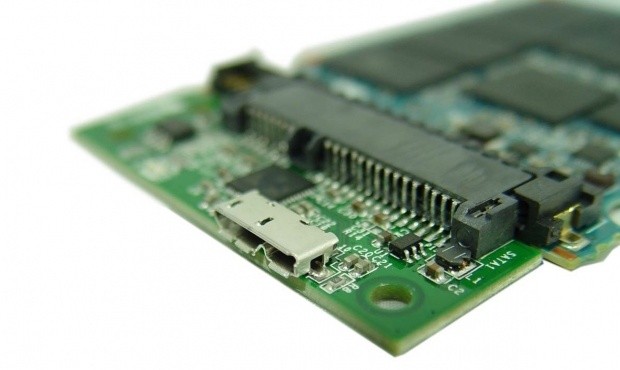 Let's take a close up look at the mini USB 3.0 connector. These are held to the PCB by two outside solder points and the handful of pins that make up the power and USB connection. We haven't seen any of these PCBs fail, but we have seen two mini USB 3.0 ports fail, one after just a handful of uses.
In the past most of these types of connectors would have been pushed through the PCB and soldered on, at least the mounting points on the sides. With electronics getting smaller and smaller there simply isn't room for that anymore, so they are basically just soldered on with the manufacturer hoping that someone secures the connector some other way before it makes it into a retail product.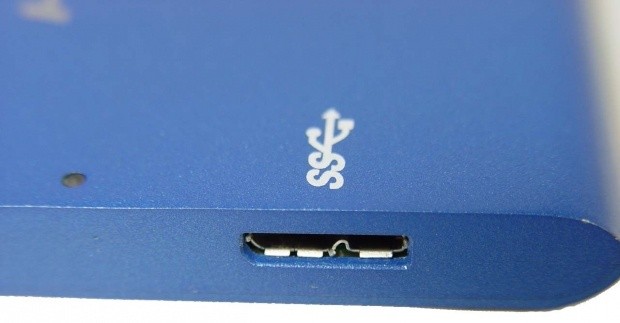 Thankfully Kingston managed to come up with a solution that keeps the mini-port from rocking back and forth and breaking its connection, something I can't say about two other USB 3.0 products we were testing.
Here we see that the aluminum case is deep enough that the connector fits inside the hole. This keeps the connector from rocking up and down from normal use. This is a much more secure method of building a device with this somewhat new connector.
Test System Setup and ATTO Baseline Performance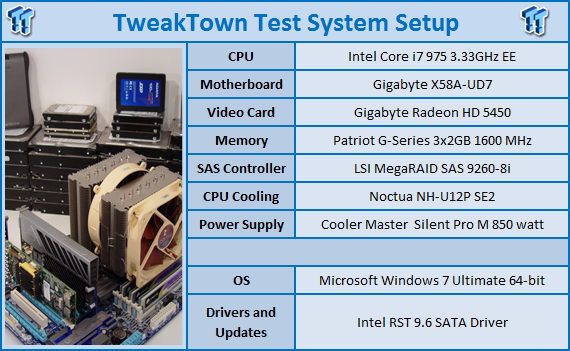 We would like to thank the following companies for supplying and supporting us with our test system hardware and equipment:
AVADirect
,
GIGABYTE
,
Cooler Master
,
LSI
and
Noctua
.
You can read more about TweakTown's Storage Product Testing Workstation and the procedures followed to test products
in this article
.
Currently USB 3.0 is a touchy subject. Most onboard USB 3.0 solutions only allow read speeds to around 200MB/s and write speeds of 180MB/s. A few PCIe aftermarket cards are delivering faster results. We use the GIGABYTE X58A-UD7's USB 3.0 port.
For the comparison we chose to add some of our previous USB 3.0 products and the fastest USB 2.0 drive we've ever tested.
ATTO Baseline Performance
Version and / or Patch Used:
2.34
ATTO is used by many disk manufacturers to determine the read and write speeds that will be presented to customers.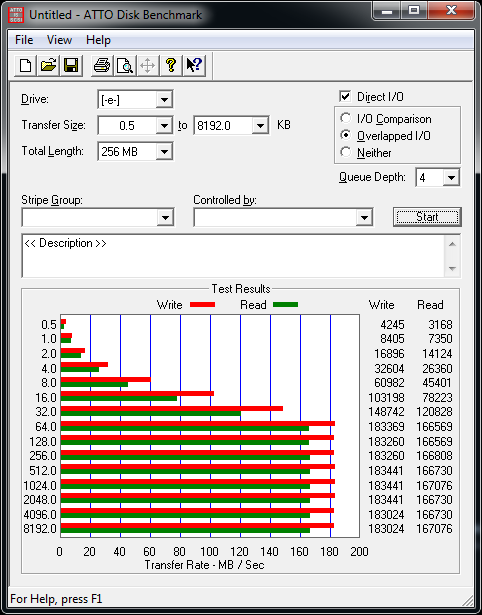 Using ATTO we see that the Kingston HyperX MAX 3.0 delivers read speeds of around 167MB/s and write speeds of 183MB/s.
Benchmarks - HD Tach
HD TachVersion and / or Patch Used:
3.0
Developer Homepage:
http://www.simplisoftware.com
Product Homepage:
http://www.simplisoftware.com/Public/index.php?request=HdTach
Buy It Here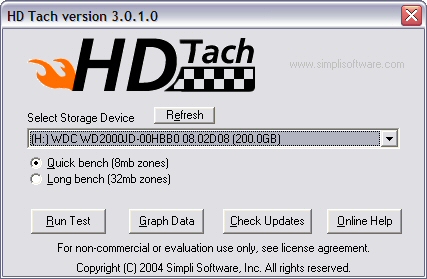 HD Tach has been around for a long time and is excellent when it comes to testing hard drive performance. It is also a very handy program when it comes to testing the controller used on particular motherboards. Tests such as Read, CPU Utilization and Burst are available at a click of the button and give you a good idea of how the hard drive can perform from system to system.
Sequential Tests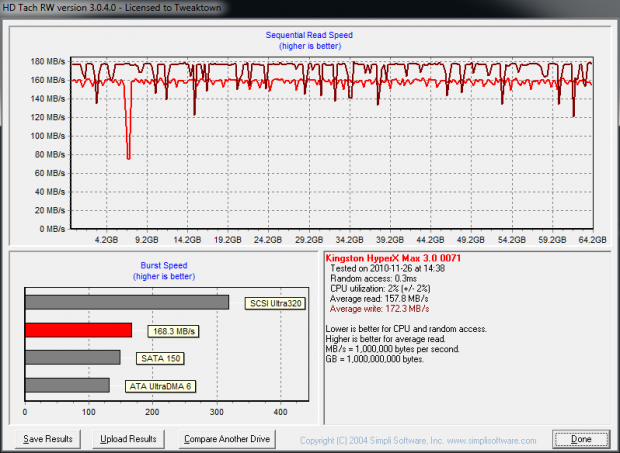 In HD Tach we see the performance across the drive. It was a bit interesting to see that our 64GB sample was writing data faster than it could read it. Reviews of the 128GB drives show that the opposite is true with the larger models. The performance was still very high for both reads and writes. The read speed averaged 157.8 MB/s and the write speed averaged out to 172.3 MB/s.
Benchmarks - Crystal Disk Mark
CrystalDiskMarkVersion and / or Patch Used:
3.0 Technical Preview
Developer Homepage:
http://crystalmark.info
Product Homepage:
http://crystalmark.info/software/CrystalDiskMark/index-e.html
Download here:
http://crystaldew.info/category/software/crystaldiskmark
CrystalDiskMark is a disk benchmark software.
Key Features:-
* Sequential reads/writes
* Random 4KB/512KB reads/writes
* Text copy
* Change dialog design
* internationalization (i18n)
Note:
Crystal Disk Mark 3.0 is not available to the public yet, but the Technical Preview does allow us to test 4K performance at queue depths of 4 and 32 in addition to 1. The current release Crystal Disk Mark only shows us QD 1.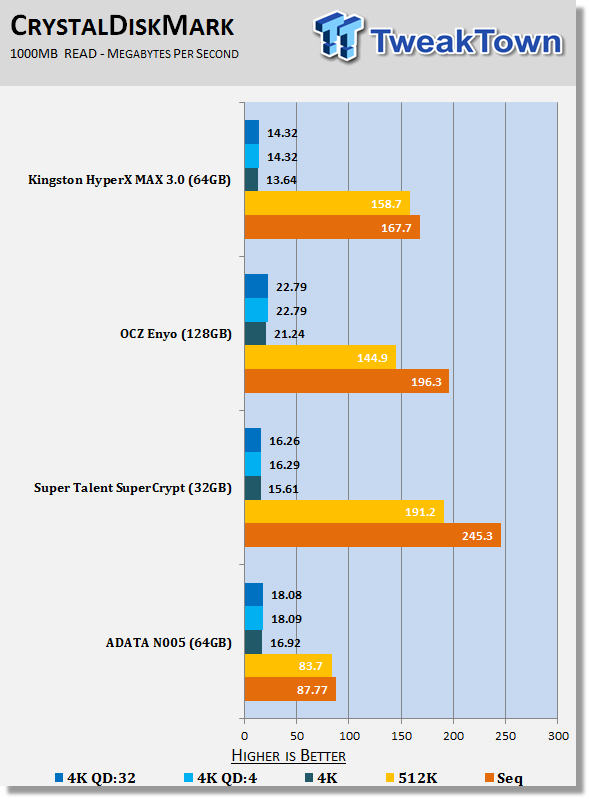 You may feel a little cheated by the benchmark tests today; I feel a little cheated as well. Kingston configured the MAX 3.0 in a way that would not allow me to delete the partition, so I couldn't run some of our more popular benchmarks. I didn't want to take the chance of bricking our early sample, so only the tests that could be ran with a partition in place were ran.
In CDM we usually look at the 4K and 4K queue depth tests, but USB 3.0 does not offer NCQ. We still get to see how well a product handles 4K reads and writes. All of the drives listed are USB 3.0 and of the three the Kingston HyperX MAX 3.0 has the slowest 4K read speed.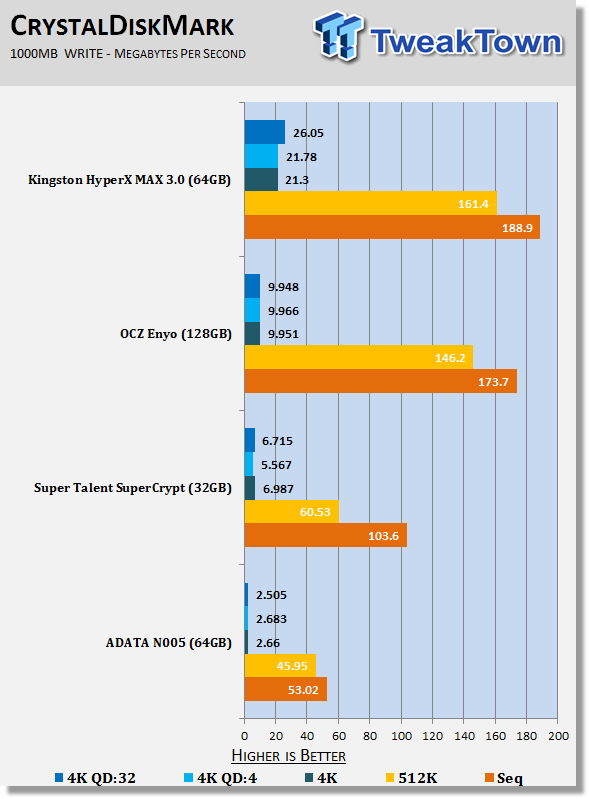 When it comes to writing data to the drive at 4K, the MAX 3.0 is the fastest out of our USB 3.0 stash. The MAX 3.0 is actually twice as fast as the OCZ Enyo.
Let's take a look at a real world test and see how these synthetic results pan out.
Benchmarks - AS SSD
AS SSD BenchmarkVersion and / or Patch Used:
1.2.3577.40358
Developer Homepage:
Alex Intelligent Software
Product Homepage:
Alex Intelligent Software
Download here:
http://www.alex-is.de/PHP/fusion/downloads.php?cat_id=4&download_id=9
AS determines the performance of Solid State Drives (SSD). The tool contains four synthetic as well as three practice tests. The synthetic tests are to determine the sequential and random read and write performance of the SSD. These tests are carried out without the use of the operating system caches.
In all synthetic tests the test file size is 1GB. AS can also determine the access time of the SSD, the access of which the drive is determined to read through the entire capacity of the SSD (Full Stroke). The write access test is only to be met with a 1 GB big test file. At the end of the tests three values for the read and write as well as the overall performance will be issued. In addition to the calculated values which are shown in MB/s, they are also represented in IO per seconds (IOPS).
Note:
AS SSD is a great benchmark for many tests, but since Crystal Disk Mark covers a broader range of 4K tests and HD Tune Pro covering sequential speeds, we will only use the Copy Benchmark from AS SSD.
- Copy Benchmark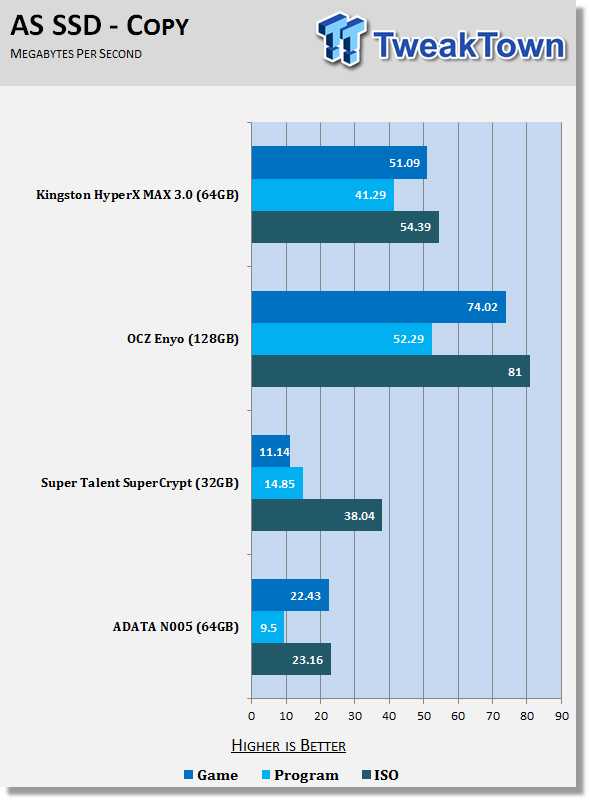 In AS SSD's Copy Benchmark we are finally able to see the HyperX MAX 3.0 in action as most users would use it, to transfer actual files to and from the drive. Here we see that the OCZ Enyo is actually faster in all three of the tests and quite a bit faster in two of them.
The Kingston HyperX MAX 3.0 is superior to our two thumb drive style USB 3.0 drives that were reviewed previously.
Final Thoughts
It seems that everyone is looking to produce a high speed USB 3.0 product these days and Kingston is no exception. USB 3.0 is quickly gaining momentum in the marketplace and anyone purchasing a new motherboard will find that the technology was tossed in as a freebie. Going from a couple free USB 3.0 ports to actually using the new SuperSpeed standard is another story and one that is going to cost some money. Most users will be fine accepting a standard platter based solution that offers up to 100MB/s read and write speeds, a 3x increase over USB 2.0. This lower speed option will cost you around 30 Dollars or less if you use an old HDD to fill a low cost USB 3.0 enclosure. 30 USD is a small price to pay as long as you have the drive to fill in the gaps for such a plan.
Then there is option 2, the one Kingston is counting on. This option involves spending nearly as much on a drive as you did on your new motherboard. Option 2 is a trendy one that will leave you with a very fast SSD based drive that recovers well from 'SSD Fragmentation' and is nearly indestructible while being shock proof. Even though option 2 is superior in nearly every way, we still have to go back to that whole price thing.
If you use external drives a lot and have the need for a lot of storage capacity then the Kingston HyperX MAX 3.0 will be of extreme interest to you. PC Perspective has reported the 128GB MAX 3.0 will be available with an MSRP of 280 USD. Newegg currently lists the faster OCZ Technology Enyo for 319.00 USD for the same 128GB capacity. The Enyo is smaller, sleeker, faster and lighter than the HyperX MAX 3.0, but its cost is significantly more if PCPer.com's pricing information is correct.
The Kingston HyperX MAX 3.0 is a product that will live and die by the price tag. There isn't a lot of competition out there, but a baseline has already been set. Now it is up to Kingston to try and outperform the competition in the one area they have left to compete in.
We'll follow up with more information when we have the final pricing information and a list of everything included in the retail package.
PRICING: You can find products similar to this one for sale below.

United States: Find other tech and computer products like this over at Amazon.com

United Kingdom: Find other tech and computer products like this over at Amazon.co.uk

Australia: Find other tech and computer products like this over at Amazon.com.au

Canada: Find other tech and computer products like this over at Amazon.ca

Deutschland: Finde andere Technik- und Computerprodukte wie dieses auf Amazon.de
We openly invite the companies who provide us with review samples / who are mentioned or discussed to express their opinion. If any company representative wishes to respond, we will publish the response here. Please contact us if you wish to respond.