Ten Ways To Improve Blu-ray
As I write this, the Blu-ray market is starting to get some serious traction. Some really top tier releases are now coming out, which shows increased enthusiasm on the part of the studios. In addition, hardware makers have finally leapt over the Blu-ray specification grace period and we are seeing some extremely powerful software and very good prices. Blu-ray upgrades, including picture-in-picture enabled 'profile 2' have become standard, as has BD Live, Ethernet cable enabled players and finally bitstream and decoding of Dolby TrueHD and DTS HD Master Audio.
However, as great as this is, there is still room for improvement on both the behalf of software and hardware manufacturers. Let's take a look at ten improvements that can be made which would both improve the format and gain wider acceptance.
There is 50 GB - Use the whole disc
Blu-ray has an unprecedented amount of storage space, 25GB on a single layer disc and 50GB on a dual layer. However, it's all well and good to have this space, but if you don't use it, then it's all for nothing. The maximum 40 MB/s bitrate should be used to the limit, to fill the size of the disc if there is available space after the extra features. It can however be argued that increasing the bitrate past any given amount is pointless, but in general I disagree. It just doesn't make sense to leave unused space on the disc. Warner Brothers is particularly bad for this, with many discs falling way short of the mark, often resulting in sub par picture quality because of an unnecessarily low bitrate.
25GB - only if absolutely necessary
At this moment in time, many studios are opting to release Blu-ray titles on single layer BD-25 discs. This is both a cost cutting measure and somewhat forced due to the lack of available manufacturing lines for BD-50 worldwide. However, unless the Blu-ray features anything over a movie alone and is less than around 90 minutes, BD-25 really shouldn't be used. If it is, it's almost always going to feature sub par video and audio quality. If doing so, it would be preferable not to release anything, until it can be done right.
Include all the DVD features
I still have a major DVD collection, which is slowly being whittled away as more catalogue Blu-ray titles are being released. However, space is also becoming a problem, so any opportunity I have to either give away, or sell the old DVD is fantastic. Unfortunately, many Blu-ray releases of catalogue titles have been forgoing their extra features, forcing me to keep the DVD release. Whilst many studios have been relatively good about this, the biggest culprit is 20th Century Fox. But having said that, they are getting more reliable of late, so let's hope they keep it up.
Use player memory to store user settings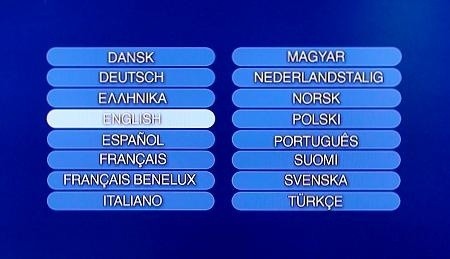 I am so sick of firing up a disc to get to a static menu asking me to select my language. While most U.S. releases do not feature this selection, many Australian discs do, due to our multi-cultural makeup and European ties. However, there is an easy solution to this. If only the disc would query the language setting of the Blu-ray player, this could be easily bypassed. For example, if my Blu-ray player is set to Italian, this should be the default language on the Blu-ray disc. If no Italian menu language is available, then English should be defaulted to. Paramount discs frequently include this menu 'option', as does Universal.
Additionally, by this same reasoning, players should be able to default to the lossless, or uncompressed audio track on the disc, rather than the standard Dolby Digital track, which occurs on just about all Warner Brothers discs.
Lossless audio on all releases
While lossless audio has become the de rigueur standard, some releases still only feature lossy audio, including new releases such as
Speed Racer
and
Get Smart
. Odds are, these titles will be released again; next time with lossless audio, but that could be many years and at any rate, these should have had lossless audio in the first place. Lossless audio options include Dolby TrueHD, DTS High Definition Master Audio, or uncompressed PCM. The only studio that has problems with featuring at least one of these options consistently is Warner Brothers.
Ten Ways To Improve Blu-ray - cont.
Region coding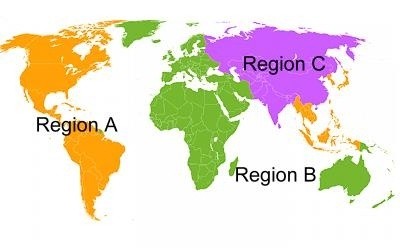 I've said it before
and I will say it again; region coding is massively uncompetitive and needs to cease. I can understand new release titles being coded, where distribution is divided worldwide. However, a movie approaching up to half a century old, such as
Dr. No
, does not need region coding. Parallel importation will not adversely affect the ability of Fox to derive income from releasing this on Blu-ray, but merely exists to control distribution and in this day and age of a worldwide economy, is wholly irrelevant.
Forced Intros
A throwback from VHS and then DVD, studios love to feature their respective studio logos, copyright warnings and even trailers for other releases. However, where these cause problems are when these are unskippable, forcing users to wait until they have finished, for up to as long as a minute and more. Coupled with the long load times for the disc itself, for the player not to respond to user input is totally unacceptable. Studios renowned for this include Paramount and Universal.
Day and Date with DVD
While most major new release Blu-ray titles are released in the U.S. the same day as the DVD release, this does not always apply to other countries, including Australia. Often, this is because of manufacturing delays, but this needs to be rectified by either manufacturing the Blu-ray earlier, or delaying the DVD. As Blu-ray manufacturing rolls out worldwide, this problem should be lessened. Disney has been particularly ordinary in this regard of late.
Phoning home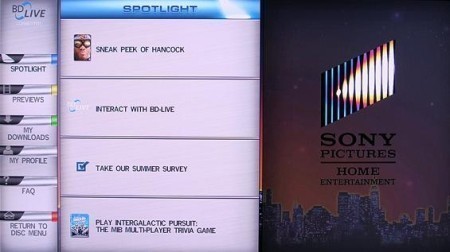 While BD-Live is a great opportunity to increase the life of a title once it's been released to retail, I fear the unparalleled access Hollywood will have to our buying habits. A case in point is the newly released U.S. versions of the James Bond Blu-rays; whilst none actually feature BD-Live features, the discs call home if there is an internet connection. So why does it need to? Call me paranoid, but I doubt studios would pass up the opportunity to peek in at our buying preferences and catalogue my purchases and usage details. If a title does not feature any BD-Live features, get the hell off my internet connection. A worrying trend and one I will be certain to monitor as time goes by.
The Futility of HDCP
High-bandwidth Digital Content Protection was created to help protect Blu-ray from succumbing to content hacks. By only utilising HDCP compliant computer monitors and graphics cards, it was hoped this would bolster the security to Blu-ray and close the analog loophole. Since this has long since been circumvented at any rate, HDCP exists now only to stop computer users from watching Blu-ray movies on their own systems that feature a Blu-ray drive and drives the very people away that Blu-ray needs to appeal to. With a bit of common sense, this could be rectified by abolishing this standard and moving forward.
So whilst the studios and player manufacturers have done a lot right with the format, there is also work to be done; some that should be done, some that is common sense but won't and there's no doubt many more improvements that could be made that would fill a dozen more lists. Small steps first, though.