Beginning a few weeks ago, I had a look at a few of the animated shows released under the Adult Swim banner, by Madman Entertainment. You can find Part 1
here
, and Part 2
here
. This week we'll take a look at a few more shows and wrap things up for the Adult Swim collection.
Space Ghost Coast To Coast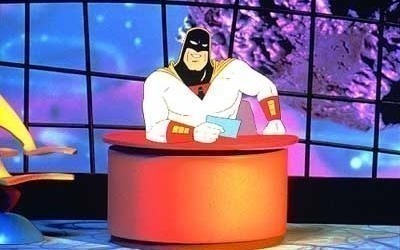 The setup here is that 60's hero Space Ghost who has retired from crime fighting and now fronts his own talk show. The twist of course is that Space Ghost is animated, whereas his interview subjects are very much live action; a concept stolen by that god awful David Tench show on Channel Nine from last year.
One of the original Adult Swim titles,
Space Ghost Coast To Coast
originates from 1994. Unfortunately, even in 1994 the guests weren't, how should I say, A-list, so the 14 years that have since passed have made the interviews even less relevant. It's a shame because it's a great show and very funny, it just hasn't aged well at all.
Tom Goes To The Mayor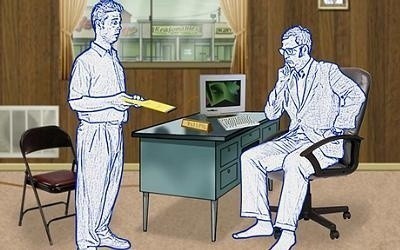 The premise here is that Tom is a simple citizen of his county, and he has a few ideas on how to make life better for not only himself, but his fellow towns' folk. So when Tom has an idea, he goes to the local Mayor. Unfortunately, a little is lost in translation and his intentions become a little diluted.
One of the more eclectically written and animated offerings in the Adult Swim collection,
Tom Goes To The Mayor
may just be a bit of an acquired taste. It is off-beat and sporadic in nature, and I admit I had to force myself to sit through the first few shows. It's certainly different, as are most of the Adult Swim shows, but this is on a different level again. Give it a sample - you might just love it.
Metalocalypse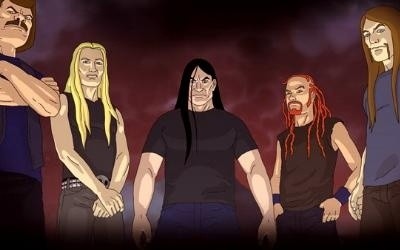 Now this is an instant classic, if I have ever seen one. This animated romp follows the adventures of fictional death metal band Dethklok. They have become an unstoppable cultural force and their fans hang on their every word and product endorsement, often risking their lives to get closer to the band.
It's an interesting concept because essentially
Metalocalypse
is a take off of the death metal genre, with the lyrics of the songs poking fun at the often nonsense ramblings contained within. However, those same fans whom you would imagine would rankle at their tastes being ridiculed, eat this stuff up. In fact, the spin-off album of music featured in the show has gone on to become to the highest selling death metal album of all time. That said, being a fan of the genre isn't a pre-requisite for enjoying the show, it has a surprisingly large demographic based on the family and friends I have introduced to it. Top marks indeed!
This now brings to a close of our look at the Adult Swim collection; yes we have gone through every title in the stable. I must say that after around 12 hours of viewing, the standout for me personally was
Metalocalypse
. On numerous occasions I was crying with laughter. But this is a bit like choosing your favourite child; there is so much good stuff in the collection and odds are if you like one of these, you will enjoy most, if not all of the others.
Regular readers will have seen the Adult Swim competition we have been running, which has now drawn to a close. The winner is David Warner of QLD. David will be receiving three DVDs from the collection, courtesy of Madman Entertainment. Thank you to all entries, and please be sure to contribute again to future competitions, and thanks also go out to Madman Entertainment for their competition.
We hope you enjoyed our look at the hilarity of Adult Swim.