Introduction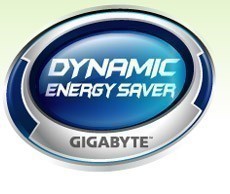 Remember that little video we showed you in December? The one with the GIGABYTE
Xmas lights
? Well, as it happens, it had nothing to do with Xmas lights; those lights are just there to give you an idea of what's going on. What they are for is to give you some kind of a visual element to GIGABYTE's new DES or Dynamic Energy Saver. Ok, you might still wonder what it is and we're going to try to make things a little bit more clear if you bear with us.
First of all, DES is not a fad and it will be available on pretty much all GIGABYTE motherboards bar the really low end models. However, the roll-out will take some time but the good news is that GIGABYTE has already shipped motherboards with DES. Even though the X48 chipset was meant to be part of the launch vessel for DES, it has been delayed. This hasn't stopped GIGABYTE moving forward though, if you have scored a P35 based GIGABYTE board for Christmas or have just recently bought one then it's a very good chance that your board already supports DES. You can find a list of supported boards
here
which also happens to include GIGABYTE's upcoming X48 boards.
In a couple of weeks time GIGABYTE will start shipping boards with an E before the P in the model name when it comes to the P35 series to make it easier to tell that the board has DES, but they won't be any different than the boards currently shipping. We still haven't answered the question of what DES is, so let's get right to it. As you surely have figured out, Dynamic Energy Saver is something that will save power, but it's not very clear how this works from a marketing name alone, so let's take a closer look at how it all works.
How It Works
DES is similar to ASUS' EPU or Energy Processing Unit, but it's much more advanced and doesn't rely on an IC circuit as it has been done by an improved motherboard design in combination with a new range of PWM controllers from Intersil. What this allows GIGABYTE to do is to switch on and off power phases on the motherboard on the fly as needed. As an example, in idle mode the motherboards with DES will run as a three phase board since there's no real power load and the CPU doesn't need much power. However, when you start a game, the DES will kick in and load up as many phases as needed, although this is dependent on the board you have so it can be anything between six and 12 phases.
It might not load up the full amount even when you're playing a game, as the DES will sense how much power is needed and adjust how many phases should be switched on based on the load, and since very few games are using 100% of the CPU, maybe four or five are used, again depending on the board design. By using this kind of an approach you get a smoother transition than ASUS' EPU which only switches between four and eight phases. In addition it allows for better efficiency per step, as it will only enable as many power phases as needed which means less power draw from idle to full CPU usage.
This might sound like a load of marketing talk, and truth be told it won't save you loads of money, but it really depends on the electricity costs where you live. In any case, it'll give you a feel good feeling, as you know you're not wasting more electricity than you have to when you're using your PC. On the other hand, if you're running a business and you have 20 to 100 computers, then you'll quite quickly realize that if your computers draw less power you'll save a lot of cash on your electricity bill in the long run.
GIGABYTE is estimating that they'll sell some 10 million motherboards in 2008 with DES and that should offer quite a significant power saving if every user enables DES. There are currently some limitations when using DES which is mostly in the way of overclocking, but this is something GIGABYTE is working on solving. To take advantage of DES on a compatible motherboard you currently have to download a new BIOS version which you can find
here
as well as a Windows utility that allows you to control the DES functionality.
The Windows utility also gives you a nice little read-out of how much power you've saved, and for those that don't like flashing lights on their motherboard there's also the option to switch them off in this utility. GIGABYTE provided us with a board to do some testing on to see how well DES works and we'll have some more information on the subject towards the end of next week if all goes well. The great thing is that you don't have to be an environmental nut to do your bit when it comes to saving energy and you could even end up saving some money in the long run, which is never a bad thing. The official launch for DES is the 16th of January, so expect a whole lot more stuff on this by then.
You can find some more information as well as some demos over at GIGABYTE's DES site
here
.