MSI Media Tour 2007 - Shanghai, China (Part 2
With part 1 covering some background information about MSI's factory in Kunshan, part 2 will cover some of the things we saw and some information about MSI's X38 Diamond board as well as a couple of other motherboards. But let's continue on with the factory tour.
Although we weren't allowed to take any pictures inside the factory, due to MSI not wanting its competitors to see the kind of equipment used, we will still offer a glimpse into how motherboards and notebooks are produced in the Kunshan factory. The PCB's aren't made on site and arrive ready to use at the production line. The PCB's are inserted into a transport line which takes them through several SMT machines which mounts the surface mounted components onto the boards and the PCB's are then passed through hot ovens that melts the soldering points on the SMT components.
Depending on the complexity of the board this is done in various steps and even the CPU socket and the chipset is mounted by machines. However, things like the capacitors, slots, I/O ports and pretty much anything that isn't surface mounted is done by hand. Once all these things have been fitted onto the PCB it goes through yet another oven to solder all these components into place and then the motherboard is ready to have the BIOS fitted. Once this has been done it goes onto the testing stage where every single port and connector on the board is tested and the board is booted up and several different software tests are run to make sure the board works correctly.
If the board passes these tests, it's finally packaged, the peripherals are added to the box and it's ready to ship. The notebook production line isn't that different, although most components are mounted by SMT machines here, but instead of shipping the PCB off, it goes to a different part of the same factory where the notebooks are assembled.
MSI's production lines in Kunshan for notebook assembly can put together several different models at once. The one we saw was of a 17-inch model, the
ER710
. Again, the chassis are produced elsewhere and so are the screens and cooling solutions, but everything is assembled here. Once the laptop has been assembled it goes through rigorous testing and all the ports, including the HDMI in this case are tested. MSI pre-loads the hard drives with Windows, but all machines are booted up tested and once the preliminary test are passed, all machines go through a burn-in test and each production line can test 1,000 notebooks simultaneously. Once passed the notebooks are packed and shipped to either local MSI offices or directly to customers.
It's really a shame we can't show you some pictures of this as it's all quite impressive and the factories are very clean and modern. However, we can't say that it looks like a fun job, but it's like working on any production line, very repetitive. Let's move on and take a bit of a closer look at some upcoming products from MSI.
First up we have the X38 Diamond which we've already shown you some
pictures of
, but we've got new pictures of a more up to date PCB design with the DDR2 slots missing. One feature Cameron forgot to mention was that the Silicon Image controller features driverless RAID 1, so all you have to do is plug in two drives, one to the red and one to the black SATA connector and the first drive is automatically mirrored on the second drive.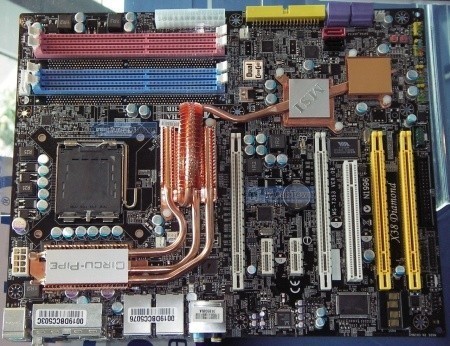 In the picture above you can see that MSI hasn't changed the PCB, the DDR2 slots have simply just been removed. We've also got a picture of it in the "nude" so to say, with the CircuPipe removed.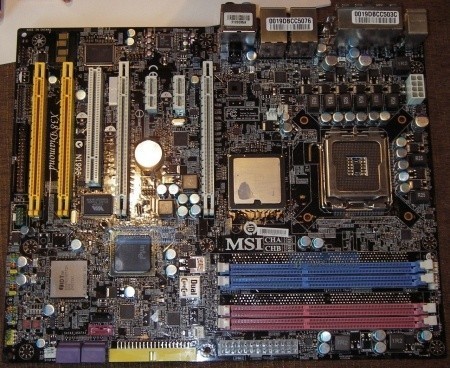 There was some confusion during the presentation to whether or not the IDT switch which is used to allocate PCI Express bandwidth from top two x16 slots to the lower two slots enabled them to operate at x4 or x8. MSI didn't quite seem to know, but hopefully we'll get an answer soon enough. The presentation suggests x16+x16+x4+x4 but this seems impossible and an x8+x8+x4+x4 solution wastes bandwidth so hopefully MSI has set it up so all slots operate at x8. The downside of this approach is that the two yellow slots are only PCI Express 1.0/1.1 compatible which might cause some issues like this Asus are having with it's R.O.G. Blitz boards which won't accept PCI Express 2.0 cards in the second slot.
MSI also showed some interesting thermal shots comparing its CircuPipe cooling technology on one of its P35 boards to the P5K3 Deluxe from Asus. As you can guess, the MSI board runs much cooler and MSI also claimed that their board is cooler than Gigabyte's similar products.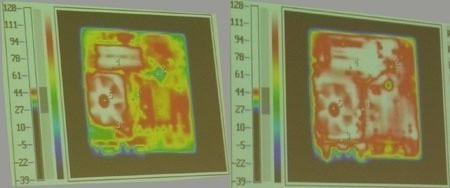 MSI also showed their
P35 Neo2-FR
board, which was actually the board that we saw being made at the factory. It shares the same PCB as the P35 Platinum, but it has a simpler heat pipe cooling and lacks some of the Platinum's features such as the optical S/PDIF and some extra SATA connectors.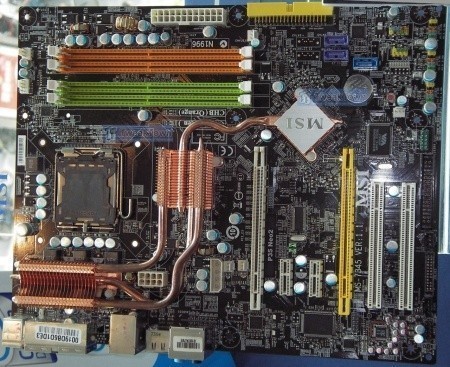 Also on display was the G35M which oddly enough is a G35 based mATX board. It has integrated graphics and this is Intel's next generation IGP and the graphics core is called GMA X3500 and should be DX10 compatible at some stage. The board also features four memory slots with support for DDR2 667/800, eSATA, Gigabit Ethernet and 7.1-channel audio. Sadly it doesn't have DVI or HDMI, at least not the version on display.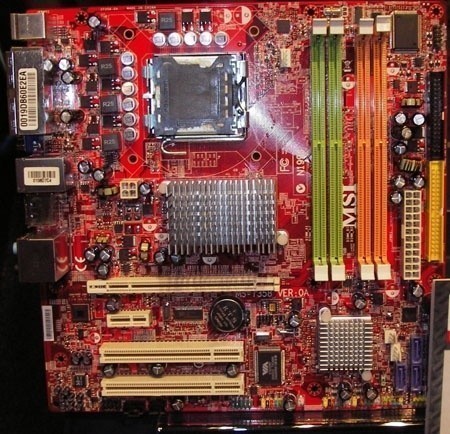 Finally we have the G31MV, which you'll be amazed to learn features the G31 chipset. This relies on the older ICH7 and is the budget chipset in Intel's 3x-series. The graphics core is the GMA 3100 and again the board has four memory slots for DDR2 667/800MHz memory, Gigabit Ethernet and 7.1-channel audio as well as eSATA. The G31MV also lacked DVI or HMDI, which seems quite odd, unless MSI is targeting the real entry level of the market with these two boards.
We'll leave you with a picture of a very happy chap from South Africa that kicked everyone's ass in F.E.A.R. and scored himself a GX600 notebook.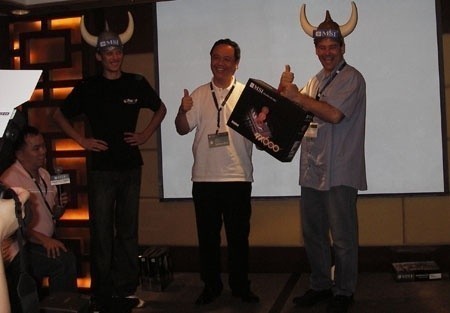 We'd also like to say thank to MSI for having us and showing us and you how they manufacture motherboards and notebooks.