Comex 2007 Singapore - Day 2 Coverage
Things have heated up a bit for Day 2. Lars spends his final day on the show floor covering heaps of goodies!
Published Thu, Aug 30 2007 11:00 PM CDT
|
Updated Tue, Nov 3 2020 7:04 PM CST
Comex 2007 - Day 2 Coverage

Comex 2007 Singapore - Day 2 Coverage
Today we've seen a lot more stuff and we've focused our attention mostly on notebooks, but there's also a whole lot of other stuff to read about. Let's start on the same note as we ended yesterday's coverage with a UMPC. Amazingly enough, the Kohjinsha SA1F00 wasn't the only AMD Geode powered UMPC at the show, we found another one too. This time it looks a bit more like an overgrown PDA though.
The Raon Everun as it's called is even smaller, although this means a smaller screen at 4.8-inches and a smaller keyboard. The resolution of the touch screen is the same 800x480 though, and the Everun is offered with two different CPU options, a 500MHz LX800 or a 600MHz LX900. It's also available in six different configurations, two with the LX800 and three with the LX900. The cheapest model only features 256MB of RAM, but all other models have 512MB.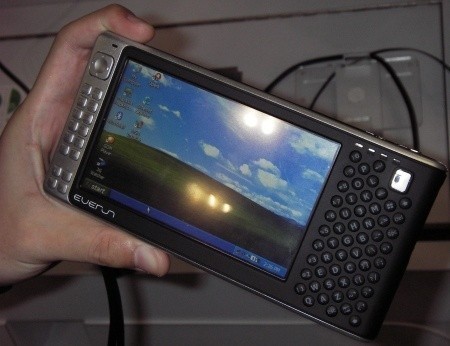 The storage options include a 30 or 60GB 1.8-inch hard drive or a 6GB SSD, the top of the range model features the SSD and a 60GB drive. The basic model is running XP Embedded while the other models are running standard XP. All models have Wi-Fi 802.11b/g, Bluetooth 2.0 and an option for WiMax or HSDPA. The Everun weighs between 460 and 500g depending on model with the standard battery (which is apparently good for up to 7h of usage. The extended battery is meant to do 12h and adds 100g to the weight. The keyboard doesn't look that great if you want to do a lot of typing though, which seems to be the major flaw of this device.
Moving on we've got some "real" notebooks and we're going to start with some models that we're not that familiar with. First up we have the LG R200-Q Sideshow which is LG's first notebook with an external Sideshow display. It has a 12.1-inch widescreen display and an AMD Mobility Radeon HD X2300 GPU. It's a Core 2 Duo notebook, but sadly it seems to be using the older 945PM chipset. It looks rather nice though and it has a price tag to match its looks.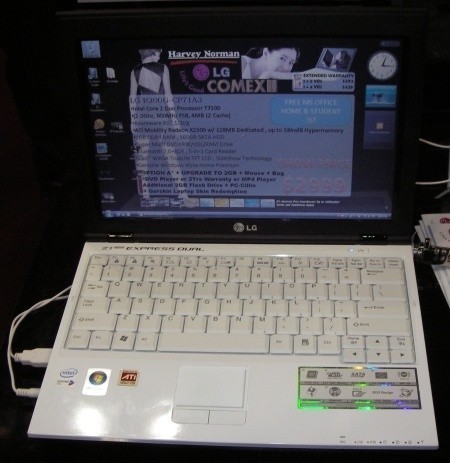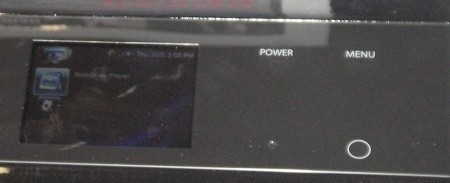 Lenovo was showing off a new model as well, the Y410 which is meant to be an entertainment notebook, although we're not too sure that it fits that market segment as it has Intel X3100 graphics. Apart from that it's quite nice, although we're not so sure about the orange power button either. It's got a 14.1-inch widescreen display and a Core 2 Duo CPU, but it lacks any HD connectivity options besides D-Sub. It's quite attractively priced for what it is though and should appeal to those that aren't too demanding.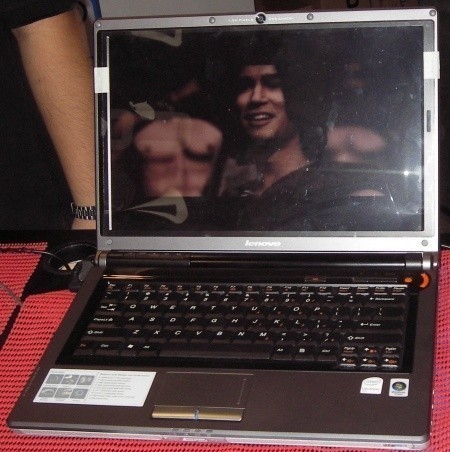 Next up is the Fujitsu LifeBook A6030WDVP which has a rather interesting touch pad, as it has a built in Active Digitizer. You might wonder what this means, well, it's simple really, it can be used with a stylus as a tablet so you can use it for digital signatures or even to write handwritten notes. We're not sure if it comes with handwriting recognition software though, but this is a cool idea. Other features include a Core 2 Duo processor, 15.4-inch widescreen display, Intel X3100 graphics, Bluetooth, fingerprint scanner and onboard Gigabit Ethernet.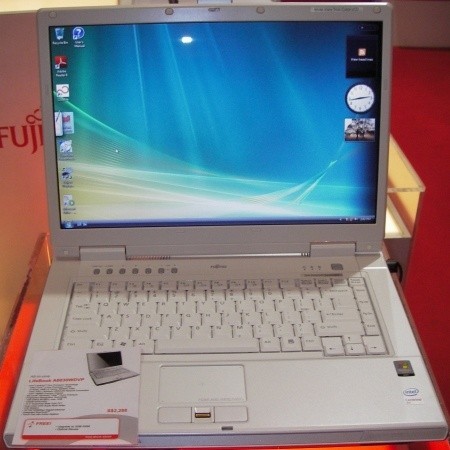 Following on the theme of multifunction touch pads, we've got the NEC Versa E6300, which has taken a different approach. Although it's hard to see from the picture below, you might just be able to make out the round blue circle on the touch pad. Tap that and it enables what NEC calls 'Touch n Go', the touchpad turns into a set of easy to use controls for media playback and so on. Pretty neat, but it also disables the use of the touchpad at the same time. The notebook itself has a white leather covered lid and a 2Megapixel webcam with a twin digital mic array. It's got a Core 2 Duo processor, Intel X3100 graphics and a 14.1-inch widescreen display among its hardware features and it's actually quite attractively priced.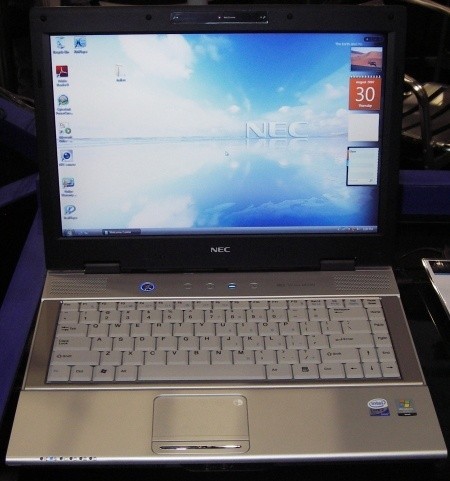 Asus was also on the show floor, although there wasn't really anything all that exciting to look at, but at least the G2S gaming notebook was there and it's mighty impressive. It has a 17.1-inch widescreen display with 1920x1200 resolution and a GeForce 8600M GT GPU. It's a real beast and don't expect this to be a notebook you want to take with you on any longer journeys, but it might be a good companion for those that attend a lot of LAN parties.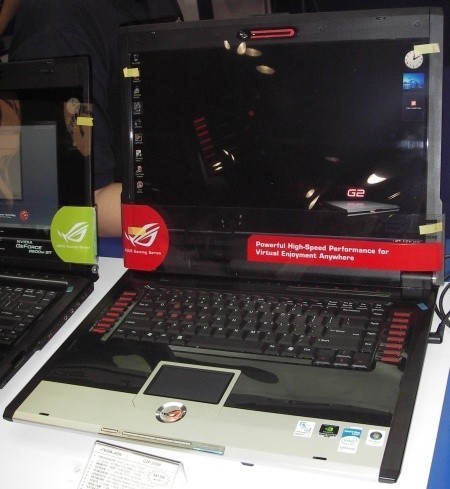 Onward we go...
Comex 2007 - Day 2 Coverage Continued
Comex 2007 Singapore - Day 2 Coverage Continued
Enough laptops, let's have a look at some other stuff we saw at the show. First up is Belkin's new N1 Vision router which looks really cool and it's the first router we've seen that stands up on its shortest side. Although this was only a preview unit, it looked mighty nice, it's just a shame that it's going to be insanely expensive once it arrives. It features 802.11 pre N and has a front-mounted LCD display if this is the first time you see it.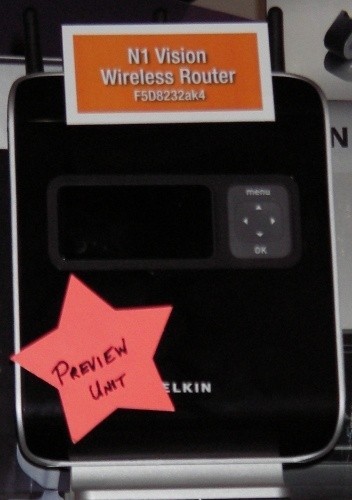 We did of course pop by Sony's booth, which was by far the biggest on the show. Although it was impossible to take any close up pictures due to the sheer amount of people that was there when we tried to have a look, we still managed to have a quick play with the new Cyber-Shot T200 super compact digital camera. It's amazingly thin and the 3.5-inch touch display on the rear is nothing but breathtaking. It's very easy to use and there's a reason for the metal bar on the side, as it's the only thumb grip this camera has.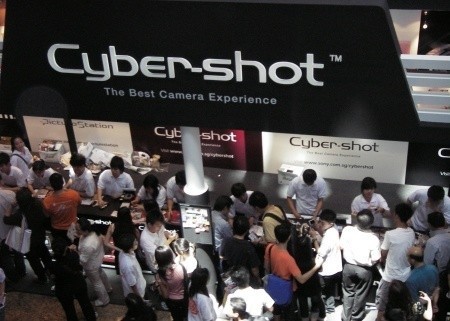 It's incredibly easy to use and the non-protruding 5x zoom is very impressive, although somewhat sluggish in use, though that's possibly because the zoom control is a tiny button on the right hand side corner of the camera which makes it difficult to use. Sony had a wide range of other cameras on display as well, and let's not forget a multitude of TV sets, the PS3, its Walkman players and a whole lot of other stuff. Sadly none of these things were all that new and didn't really peak out interest.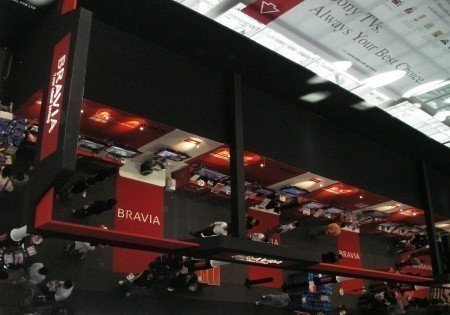 Viewsonic had its new crystal covered 22-inch monitors, although there's really not much to say about them. They feature 1680x1050 resolution and have DVI as well as D-Sub input. You have to be seriously into bling-bling to even consider buying one of these and we very much doubt that they meet the TCO ergonomics standards.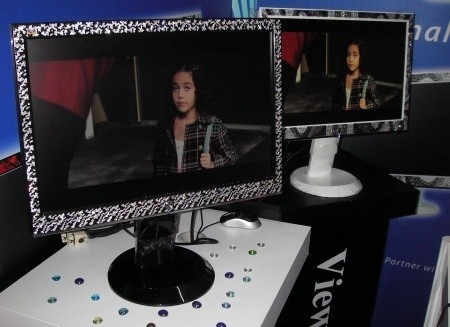 Lastly we dropped by Philips which had a wide range of headphones, headsets and other accessories on display, but what caught our eye the most was its range of GoGear MP3 players. The high-end models feature WMV video playback as well and they're priced quite competitively. It's just a shame that the top of the range model features a mere 4GB, as this is quickly becoming the entry level in high-end portable media players.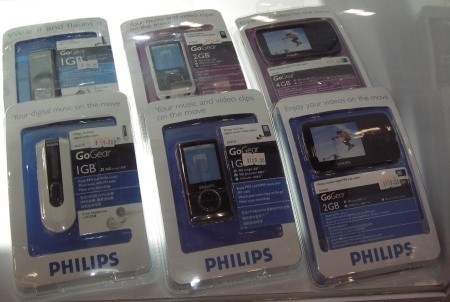 Also on display was the DCP850, which is a portable DVD player with a built-in iPod dock. It has an 8.5-inch LCD display with 480x234 widescreen resolution, and besides being able to play back DVDs and iPod content it can also play back DivX and MPEG from either CD or an SD / MMC card. It's also got dual headphone jacks so that two people can listen in on the same time. The only downside would be its 2.5h battery life, as Philips' 10.2-inch model manages 5h and it has an 800x480 resolution display and a USB port, although it lacks the iPod dock.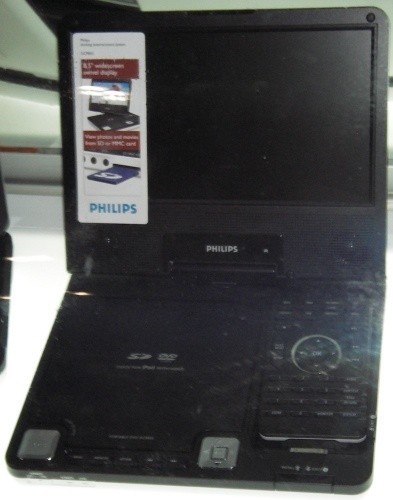 We saw many other things as well, and although we didn't have time to look at everything that was on sale at the show, it seems like one of the more popular things on display was noise cancelling headphones, they ranged in price from about $20 U.S. to about $500 depending on manufacturer. We should hopefully be able to get some of the models we saw in for review in the near future. This is all we have from Comex 2007, as after two long days on the show, our feet are tired and we're running away before the weekend crowds are turning up at the show. Until next time.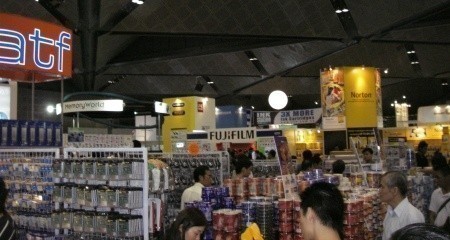 PRICING: You can find products similar to this one for sale below.

United States: Find other tech and computer products like this over at Amazon.com

United Kingdom: Find other tech and computer products like this over at Amazon.co.uk

Australia: Find other tech and computer products like this over at Amazon.com.au

Canada: Find other tech and computer products like this over at Amazon.ca

Deutschland: Finde andere Technik- und Computerprodukte wie dieses auf Amazon.de
We openly invite the companies who provide us with review samples / who are mentioned or discussed to express their opinion. If any company representative wishes to respond, we will publish the response here. Please contact us if you wish to respond.