Last week we did some testing with our awesome BitFenix Prodigy PC, where we slapped in a Sapphire Radeon HD 7770 FleX Edition GPU and did some testing at 720p. We have an article that should be available next week that will take a look at some 1080p results, but I thought I'd do some overclocking on the HD 7770 FleX Edition, first.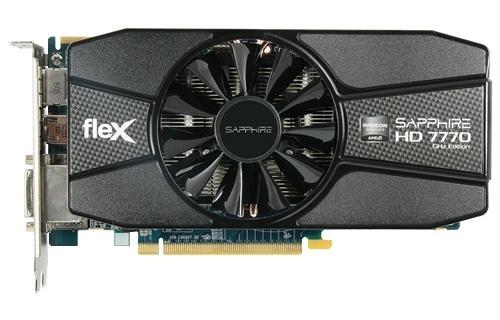 I didn't think I'd squeeze much more speed out of it, but boy oh boy did it overclock. We actually saw a huge overclock on our Sapphire Radeon HD 7770 FleX Edition, which had a stock GPU clock of 1000MHz and stock memory clock of 1125MHz.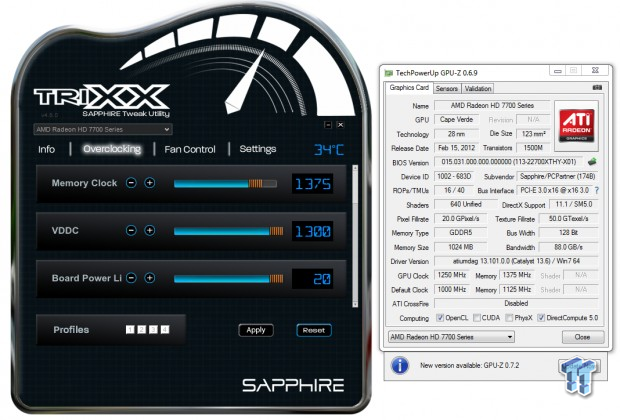 Just how far did we push it, while staying stable with our suite of benchmarks? We cranked the GPU clock up to 1250MHz, which was an increase of 250MHz, or 25%. The memory clocked up from 1125MHz to 1375MHz, another impressive result.
With this extra clock speed, we saw our bandwidth increase from 72GB/sec to 88GB/sec, a very nice improvement. On top of that, our Pixel Fillrate increased from 16 GPixel/s to 20 GPixel/s while our Texture Fillrate increased from 40 GTexel/s to 50 GTexel/s. This is a great improvement, and something you can achieve for free.
Just how much better did our overclocked Sapphire Radeon HD 7770 FleX Edition perform with these great overclock? Let's see how it did!
Before we do that, we'll take you to our previous test on the stock clocks, which is still impressive. We tested at 720p, which we're going to do now, but at our insane overclocked speeds.
This PC has been built for the sole purpose of 720p gaming, which is what we're going to concentrate on for now. The specs of our build are as follows: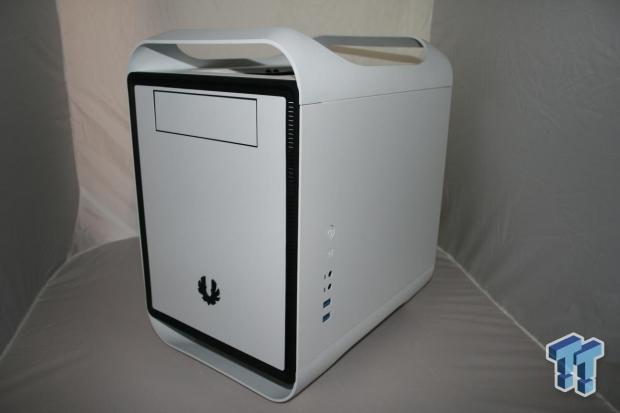 Case: BitFenix Prodigy
CPU: Intel Core i7 3770K @ 4.2GHz
Motherboard: GIGABYTE Z77N-Wi-Fi
GPU: Sapphire Radeon HD 7770 Flex Edition
RAM: Corsair Vengeance Pro Series 16GB DDR3 2400MHz (CMY16GX3M2A2400C10R)
Storage: Corsair Neutron GTX 240GB SSD (x2)
Cooling: Corsair Hydro H100i series
PSU: Corsair AX760i
Software: Windows 7 Ultimate x64 SP1 (with latest updates)
Drivers: AMD Catalyst 13.6 Beta 2
As usual, I'd like to thank our friends at BitFenix, Corsair, Sapphire and GIGABYTE for supplying the hardware for this build. Without these amazing companies (and my various friends at those companies) none of this would be possible, so thanks for your help, guys and girls.
Since our build guide on the Prodigy, I've swapped out the previous RAM we had installed, which was a Corsair 8GB kit of 1866MHz RAM for Corsair's new Vengeance Pro 2400Mhz kit. I've also updated our drivers to the Catalyst 13.6 Beta 2 set.
We have Sleeping Dogs, Tomb Raider, BioShock Infinite, Metro 2033 and Hitman: Absolution on the test bed as they all have built-in benchmarks. We'll eventually take a look at some other popular games such as Battlefield 3 (and 4) in the near future.
Sleeping Dogs is up first: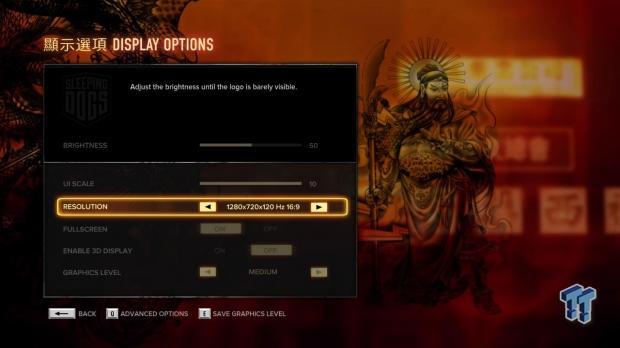 With the huge OC on the HD 7770 FleX Edition, we've moved from just 25.3 FPS to 30.7 FPS on the Extreme preset. A very nice increase, from something that is free to do. The average FPS with the Extreme preset jumped from 37.1 FPS to 45.3 FPS, an even better increase.
This overclock helped our average FPS by a very hefty 22.1% - now that is something you cannot complain about. It is a huge improvement, especially from a mid-range GPU.
Moving onto the second game in our benchmark lineup, we have Tomb Raider:
Tomb Raider was another game that saw great strides in performance with the huge overclock we achieved on our HD 7770 FleX Edition GPU. Starting with the Ultimate preset, which increased its minimum FPS on our stock clocks at 26.4 FPS to 32 FPS with the overclock. Average FPS at our Ultimate preset saw an increase from 35.9 FPS to 43.8 FPS. Another increase of 22%.
Moving onto the Medium preset, which increased from the 96 FPS to 118.7 FPS with our overclock - this represents an increase of 23.65%. Our average FPS saw a boost from 117.3 FPS to 149.3 FPS, which is a huge increase of 27.28%. Impressive!
BioShock Infinite is up next, with some even better results:
BioShock Infinite saw the same type of improvements, but something strange happened, too. Starting with the Ultra DX11 w/DDoF preset and its minimum FPS at stock clocks of 22.1 FPS which decreased to 16.7 FPS. The average FPS numbers were better, moving from 50.7 FPS to 61.7%, giving us an increase of 21.7%.
Shifting over to the much higher numbers with BioShock Infinite, in the Medium preset now. Our stock clocks provided us with a minimum of 47.5 FPS, but with our crazy OC, we see a huge surge to 59.1 FPS. The average FPS was even better, moving from an already impressive 106.9 FPS to 130.4%. A 21.98% increase - this overclock has done us well, so far.
Metro 2033 is our second to last benchmark today: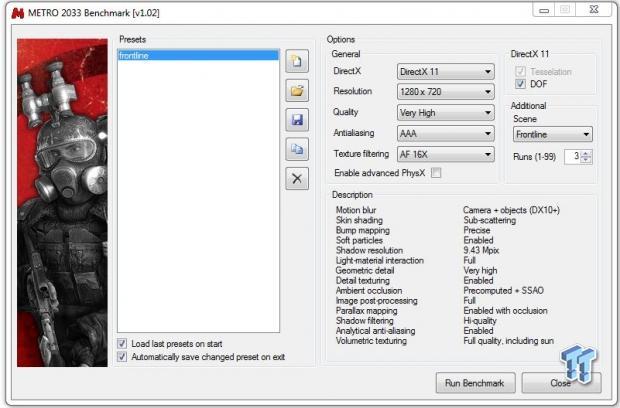 Metro 2033 had some seriously low minimum FPS scores, which is exactly how we started off our sentence in our first look at the stock clocks of the Sapphire HD 7770 FleX Edition card. Things didn't fare much better, with the Very High w/DDoF preset and its minimum FPS decreasing from 7.7 FPS to just 5 FPS. The average FPS improved, from 33.6 FPS to 39.6 FPS.
At Metro 2033's Medium preset, we saw better results, with the minimum FPS increasing from 6 FPS to 8.9 FPS. The average FPS jumped from 97.3 FPS to 116 FPS, giving us a nice 19.22% increase in performance.
Lastly, we have Hitman: Absolution: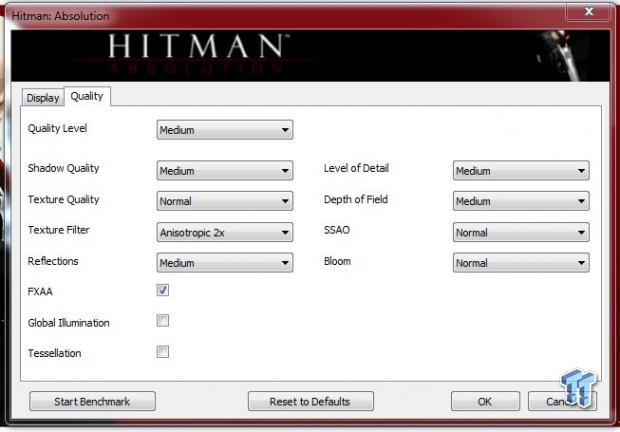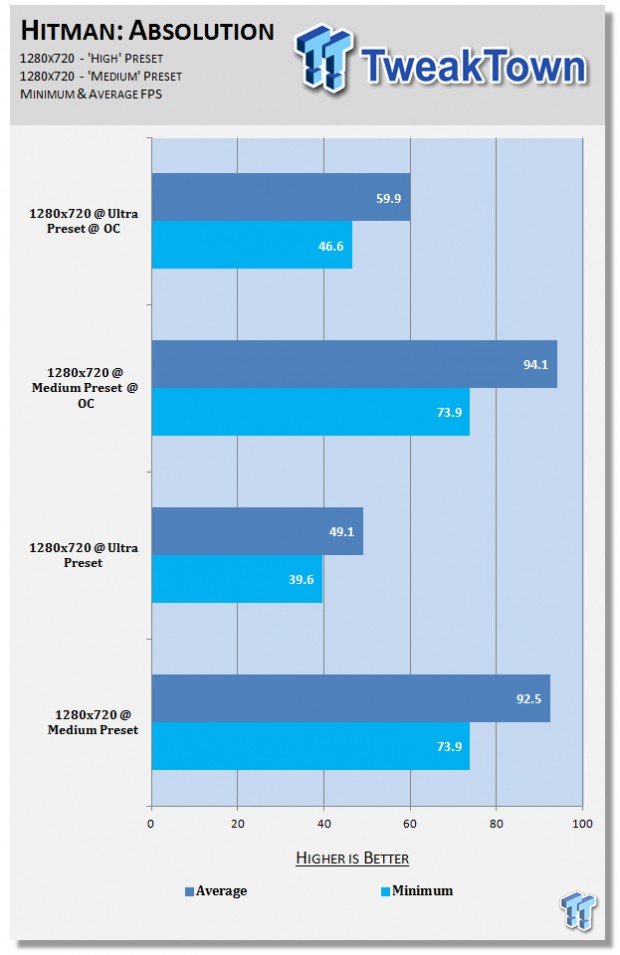 Lastly, we have Hitman: Absolution, which saw some great gains once again, but also a weird result, too. Starting with the Ultra preset, we saw an increase in minimum FPS from 39.6 FPS to 46.6 FPS - not bad, right? The average FPS on the Ultra preset saw an increase from 49.1 FPS to 59.9 FPS.
Now, onto the Medium preset, where our weird results came about. We have identical minimum FPS results, with 73.9 FPS and virtually identical average FPS results with 94.1 FPS. I ran the tests three times to make sure my numbers were right - and they were, each time.
Final Thoughts:
SAPPHIRE's Radeon HD 7770 FleX Edition overclocks like a damn champion, that's the simple truth. We have a 20% or higher increase in performance when overclocked, which is insane for such a bargain-based GPU.
I originally wasn't going to bother with overclocking performance in a separate article, but I now think it's worth it. The difference in performance for some games is actually well worth the overclocking, and for something that takes just a few minutes of your time, the results are the proof of the few minutes it'll take.
Next up, we're going to take a look at 1080p performance, at varying detail levels. I wonder how the OC is going to help the higher resolution, and whether we'll see the benchmark anomalies we're seeing in Hitman: Absolution.
Last updated: Nov 3, 2020 at 07:12 pm CST