X-Micro X-VDO MP4 F610 - Portable Music Video Player
X-Micro X-VDO MP4 F610 is an affordable, stylish and feature-packed portable music video player that demands attention.
Published Wed, Nov 29 2006 11:00 PM CST
|
Updated Tue, Nov 3 2020 7:04 PM CST
Introduction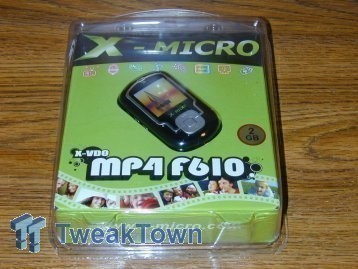 For those who have been around for awhile, the name X-Micro might bring back memories of nVidia based graphics cards. Others may immediately think of wireless and Bluetooth devices. While both have a place in the company's annals, today's product review will be from another facet of the manufacturer, the MP4 F610 Media Player.
With so many similar devices on the market right now, we will take a look at this offering and try to help you when it comes time to make a decision on how to spend your hard-earned money. We'll look at things such as value, output, and the ability to play whatever kind of media you want.
So relax for a bit as we delve into the latest multimedia player from X-Micro. They have a pretty good reputation in this area but we want to see firsthand how their latest product handles a variety of tasks.
In The Box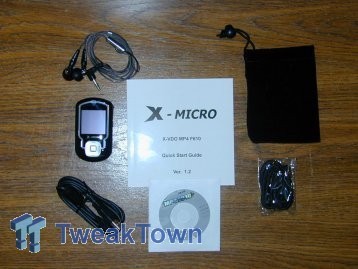 Once we have cut through the hermetically sealed packaging, we are left with the player, a set of earphones, a USB cable, a lanyard, a cloth bag for storing your device and accessories, a small instruction manual and a driver/utility disk. You will have everything necessary out of the box to handle your needs except the media content. Let's take a closer look at some of the key areas of this device.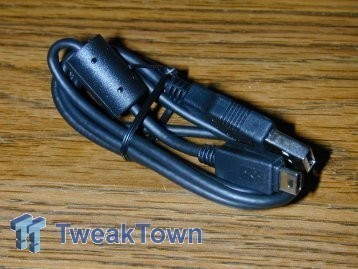 Starting with the accessories brings us to the USB cable. While not that different from any other USB driven device component, it is important to note that this player is completely powered by this connection. There is no other external power source used for this player. Even the internal rechargeable battery is recharged by means of the USB cable; very nice.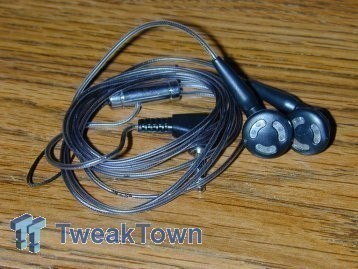 To be able to hear your media content, you will need some sort of earphone device. Included with the MP4 F610 is an in-the-ear plug that delivers acceptable sound. I am not a big fan of this type of earplug, but that is a personal preference and not a fault with the player. X-Micro was simply looking for a means to deliver your audio output in as small a package as possible, and they succeeded in this aspect.
For those (like myself) who don't prefer this type of speaker setup, you will be pleased to note that the speaker jack used on the earplugs are of the industry standard variety and your favorite headphones will work easily. Just realize that if you are working with any sort of powered speaker device, you will want to make sure that the speakers are powered externally since this device will not deliver enough power to make them work otherwise.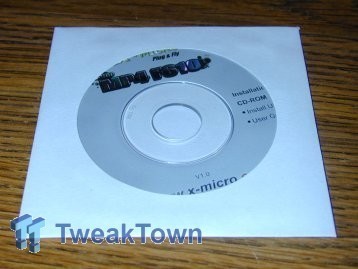 The CD disk shown above includes drivers for Win98 based systems and a utility that allows you to play nearly any media format commonly used. It is the mini-CD format, so make sure your optical drive has the center cutout for the smaller disks. Before we go into more detail about the conversion process, let's take a peek at the actual device.
The Player
Moving to the player, we see a very sleek and slim design. The dark coloring with the shiny plastic exterior has a very appealing look that will make others take note. It also has a startlingly small footprint measuring in at only 3" x 1.75" x 5/8" in overall size. This works out to 76mm x 45mm x 16mm for those more accustomed to the metric system of measurement. It is also incredibly lightweight, weighing in at a meager 44 grams (that is less than 2 ounces). It weighs less than a pair of standard AA sized rechargeable batteries and this includes a Lithium Ion battery housed inside the unit. You can toss it into a pocket and it won't be a problem at all.
As for the compatibility of the device, it officially supports WMA and MP3 audio formats as well as its proprietary SMV video format. While I'm not generally a huge fan of proprietary formats, the inclusion of a conversion utility that handles the most popular video files makes this an acceptable practice. As we will cover in a bit, I was able to easily convert both AVI and MPG files into the format required for this player with few issues and they worked well.
Of course, the MP4 F610 does far more than just play a few movies and songs. It also works as a FM radio tuner, a voice recorder, and also allows you to use it as a picture viewer. If this still isn't enough for you, the player works as a standard USB 2.0 digital data storage device if you just want some extra space to carry those important files. With sizes available from 512MB to 2GB, there is even some flexibility with regards to storage space.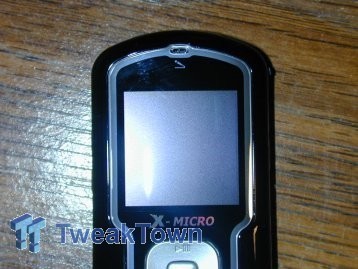 As mentioned earlier, this device allows for video playback of your files. To handle this task you are given a 1.5" square OLED display area that is 128x128 pixels in size and is capable of handling 262,000 colors. Not too shabby for a small device that easily fits into a pocket.
I took some photographs in a variety of resolutions of the display in action, but the modern digital camera picks up the individual pixels far better than the human eye does and they simply do no justice to the display of this device. Picture quality was very good for a viewer of this size and it even did a good job with dark scenes, allowing you to make out the action under less than optimal lighting situations.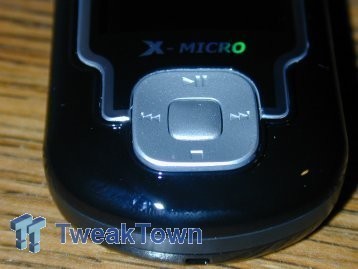 Moving down to the bottom half of the player shows us a small control pad that lets you scroll through the different player menus. It also allows you to pause and play your media files, similar to many software applications that are readily available. The center button acts as an "OK" or "ENTER" button.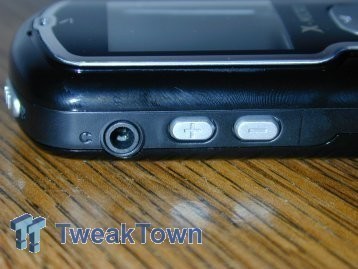 Turning the device to the left side shows the volume control and the earphone jack. Again, if you don't care for the in-the-ear type of device, you can use any industry standard set of earphones or headphones with ease.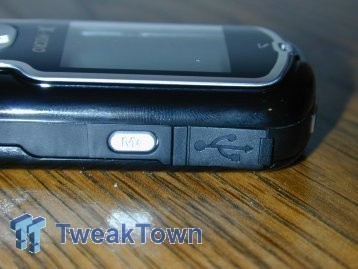 Flipping over to the other side shows the menu access button and the covered port for the USB cable. Nothing fancy, just a simple interface that seemed to work very well during testing.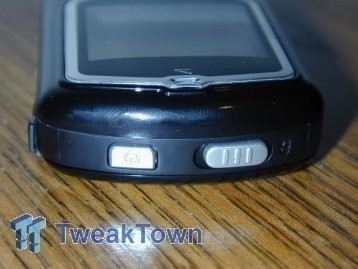 On the top edge of the MP4 F610 are the main power button and a locking toggle. This toggle allows you to lock out the controls to keep from accidentally stopping your player when in use. This can be very handy if you are listening to a selection of songs with the player in your pocket. It prevents the device from accidentally turning off when you are using it. You can also see along the top edge of the front of the panel the microphone.
Now that we've covered the basics, lets start converting some media and seeing how well this little toy works!
Media Conversion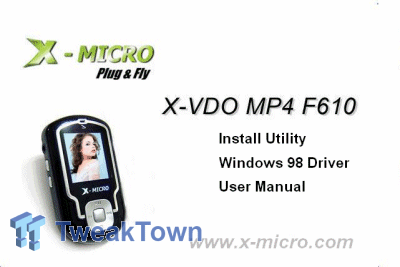 When you first toss the disk in, this is the autorun menu you will be presented with. Remember, you will only need the driver portion of this disk in the event you are running a pre WinME based operating system. After your driver needs are addressed, just install the utility and you'll be off and running.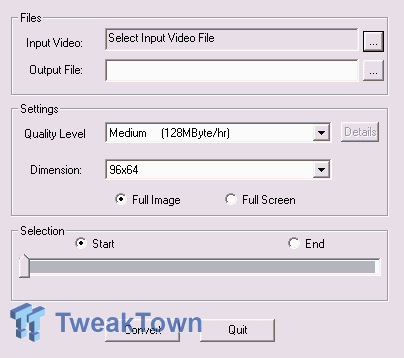 So you have installed the included utility and fired it up; this is what you will see. It doesn't have a lot of controls, so is pretty much idiot-proof. This ease of use is a very welcome sight since we have already put our time and effort into the encoding of the media file to begin with, so this is nothing more than getting that media ready for play on the MP4 F610 device. There are a few features that should be addressed, though.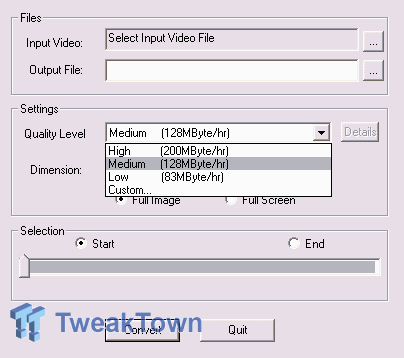 The drop-down menu labeled "Quality Level" allows you to decide what quality you want for your converted media. This is for video media only and is not required for playing audio files. The menu shows you the quality level and also an estimated file size in MB per hour of video length.
As a side note, I found this drop down menu to be very handy for smaller files, but if you want to convert a full length feature film, you will receive some errors if using this method. For these larger files I had to go into the "Custom" level. Here is what you will have to tweak in this area:
While not a professional editing control panel, these menus will allow you to convert most full-sized movies to the standard required for this device. All I had to do to get these files to convert was to raise the middle drop down value to a higher level. The menu I'm talking about is the one labeled "Graphic Data Size in 1 sec". Raise this value and it should take care of those errors. It did in my cases regardless of the Codec used for the file. You can tweak other areas if you like, but it should not be necessary unless you just want to play around. Just remember that the higher the quality levels, the higher the file size will be.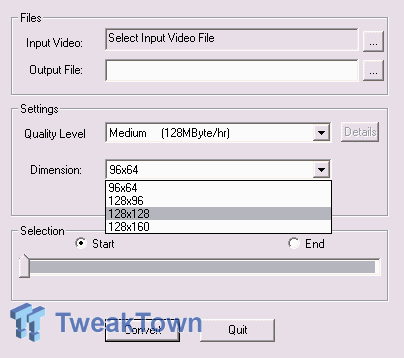 Moving back to the main menu screen allows us to look at the choices for the display dimensions. The MP4 F610 has a native display size of 128x128 pixels, but you can set up your conversion file for whatever you like. As with other tweaks you perform, the higher the resolution you choose, the larger the file size will be.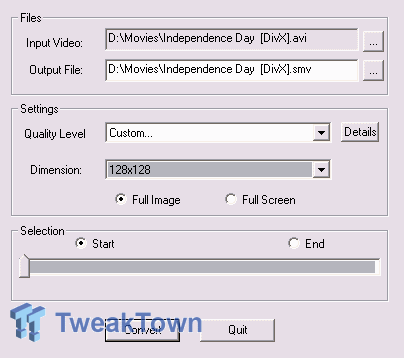 Now that we our settings finished up and a movie file chosen to convert, just hit the "Convert" button and wait. This isn't necessarily a quick process, but I've had other converting tools take longer so it wasn't a big deal to allow it to run in the background and do other things.
To give you an idea as to what kind of times I experienced, a 715MB AVI file took about 23.5 minutes to convert using the custom settings required to complete the conversion. The result was a 292MB file to be transferred to the player. This works out to a 59% reduction in file size for the AVI format.
For those with a store of MPG files, I converted a 183MB file in about 2.75 minutes using those same custom settings. The converted file size was 46MB in size representing a 75% reduction in file size. Since a vast majority of my video files are in AVI format, I was unable to use a file size that was about the same for both tests, but the MPG seemed to give a much quicker conversion per MB and also gave a smaller footprint. Both files played well, so the only real limitation will be storage capacity on the device.
With regards to different Codecs used for ripping video media, I tested both DivX and XviD and both gave equally good results. Since these two types of coding are by far the most popular, I limited my testing to these two.
Final Thoughts
When it comes to portable media players, there is a huge selection of products on the market. While the iPod devices have a very high cool factor, the requirement of a proprietary file system that does not allow you to use your own personally recorded media is a huge downfall. The X-Micro MP4 F610 player also uses a proprietary file format, but it includes a conversion utility to allow you to view your own media files with ease.
Speaking of the conversion utility, a little more information about the advanced settings would be a nice addition to give users more details on handling the error messages that come up when encoding large file formats. While I was able to work out the menus and get the files to convert, some may have a difficult time with this. It was pretty much trial and error so a bit more detail in the documentation would be a welcome sight.
As far as features are concerned, you would be hard pressed to find another player that does more for the money. Between the audio and video file playback, you also have an FM radio tuner, a photo viewer and a backup storage device to boot. With these devices coming in at 512MB, 1GB and 2GB sizes, you can choose the one that best handles your needs.
Battery life is also very good. On a single charge, you can get around 3 hours of video playback time before you need to plug into the USB port again. This goes even higher when you are simply listening to music, so you can get a lot of use before a recharge is required.
Availability seems to be limited at the moment, but the player should be available soon on a worldwide scale. Pricing also was not available from our sources, but past products in this line have come in at a very reasonable cost when compared to similar products from other manufacturers. Time will tell in this category and I will try to get more information soon.
Bottom line... If you are looking for a portable media player, there are a huge number of choices available to you. Of course, many of these devices don't allow you to play your own media files. For that function, the list of choices gets a good deal smaller. For those looking for a means to view their own media files and also includes a very good 1.5" display, take a good look at the X-Micro MP4 F610 portable media player. With plenty of storage space and long battery life, you will be well pleased with your purchase.
- Pros
1.5" 262,000 color OLED display
Very lightweight
Long battery life
Compatible (through conversion) of most popular media formats
- Cons
Needs better documentation for media conversion utility
Limited availability
Rating - 9 out of 10 and TweakTown's "MUST HAVE" Best Features Award!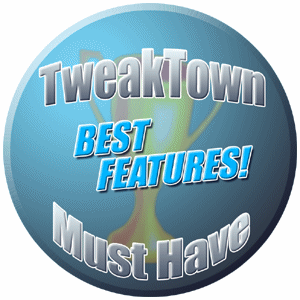 PRICING: You can find products similar to this one for sale below.

United States: Find other tech and computer products like this over at Amazon.com

United Kingdom: Find other tech and computer products like this over at Amazon.co.uk

Australia: Find other tech and computer products like this over at Amazon.com.au

Canada: Find other tech and computer products like this over at Amazon.ca

Deutschland: Finde andere Technik- und Computerprodukte wie dieses auf Amazon.de
We openly invite the companies who provide us with review samples / who are mentioned or discussed to express their opinion. If any company representative wishes to respond, we will publish the response here. Please contact us if you wish to respond.