HyperX Gaming Spectre Eyewear Panda Global Edition Review
Believe it or not, but the HyperX Gaming Spectre Eyewear Panda Global Edition glasses actually work and you should take a look.

Published Oct 16, 2020 9:50 AM CDT
|
Updated Tue, Nov 3 2020 6:54 PM CST
9 minute read time
TweakTown's Rating: 98%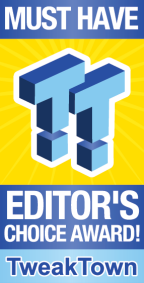 The Bottom Line
Everything you read on the First Edition Panda Global glasses from HyperX is true. They are attractive, lightweight, comfortable, and deliver in reducing eye strain while keeping a normal color pallet when worn. As a guy who sits at a PC more than most, we should have had these long before now!
It is sad to say, but we are old enough to recall all of the Blue Blocker sunglasses commercials from the '90s, where amber-tinted glasses were used for outdoor situations, like driving, hunting, fishing, you know, outdoor stuff! Sometime later, we saw it move to the PC industry when Gunnar grabbed our attention as one of the originators to PC users but was again using amber lenses to reduce blue light from the monitors to the user's eyes.
However, using amber lenses will change the color of whatever you are looking at. Since we had used the traditional Blue Blockers glasses, we had an idea of what to expect, and to be honest, we're not that eager to spend five times the cost of the sunglasses to get a pair for indoor use!
This is not to say that the concept or that Gunnar was offering snake oil, but we just felt the market needed more love before things could get better, so we sat and waited it out. Eventually came clear lenses that use coatings to reduce the amount of blue light into your eyes, yet did not affect the colors, which as a photo editor, is a huge thing to overcome if the colors do not look as they should!
Here we are, some thirteen years after we dismissed the early versions of this technology. We have now been asked to look at what many in the streaming industry have been using for a while now, and since our "issue boxes" are no longer ticked, we thought it to be a prime time to jump in and see what it is all about!
Out of the blue came an email from HyperX, who were very excited to have us look around at what they now have on offer in the gaming eyewear segment. We looked around at what was offered, found what we liked, and agreed to have a pair sent over. However, while HyperX does offer roughly eight versions of what we are about to show, there is only one model that sports the Panda Global logo on them as ours do!
All the same, the rest of the glasses on offer utilize the same features and technologies to reduce glare, reduce the amount of blue light into your eyes, and do so with comfort and style! While out Panda Global Edition to the HyperX Gaming Spectre Eyewear line is a bit rarer than other options, what we will show and discuss applies to the entire lineup, with only minor changes separating the various SKUs.
Those who have no idea of who Panda Global is are a North American eSports leader with a large roster of gamers, with the mindset to be the leaders in fighting games, whether console or PC based. While they have only been around for roughly five years now, they are big on Twitch, and I have even seen them mentioned on the Saturday night gaming on our local cable show. With HyperX as a partner now, things can only get better for both of them!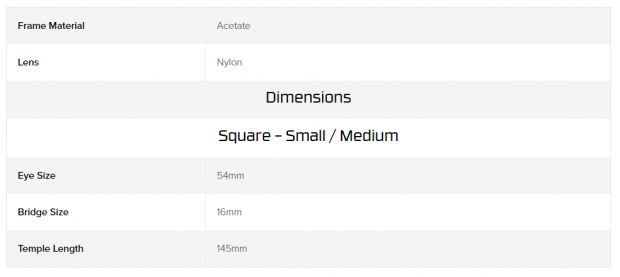 In the chart borrowed from the product page, our Panda Global Edition Spectre Eyewear is made with acetate frames proven to be tougher, more flexible, and more durable than regular plastic frames. As to the color, ours are black at the top half, and the lower parts of the lens frames shift to clear at the bottom. The lenses are made of nylon, which is crystal clear and is essentially the best of both worlds between CR-39 (ADC) lenses and polycarbonate lenses. Nylon is also picked for its shock resistance and lightweight nature. Our glasses' style is made with squared lenses in the size that HyperX refers to as the "small/medium."
Dimensionally, each lens is 54mm wide and 37mm tall, with a 16mm wide bridge between them. Overall the glasses are 145mm wide from edge to edge, and the earpieces are 140mm long. The thickness of the frame varies but can be as thin as 2.2mm in some areas. The last thing many may want to know about them is that they are covered with a one-year warranty.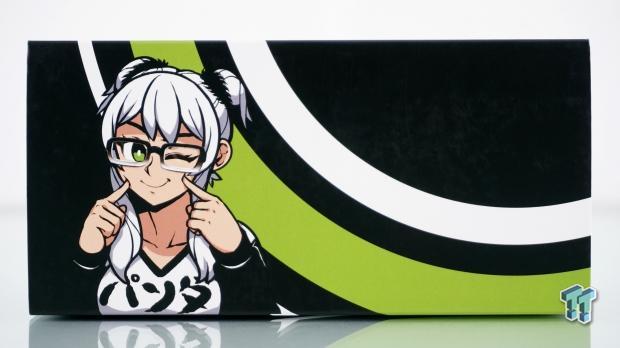 The Panda Global Edition Eyewear comes with a special cardboard sleeve that covers the box inside. A cute female sporting a pair of these glasses with swooshes of white and green behind here over the matte black backdrop. No mention of what is inside of the box, just the artwork to enjoy!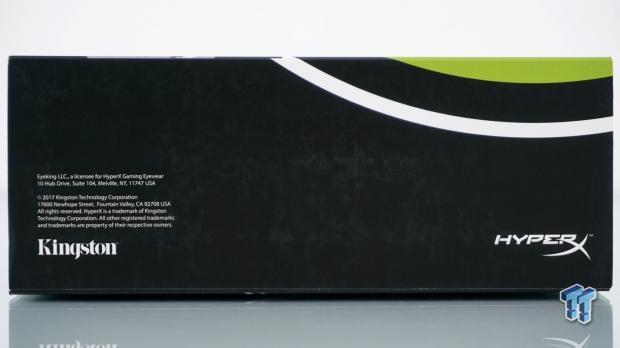 This side of the sleeve is found at the bottom of the box and houses the manufacturer's information. We see that these are part of the Kingston family, which includes HyperX, but we also see that Eyeking LLC is mentioned as the licensee, so we assume they are the ones making the product for HyperX.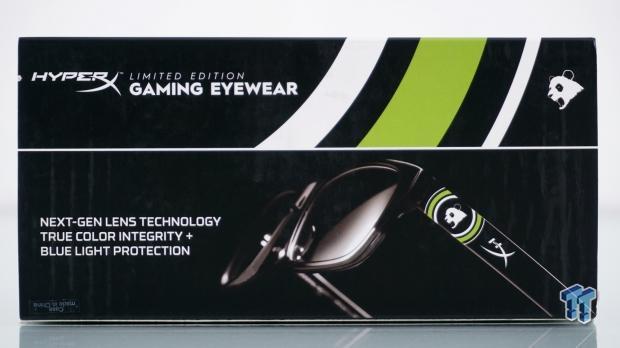 The back of the box is covered with that cardboard sleeve as well, and this time is used to show the HyperX Limited Edition Gaming Eyewear name along with the Panda Global logo to the right. The lower section mentions next-gen lens technology with True Color Integrity+ and Blue Light Protection as part of the package. We then are given our first look at the glasses which can be found inside.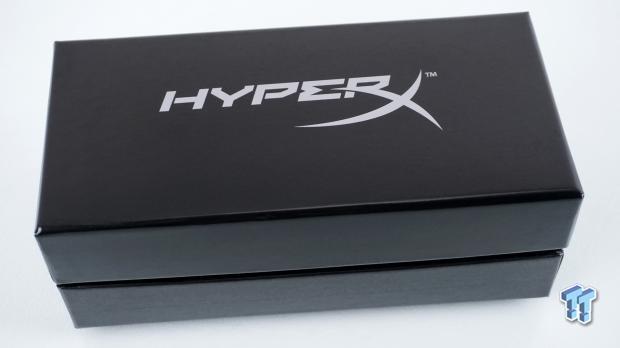 For those who opt for a different set of glasses than our Panda Global Edition Eyewear, they will arrive in the shiny black box we see now. On the top of this box is the HyperX name, but nowhere on the box is there any more information to be found. However, this is a thicker box and does well to protect what is contained inside of it.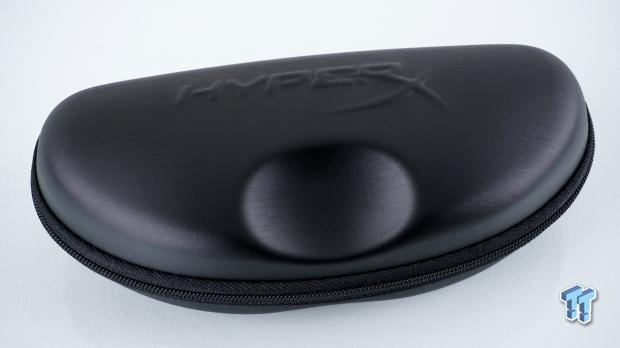 Once the box is opened, this is the first thing you find, a hard case to protect the glasses even further. The case is somewhat flexible when pressed upon, with its plastic outer shell and its soft inner lining. But sports dimples to make it easier to carry, and a zipper that runs around three sides and allows the case to open wide, for easy access to the glasses inside of it.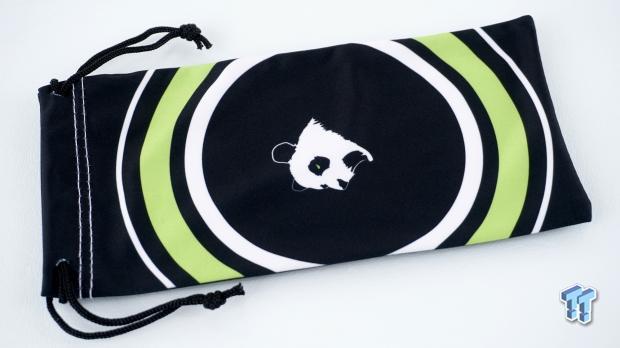 Rolled up, without the glasses inside it, you will also find the highly styled Panda Global microfiber drawstring pouch. This is another layer of scratch protection and another way to transport the glasses we get, but even if not used for the glasses in a transporting sense, this is great for cleaning the lenses if for nothing else.

As seen from the front, the HyperX Eyewear is attractive, and while various models offer various color options, we got these with black at the top, and as you progress downward, the frames blend into clear frames. The squared shape of the lenses does keep them from the peripheral view most times, and are designed not to be some flimsy POS's, these are a robust design, we assume, much like standard glasses, and not some cheap sunglasses.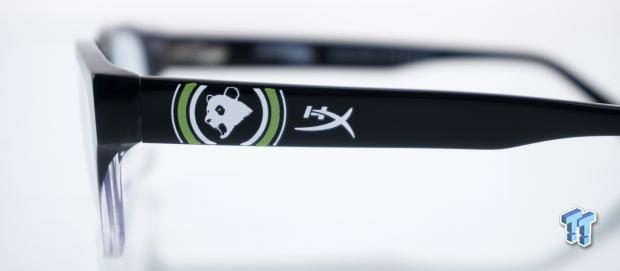 The right earpiece is black for its entire length but has the Panda Global logo painted onto it, rather than the HyperX logo on more standard models. However, we see both logos here, just that the Panda Global logo is given prominence to HyperX.

While we wanted to look at the spring hinges used for these glasses, which is solid and well suited for use with glasses that will take a lot of abuse, we also see more information to the left of it. We can see the 54, a square, and then 16, which gives the lens's dimensions and design. We then see the serial number, followed by the First Edition Series, of which the Panda Global variant is made.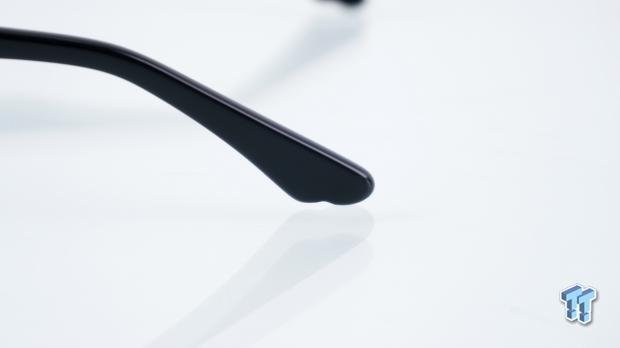 We are unsure why the choice was made for a double bump at the end of the earpiece, but that was the call over a single, but we can say that the 3.5mm thickness of the earpieces makes them comfortable around the ear, with or without a headset in use!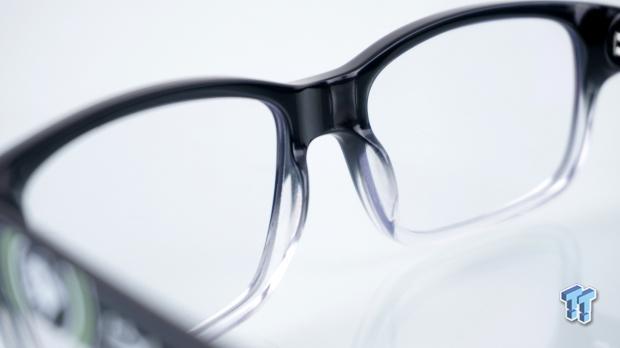 The 16mm wide bridge is also where the nose pieces are found, and we can see they are molded into the frames. While we would have liked rubber parts to help fight the slide glasses will do down your nose, they are comfortable and enough to keep the glasses on our face without constantly pushing them back up on our nose every few minutes.

Inside of the right stem, we find the same strong hinge used, but this time it is followed by the HyperX name and the Gaming Eyewear category. All of the lettering and logos are painted on but do not make contact with your face, so they will not wear as one would assume.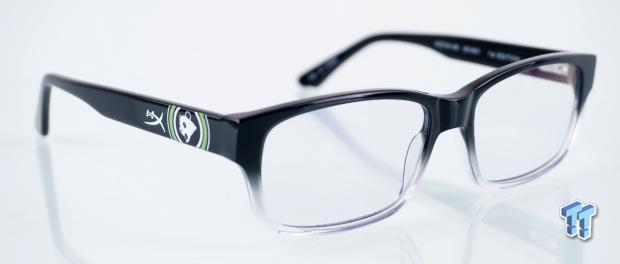 We skipped past much of the anti-glare, blue light reduction, and the True Color Integrity + technology, but it is all there. If you look closely at the right side of the glasses, still in the lens, there is a pink hue reflecting from the lighting, like older Ford windshields with anti-glare in them. As to the blue light reduction and color, we will get to that a bit later!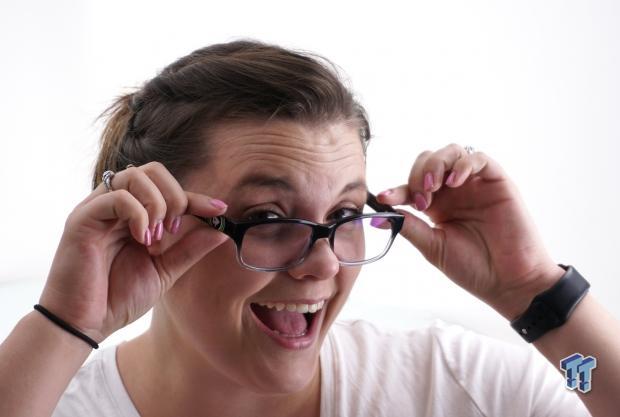 Rather than to torture you all with our ugly mug, we asked a neighbor to come over and pose with the Panda Global First Edition HyperX Gaming Eyewear, and as you can see, they fit an average-sized person quite well. We also feel that this pair of glasses' style and the color is a perfect fit for anyone, no matter head shape or what you are wearing, these glasses will fit perfectly!
The real question at the end of all of this is, do they work? We can say wholeheartedly that they do! Not only do they fit well, and after a few days, become virtually non-existent by feel or visual cues, but we do find ourselves with much less eyestrain over long periods sitting at the PC! There is a caveat to this, though. The first two days, we did have an issue with eyestrain, but as someone who has never worn glasses beyond sunglasses outside, there was an "autofocus" issue with our eyes, much like when trying to take a picture through a window. Our eyes had to get used to not trying to see the lenses. On day three, there was nothing there, so we felt it was time to take them for a spin with work and gaming to see what it is they offer.
The lack of eye strain is due to the blue light filtering, and we found ourselves wearing the glasses more and more, even for TV viewing or phone use, and often forgot they were one when leaving the office. When we jumped into our first round of PUBG, we were doing the raising and lowering thing, where its glasses, not glasses, back to glasses, and so on, because things were visually different, and we were making sure it was not a placebo effect. We found that the glasses in hand offered almost an added layer of contrast to the game and just the slightest raise of amber colors to the games. If you are blocking the blue, it does not make up more yellows, but you tend to see them more clearly.
Even with a group of friends, with many hours of gaming with a headset, we did not get sore spots around our ears from the frames, which is pleasing to a user who uses a headset quite a bit, and had some reservations due to not wearing glasses for gaming before this! Even for the daily grind of emails, writing, and the like, virtually eliminating eyestrain completely for us, unless we got too tired over longer hours, the HyperX glasses work as intended! For us, photo editing is a huge part of our lives, and we love that the colors do not change. Even with the change to gaming, we did not see the amber scale of colors increase as much with what we take pictures of, but then again, there are not many blue mice, coolers, RAM, or peripherals!
To be blunt, we have been converted! In a market that started so long ago, now to the point where you can have crystal clear lenses dropped on the floor, drug across the desk, and not treated with kid gloves are so durable and scratch-free to this day! In our mind, the wait was worth it. Not to say other manufacturers are not on par with what HyperX is offering, just that it took them to step up and ask us to have a look at the Panda Global Edition Gaming Eyewear to show us the light if you will!
While we have raved of what HyperX has brought forth, and that they have a full assortment of options to choose from, one important point still stands, the cost. If grabbed from HyperX, you will need to shell out $99.00 for these, but if you look at Amazon, you can get these glasses at $79.99. That said, we have spent more money on worse things for a PC, and many of them offered not benefits like the Panda Global glasses do or any from the HyperX line for that matter. For those who already have glasses, HyperX does offer prescription versions, but be prepared to spend much closer to $200 for them!
For the cost of an AIO or a mouse, you can get much more for much longer out of a set of these First Edition glasses on a personal level than either will do for you. Even though we snubbed this market for years, we can honestly see why so many streamers and gamers have moved to opt for glasses when at the PC, enough for us not to feel that the cost is in any way out of line, except maybe for the sight challenged, as that is a steep premium. Still, then again, HyperX is not Lens Crafters either!
Chad's Peripherals Test System Specifications
| | |
| --- | --- |
| Performance | 100% |
| Quality | 100% |
| Features | 98% |
| Value | 95% |
| Overall | 98% |
The Bottom Line
Everything you read on the First Edition Panda Global glasses from HyperX is true. They are attractive, lightweight, comfortable, and deliver in reducing eye strain while keeping a normal color pallet when worn. As a guy who sits at a PC more than most, we should have had these long before now!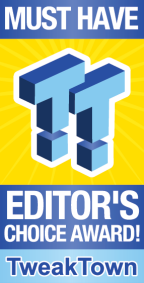 We openly invite the companies who provide us with review samples / who are mentioned or discussed to express their opinion. If any company representative wishes to respond, we will publish the response here. Please contact us if you wish to respond.