TweakTown's Rating: 95%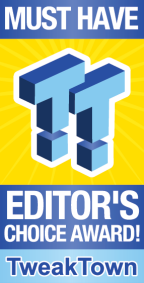 The Bottom Line
Intel is serving up outstanding performance for an outstanding price with the 665P.
Introduction & Drive Details
Intel's newest 6-Series SSD is a refresh of its first QLC SSD, the 660P. Intel's 660P introduced the consumer world to QLC (4-bit per cell) technology. The 660P was designed with the intention of bringing NVMe technology to the masses at pricing comparable with SATA SSDs. That's exactly what happened, and the 660P quickly became a favorite of PC enthusiasts across the globe.
On our test bench today, we have the successor to Intel's 660P 6-Series SSD. Intel's brand new 665P is again built upon Intel's proven floating gate technology as well as CuA (CMOS under array) technology. The main differentiator between the 660P and the 665P is the flash. The 660P employed a 4-bit per cell flash array based on 64-layer technology, the 665P is utilizing Intel's newest 96-layer 4-bit per cell 3D flash technology.
Intel's 96L 4-bit (QLC) flash brings to the consumer better performance, higher density, and, more importantly, in the case of QLC flash, 50% better endurance. Endurance was really the main complaint with the 660P, even if it was more of a misperception than an actual problem for the average consumer. Hence, a 50% increase is something that will appeal to a lot of consumers/enthusiasts.
Better performance and better endurance at an affordable price are something we all love, so let's dive into the review and see what Intel's most refined consumer QLC SSD to date is serving up.
Drive Details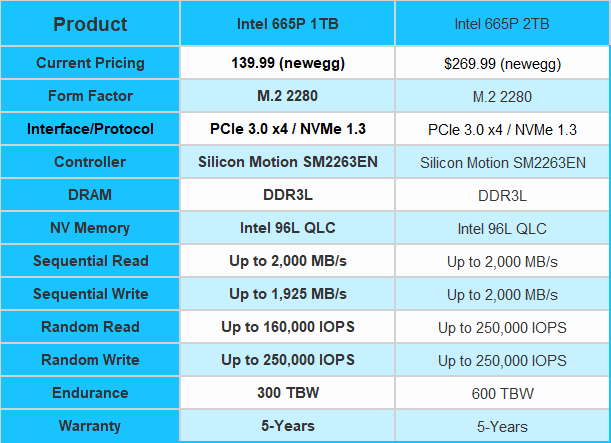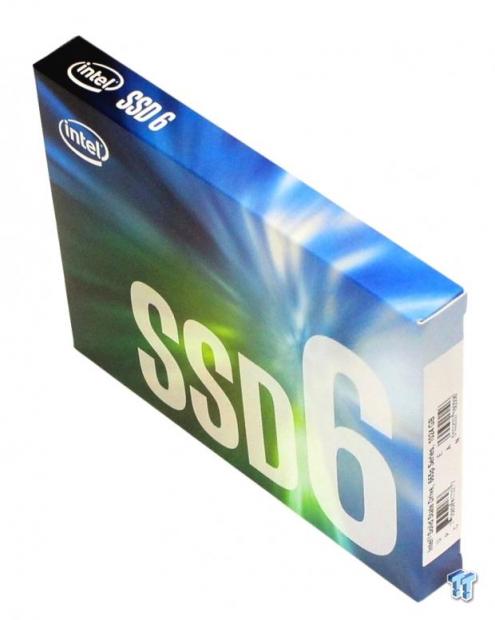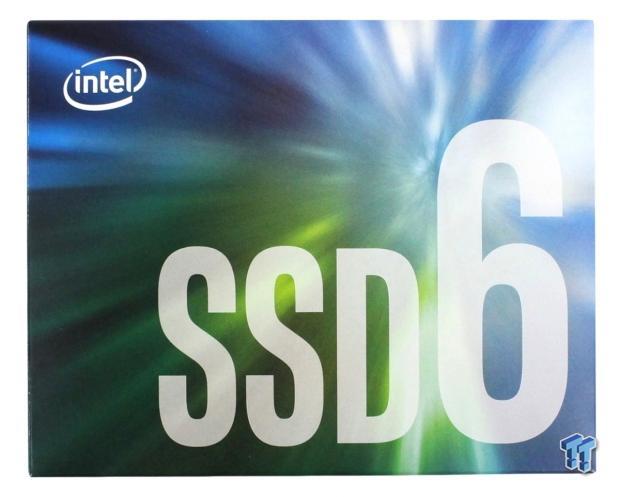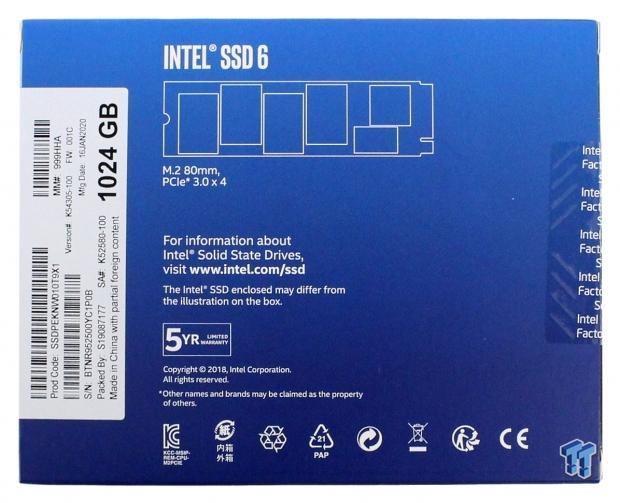 This all looks familiar. In terms of appearance, the 665P looks identical to its older sibling, the 660P. Even the packaging is the same. A single-sided design is the most desirable form factor, and that's exactly what Intel is giving us once again.
Jon's Test System Specifications
SSD Toolbox
Intel SSD Toolbox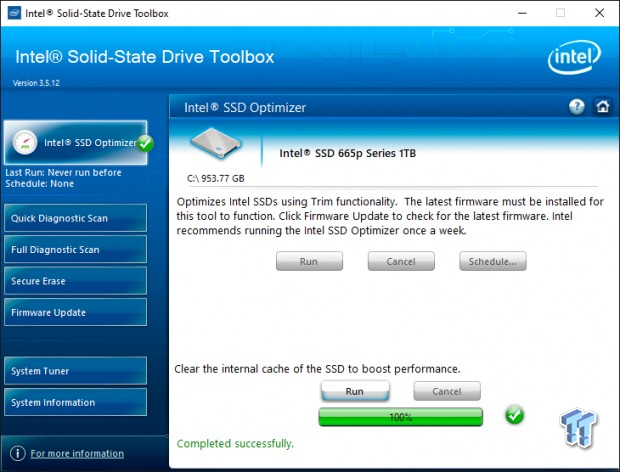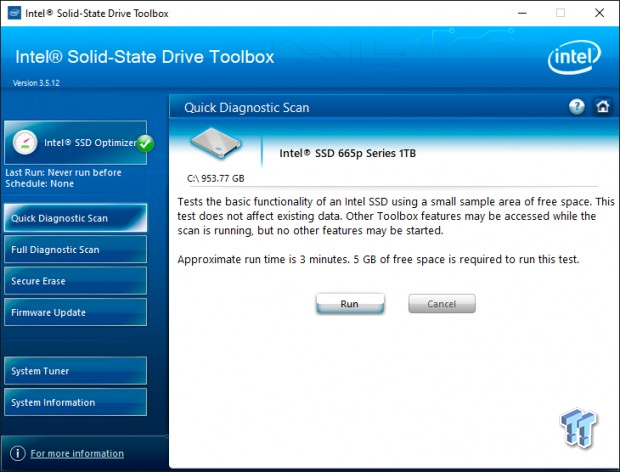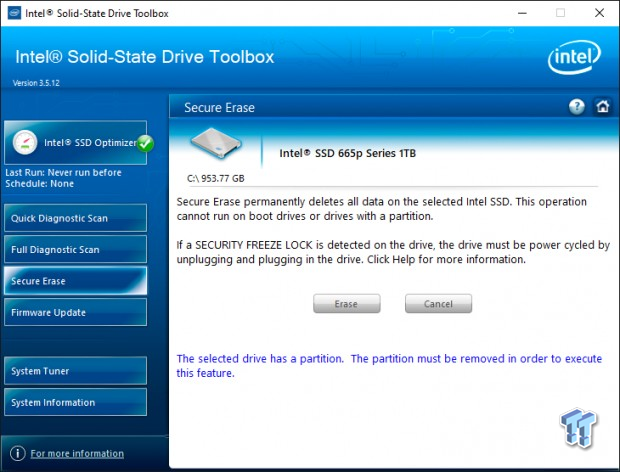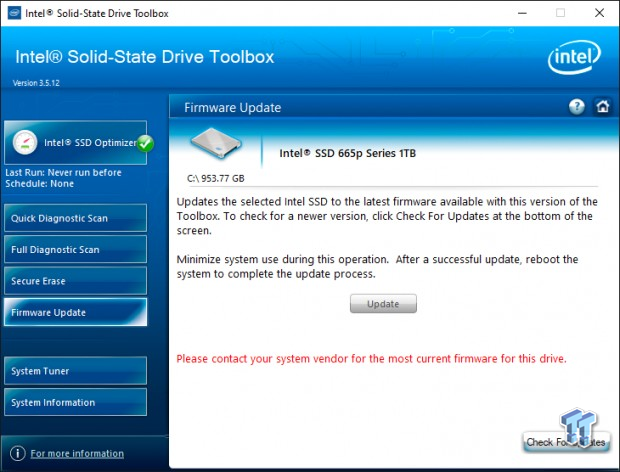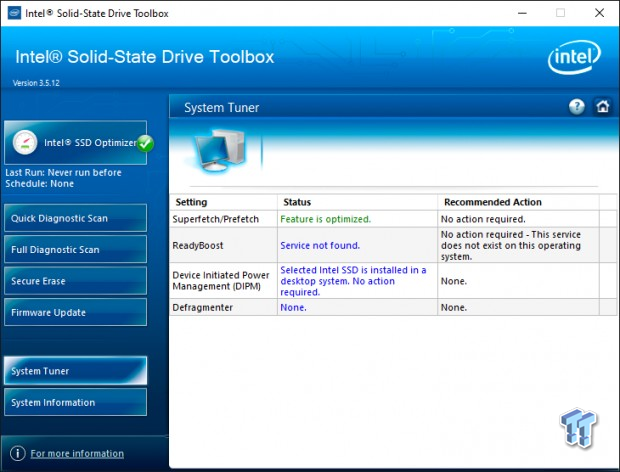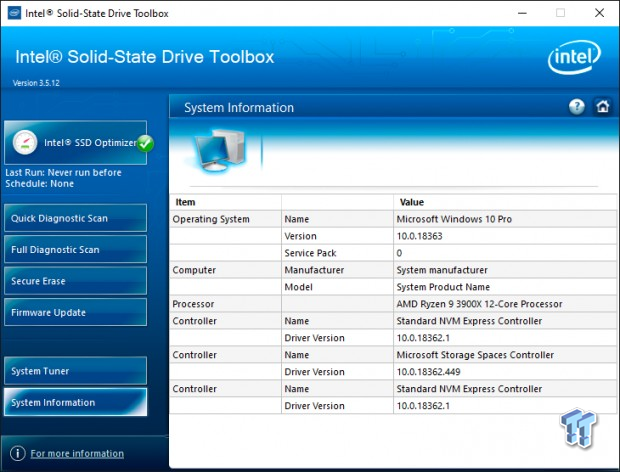 Intel has, in our opinion, the best SSD toolbox in the business. When you buy an Intel SSD, you get more than just the drive; you get it all. Intel provides via free download their migration (cloning) software and Intel's SSD Toolbox. With both, you are able to easily do every task that could be necessary for installing and maintaining your Intel SSD.
Synthetic Benchmarks: CDM & Anvils
CrystalDiskMark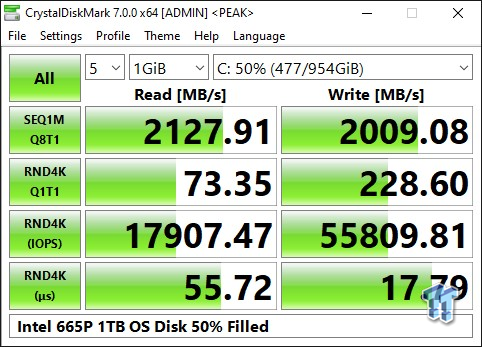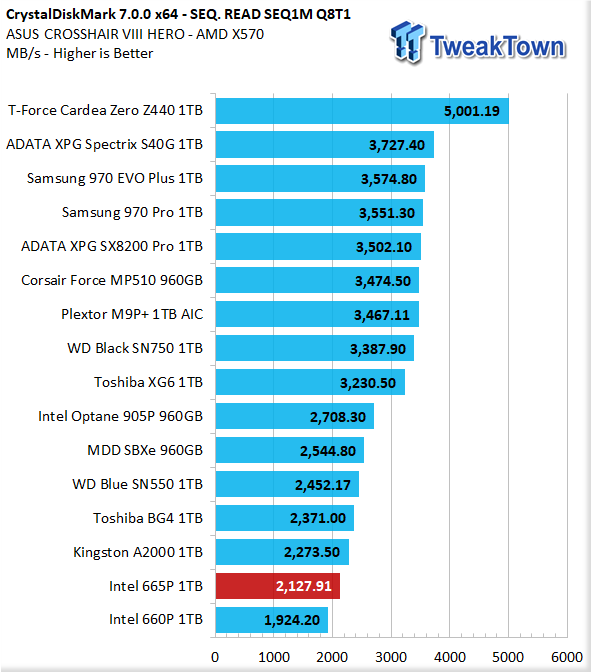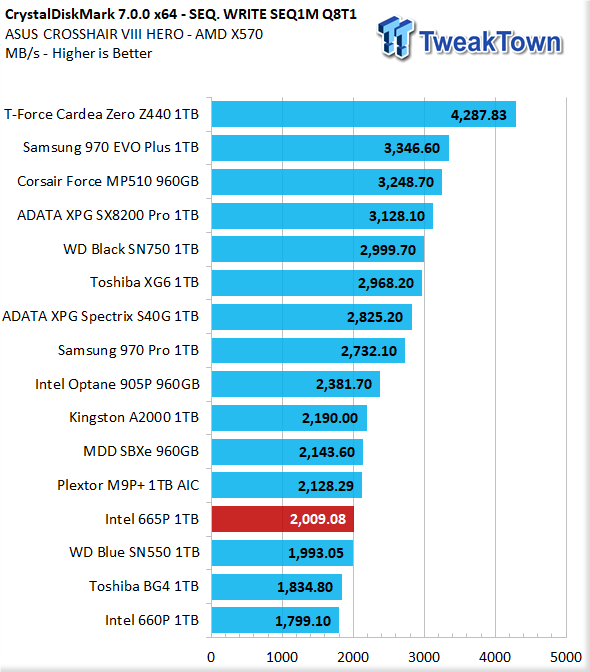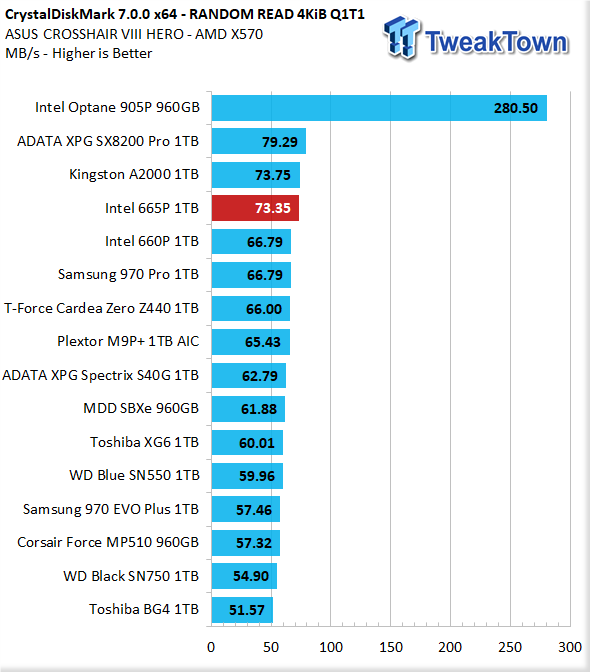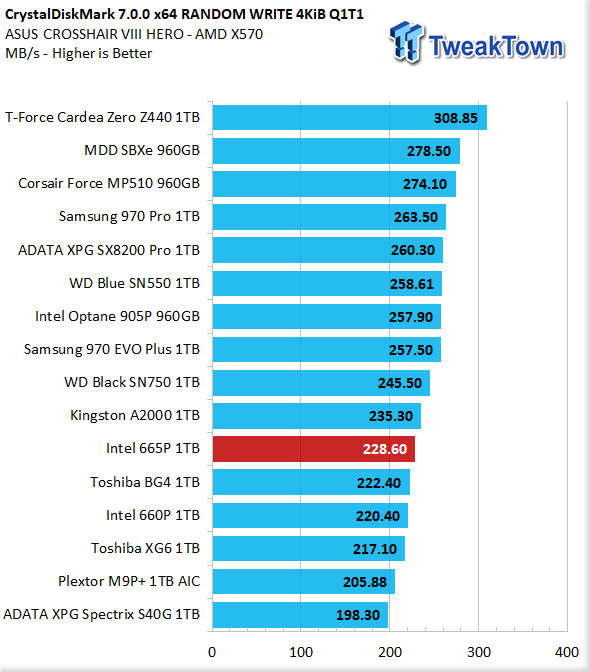 Okay, this looks good for a few reasons. First, we are easily exceeding factory sequential specifications for both read and write. Second, this is significantly better than the 660P, so we already see indications that the 665P is indeed faster than the 660P. Additionally, look at that QD1 read - it's fantastic.
Anvil's Storage Utilities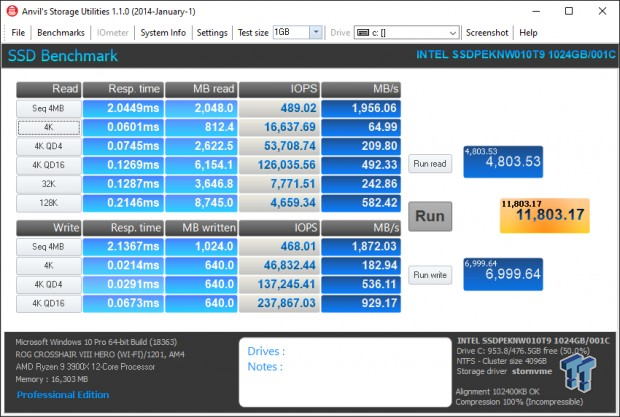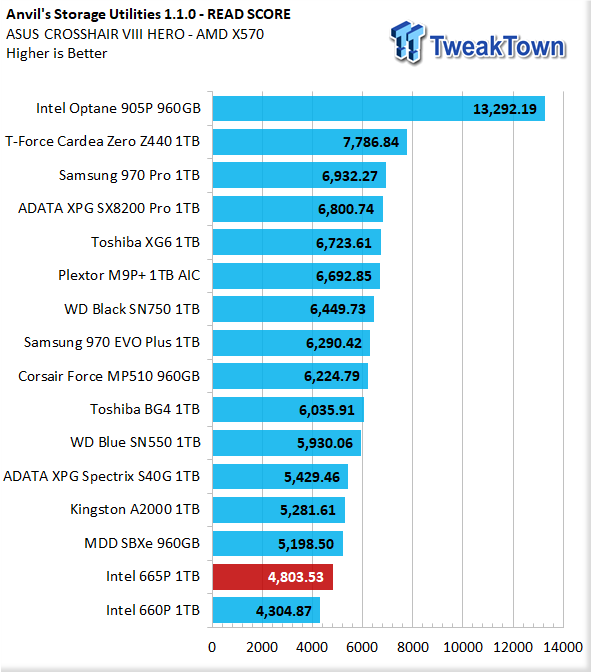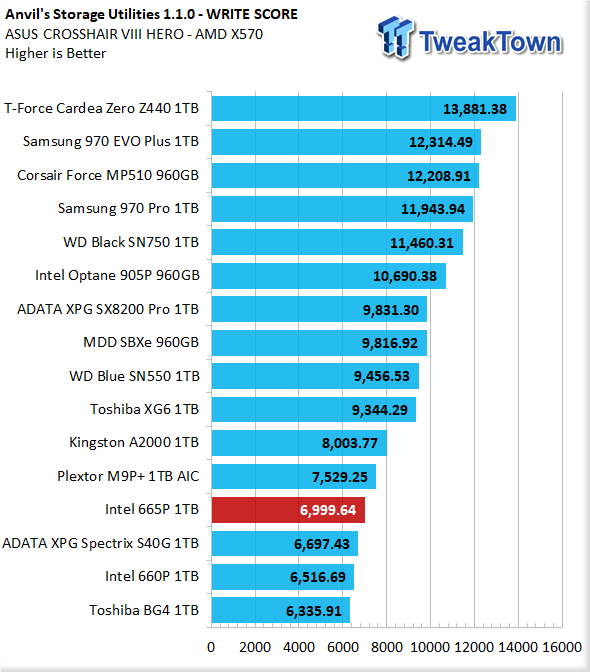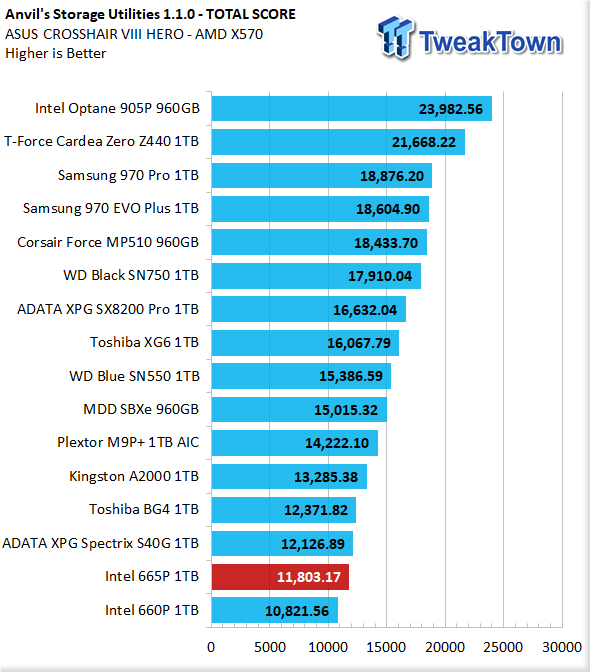 The drive's 4-channel Silicon Motion SM2263EN controller doesn't deliver the eye-popping numbers that we see with 8-channel controllers. However, what it does do brilliantly is deliver speed where it really matters. Where it matters most, 4K read, we are seeing 16,637 IOPS. That is a massive number that we don't often see.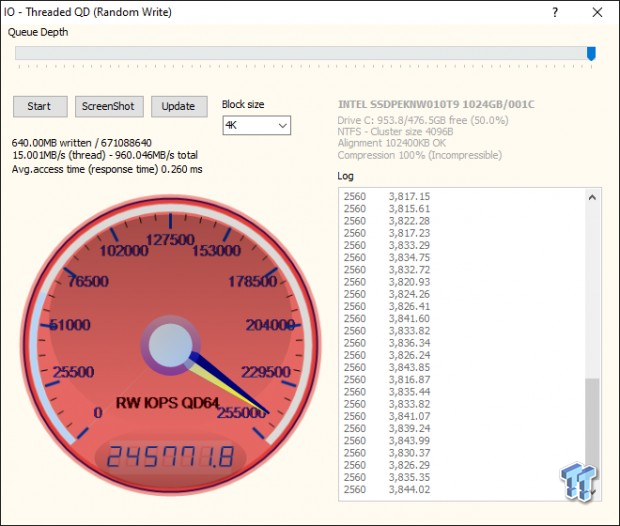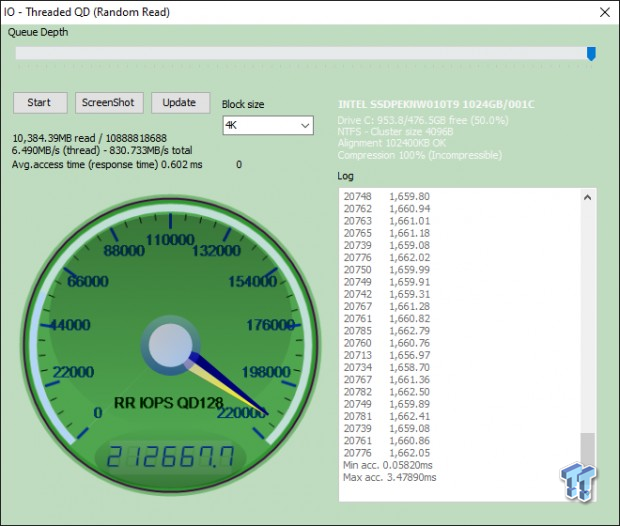 We love it when a drive exceeds factory specs for random read. This is what we see in a huge way with the 665P 1TB.
Synthetic Benchmarks: AS SSD & ATTO
AS SSD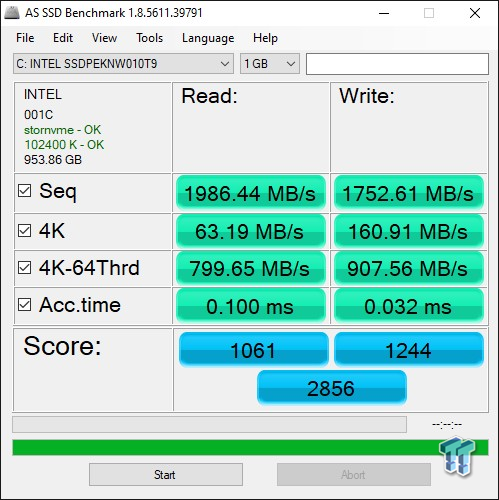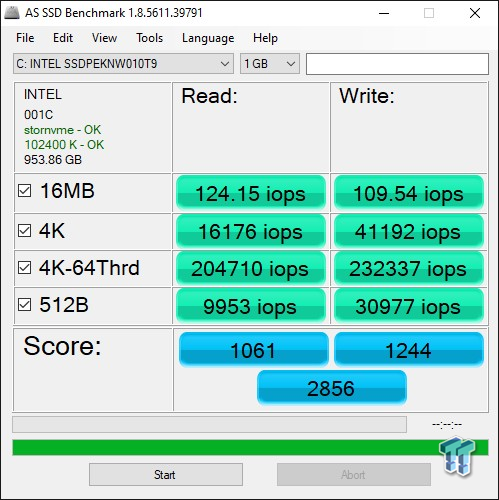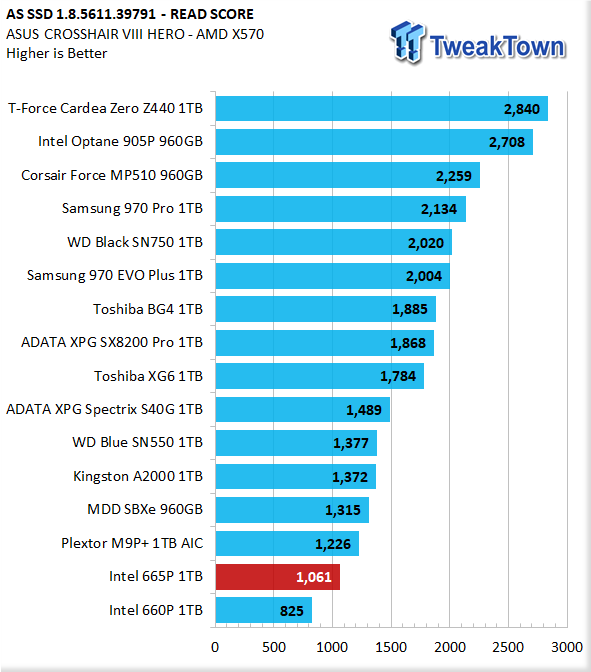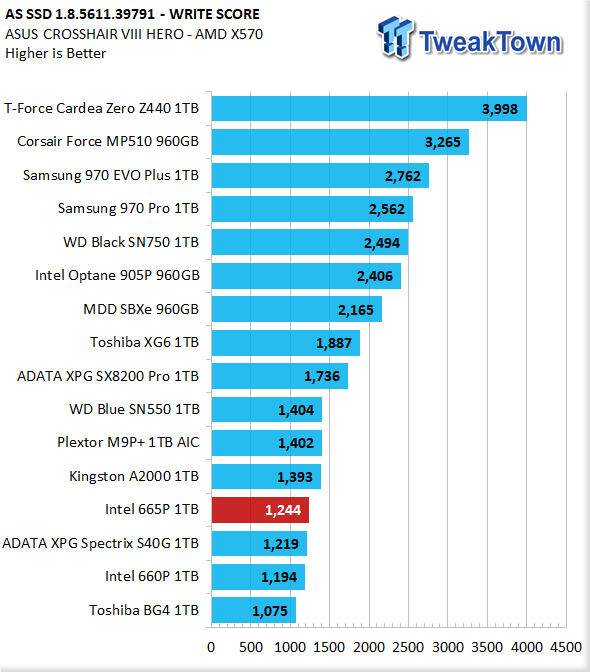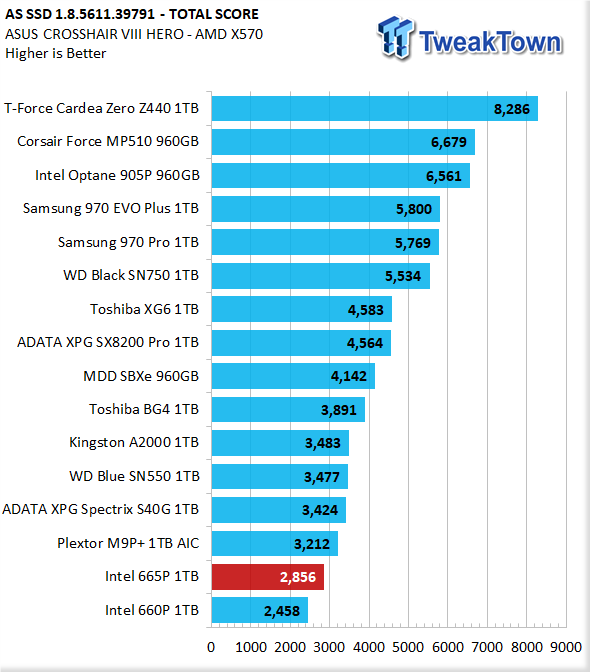 Like we see so many times with AS SSD and 4-channel SSDs, the score doesn't really reflect what the drive can deliver in terms of user experience, which is what we consider the true measure of an SSD's performance. It does do better than its older sibling by a significant margin, which is great to see.
ATTO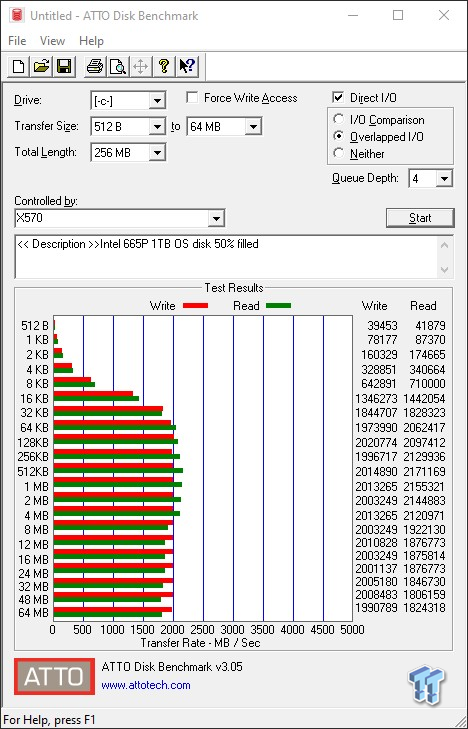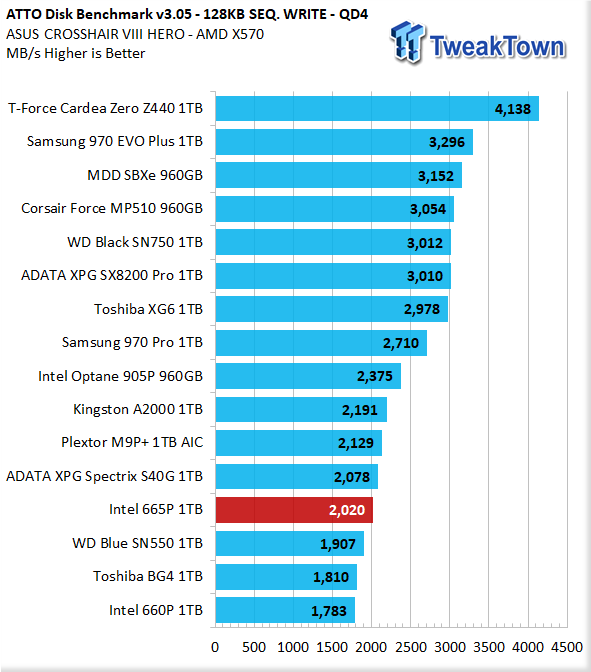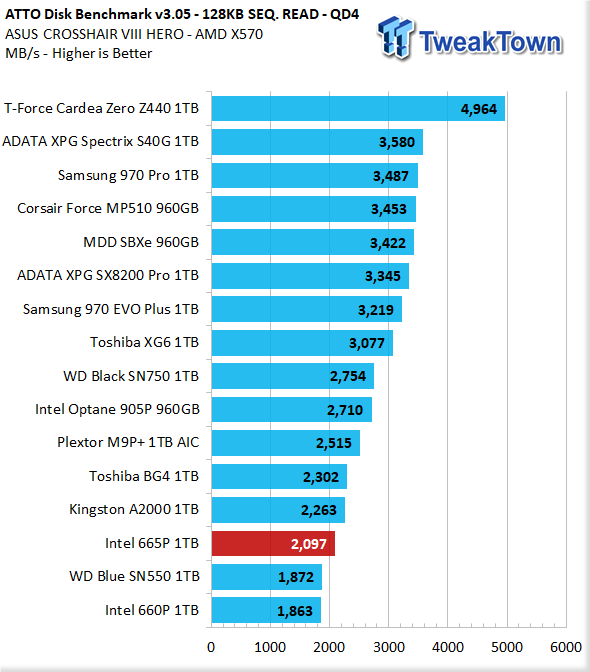 This is what we want to see, the drive running full speed at 128K transfers. Additionally, we are exceeding factory sequential specs at 128K transfers, which is something we rarely see. Good small file performance is also what we want to see, and that is what the 665P is delivering.
Real-World Testing: Transfer Rates & Gaming
Transfer Rates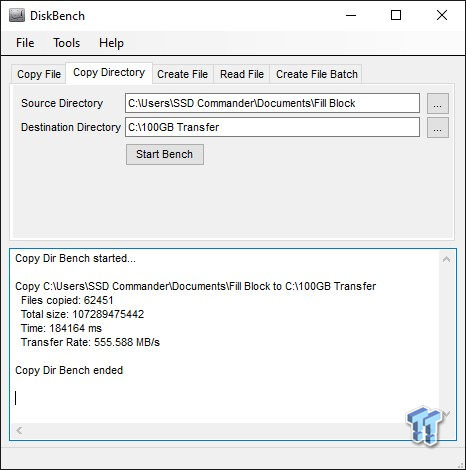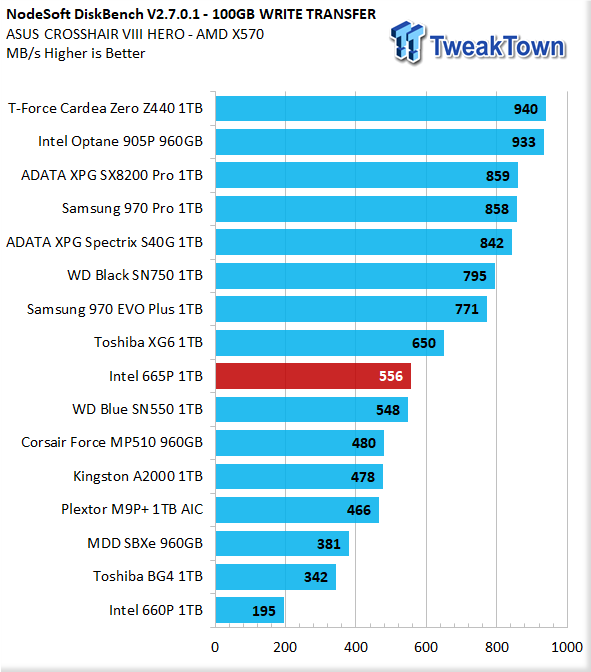 Our write transfer is 100GB in size and composed of more than 62,000 files. Not an easy transfer. Here is where we see undoubtedly the best gain performance-wise for the 665P over the 660P. This is 2.85x faster than the 660P could deliver and faster than a whole host of its competitors.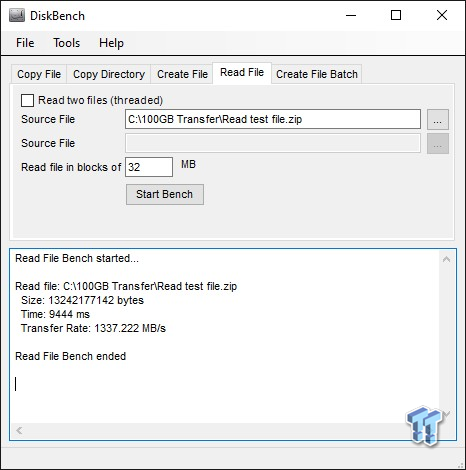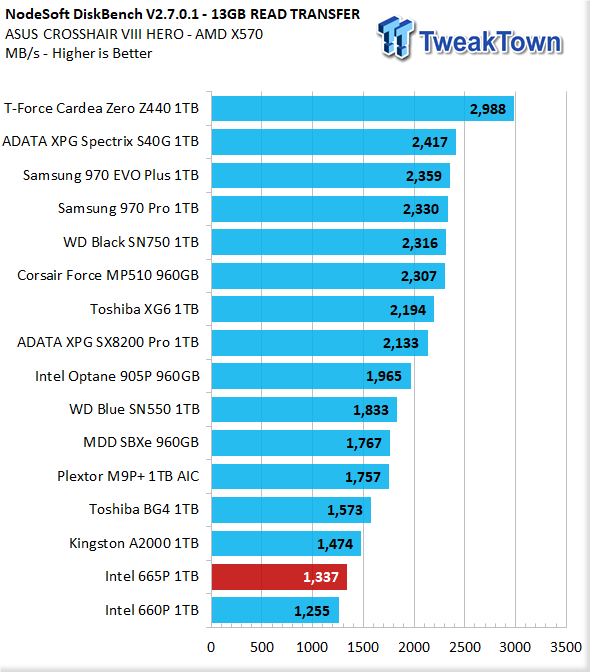 Reading back our data block, we find the 665P to be slightly faster than its older sibling, but that's about it.
Game Level Loading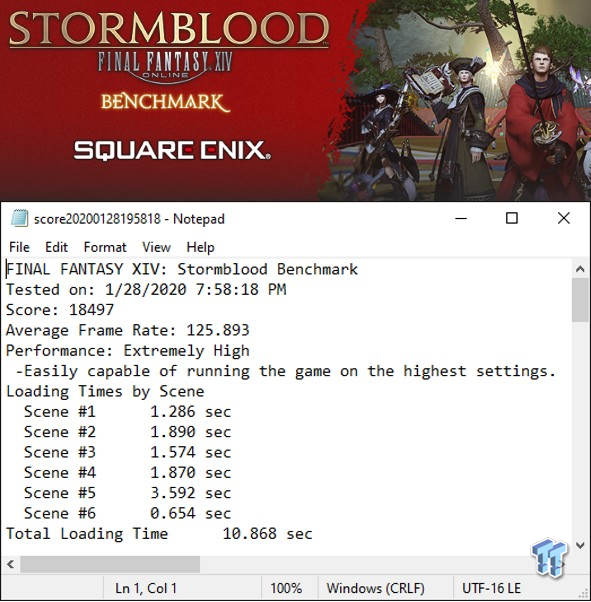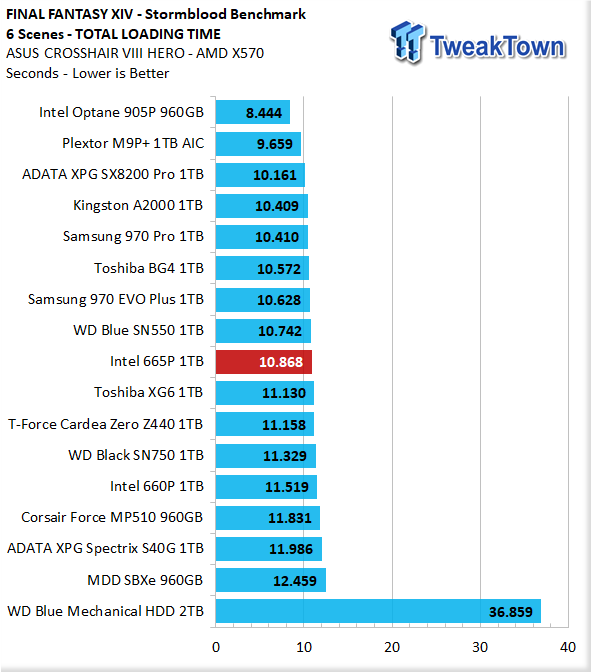 Totally unexpected. We see a massive improvement over the 660P when loading game levels. This is what we are looking for, sub 11-second performance. This is proof that the Intel 665P can be one of the better gaming SSDs on the market.
Real-World Testing: PCMark 10 Storage Tests
PCMark 10 Storage Test is the most advanced and most accurate real-world consumer storage test ever made. There are four different tests you can choose from; we run two of them. The Full System Drive Benchmark and the Quick System Drive Benchmark. The Full System Drive Benchmark writes 204 GB of data over the duration of the test. The Quick System Drive Benchmark writes 23 GB of data over the duration of the test. These tests directly correlate with user experience. Of the two tests, we feel that the Quick System Drive Test most accurately replicates a typical user experience.
PCMark 10 Full System Drive Benchmark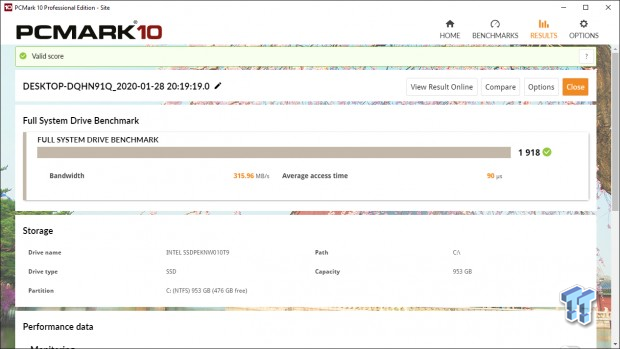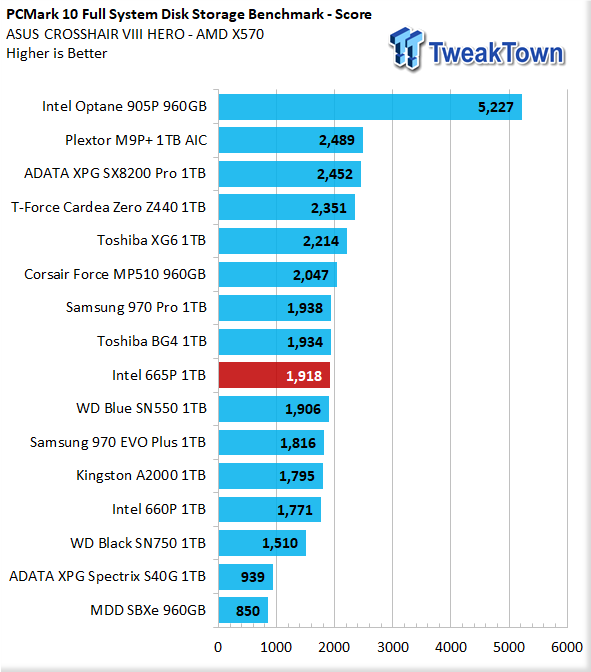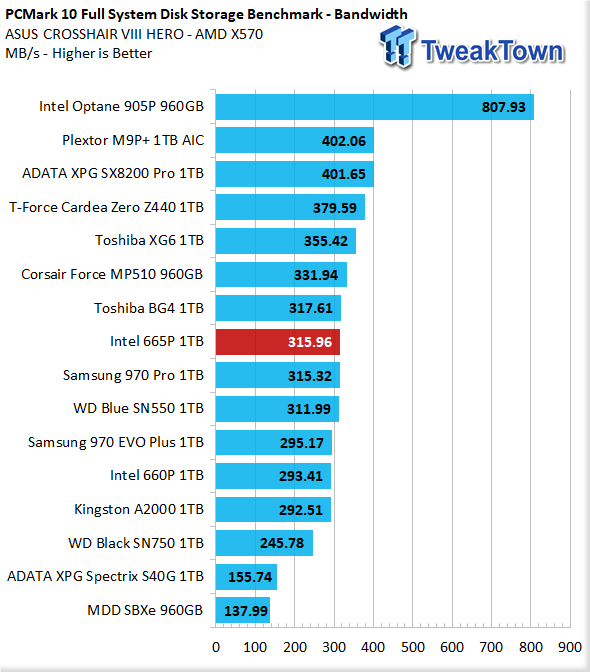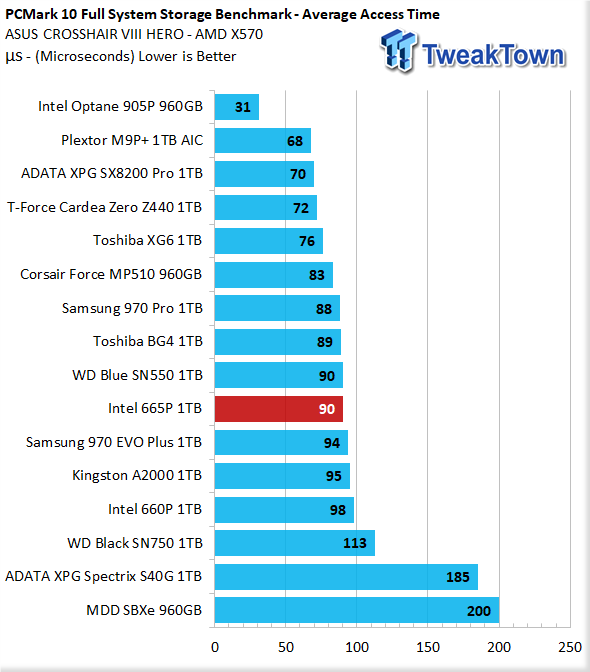 We typically want to see a minimum of 300 MB/s bandwidth, and the 665P gives us what we want plus a little extra. At nearly 316 MB/s storage bandwidth, Intel's newest QLC SSD is beating a lot of big-name TLC and even MLC SSDs. Impressive, to say the least, because this is where it matters, user experience.
PCMark 10 Quick System Drive Benchmark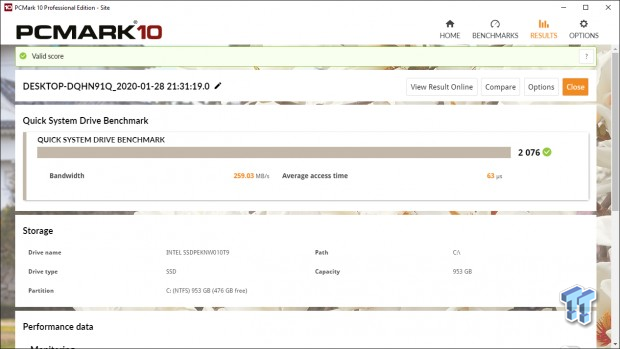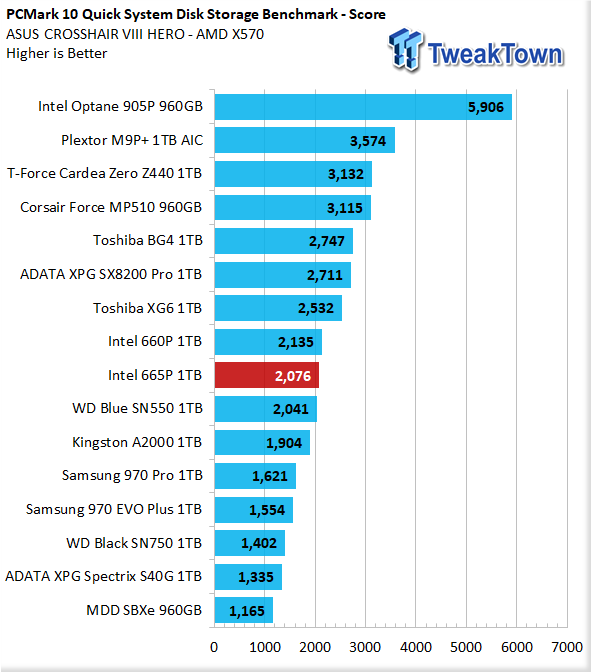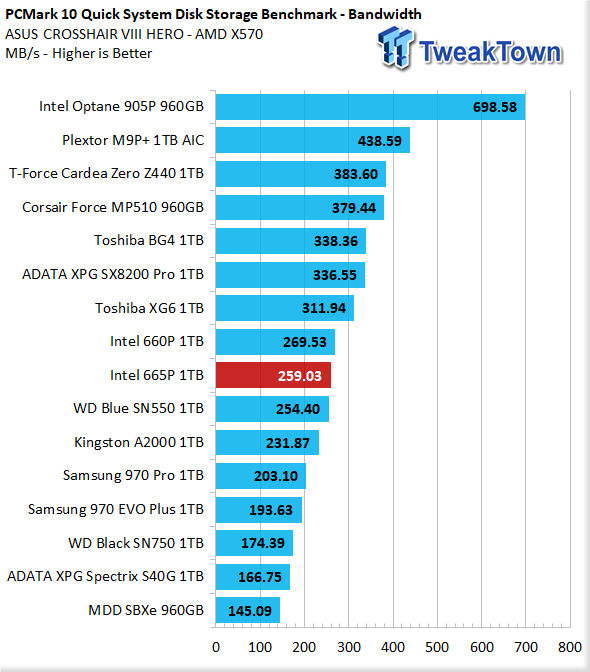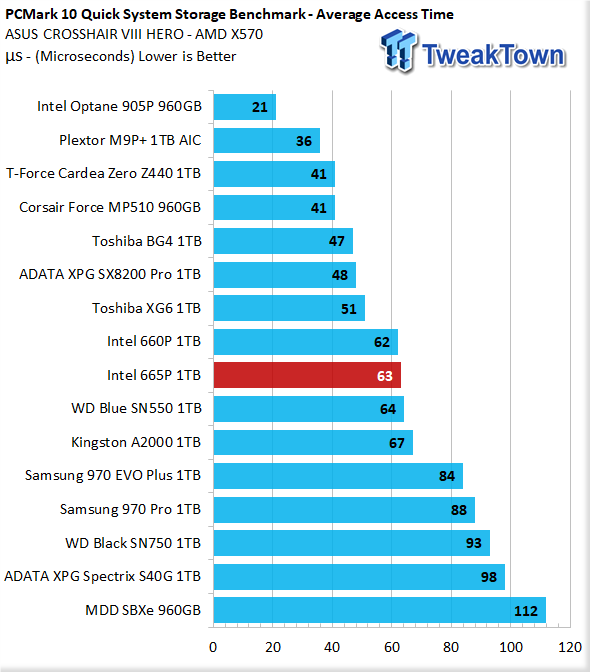 Interestingly enough, the 665P gets outperformed here by its older sibling, the 660P. We ran it several times to be sure, and this is what we got every time. Once again, the 665P does better than most where it matters most. This is an excellent user experience that is quite encouraging to see coming from the 4-bit flash.
Final Thoughts
Intel chose to only offer the 665P in one and two terabyte capacities. This is the first time we've seen a series of SSDs by Intel or any other SSD retailer, with a minimum of 1TB capacity. We recognize that as a testament to what the future portends for solid state storage. QLC flash is taking over, TLC flash is on the way out.
While not what some would initially prefer, QLC flash is the most advanced flash ever made. In real-world consumer scenarios, QLC can perform just as good as any type of flash. Read functions are typically just as fast coming off QLC flash as they are coming off MLC or even SLC SSDs. And to top it off, QLC is inherently more cost-effective due to increased density.
Intel was the industry's first to offer consumer SSDs with 4-bit (QLC) flash. This ushered in a new class of value-oriented NVMe SSDs that perform exceptionally well relative to the cost. Intel's 660P was the first, and even though it was maligned in the beginning, it turned out to be one of the best and most popular SSDs ever made.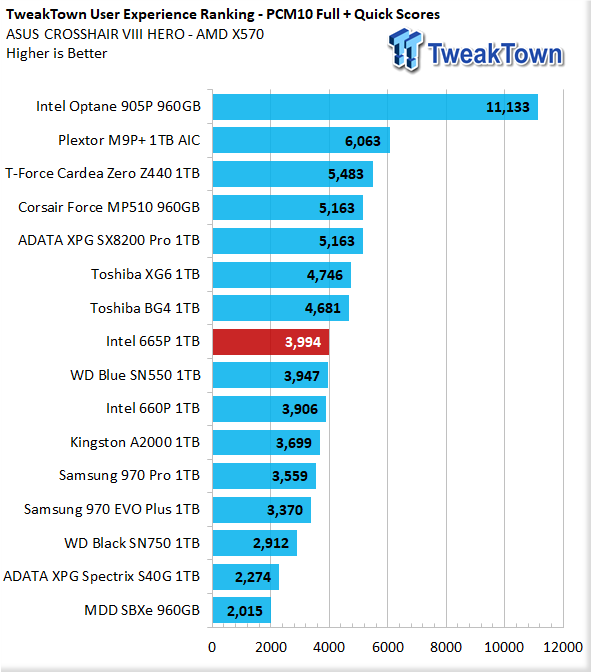 We believe that user experience is what matters most. As clearly demonstrated by the above chart, Intel's 665P can deliver a user experience that is a cut above. Only now with an advanced benchmark like PCMark 10's storage benchmark, can we see by the numbers what kind of user experience Intel's QLC SSDs deliver. And it is exceptional.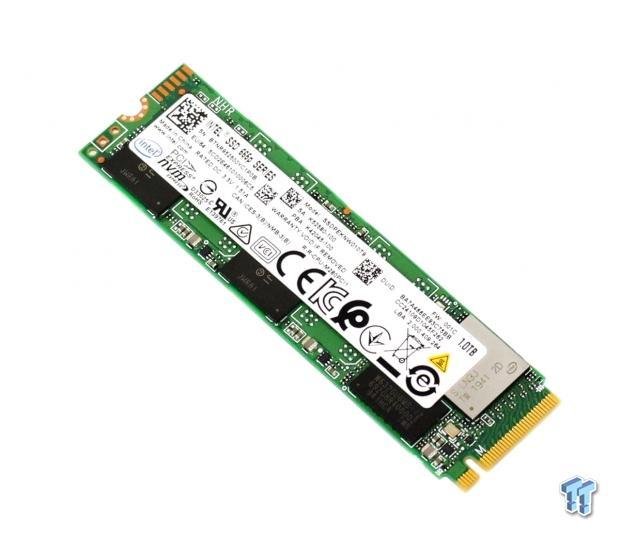 Looking back at our testing, we find several places where Intel's 665P shines. First, we love the 4K QD1 read performance we got from CDM and Anvil's. The next thing we noticed as outstanding was the drive's performance when writing our 100GB transfer block. After that we came away thoroughly impressed by the drive's game level loading speed of under 11 seconds. Finally, and most impressive is where the 665P lands on our TweakTown User Experience chart. This shows that Intel's 665P is definitively one of the best consumer SSDs on the market, regardless of price.
QLC, as offered up by Intel, is something we can really get behind, which is why the 665P 1TB has earned TweakTown's highest award.
Pros
User Experience

Pricing

5-Year Warranty
Cons
| | |
| --- | --- |
| Performance | 90% |
| Quality | 98% |
| Features | 95% |
| Value | 95% |
| Overall | 95% |
The Bottom Line
Intel is serving up outstanding performance for an outstanding price with the 665P.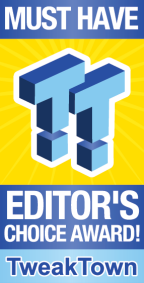 We openly invite the companies who provide us with review samples / who are mentioned or discussed to express their opinion. If any company representative wishes to respond, we will publish the response here. Please contact us if you wish to respond.