Seagate Momentus 5400.3 - Larger, Faster and Quieter
Today we are looking at one of the fastest notebook HDD's to enter our labs. Seagate's Momentus 5400.3 is in the house!
Published Tue, May 30 2006 11:00 PM CDT
|
Updated Tue, Nov 3 2020 7:04 PM CST
Introduction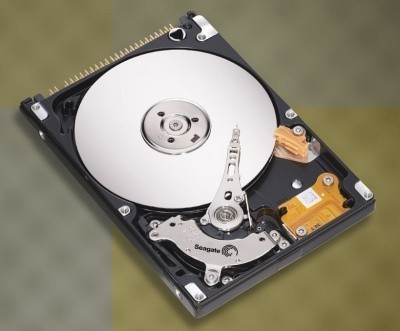 While we focus a lot on the desktop sectors at TweakTown, we do also like to keep an eye on the mobile sectors and as of late there has been a huge development. First we have the release of Core Duo and Core Solo CPU's for Intel lovers. On the other side of the CPU cotenant we have AMD and its Mobile Turion and Turion X2 CPU's. DDR-2 memory has now become available for mobile applications and with nVidia and ATI's drive on the graphics front we think mobile computing is slowly starting to look better than desktop.
There is one part of the mobile market that hasn't changed much and that is storage technology. While DVD-R and various other forms of storage have become available, the Hard Disk is still the main storage area for the operating system as well as data to be saved on the computer.
Mobile based Hard Disk drives are a lot smaller, in fact over 1 inch smaller in height and nearly 3 inches in length. With this space saving comes some draw backs. First off, mobile drives don't hold as much data as desktop units; previously 120GB was the max, while desktop drives have moved to half a terabyte (500GB). Another draw back is that mobile drives are slower than desktop drives, some models still run at 4200 or 4800RPM, while desktop counterparts hit 7,200 and even 10,000 RPM speeds (server orientated drives faster again), reducing the time taken to retrieve data.
Today we are looking at the latest model from Seagate's Momentus line which is set for the high-end mobile market and ultra small form factor PC's. So come all ye faithful and join us in a look at the Seagate Momentous 5400.3 160GB notebook drive and we'll see just what it is capable of when we throw it on the test bed.
Specifications
Seagate Momentus 5400.3 SpecificationsModel Numbers
40GB: ST940815A
60GB: ST960815A
80GB: ST980815A
100GB: ST9100828A
120GB: ST9120822A
160GB: ST9160821A
Performance
Maximum External Interface: 100MB/s (ATA-100)
Sustained Internal: 44MB/s
Cache: 8MB
Average Seek Time: 12ms
Average Latency: 5.6ms
Revolutions Per Minute: 5400 RPM
Configuration
Discs/Heads: 2/4
Bytes per Sector: 512
Logical CHS: 92,049/16/63
Recording Method: Perpendicular
Power Management
Startup Current 5v Amperage: 1.0
Seek: 2.0 Watts
Read/Write: 2.0/1.8 watts
Idle/Standby: 0.8/0.2 watts
Environmental
Operating Temperature (C): 0 - 60
Nonoperating Temperature (C): -40 - 70
Operating Shock: 2 msec (Gs): 350
Nonoperating Shock: 1 msec (Gs): 900
Acoustics
Idle: 2.3 Bells
Performance Seek: 2.9 Bells
Physical
Height: (mm): 9.5
Width: (mm): 69.85
Depth: (mm): 100.2
Weight: (g): 102
The Drive
On the surface, the Seagate Momentus hard disk looks similar to just about every other mobile drive on the market. It meets the same 2.5" laptop and notebook size specifications, so replacing a notebook drive with this unit is a straight forward swap - this is, however, is where things start to change.
Seagate has put a lot of work into the third generation of Momentus hard disk drives in the 5,400 RPM range. For starters, they are the largest capacity of any notebook drive currently on the market, offering a whooping 160GB of storage space. This is achieved by using another technology, called Perpendicular Magnetic Recording or PMR.
Next is an increase in cache size from 4MB (5400.2) to an 8MB cache buffer on the 5400.3 range. This allows for a doubling of size of the storage buffer and reduces lag when it comes to accessing the hard disk. The last feature on the list is a choice of either 44-pin Parallel ATA interface (the standard Notebook IDE Interface we are used to) or a Serial ATA interface for the next generation of laptops already equipped with SATA internal interfaces.
(
Editor Note:
We were incorrect in saying the previous model only had 4MB cache, it in fact also had 8MB cache. Sorry for the error!)
Perpendicular Magnetic Recording changes the way that the data is stored on a hard disk platter. Normally the magnetic bits are lined up in a longitudinal array. This means that the data pits are larger then packed onto a drive, by rotating them 90 degree and storing them on a perpendicular access, the amount of bits that can be stored on a drive increased from 20% up to a massive 50%. This technology means that we can start to see drives for notebooks passing the 200GB mark and even hitting the terabyte mark by next year, according to some sources.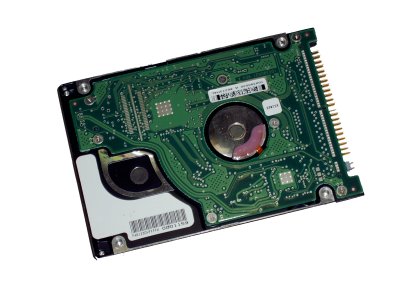 The bottom of the drive shows the circuitry. Most of the IC's are sandwiched between the controller board and the bottom of the HDD casing - this means little to no chance of having them short out accidentally.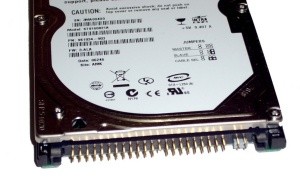 Here we see the drive that was supplied to us uses the older 44-pin IDE interface common to most notebooks still in use today. While the SATA one would be a nicer choice, it's still good to see that the older generation is still getting some upgrades. There is no actual power connector on the unit; the extra 4 pins on the drive supply the 5v that powers the internal motors, heads and circuits.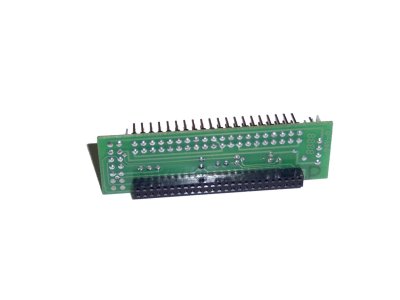 Lastly we have this little baby. This isn't part of the drive package but it is what we used to connect the drive to our test bed. Rather than use a notebook, we wanted to use a full powered desktop to eliminate any bottlenecks. We wanted to get the full performance results from the HDD itself. To this end we connected the drive though this 44-pin to 40-pin converter on our Intel Pentium D test bed system.
Benchmarks - Test System Setup and PCMark05
Test System SetupProcessor
: Intel Pentium Extreme Edition 940 (800MHz FSB) (Supplied by
Intel
)
Memory
: 2x 1GB DDR2-1000 Super Talent (Supplied by
Super Talent
)
Motherboard
: ASUS P5WD2-E Premium (Supplied by
ASUS
)
Graphics Card
: ASUS GeForce 7800GT (Supplied by
ASUS
)
Operating System
: Microsoft Windows XP SP2
Drivers
: Intel INF 7.2.2.1006
For these tests we put the Seagate Momentus 5400.3 against its younger brother, the 5400.2, the Toshiba MK 4200 series, IBM Travel Star as well as included the Seagate 7200.9 results to show comparisons between high-end mobile and desktop Hard Disks.
PCMarkVersion and / or Patch Used:
1.1.0
Developer Homepage:
http://www.futuremark.com
Product Homepage:
http://www.futuremark.com/products/pcmark04/
Buy It Here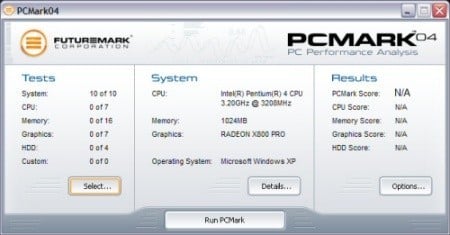 PCMark is a multipurpose benchmark, suited for benchmarking all kinds of PCs, from laptops to workstations, as well as across multiple Windows operating systems. This easy-to-use benchmark makes professional strength benchmarking software available even to novice users. PCMark consists of a series of tests that represent common tasks in home and office programs. PCMark also covers many additional areas outside the scope of other MadOnion.com benchmarks.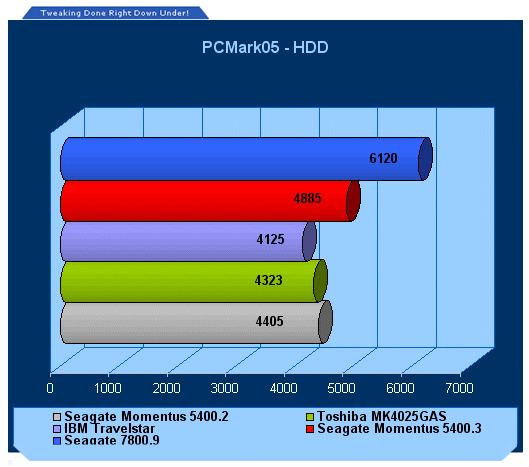 PCMark shows us that the new Momentus model has the goods over the other notebook drives which we included in our testing.
Benchmarks - HD Tach
HD TachVersion and / or Patch Used:
3.0
Developer Homepage:
http://www.simplisoftware.com
Product Homepage:
http://www.simplisoftware.com/Public/index.php?request=HdTach
Buy It Here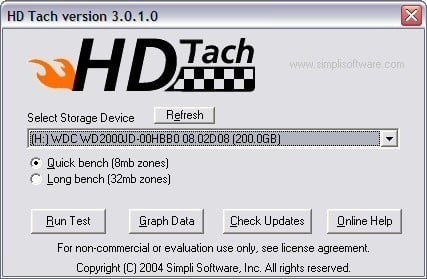 HD Tach has been around for a long time and is excellent when it comes to testing hard drive performance. It is also a very handy program when it comes to testing the controller used on particular motherboards. Tests such as Read, CPU Utilization and Burst are available at a click of the button and give you a good idea of how the hard drive can perform from system to system.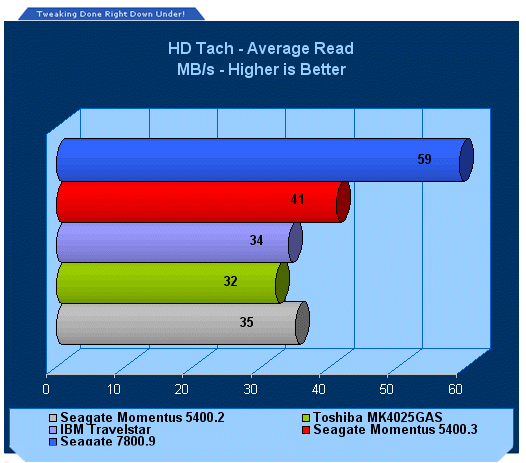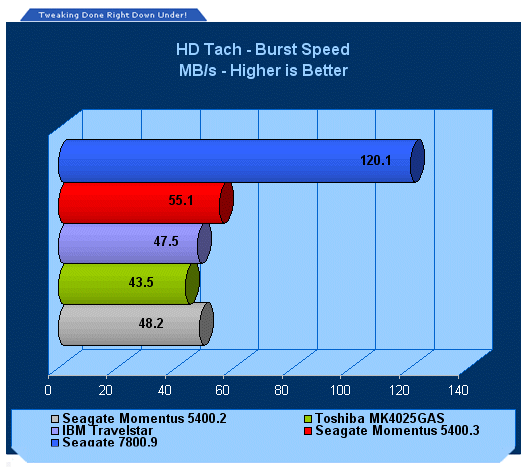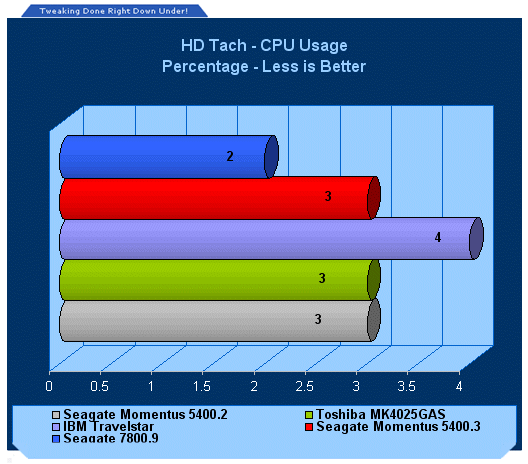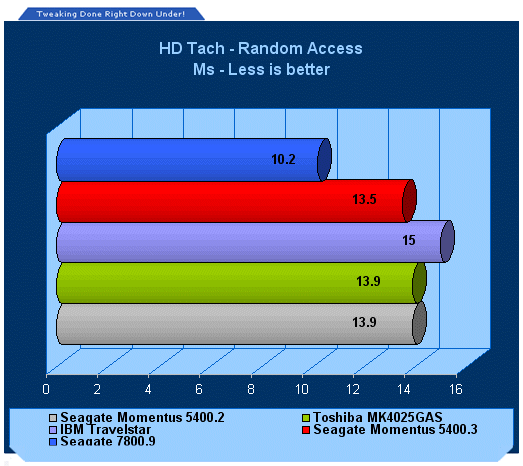 HD Tach puts the Momentus 5400.3 in a good light.
Benchmarks - HD Speed
HD SpeedVersion and / or Patch Used:
1.5.1.55
Developer Homepage:
http://www.steelbytes.com
Product Homepage:
http://www.steelbytes.com/?mid=20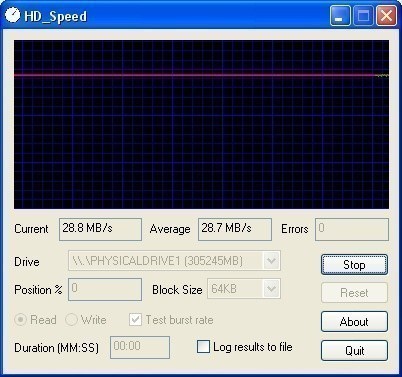 Measures both sustained and burst data transfer rates of your hard disks, cd/dvd-roms and floppy.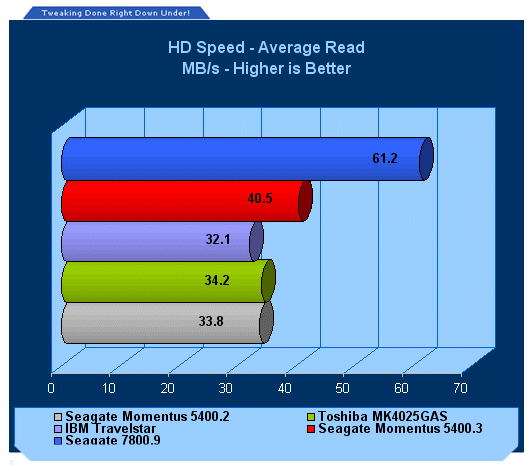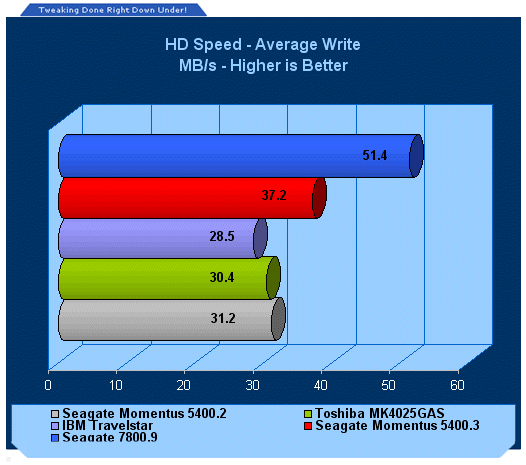 The results from HD Speed are almost identical to the figures that Seagate put out on paper. We managed to almost reach the 44MB/s transfer speed of the drive.
Benchmarks - DriveSpeed32
DiskSpeed32Version and / or Patch Used:
3.0
Developer Homepage:
http://www.geocities.com/vgrinenko/
Product Homepage:
http://www.geocities.com/vgrinenko/DiskSpeed32/
DiskSpeed32 is a program for hard drive speed measurement in Win32 environment. It measures reading speed in whole disk or its part and plots graphical dependence for reading speed by cylinder number. This allows to obtain comparable data not only for different drives, but also for the same disk under different Win32 implementation.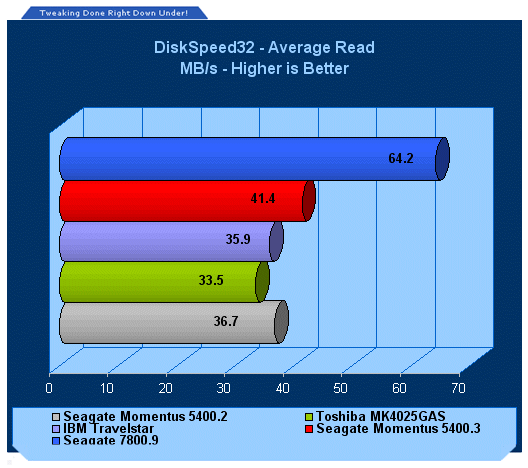 Here we can see that he drive again almost pulls out the full 44MB/s transfer rate that Seagate specifies on paper.
Benchmarks - File Copy Test
X-Bit Labs File Copy TestVersion and / or Patch Used:
0.5.3
Developer Homepage:
http://www.xbitlabs.com
Product Homepage:
http://www.xbitlabs.com/articles/storage/display/fc-test.html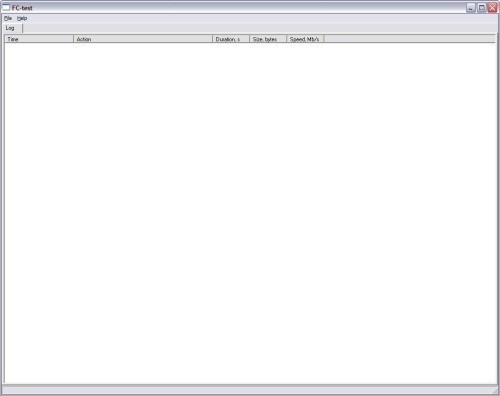 X-Bit Labs File Copy Test is a real world benchmark used to measure the performance of IDE subsystems. In this test, we time how long it takes to copy 2.3GB worth of data (four x 590MB files) onto the same hard disk drive with File Copy Test program optimizations disabled to help provide the most accurate time possible.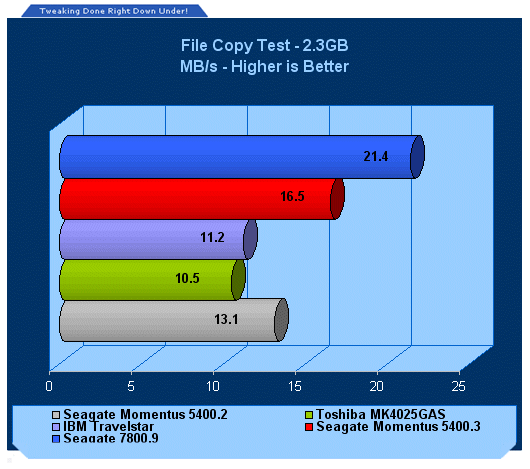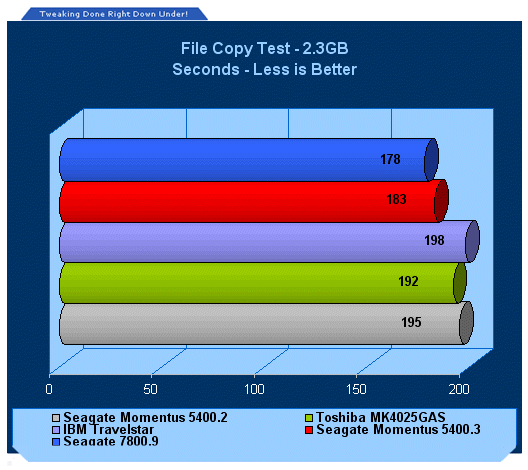 The File Copy Test also shows good favour for the third generation Momentus drive.
Benchmarks - Game Level Loading
Game Level Loading Times
Here we manually time (with a stop watch) game level loading times.
We loaded our test maps in both Half Life 2 and Doom 3. We did the tests over three attempts on each and used the average time to give a fair example. Due to the human factor, there is a slight reaction time delay because nobody is able to hit the button on the exact millisecond, however, all were right on the point of full load in each map.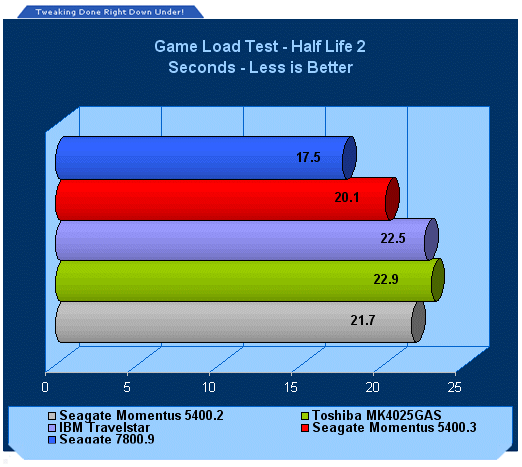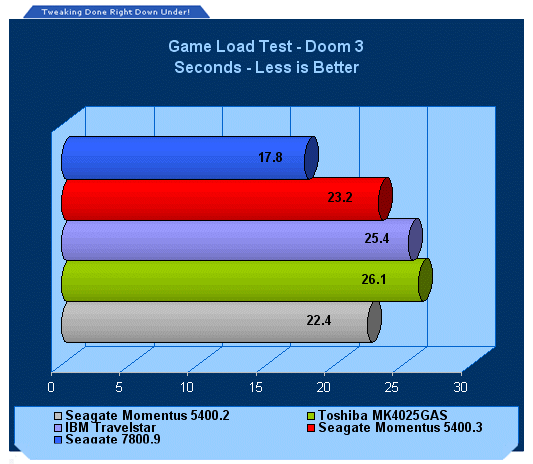 Lastly when the HDD is under enormous loads, the Momentus 5400.3 manages to still keep ahead of the notebook competition and even manages to creep up on the desktop drive - very impressive!
Final Thoughts
The mobile sector has made some major improvements in the last year, while up until now, the hard disk, the slowest part in any PC (especially a notebook) has now been given a speed boost - and it's certainly about time this happened. Despite its small size, the Momentus 5400.3 has managed to pull some impressive scores for a drive only hitting 5,400 RPM.
Older 4,200 RPM notebook hard drive models were simply too slow and would hold up a laptop to the point of insanity. With processor clock speeds passing 2GHz, system memory capacity over 2GB and graphics cards approaching desktop levels, the poor notebook hard disk couldn't keep up and would make laptop gaming and other scenarios seem like a nightmare.
Seagate has come to the rescue and done a fantastic job to bring the mobile hard disk towards desktop component speeds. With SATA now starting to take hold in mobile markets as the interface of choice simply because of its serial nature requiring less voltage and fewer data pins, we can expect to see 44-pin Parallel ATA drivers taking a back seat and drives such as this one going a long way to helping mobile computing performance reach the same level as desktop.
If you are a noise freak trying to keep the decibels down, this drive is a dream. We disconnected every fan on the test bed for about two minutes while under load to see just how much audible noise could be heard. We only found a few of the usual ticks that come from reading the drive, no noise from the spindle motor. If we had this inside a case, there is no way you would even be able to hear it operate.
We struggle to find any bad points about Seagate's latest range of Momentus 5400 notebook hard drives. Whether you're looking to replace your current slower notebook HDD or add some quick, reliable and quiet portable storage to your PC, Seagate has produced a HDD which is very easy for us to recommend.
- Pros
Fastest notebook drive we have tested
PATA or SATA models
Full range from 40GB up to 160GB, plenty of choice
PMR Technology increases storage capacities
Quiet operation - under 3db at full seek
Reasonable pricing
- Cons
No 7200 model yet (in the new model range)
- Latest Pricing
Rating - 9.5 out of 10 and TweakTown's "MUST HAVE" Best Performance Award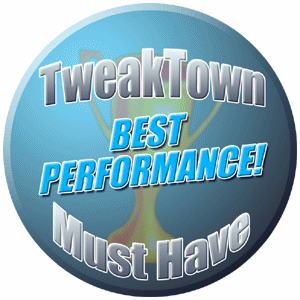 PRICING: You can find products similar to this one for sale below.

United States: Find other tech and computer products like this over at Amazon.com

United Kingdom: Find other tech and computer products like this over at Amazon.co.uk

Australia: Find other tech and computer products like this over at Amazon.com.au

Canada: Find other tech and computer products like this over at Amazon.ca

Deutschland: Finde andere Technik- und Computerprodukte wie dieses auf Amazon.de
We openly invite the companies who provide us with review samples / who are mentioned or discussed to express their opinion. If any company representative wishes to respond, we will publish the response here. Please contact us if you wish to respond.