TweakTown's Rating: 94%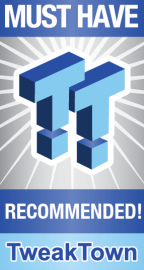 The Bottom Line
As the first mATX X399 motherboard the X399M Taichi had a lot to prove, but delivered quite admirably.
Introduction, Specifications, and Pricing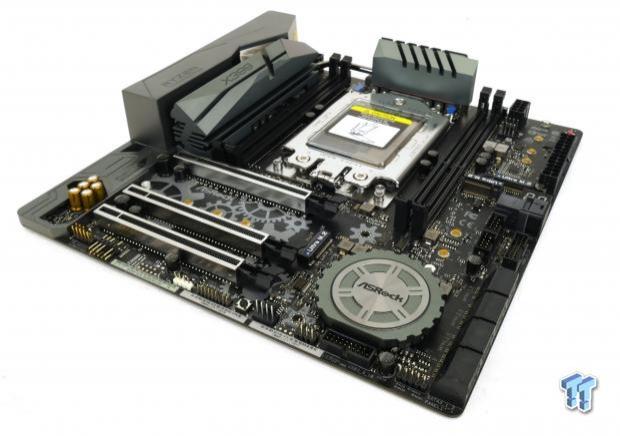 Today is the day we review our first micro-ATX X399 motherboard, and it's the first of its kind on the market. While the motherboard does utilize the smaller micro-ATX form factor, it still maintains all the platform's many features and even adds a few extras for fun. Overclocking features are still maintained, and overall quality doesn't seem to have taken a hit. Many vendors have opted not to venture into the niche market of small form factor motherboards, but ASRock goes head first into these markets as we have seen with ASRock's Intel HEDT motherboards, so let's see what they have for AMD's HEDT platform.
Specifications

The X399M TAICHI features Dual Intel LAN, triple Ultra M.2, U.2, SATA6Gb/s, USB 3.1, USB 3.0, WIFI, and supports SLI and CrossFireX.
Pricing
The X399M TAICHI is not yet on the market so we don't have a current price.
Packaging and X399M TAICHI Overview
Packaging and Overview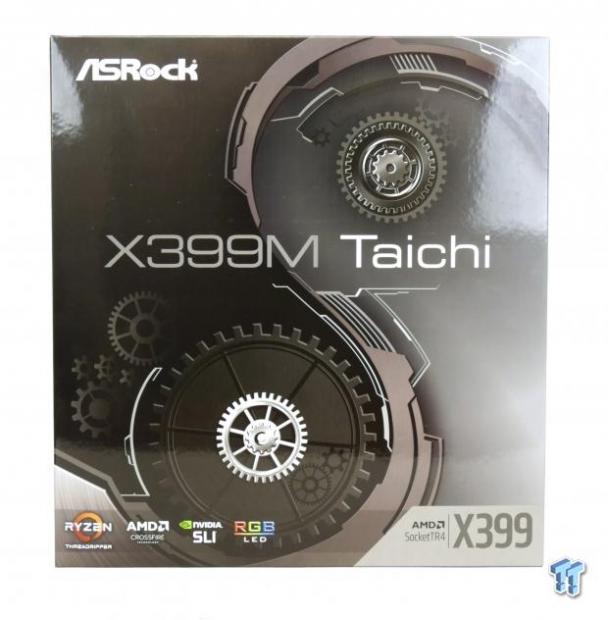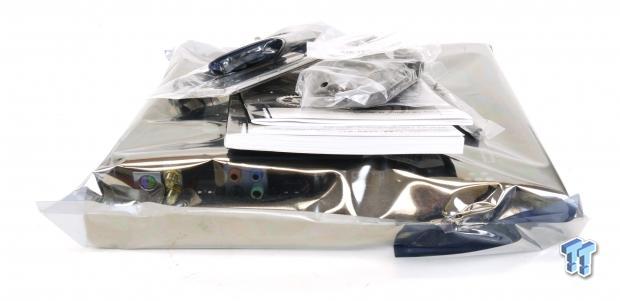 The motherboard's box and packaging are very similar to that of other ASRock motherboards; the motherboard is secured very well.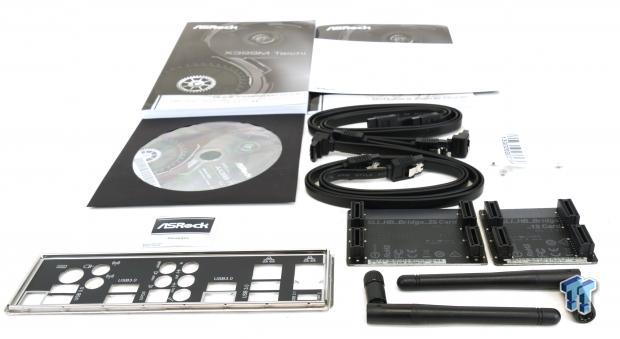 The accessory package includes four SATA6Gb/s cables, SLI HB bridge single slot, SLI HB bridge double slot, WIFI antenna, M.2 screws, IO shield, documentation/manuals, and driver DVD.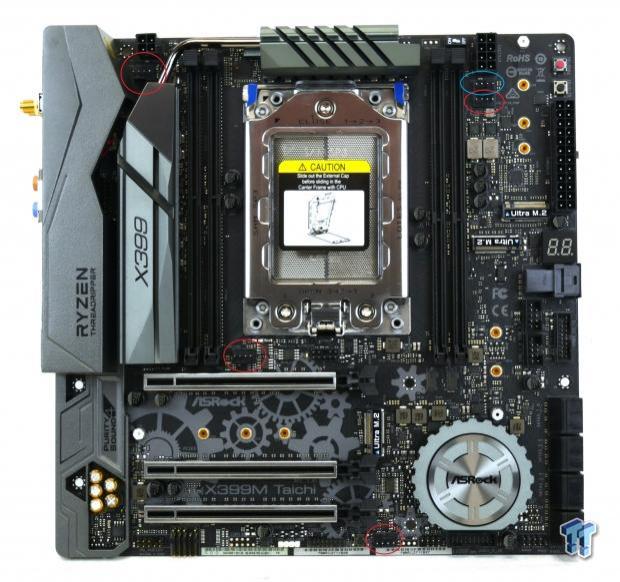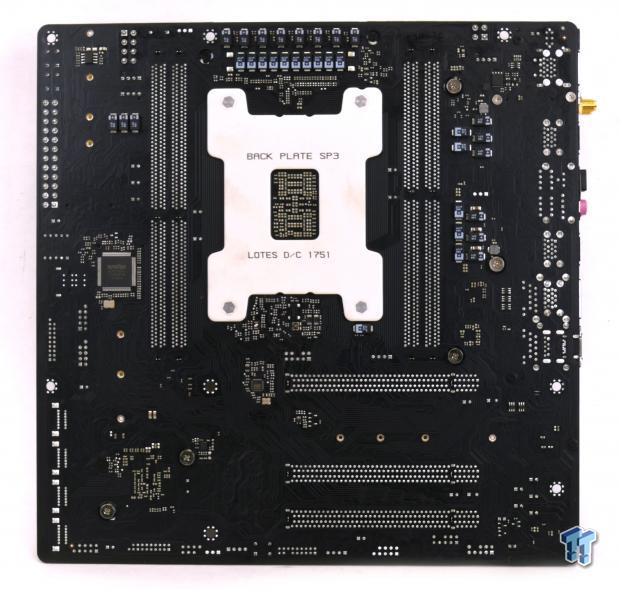 We found five fan headers on the motherboard, the one circled in blue is rated for 1A and is in PWM mode by default. The other four fan headers circled in red can operating in PWM or DC mode and offer up to 1.5A of output. You can control the fans through the UEFI or through ASRock's A-Tuning software in Windows.
The motherboard utilizes the same black and gray color theme we have come to expect from the Taichi series of motherboard. The rear of the motherboard has fewer components than we expected, but there are still some ICs back there so be careful when handling the motherboard.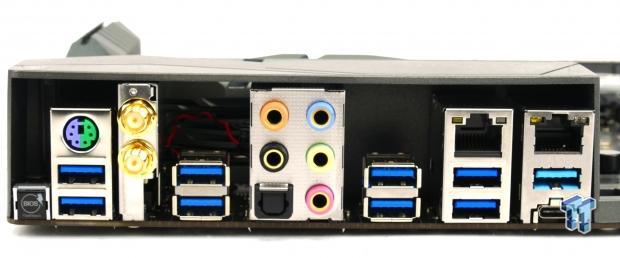 The rear IO panel features a BIOS FlashBack button, PS/2 Keyboard/Mouse, eight USB 3.0 ports, USB 3.1 type-A, USB 3.1 type-C, WIFI ports, two 1Gbit LAN, and 7.1 gold-plated audio outputs wish S/PDIF out.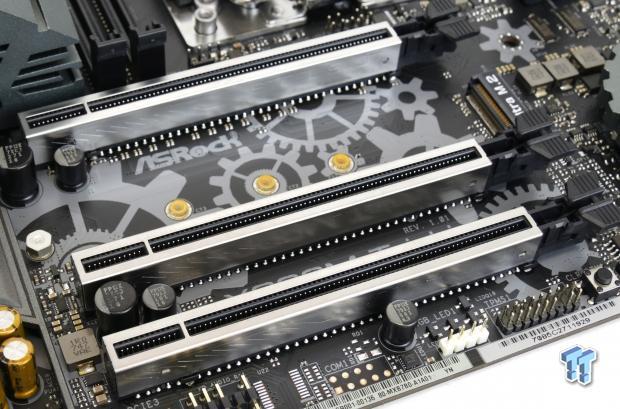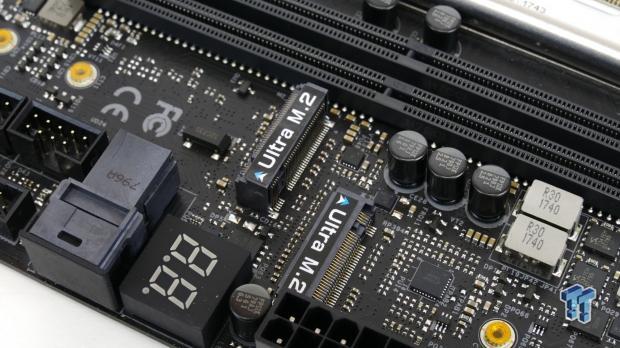 The PCI-E layout is very simple, all of the PCI-E x16 slots operate at x16 PCI-E 3.0 at all times. There are also three M.2 slots, one of them is located between the first and second x16 PCI-E slots, and it shares all of its PCI-E 3.0 x4 with the U.2 connector. The two M.2 connectors located near the 24-pin power connector always operate at x4 PCI-E 3.0. The M.2 slot facing the top of the motherboard offers support for SATA drives as well as PCI-E based M.2 SSDs.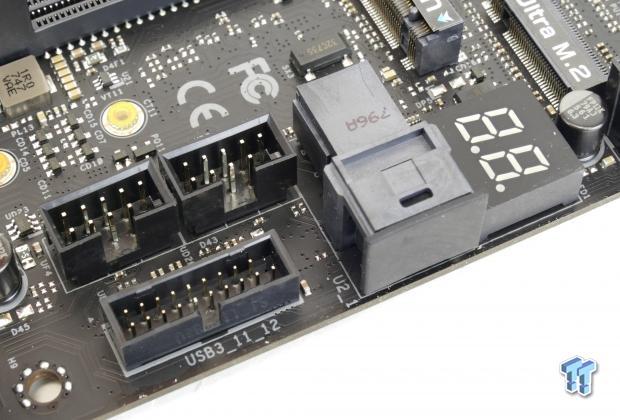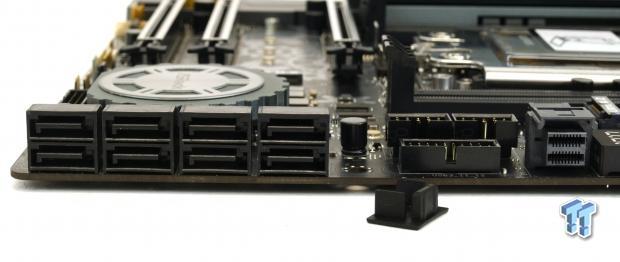 We find our U.2 connector below the POST code display and above one of the USB 3.0 headers and both USB 2.0 internal headers. We also get eight SATA6Gb/s ports on the motherboard, and there is a dust cover in the U.2 port.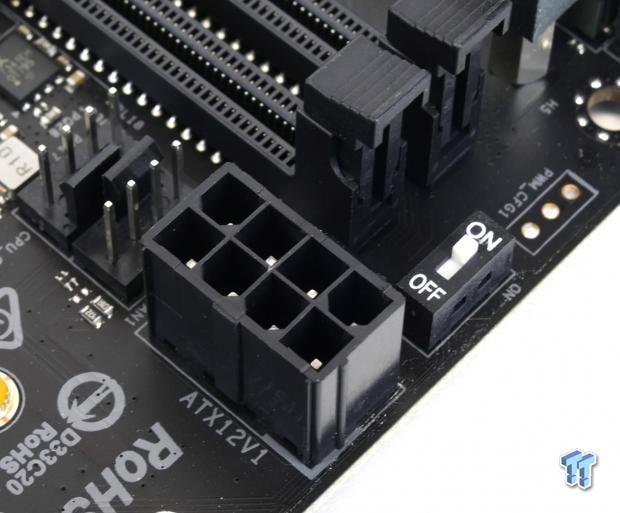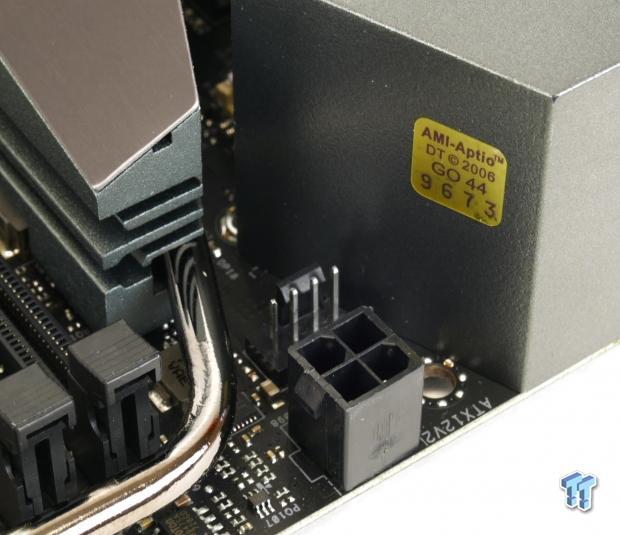 The motherboard offers one 8-pin CPU power connector and one 4-pin CPU power connector. There is also a PROCHOT switch, allowing you to disable VRM temperature protection for extreme overclocking.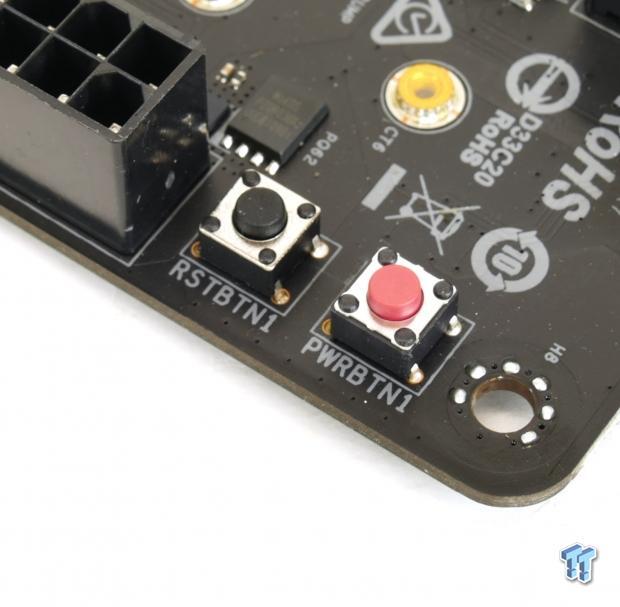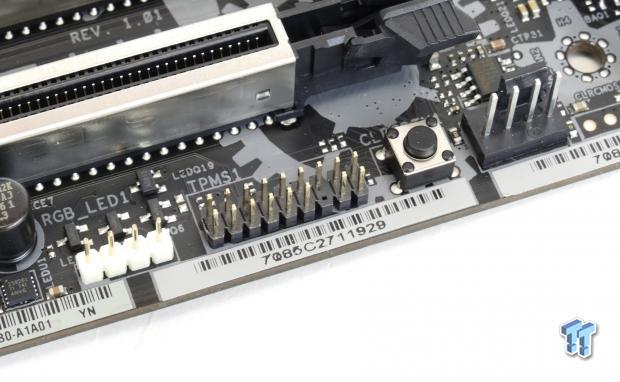 At the top right corner of the motherboard, we find out power and reset buttons. At the bottom of the motherboard, we get a Clear CMOS button and an RGB LED header with eFuse protection.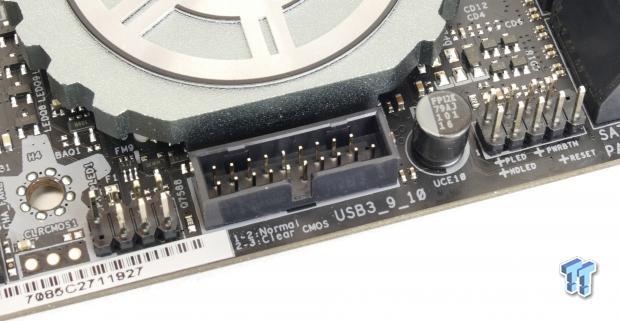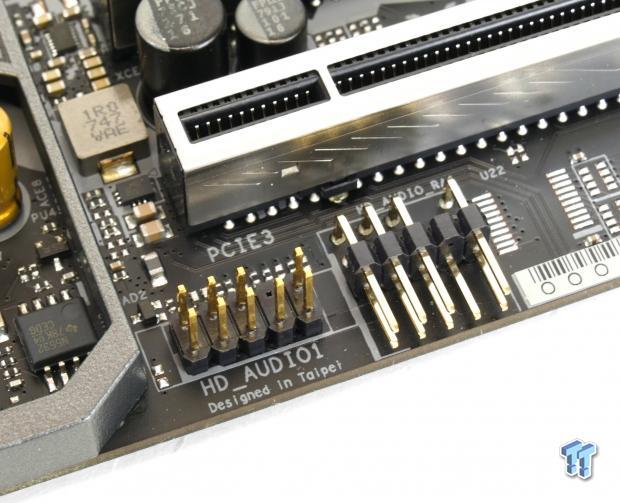 Our second USB 3.0 internal header is located at the bottom of the motherboard near the front panel headers. The motherboard features two HD audio headers, they do the same thing but are positioned differently so you can avoid conflicts with a case with little clearance or a GPU blocking the header.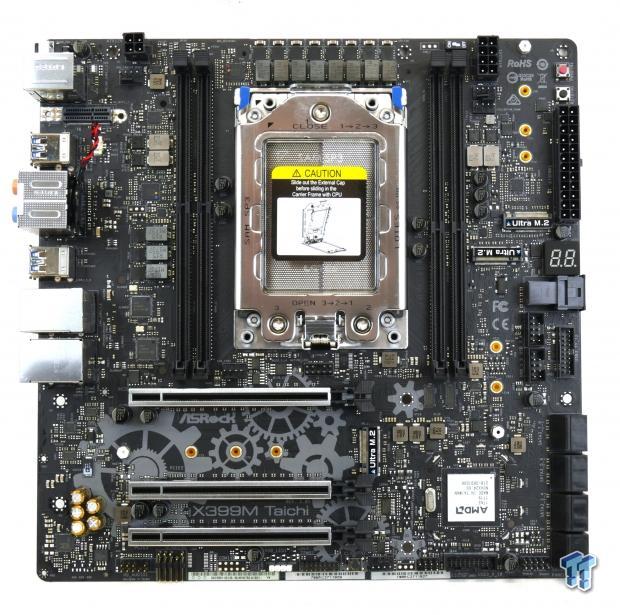 The heat sinks are all screwed into the motherboard, and the VRM heat sink is substantial.
ASROCK X399M TAICHI Circuit Analysis
Circuit Analysis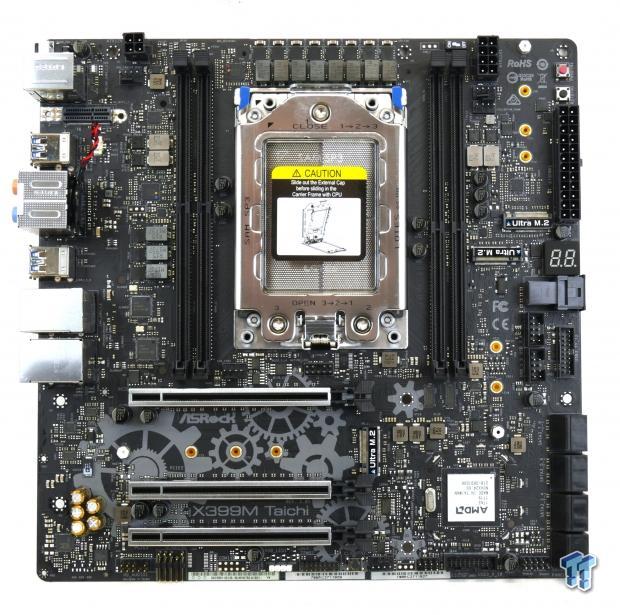 The X399M TAICHI reveals its secrets with the heat sinks removed.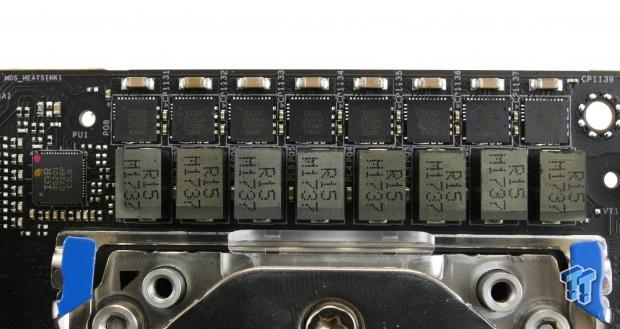 ASROCK is using an 8-phase VRM for the main core voltage with 60A inductors. The SoC VRM is three phases with the same 60A inductors.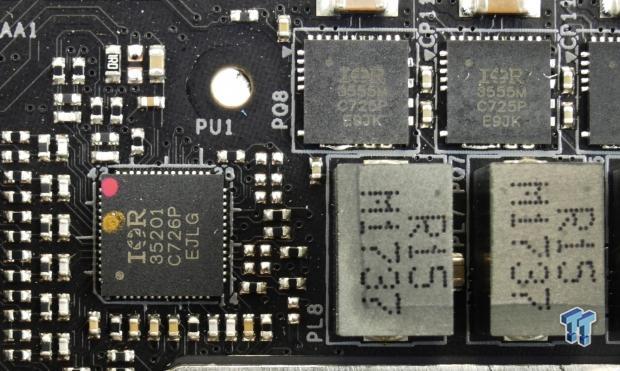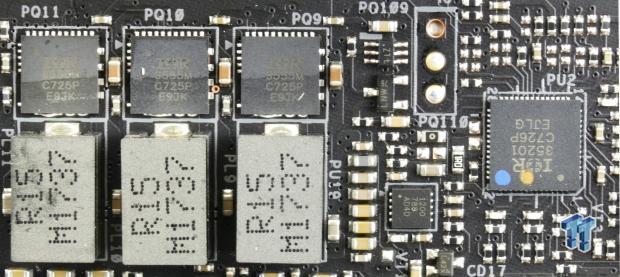 The CPU core VRM uses an International Rectifier IR35201 digital PWM controller in 8+0 phase mode, and each phase uses an IR3555 60A fully integrated PowIRstage. The SoC VRM uses the same PWM controller, but in 3+0 phase mode, and it uses three of the same IR3555 we saw on the main core voltage VRM.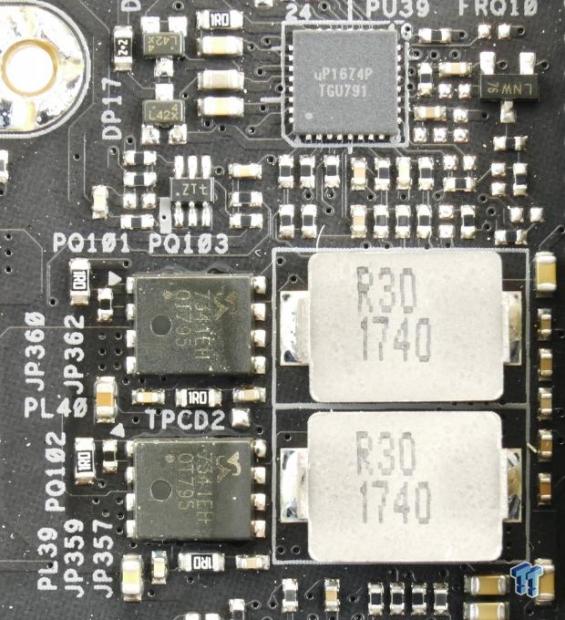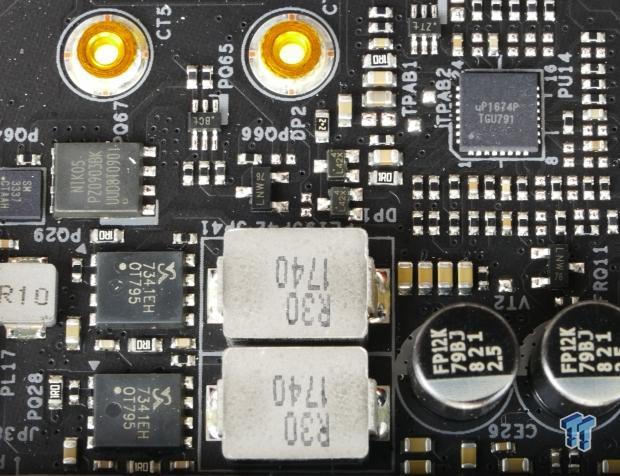 Each set of four DIMMs gets its own two-phase memory VRM that uses a UPI Semiconductor UP1674P PWM controller and two Sinopower SM7341EH dual N-channel MOSFETs rated around 25A each.
ASROCK X399M TAICHI Circuit Analysis Continued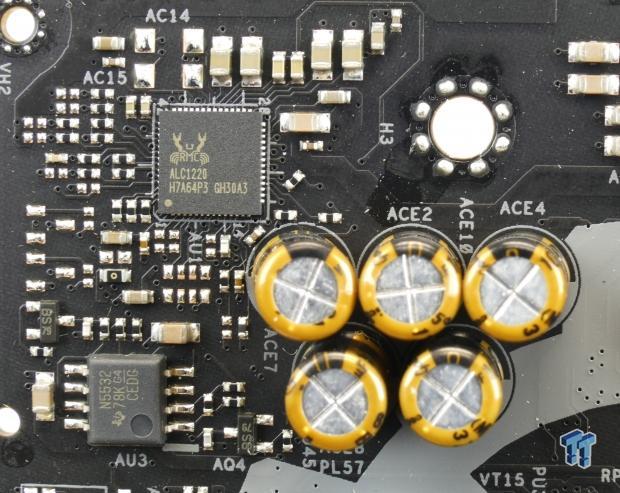 The Realtek ALC1220 is used as the audio codec and offers 120dB output on an amplified rail. ASROCK adds in a Texas Instruments NE5532 amplifier for the front panel output since the rear output uses the integrated amplifier inside the codec. Nichicon audio capacitors are used to improve audio quality.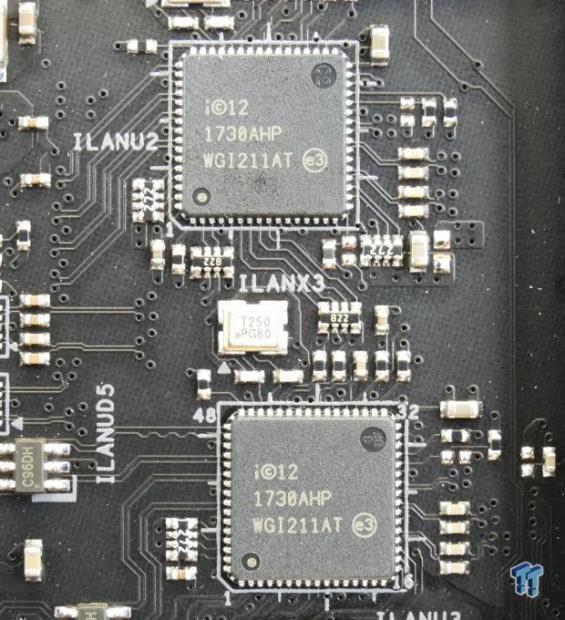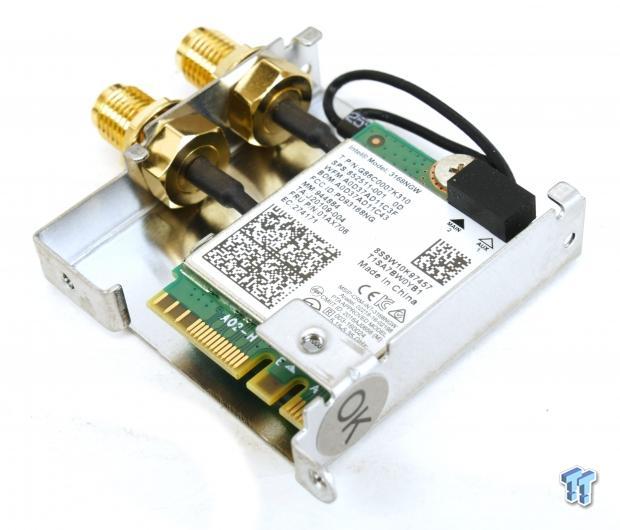 Two Intel i211AT Gbit NICs provide the dual Gbit LAN ports on the rear IO. WIFI is provided by the Intel Wireless-AC 3168NGW M.2 controller.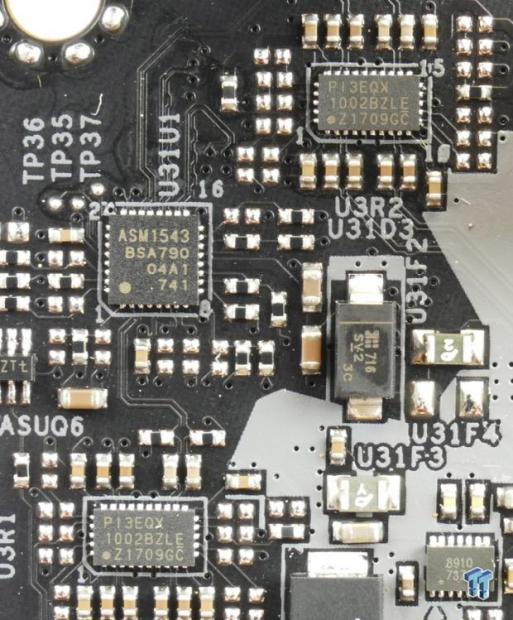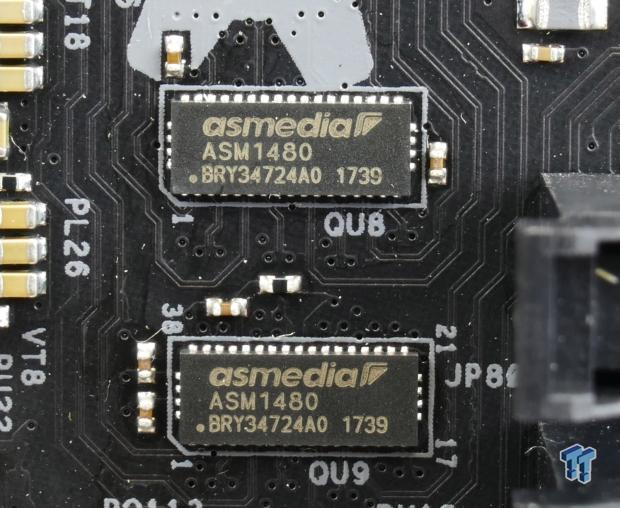 Each of the USB 3.1 ports gets its bandwidth from the FCH, and each gets a Pericom PI3EQX re-driver, and the type-C port uses an ASMedia ASM1543 type-C switch and CC logic chip. Two ASMedia ASM1480 move x4 PCI-E 3.0 between M2_1 (between the first and second PCI-E slots) and the U.2 port.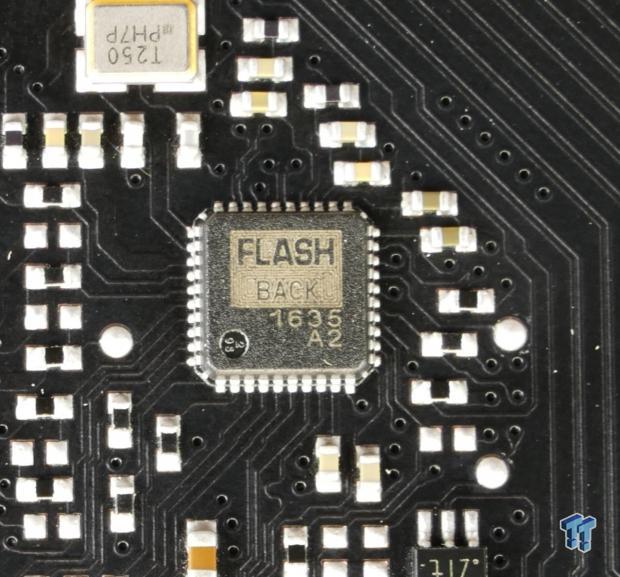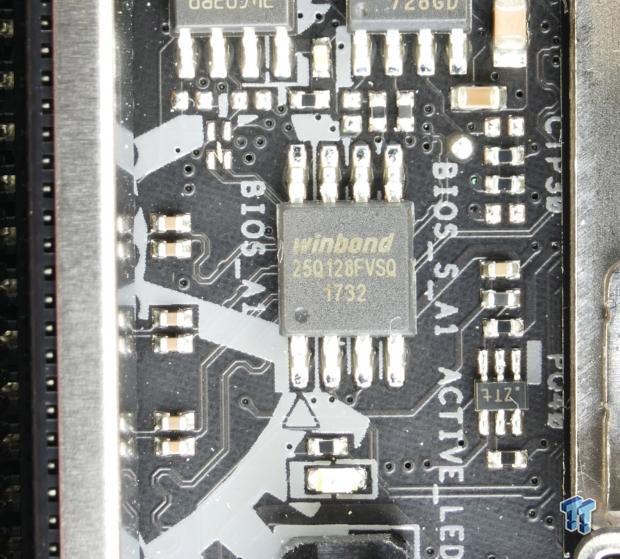 A chip labeled Flash-Back provides USB BIOS recovery to the single 128Mbit/16MB BIOS ROM.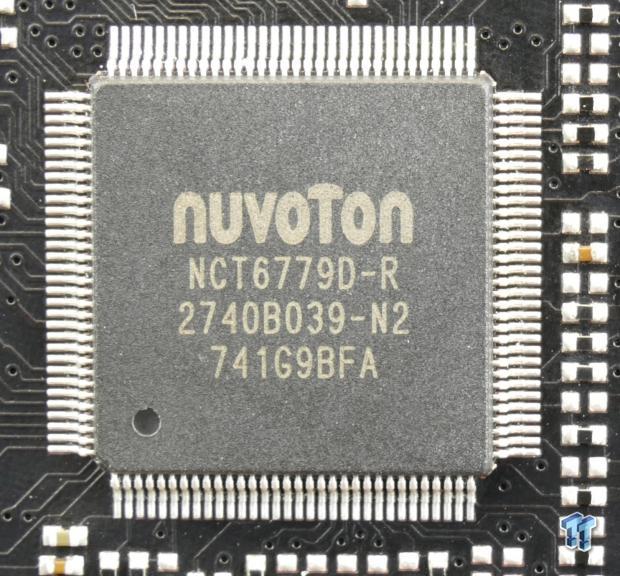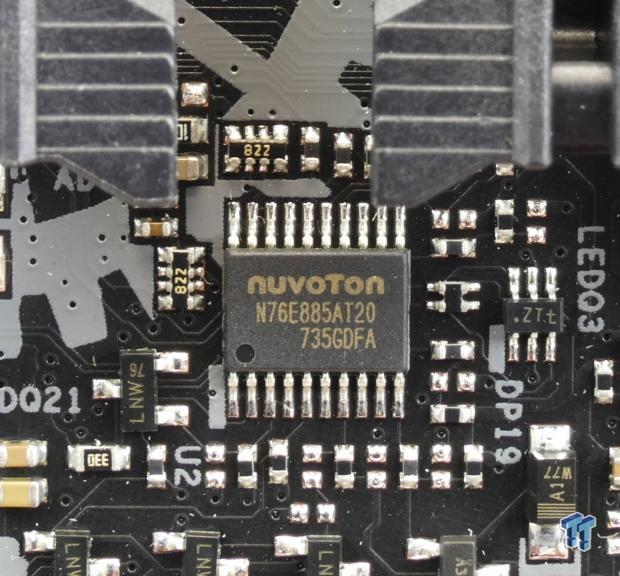 The main SuperIO is the Nuvoton NCT6779D, and it provides fan control, PS/2 on the rear IO panel, and system monitoring. The Nuvoton N76E885AT20 is in charge of the RGB LED header and built-in RGB LEDs.
BIOS and Software
BIOS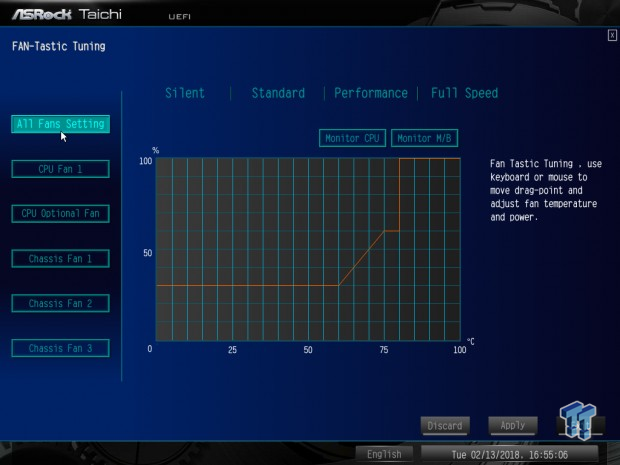 ASROCK's UEFI for the X399M TAICHI is very similar to all of their other UEFI BIOS on other motherboards. It has an Easy Mode and an Advanced Mode where you can really change pretty much everything on the platform. Fan control is present in the form of a GUI and manual input menu. AMD's CBS menu is also present so you can make deep system changes.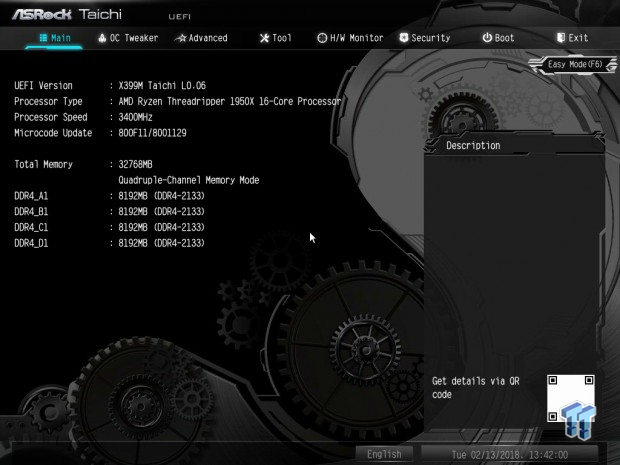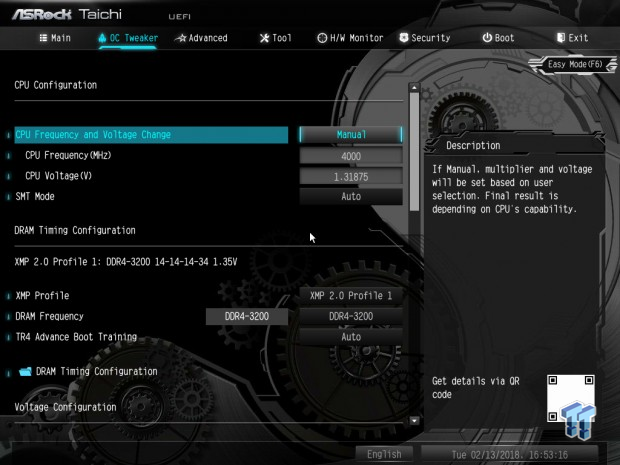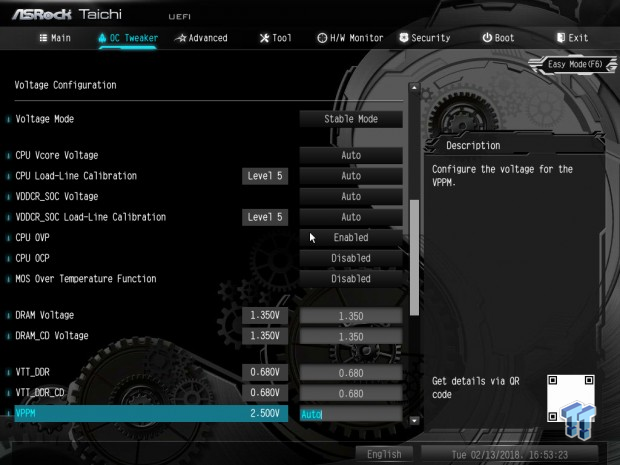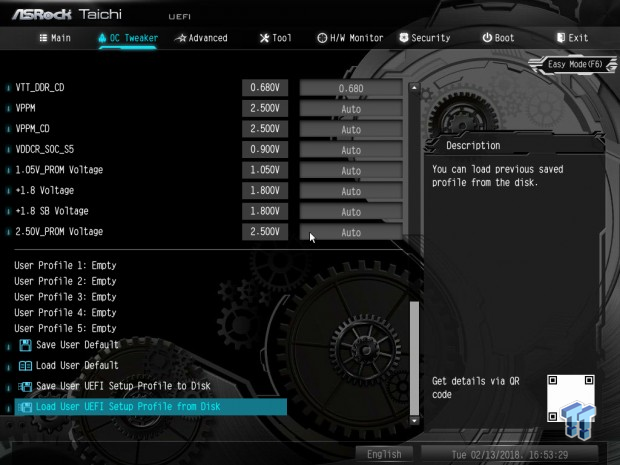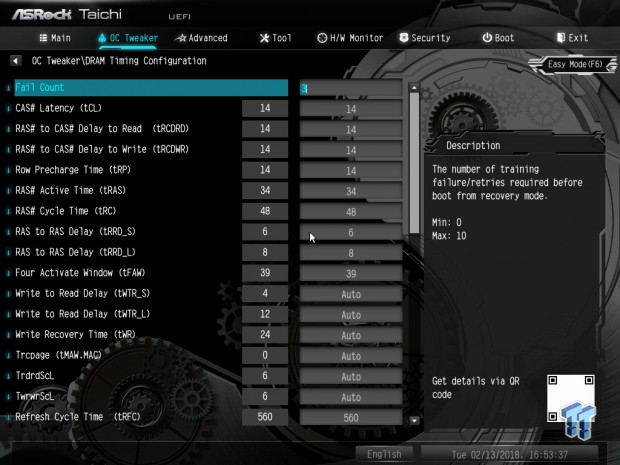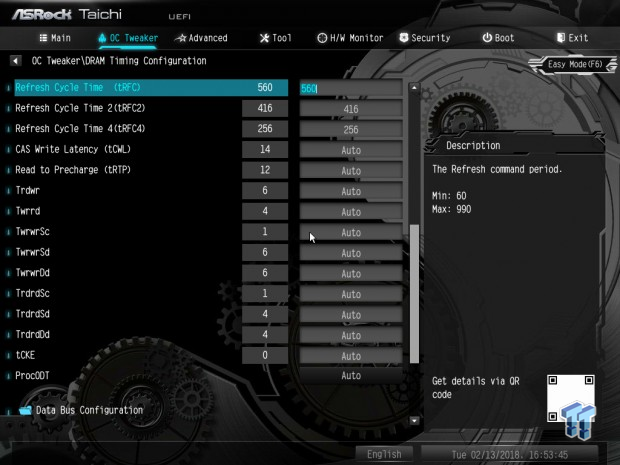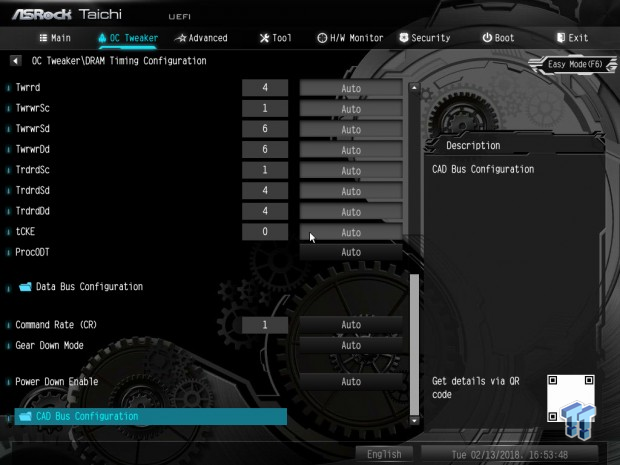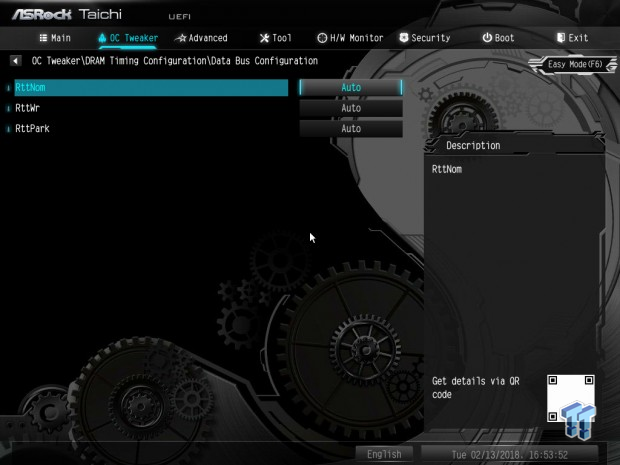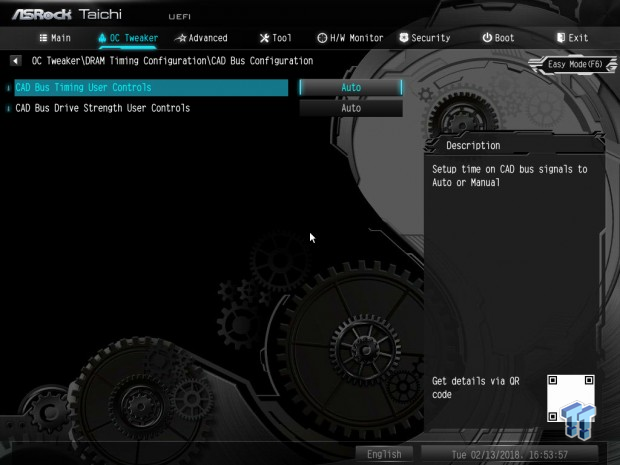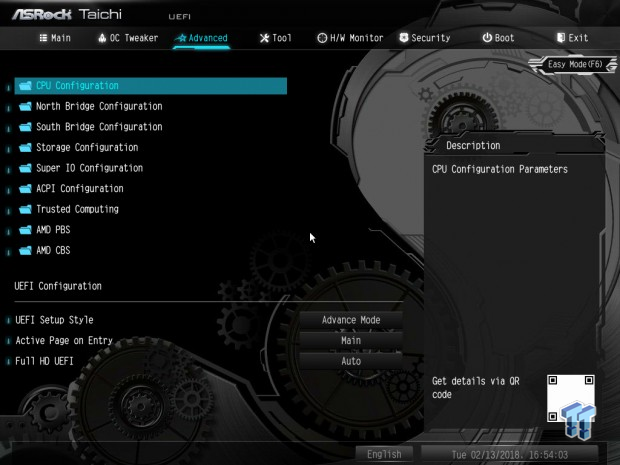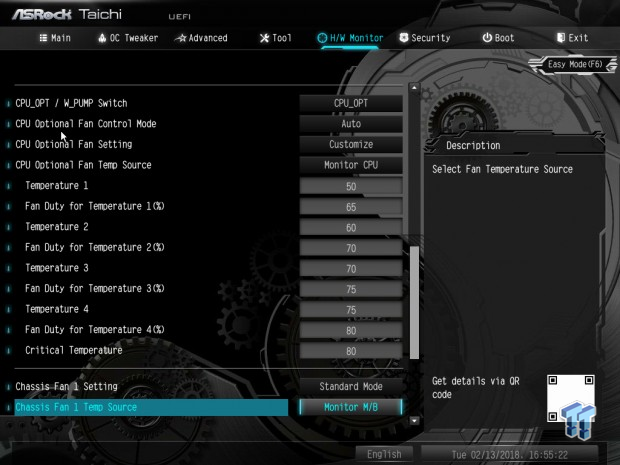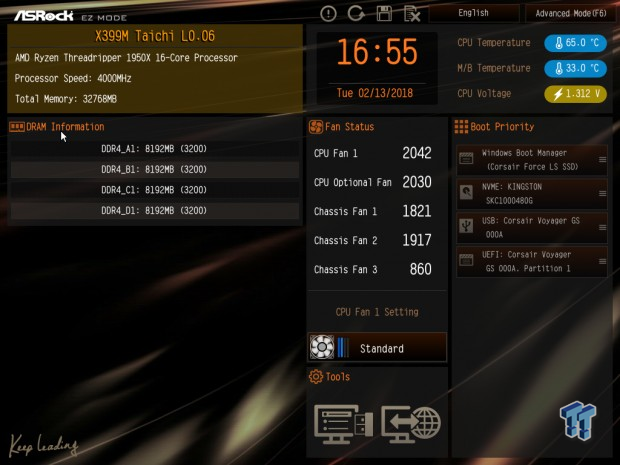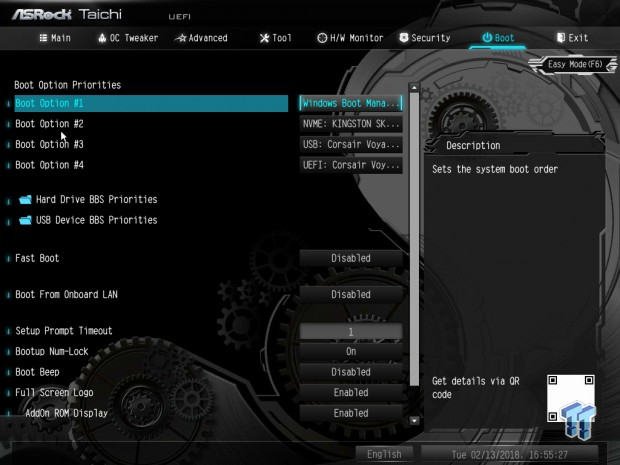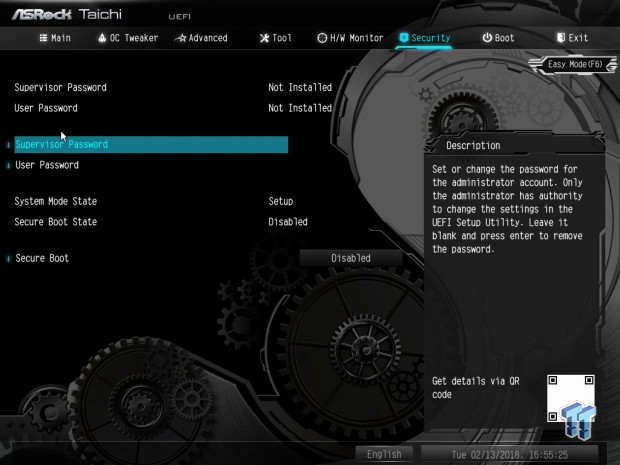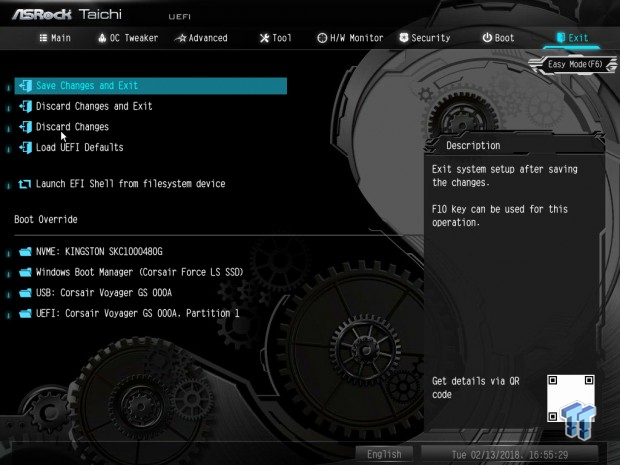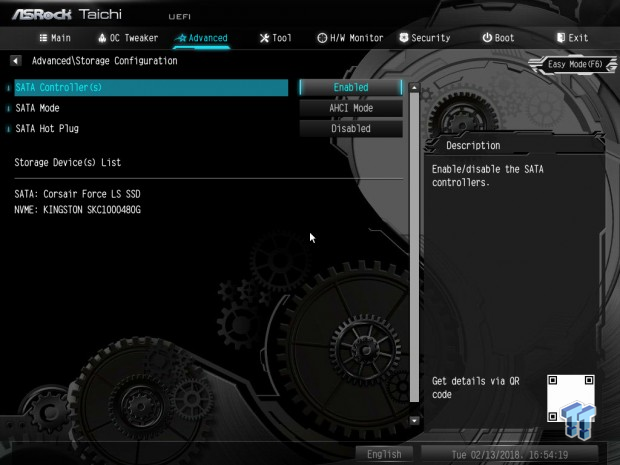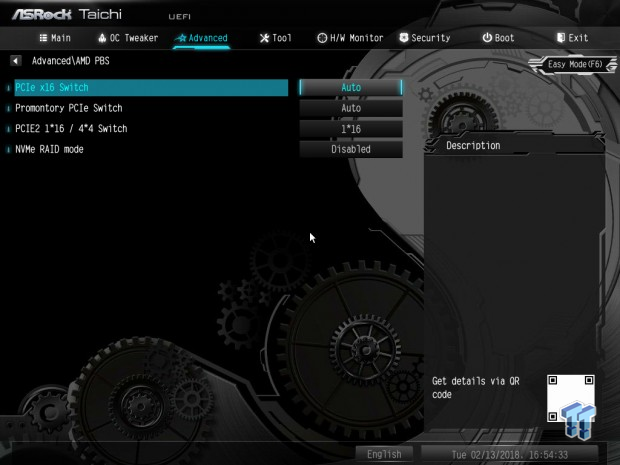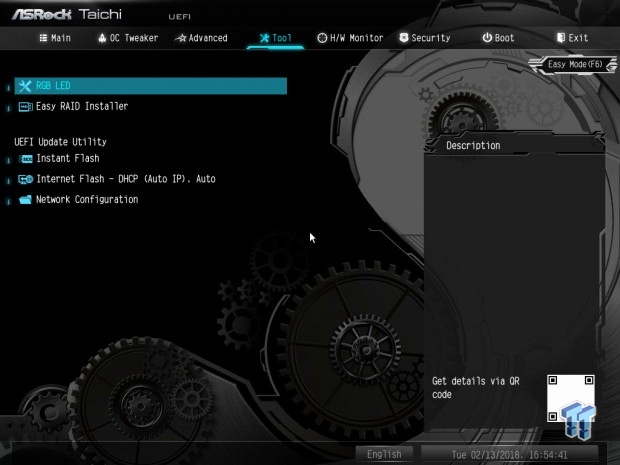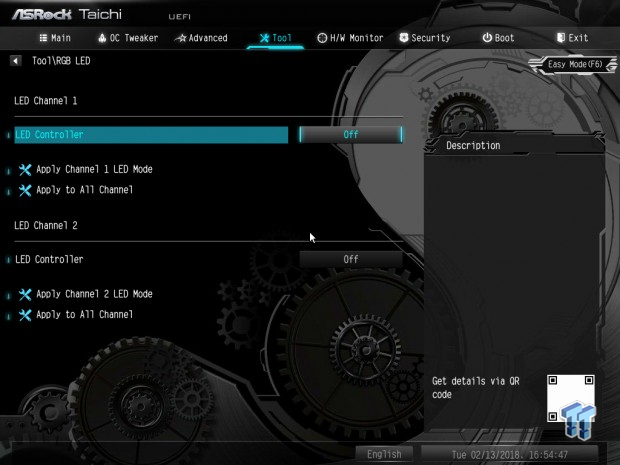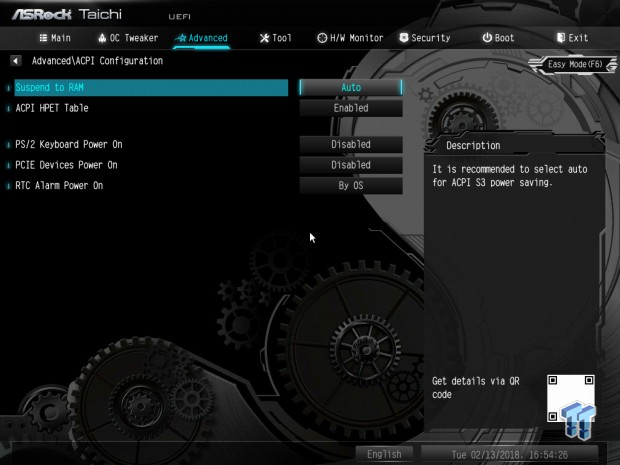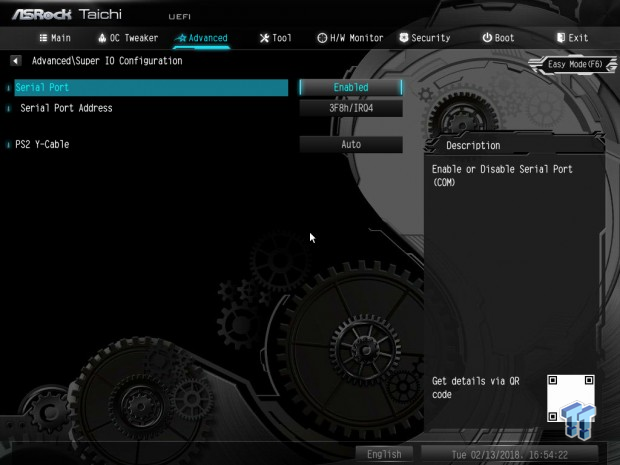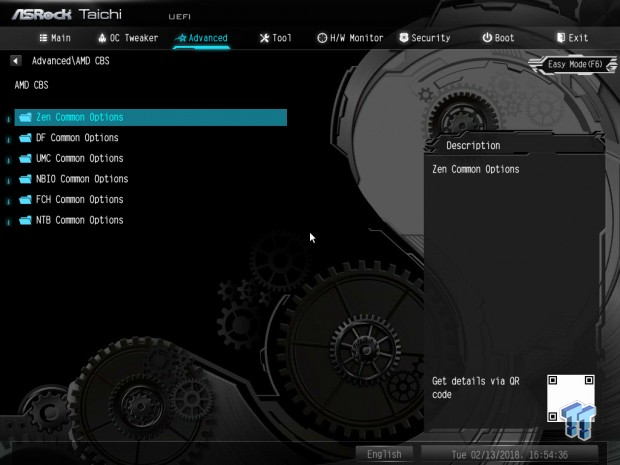 Software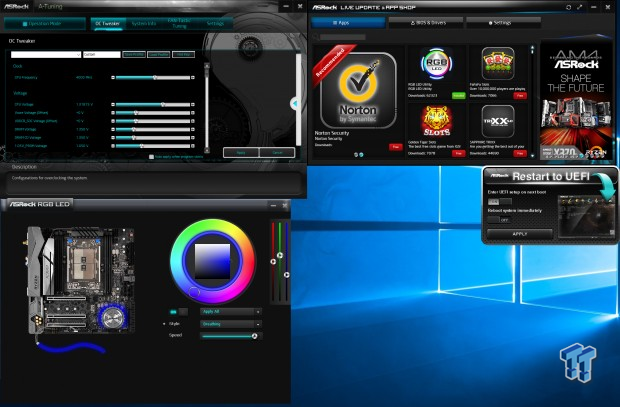 ASROCK's software suite includes A-Tuning, Live Update & APP Shop, RGB LED, Restart to UEFI, and others.
Test System Setup
Steven's Motherboard Test System Specifications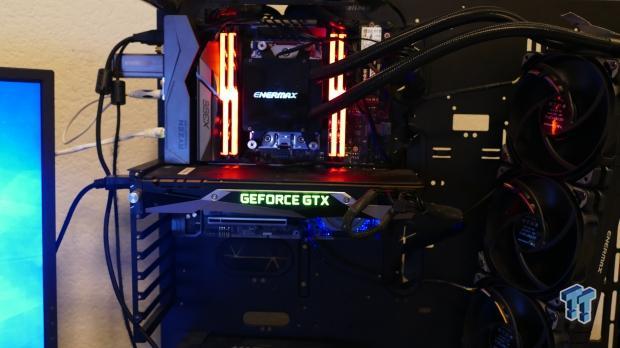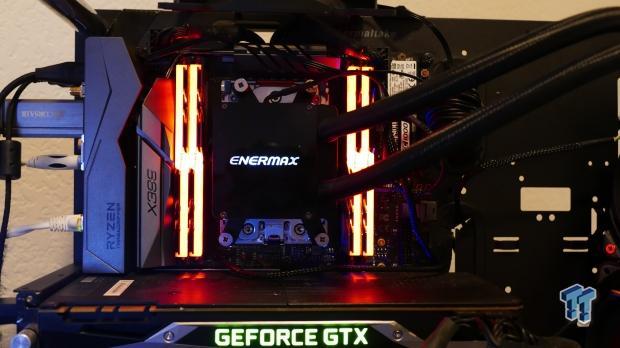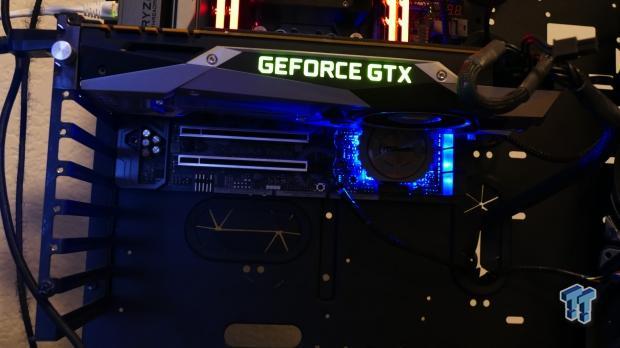 The motherboard's built-in RGB LEDs are only present under the PCH area, and that is the only area that will illuminate when you turn the system on. The motherboard does have two RGB LED headers that you can use if you want to light things up.
Overclocking
Overclocking Results
CPU Overclocking
AMD's ThreadRipper platform is quite interesting, as AMD stated the top 5% of Zen dies become ThreadRipper CPUs. That is a big deal, as that would also mean the CPU should overclock quite high, or at least consistently high. Most people get limited around 4.1GHz, and I know my 1950X can't do 4.1Ghz stable on all cores without tons of voltage or better cooling.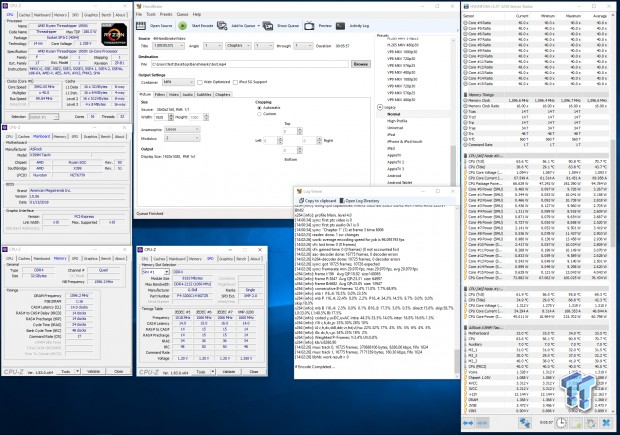 Overclocking the CPU was really easy, and I hit 4.0GHz with 1.32v set with the second highest level of Mode 2. Overclocking the memory kit with XMP worked like a charm, especially with the new CPU microcode in the early BIOS I have.
CPU, Memory, and System Benchmarks
CINEBENCH R15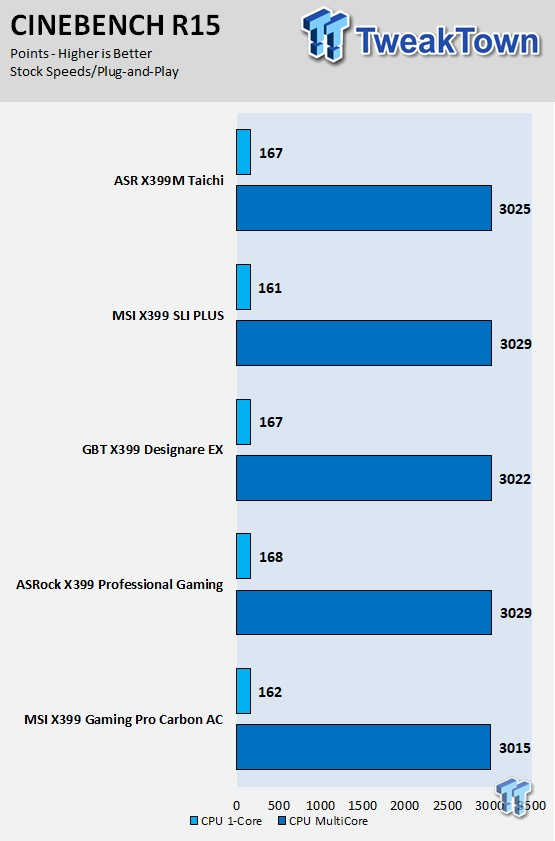 wPrime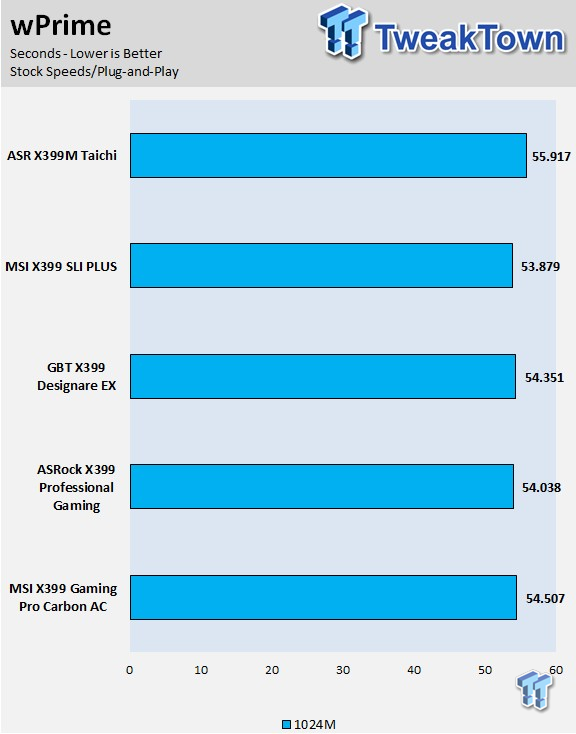 AIDA64 FPU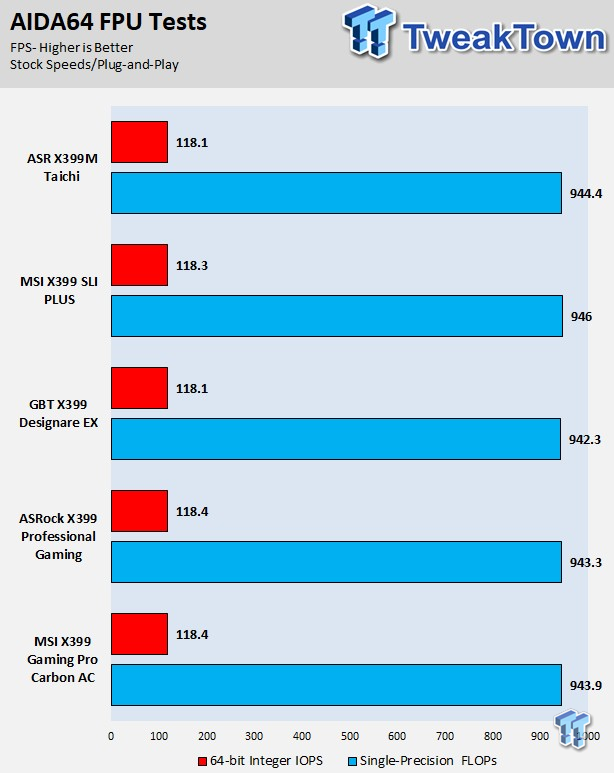 AIDA64 Memory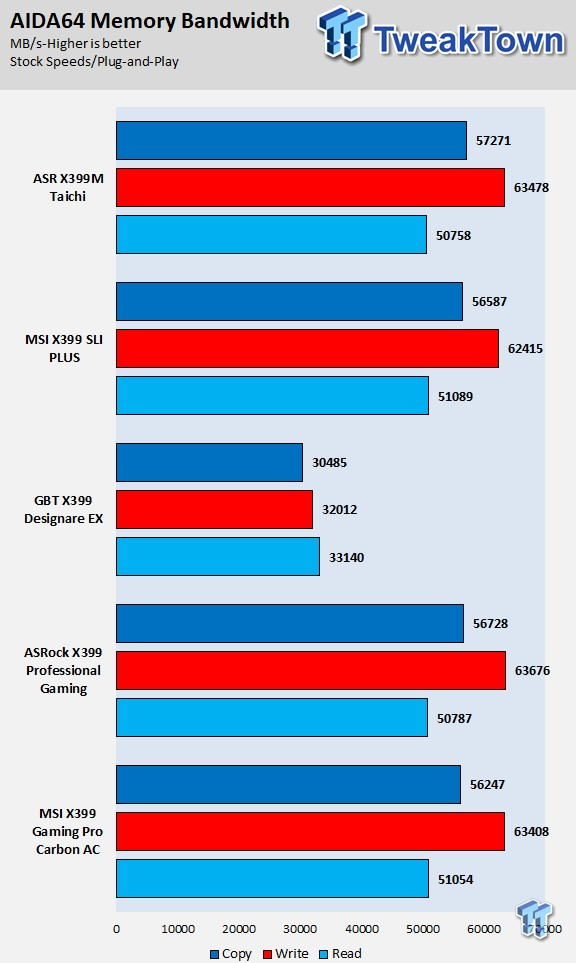 ScienceMark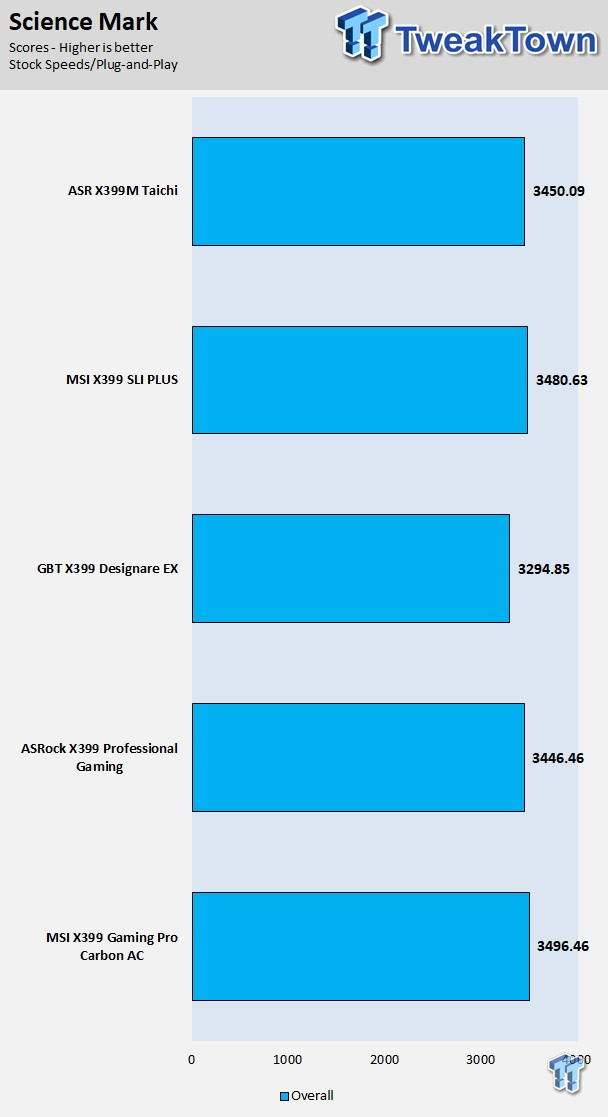 HandBrake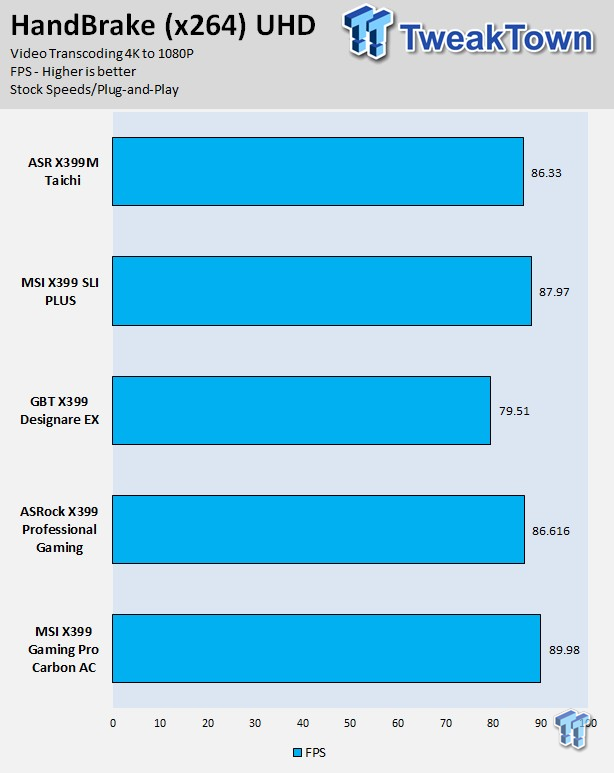 SuperPi 32M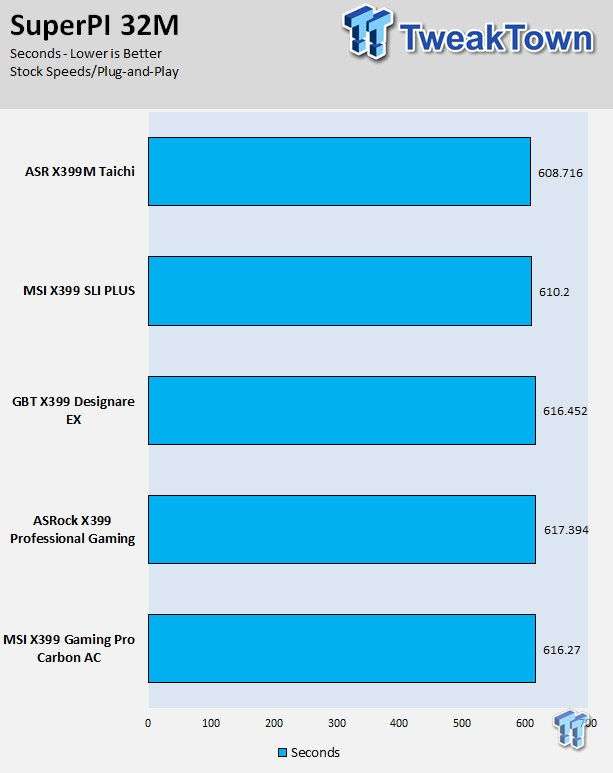 3DMark: Fire Strike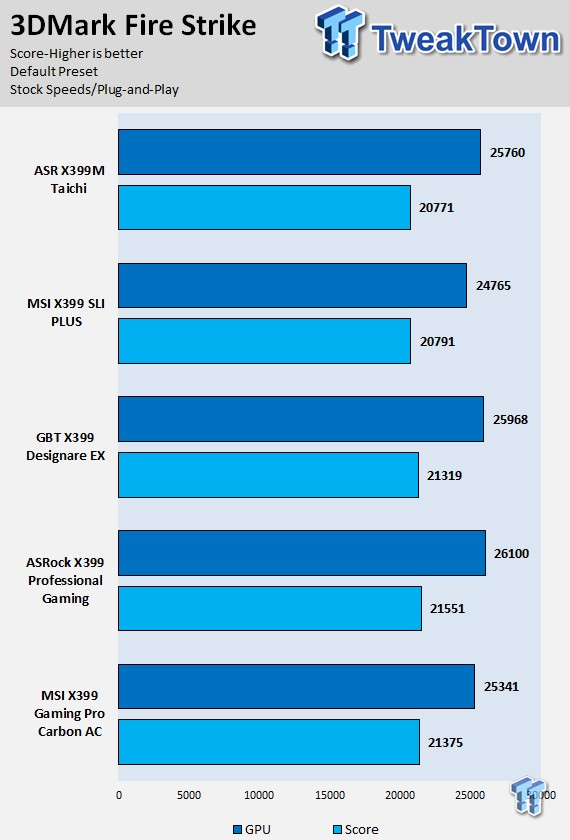 3DMark: Cloud Gate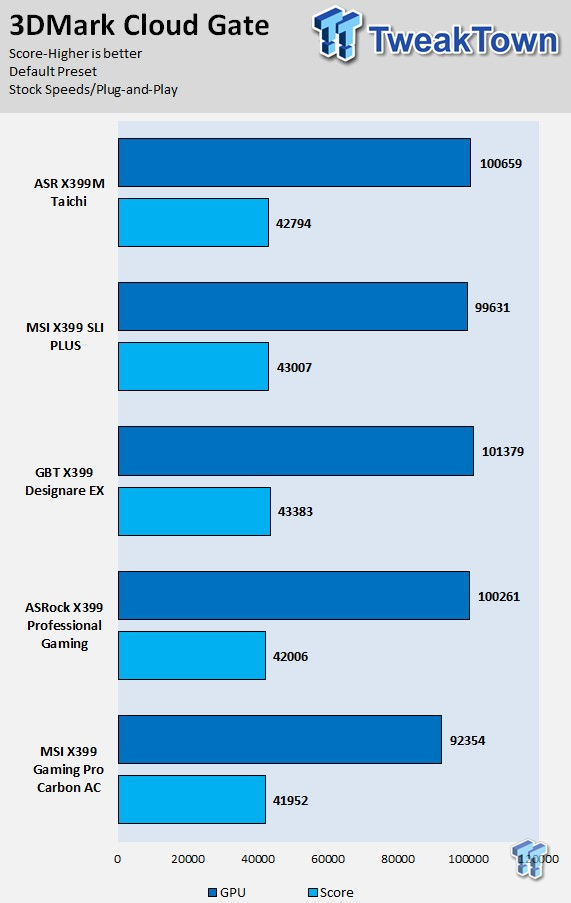 ResidentEvil 6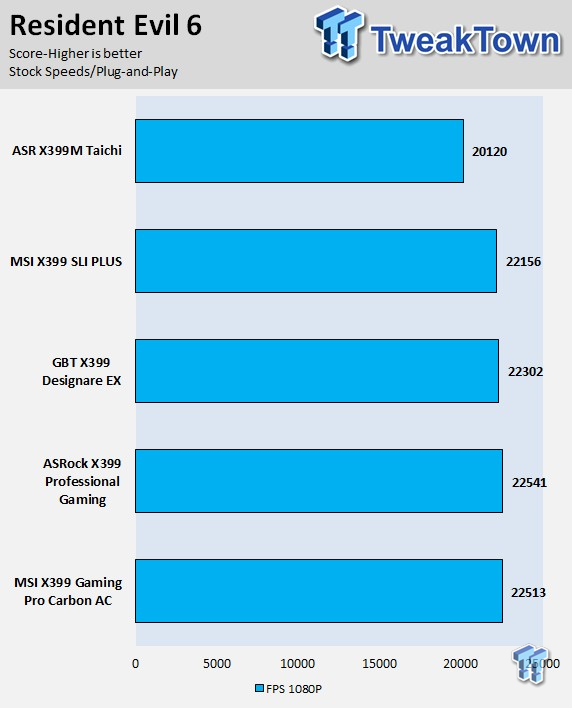 The X399M Taichi's performance is where it should be for an X399 motherboard; I didn't find any performance pitfalls. Its UEFI is a pretty early version as well, so it was a surprise to see it do so well.
System IO Benchmarks
CrystalDiskMark SATA6G: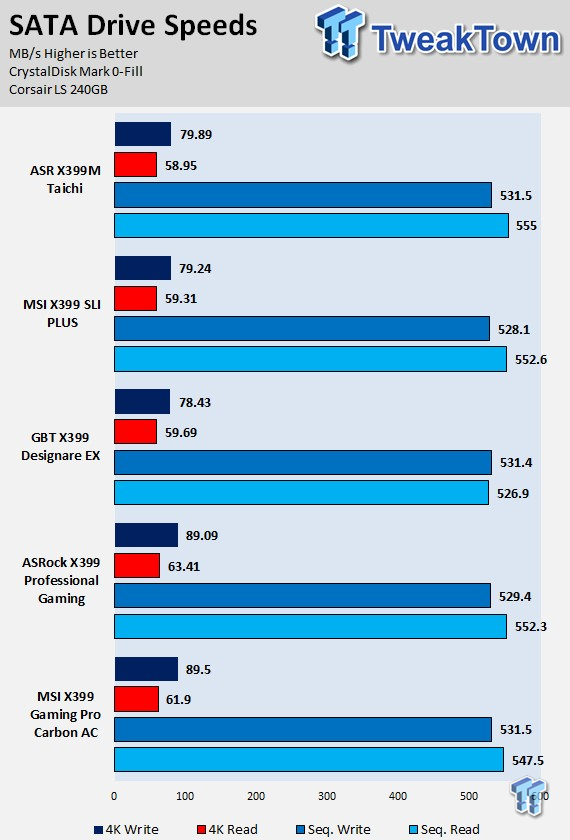 CrystalDiskMark M.2: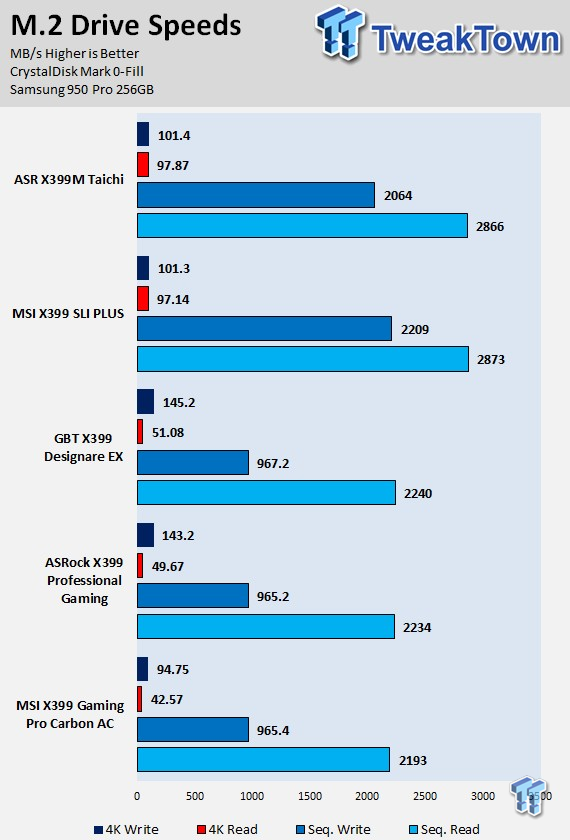 ixChariot Network Throughput: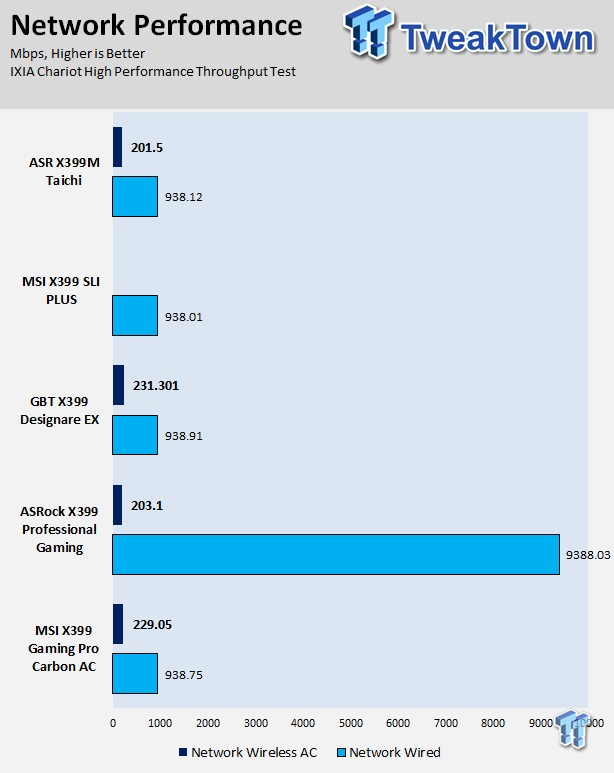 The X399M TAICHI's M.2 performance is band SATA performance is on point. Remember, only the X399 SLI PLUS and the X399M Taichi are testing M.2 speeds with the new KC1000 drive from Kingston. Networking speeds are normal.
Audio RMAA 5.5:
I disable all audio features, set the correct bitrates, and then test the audio with a loopback test.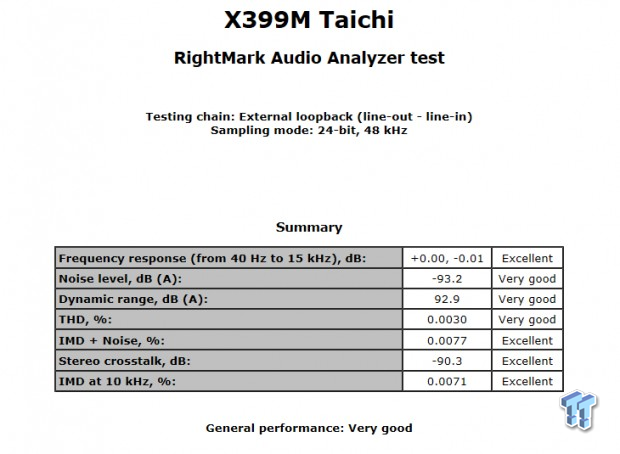 Sound Judgment by Ear: Excellent, implementation of audio hardware is done correctly. There are five ratings for audio: 1. Problems, 2. Okay, 3. Acceptable, 4. Very good, 5. Excellent
Thermal Imaging and Power Consumption
System power is measured at the wall with an AC power meter.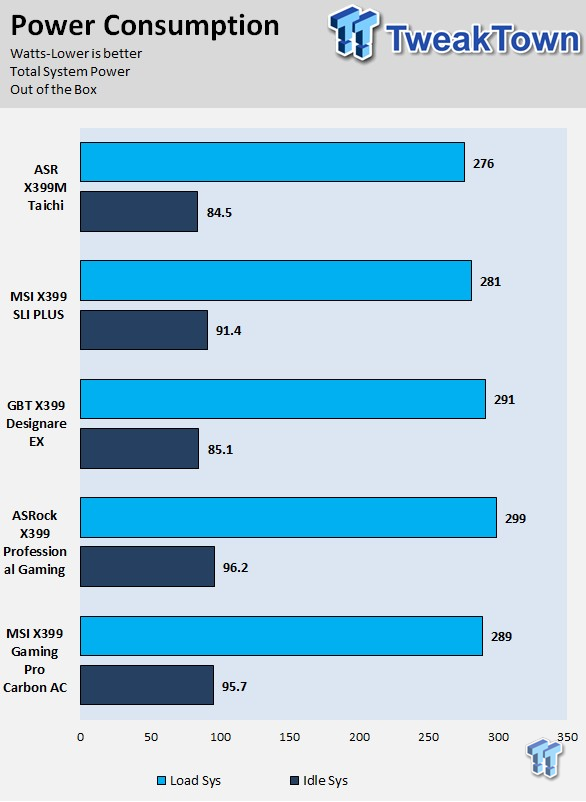 Note on Thermal Images: In the temperature section, we use our Seek thermal imaging camera to capture the surface temperatures of major components on the board. I look at the VRM and then all other things that light up the screen. If there is something to worry about, then I will state it. Otherwise, I will just show the hotter running parts of the board for fun. Unless some component is over 80-90C, then there isn't anything to worry about.
All systems will act differently, so I will look for commonalities, such as how far from the VRM the heat spreads through the PCB and the difference in temperature between the front side and backside of the PCB. Keep in mind, the majority of the heat from the VRM goes into the PCB as it is a giant soldered on copper heat sink. A larger difference in temperature between the back and front of the PCB points towards a more effective heat sink.
Thermal Testing at Stock Speeds:
The image on the left is always at idle, and the image on the right is at load. During ALL TESTS, There is minor airflow over the VRMs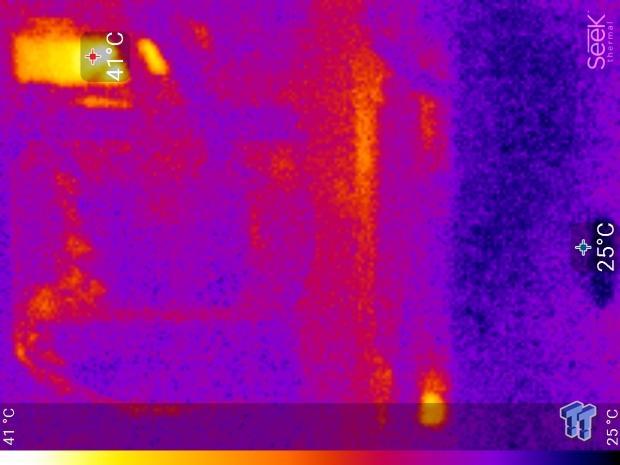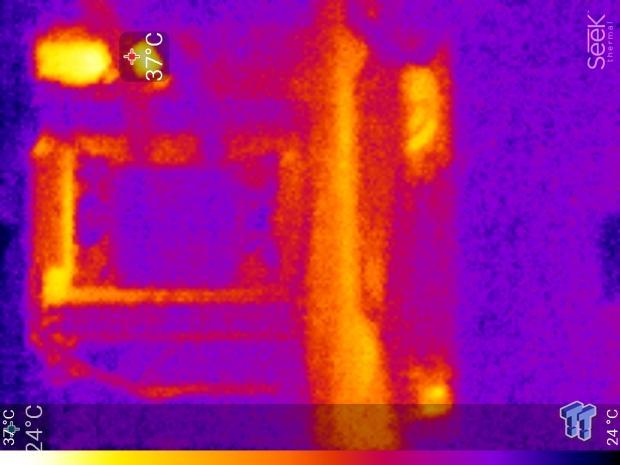 Full frontal.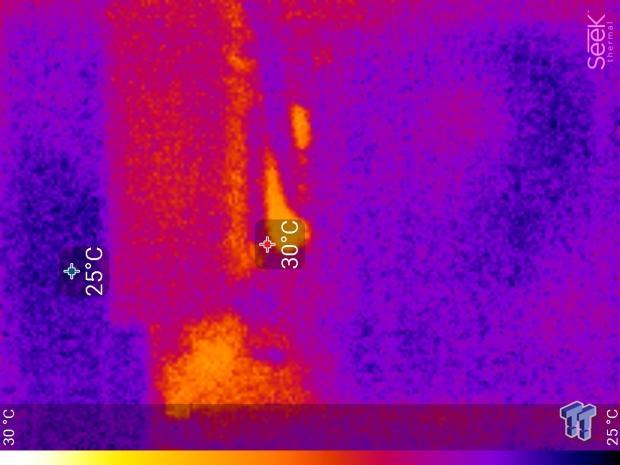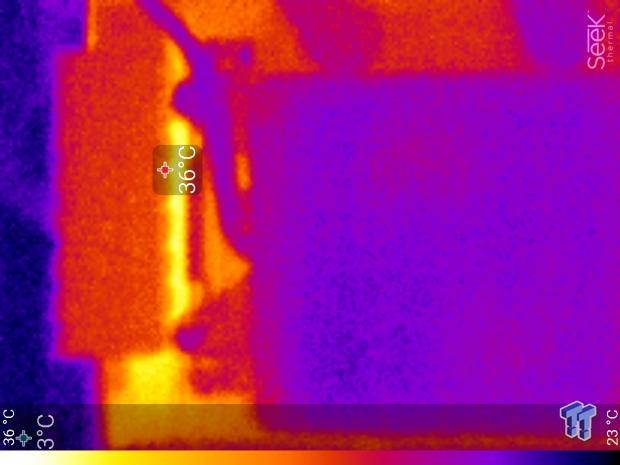 Up-close of the front of the VRM.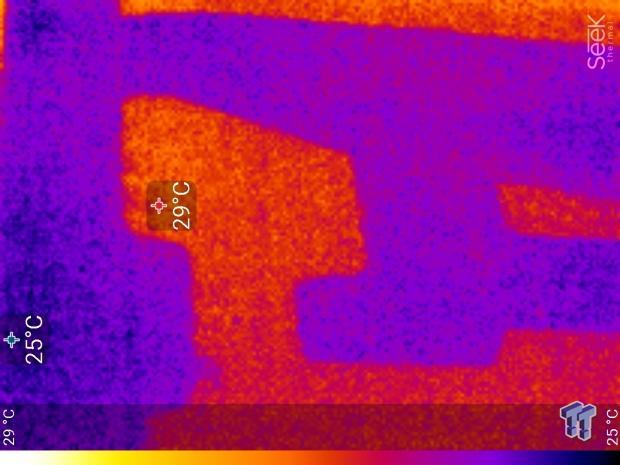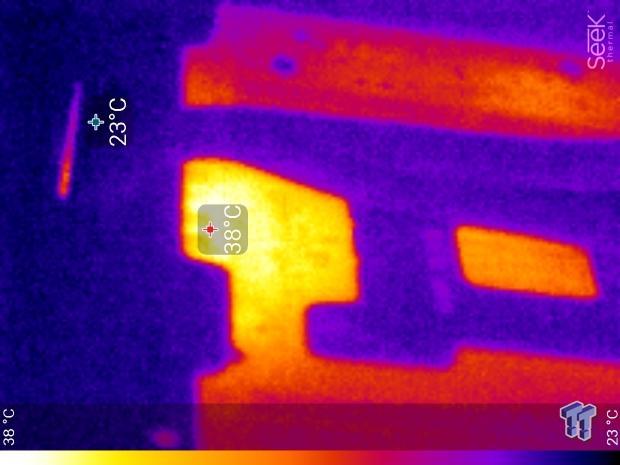 Up-close of the back of the VRM.
Thermal Testing at 4Ghz 1.3v OC:
The image on the left is always at idle, and the image on the right is at load.
During ALL TESTS, There is minor airflow over the VRMs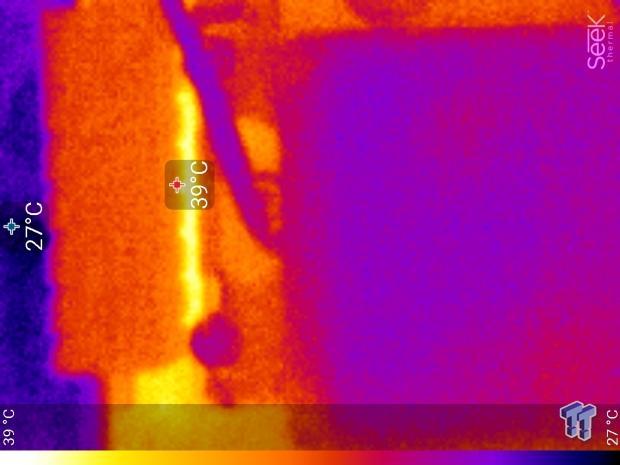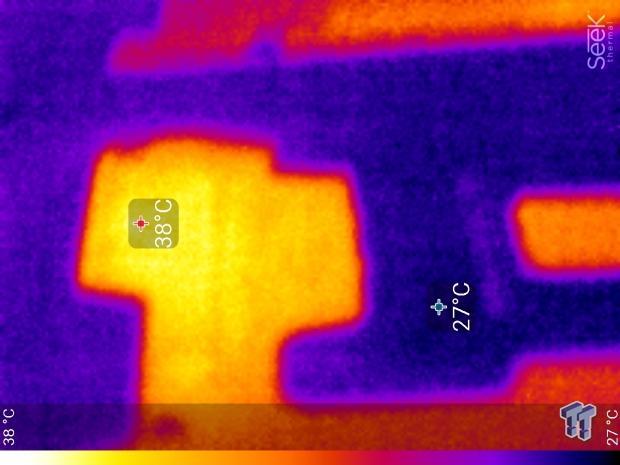 The X399M Taichi has some of the best VRM performance I have seen from an X399 motherboard. While we did have light cooling going over the heat sink, the new huge heat sink does its job with ease.
What's Hot, What's Not & Final Thoughts
Here are key points about the ASROCK X399 SLI PLUS.
What's Hot
VRM Quality and Cooling: ASRock maintained an 8+3 phase configuring for the CPU VRM that uses 60A power stages and 60A inductors. They then went and slapped on a huge heat sink, so that the VRMs could be easily cooled down. The results are excellent; the motherboard can handle an overclocked 16-core CPU with ease.
Platform Features Maintained: All of the CPU's PCI-E lanes are still being offered to you. You get three x16 PCI-E slots that run full speed at all times, and you get three M.2 slots that run x4 PCI-E 3.0 at all times. The motherboard also kept the eight SATA ports and offered up a lot of USB 3.0. USB 3.1 is integrated on the rear IO.
OC Features: Power, reset, and clear CMOS buttons are a nice touch, but ASRock took it a bit further. They added a POST code display, which is awesome, and they went ahead and integrated USB BIOS Flashback on the rear IO.
Micro-ATX: The X399M Tachi is your only option for a mATX X399 motherboard, and it's a solid option.
What's Not
2-Way SLI/CrossFireX Only: While you theoretically could get 3-way to work, the spacing requires make this pretty much impossible without some type of breakout.
Final Thoughts
The ASROCK X399M Taichi is a loaded motherboard with a solid feature set and quality components. The WIFI controller isn't the best in class, but pretty much every other component is. The motherboard is the first of its kind, and since many people have been asking for smaller form factor motherboards for the X399 platform, we see it being a popular product. It's a solid product all around and offers pretty much everything you might want in an X399 motherboard, so give it a look if you want a smaller TR4 build.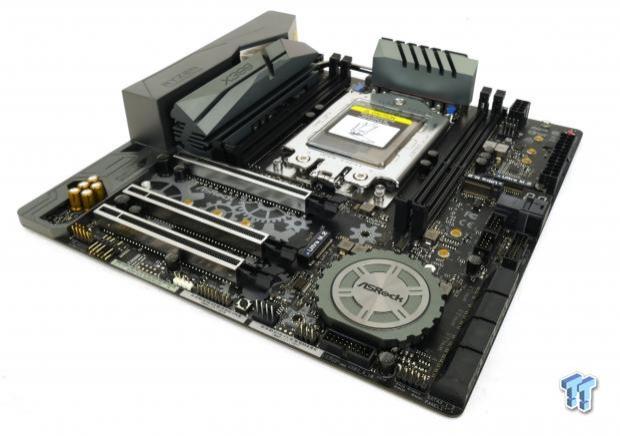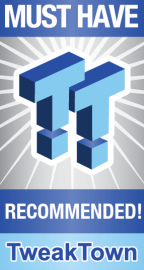 | | |
| --- | --- |
| Performance | 93% |
| Quality | 95% |
| Features | 95% |
| Value | 94% |
The Bottom Line: As the first mATX X399 motherboard the X399M Taichi had a lot to prove, but delivered quite admirably.
PRICING: You can find products similar to this one for sale below.

United States: Find other tech and computer products like this over at Amazon.com

United Kingdom: Find other tech and computer products like this over at Amazon.co.uk

Australia: Find other tech and computer products like this over at Amazon.com.au

Canada: Find other tech and computer products like this over at Amazon.ca

Deutschland: Finde andere Technik- und Computerprodukte wie dieses auf Amazon.de
We openly invite the companies who provide us with review samples / who are mentioned or discussed to express their opinion. If any company representative wishes to respond, we will publish the response here. Please contact us if you wish to respond.