Introduction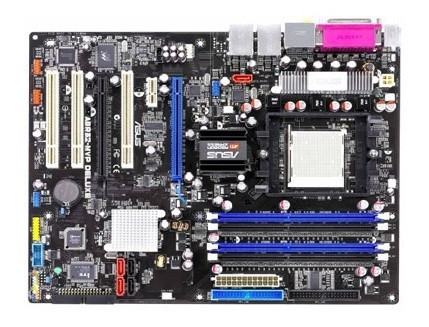 ATI has now started to mass ship its Xpress 3200 Crossfire chipsets and it has picked up quite a following for the Crossfire crowd, mostly because of its dual PCI Express x16 interfaces for graphics cards. Whatever it is, it's clear that the battle between ATI and nVidia is heating up even more. ATI has one major advantage over nVidia and that is ATI has given support to Intel with the 975X chipset to support Crossfire. Though Intel only offers twin PCI-E x8 ports, we can expect to see this change with the next chipset revision - 985X will most likely give the Crossfire platform another dual PCI-E x16 partner.
ASUS is the motherboard manufacturer to watch these days. Beginning as a desktop and workstation only manufacturer, ASUS has pulled all the stops to become the most well known and most trusted motherboard platform on the market.
ASUS has put out more motherboards than any other company out there, with support for every chipset that comes on the market of value, including ones like SiS and ULi. ASUS can be a truly valuable partner.
ASUS has now adopted the latest Crossfire chipset, the Xpress 3200 onto its new high-end Crossfire platform, known as the A8R32-MVP. ASUS has clams that this is the ultimate in Crossfire boards. Will these big, bold claims hold true?
Specifications
Specifications of the ASUS A8R32-MVP DeluxeCPU
Supports AMD Athlon 64 3000+ ~ 4000+ mPGA939
Supports AMD Athlon 64 3800+ ~ 4800+ mPGA939
Supports AMD Athlon 64 FX 53 ~ FX60 mPGA939
Supports AMD Opteron 100 Series mPGA939
Chipset
ATI Xpress 3200 Crossfire
ATI RD580 Northbridge
ULi M1575 Southbridge
PCI Express x4 Interconnect
System Memory
4 DDR SDRAM 186pin DIMM Sockets
Supports DDR-266/333/400Mhz
64/128Bit Dual Channel
Supports up to 8GB Total Memory (4x 2GB)
Bus Frequency
200 MHz Internal
800/1600/2000MHz External
Hyper Transport Link
Expansion Slots
2 PCI Express x16
1 PCI Express x1
3 PCI
Connectivity
2 Parallel ATA port supporting 2 IDE Drives
5 Serial ATA ports
1 e.SATA Port
2 Gigabit Ethernet Port
Expansion Ports
1 PS2 Keyboard Port
1 PS2 Mouse Port
8 USB 2.0 Ports (4 rear accessible, 4 via expansion bracket)
2 SPDIF Ports
1 e.SATA Port
1 Parallel Port
6 Stereo Audio Ports
Package and Contents
ASUS now uses a light black box design for its deluxe motherboards. This is to help you identify the budget, deluxe and premium boards on the shelf of your local ASUS retailer. ASUS doesn't put a lot of info on their boxes, or any photos, so you are left to wonder just what is featured and what the board actually looks like - guess that's why we are here.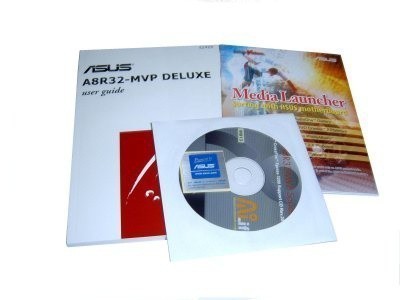 While the box may lack features, the inside doesn't. ASUS packs a great bundle into their deluxe range, and even more into the premium. First off we take a look at the manuals and software. ASUS only provides one user manual, but this baby weighs in at 166 pages. This includes a basic install guide at the front, detailed explanation of the features in the second quarter, BIOS and software settings in the third quarter and Crossfire setup in the last quarter.
There are a total of three CD's that ASUS provides. The first is the driver CD with all of what you need to get Windows up and running. This includes drivers for Windows XP, 2000 and XP 64-bit. The last two CD's contain a variety of software from Intervideo including Power Producer, WinDVD and WinDVR. ASUS has now partnered with Intervideo to keep this software bundle going with their deluxe and premium boards.
ASUS provides two PCI break out expansion slot brackets. The first contains two USB 2.0 ports and a MIDI/Gameport. The second contains a 6 pin and a 4 pin Firewire port that connect to the onboard headers. ASUS also provides a good cable bundle - 2 IDE, 1 FDD, 5 SATA data and power ports as well as an I/O shield.
The Motherboard
Up close with the ASUS A8R32-MVP Deluxe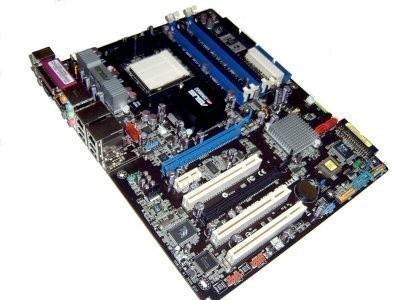 Now we see the beauty that is the ASUS A8R32-MVP Deluxe. The board uses a 30x30cm full ATX layout on a black/brown PCB. This is the PCB of choice for ASUS when it comes to its deluxe and premium motherboards. This PCB also comes out with a thin alloy plate moulded into the PCB as standard to remove some of the heat from the rear components into the back of the case using convection cooling.
ASUS has done a great job in terms of its placement of connectors. The normal and best place to place the 24-pin ATX power connector is on the right hand side of the board behind the DIMM sockets. There are also two IDE connectors controlled by the Southbridge located here as well. ASUS uses the new 8-pin EPS12v aux power connector in place of the 4-pin unit, which is now becoming the norm for motherboards all round. This plug is located on the top left of the board behind the PS/2 ports. This is the ideal spot or also on the top right of the board, as you eliminate a lot of the cable clutter we see in a lot of cases today due to poor placements.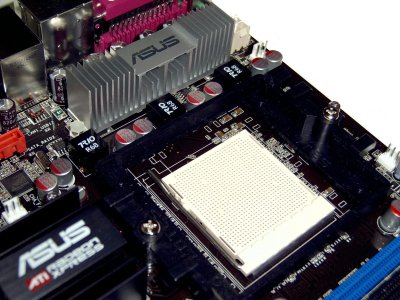 Power regulation is handled by 3 phase switching voltage regulation system that allows for voltage adjustments within the BIOS. The Mosfet's are cooled by a large passive heatsink covering all the main components. ASUS is the biggest fan of passive cooling of any motherboard manufacturer out there. These days PC's are getting faster and faster, and in order to do this there is a trade off in heat generated, which must be cooled in some fashion. Rather than small active cooling ASUS uses larger passive cooling systems, which help keep things as quiet as possible.
The I/O panel at the rear is somewhat changed despite falling in the same category as the other deluxe boards - the main elements are there, just in a different order. The most notable one here is the new e.SATA port. The SATA organisation has defined a new port layout, shielding requirements and speed specs for Serial ATA outside the PC. This is the new board that is gong to be the standard, now all we need is proper e.SATA enclosures to take advantage of this.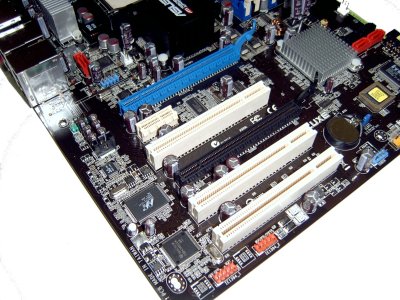 Expansion slots wise, ASUS have done a rather good job giving you as much as possible. There are two PCI Express x16 slots, the blue one is for the Crossfire Master card (if you use a master/slave card system). If you go with the X1600 series, it doesn't matter as there is no master/slave system to worry about. There is also a single PCI Express x1 slot and three PCI slots. Both PCI Express x16 slots are located on the Northbridge; this gives the advantage of being able to swap out Southbridges with other companies, where nVidia cannot.
Unlike the Sapphire Xpress 3200 motherboard we just reviewed, ASUS uses a combination of two separate chips. The leader of the pack is the ATI RD580 Northbridge which is the smallest Northbridge on the market using TSMC's new 0.11um fabrication process. ATI has gone this way in order to increase the overclocking ability of the RD580 chipset above that of the nVidia. ATI claims that this chipset is drastically underspeced, meaning that it should be able to overclock without any added voltages to the Hyper Transport links, PCI Express buses or A-Link bus.
The Southbridge ASUS use is a ULI M1575 Southbridge. This Southbridge is actually a universal Southbridge that can be used on just about any motherboard. Rather than using a Hyper Transport, A-Link, V-Link or DMI interface to connect the Southbridge to a Northbridge chipset, ULI built this baby with a PCI Express x4 interface for the Southbridge. This means any motherboard with one or more spare PCI Express lanes free can have this chip on their board to give the additional features, in theory, this chip could be placed on a expansion card and installed into a board with spare PCI Express x1 or above slot. Though for best results, PCI Express x4 is required. The M1575 supports 8Ch Azalia HD Audio from Intel, 4 port SATA RAID with RAID 0, 1, 0+1, 5 and JBOD as well as 2 IDE ports and a 10/100 MAC. There are also four spare PCI Express x1 lanes available for add-on cards and controller ports.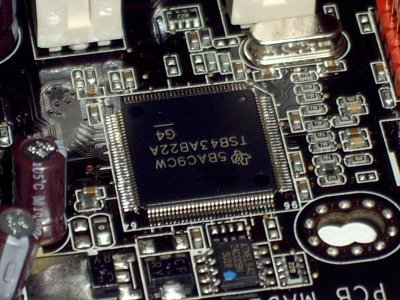 In the digital media age Firewire is a must. ASUS has put the Texas Instruments IEEE1394a PCI controller chip. This chip gives you two Firewire ports by way of the two red headers on the board. To make use of them you need to use the supplied PCI cover bracket with the Firewire ports, unless you have a case with front Firewire ports.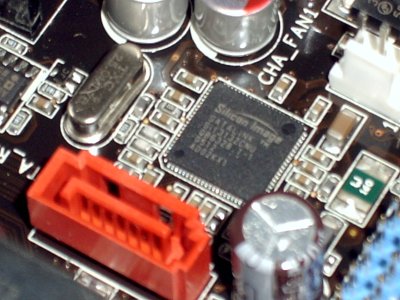 Silicon Image is the only manufacturer of desktop SATA-II controllers using the PCI Express bus. This chip gives two SATA-II spec ports. One of these ports is located behind the last USB rear I/O tower and the second port is routed to the e.SATA port on the rear I/O.
ASUS provides two Gigabit LAN ports for dual net connections. Both controllers use Marvell PCI Express based MAC chips.
Overclocking
Overclocking Features
ASUS has used a modified version of the Award BIOS 6.0. The menu system is identical to the last series of boards that ASUS put out, so ASUS users will know how this works. ASUS puts all of the overclocking features under the one submenu, you need to navigate to the top advanced menu and select the Jumperfree submenu. Here are all of the settings you will need.
ASUS provides its automatic overclocking profiles on the A8R32-MVP Deluxe. You need to select Manual from the A.I Overclocking menu before the additional overclocking options will become available.
First on the list are the two major frequency options, the first is the Clock Frequency and the second is the PCI-E Clock option. You can adjust the clock frequencies in 1MHz increments. CPU clock can be adjusted from 200MHz up to 400MHz, with the PCI-E clock range from 100MHz to 150MHz. ATI has stated that with the latest RD580 chipset, PCI Express overclocks are possible, however, we had some issues with this - most likely because we used two graphics cards.
After this we get into voltages and the FID settings. AMD Athlon 64 allows you to reduce your CPU multiplier from its default down to as low as 4x. ASUS gives a range of multipliers from 4x up to 25x. However, if you set a multiplier above your CPU's default multiplier, the option is invalid and the CPU boots at its default multiplier.
Voltages come next. DRAM voltage is first on the list. ASUS provides a good range of setting from 2.5v up to 3.2v in 0.1v increments. This is a great range of options for even the most demanding memory modules.
Processor voltage is something that could do with a bit of a re-working. You can adjust the initial voltage from 0.0825v up to 1.45v. In order to get higher you need to enable the CPU Overvoltage option. This gives you +100mV and +200mV. This gives you an overall maximum of 1.65v on the CPU voltage. We would like to see this increased up to a max of 1.8v.
With all these setting we managed to get our 4200+ CPU to a max of 354MHz FSB with CPU voltage maxed out at 1.65v, DDR running 3.0v and the Northbridge overvoltage disabled. We are hoping to see some tweaks to the BIOS to allow faster speeds out of this setup.
Benchmarks - Test System Setup and Sandra
Test System SystemProcessor
: AMD Athlon 64 X2 4200+
Memory
: 2x 512MB Corsair DDR-533
Hard Disk
: 2x Seagate 7200.9 (Supplied by
Seagate
)
Graphics Card
: 2x ATI Radeon X1600XT (Supplied by
MSI Australia
)
Operating System
: Microsoft Windows XP SP2
Drivers
: ATI Catalyst 6.3 and DX9c
For this review we have put the ASUS A8R32-MVP up against the Sapphire PURE CrossFire PC-A9RD580 motherboard. We also have done comparisons with the ASUS motherboard set to Dual x16 lanes and also Dual x8 lanes just to see if there is any difference going to Dual 16.
SiSoft SandraVersion and / or Patch Used:
2005 SR3
Developer Homepage:
http://www.sisoftware.co.uk
Product Homepage:
http://sisoftware.jaggedonline.com/index.php?location=home&a=TTA&lang=en
Buy It Here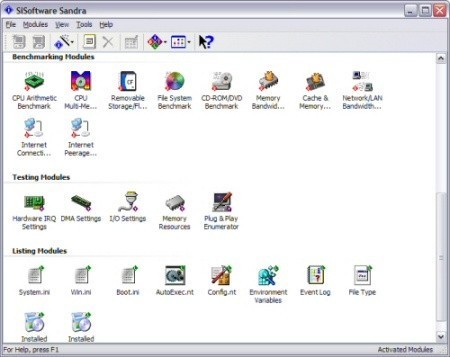 SiSoft Sandra (
S
ystem
AN
alyser,
D
iagnostic and
R
eporting
A
ssistant) is a synthetic Windows benchmark that features different tests used to evaluate different PC subsystems.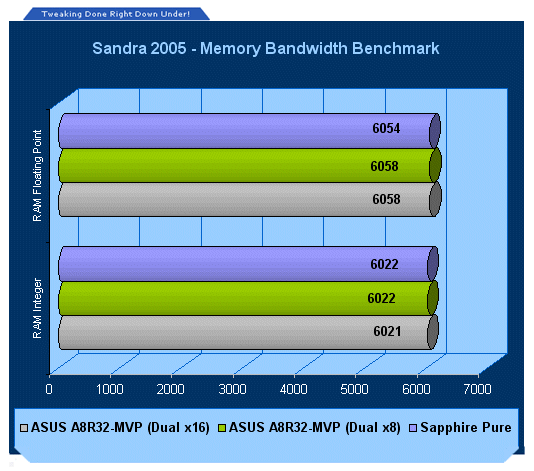 Both the ASUS and Sapphire boards run equally in memory.
Benchmarks - PCMark05
PCMarkVersion and / or Patch Used:
1.1.0
Developer Homepage:
http://www.futuremark.com
Product Homepage:
http://www.futuremark.com/products/pcmark04/
Buy It Here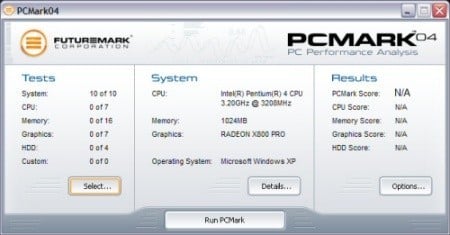 PCMark is a multipurpose benchmark, suited for benchmarking all kinds of PCs, from laptops to workstations, as well as across multiple Windows operating systems. This easy-to-use benchmark makes professional strength benchmarking software available even to novice users. PCMark consists of a series of tests that represent common tasks in home and office programs. PCMark also covers many additional areas outside the scope of other MadOnion.com benchmarks.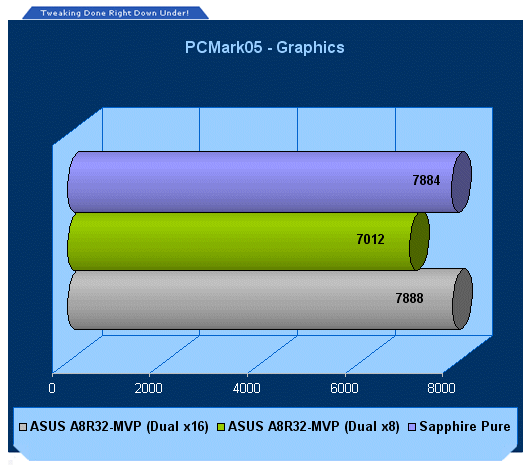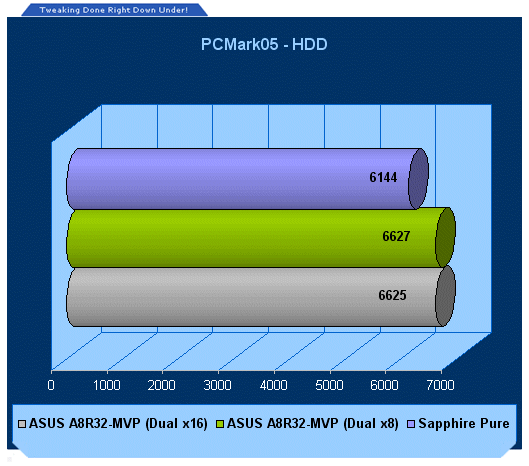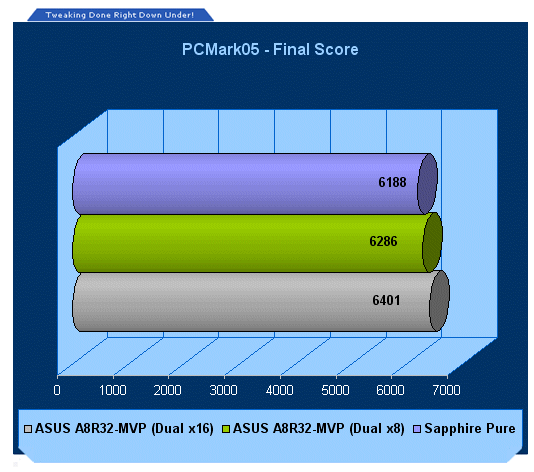 With both boards running dual 16 lanes, we see that ASUS and Sapphire run equally. We can see when the ASUS board is set to dual x8 slots there is a slight drop in graphics performance.
With the HDD score, we can see the ATI Southbridge on the Sapphire motherboard still needs some tweaking compared to the ULI based chipset.
Benchmarks - 3DMark03
3DMark03Version and / or Patch Used:
Build 360
Developer Homepage:
http://www.futuremark.com
Product Homepage:
http://www.futuremark.com/products/3dmark03/
Buy It Here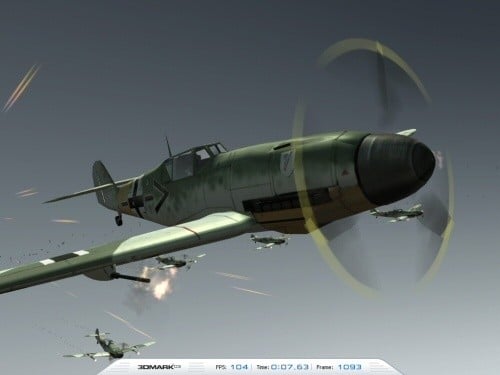 By combining full DX8 and partial DX9 support with completely new tests and graphics over the previous version, 3DMark03 continues the legacy of being the industry standard 3D benchmark.
Please Note: Due to recent events with the 3DMark03 series, we are adding results purely for those who are still in favor of 3DMark03. These results should not be taken too seriously and are only added for interest sakes.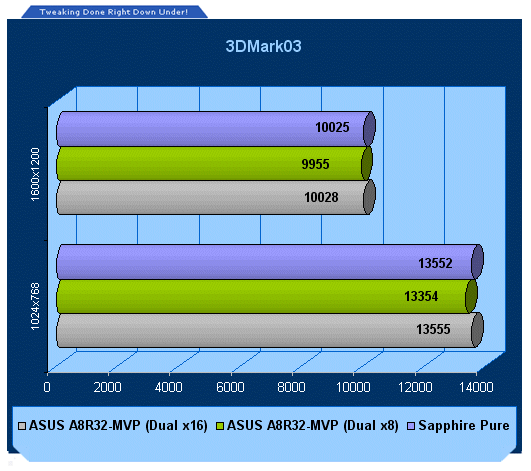 Now this is where we start to see a difference in the x16 ports and the x8 port configuration.
With the extra bandwidth of the dual x16 ports, we see that Crossfire has gained some speed. Compared to the Sapphire board, ASUS equals the results in dual x16 mode.
Benchmarks - 3DMark05
3DMark05Version and / or Patch Used:
Build 120
Developer Homepage:
http://www.futuremark.com
Product Homepage:
http://www.futuremark.com/products/3dmark05/
Buy It Here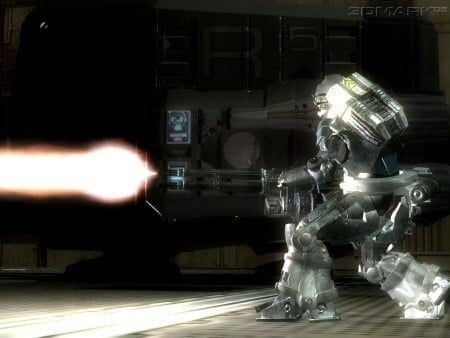 3DMark05 is now the second latest version in the popular 3DMark "Gamers Benchmark" series. It includes a complete set of DX9 benchmarks which tests Shader Model 2.0 and higher.
For more information on the 3DMark05 benchmark, we recommend you read our preview
here
.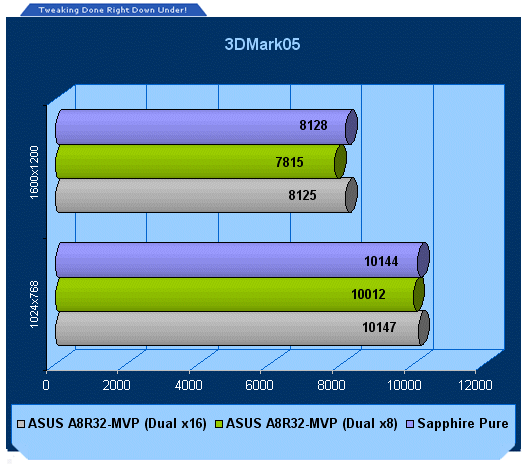 With the more intense 3DMark05 we see that the dual x16 lanes play a pivotal role in keeping the graphics at a respectable level.
Benchmarks - 3DMark06
3DMark06Version and / or Patch Used:
Build 102
Developer Homepage:
http://www.futuremark.com
Product Homepage:
http://www.futuremark.com/products/3dmark06/
Buy It Here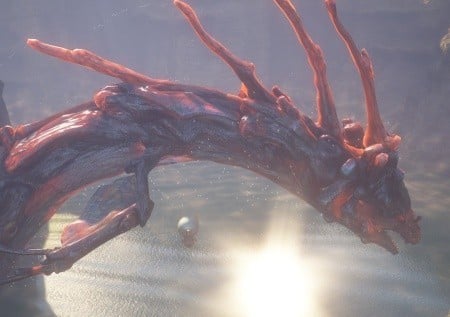 3DMark06 is the very latest version of the "Gamers Benchmark" from FutureMark. The newest version of 3DMark expands on the tests in 3DMark05 by adding graphical effects using Shader Model 3.0 and HDR (High Dynamic Range lighting) which will push even the best DX9 graphics cards to the extremes.
3DMark06 also focuses on not just the GPU but the CPU using the AGEIA PhysX software physics library to effectively test single and Dual Core processors.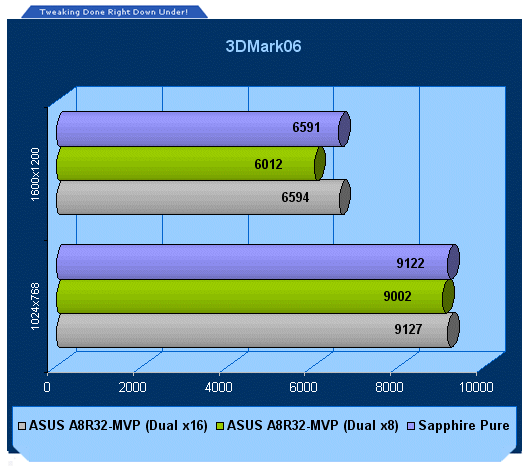 3DMark06 increases the graphics and system stress loads quite a bit over 3DMark05 and we can see that going Dual 16 PCI-E lanes has made quite a difference.
Benchmarks - Doom 3
Doom 3Version and / or Patch Used:
Unpatched
Timedemo or Level Used:
Custom Timedemo
Developer Homepage:
http://www.idsoftware.com
Product Homepage:
http://www.doom3.com
Buy It Here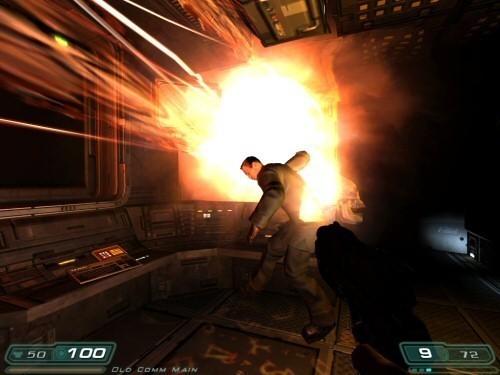 Doom 3 is the latest game to hit our test lab and is one of the most intensive games to dates. With our own custom time demo we are able to give a realistic rating on what kind of FPS you will be achieving.
For more information on benchmarking Doom 3 we recommend you check out our extensive article regarding it
here
.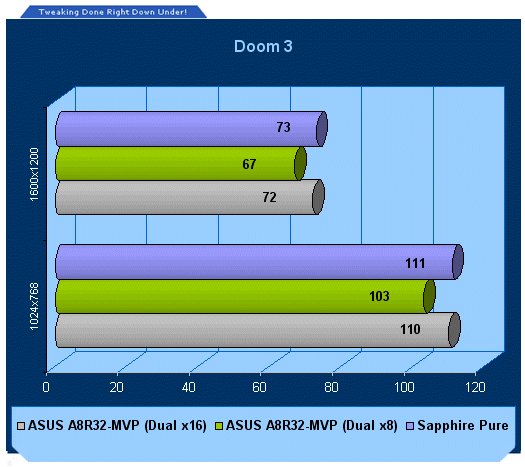 Doom 3 shows little a bit of improvement with dual x16 lanes but not as much as we saw in the synthetic stress tests.
Benchmarks - Quake 4
Quake 4Version and / or Patch Used:
Unpatched
Timedemo or Level Used:
Custom Timedemo
Developer Homepage:
http://www.idsoftware.com
Product Homepage:
http://www.quake4game.com
Buy It Here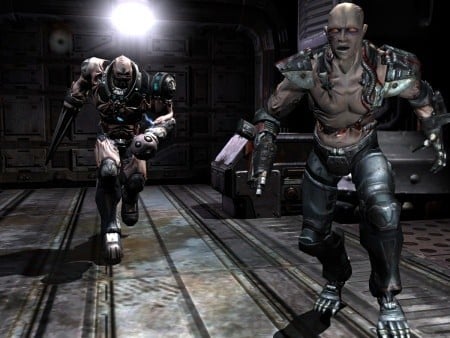 Quake 4 is one of the latest new games to be added to our benchmark suite. It is based off the popular Doom 3 engine and as a result uses many of the features seen in Doom. However, Quake 4 graphics are more intensive than Doom 3 and should put more strain on different parts of the system.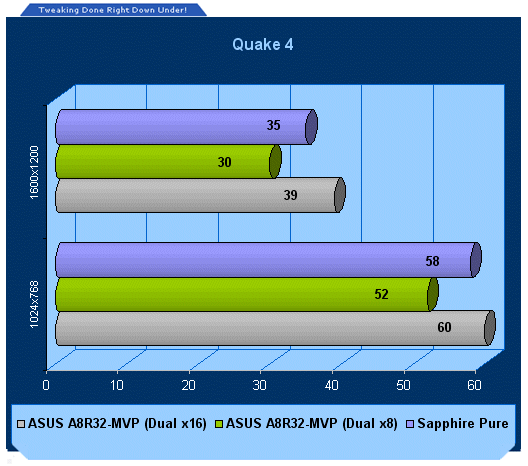 Quake 4 shows quite a bit of improvement as it stresses the graphics system quite a bit.
Benchmarks - F.E.A.R.
F.E.A.R.Version and / or Patch Used:
Unpatched
Timedemo or Level Used:
Custom Timedemo
Developer Homepage:
http://www.vugames.com
Product Homepage:
http://www.whatisfear.com/us/
Buy It Here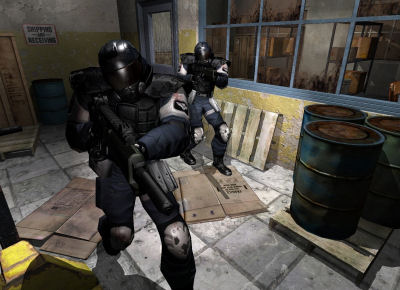 F.E.A.R. (First Encounter Assault Recon) is an intense combat experience with rich atmosphere and a deeply intense paranormal storyline presented entirely in first person. Be the hero in your own spine-tingling epic of action, tension, and terror...and discover the true meaning of F.E.A.R.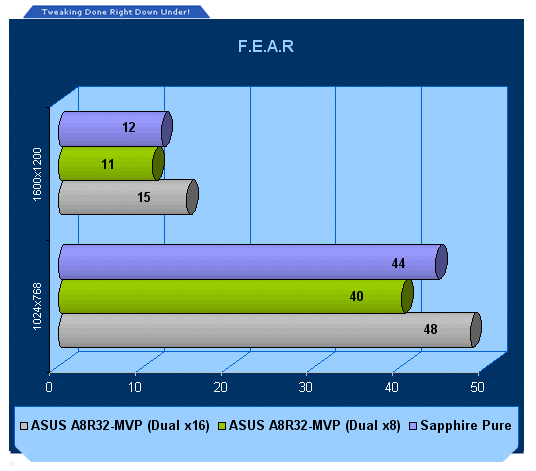 F.E.A.R. is also extremely intense on the system and shows the advantage of the x16 configuration.
Benchmarks - Far Cry
Far CryVersion and / or Patch Used:
1.3
Timedemo or Level Used:
Benchemall Default
Developer Homepage:
http://www.crytek.com
Product Homepage:
http://www.farcrygame.com
Buy It Here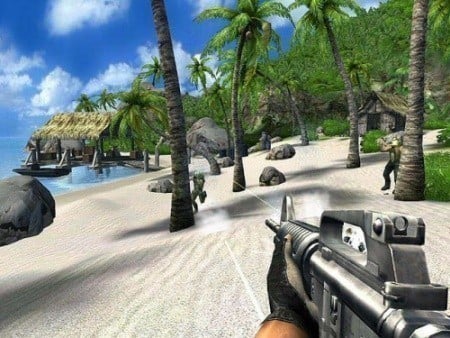 There is no denying that Far Cry is currently one of the most graphic intensive games on the market, utilizing PS2.0 technology (the latest versions support Shader Model 3.0 with DX9c) and offering an exceptional visual experience there is no denying that even some of the faster graphics cards struggle.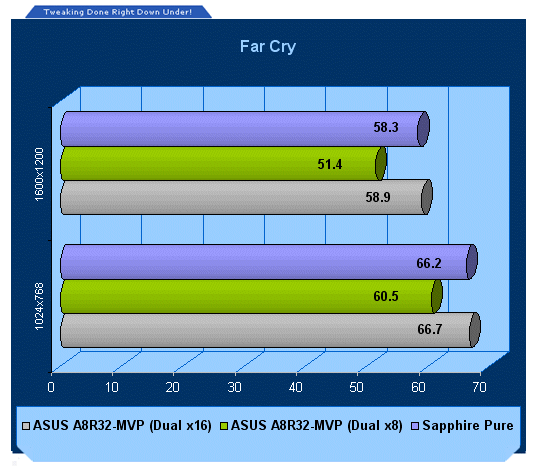 With all the graphics turned up to their highest levels, we see that the x16 configuration wins the last battle.
Final Thoughts
ATI has really pushed the bar up with the Radeon Xpress 3200 chipset and have issued a challenge to nVidia. nVidia hasn't responded just yet, but knowing the 3D giant, it won't be long before something new hits the market from them to boost the speed up another level.
On the ASUS front, the A8R32-MVP is a remarkable motherboard. Its performance, features and overclocking are better than what we were expecting to see from any ATI based solution.
ASUS has put a lot of time into the R&D department, and with a few more tweaks to the BIOS, some more voltage options for the CPU area, this board could be the one to make the magic 400MHz FSB mark. With our results, we see it as a possibility with some extreme cooling for the CPU, as for the ATI chipset, it runs almost cold when at full speed, showing that ATI has put a lot into its latest platform.
- Pros
Very good performance
Good Overclocking
Healthy package bundle
Good layout
Plenty of additional features
Cheap for an ASUS board
- Cons
Needs more CPU voltage options
- Latest Pricing
Rating - 9 out of 10 and TweakTown's "MUST HAVE" Editors Choice Award