Introduction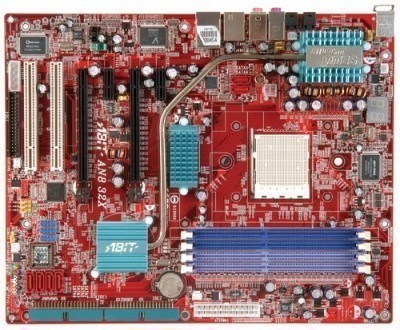 It has been quite some time since ABIT made a big announcement in the IT world apart from its financial troubles in 2005, which made plenty of noise for them but not in the way they wanted. With ABIT now out of the dark place it managed to fall into, they are back to doing what they do best, making quality motherboards for the enthusiast market.
ABIT (or should we say, "Universal ABIT") has been the biggest name in overclocking for some time. In fact, ABIT was the first to revolutionise it - most companies now owe a bit to ABIT, that were the ones who first dared to push the boundaries of what motherboards could do back in the days of the Intel Pentium II and the trusty BX chipset.
It's a whole different game these days, as just about everyone has an overclocking motherboard available. If you really want to make the market stand up and take notice of your product, you need to either break a speed barrier, have the most amounts of features on a single board or both of the two rolled into one.
Today we are taking a look at ABIT's first full attempt at going for the gold on the AMD Athlon 64 Socket 939 platform with the new nVidia nForce 4 SLI x16 chipset but just how well will this motherboard perform?
Let's have a look and compare it to the previous generation SLI motherboard based on the older nVidia nForce 4 SLI chipset.
Specifications
Specifications of the ABIT AN8-32XCPU
Supports AMD Athlon 64 3000+ ~ 4000+ mPGA939
Supports AMD Athlon 64 3800+ ~ 4800+ mPGA939
Supports AMD Athlon 64 FX 53 ~ FX60 mPGA939
Chipset
nVidia nForce 4 SLI x16
nForce 4 SLI x16 Northbridge
nVidia MCP804 Southbridge
Hyper Transport @ 2000Mhz
System Memory
4 DDR SDRAM 186pin DIMM Sockets
Supports DDR-266/333/400/500/533Mhz
64/128Bit Dual Channel
Supports up to 8GB Total Memory (4x 2GB)
Bus Frequency
200 MHz Internal
800/1600/2000MHz External
Hyper Transport Link
Expansion Slots
2 PCI Express x16
2 PCI Express x1
2 PCI
Connectivity
2 Parallel ATA port supporting 4 IDE Drives
6 Serial ATA ports
1 Gigabit Ethernet Port
Expansion Ports
1 PS2 Keyboard Port
1 PS2 Mouse Port
10 USB 2.0 Ports (4 rear accessible, 6 via expansion brackets)
5 Stereo Audio Ports
2 Firewire ports (1 rear accessible, 1 via expansion bracket)
Package and Contents
Inside the Box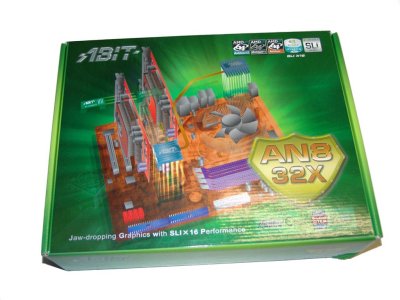 Previous ABIT product boxes have been little more than a case to hold their goods with little info about the product or any pictures. Unless you have had a look at their stuff on the web or have an understanding computer store that will let you view it before you decide on it, you were going to have a hard time with guessing what you are getting.
ABIT's AN8-32X is packed in a green box with a colourful drawing on the front of the board setup in a SLI configuration.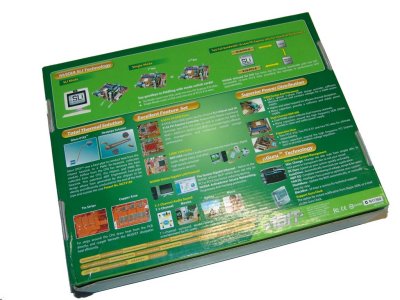 The back is a different story. ABIT has put a bit more into its marketing and design of the box for the latest series of boards to come from their factories. On the back you get a look at the board as well as some technical specs of the features as well as what the board is able to achieve for SLI configurations - a far better way in the information age.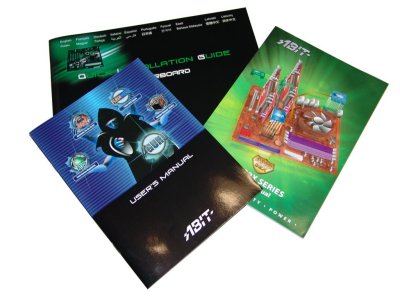 ABIT doesn't stop there; inside the box you get a rather broad range of accessories and documentation. ABIT provides three separate manuals. The most important is the instruction booklet on the board for setup, location of components and all the goodies that the ABIT board provides. The second manual is for the uGURU feature set under BIOS and Windows, explaining what these little extras give you. The final manual is a quick installation guide, if you don't want to wade thought the book to know all the ins and outs, this will get the more technical-minded up and going in minutes.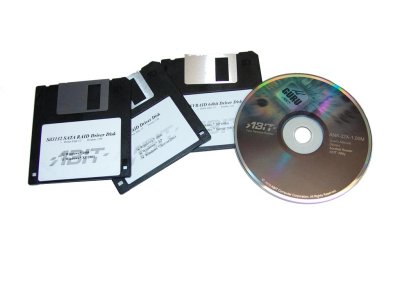 Next on the hit list is the software bundle. ABIT provides one CD and three floppy disks. The CD contains the Windows drivers as well as the uGURU software as well as the bundled Norton Antivirus software and other various goodies you may like to install. The first of the floppies contains the Windows 2000, XP and XP64 drivers for the Silicon Image 3132 controller chip as if you have your boot drive on this controller, you will need these drivers to make Windows detect it when installing. The second floppy comes with Windows XP and 2000 nVidia RAID drivers. The final disk comes with XP64 nVidia RAID drivers.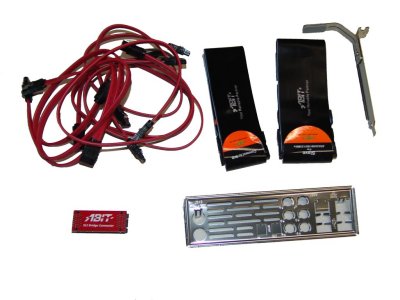 Lastly we come to the cable set. ABIT provides a healthy set with two IDE, one FDD and six SATA data cables. Included also is a SLI bridge connector, a PCI cover slot to hold the bridge in place if you transport your PC around, this will help prevent the bridge chip falling off. Lastly is the I/O shield plate, as ABIT uses a non-standard port layout to the ATX specifications.
The Motherboard
Up close with the board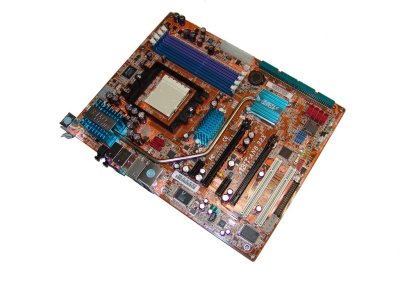 Now we start to take a look at the board itself. ABIT has gone with a light brown PCB measuring 30x30cm, which is standard ATX sizing. One thing even in the past with ABIT, placement of connectors was always good to excellent, and this is no exception. The 24-pin ATX power connector sits behind the four DIMM sockets. The two IDE are on the right hand edge of the board rotated 90 degrees as to keep the cables flat on the bottom of the case to increase air flow in tight cases.
The 4-pin power connector is located between the heatsink mount on the board and the I/O ports, traditionally not the best place for it. The floppy disk port is also located in a rather poor spot at the bottom of the PCI slots.
The power regulation system that ABIT implied is a 3 phase regulations system. Since AMD do not draw as much as the Intel counterparts, 3 phase is plenty, however, 4 would be better for a more stable voltage when overclocking the CPU to extremes.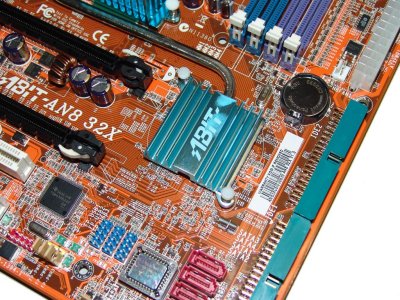 ASUS may have started the trend of totally removing fans from the motherboard to keep the system as quiet as possible, but ABIT has moved to the next level. Atop of the Mosfets that control the voltage is a heatpipe assembly. This assembly also cools the heatsink on top of the Southbridge. The Northbridge just uses a small heatsink that is independent of the heat pipe, which we would prefer to see it connected to allow the heat from the Northbridge to be removed by the pipe. This heat is then transmitted outside the case with a small vent in the I/O shield using convection method.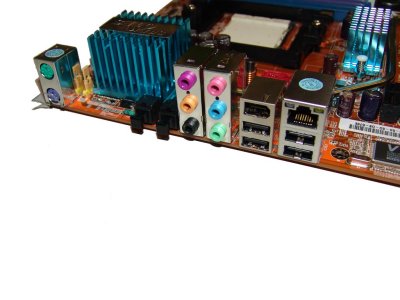 ABIT in the past has revolutionised the rear I/O, it was ABIT who first removed the legacy ports, while not as successful back then when legacy was still being used. ABIT once again uses its own unique setup. Between the PS/2 ports and the SPDIF ports is a small hole that allows air from outside the case to enter through a vent in the I/O shield to keep the heat pipe assembly cool. The rest is pretty self explanatory.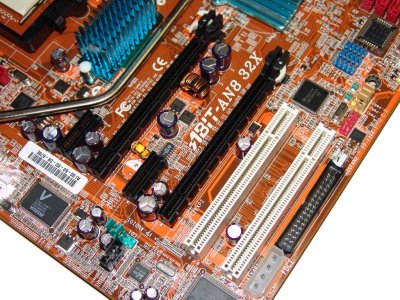 Now we come to the layout of the expansion slots as well as the additional features the board supports thanks to the engineers at ABIT.
For the expansion slots, ABIT follows the nVidia reference layout. There are two full speed PCI Express x16 slots for SLI. The top x16 slot is routed to the Northbridge, the second is routed to the Southbridge and uses the Hyper Transport to link the two at 2000MHz which is the same speed that links the CPU to the nForce4 Northbridge.
There are two PCI Express x1 slots, one above and one below the top most PCI Express x16 slot. Lastly there are two PCI slots for adding in sound cards or other PCI devices like TV tuners.
The board uses a twin nForce4 chipset that supports 32 PCI Express lanes for graphics; these are split equally to two PCI Express x16 slots. There are also six additional PCI Express lanes, two are routed to the PCI Express x1 slots and the rest are used for onboard devices. Using the Hyper Transport link at 2000MHz allows nVidia to place one of the PCI Express x16 slots on the Southbridge.
ABIT also provides a Texas Instruments single chip IEEE-1394a PCI controller chip. Firewire is now being used more and more, and it's a damn good thing to see ABIT put all the bells and whistles on this board. In terms of LAN connectivity, a single Gigabit LAN port is provided using the nVidia onboard Gigabit MAC.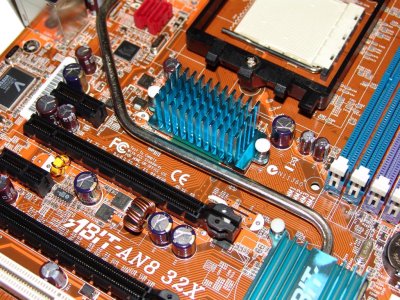 Lastly on the list of additional features is the Silicon Image 3132 PCI Express based two port SATA RAID controller chip. This chip has been popping up on quite a few boards with its native PCI Express interface as well as SATA-II specs. The only problem is it's limited to two SATA ports. We would like to see a PCI Express version of the 3114 with four SATA ports - that would make this the ultimate board, though this isn't ABIT's fault, as there is no four port PCI Express SATA controller available yet.
Overclocking
ABIT continues to impress with overclocking features as well as its unique layout of their BIOS. An Award 6 BIOS is used, as ABIT has been a fan of this BIOS for some time due to its tweak-ability, There are two major menu's you will want to visit, first is the uGURU menu where your major overclocking is done. The second is the Advanced Chipset Features menu where DRAM timings as well as the Hyper Transport link speeds can be adjusted.
First on our list is the uGURU menu. When you open this baby up, you are confronted with the first option of CPU Operating Speed. This is determined by what CPU you install, for us it was an AMD Athlon 64 X2 4200+. So our options here were Athlon 64 4200 or User Defined. Setting User Defined allows you to manually set your bus speeds and voltages.
Next is the CPU Multiplier Factor. All AMD Athlon 64 CPU's allow you to adjust the frequency multiplier from its default (depending on what CPU you have) down in 1x steps to a 4x multiplier. Only Athlon 64 FX CPU's allow you to go up from the default CPU multiplier.
Next come External Clock. This is the bus speed that the CPU multiplier refers to in order to get its final speed. All Athlon 64 CPU's use a default of 200MHz. ABIT has set the range from 200MHz up to 400MHz in 1MHz increments. This is more than enough, as 400MHz is still not reachable even with LN2 cooling.
The last of the options for Frequencies in the uGURU menu is the PCIE Clock. PCI Express at default runs at 100MHz and should be kept there for maximum stability, as PCI Express does not respond well to high frequencies. While you are given a range from 100MHz to 145MHz, leave this at 100 for stable overclocks.
Now we come to voltages. There aren't as many voltages to adjust as you see in ASUS boards, but there should be enough to keep your board stable. First is the CPU voltage. ABIT provides from 1.5v up to 1.9v in 0.025v increments
DDR voltage is next on the list and is in fact the last also. The range for the DDR is 2.5v to 3.2v in 0.1v increments.
Now we take a look at the Advanced Chipset features. When you enter this menu you are confronted with seven options overall, only the first three really make any difference to the Overclocking, apart from the DRAM timings, which you can adjust according to your RAM specs.
First is the CPU to Northbridge Up/Downlink multiplier. You can adjust this from 3x up to 5x in 0.5x increments. Next is the Northbridge to Southbridge Uplink speed, this can be changed from 2x up to 4x in 0.5x increments. Lastly is the Northbridge to Southbridge Downlink speed which has the same options as the uplink speed.
With all these settings, we managed to get an FSB of 375MHz with our CPU running a 4x multiplier, DRAM at 2.9v, CPU at 1.65v and the HT links all running 3x to keep the Hyper Transport speeds happy - in all, this is a very impressive overclocking result from the folks at ABIT.
Benchmarks - Test System Setup and Sandra
Test System SystemProcessor
: AMD Athlon 64 x2 4200+
Memory
: 2x 512MB Corsair DDR-533
Hard Disk
: 2x Seagate 7200.9 in RAID 0 (Supplied by
Seagate
)
Graphics Card
: 2x nVidia GeForce 7800GT (Supplied by
ASUS
)
Operating System
: Microsoft Windows XP SP2
Drivers
: nVidia ForceWare 84.21 and nForce4 AMD/Intel X16 6.85
As we mentioned in the introduction, we are comparing the ABIT AN8 32x against the Albatron K8SLI, which is based on the older nVidia nForce 4 SLI chipset that uses two slower 8x PCI Express ports for SLI graphics.
We're expecting to see the ABIT AN8 32x come out in front since it uses two 16x full speed PCI Express ports for SLI.
Let's continue on and see how the ABIT motherboard performs against the Albatron solution.
SiSoft SandraVersion and / or Patch Used:
2005 SR3
Developer Homepage:
http://www.sisoftware.co.uk
Product Homepage:
http://sisoftware.jaggedonline.com/index.php?location=home&a=TTA&lang=en
Buy It Here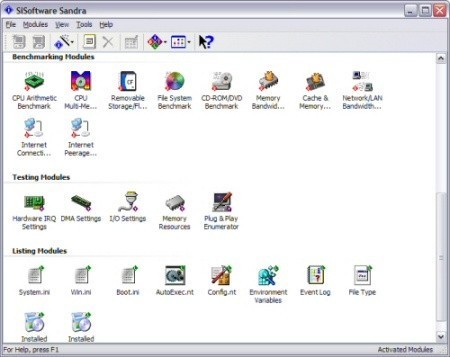 SiSoft Sandra (
S
ystem
AN
alyser,
D
iagnostic and
R
eporting
A
ssistant) is a synthetic Windows benchmark that features different tests used to evaluate different PC subsystems.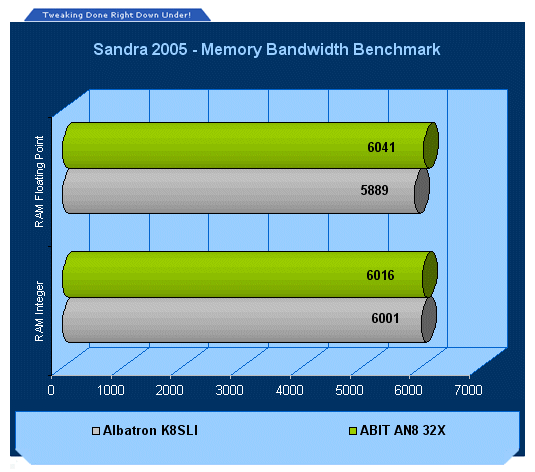 ABIT gets a slight lead in memory performance. We checked this because of the memory controller being located on the CPU and performance should almost be exactly the same.
The reason is that ABIT's clock gen runs the CPU slightly above 200MHz when at CPU default speeds.
Benchmarks - PCMark05
PCMarkVersion and / or Patch Used:
1.1.0
Developer Homepage:
http://www.futuremark.com
Product Homepage:
http://www.futuremark.com/products/pcmark04/
Buy It Here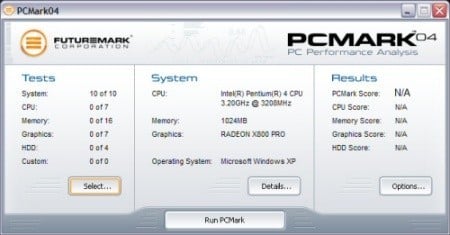 PCMark is a multipurpose benchmark, suited for benchmarking all kinds of PCs, from laptops to workstations, as well as across multiple Windows operating systems. This easy-to-use benchmark makes professional strength benchmarking software available even to novice users. PCMark consists of a series of tests that represent common tasks in home and office programs. PCMark also covers many additional areas outside the scope of other MadOnion.com benchmarks.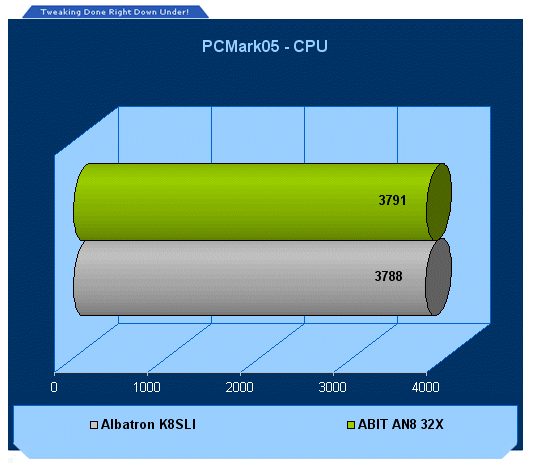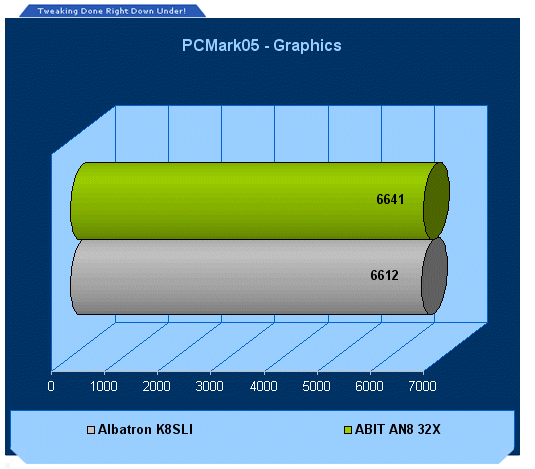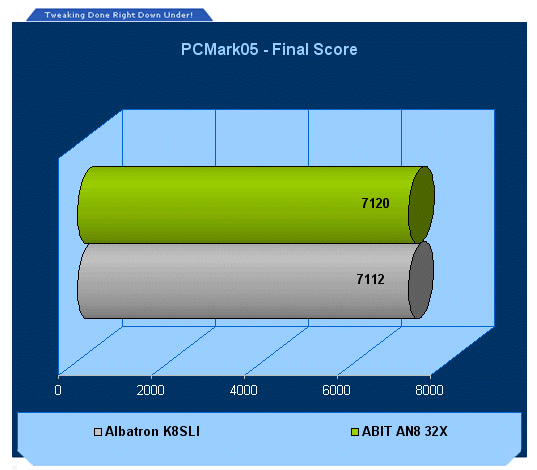 Here ABIT maintains a very slight lead over the Albatron K8SLI, though it's not what we would call an ultimate win.
Benchmarks - 3DMark03
3DMark03Version and / or Patch Used:
Build 360
Developer Homepage:
http://www.futuremark.com
Product Homepage:
http://www.futuremark.com/products/3dmark03/
Buy It Here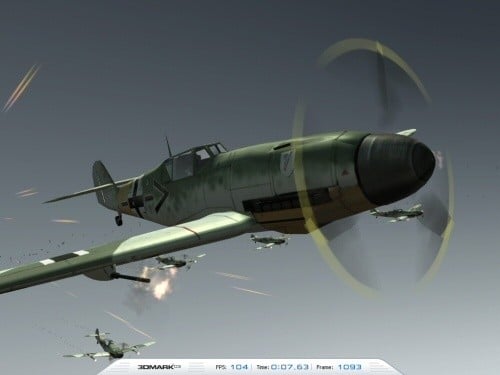 By combining full DX8 and partial DX9 support with completely new tests and graphics over the previous version, 3DMark03 continues the legacy of being the industry standard 3D benchmark.
Please Note: Due to recent events with the 3DMark03 series, we are adding results purely for those who are still in favour of 3DMark03. These results should not be taken too seriously and are only added for interest sakes.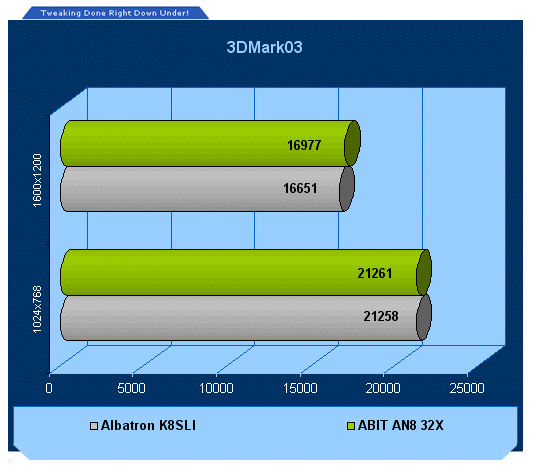 This is where we start to see the difference between two PCI Express x8 lanes and 2 PCI Express x16 lanes. When the resolution is pushed up to 1600x1200, the higher bandwidth of the ABIT AN8 32X allows the board to pull ahead in the results.
Benchmarks - 3DMark05
3DMark05Version and / or Patch Used:
Build 120
Developer Homepage:
http://www.futuremark.com
Product Homepage:
http://www.futuremark.com/products/3dmark05/
Buy It Here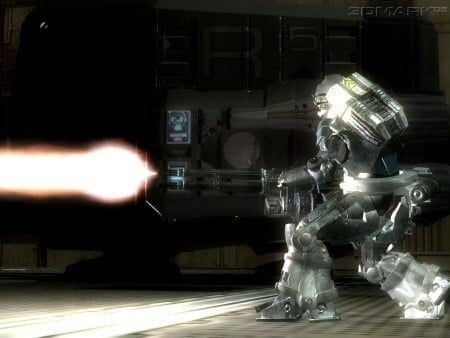 3DMark05 is now the second latest version in the popular 3DMark "Gamers Benchmark" series. It includes a complete set of DX9 benchmarks which tests Shader Model 2.0 and higher.
For more information on the 3DMark05 benchmark, we recommend you read our preview
here
.
As the graphics system is more taxed on 3DMark06, we see the gap increase between the ABIT AN8 32X and the Albatron K8SLI.
Benchmarks - 3DMark06
3DMark06Version and / or Patch Used:
Build 102
Developer Homepage:
http://www.futuremark.com
Product Homepage:
http://www.futuremark.com/products/3dmark06/
Buy It Here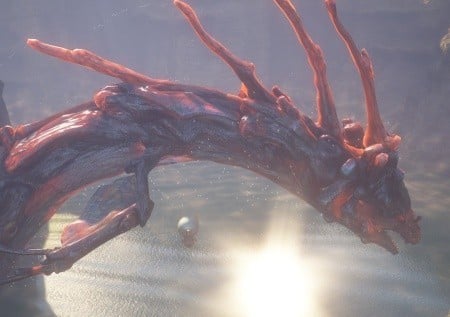 3DMark06 is the very latest version of the "Gamers Benchmark" from FutureMark. The newest version of 3DMark expands on the tests in 3DMark05 by adding graphical effects using Shader Model 3.0 and HDR (High Dynamic Range lighting) which will push even the best DX9 graphics cards to the extremes.
3DMark06 also focuses on not just the GPU but the CPU using the AGEIA PhysX software physics library to effectively test single and Dual Core processors.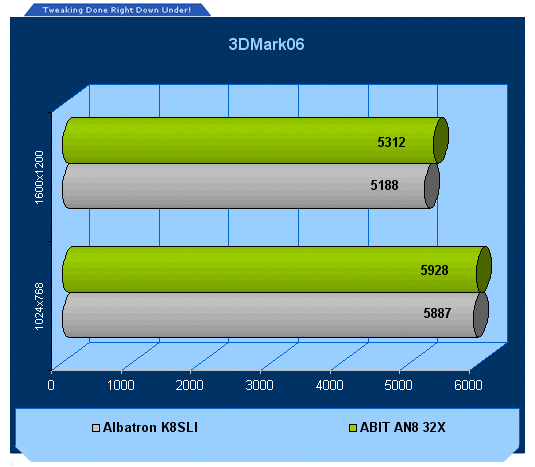 3DMark06 is the most intense of the synthetic benchmarks we have and here we can see that the AN8 32X manages a good win even at the lower 1024x768 resolution.
Benchmarks - Doom 3
Doom 3Version and / or Patch Used:
Unpatched
Timedemo or Level Used:
Custom Timedemo
Developer Homepage:
http://www.idsoftware.com
Product Homepage:
http://www.doom3.com
Buy It Here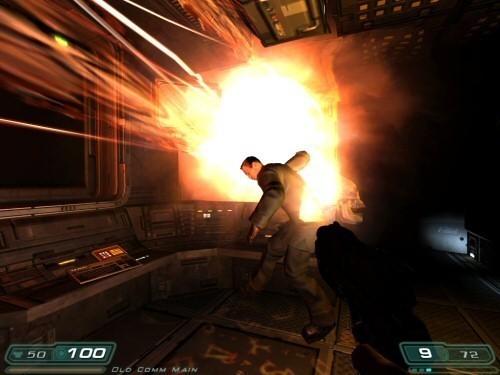 Doom 3 is the latest game to hit our test lab and is one of the most intensive games to dates. With our own custom time demo we are able to give a realistic rating on what kind of FPS you will be achieving.
For more information on benchmarking Doom 3 we recommend you check out our extensive article regarding it
here
.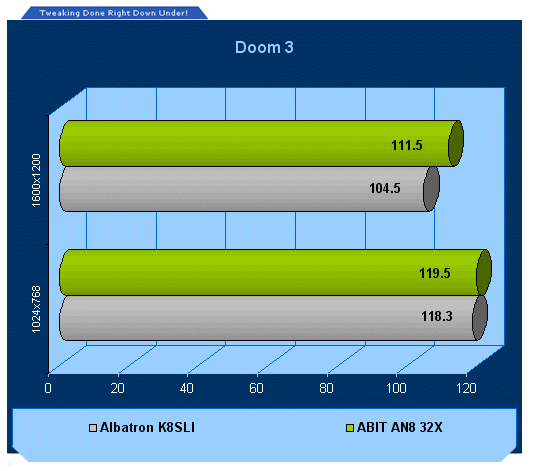 Doom 3 shows the advantage of the dual x16 PCI Express setup at higher resolutions.
Benchmarks - Quake 4
Quake 4Version and / or Patch Used:
Unpatched
Timedemo or Level Used:
Custom Timedemo
Developer Homepage:
http://www.idsoftware.com
Product Homepage:
http://www.quake4game.com
Buy It Here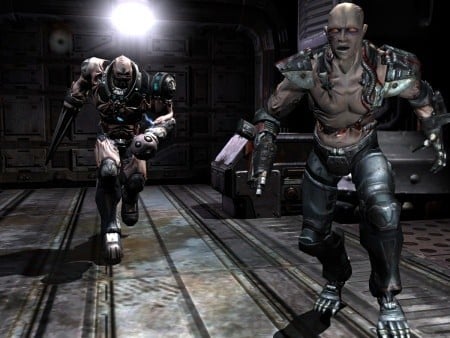 Quake 4 is one of the latest new games to be added to our benchmark suite. It is based off the popular Doom 3 engine and as a result uses many of the features seen in Doom. However, Quake 4 graphics are more intensive than Doom 3 and should put more strain on different parts of the system.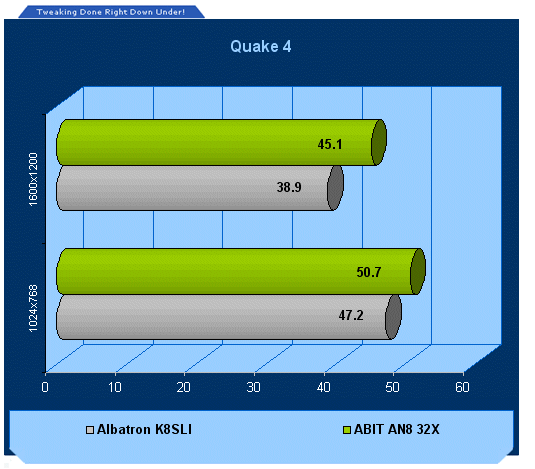 Quake 4 is even more intense then Doom 3 (though they are both based on the same engine) so we see ABIT pull away again.
Benchmarks - F.E.A.R.
F.E.A.R.Version and / or Patch Used:
Unpatched
Timedemo or Level Used:
Custom Timedemo
Developer Homepage:
http://www.vugames.com
Product Homepage:
http://www.whatisfear.com/us/
Buy It Here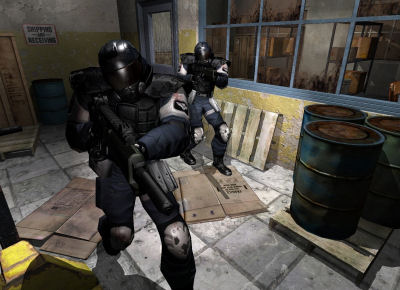 F.E.A.R. (First Encounter Assault Recon) is an intense combat experience with rich atmosphere and a deeply intense paranormal storyline presented entirely in first person. Be the hero in your own spine-tingling epic of action, tension, and terror...and discover the true meaning of F.E.A.R.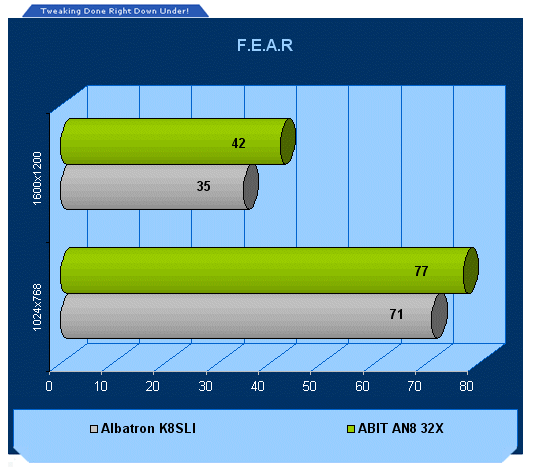 F.E.A.R. puts the fear into the K8SLI when it comes to the overall scores.
Benchmarks - Far Cry
Far CryVersion and / or Patch Used:
1.3
Timedemo or Level Used:
Benchemall Default
Developer Homepage:
http://www.crytek.com
Product Homepage:
http://www.farcrygame.com
Buy It Here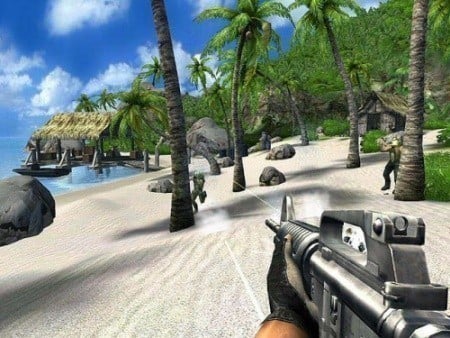 There is no denying that Far Cry is currently one of the most graphic intensive games on the market, utilizing PS2.0 technology (the latest versions support Shader Model 3.0 with DX9c) and offering an exceptional visual experience there is no denying that even some of the faster graphics cards struggle.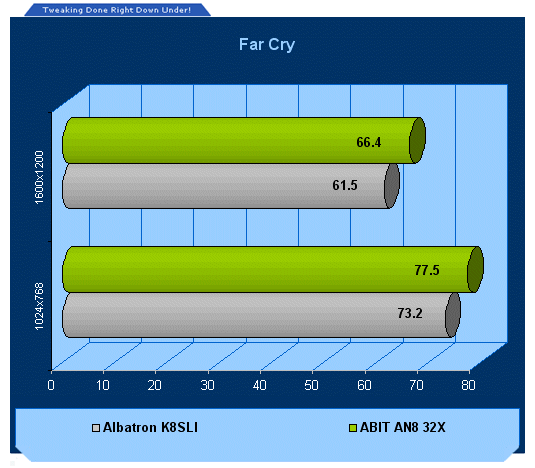 Far Cry still puts some strain on the graphics; especially with everything turned up we see that the AN8 32X is able to snatch one last victory.
Final Thoughts
nVidia first said that twin PCI Express x8 slots would be enough to keep the SLI dual graphics masses happy but how wrong they were. Users are starting to use higher levels of AA and AF settings and resolutions keep getting higher (even hitting the 2046 x mark now) and to keep that type of resolution and graphics quality level happy, you need some monster hardware and a powerful interface for them to communicate across - and dual PCI Express x16 is the only way it can be done if you are really serious about your gaming.
ABIT, now out of the ashes, have put together a fantastic motherboard for the first one we have seen in our labs for a long time and we have no hesitations of recommending it for those looking for something to overclock as well as a feature-rich motherboard without breaking the bank.
Overclocking features on the motherboard could be a bit more robust. We would have liked to see voltage options for the HT links as well as voltages for the North and Southbridges, which could help get a few more MHz out of a system but nevertheless, the FSB overclocking result we obtained was very impressive and represents the usual ABIT style we have been use to over the previous many years.
Overall we like the layout, performance and features of the ABIT AN8 32X and it's great to see they have managed to pull themselves out of the dark and into the overclocking light once again with a motherboard which deserves some serious consideration. Look out; ABIT is back in the game!
- Pros
Fast
Above 350MHz FSB overclocking!
Firewire as standard
Additional SATA controller
Not as expensive as ASUS A8N32-SLI
- Cons
Placement of the 4-pin power connector and FDD needs some work
No voltage options for HT link or North and Southbridge's
- Latest Pricing
Rating - 8.5 out of 10 and TweakTown's "MUST HAVE" Best Performance Award