GIGABYTE H370 AORUS GAMING 3 WIFI (Intel H370) Review
If you want a solid performing H370 motherboard, give the GIGABYTE H370 AORUS Gaming 3 a look.
Published Apr 3, 2018 10:00 AM CDT
|
Updated Tue, Nov 3 2020 6:57 PM CST
Introduction, Specifications, and Pricing
Today we look at our first H370 motherboard, and the new H and B 300-series chipsets from Intel are a bit different than their Z370 counterparts. For starters they are Cannon Lake chipsets, so they are of a new design rather than based on an older one. They offer integrated USB 3.1, four on H370 boards and four on B360 motherboards.
They also offer built-in support for Intel's integrated Wi-Fi, which offers up to 1734Mbps on wireless-AC 2x2 on the 160MHz band. While routers with the band enabled aren't common right now, they will be in the future. The next thing these chipsets have are improved audio DSP, and we are seeing some vendors market improvements over the typical ALC1220, and we assume some of that is due to the DSP in the PCH getting an upgrade.
The B and H series boards also have less IO than their Z counterparts, but they should be considerably less expensive. The big kicker here is that H and B series motherboards cannot overclock K-SKU CPUs, but that's what makes them a fine option for non-K CPUs such as the i5-8400. Let's take a look at the new H370 Aorus Gaming 3 WIFI.
Specifications
The H370 AORUS GAMING 3 WIFI features two M.2 slots, USB 3.0, SATA6Gb/s, and RGB LED support.
Pricing
We do not currently know the list price of the motherboard.
Packaging and H370 AORUS GAMING 3 WIFI Overview
Packaging and Overview
The motherboard features the same Aorus box art we have seen from Z370 Aorus branded boards. The packaging is decent, low cost but effective.
The accessory package includes IO shield, manual, driver DVD (not pictured), WIFI card, WIFI antenna, G-Connector, two SATA6Gb/s cables, M.2 screw, and case badge.
We find five fan headers, all of the headers are capable of both DC and PWM modes of operation. However, there is one header circled in red that is a pump header and should run full speed at default. The four circled in blue and the one in red should provide up to 1A of output. The motherboard uses a slightly revised black/silver metal design, and a new M.2 heat sink design is used. The back of the motherboard is quite bare, which is a good thing.
The rear IO panel features four USB 2.0 ports, two USB 3.0 ports, USB 3.1 type-A, USB 3.1 type-C, PS/2 keyboard/mouse, DVI, HDMI, Gbit LAN, and 7.1 audio outputs.
One of the limitations of the H and B series chipsets is lack of multiple GPU support for detain devices. You can only run CrossFireX on this motherboard. The top PCI-E x16 slot is wired x16 to the CPU, the second x16 slot is electrically wired x4 to the PCH. All PCI-E slots are PCI-E 3.0 slots. The motherboard features six SATA6Gb/s ports.
The top M.2 slot supports PCI-E x4 M.2 drives and offers a heat sink. The middle M.2 slot offers x2 PCi-E 3.0 as well as SATA6Gb/s support for M.2 drives, if you have a SATA based M.2 drive installed SATA6_1 will be disabled.
A WIFI card slot, labeled CNVI is where you install the WIFI card that is included. Now, this isn't your typical card, it's not a full standalone NIC, it's more of a wireless PHY, as much of the WIFI is integrated into the PCH, so we aren't sure if other WIFI M.2 cards will work in this slot. The motherboard offers two USB 3.0 internal headers, one is the older style internal header and one is in the form of the type-C header.
The motherboard offers many RGB LED headers, an RGBW header can be found at the top right corner of the motherboard as well as at the bottom left. A digital RGB LED header is located in the top right and lower left of the motherboard as well, and each has a jumper allowing you to boost voltage from 5v to 12v if your strip supports it.
Boot LEDs can be used to see what component isn't working. A COM header and USB 2.0 internal header can be found to the left of the ThunderBolt GPIO header.
A large accent strip is attached to the motherboard and can be changed out for a custom one. Installing the WIFI card is straightforward.
The VRMs and PCH all have heat sinks, the VRM heat sinks use pushpins.
GIGABYTE H370 AORUS GAMING 3 WIFI Circuit Analysis
H370 AORUS GAMING 3 WIFI Circuit Analysis
The H370 AORUS GAMING 3 WIFI looks good in the nude.
The VRM is in a 8+2 phase configuration, from the Intersil PWM you get 4+2 phases and that's doubled to 8+2 through doubling of components on each driver output. The Intersil ISL95866 is the PWM controller used, it offers one integrated driver for the iGPU rail and two on the CPU rail, so GIGABYTE added three (one for iGPU two for CPU) ISL6625A drivers to increase driver count.
Each power stages uses one On Semiconductor 4C06N and one 4C10N MOSFET per phase. The VRM here isn't the most important thing for performance, as the CPUs on this platform cannot overclock, but for longevity, it could make a difference.
The memory VRM uses a single phase with a Richtek RT8120D PWM controller with integrated driver and three 4C05N MOSFETs (two low one high configuration). Minor VRMs for VCCSA and VCCIO are provided by tiny 4C06N MOSFETs and Richtek RT8120 controllers.
GIGABYTE H370 AORUS GAMING 3 WIFI Circuit Analysis Continued
H370 AORUS GAMING 3 WIFI Circuit Analysis Continued
The Realtek ALC1220-VB (not sure if that's the actual marking) is used here on this motherboard, it's supposed to be slightly better than the ALC1220 and offer better microphone SNR. We get Nichicon audio capacitors and WIMA film capacitors and a physical PCB divide.
Intel's i219 PHY is used for the Gbit LAN port. An Intel 9560NGW CNVI module is used on this motherboard as a type of PHY for the WIFI system.
The new PCH is totally different than the previous one, it's a different size as well. The integrated USB 3.1 signals need to be re-driven closer to the ports, so two Pericom PI3EQX are used to re-drive the signal, one of them re-drives to a type-C switch.
GIGABYTE included dual BIOS on this motherboard, so you get two 128Mbit BIOS ROMs. The IT8686 is used as the SuperIO controller on the motherboard, and it provides monitoring, fan control, and PS/2 on the rear. We believe there is a microcontroller under the battery holder that facilitates RGB LED functionality, otherwise, it's from the SuperIO.
An ASMedia ASm1442K level shifter is used to provide DVI/HDMI on the rear IO. A Texas Instruments GD75232 driver and receiver chip provides COM port functionality.
BIOS and Software
BIOS
The UEFI on this GIGABYTE motherboard is pretty much identical to GIGABYTE's other motherboards. The good news is that we were on a beta F4 BIOS, which basically means that this motherboard has been tuned for a while internally. It did not feel buggy or have any issues we could discern. You get fan control, two operation modes, and even RGB LED tuning right in the UEFI.
Software
Software includes App Center, 3D BIOS, @BIOS, AutoGreen, Cloud Station, EasyTune, Easy RAID, Fast Boot, Game Boost, ON/OFF Charge, Platform Power Management, RGB Fusion, Smart Backup, Smart Keyboard, Smart TimeLock, Smart HUD, System Information Viewer, USB Blocker, and V-Tuner.
Test System Setup
Steven's Motherboard Test System Specifications
The motherboard has a bunch of RGB LEDs integrated into it, and its default color is orange rather than red. If you like lights, you will like this motherboard.
CPU, Memory, and System Benchmarks
CINEBENCH R15
wPrime
AIDA64 FPU
AIDA64 Memory
ScienceMark
HandBrake
3DMark: Fire Strike
3DMark: Cloud Gate
ResidentEvil 6
Overall performance is decent, but if you are wondering why the performance of the first two motherboard we tested are a bit behind those of the latter two, you should also look towards power consumption. It's possible that all cores could be that the Turbo profiles are being increased on other vendors above Intel specifications or that the microcode in the BIOS we got is a bit out of date. Either way we expect these numbers to become more uniform in the near future.
System IO Benchmarks
CrystalDiskMark SATA6G:
CrystalDiskMark M.2:
ixChariot Network Throughput:
Network Performance is quite good and we found that storage performance was also quite good.
Audio RMAA 5.5:
I disable all audio features, set the correct bitrates, and then test the audio with a loopback test.
Sound Judgment by Ear: Audio performance was good, overall it was decent for the controller used. There are five ratings for audio: 1. Problems, 2. Okay, 3. Acceptable, 4. Very good, 5. Excellent
Thermal Imaging and Power Consumption
System power is measured at the wall with an AC power meter.
Note on Thermal Images: In the temperature section, we use our Seek thermal imaging camera to capture the surface temperatures of major components on the board. I look at the VRM and then all other things that light up the screen.
If there is something to worry about, then I will state it. Otherwise, I will just show the hotter running parts of the board for fun. Unless some component is over 80-90C, then there isn't anything to worry about.
All systems will act differently, so I will look for commonalities, such as how far from the VRM the heat spreads through the PCB and the difference in temperature between the front side and backside of the PCB. Keep in mind, the majority of the heat from the VRM goes into the PCB as it is a giant soldered on copper heat sink. A lower temperature on the front of the PCB points towards a more effective heat sink.
Thermal Testing at Stock Speeds:
The image on the left is always at idle, and the image on the right is at load. During ALL TESTS, fans above the VRM that cool the CPU cooler's (Corsair H110i) radiator are turned on to high (12v).
Full frontal.
Up-close of the front of the VRM.
Up-close of the back of the VRM.
The VRM on this motherboard is excellent, and it's overkill for this motherboard which should help with longevity. Anything under 60C is great, 60-80C is acceptable, and anything above 80C is a bit worrisome (if at stock).
What's Hot, What's Not & Final Thoughts
Here are key points about the GIGABYTE H370 AORUS GAMING 3 WIFI.
What's Hot
Looks and feels High-end: The H370 Aorus Gaming 3 WIFI is has an H-series chipset and is a gaming 3, but it oddly looks much more like a gaming 7 and offers many features we would expect from a premium motherboard. It has tons of LEDs and LED features, dual M.2 slots, shields, and heat sinks over everything. If you are an enthusiast with a non-K 8th Gen CPU, then you could go with this and just tell people it's a Gaming 7.
Intel's new WIFI: Intel's new Wireless-AC solution integrated into the chipset offers very good performance in theory. While we don't have the hardware to test it over standard 5GHz 2x2, we are told by a 3rd party that they are seeing close to 1Gbit speeds in real testing, so it's should be able to offer as much throughput as a Gbit NIC when we get routers capable of handling the 160MHz band.
Dual BIOS: Dual BIOS is a feature GIGABYTE had on every motherboard at one time, but ROM costs forced them to only provide it on high-end motherboards. The good news here is that the Gaming 3 has it!
What's Not
A bit low on USB 3.0: The rear IO panel only has two USB 3.0 ports (although it does have two USB 3.1 ports, one being type-C) and internally you get one USB 3.0 header. Instead you get four USB 2.0 ports. As things go we can't expect as much from H370 as we do from Z370, I would have liked to see some of that USB 2.0 turned into USB 3.0.
Final Thoughts
If it looks like a high-end motherboard and offers premium features like a high-end motherboard, then it most likely is a high-end motherboard. The GIGABYTE H370 Aorus Gaming 3 WIFI is what I would consider a pretty high-end H370 motherboard. It offers Intel's premium WIFI controller technology, USB 3.1, dual M.2 slots, and a solid layout for gamers.
It didn't skimp in the VRM area, its VRM looks very similar to what I have found on GIGABYTE's Z370 Gaming 5 motherboard, and you can't overclock CPUs on this motherboard so the VRM isn't that important for performance but rather longevity. If you want a solid performing H370 motherboard, give the GIGABYTE H370 Aorus Gaming 3 a look.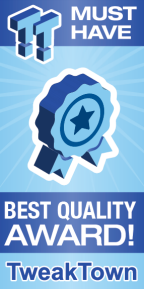 | | |
| --- | --- |
| Performance | 90% |
| Quality | 95% |
| Features | 93% |
| Value | 90% |
The Bottom Line: If you are looking for an H370 motherboard with the same quality and features as many more expensive Z370 motherboards, give the H370 Aorus Gaming 3 WIFI a look.
PRICING: You can find products similar to this one for sale below.

United States: Find other tech and computer products like this over at Amazon.com

United Kingdom: Find other tech and computer products like this over at Amazon.co.uk

Australia: Find other tech and computer products like this over at Amazon.com.au

Canada: Find other tech and computer products like this over at Amazon.ca

Deutschland: Finde andere Technik- und Computerprodukte wie dieses auf Amazon.de
We openly invite the companies who provide us with review samples / who are mentioned or discussed to express their opinion. If any company representative wishes to respond, we will publish the response here. Please contact us if you wish to respond.