ASRock DeskMini GTX1080 (Intel Z370) SFFPC Review
ASRock's new DeskMini GTX1080 packs a GTX 1080 inside of a beautiful SFF chassis.
Published
7 minute read time
TweakTown's Rating: 93%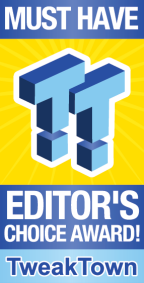 The Bottom Line
ASRock's DeskMini GTX1080 just might pack more performance per square inch than any system we have ever tested, it's also loaded with features and customization options.
Introduction, Specifications, and Pricing
We have been looking forward to checking out the Z370 DeskMini GTX1080 since December when its existence first came to our attention. While I had reviewed the DeskMini with no MXM card, the addition of the GTX 1080 in such a small form factor is pretty impressive and got me excited.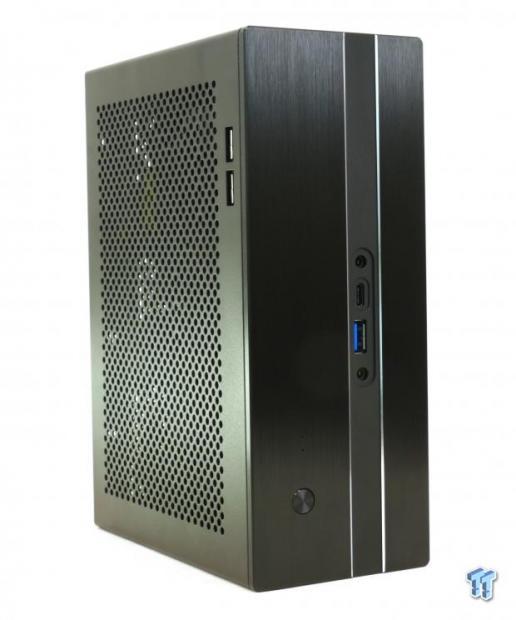 Today we will look at the top dog of ASRock's line up. The DeskMini GTX 1080 is sort of like a barebones system, so it has no CPU, memory, or storage. It does come with a PSU, GTX 1080, WIFI card kit, motherboard, and case.
If you Google DeskMini GTX 1080 you will only really see ASRock's older version that used 6th and 7th generation CPUs and a B250 motherboard, but the new one is a different beast. The new DeskMini uses a Z370 motherboard and from what I understand is revamped. Let's see how the new system does!
Specifications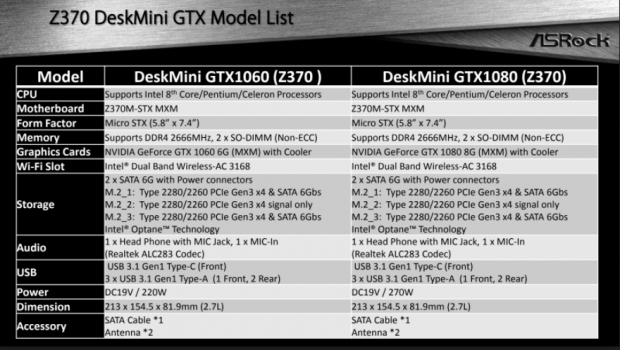 The unit we are reviewing today uses an NVIDIA GTX 1080 8GB MXM card, which is pretty similar to the desktop version and not neutered like previous mobile cards. We are using two TeamGroup 2400MHz SO-DIMMs for a total of 16GB. We are also using an i7-8700 CPU and a 240GB TeamGroup T-Force Cardea Zero SSD. The power supply with this unit is 50W more powerful than the GTX 1060 version.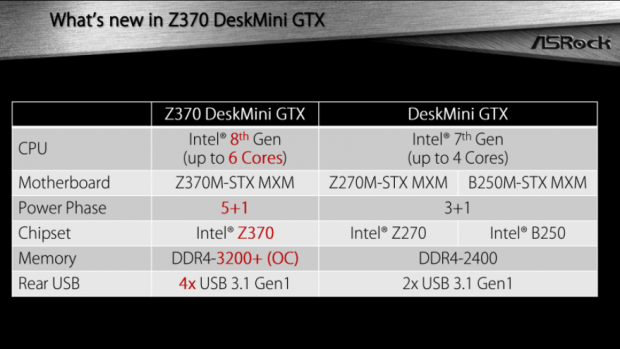 Compared to the first DeskMini with a dGPU, the new one supports ASRock's 8th Gen CPUs up to 6 cores, features a revamped VRM with 5+1 phases instead of 3+1. It also supports DDR4 3200MHz+ Overclocking and adds two more USB 3.0 ports.
Pricing
The unit will cost $1,650 as a barebones system.
Packaging and System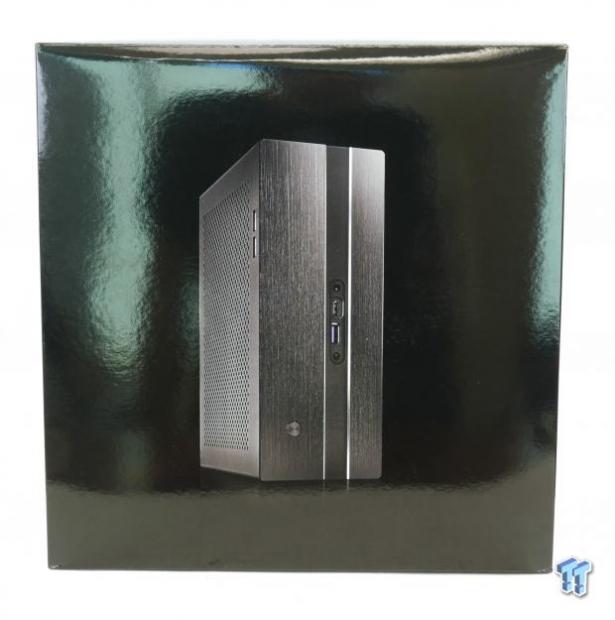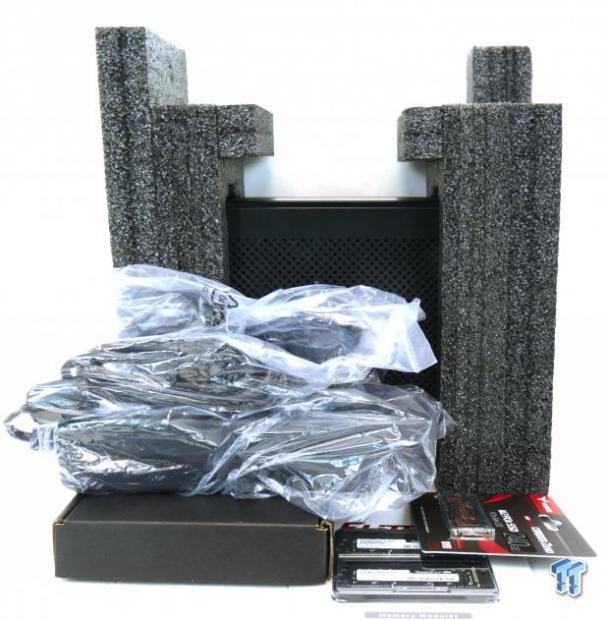 The box is very simple and just features a picture of the unit. Packaging is very well done, and the system will be well protected during shipment.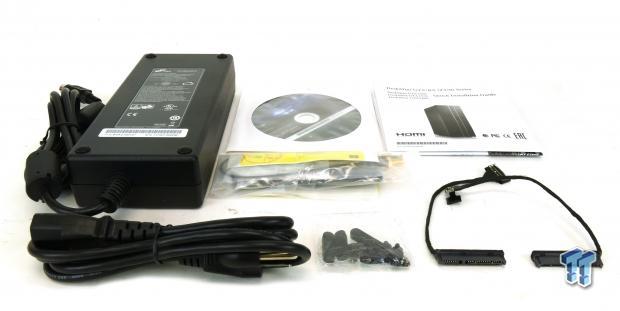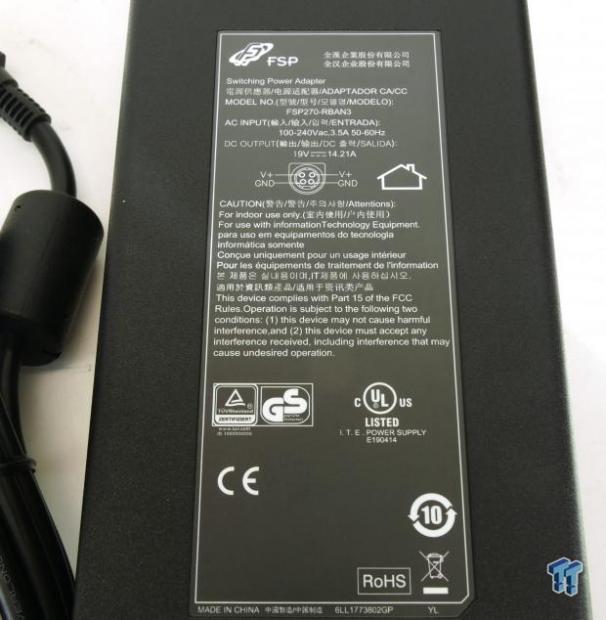 The accessory package includes an AC/DC PSU, AC power cable, driver DVD, WIFI antenna system, two SATA data/power combo attachments, rubber legs, screws, and easy installation manual. The PSU outputs 19v at 14.21a for a total of 270W and is made by FSP Group.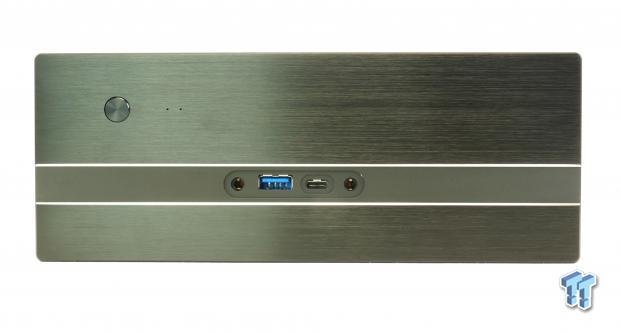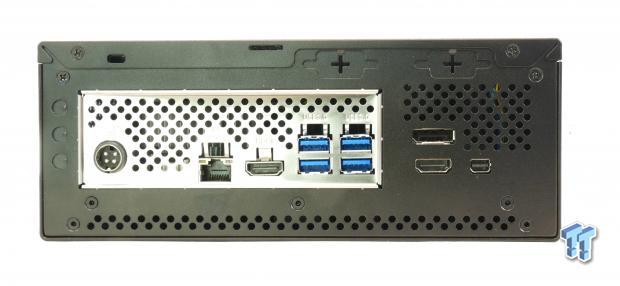 The front of the unit has a brushed aluminum facing, which is quite nice. You also get a headphone jack, microphone jack, power button, USB 3.0 port, USB 3.0 type-C port, and LED indicators.
The rear of the unit features a DC power input jack, 1Gbit LAN port, HDMI port (from iGPU), four USB 3.0 ports, HDMI (from dGPU), DisplayPort (from dGPU), and mini-DP (from dGPU). You should plug into the dGPU ports.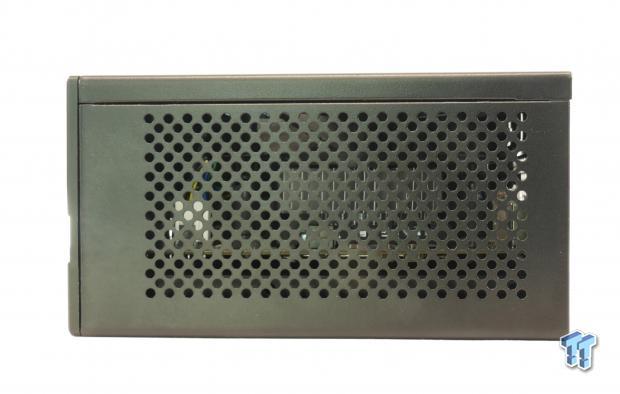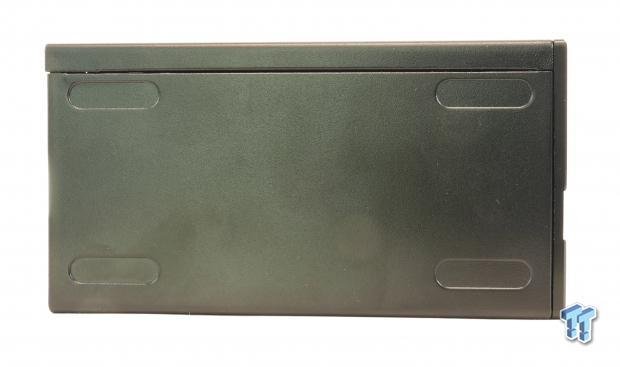 The top of the unit features a large vent surface. The bottom features areas for rubber leg standoffs as does the back of the unit so you can use it upright or on its side.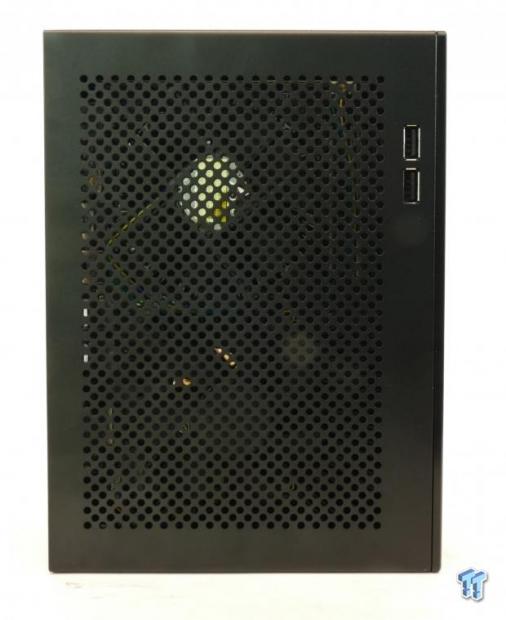 The left side of the unit (or top if you put it on its side) features a large vent surface and two USB 2.0 ports.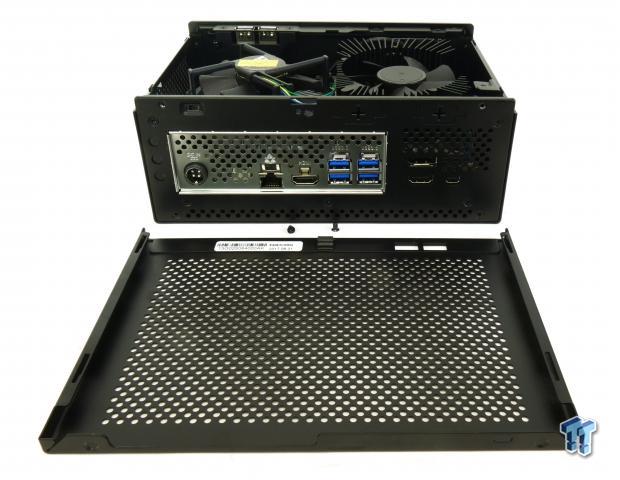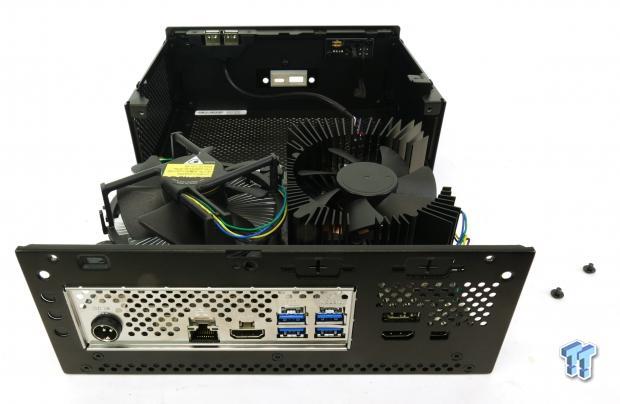 The first step to opening the unit is to unscrew two screws and slide the cover off. To remove the motherboard tray from the case you must unscrew two screws located at the interior of the case; you should look to the instruction manual for an illustration.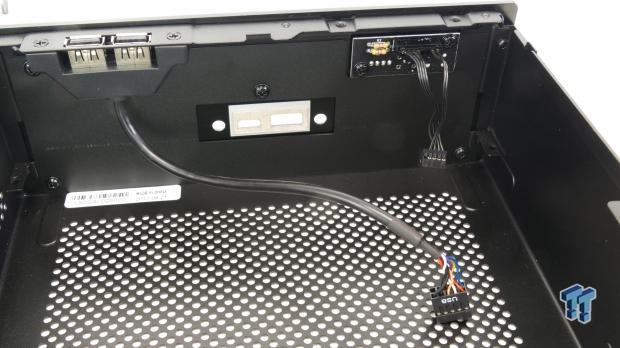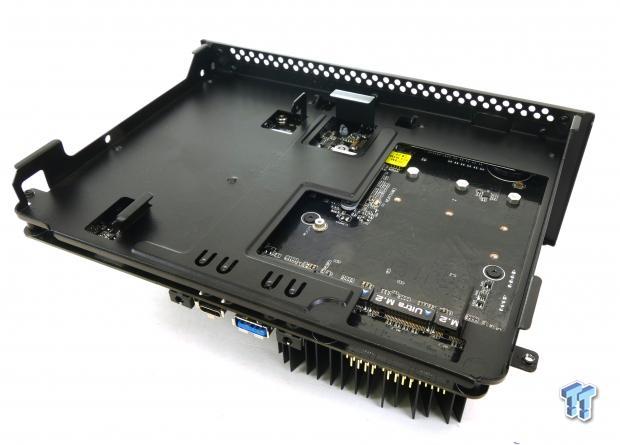 You will need to unplug the front panel cable and the USB cable from the motherboard to slide it out. Once you slide it out, you can flip it over to find the M.2 slots for WIFI and storage drives.
Teardown of the ASRock DeskMini GTX1080
Teardown of the DeskMini GTX1080
We have now started our teardown; the first step was to remove the MXM GPU (not that simple so please don't try it). The second was to remove the stock ASRock cooler, which is more than enough for the 65W i7-8700.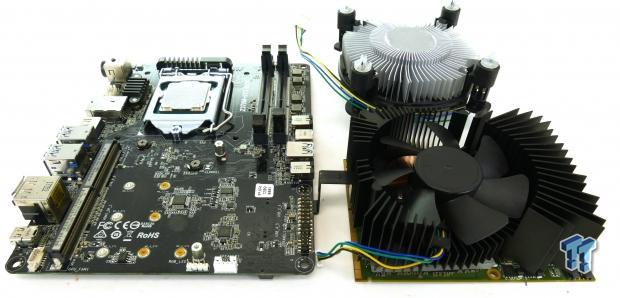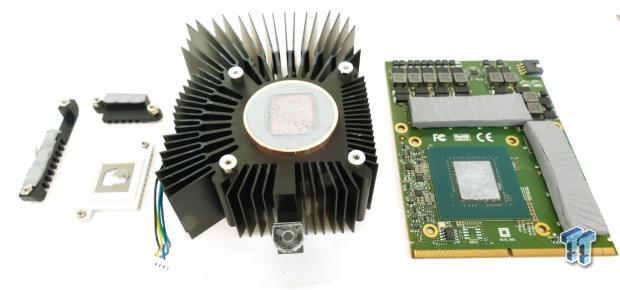 I also removed the two VRM heat sinks and PCH heat sink from the motherboard and the GPU's heat sink. The GPU's memory is being cooled by two large dense heat pads. There is a lot of pressure between the VRM heat sinks and MOSFETs.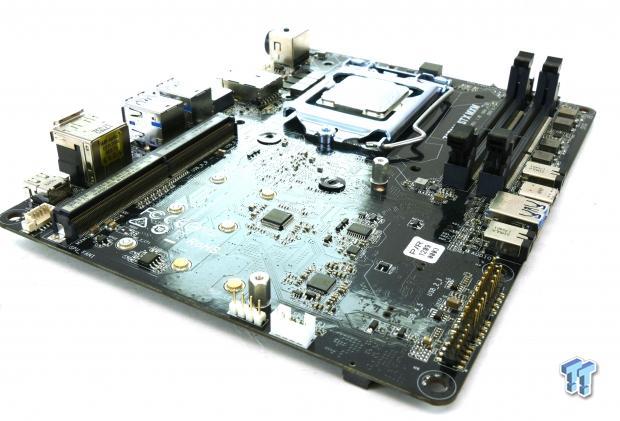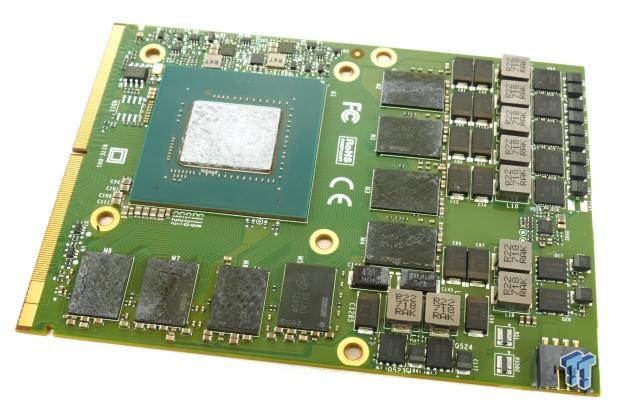 Now we have the motherboard in its glory, all bare and such. The GPU is now also bare, and we can see what it has under the hood.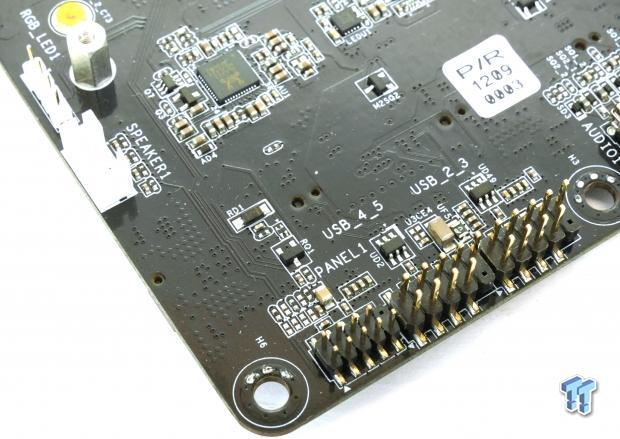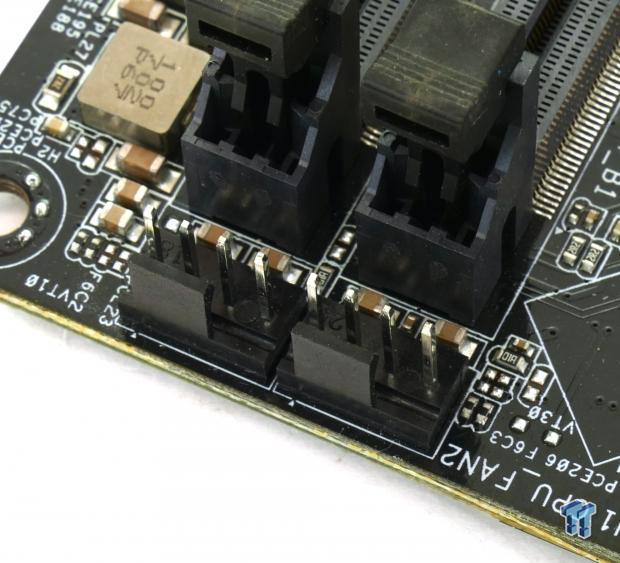 The motherboard features an RGB LED header! You can light up the inside of the unit with a single strip. There is also a speaker header (not used), front panel header, and two USB 2.0 headers on the motherboard (only one used). The motherboard also features two fan headers, only one is used.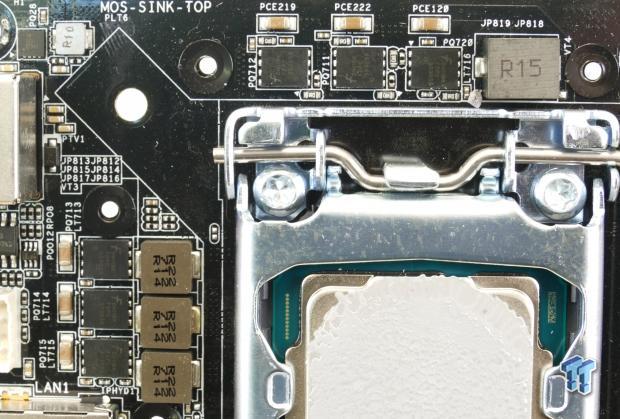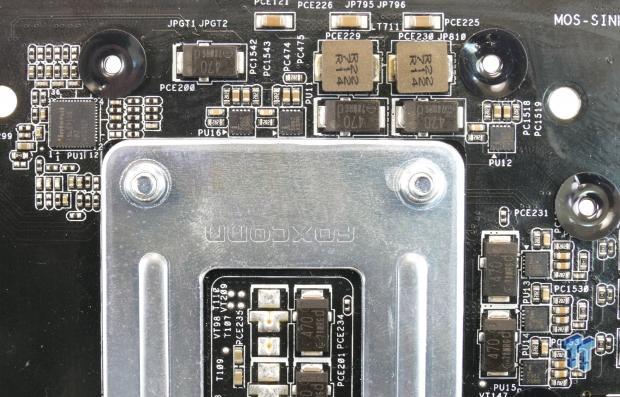 The CPU VRM is now a 5+1 phase VRM and uses the same Fairchild Semiconductor FDPC5030 PowerTrench Power Clip dual N-channel MOSFETs we see on ASRock's high-end motherboards, each is rated for 25A. At the rear of the motherboard, we find a surprise; Intersil's brand new digital 7 phase PWM. Each phase is controlled by an Intersil ISL6596 driver; there is no phase doubling.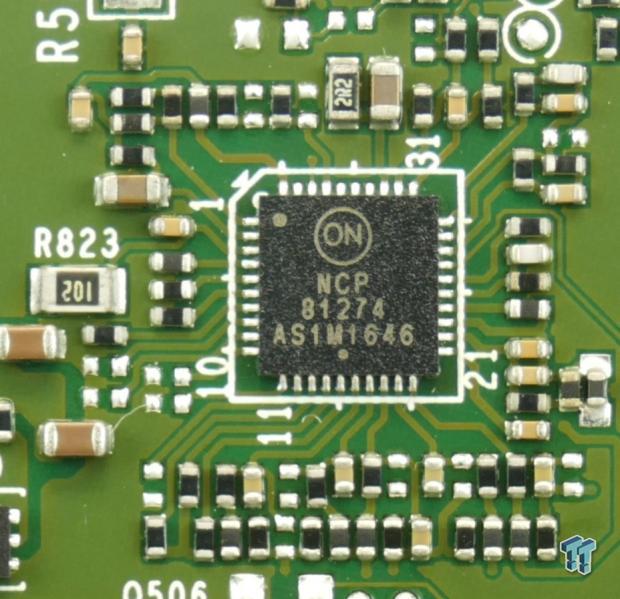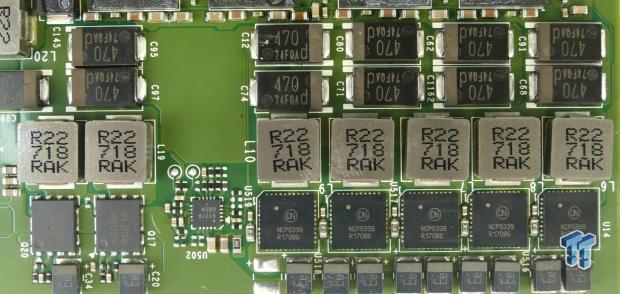 The GPU's VRM is controlled by an ON Semiconductor NCP81274, which is common with newer NVIDIA cards and supports up to 8 phases. The five-phase GPU VRM uses 50A ON Semiconductor NCP5339 DrMOS units. The GPU's memory VRM uses ON Semiconductor dual N-channel MOSFETs in a two-phase configuration.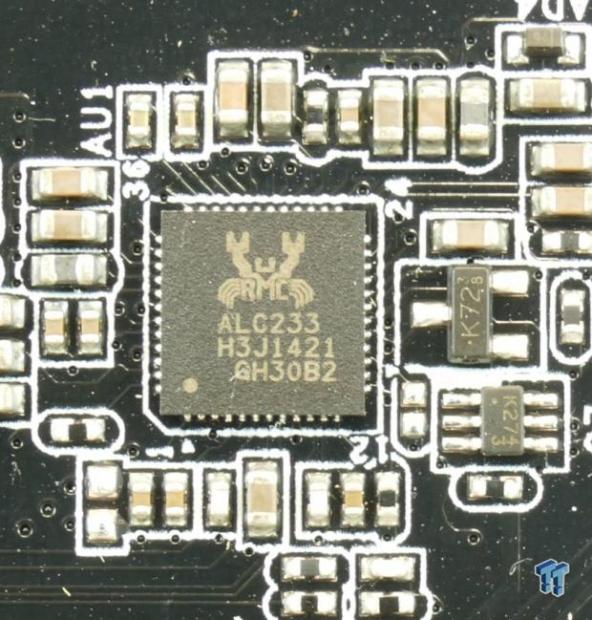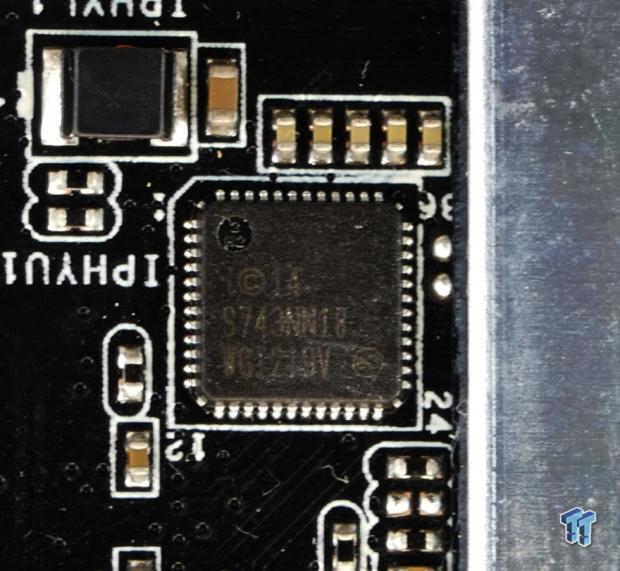 Audio comes from an ALC233, which connects to the front panel headphone and microphone jacks. We also find that ASRock has used an ASRock i219v NIC for the Gbit LAN.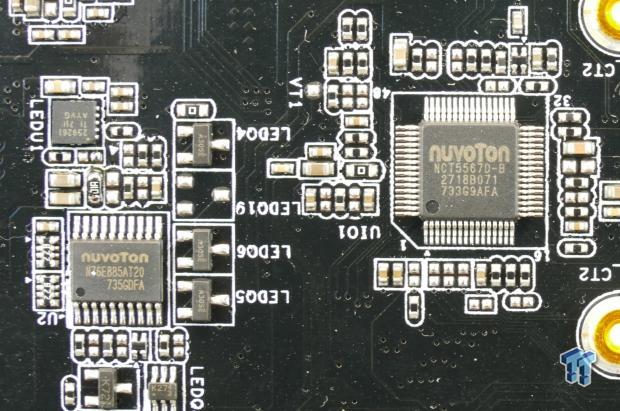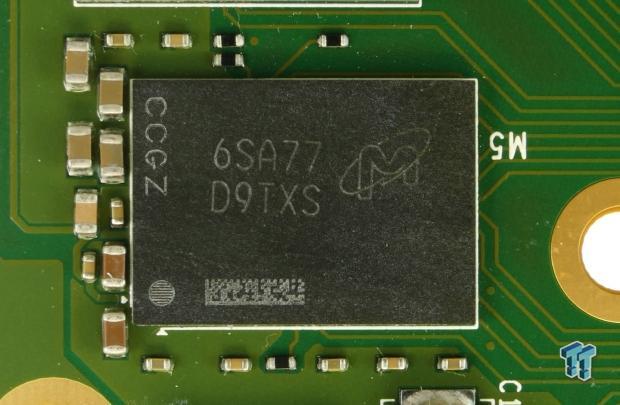 A nuvoton NCT5567D is used as the SuperIO on the motherboard that does system management as well as fan control. A nuvoton N76E885AT is ASRock's RGB LED controller we find on their other motherboards, and the Texas Instruments TPS259261 eFuse is also there to ensure any polarity issue with the RGB header doesn't cause damage.
BIOS and Software
BIOS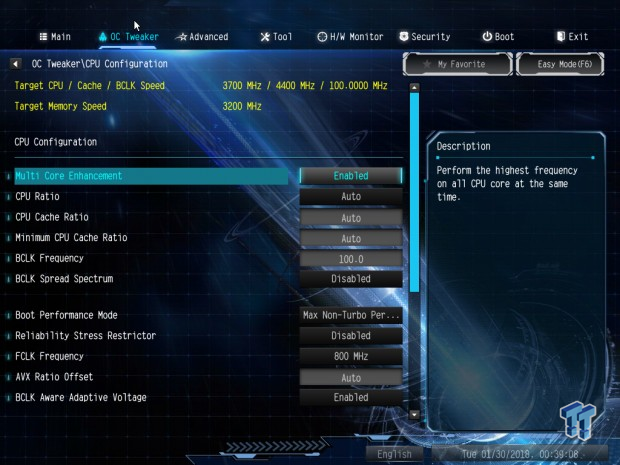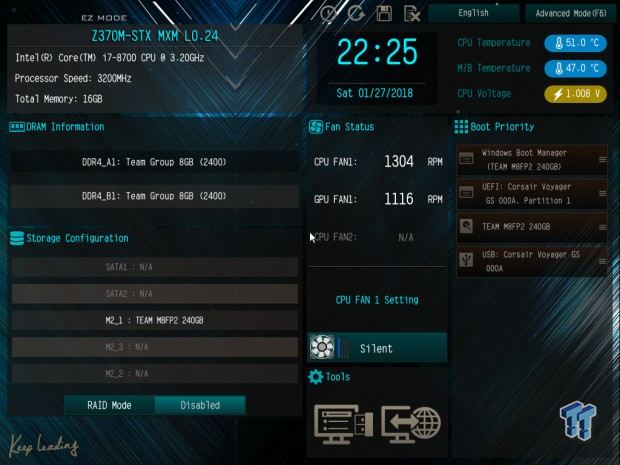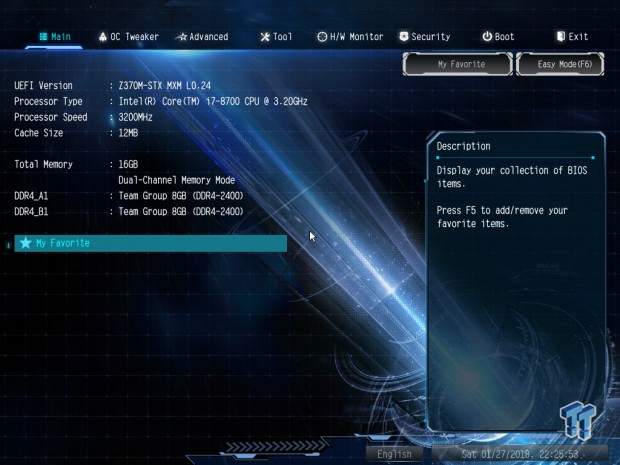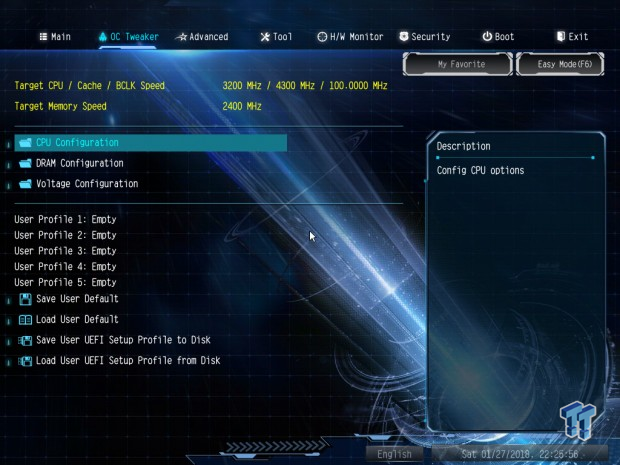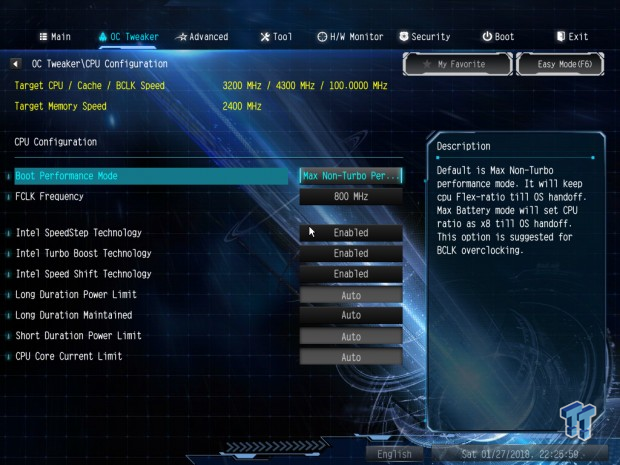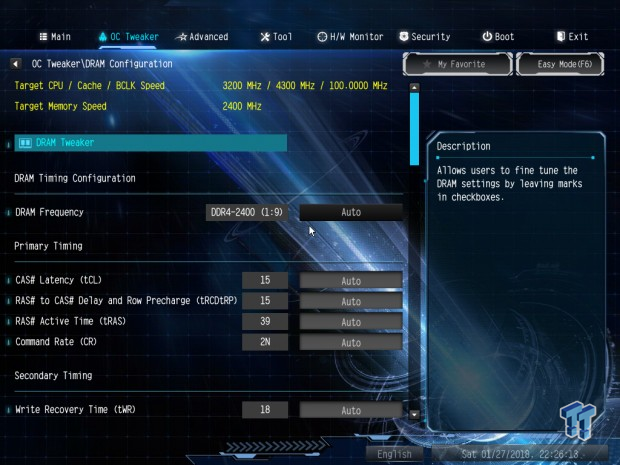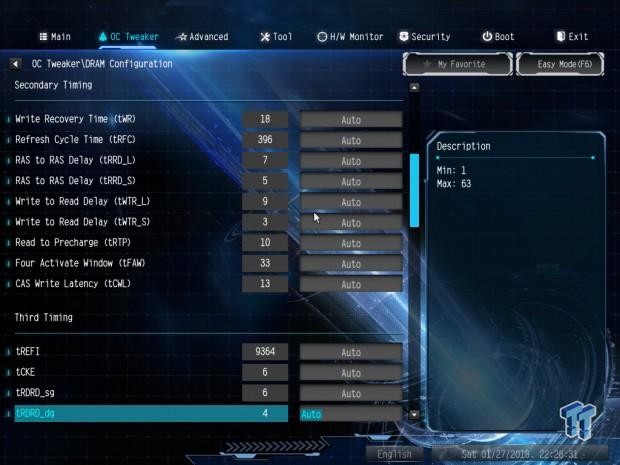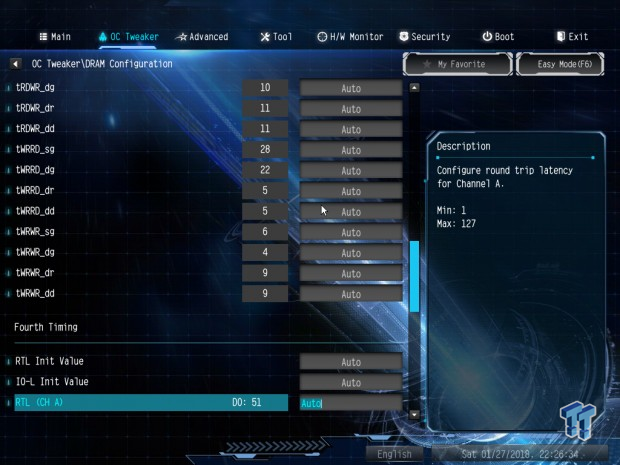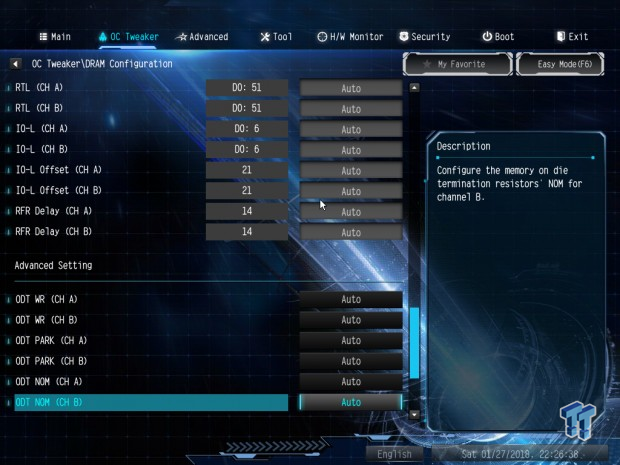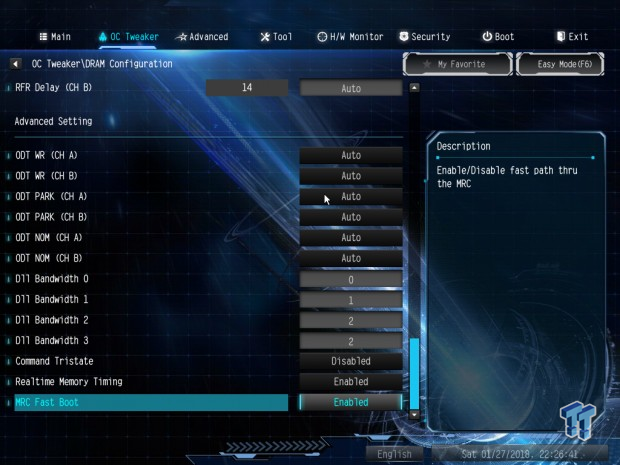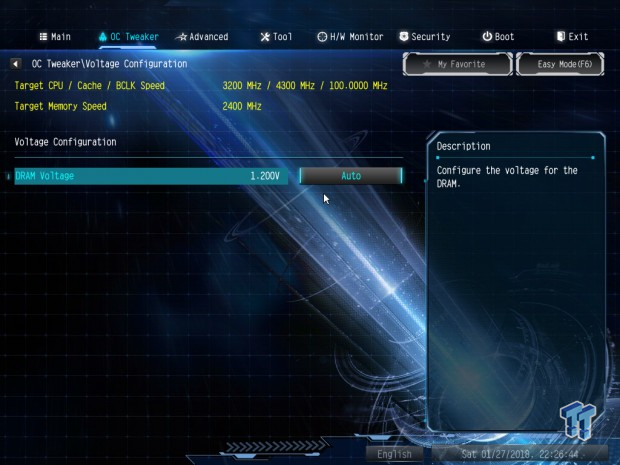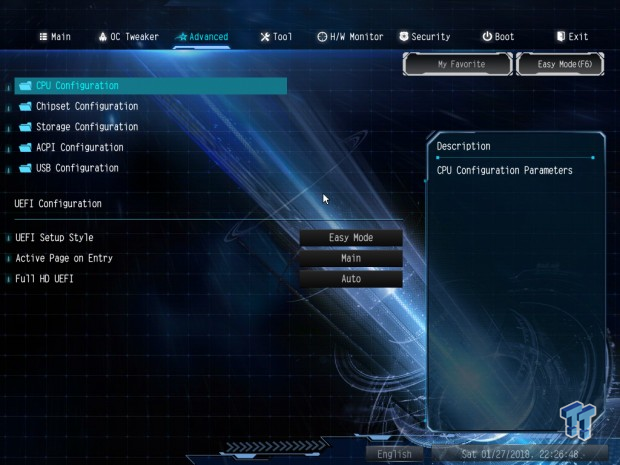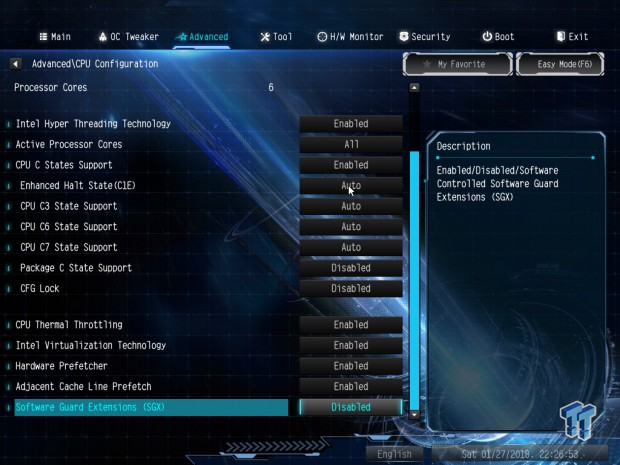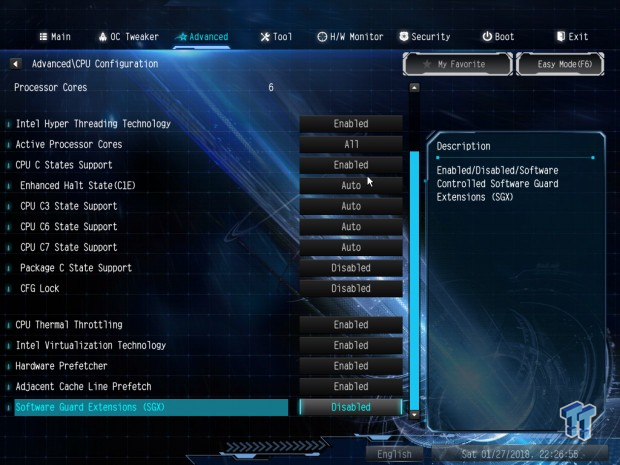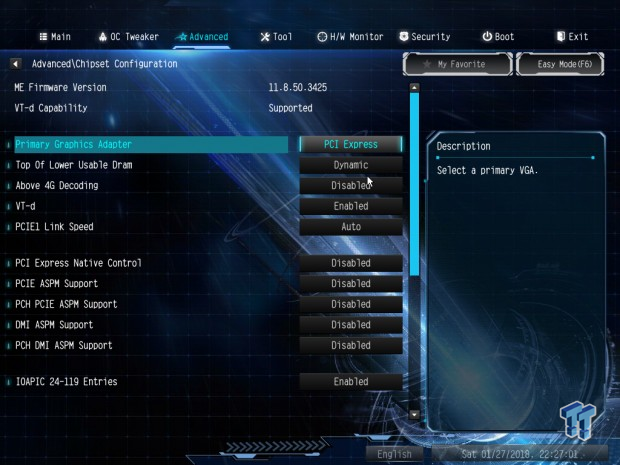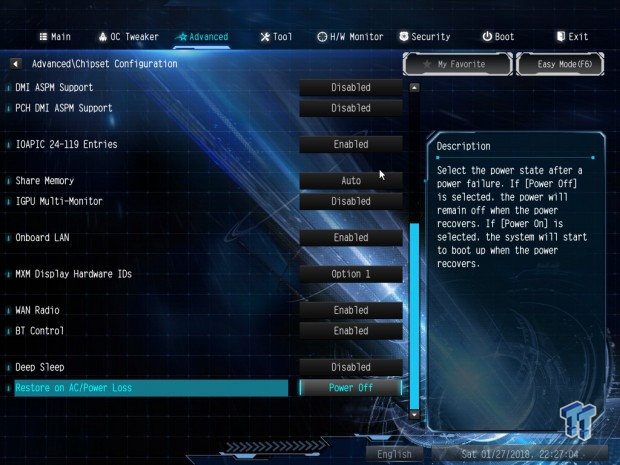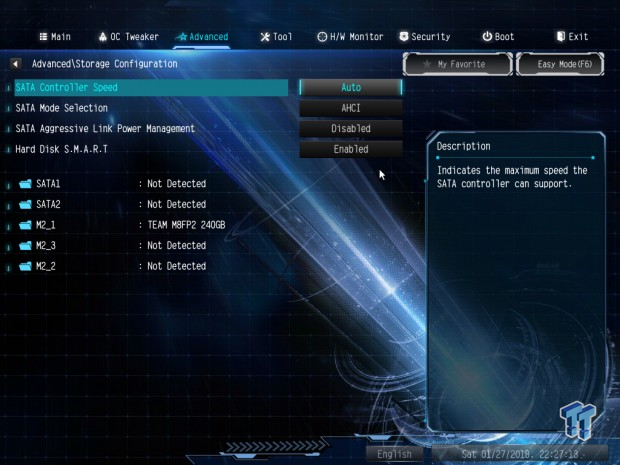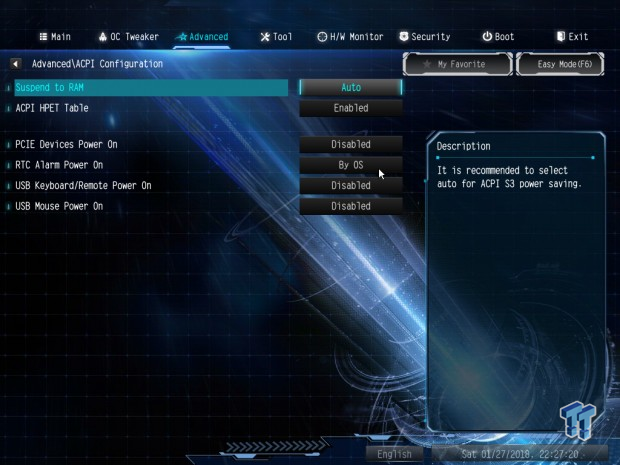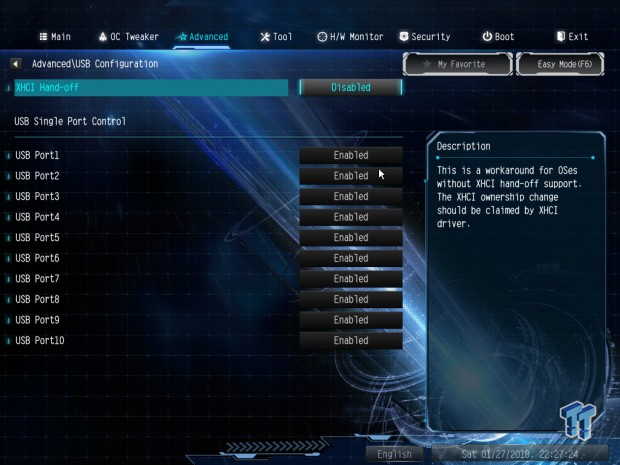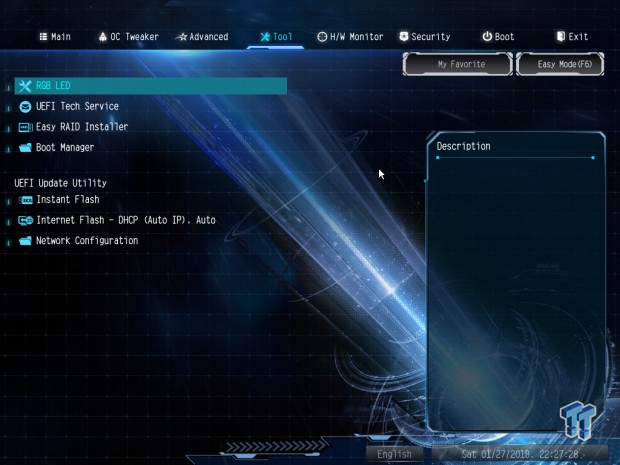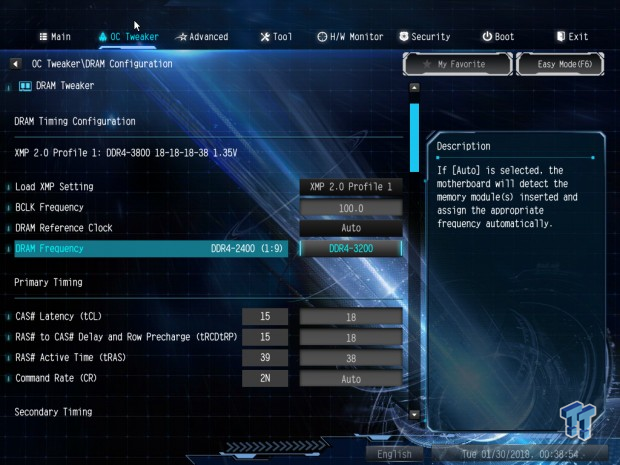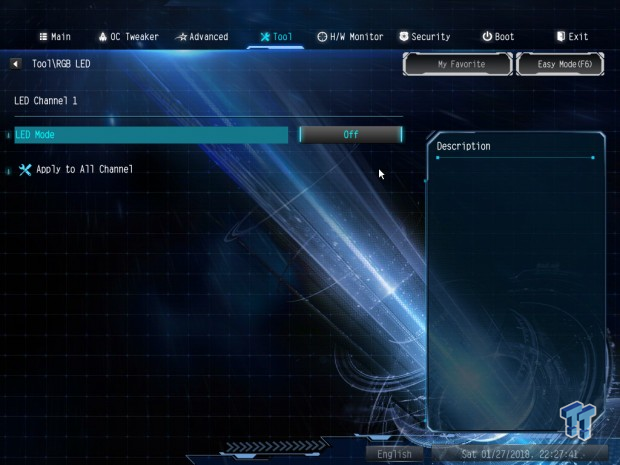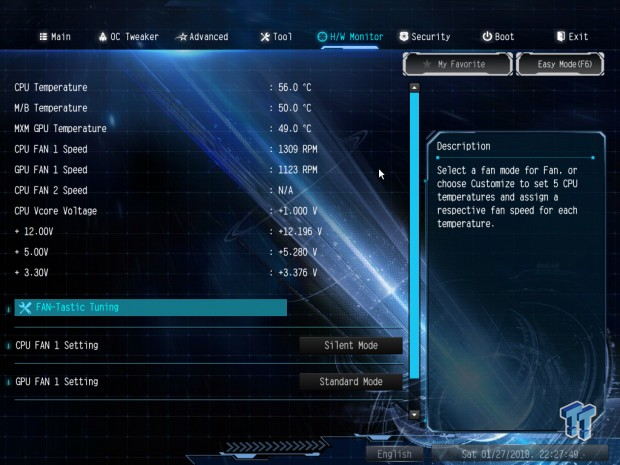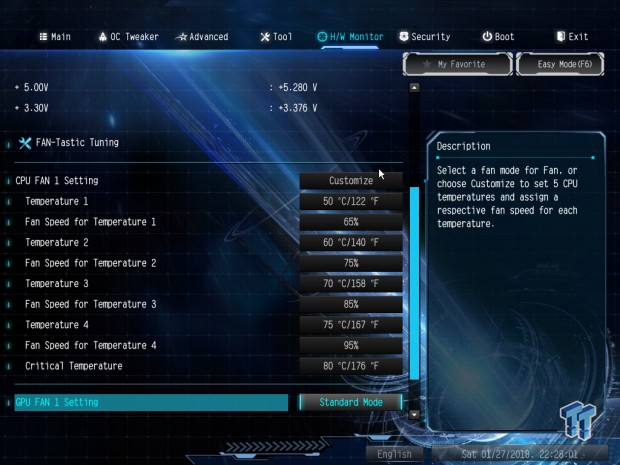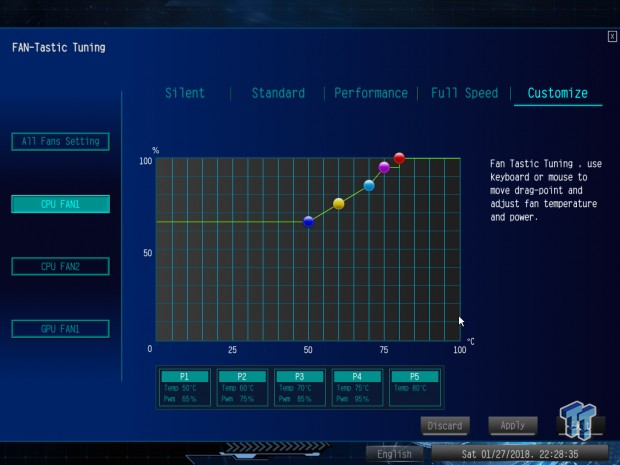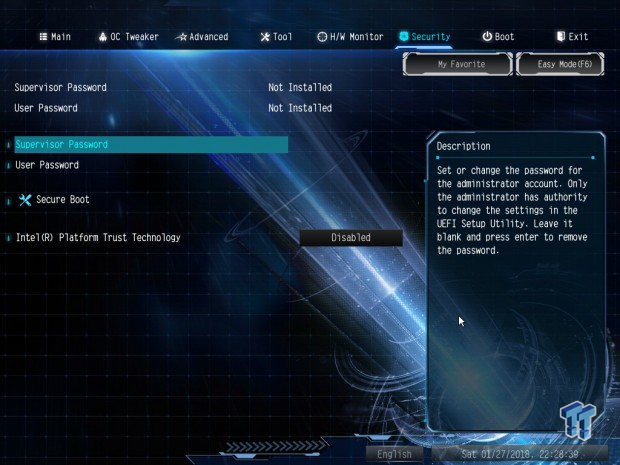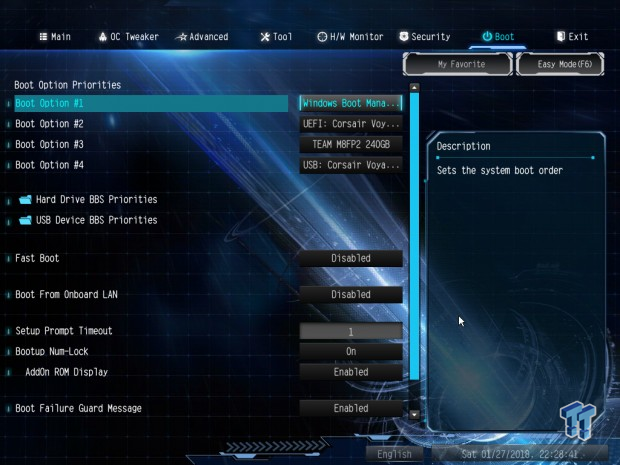 ASRock's BIOS is just like the BIOS they have on their normal DIY motherboards. It has all the right features, and when you put a K-SKU in the BIOS, you even get overclocking settings. All DRAM overclocking settings are in the BIOS so you can tune memory easily. Beware, you cannot increase power restrictions past 65W for the CPU.
Software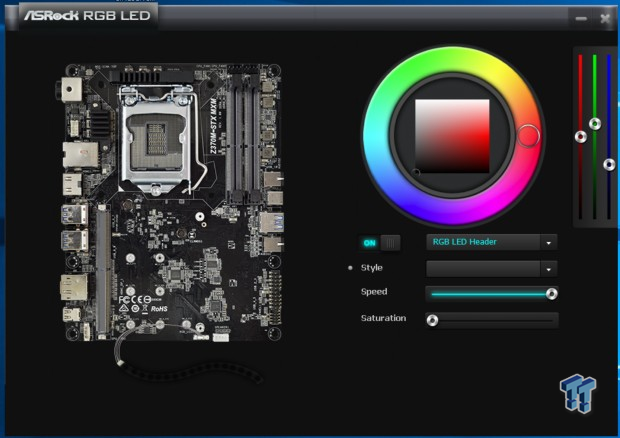 The ASRock DeskMini GTX1080 does offer RGB LED software.
Benchmarks
CPU, Memory, System, and Graphics Benchmarks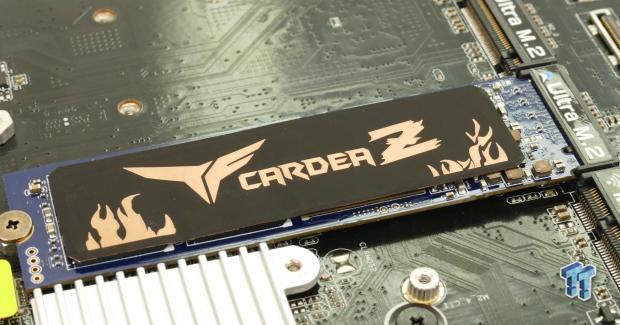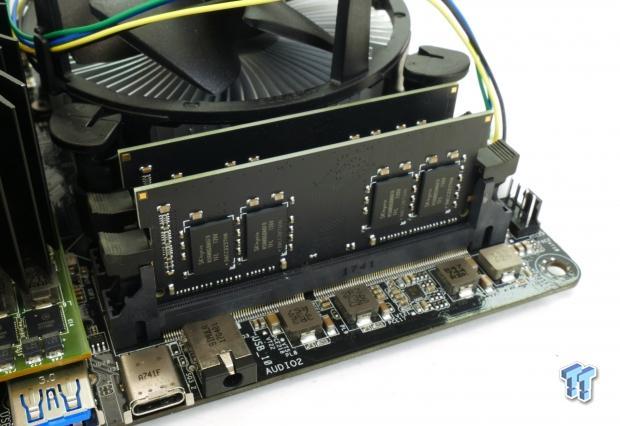 TeamGroup provided a 240GB SSD and 16GB of 2400MHz SO-DIMMs for this review.
CINEBENCH 11.5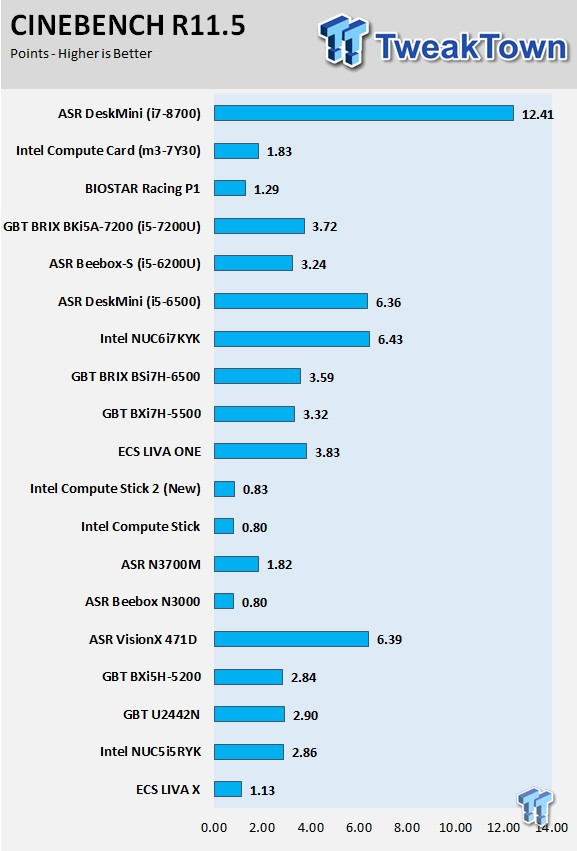 wPrime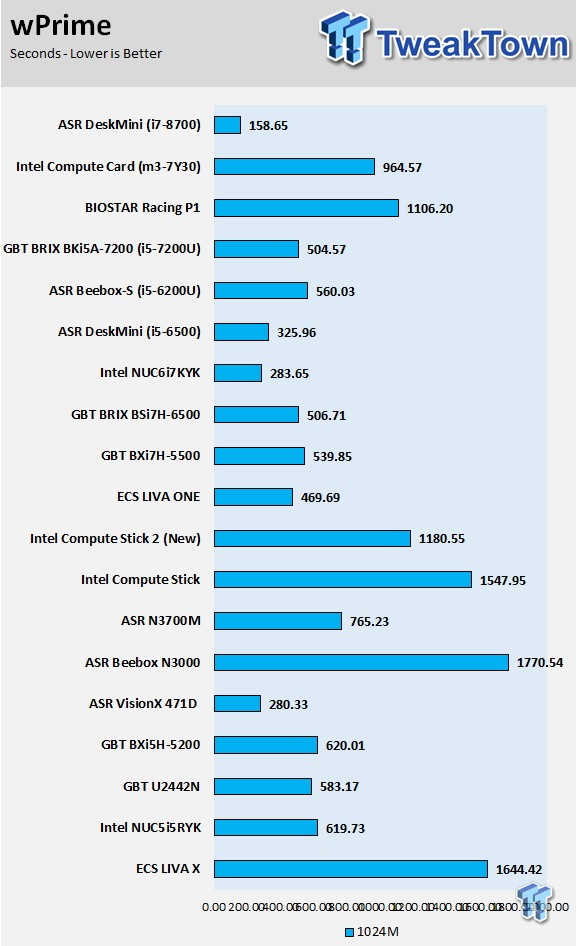 AIDA64 AES and HASH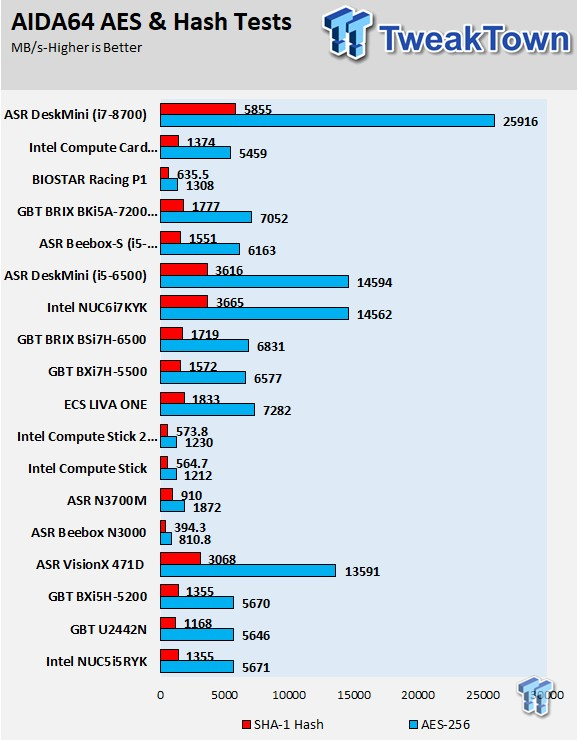 AIDA64 Memory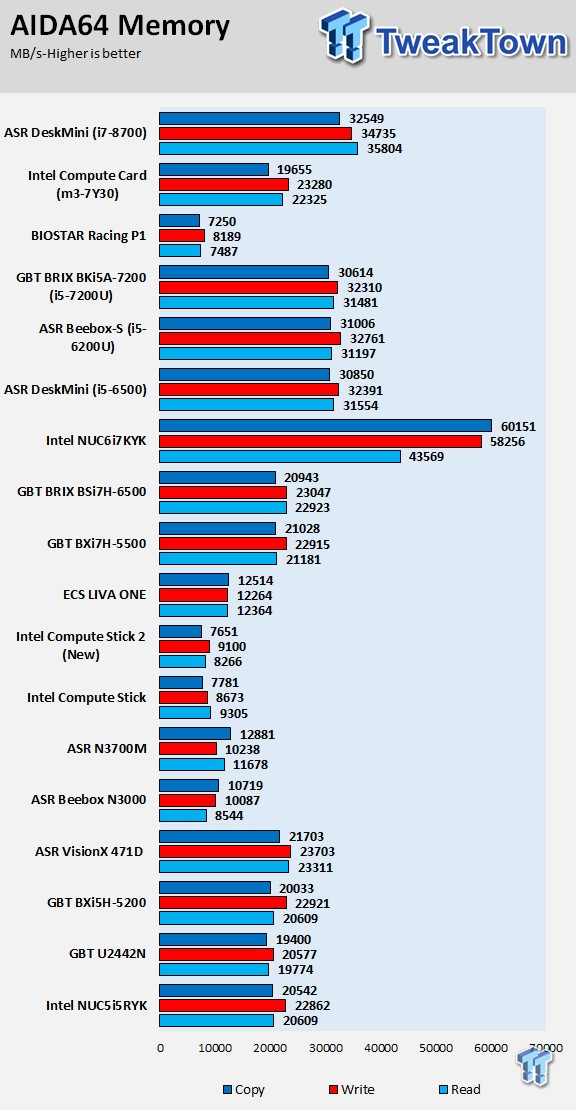 HandBrake Video Encoding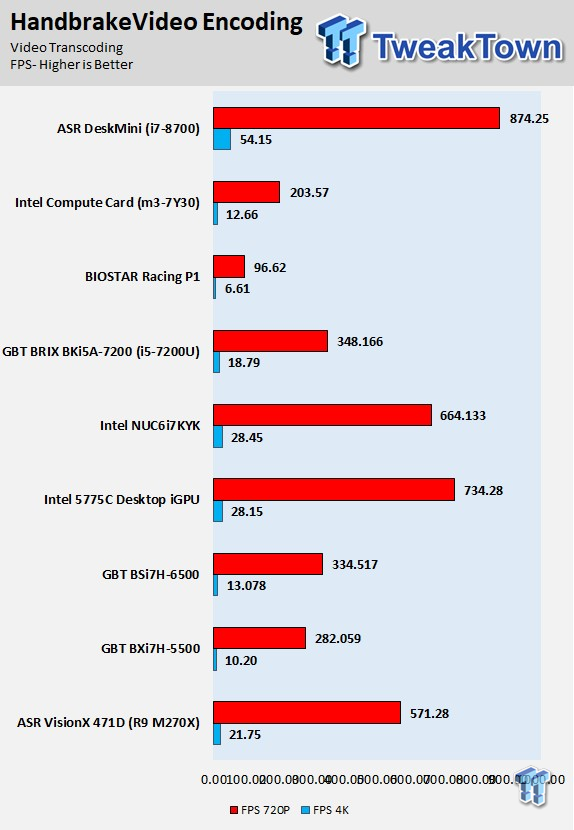 PCMark8 Home Test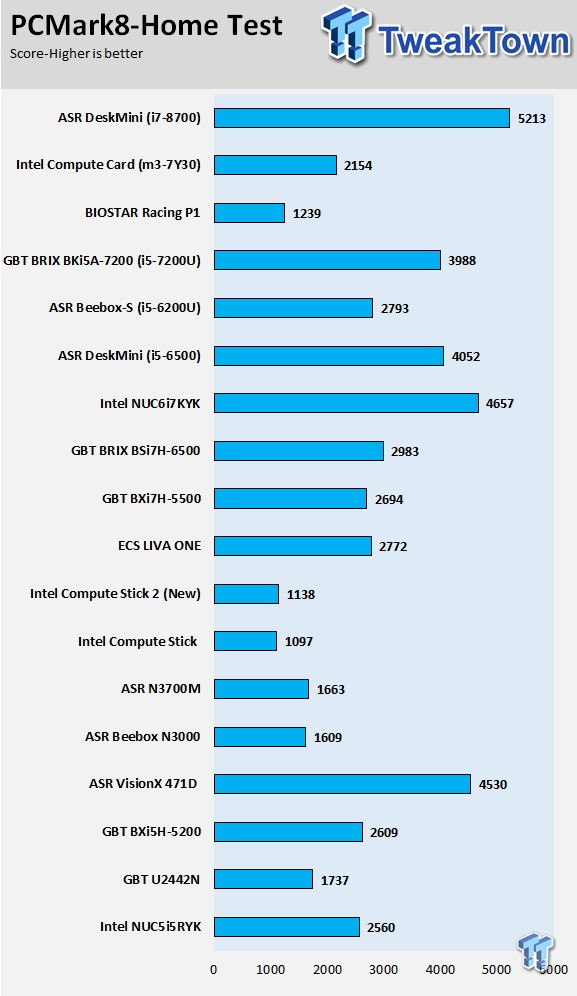 PCMark8 Work Test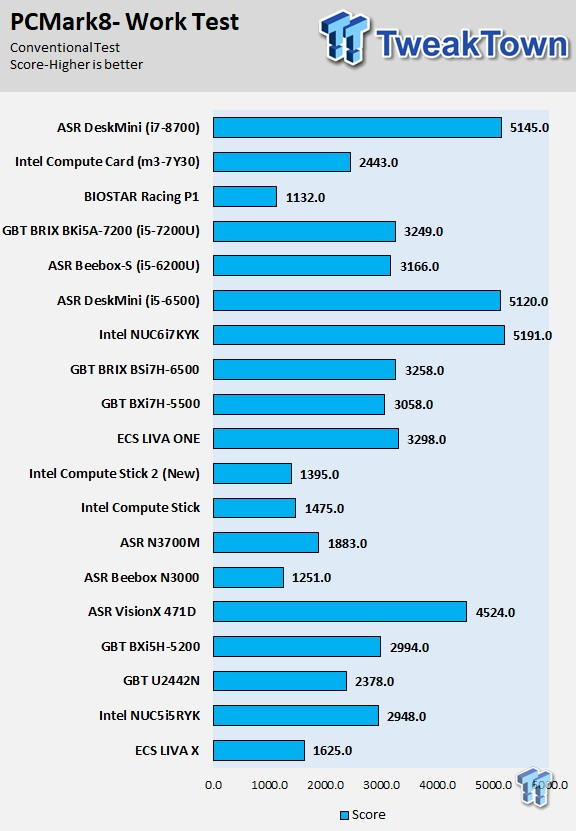 WebXPRT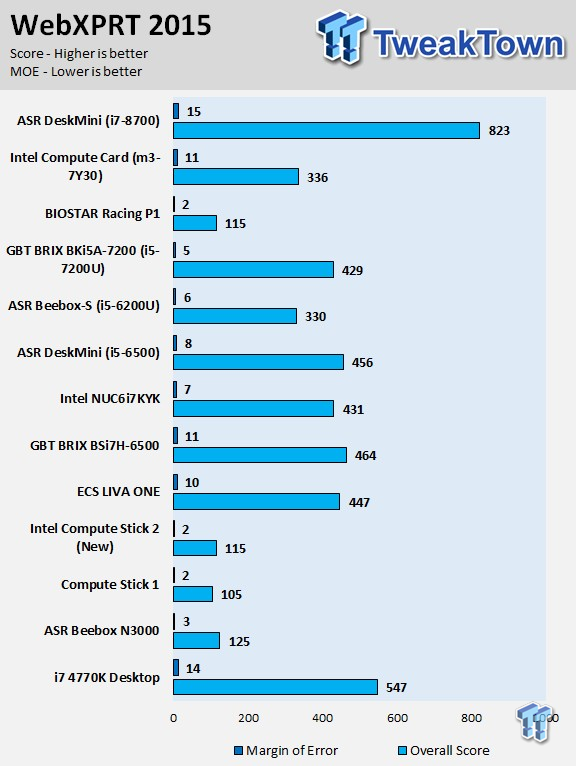 3DMark 11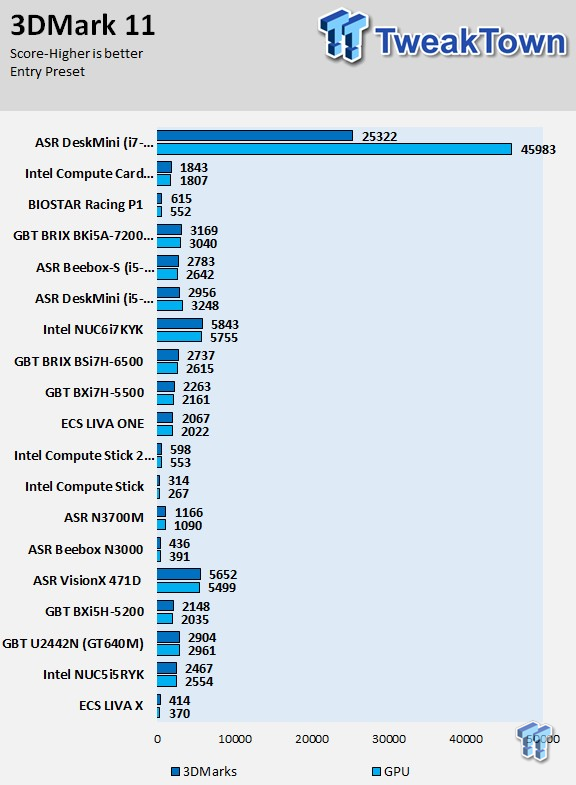 UNIGINE Heaven 4.0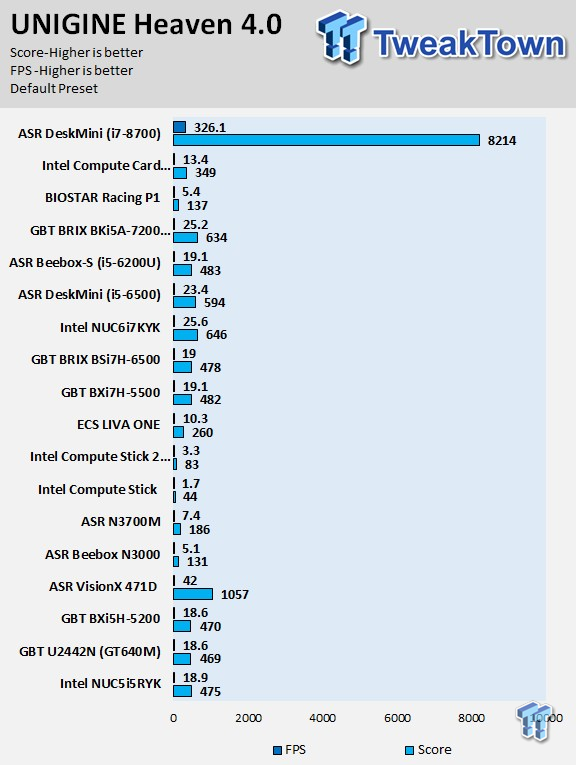 Resident Evil 6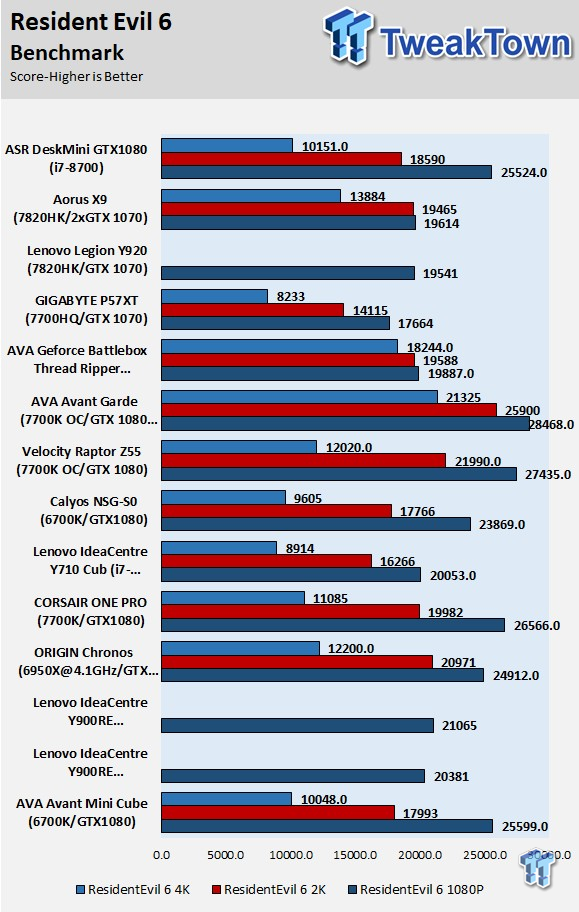 GTA:V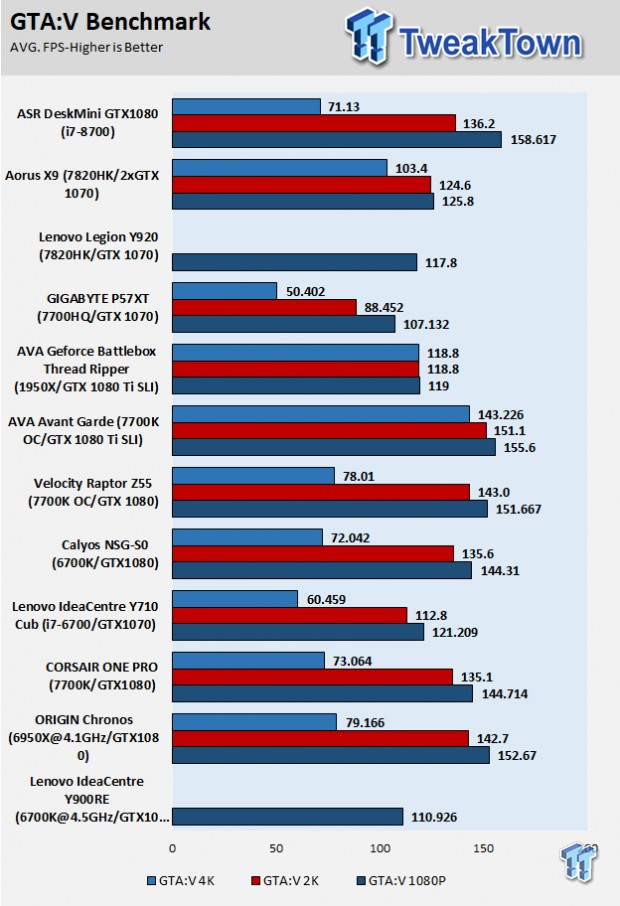 Rise of the Tomb Raider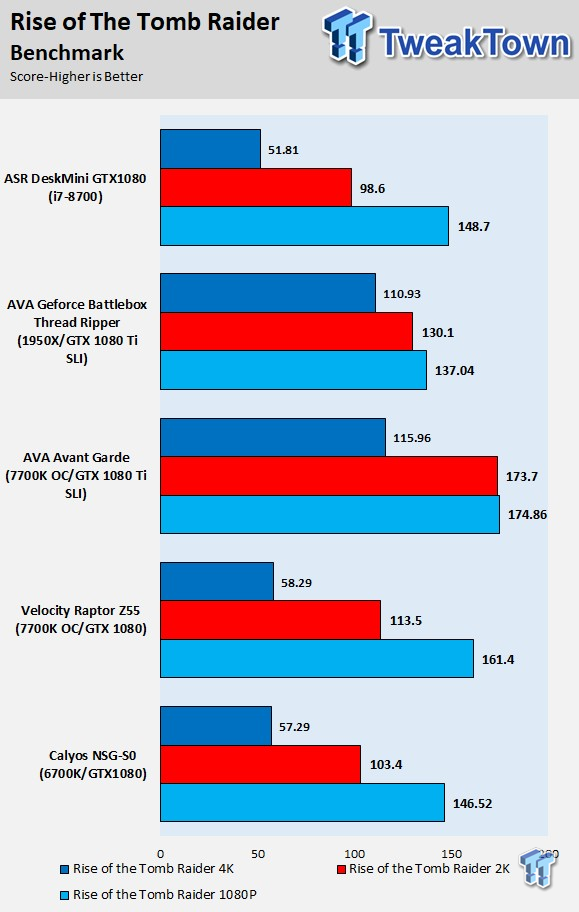 Ashes of the Singularity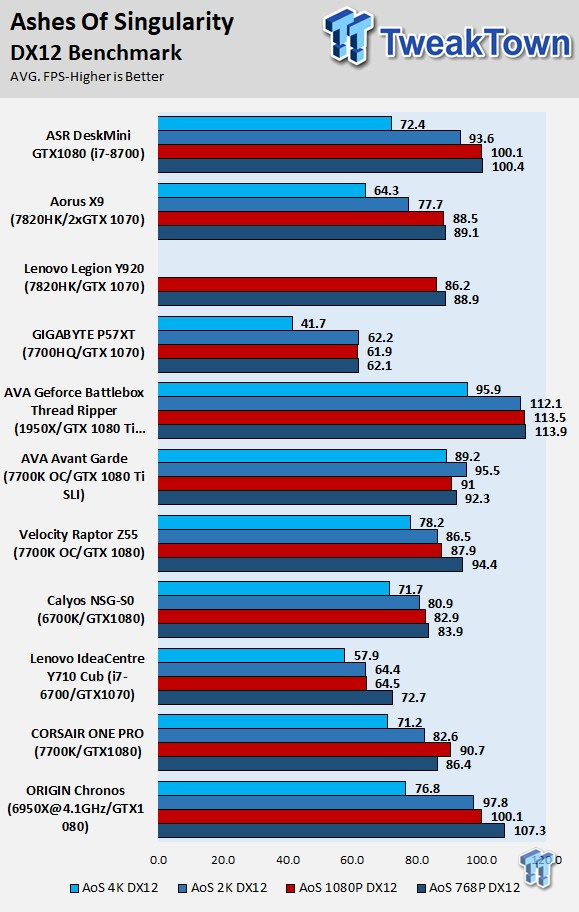 3DMark CloudGate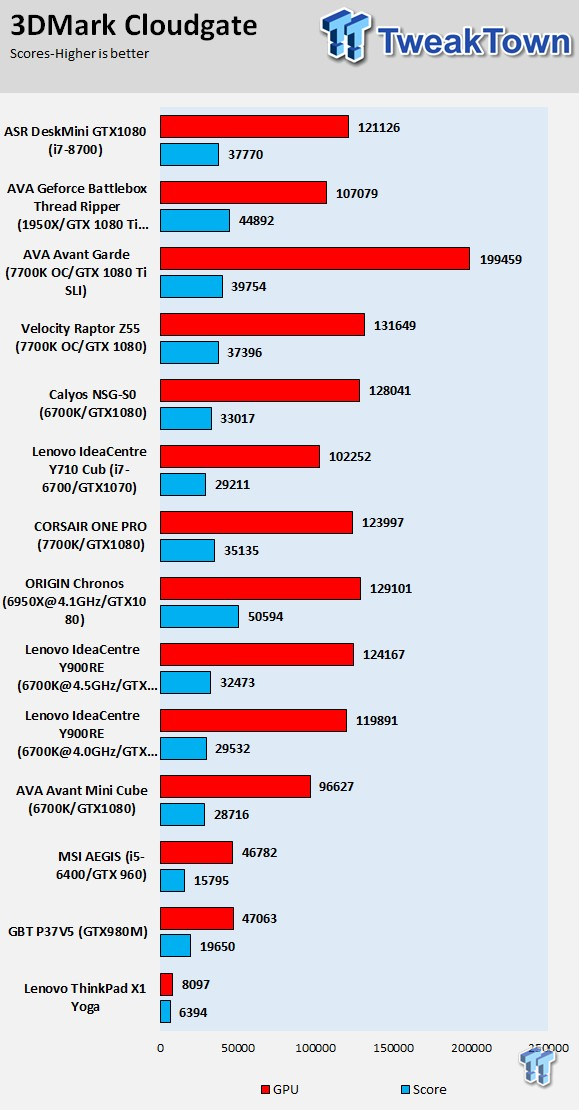 3DMark FireStrike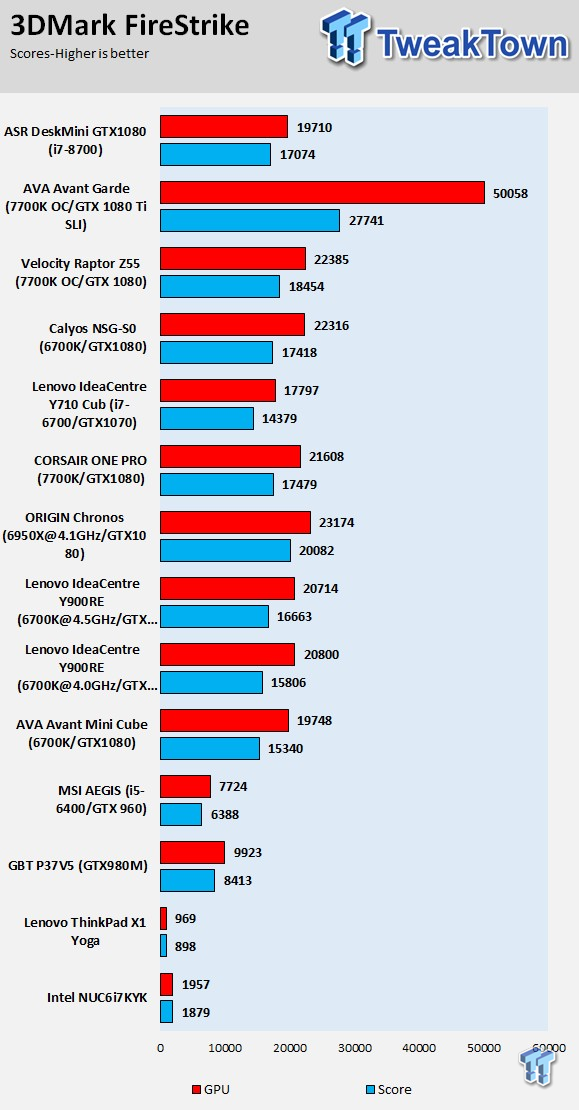 ASRock's ASRock DeskMini GTX1080 is one of the best performing SFFPCs and by a long shot. It uses a typical desktop i7-8700, which is already one of the best gaming CPUs out there. However, that isn't the end of why its performance is so good, the mobile variant of the GTX 1080 is just a downclocked typical desktop GTX 1080, so when you add better cooling (like in this machine), you get basically the same levels of performance as a desktop with a GTX1080. The results were so strong I had to actually compare this unit against actual high-end gaming PCs for our gaming tests instead of other SFFPCs. Overall, performance rocks.
Storage and Network Performance
CrystalDiskBench-Read: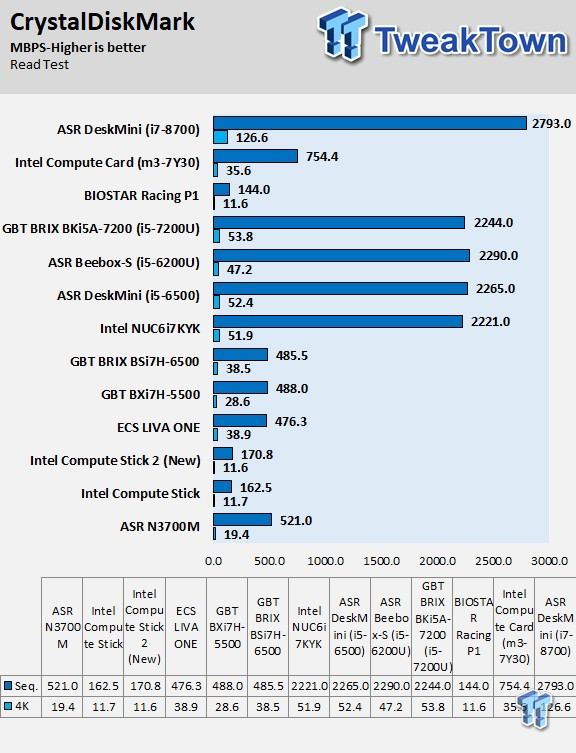 CrystalDiskBench-Write: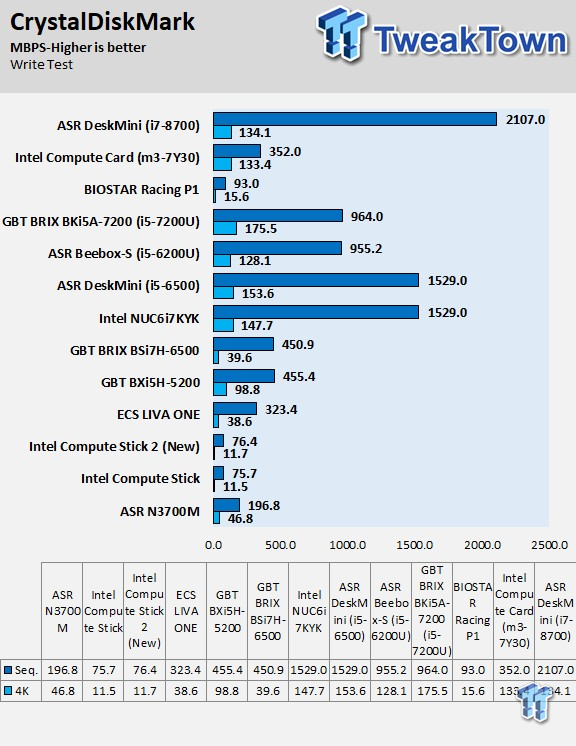 ixChariot Network Throughput: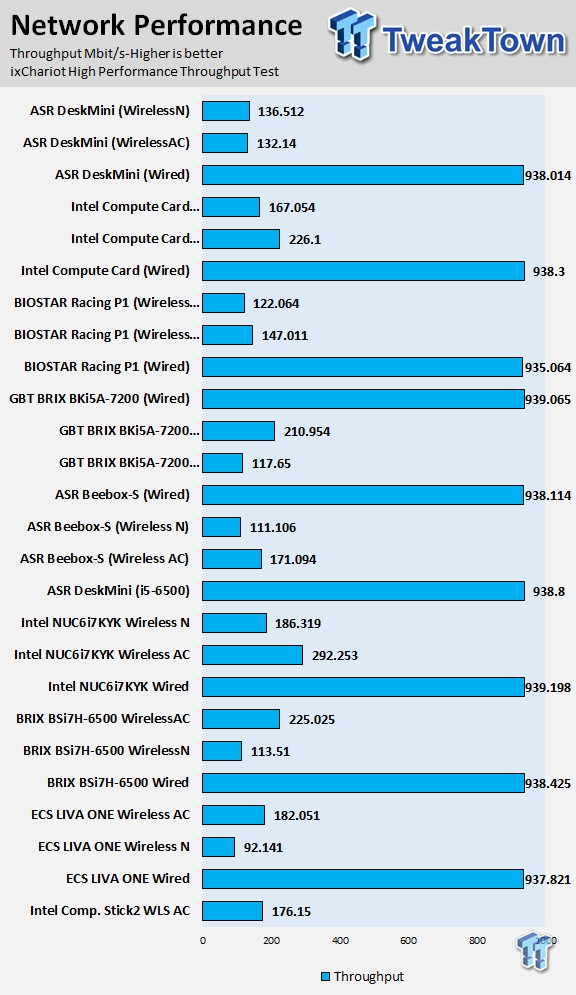 The ASRock DeskMini GTX1080 offers excellent storage performance because the Z370 chipset offers excellent performance. Wired networking as just as good as other desktops with Intel's i219v and wireless AC is where it should be for the 1x1 card provided with the unit.
Temperature and Power Consumption
Power Consumption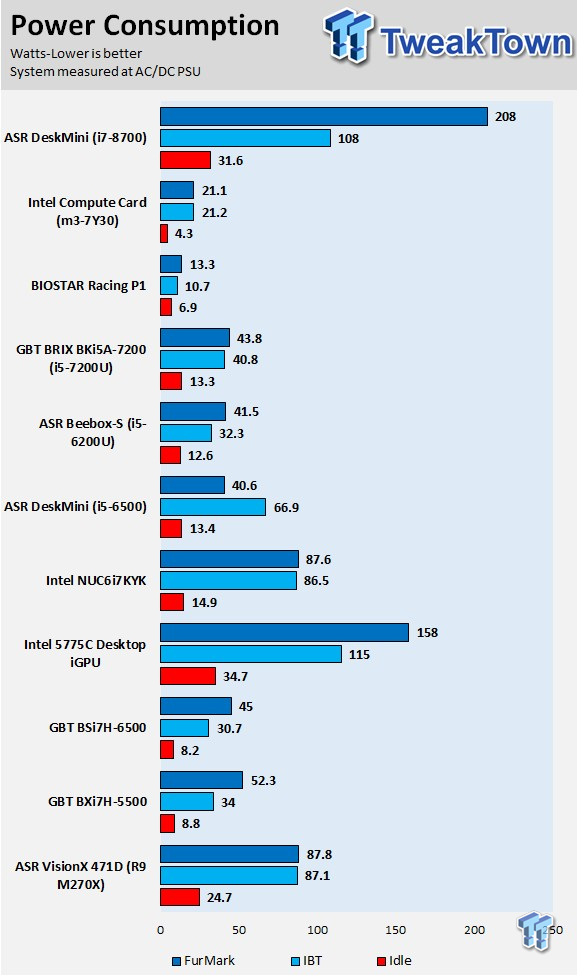 The power consumption of the ASRock DeskMini GTX1080 is very high compared to other SFFPCs, but it's quite low if we compare those numbers to a normal gaming desktop.
Thermal Testing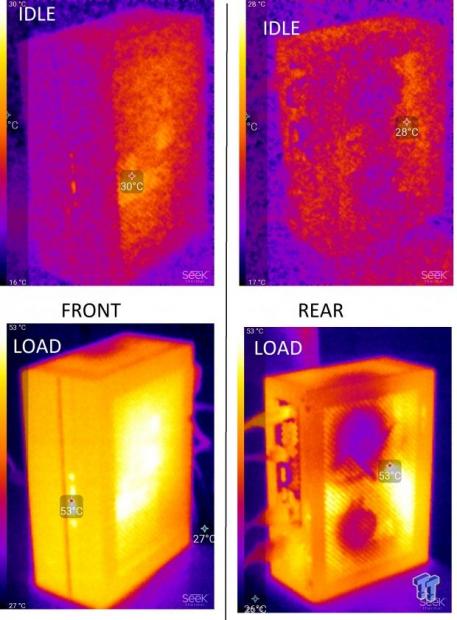 The thermal performance is actually pretty good, the unit does heat up quite a bit, but nothing throttles during heavy use. The fans do spin up a lot, and you can adjust the fan curve for the CPU and GPU, and set them to silent. I recommend setting the fan curve for the GPU to silent because at default it's on normal. Overall, excellent thermal performance but the fans spin up all the way.
What's Hot, What's Not & Final Thoughts
Here are key points about the ASRock DeskMini GTX1080.
What's Hot
GTX 1080 MXM: NVIDIA made a point to not totally neuter their mobile GPUs this round, and so we have seen notebooks and other devices with GTX 1080s that perform pretty much like their desktop equivalents. It does come down to the vendor to properly cool down the GPU so that it can perform, and in this case, ASRock has worked in a large heat sink to keep things cool enough, so the GPU isn't throttled down. The performance was awesome.
Z370 Chipset Motherboard: To run the latest and greatest Intel CPUs you will need a Z370 chipset motherboard, and in this case, ASRock has developed a really good one. The new motherboard uses high-quality VRM parts and PWM controller and even has tiny heat sinks to cool them down. It also supports a lot of features and takes full advantage of the Z370 chipset features.
More USB: The original DeskMini only had limited USB ports, but the new one supports many more. The front of the device offers one USB 3.0 type-A port and one USB 3.0 type-C port. The side of the device supports two USB 2.0 ports. The rear of the device offers up four more USB 3.0 ports. If that wasn't enough, the motherboard offers two USB 2.0 headers, but only one is used so that you can add two more USB 2.0 devices. The rear of the case has punched out spots for a COM port or another USB port so that you can add more features.
Tons of Storage Options: The motherboard offers three x4 PCI-E 3.0 M.2 slots, and if that wasn't enough it also supports two 2.5" SATA drives. The chassis is designed to easily mount two 2.5" drives as well.
It can Overclock: With a K-SKU and higher speed RAM you can OC the system, but you cannot bypass a 65W TDP limit.
What's Not
SFFPC Limitations: SFFPCs are pretty awesome, but they also have their limitations. Larger systems are useful because they allow for easy expansion, easy setup, and more cooling capacity. SFFPCs can be harder to set up because of size constraints, don't really offer much upgrade or expansion capabilities. The DeskMini GTX1080 is fairly easy to setup if you follow the guide, but there isn't much in regards to an upgrade path, and the unit isn't quiet when you use the GPU.
Final Thoughts
The ASRock DeskMini GTX1080 is one of my favorite SFFPCs. It offers a solid amount of options, and I love the triple storage M.2 slots on the rear, and the support for two 2.5" SATA drives. The GPU is a beast, and the CPU we used (i7-8700) is also a real beast. Cooling is effective we didn't detect any throttling, but you are going to want to wear headphones if you don't change the default fan curve to silent when you game.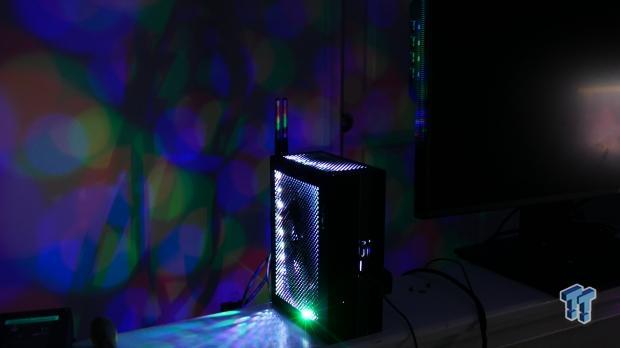 The unit's gaming performance is top notch, the unit stands up against some of the best systems in our charts, and it can pull off 4K gaming. I found a few surprises that lead me to believe even modders will like this unit. It has many unused features including an RGB LED header, an extra USB 2.0 internal header, an extra fan header, and an extra UART header.
The only thing that could make it better would be watercooling, which is a possibility with an external radiator since cooler mounting is pretty standard. So far, this is my favorite SFFPC, and I highly recommend it.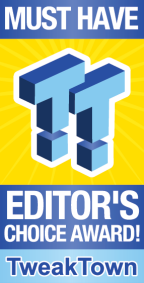 | | |
| --- | --- |
| Performance | 97% |
| Quality | 95% |
| Features | 96% |
| Value | 85% |
The Bottom Line: ASRock's DeskMini GTX1080 just might pack more performance per square inch than any system we have ever tested, it's also loaded with features and customization options.
PRICING: You can find products similar to this one for sale below.

United States: Find other tech and computer products like this over at Amazon.com

United Kingdom: Find other tech and computer products like this over at Amazon.co.uk

Australia: Find other tech and computer products like this over at Amazon.com.au

Canada: Find other tech and computer products like this over at Amazon.ca

Deutschland: Finde andere Technik- und Computerprodukte wie dieses auf Amazon.de
We openly invite the companies who provide us with review samples / who are mentioned or discussed to express their opinion. If any company representative wishes to respond, we will publish the response here. Please contact us if you wish to respond.
Related Tags