Amped Wireless Titan AC1900 Wireless Router Review
The performance was in all honestly decent for an AC1900 class solution, take a look as we run it through the tests.

Published
5 minute read time
TweakTown's Rating: 79%
The Bottom Line
The Titan is solid entry-level solution for those wanting something user friendly with a decent feature set but id be looking at paying under $100US in the current market
Introduction & Pricing, Availability, and Specifications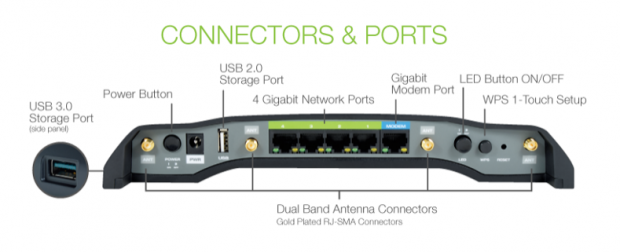 Its been a minute since we took a look at solutions from Amped Wireless, the last I believe was the Ally Mesh platform. With that said, we switch back to single node solutions with the Amped Wireless Titan in-house today.
The Titan lives just under the flagship Athena R2 in the Amped Wireless portfolio. This solution offers 600Mbps on the 2.4GHz band and 1300 Mbps on the 5GHz band making it an AC1900 class platform. Features include a 14-amplifier design providing 800mW of power through four high gain antennas while smart security features offer controls allowing you to set days and times networks are available or the ability to block specific devices from the network. Adding to this Amped has included beamforming technology and bandwidth optimization controls for a smooth user experience.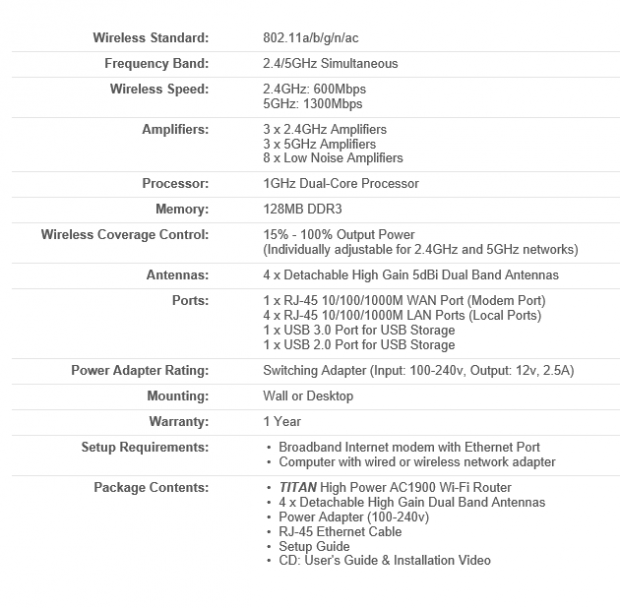 Diving into the hardware specifications, we go over a few details mentioned above including the platform capabilities at 600Mbps on the 2.4GHz band and 1300Mbps on the 5GHz. The platform is powered by a 1GHz Dual-core processor paired with 128M of DDR3 and the 14 amplifiers feature a breakdown of 3 per band and 8 shared low noise amplifiers with power adjustment from 15 to 100%. The four high gain antennas offer 5dbi and are detachable via SMA connections and on the wired side, we have four-gigabit ethernet ports, one-gigabit modem port and 2 USB ports for storage.
MSRP of the Amped Wireless Titan comes in at $179.99 with a one-year warranty.
Router Details
Amped Wireless Titan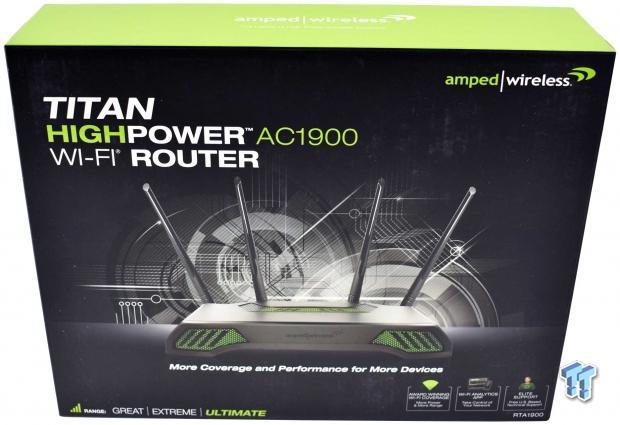 Packaging follows the norm for Amped, Green on black with an image of the router centered. Around this, we have a bit of marketing along the bottom.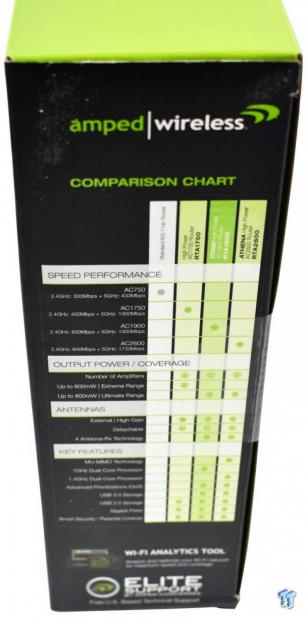 The spine houses a router comparison between in-house models.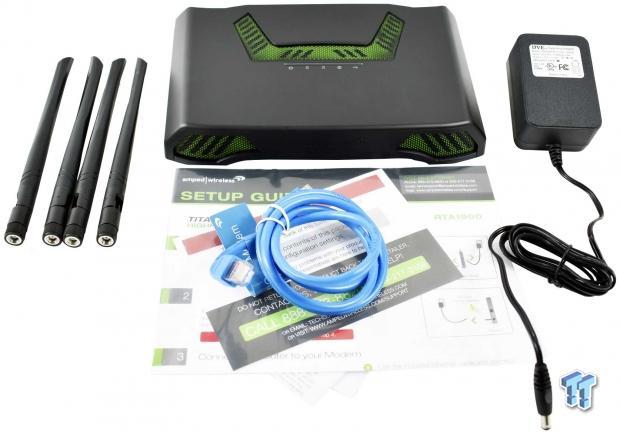 The scope of delivery includes the router surrounded by four antennas, the power adapter, and ethernet cable.

Looking at the Titan, we have a green on black design, curved edges and subtle Amped branding along with a strip of LED light on the top for power and activity.

On the back, we start with four antenna connections, power and USB 2.0 and slide over to four gigabit LAN ports and one WAN port finishing with LED on/off and reset buttons.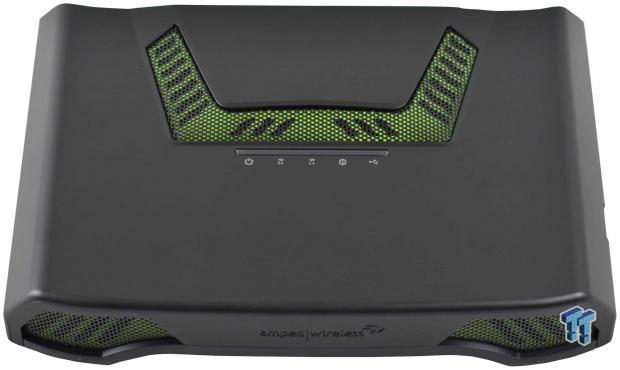 Here we have a better angle of the top, showing its venting to expel heat from the unit and added green highlights. The strip of LEDs on the top include power, the two wireless bands, internet connectivity and USB.
Management GUI Details
Management GUI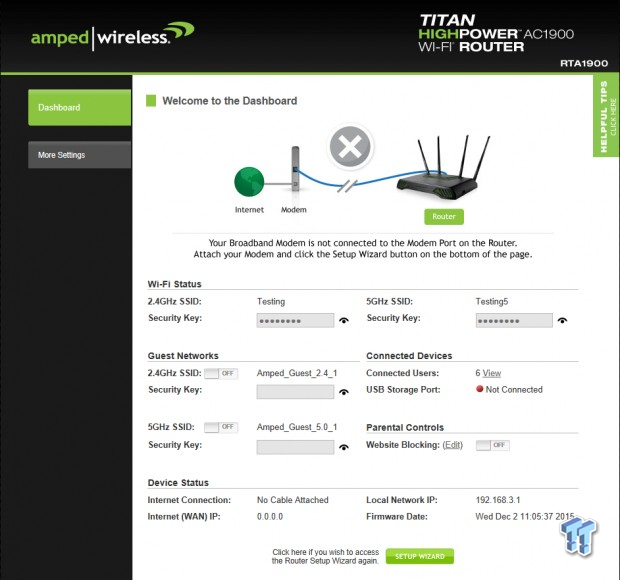 The dashboard for the Titan follows the same design we have seen in the last few years, the main page giving us a peek at the wireless networks with access to guest networks at the bottom.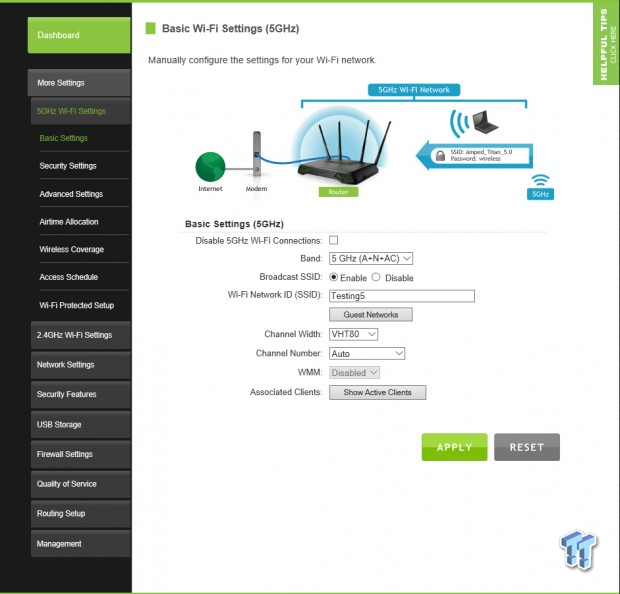 Settings include basic and more advanced wireless setup for each band, with the options seen on the right.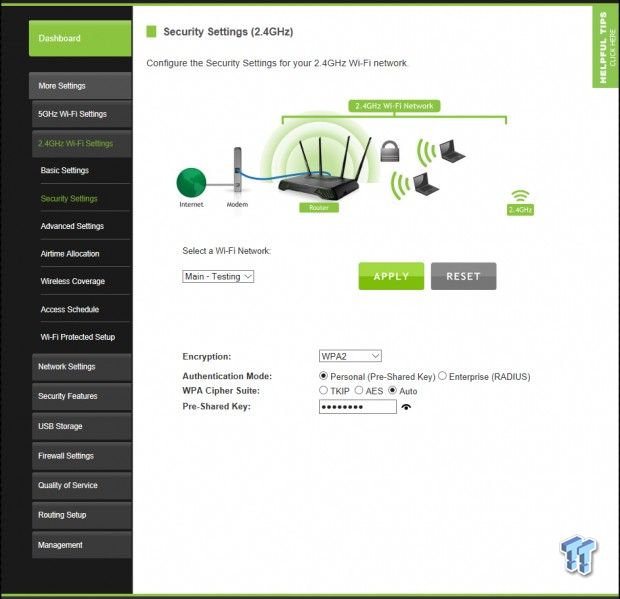 Security settings allowing for WEP, WPA and WPA 2 options.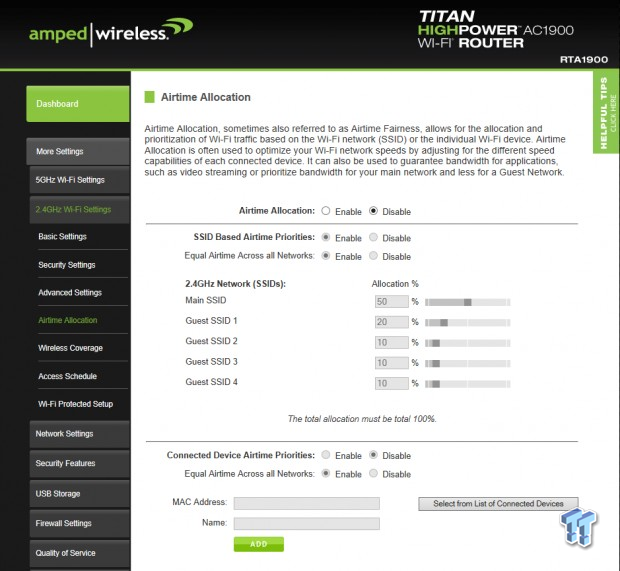 Airtime allocation is a feature I haven't seen implemented on many solutions but is available on the Titan.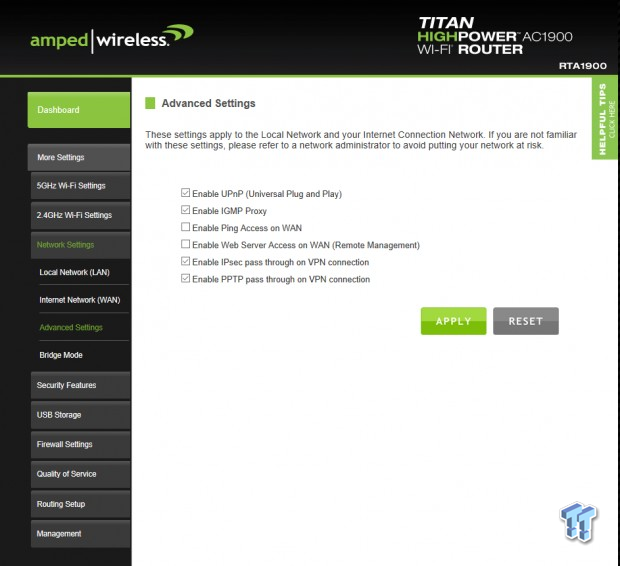 In the advanced menu, we have access to the common IGMP and VPN features.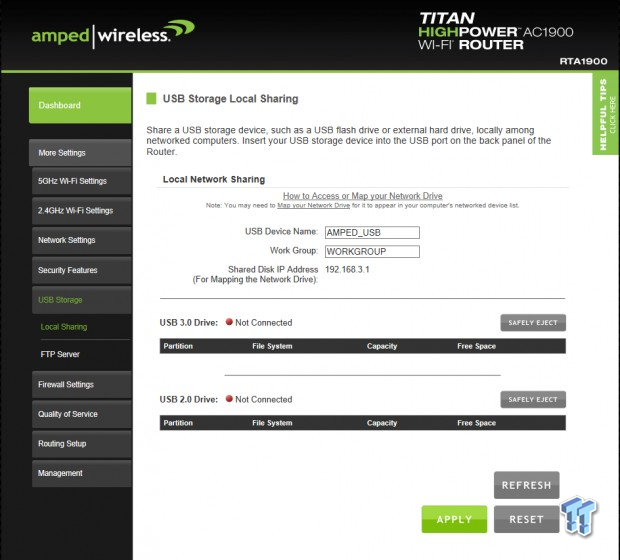 The USB ports on the Titan are made available for storage only. Seen above we can setup Samba access to map a drive.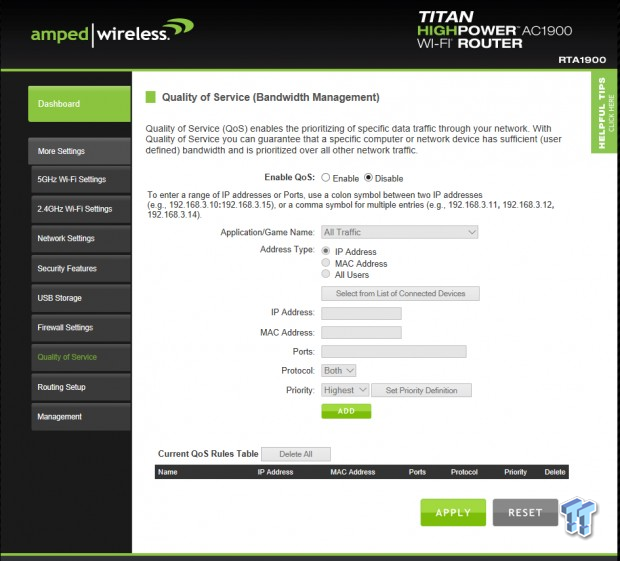 QoS on the Titan isn't the smoothest to setup but isn't terribly difficult either. At the top, we enable the feature and pick a device based on IP and choose its priority.
Test System Setup & Benchmark Throughput Tests
Tyler's Router Test System Specifications
Wired Throughput
The Tenda AC9 was the last router I tested with the old Z170 platform. With our new test system, we re-ran it through testing to have it on our new charts.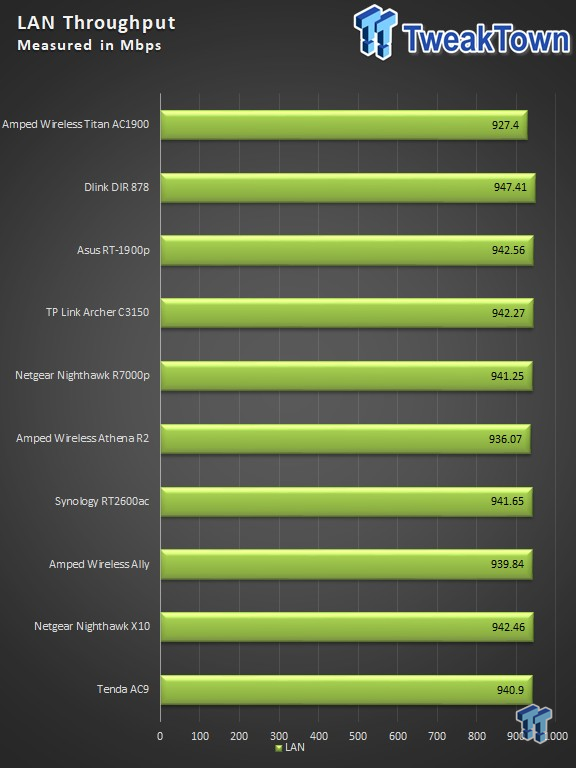 Lan throughput for the Titan came in at 927.4Mbps below what we normally see but pretty good.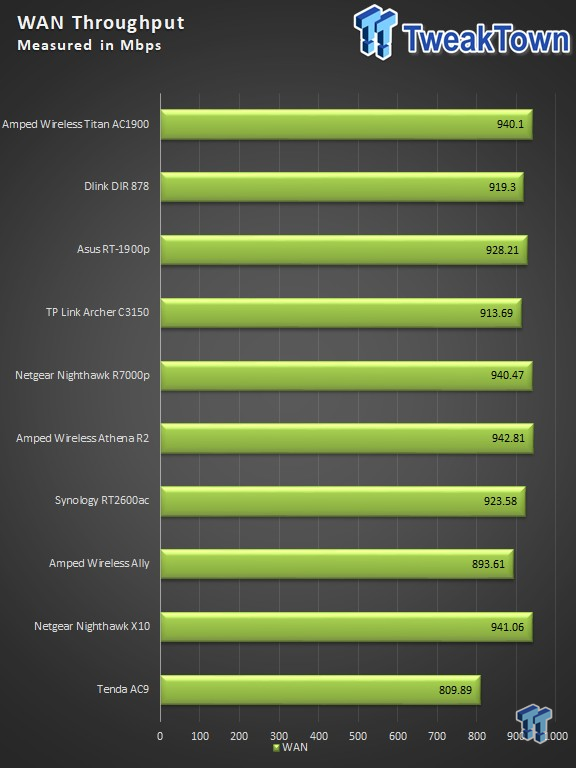 WAN throughput was slightly higher reaching 940Mbps.
Wireless Throughput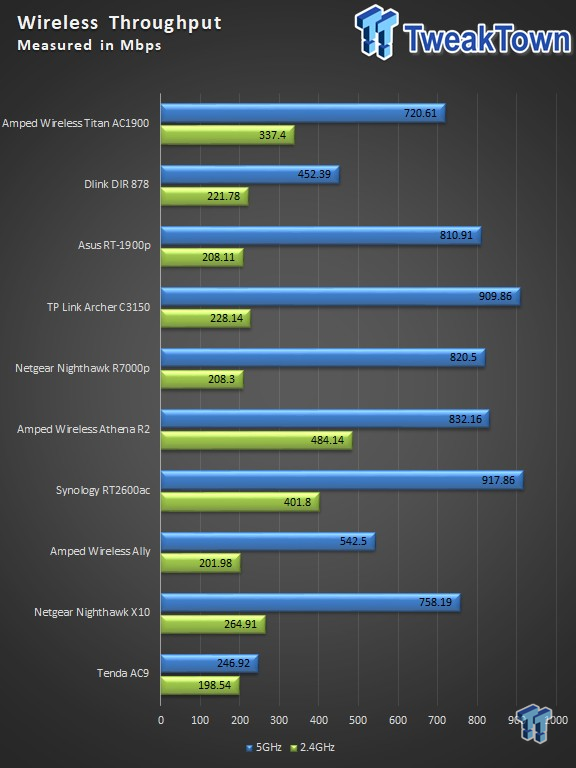 The Titan produced a nice 337 Mbps for the 2.4GHz band making it the third best we have tested this year. 5GHz reached 720 Mbps putting it towards the top of what we normally see.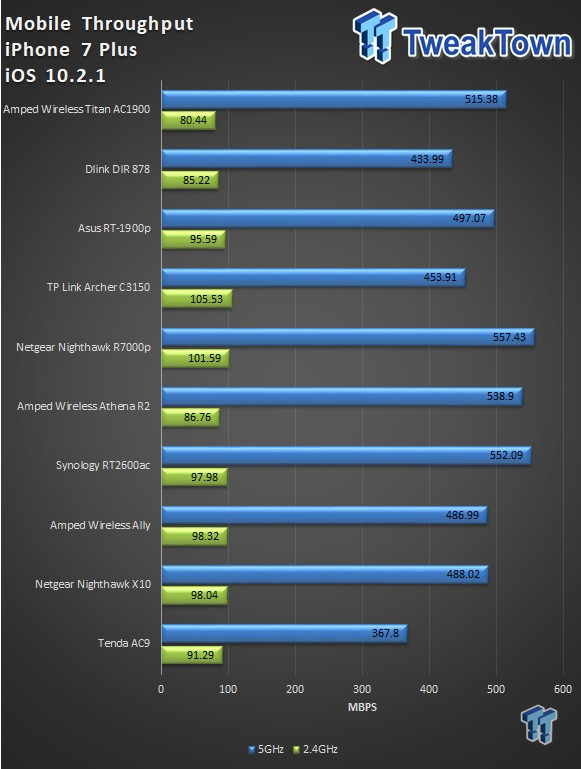 Mobile throughput with the iPhone 7 Plus allowed 80 Mbps on the 2.4GHz band while the 5GHz band brought in a nice 515Mbps, 4th best this year.
Benchmarks - Wireless Range and Session Performance
Wireless Range
Our next test for this new setup is seeing how range affects performance. With this, we start at 10Ft and move out to 30Ft. Routers are tested in their default configuration for this part, the client device is the iPhone 7 Plus.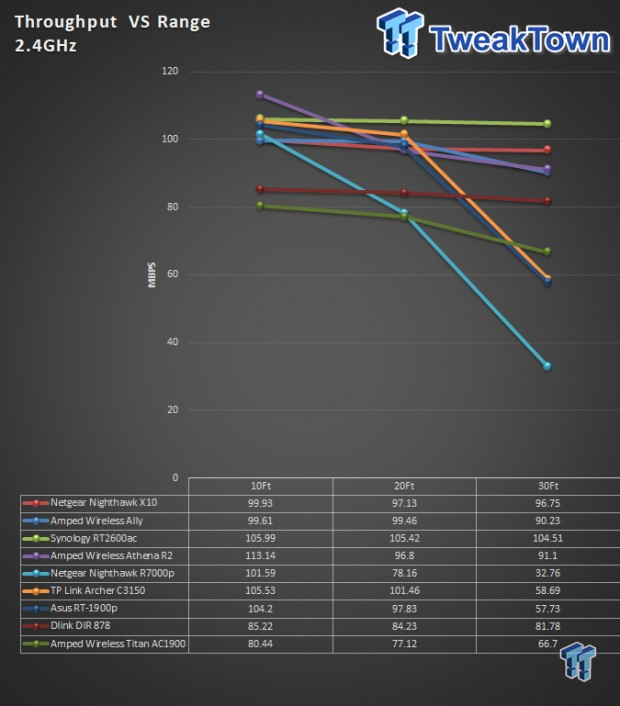 The Titan is the dark green line in the next few charts and on the subject of 2.4GHz throughput we see at 10ft a solid 80 Mbps while moving out its drops slowly to 66 MBps at 30ft.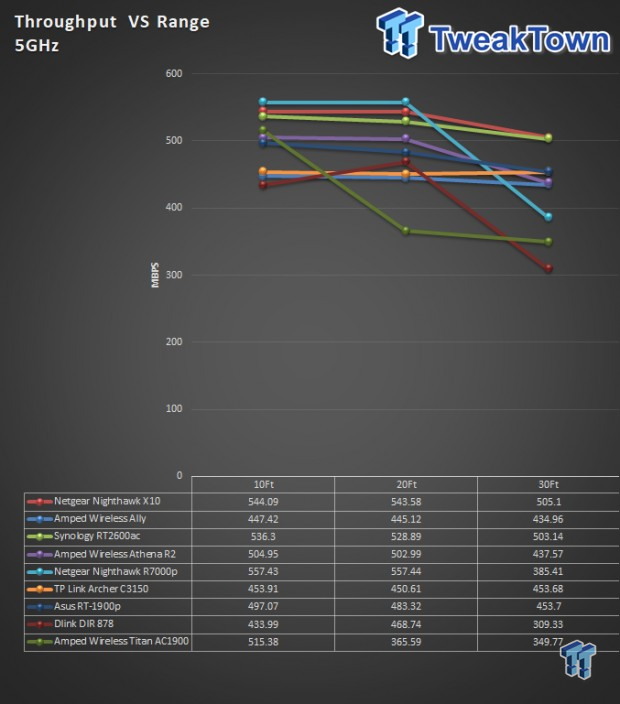 The 5GHz band, on the other hand, starts off at 515Mbps at 10ft and moving out to 20Ft we see a rather large drop in performance but a slight rebound at 30ft to 349Mbps.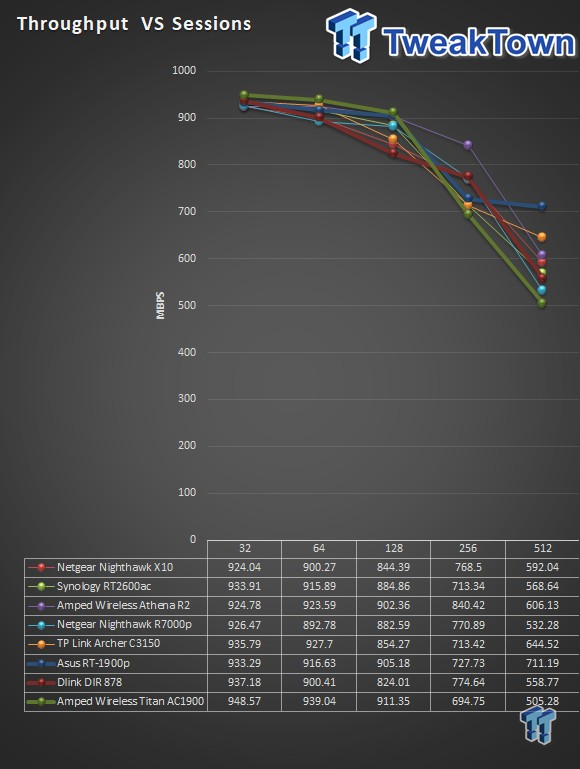 Pushing the router to the max, we push to see how many connections this router can handle and watch the performance drop off with it. For the Titan, we started at 948Mbps and held above 900Mbps through 128 connections. After this, we fell off to 694Mbps at 256 connections and finished at 505Mbps at 512 connections.
Final Thoughts
Its been quite some time since we last looked at an Amped product and over the years I have most often enjoyed their solutions, especially at the peak of 802.11n. With 802.11ac the products haven't been as good as the past, I feel Amped Wireless went from being, in my mind very prestigious with top tier only solutions, to creating products to get them on the market and be somewhat competitive.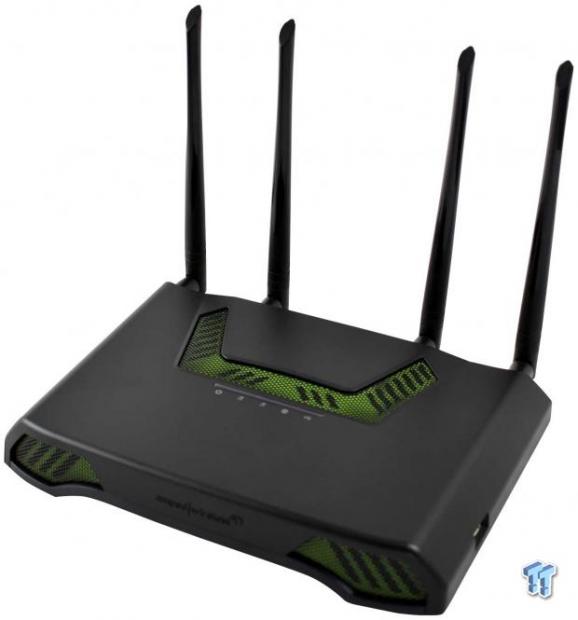 Granted the wireless market has exploded with 802.11ac with a massive amount of competition coming from every corner of the world. With all of this, the build quality of the Titan is one level above their shared frame Athena, Artemis, Helios platform as the plastics feel a bit bitter and the mesh and green inlay do give the unit more aesthetic appeal.
The performance was in all honestly decent for an AC1900 class solution. We were able to get wired speed via the Gigabit LAN and WAN ports and moving to wireless performance a solid 300Mbps on 2.4GHz and 700Mbps on 5GHz. Mobile throughput with our iPhone was quite good too, with a peak of 515Mbps which is at the top end of the routers we have tested this year.
Throughout, it fell off only slightly with the 2.4GHz band in our testing. We started at 80Mbps and dropped to 66MBps moving from 10 to 30ft with the 2.4GHz band and moving over to 5GHz we see a 150Mbps drop moving from 10 to 20ft but stabilizing as we moved to 30ft.

The platform firmware for the Amped Titan could use a makeover but the other hand says its always been quite stable so don't mess with it. In all honesty, I have never had any issues with Amped firmware in the five or so years I have been messing with different router platforms. That said, I would certainly like to see something added to the platform like nerdy menus that show Real-time data.
Pricing of the Titan has its MSRP at $179.99 US and I would certainly shop around to find a better deal for this solution as many AC1900 platforms have dropped near to or below the $100 mark as AC1900 is really entry-level in the current market.
| | |
| --- | --- |
| Performance | 86% |
| Quality | 75% |
| Features | 73% |
| Value | 81% |
The Bottom Line: The Titan is solid entry-level solution for those wanting something user friendly with a decent feature set but id be looking at paying under $100US in the current market
PRICING: You can find products similar to this one for sale below.

United States: Find other tech and computer products like this over at Amazon.com

United Kingdom: Find other tech and computer products like this over at Amazon.co.uk

Australia: Find other tech and computer products like this over at Amazon.com.au

Canada: Find other tech and computer products like this over at Amazon.ca

Deutschland: Finde andere Technik- und Computerprodukte wie dieses auf Amazon.de
We openly invite the companies who provide us with review samples / who are mentioned or discussed to express their opinion. If any company representative wishes to respond, we will publish the response here. Please contact us if you wish to respond.