Intel Compute Card CD1M3128MK + DK132EPJ Dock SFF PC Review
Intel's tiny yet powerful Compute Card CD1M3128MK SFF PC and DK132EPJ Dock get fully examined.
Published
10 minute read time
TweakTown's Rating: 92%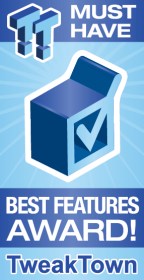 The Bottom Line
Intel's Compute Card and Dock provide the ability to quickly and simply upgrade PC infrastructure, and while they are small, they do pack a performance punch.
Introduction, Specifications, and Pricing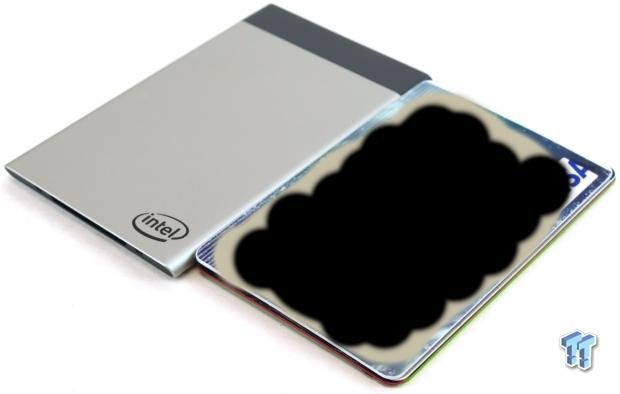 Today, we have something special in store for you as we take a look at Intel's mysterious Compute Card CD1M3128MK and compatible Compute Card Doc, the DK132EPJ. There has been little to no coverage of these new components, and their target market might not seem clear. However, we know a few things; the Compute Card will take over Intel's Compute Stick's legacy, and it's designed to offer affordable upgrade paths in the future. That means, the card will act as a replaceable brain inside different machines, with a standardized mounting system and connector array, you should be able to pop in and out Compute Cards to easily upgrade existing devices.
Not only is that great news for industries, but also for small business, and dare I say, home users alike. Having used the card before writing the introduction to this review, I have to say, I didn't expect the card to be a quick and nimble as it was, it gives the Compute Stick a run for its money, but it's not all fun and games.
Let's see what it's got.
Specifications

The Intel Compute Card's specifications are lacking. I couldn't even find the processor number except in the product name (it's using a Core m3 processor in our model (hence the m3). Our model comes with 4GB of LPDDR3, and thankfully in dual channel. It also comes with an integrated 128GB NVMe drive. It supports up to two displays through DisplayPort 1.2 and HDMI 1.4b via DDI (digital display interface, meaning it needs a level shifter most likely in the dock).
Surprisingly, it comes with an Intel Wireless AC 8265 card, which is actually a very nice card, built into the compute card. It supports virtualization, PTT, remote wake, but not vPro or TET. The dock supports a 19v input specification, offers HDMI and mini-DP outputs with a maximum of two displays supported. It also offers three USB 3.0 ports, 1Gbit LAN, audio through display technology, and TPM 1.00 support.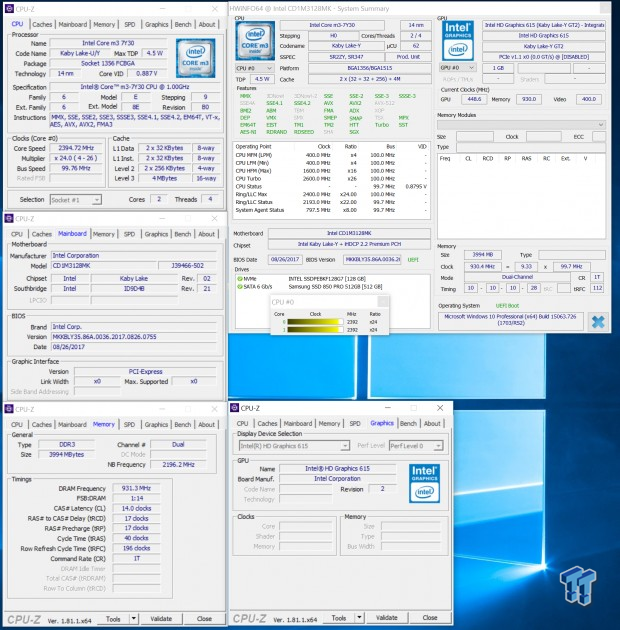 Pulling up CPUz and HWInfo gives us a bit more information. For starters, the CPU is an Intel Core m3-7Y30 mobile processor (Kaby Lake-Y) based on 14nm technology with a 4.5W TDP (configurable up and down to 7W and 3.5W). Maximum Turbo is 2.6GHz with a base frequency of 1.00GHz. The CPU has two core and four threads, 1MB of SmartCache, and a 4GT/s QPI link (half DMI 3.0). It only supports DDR3, but that's okay since, at lower speeds, and tighter latency, DDR3 is better than DDR4 alternatives. Graphics are powered by Intel's HD Graphics 615 built into the CPU, and it supports 4K at 24Hz on HDMI and 4K at 60Hz on DisplayPort, and it even supports DX12 (but that doesn't really matter). It offers four PCI-E 3.0 lanes, with a maximum number of 10 PCI-E lanes (as per the spec sheet).
Moving on, we get 4GB of DDR4 at 1866MHz C14, and Intel SSDPEBKF128G7, which is part of Intel SSD Pro 6000p series. Quite strong specs for a card the size of three to four credit cards stacked on one another containing a CPU, iGPU, Wireless-AC card, RAM, and SSD.
Pricing
The Intel Compute Card in our model costs between $320-400 as per online stores that carry it. We found the dock from as low as $134 (from Walmart) up to $150. That would put your total around $460-550 for both (you need both).
Packaging and System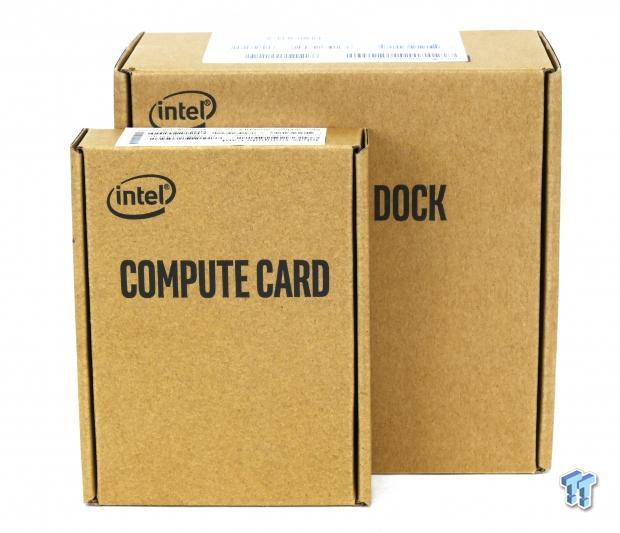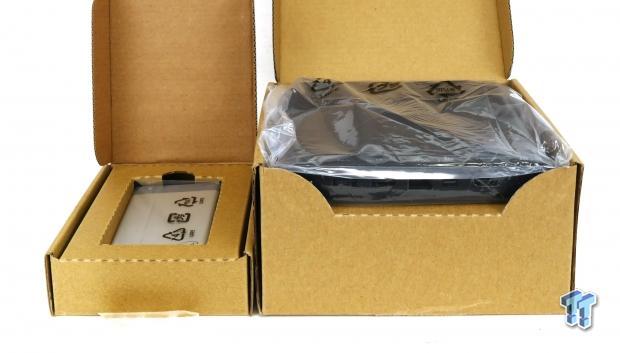 Simple brown cardboard boxes contain both the card and dock. While they are sold separately, you have to have both a card and a dock for the system to work. Packaging is done well and protects the contents of the box.

You get a VESA mounting bracket, four different regional plug adapters, AC/DC power supply, and some screws and manuals. The FPS outputs 19v at 3.43A for a total of roughly 65W.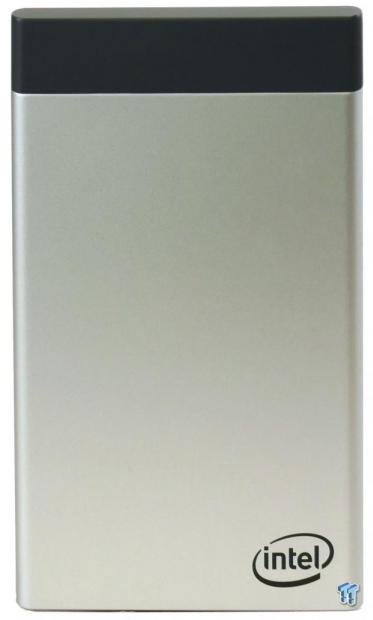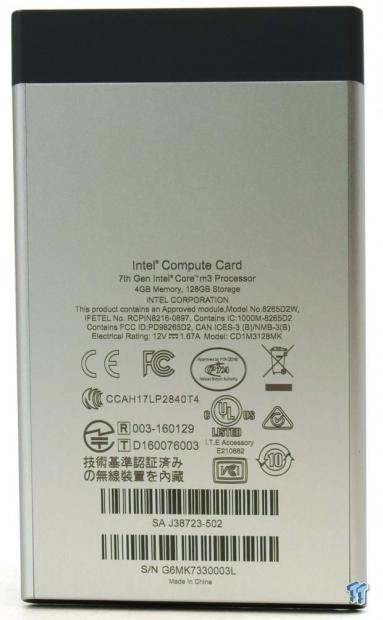 The top and bottom of the compute card are simple. An aluminum enclosure protects everything, but doubles as a heat transfer medium for the hardware inside the card. The front of the unit is rubberized and is visible when the unit is docked. We also see some regulatory information for the WIFI card, but also find that the card is rated for 12v @ 1.67A, which is odd since I would think voltage reduction for the parts would be done outside the card, but it seems that voltage regulation (for CPU, RAM, etc.) is being done on the card to reduce pin count.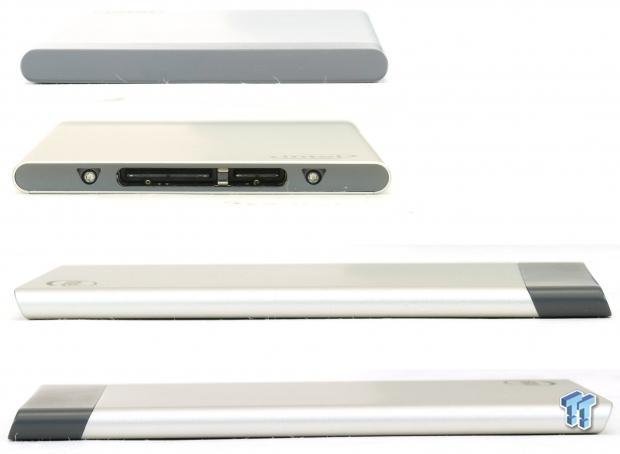 The card has an interesting mounting mechanism. It actually will lock into the cartridge slot when inserted into the dock. There isn't much to see, but judging by some of the controllers on the dock's motherboard, it's based on type-C port technology.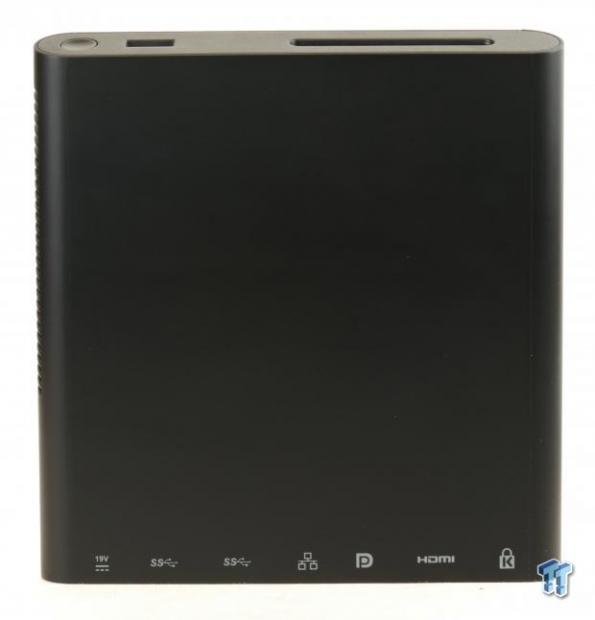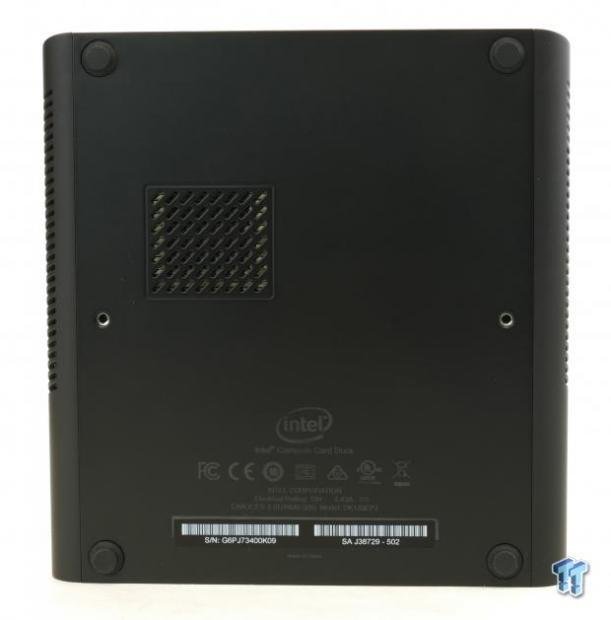 The top of the dock has clear labels for the rear ports. The bottom of the dock has a vent as well as four rubber legs, and VESA mounting holes.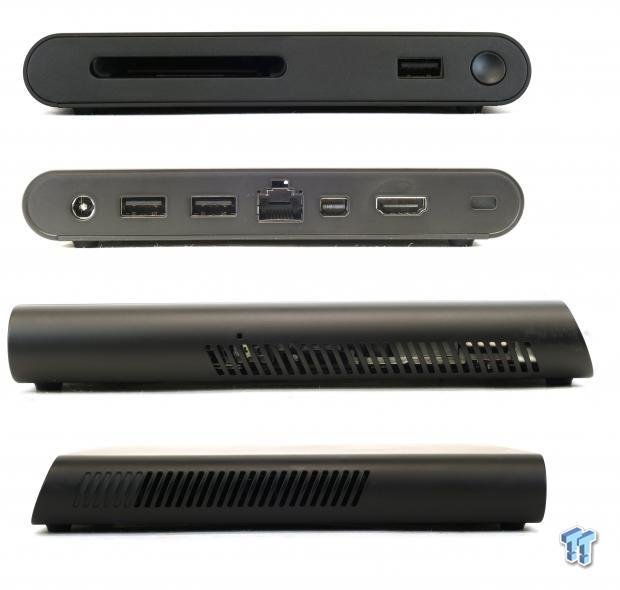 The front of the unit is where you put in the card, and there is also a USB 3.0 port at the front for easy access. The rear of the unit has two more USB 3.0 ports, DC input jack, HDMI 1.4, mini DisplayPort 1.2, 1Gbit LAN, and a Kensington lock slot. The right and left sides of the unit have vents; the left side is an intake while the right is an exhaust vent.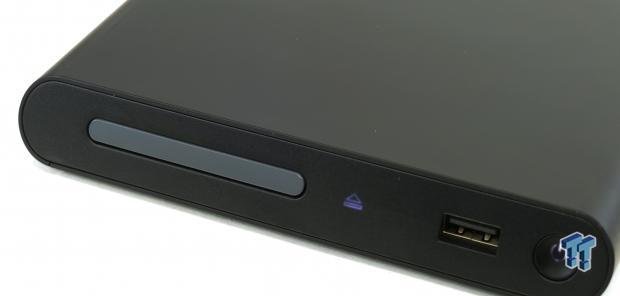 Once the card is inserted into the dock, it's almost impossible to remove without ejecting the card with the digital button that only appears when the unit is one, or by opening the dock itself. The good news is that Intel has thought about physical security, and if you use a Kensington lock, ejection will not work.
Teardown of the Intel Compute Card and Dock
Teardown of the Compute Card and Dock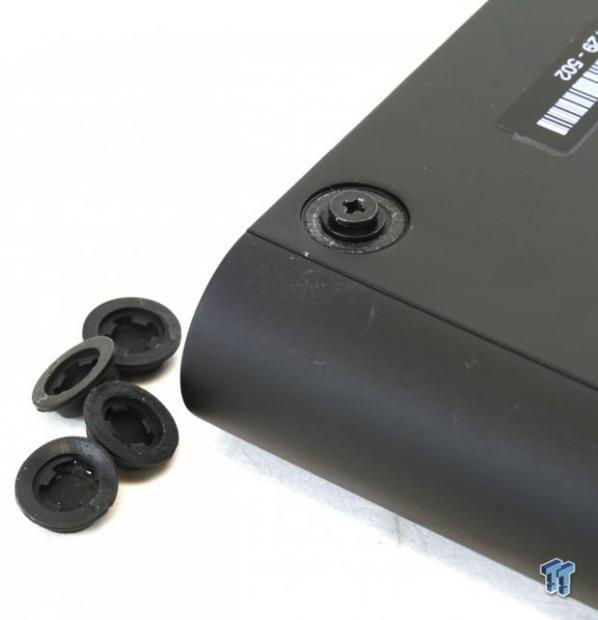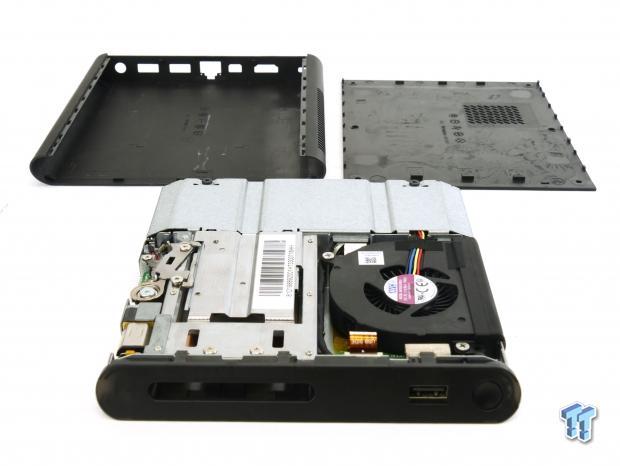 The dock has four screws camouflaged by four rubber feet. With a bunch of slides and prodding, we were able to dismantle the dock. It revealed a decent blower fan, and solid metal encasing.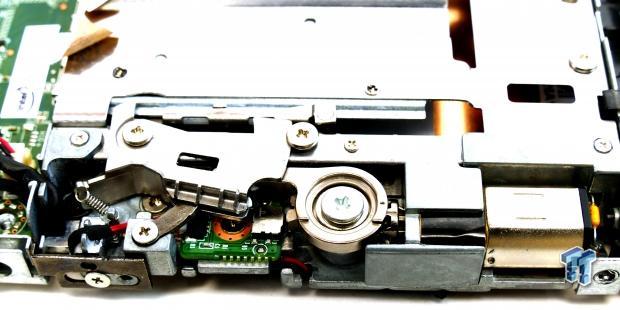 One thing we noticed is that if you insert a Kensington lock, a spring mechanism will push a metal bracket to prevent physical device tampering. The card ejection mechanism is set up to release pressure built up from inserting the card, and it works pretty well. I tried to eject the card by sticking something into the side vents, but I wasn't able to successfully achieve ejection, it was a lot easier when I opened the casing, but I think it's safe to say Intel designed the mechanism with security in mind.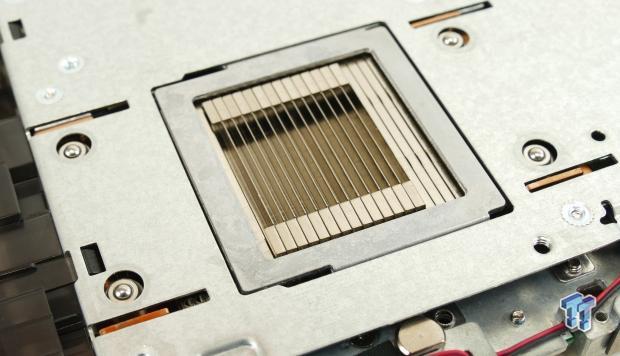 The image on the left shows the card, not inserted (image from the bottom of the dock), while the image on the right shows it inserted. When the card is inserted, a metal heat sink moves up to touch the bottom of the card and provide cooling.

We can actually catch a glimpse of this large copper plate and thermal pad, and it seems to be reusable.

I didn't remove the motherboard to see what was on the other side as it seemed to require even more dismantling of the card docking mechanism and I didn't want to break anything. We do see many familiar ICs on the top of the unit, and they do a lot of work.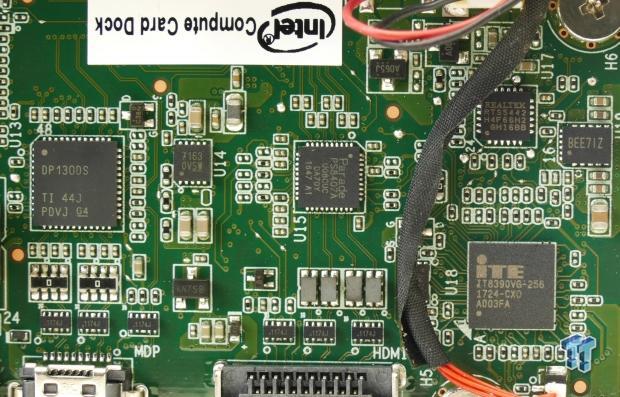 A Texas Instruments DP130DS is a Display Port re-driver, while the Parade PS8470A is an HDMI Jitter Cleaning Repeater. It seems that moving display over connection pins requires cleaning up the signal a bit. A Realtek RTS5442 is actually a type-C control chip with USB Power Delivery (up to 100W support), so we can assume that the custom port on the card is somewhat based on the type-C specification, perhaps only for power, but maybe also for data. I assume the IT8390 is an embedded controller. The Intel i211AT is used as the 1Gbit LAN controller, and the Realtek RTS5411 is used as a USB 3.0 hub.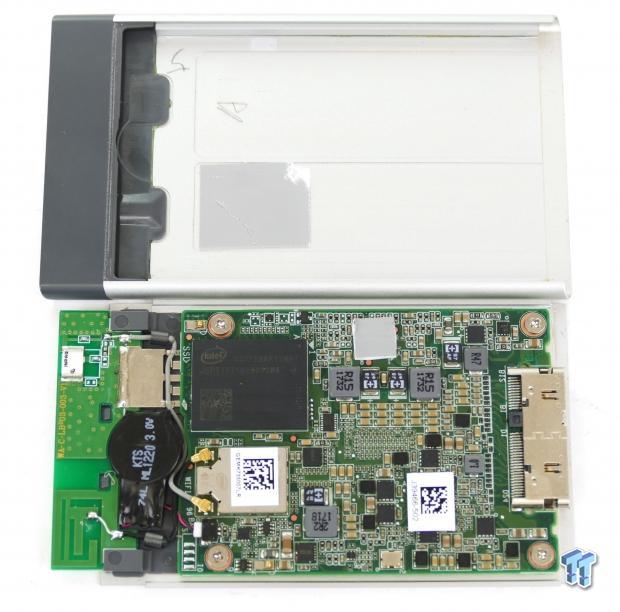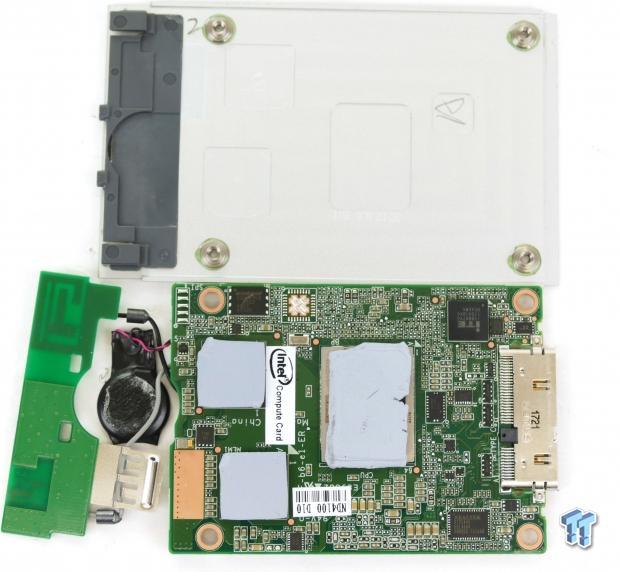 The card was a real pain to open up, you basically need to unscrew two tiny Torx screws and then that reveals a bracket with two other screws, and then with some effort, you can slide the unit out. The SSD has a thermal pad on the top of the unit, while I believe the SSD controller has a thermal pad glued on. On the other side of the card, we find the CPU and memory have thermal pads on them, and pressure on these pads is very good. The CMOS battery WIFI antenna side where the plastic is.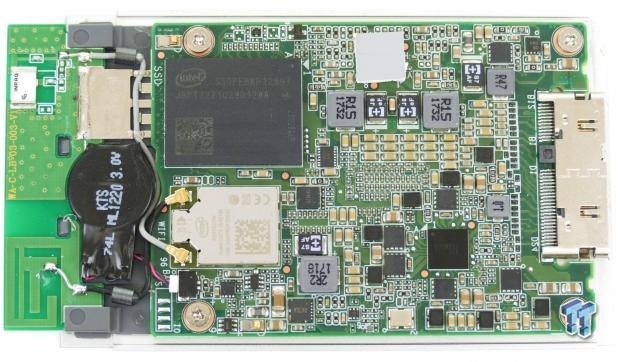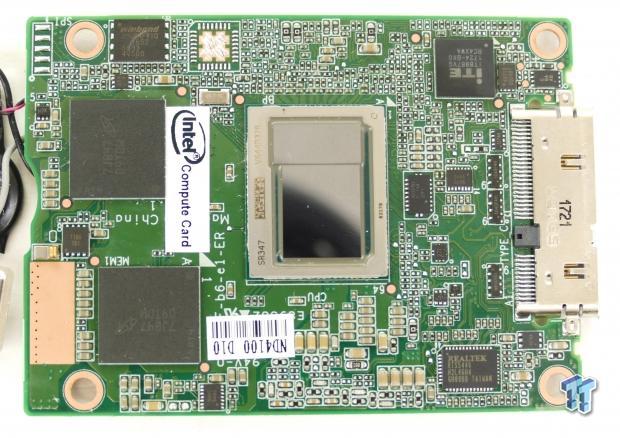 The SSD is an SSDPEBKF128G7, our WIFI is the Intel Wireless-AC 8265D2W, and our power management IC is the ROHM992. We find two Micron 2GB modules, MT52L256M64D2PP-107. The Core m3 SoC is bare die. A Realtek RTS5440 is found inside (probably will be replaced with the RTS5450 like on the Pentium based card), it's a type-C controller and power delivery IC. We find more minor ICs like a Texas instruments HD3SS3212 10Gbps MUX (probably for video). We find an ITE IT8987VG, which is an SIO/EC (embedded controller), which probably acts to monitoring and control the system. We also fine a 64Mbit/8GB Winbond BIOS ROM as well.
BIOS and Software
BIOS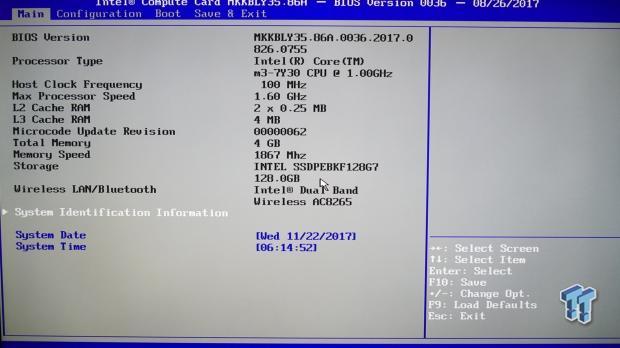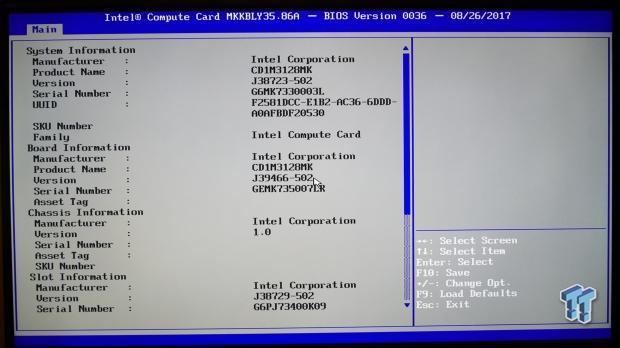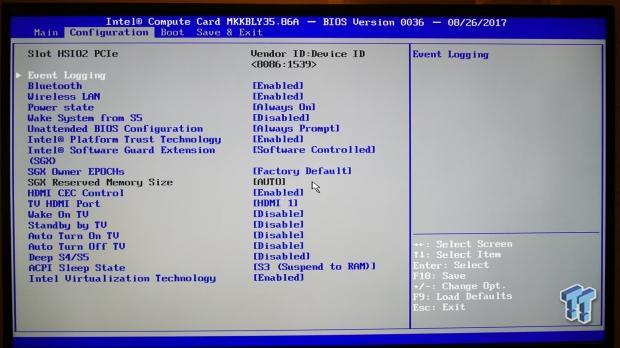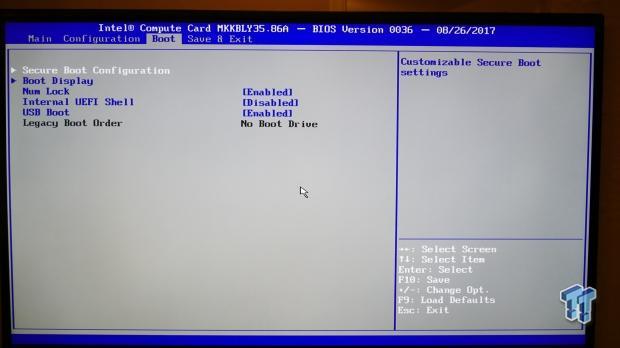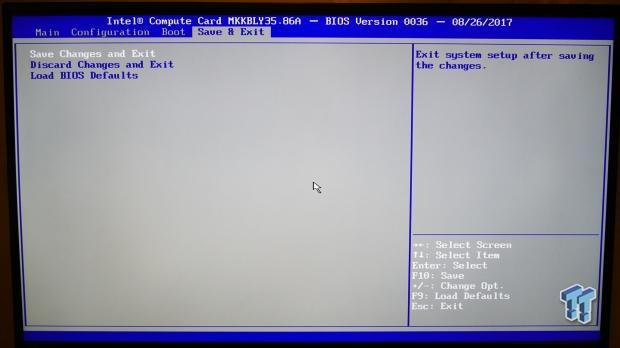 Intel's BIOS is simple and put together well. It doesn't offer a crazy amount of configuration options, but all configuration options are located in a long menu list on the Configuration page. You also get secure boot options, but I am not sure on booting legacy operating systems.
Software
The Intel Compute Card doesn't come with an OS, and there is no software.
Benchmarks
CPU, Memory, System, and Graphics Benchmarks
CINEBENCH 11.5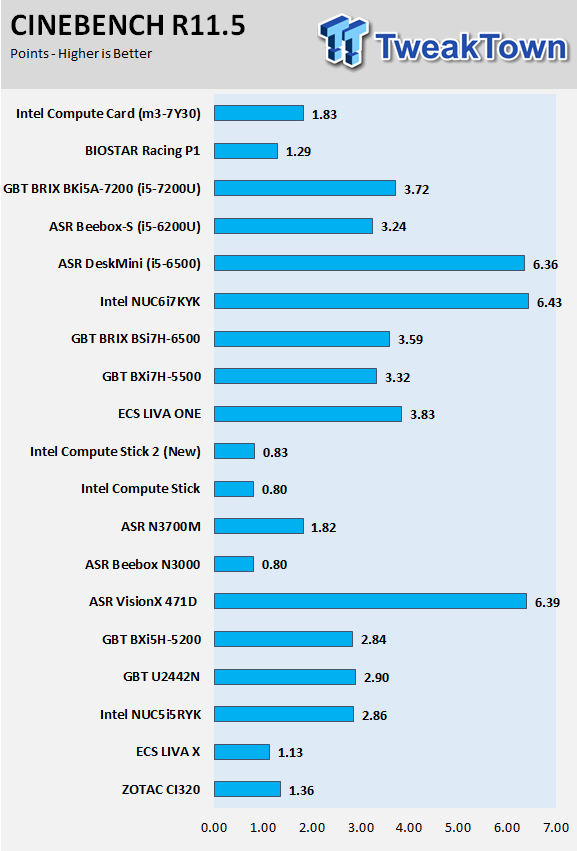 wPrime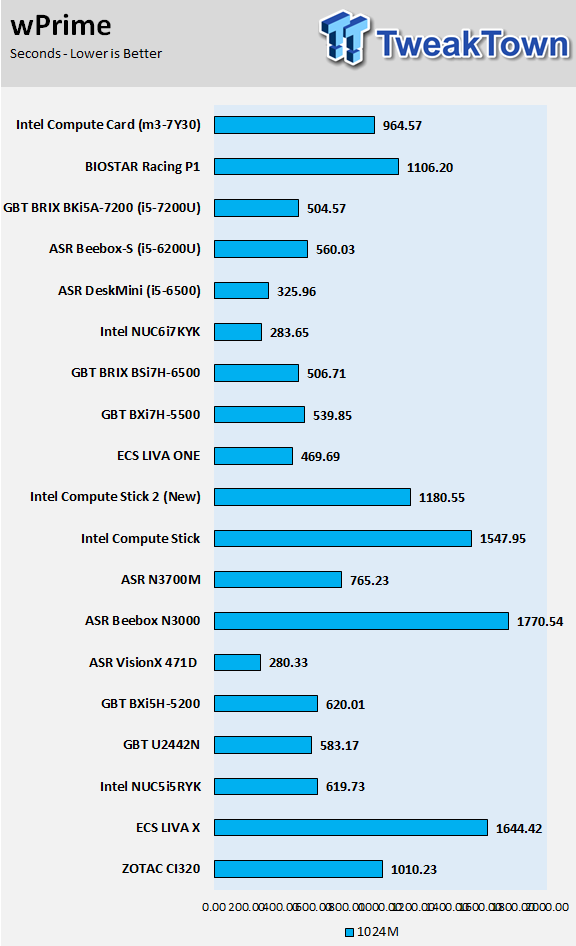 AIDA64 AES and HASH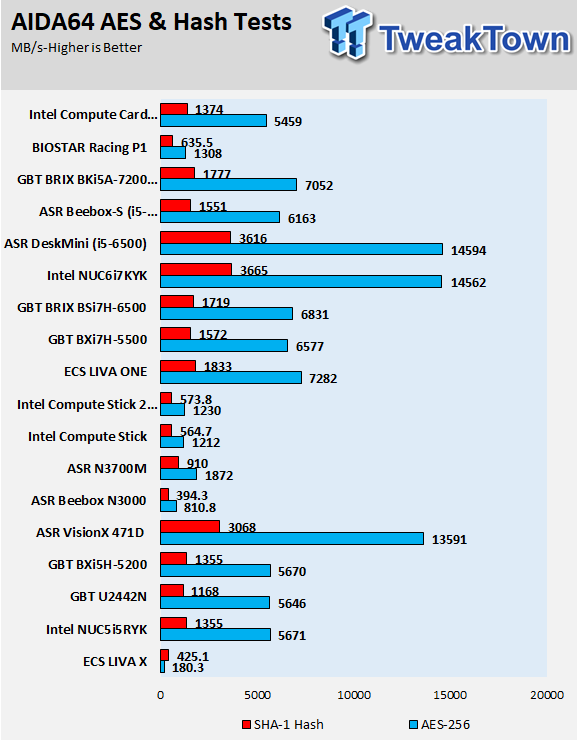 AIDA64 Memory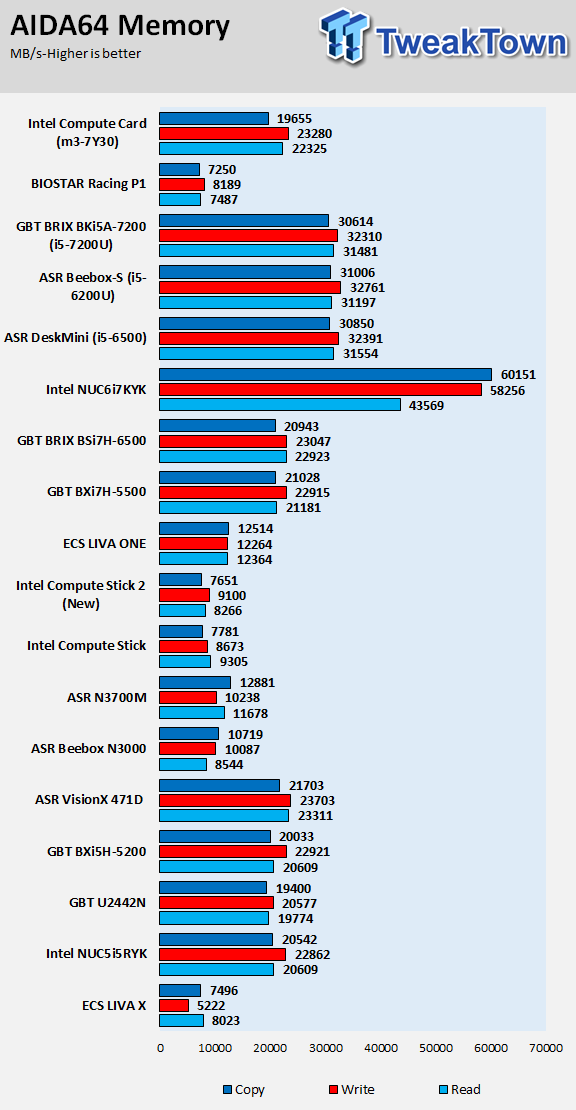 HandBrake Video Encoding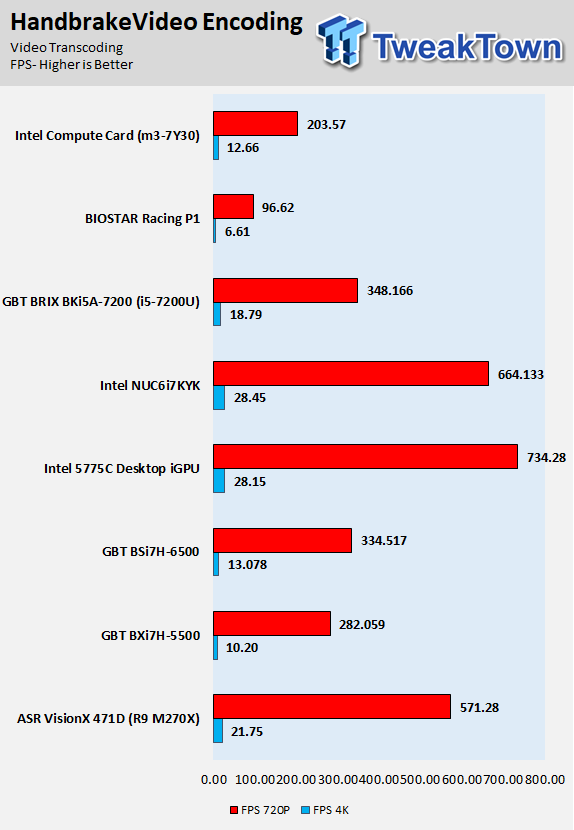 PCMark8 Home Test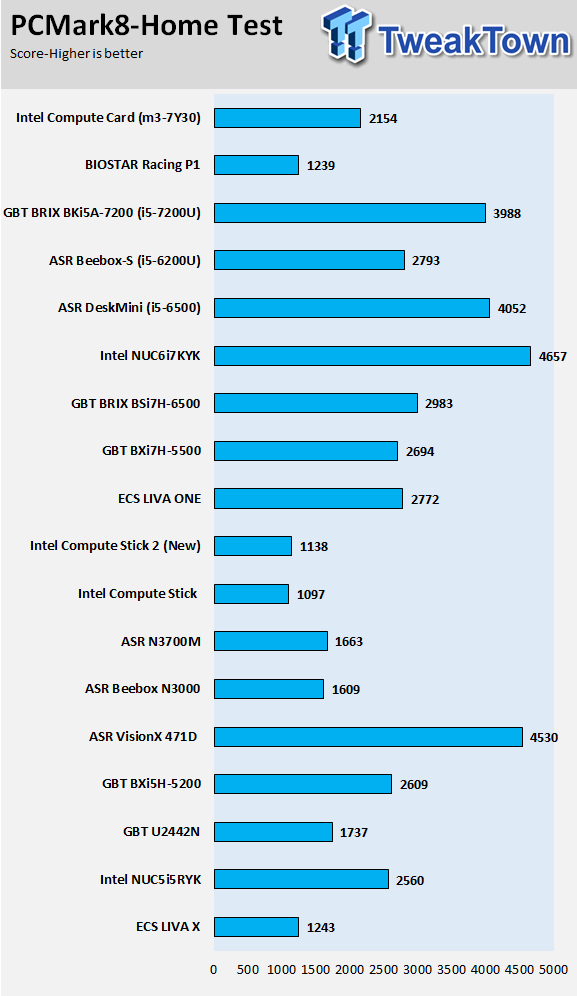 PCMark8 Work Test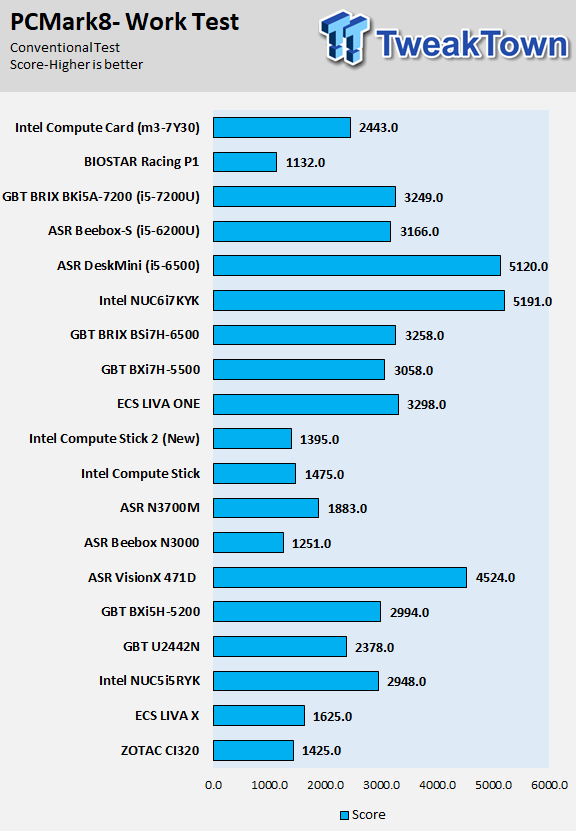 WebXPRT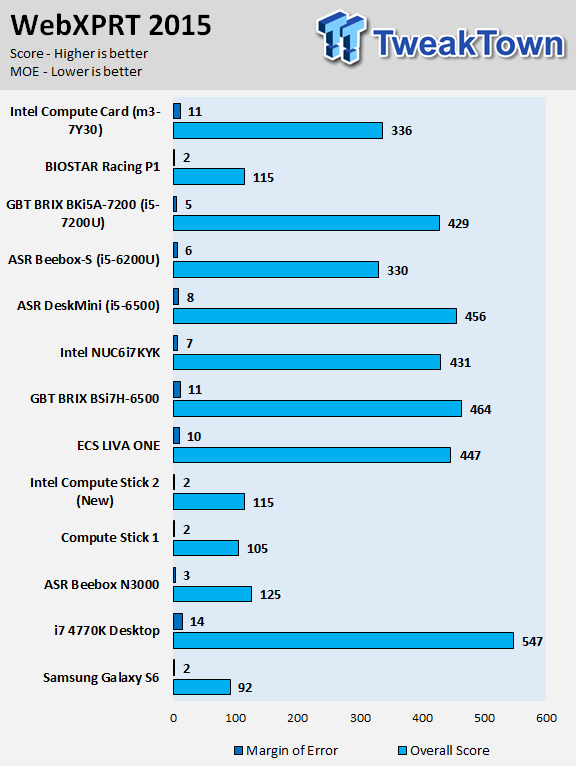 3DMark 11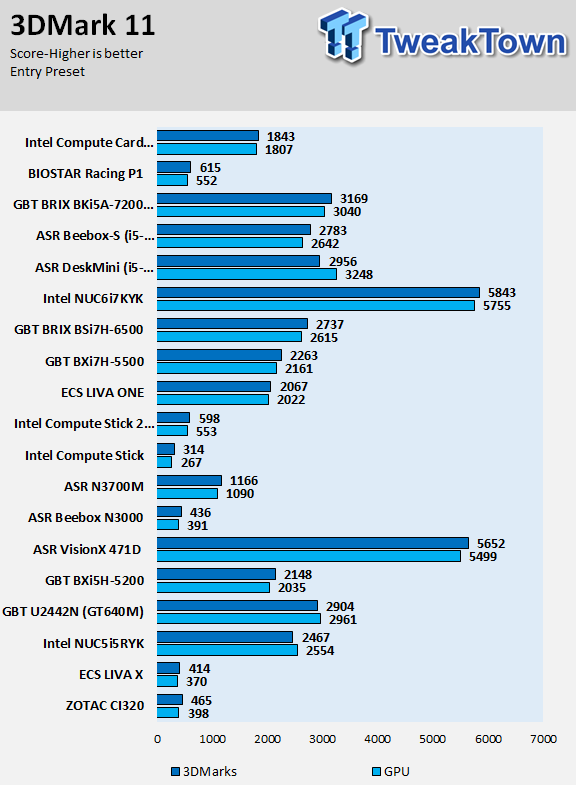 UNIGINE Heaven 4.0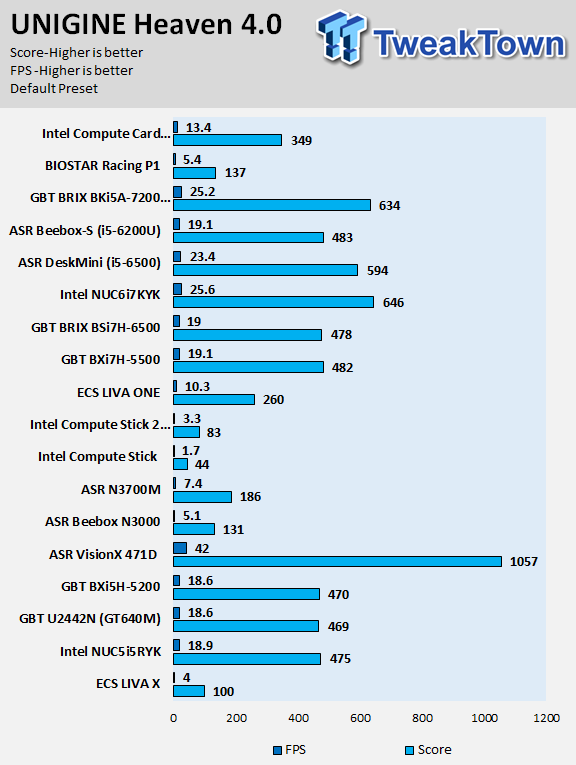 Resident Evil 6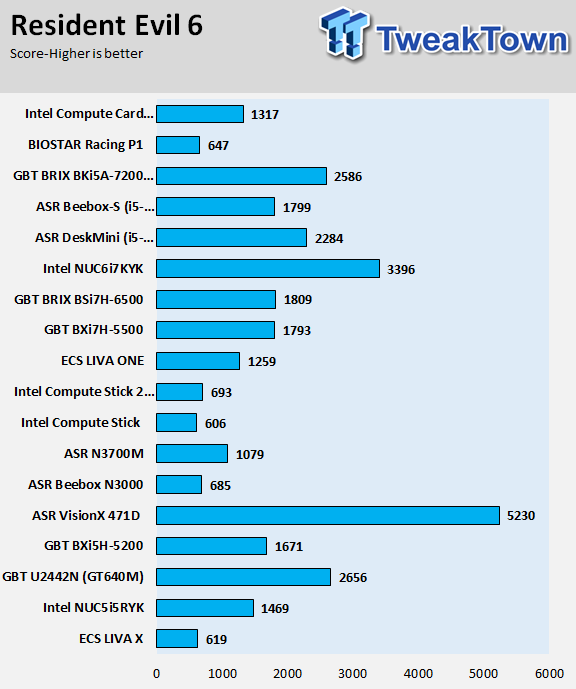 Intel's Intel Compute Card uses a Core m3 processor, which is a step up from Pentium based processors in other very low powered SFF PCs. We see that it demolishes the Intel Compute Sticks, both original and new, and it also does well against the N300, LIVA X, CI320, Racing P1. Against a quad-core Pentium processor such as the N3700, it holds up.
Its dual-channel DDR3 memory doesn't hold up against DDR4 in dual channel but does against some of the NUCs that used DDR3 SO-DIMMs. It competes well in PCMark Home and Work tests against some of the older NUCs as well. WebXPRT shows us how responsive the system is and that it can actually do quite well in real life scenarios. One of the bigger weaknesses of the Compute Card is its 3D performance; it's simply not equipped for games that aren't webpage based.
Storage and Network Performance
CrystalDiskBench-Read: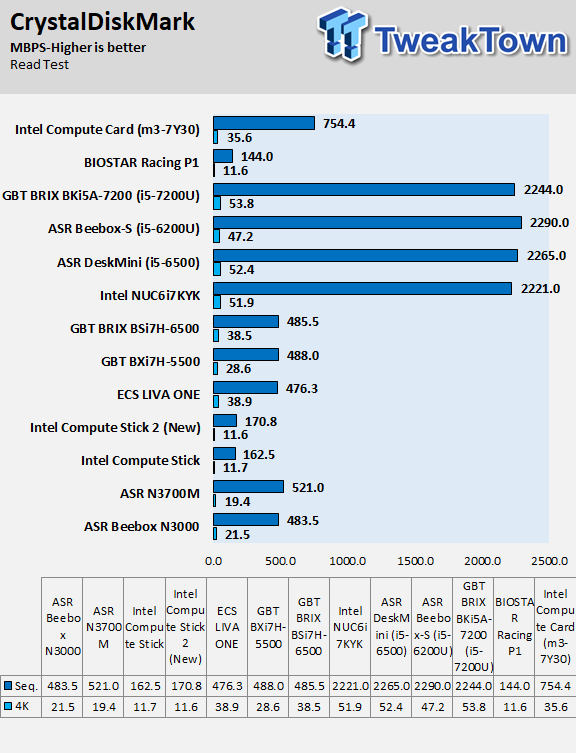 CrystalDiskBench-Write: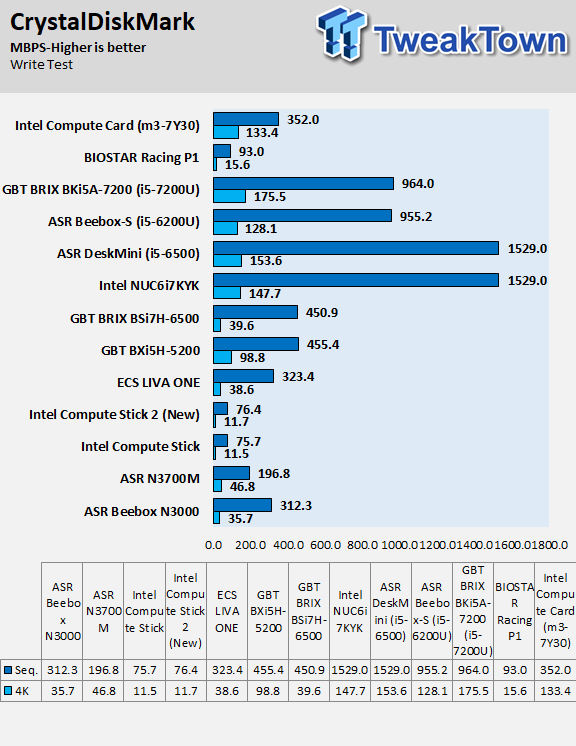 ixChariot Network Throughput: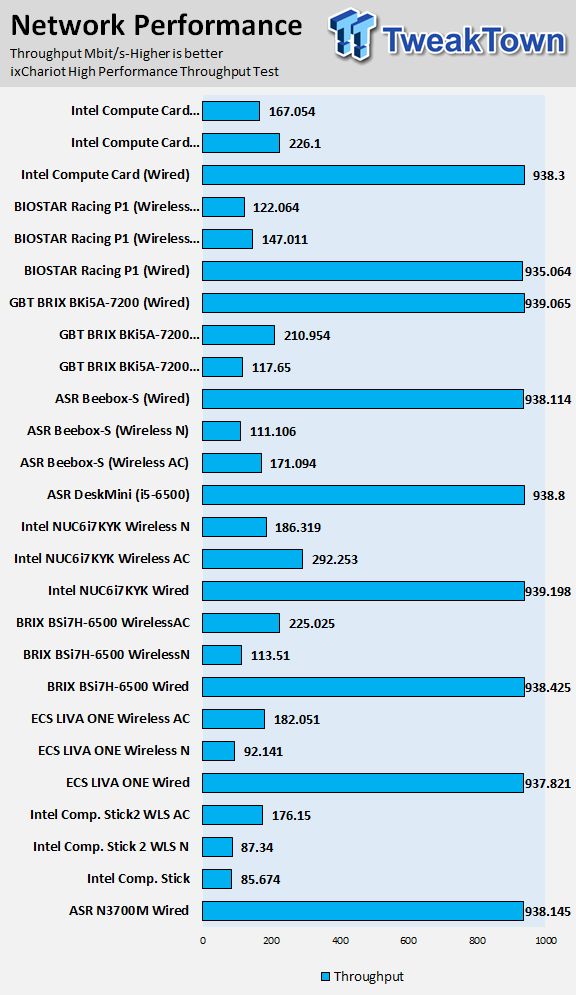 The Intel Compute Card has a decent SSD inside, and that is one of the reasons the system feels snappy enough for normal use. Its random read and write speeds are great, and its sequential speeds can easily beat a SATA drive. Networking speeds were solid because the wired NIC is in the dock and the wireless NIC is a decent model.
Temperature and Power Consumption
Power Consumption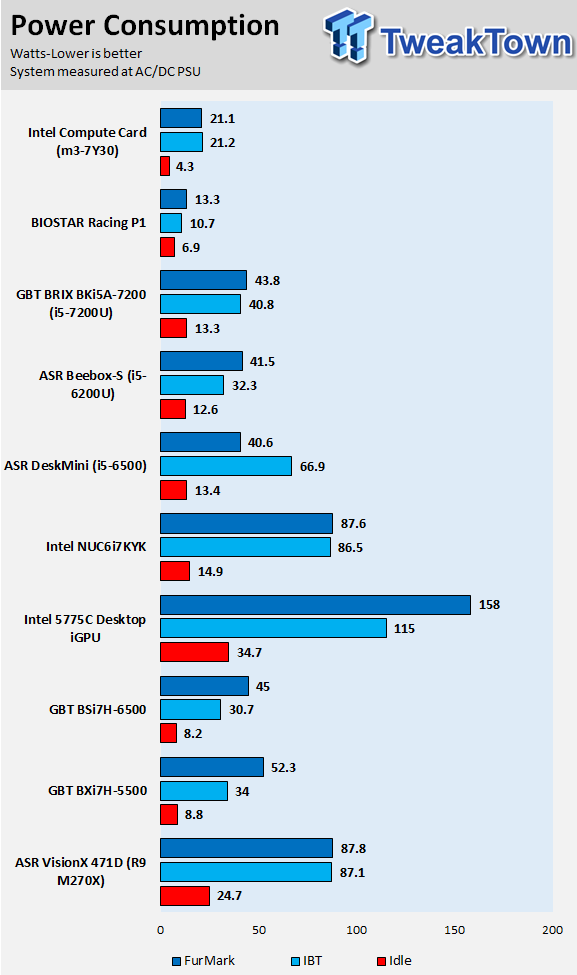 The power consumption of the Intel Compute Card and Dock is very reasonable, and it would be manageable in an enterprise environment where every watt counts, especially in idling situations.
Thermal Testing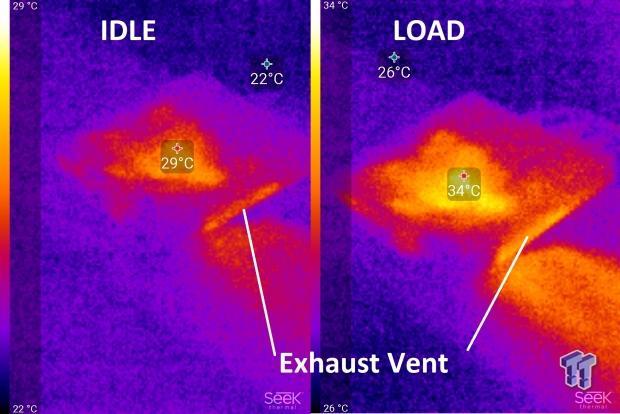 The thermal performance of the unit is decent, actually pretty good, but the fan can be quite annoying. In a busy environment it's more acceptable, but in a quiet room, you will easily hear the unit. The way the device is designed, the fan spins up a lot, sometimes even at idle.
What's Hot, What's Not & Final Thoughts
Here are key points about the Intel Compute Card and Dock.
What's Hot
CPU, DRAM, Storage, and WIFI in a Card: The whole purpose of the Computer Card is to be easily upgradable. You don't ever need to change out wires or mounting to switch out the card, and that means you can switch out the card when it goes bad or when you need more power, and that is a big advantage for rapid deployment of hardware that needs to be replaced or upgraded. When the next generation of cards comes out, users can just upgrade with the press of a button and swap down the last generation to systems that don't need much power but require a slight upgrade.
WIFI Controller: We find Intel's Wireless AC 8625 card in high-end notebooks and desktops, and now we find it in Intel's card sized PC. The card is integrated into the card itself, which is impressive, to say the least. It's a high performing card, and compared to Intel's other Computer Stick offerings, it's significantly superior.
The Dock: The dock provides features you wouldn't typically associate with a card sized PC or the Compute Stick such as Ethernet, four USB 3.0 ports, and multiple types of display outputs. The connections on the dock are also connections that typically don't go out of style quickly, such as HDMI, DisplayPort, and USB 3.0. The Kensington lock is also well thought out and should prevent theft of the device. The dock also cools down the card since it has no active cooling.
It's quick: The Intel Compute sticks, both the first and second generations felt like sluggish PCs, they could typically only easily handle one task at a time. However, the Compute Card is much different. Since it has a higher cooling capacity, a quick NVMe drive with solid random access times, and dual channel memory, the card provides a decent experience for basic office tasks, display tasks, or even industrial tasks.
What's Not
Noisy: It's not that quiet, the fan constantly spins up to keep the unit cool. It does keep the card cool from what we can see, as the exhaust temperatures aren't that high.
Upgrade at Once: You can't upgrade the storage, RAM, or WIFI without upgrading the CPU, storage, RAM, or WIFI altogether. It would have been nice to have the CPU and RAM on a single stick with the storage and WIFI in the dock.
Audio Only Through Display: Audio output is only provided through the HDMI and DisplayPort connections, so if your monitor doesn't have audio, you need to use an external device.
Final Thoughts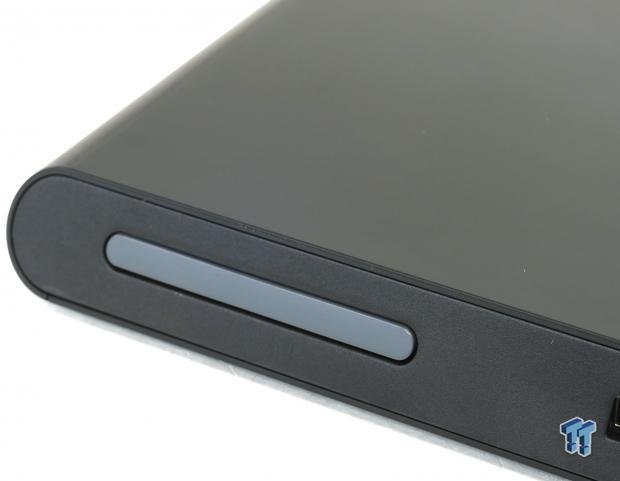 The Intel Compute Card is really a credit card sized PC. Inside the card, we get the CPU, the iGPU, RAM, storage, and even the WIFI controller. That is impressive, but it also limits you, as you will have to upgrade storage, RAM, WIFI, and the CPU all at once. Obviously, those things have been optimized for each other, and the NVMe storage and WIFI are impressive in regards to size and speed. I could see the concept of the Compute Card catch on, and the price of the card and the dock together can be kept under $500, and I could see that being very attractive.
I handle IT services for a few local medical offices, and they have to upgrade once every five years to handle the newer software requirements, and a lot of their infrastructure is built into place. Monitors use special mounts, wiring is fixed and hard to replace, and sometimes replacing all IT hardware can be expensive. For those scenarios, being able to spend less than $400 for a total upgrade would be a huge advantage.
If you are looking for a very small form factor PC that can be upgraded with the press of a button, at a reasonable price, and don't need crazy processing power, then the Intel Compute Card system is worth it.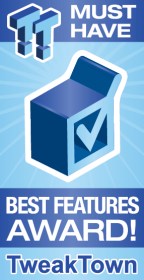 | | |
| --- | --- |
| Performance | 85% |
| Quality | 97% |
| Features | 97% |
| Value | 90% |
The Bottom Line: Intel's Compute Card and Dock provide the ability to quickly and simply upgrade PC infrastructure, and while they are small, they do pack a performance punch.
PRICING: You can find products similar to this one for sale below.

United States: Find other tech and computer products like this over at Amazon.com

United Kingdom: Find other tech and computer products like this over at Amazon.co.uk

Australia: Find other tech and computer products like this over at Amazon.com.au

Canada: Find other tech and computer products like this over at Amazon.ca

Deutschland: Finde andere Technik- und Computerprodukte wie dieses auf Amazon.de
We openly invite the companies who provide us with review samples / who are mentioned or discussed to express their opinion. If any company representative wishes to respond, we will publish the response here. Please contact us if you wish to respond.
Related Tags