NETGEAR RN524X SMB 10Gbe NAS Review
NETGEAR's RN524X SMB 10Gbe NAS goes under the spotlight. Join us as we test it extensively.

Published
5 minute read time
TweakTown's Rating: 91%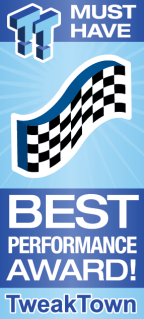 The Bottom Line
Taking all things into consideration, NETGEAR's 524X is a solid entry-level 10Gbe storage appliance with stunning file performance and a class leading five-year warranty to back it all up.
Introduction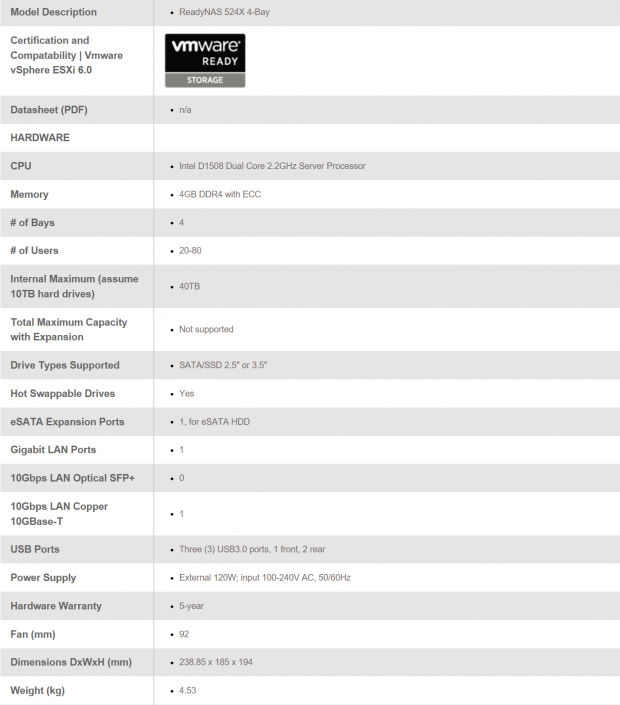 The ReadyNAS platform expands NETGEAR's entire product lineup, from the entry-level 210 series to the flagship RN620 series that we were fortunate to look at in our review of the RN626X just a few months ago. The product in-house today falls just short of that flagship series. A second-tier solution from NETGEAR in the RN524X.
The RN524X is a four-bay NAS solution in the ReadyNAS 520 series. This range of platforms is designed for medium office data storage and small virtualized networks supporting up to 80 users. These provide both local and remote access and are powered by Intel's Pentium Server platform.
This range features four, six, and eight bay options and all offer 10 Gigabit Ethernet. The RN524X offers flexible capacity options with diskless options for those that bring their own drives, along with 16 and 24TB options in both desktop and enterprise drive solutions.
Going over the specifications, we first find this platform VMware certified with the logo at the top. This is followed by the processor in the Intel D1508 dual-core operating at 2.2GHz paired with 4GB of DDR4 supporting ECC memory. It's a four-bay unit and as mentioned previously supports 80 users. Each of the drive bays supports the SATA 6GB/s protocol and hot swap while offering support for 2.5" and 3.5" HDDs and solid state drives.
Drive expansion is available via rear mounted eSATA port, while three USB 3.0 ports are available along with a single 10Gbe Copper input. The MSRP of the four-bay RN524X comes in at $899.99 with a five-year warranty.
The ReadyNAS 524X
Packaging and a Closer Look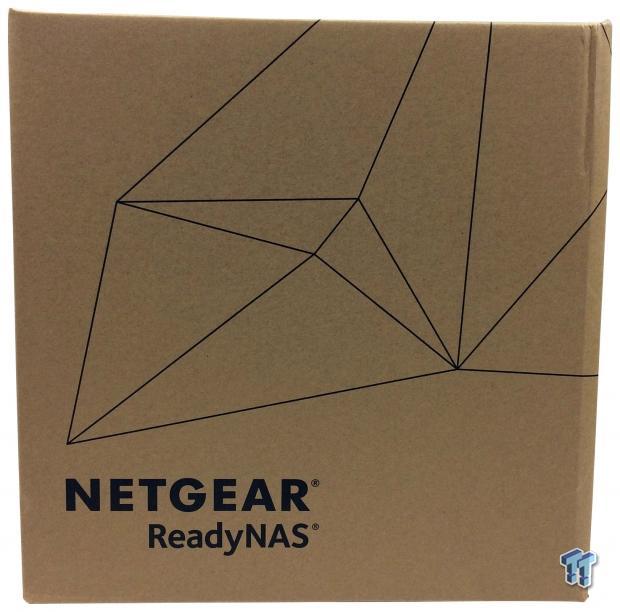 The 524X arrived in a simple brown box with NETGEAR branding.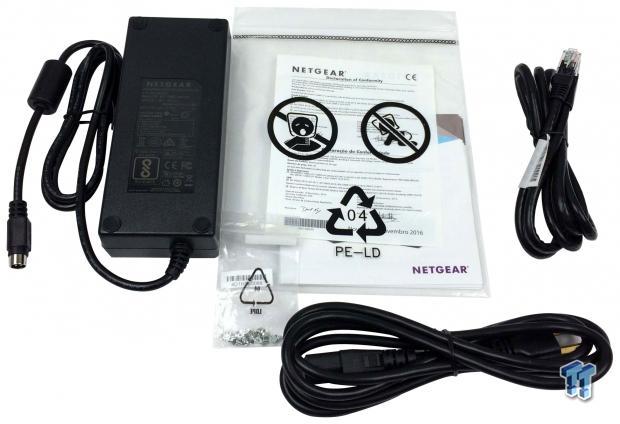 Inside, we have the power adapter, ethernet cable, and drive screws.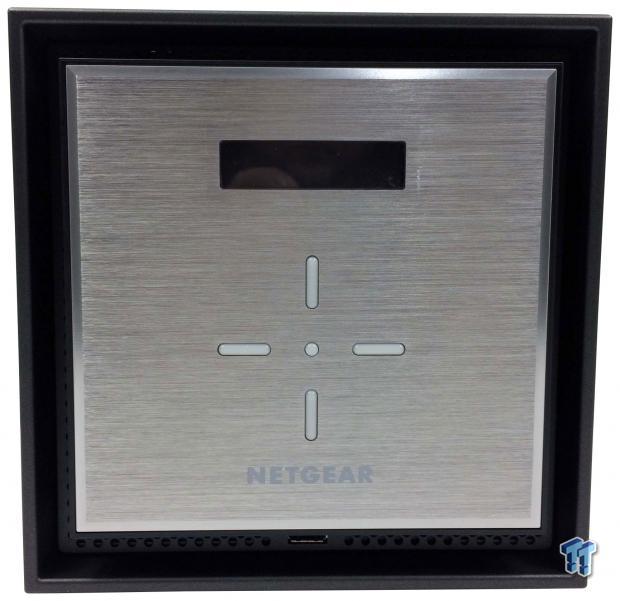 The front of the unit offers a brushed metal exterior with the five-button system and LCD above.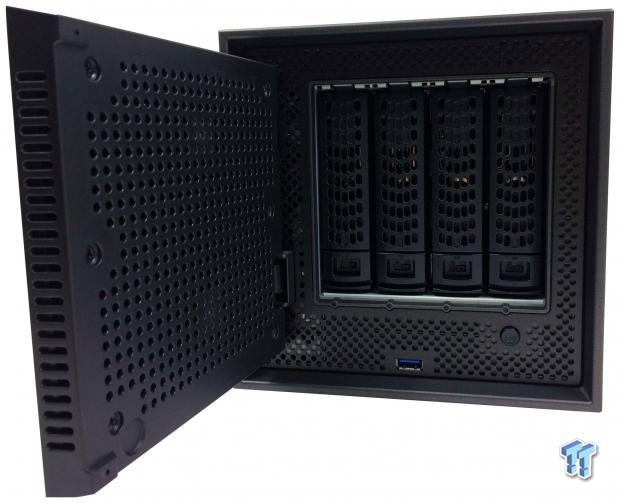 Opening the door, we gain access to the drive trays and USB 3.0 port below while to the right we find the power button.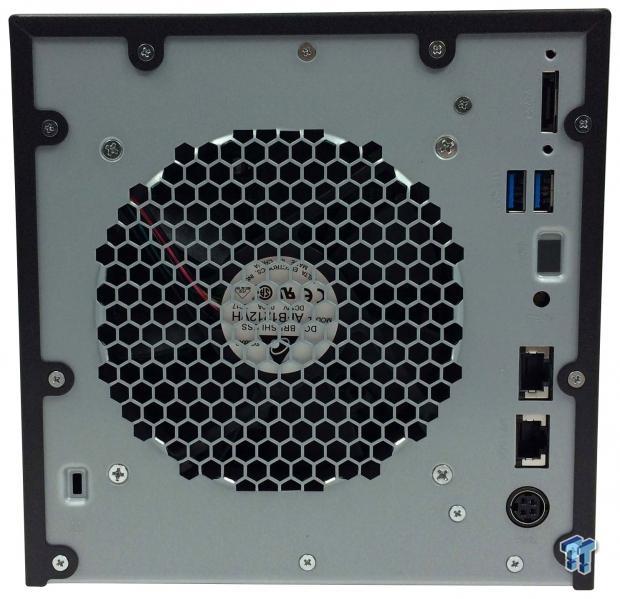 The backside is rather simple for such a powerful appliance. We start at the top with eSATA and USB 3.0 followed up by 10Gbe and 1Gbe ports. At the bottom, we have the proprietary power input.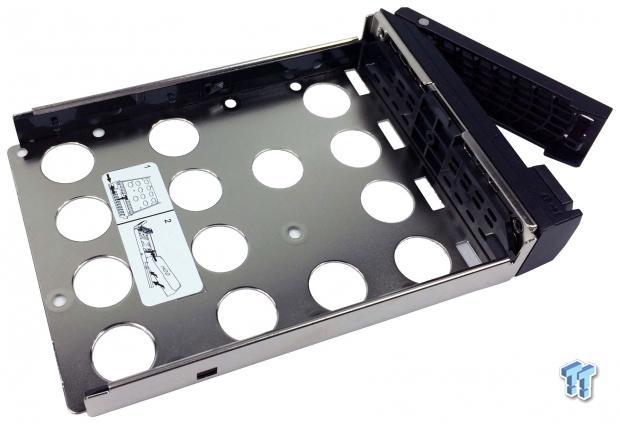 The drive trays for the RN524X are metal but do support tool-less installation. For SSDs, NETGEAR provides screws.
Test System Setup and Management
Test System Setup
Tyler's NAS Test System Specifications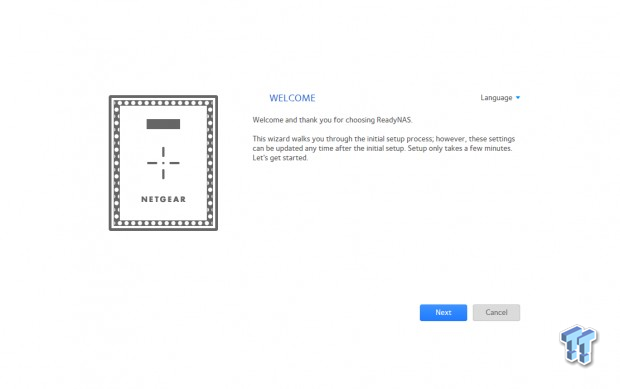 Setup hasn't changed with ReadyNAS appliances. NETGEAR still offers a wizard that guides you through all the essential steps.

The dashboard offers a glance at the NAS health to the left and an array of options across the top.

The storage menu allows you to run standard RAID modes including 0, 1, 5, 6, and 10 or X-RAID.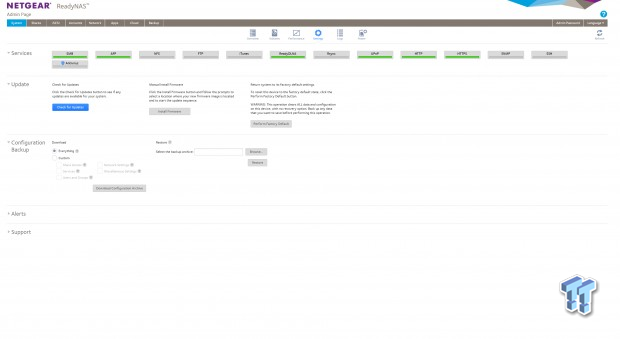 The system tab shows you every service that is enabled and disabled. It also allows for firmware updates and configuration backups.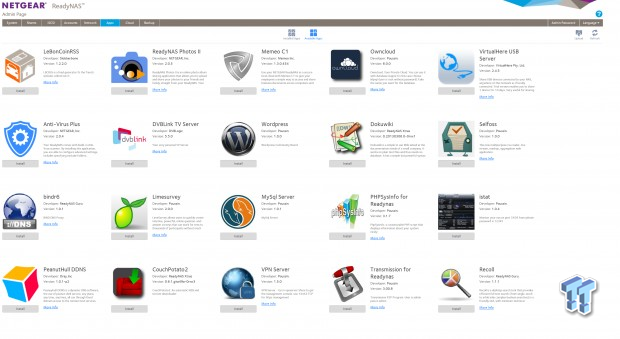 As each platform allows packages to be installed, NETGEAR too offers a wide range of apps.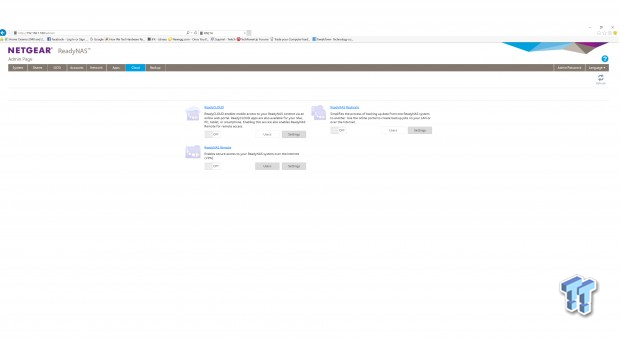 Last, we have Cloud services including ReadyCloud, ReadyNAS remote and replication services.
Benchmarks – Single Client Throughput
Workload
HD Video Play - 720p HD stream from Windows Media Player, 256kB reads
2HD Video Play - 2x playback
4HD Video Play - 4x playback
HD Video Record - 720p HD stream, 256kB writes
File Copy From NAS - 4GB file copy, 64kB reads
File Copy To NAS - 64kB writes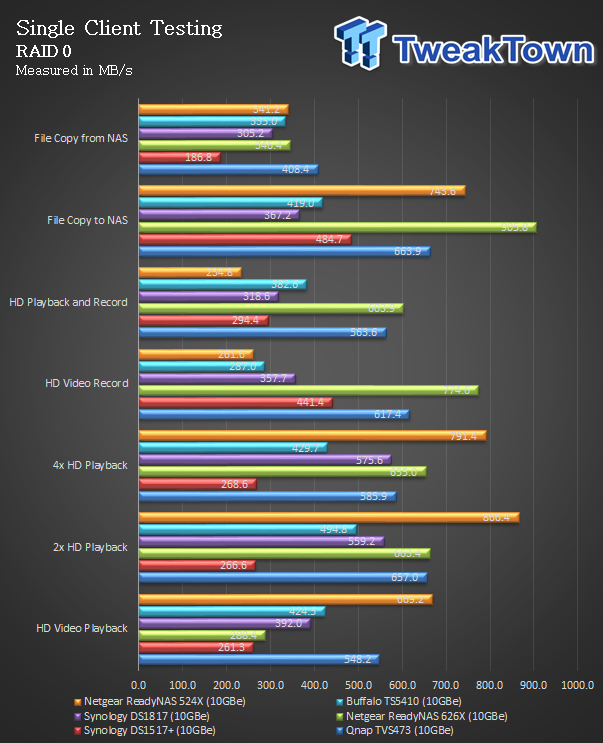 The RN524X surprised me on so many levels. In our first test, it came away as the quickest of all the 10Gbe appliances we tested in most RAID 0 single client testing scenarios.
HD Playback came in at 669 MB/s followed by 868 MB/s in 2x playback. Video record produced 261 MB/s while playback and record offered 234 MB/s. File copy operations saw 743 MB/s to the NAS and 341 MB/s from the NAS.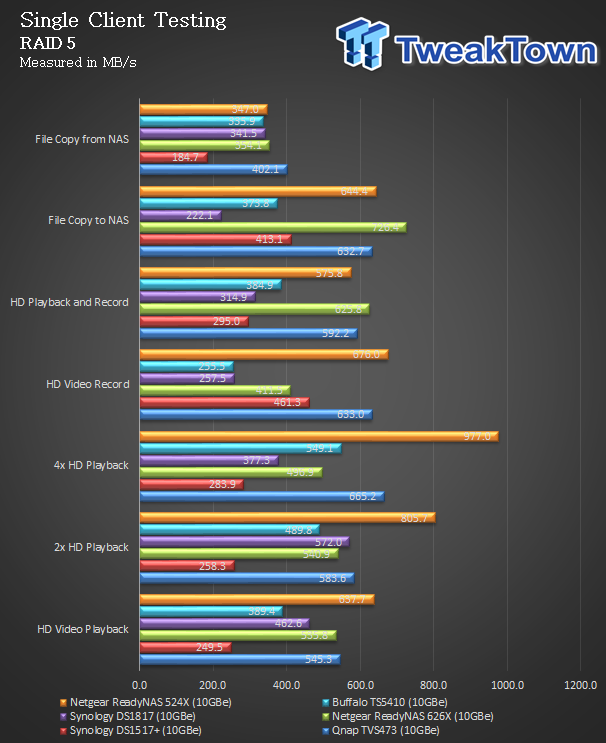 RAID 5 had solid 4x playback resultant at 977 MB/s while file copy reached 644 MB/s to and 347 MB/s from.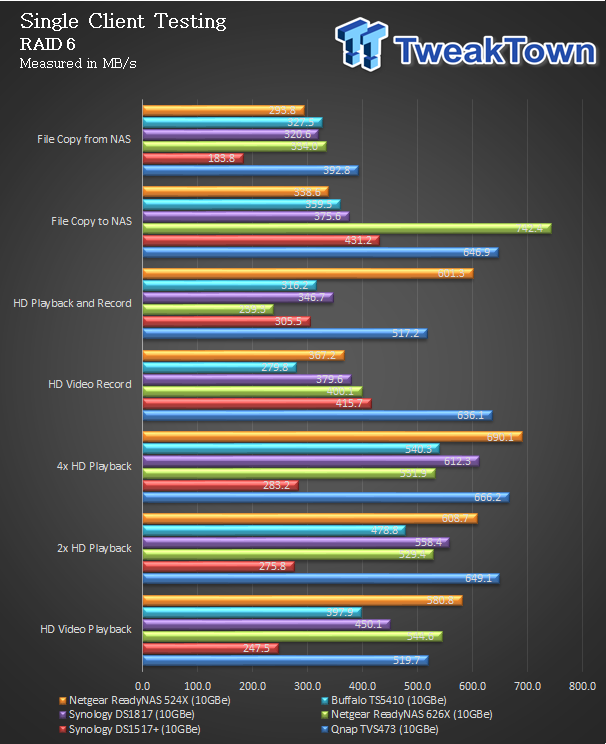 Moving on to RAID 6, 4x playback reached a peak of 690 MB/s with record at 601 MB/s. File copy topped out at 338 MB/s to and 293 MB/s from.
Benchmarks – Sequential and Mixed Workloads
Our sequential read/write workload is centered on 128K transfer sizes with QD ranging from 1 to 128.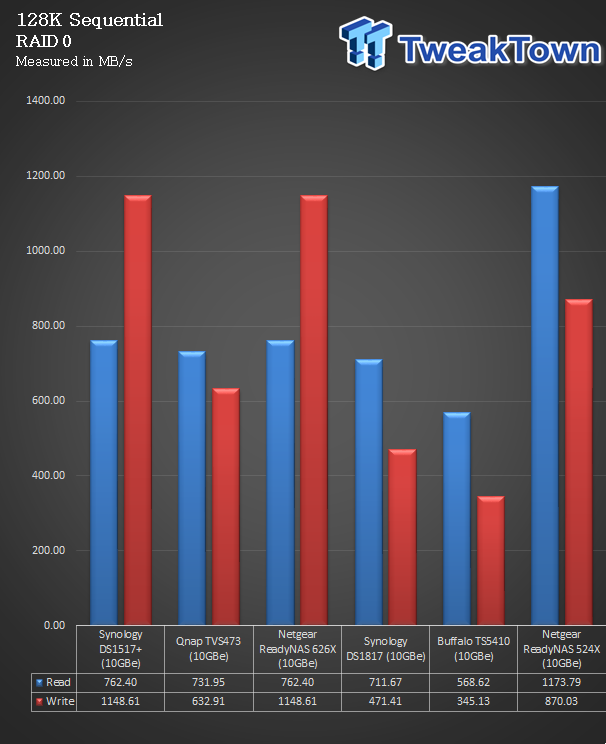 Sequential read and write were interesting with RAID 0. We see the 524X reach 1173 MB/s read which is the highest of any platform we have tested with write performance at 870 MB/s again above average.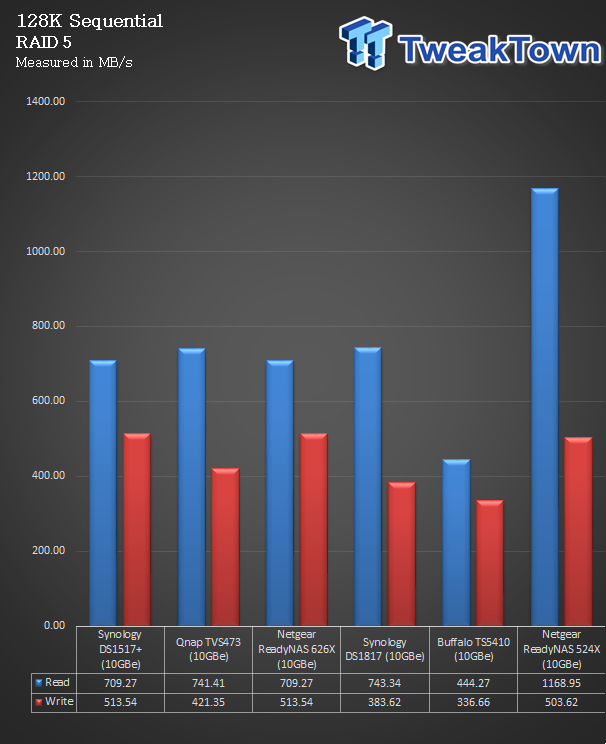 With RAID 5, write performance dropped off to 503 MB/s while read performance stayed at a solid 1168 MB/s.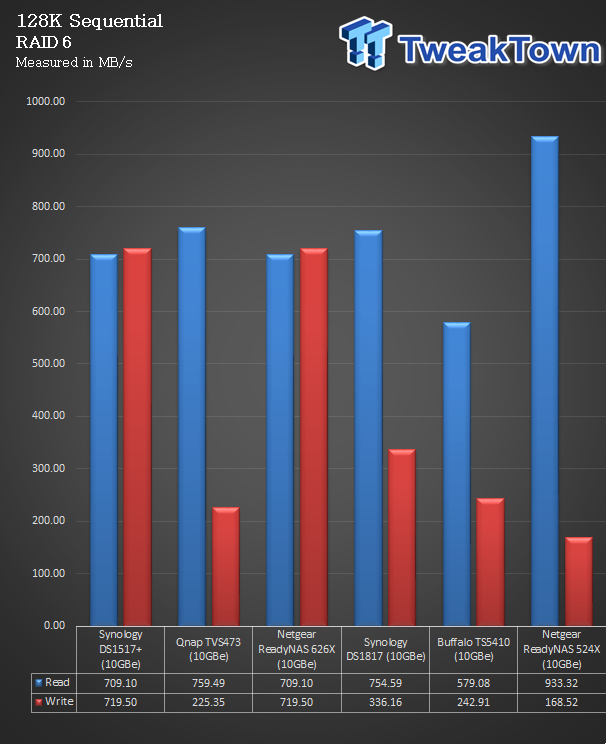 RAID 6 again had great read performance at 933 MB/s with write performance touching 168 MB/s.
Mixed Workloads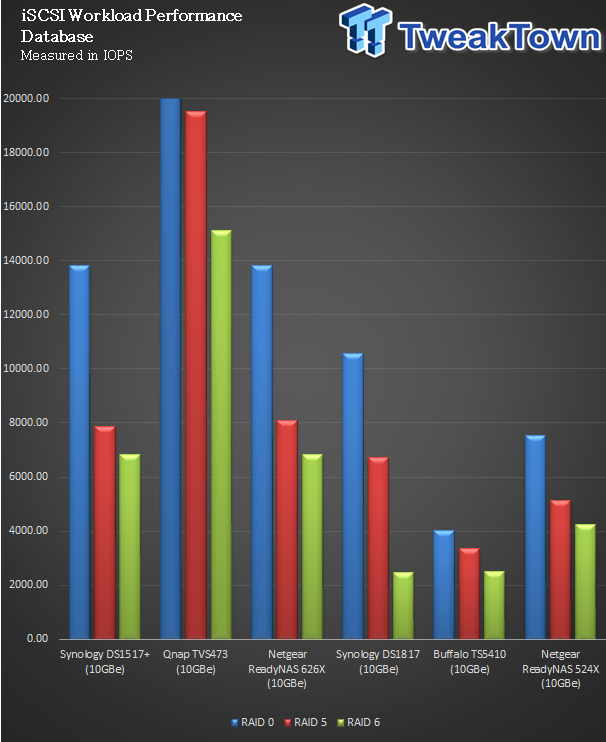 Swapping the system over to mixed workloads, the 524X offers nearly 8000 IOPS in RAID 0 followed by 5000 in RAID 5 and 4000 with RAID 6.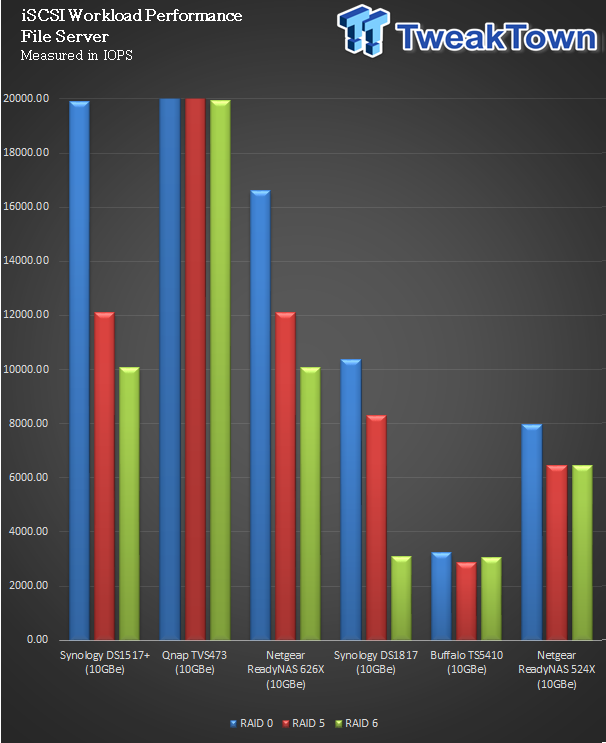 File Server peaked at 8000 IOPS with RAID 0 while RAId 5 and 6 reached identical 6100 IOPS marks.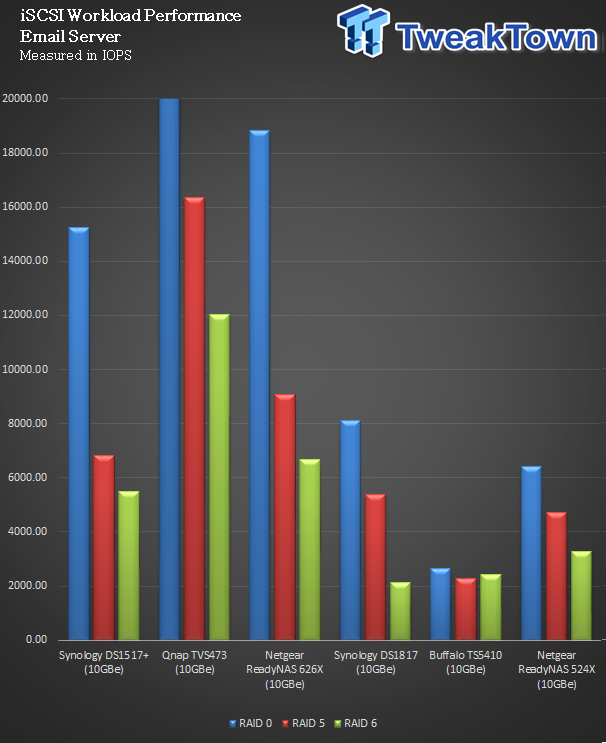 Email Server came in just above 6000 IOPS with RAID 5 and 6 reaching 4700 and 3700 IOPs, respectively.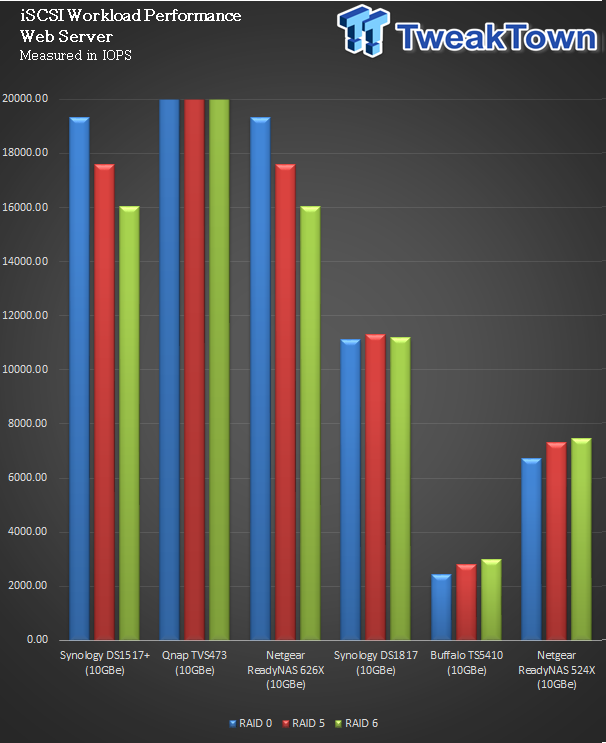 Wrapping up testing we have Web Server pulling in nearly 7000 IOPS across the board.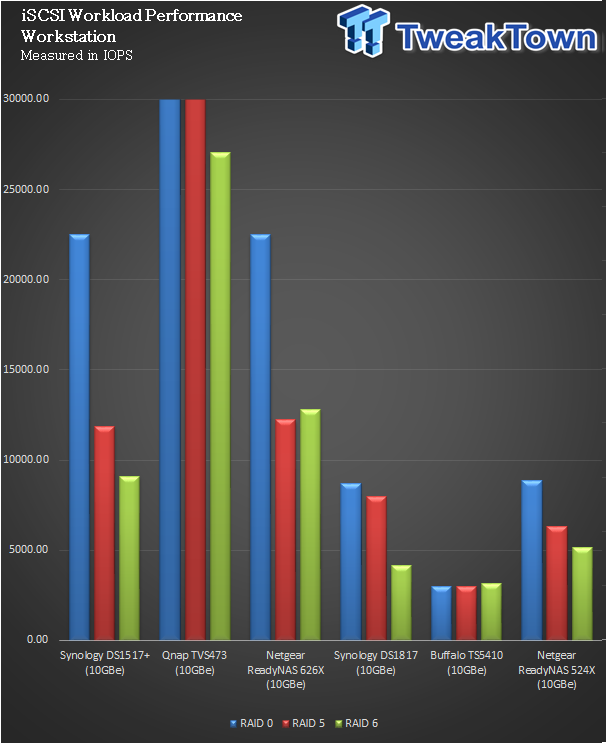 Lastly, we have Workstation which is most often the strongest workload. The 524X was able to pull in a touch over 9000 IOPS with RAID 0, 6000 IOPS with RAID 5, and 5000 IOPS with RAID 6.
Final Thoughts
Like the RN626X, the 524X is built like a tank. Internally, NETGEAR has deployed a steel frame and outside a mix of metal panels and plastic bits. The drive trays are metal, but tool-less, a positive in my book, and the LCD panel is clear with blue with white text. The front panel five-button system can be confusing for the novice but is self-explanatory if you are tech savvy at the least.
Performance of this solution was quite amazing as it was able to keep up with larger bay platforms including the 626X which uses better internal hardware. Single Client testing with NASPT is really on its last leg as far as 10Gbe units are concerned but it does give a third metric over IOMeter results and to that point we did see the 524X take top honors in a few testing scenarios. The first was RAID 0 2x playback at 868 MB/s with the next best unit being the ReadyNAS 626X at 665 MB/s. RAID 5 had a few moments of its own including 4x playback at 977 MB/s and file copy at 644 MB/s.
Moving over to sequential performance, we found the 524X to read the quickest at 1173 MB/s while write performance was above average at 870 MB/s. Adding in RAID 5 and 6, we have a NAS that is consistently the quickest with sequential read operations. With workload testing, the 524X provided a consistent 8000 IOPS with RAID 0 and 5000 – 6000 in RAID 5 and 6.
A large part of the NAS experience comes from the firmware OS, and as of this writing, NETGEAR is on version 6 for the 524X. With that said the platform hasn't changed much over the years and for me has always been stable supporting most used features such as SMB, AFP, and NFS file services with iSCSI, Rsync and onboard Antivirus for those that want that added bit of protection and functionality.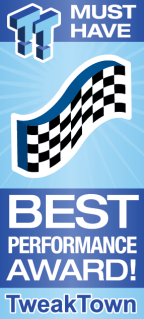 | | |
| --- | --- |
| Performance | 95% |
| Quality | 90% |
| Features | 90% |
| Value | 90% |
The Bottom Line: Taking all things into consideration, NETGEAR's 524X is a solid entry-level 10Gbe storage appliance with stunning file performance and a class leading five-year warranty to back it all up.
PRICING: You can find products similar to this one for sale below.

United States: Find other tech and computer products like this over at Amazon.com

United Kingdom: Find other tech and computer products like this over at Amazon.co.uk

Australia: Find other tech and computer products like this over at Amazon.com.au

Canada: Find other tech and computer products like this over at Amazon.ca

Deutschland: Finde andere Technik- und Computerprodukte wie dieses auf Amazon.de
We openly invite the companies who provide us with review samples / who are mentioned or discussed to express their opinion. If any company representative wishes to respond, we will publish the response here. Please contact us if you wish to respond.