GIGABYTE X370-Gaming K7 Motherboard Review
GIGABYTE's AORUS X370-Gaming K7 motherboard for AMD AM4 Ryzen processors gets tested as we see if it's worth buying or not.
Published Wed, Jun 28 2017 7:40 PM CDT
|
Updated Tue, Nov 3 2020 6:58 PM CST
Introduction, Specifications, and Pricing
GIGABYTE doesn't have a very large fleet of X370 motherboards, and we already took a look at their X370 Gaming K5, which was one of the mid ranged high-performance X370 gaming motherboards. The X370 Gaming K7 is GIGABYTE's top of the line X370 motherboard and offers all the high-performing platform features many have come to expect from AMD's Ryzen platform, but also some enticing aesthetics.
GIGABYTE's X370-GAMING K7 is not only loaded, but it is also all black with only faint hints of white. It has RGB LEDs integrated throughout so that you can change the color of the motherboard to whatever you desire, and you also have the option of disabling all the lights so that the motherboard fades into the background. I have had many requests and honestly excitement around the X370 Gaming K7 review, so let's see what the motherboard has to offer.
Specifications
The X370-Gaming K7 features 32Gb/s M.2, U.2, four USB 3.1 ports, one Killer NIC, one Intel NIC, upgraded audio, and full RGB LED header support.
Pricing
The X370-Gaming K7 costs $199.99.
Packaging and X370-Gaming K7 Overview
Packaging and Overview
The motherboard's box is similar to that other GIGABYTE's other AORUS branded motherboards. Packaging is also very similar and protects the contents of the box from the nastiness of nature.
The accessory package includes four SATA6Gb/s cables, RGBW extension cable, G-Connector, AORUS Velcros, two temperature probes, IO shield, SLI-HB bridge, AORUS base badge, AORUS stickers, driver DVD, and manual.
GIGABYTE put eight 4-pin fan headers on the K7. All the fan headers support both DC and PWM mode operation so that you can control all fans. The motherboard fan headers circled in blue support up to 2A of output for water pumps, while the rest support 1A. The motherboard has multiple built-in temperature probes, but also offers two headers circled in green, and you can hook up external temperature probes (included) to reference fan PWM aggressiveness.
The motherboard's simple black/silver aesthetics make it an awesome choice for those who want to pick the color of their builds. The back of the motherboard is bare, which is great.
The rear IO panel features PS/2 Keyboard/Mouse, two USB 3.0 ports that support DAC-UP 2 (yellow), four USB 3.0 ports, HDMI, three USB 3.1 type-A, one USB 3.1 type-C, two Gbit LAN ports, and gold plated audio outputs with S/PDIF out.
The PCI-E layout is simple enough; the first two PCI-E x16 slots operate at x16/x0 or x8/x8 to support SLI. The last x16 slot shares all of its bandwidth with all of the PCI-E x1 slots. There is a single 32Gb/s M.2 slot, and it shares all of its bandwidth with the U.2 port.
The motherboard features eight SATA6Gb/s ports, four of which can be used as two SATA Express ports. There is a single U.2 connector, and it shares bandwidth with the M.2 slot. Two USB 3.0 internal headers support DAC-UP 2.
At the bottom of the motherboard are headers for case buttons and features, there is also a POST Code display at the bottom of the motherboard. The motherboard has a power button, OC button, reset button, and a clear CMOS button.
A full-sized plastic strip is illuminated by RGB LEDs, and you can change it out for other designs. At the bottom of the motherboard, you get two USB 2.0 internal headers near a TPM header. There is an RGBW LED strip header near a dual BIOS switch and single BIOS mode selector switch.
There is an RGB LED header located right below the socket for AMD's coolers with integrated RGB LEDs. There are multiple heat sinks that cool down the VRMs and the PCH; they are all screwed down along with the shields.
GIGABYTE X370-Gaming K7 Circuit Analysis
Circuit Analysis
The X370-GAMING K7 has some pretty impressive hardware under the heat sinks.
The VRM is on the Gaming K7 is one of the better ones I have seen on X370 motherboards. The VRM is in a 6+4 phase configuration for the CPU Core and SOC regions. It is controlled by the International Rectifier IR35201 fully digital 6+2 phase VRM.
Each CPU and SoC phase uses the fully integrated IR PowIRstage IR3553 40A part. The CPU's 6 phases are not doubled, but two phases for the SoC are doubled through IR3599 doublers/quadruplers.
The Richtek RT8120 controls the single phase VRM made up of ON Semiconductor 4C10N PowerPAK MOSFETs in a 2+1 low-side+high-side MOSFET configuration.
GIGABYTE X370-Gaming K7 Circuit Analysis Continued
X370-Gaming K7 Circuit Analysis Continued
Two Realtek ALC1220s are used on this motherboard, each has an integrated headphone amplifier on the 120dB output, so GIGABYTE uses two so that the rear port and front header are amplified. Nichicon Gold series audio capacitors and a physical PCB divide help improve audio quality.
The motherboard features dual NICs, one is the Intel i211At, and the other is the Killer e2500.
The ASMedia ASM1143 is used to provide the two extra USB 3.1 ports. To Pericom Pi3EQX USB 3.1 repeaters are used to improve the USB 3.1 signal from the chipset, as it is far away from the rear IO panel.
Overclocking the bus speed on AM4 motherboards require a separate clock generator, and here GIGABYTE uses the ICS9FGL1214AKLF. USB DAC-UP allows you to control the voltage of the USB ports and GIGABYTE is using re-drivers and individual VRMs to power the internal USB 3.0 headers.
An ITE IT8792E is used as one of the programmable embedded controllers; they can be used for extra features such as fan controls. I also found that there is a secondary embedded controller located right below the bottom PCI-E x16 slot, I am not sure what it does, but perhaps it helps with the RGB LEDs or provides, better fan control.
The IT7236AFN provides RGB LED control capabilities. The AX370-Gaming K7 is one of the only AM4 motherboards with dual BIOS ROMs.
The ITE IT8686E is used as the SuperIO on the motherboard, it provides PS/2 as well as other hardware related features. The motherboard features many ASMedia PCI-E 3.0 quick switches. Four of them switch x8 between the first and second PCI-E x16 slots, two switch M.2 bandwidth to the U.2 slot, and two more switch PCI-E bandwidth between the x1 slots and the x4 slot at the bottom.
BIOS and Software
BIOS
GIGABYTE's UEFI for the X370-Gaming K7 is very well equipped for overclocking your AM4 processor as well as controlling fans, altering RGB LEDs, and setting boot order. The UEFI is easy to navigate, of course, that depends on your use of other motherboards in the past.
All the settings you need are present, except for AMD's internal CBS menu I have found on a couple of other motherboards, although you don't really need access to that menu to take full advantage of your system.
Software
Software included with the motherboard includes 3D OSD, @BIOS, BIOS Setup, USB Blocker, Cloud Station, EasyTune, Fast Boot, RGB Fusion, SIV, Smart Backup, Smart TimeLock, Smart keyboard, and VTuner.
Test System Setup
Steven's Motherboard Test System Specifications
The X370-Gaming K7 lights up like a Christmas tree!
The motherboard's multiple built-in RGB LEDs can be disabled, but I find that most new builders actually enjoy the lights, and that might be why a lot of comments on board reviews on websites state that the LEDs are one reason they bought the motherboard.
Overclocking
Overclocking Results
AMD's Ryzen platform is quite new; AMD and its partners are working very hard on fixing issues and getting things to work across the board. The CPU also doesn't validate that much higher than its maximum stable frequency. Memory overclocking is topped at 3200MHz on most motherboards, and bus adjustment is also very tricky.
Don't get me wrong, the CPU can overclock, mine does 4.0GHz, and the best I can get a kit is to 3000MHz. I will go through and tell you exactly what I did to achieve my maximum stable overclock, and as AMD's ecosystem of compatible memory kits becomes larger, I will add in a memory compatibility section.
All I had to do to achieve the above overclock was set the CPU multiplier to 40X so that all my 1800X's cores go to 4GHz, and I let the motherboard automatically set the VCore. I know my CPU likes 1.35v for the VCore at 4GHz, and it turns out that is the perfect VCore for this CPU at that frequency.
Memory overclocking didn't get me above 2933MHz, as that was the highest this motherboard was able to take my kit. I set XMP and then set the memory multiplier.
CPU, Memory, and System Benchmarks
CINEBENCH R15
wPrime
AIDA64 FPU
AIDA64 Memory
ScienceMark
HandBrake
SuperPi 32M
3DMark: Fire Strike
3DMark: Cloud Gate
ResidentEvil 6
The X370-Gaming K7's performance is excellent all around.
It is a very high-end motherboard for the AM4 platform, and I expected no less from a halo product from one of the largest motherboards around. CPU, memory, and GPU performance is solid enough to run with the other high-end motherboards from GIGABYTE's competitors.
System IO Benchmarks
CrystalDiskMark SATA6G:
CrystalDiskMark M.2:
ixChariot Network Throughput:
The X370-Gaming K7's storage performance in both M.2 and SATA tests it top notch, and towards the top of the pack.
The network performance on the motherboard is also very good, plus you get the option to use Killer or Intel networking.
Audio RMAA 5.5:
I disable all audio features, set the correct bitrates, and then test the audio with a loopback test.
Sound Judgment by Ear: Excellent, this motherboard has two Realtek ALC1220s, one is dedicated to the rear output and the other to the front panel, so you get 120dB on each. There are five ratings for audio: 1. Problems, 2. Okay, 3. Acceptable, 4. Very good, 5. Excellent
Thermal Imaging and Power Consumption
System power is measured at the wall with an AC power meter.
Note on Thermal Images: In the temperature section, we use our Seek thermal imaging camera to capture the surface temperatures of major components on the board. I look at the VRM and then all other things that light up the screen. If there is something to worry about, then I will state it. Otherwise, I will just show the hotter running parts of the board for fun. Unless some component is over 80-90C, then there isn't anything to worry about.
All systems will act differently, so I will look for commonalities, such as how far from the VRM the heat spreads through the PCB and the difference in temperature between the front side and backside of the PCB. Keep in mind, the majority of the heat from the VRM goes into the PCB as it is a giant soldered on copper heat sink. A larger difference in temperature between the back and front of the PCB points towards a more effective heat sink.
Thermal Testing at Stock Speeds:
The image on the left is always at idle, and the image on the right is at load. During ALL TESTS, fans above the VRM that cool the CPU cooler's (Corsair H110i) radiator are turned on to high (12v).
Full frontal.
Up-close of the front of the VRM.
Up-close of the back of the VRM.
The X370-Gaming K7's thermal performance is solid and great at the same time. The IR digital power circuitry and heat sinks provide a cool and steady flow of current and voltage to the CPU. You can overclock your AMD AM4 as high as it will go with this motherboard's VRM.
Anything under 60C is great, 60-80C is acceptable, and anything above 80C is a bit worrisome (if at stock).
What's Hot, What's Not & Final Thoughts
Here are key points about the GIGABYTE X370-Gaming K7.
What's Hot
Crazy USB Support: GIGABYTE didn't just add two extra USB 3.1 type-A ports to the two USB 3.1 ports from the chipset, they also gave both internal USB 3.0 headers and two rear USB 3.0 ports a power upgrade. GIGABYTE's USB 3.0 DAC-UP 2 offers the ability to not only boost USB voltages a bit so that you can go with longer USB cables, but it also offers the ability to disable power and use the ports in data-only mode for external DACs. The rear IO panel also offers a total of six USB 3.0 ports (two DAC-UP2) and three USB 3.1 type-A and one type-C port.
Sleek Aesthetics: With an almost all-black color theme and RGB LEDs, you can allow the motherboard to fade into background or light up like a Christmas tree in the color of your choice. The RGB LED diffusion strips in the IO shield, and audio sections produce a really cool effect and add a nice touch in case you decide you don't enjoy the other RGB LEDs on the motherboard.
Tons of Fan Headers and Temperature Sensors: The motherboard features eight fan headers along with two pump headers that support up to 2A of power. While each header supports DC or PWM mode operation, you can use many built-in temperature sensors and two external temperature sensors (included) as reference points for any of the headers. GIGABYTE's UEFI fan control has also been improved, and if you don't want to use the UEFI, you can use GIGABYTE's Windows software.
Dual ALC1220 Audio and NICs: The X370-Gaming K7 offers two ALC1220 codecs, one for the rear and one for the front panel header. The reason GIGABYTE did this is because the ALC1220 offers 120dB output on one amplified headphone output, so using two allows GIGABYTe to offer 120dB on the rear and front outputs. The motherboard also carried an Intel Gbit NIC and Killer Gbit NIC.
What's Not
AMD BIOS Woes: The con here is not much of GIGABYTE's fault beyond their default mouse speed, but AMD's base AEGIS code is getting better each day. I had to pick something this motherboard is not great at, but I had a hard time picking so I am going to nitpick at the UEFI. I did not have many issues, but I do see where some people are upset that they aren't able to run their memory kits at specified speeds. I will say that I didn't update to the latest 1.0.0.4 code, but I am sure that improves overall UEFI performance, especially in memory overclocking.
Final Thoughts
The GIGABYTE X370-Gaming K7 costs a bit over $200, but it is loaded with tons of premium features and solid performance. The motherboard has tons of RGB LEDs throughout along with multiple RGB headers. Fan control is over the top, and the motherboard offers the ability to add in temperature sensors. GIGABYTE also included a discrete clock generator to allow for BCLK overclocking, and they included overclocking features on the motherboard. The dual ALC1220 audio codecs were a surprise, and their performance is great.
The X370-Gaming K7 is a premium motherboard for the AM4 platform from GIGABYTE, and it embodies many of the technologies we see on the Intel side, but over on the AMD side. The motherboard also has a large community of fans, and for a good reason; there isn't much to dislike. The motherboard also offers more than enough USB 3.1 and USB 3.0.
All that being said, we are going to award the X370-Gaming K7 with our second highest award, the TweakTown Recommended award. If you are looking for a premium AM4 motherboard, you should give the X370-Gaming K7 a look.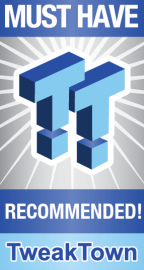 | | |
| --- | --- |
| Performance | 95% |
| Quality | 93% |
| Features | 95% |
| Value | 89% |
The Bottom Line: GIGABYTE's X370-Gaming K7 offers all the high-end features you could think of along with an RGB light show in a single well-designed AMD AM4 Ryzen motherboard.
PRICING: You can find products similar to this one for sale below.

United States: Find other tech and computer products like this over at Amazon.com

United Kingdom: Find other tech and computer products like this over at Amazon.co.uk

Australia: Find other tech and computer products like this over at Amazon.com.au

Canada: Find other tech and computer products like this over at Amazon.ca

Deutschland: Finde andere Technik- und Computerprodukte wie dieses auf Amazon.de