Calyos NSG-S0 100% Silent Fanless Gaming PC Review
Calyos calls its NSG-S0 the world's first fanless chassis for high performing PCs. Is it any good? Let's find out.
Published Apr 27, 2017 10:21 PM CDT
|
Updated Tue, Nov 3 2020 6:58 PM CST
7 minute read time
TweakTown's Rating: 96%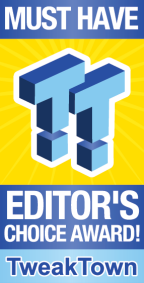 The Bottom Line
Calyos's NSG-S0 is a truly silent high-performance gaming PC, and perhaps the most novel one around.
Introduction, Specifications, and Pricing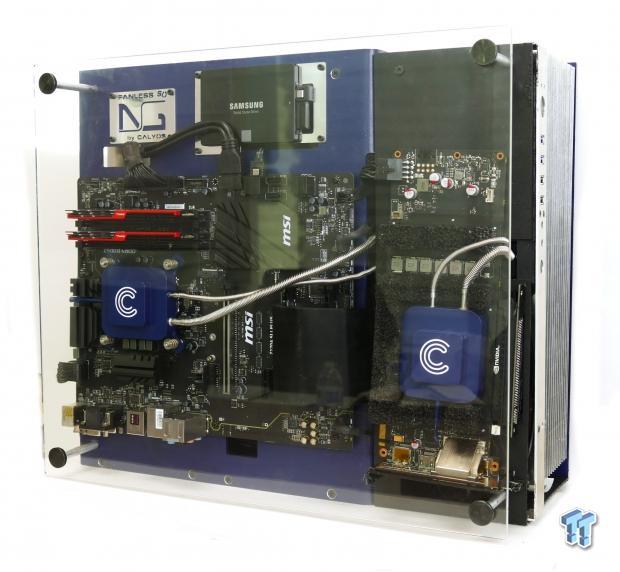 Calyos is a company many of you might not have heard of before. At CES2017, Calyos showed off its completely fanless PC solution and became a CES 2017 Innovation Award Honoree. Calyos has been around since 2012 and specializes in fanless designs for both consumer and enterprise PC systems.
In 2014, their first prototype for their high-performance fanless PCs was produced, and today we have one of their latest prototypes in hand to give you an overview of their technology.
Specifications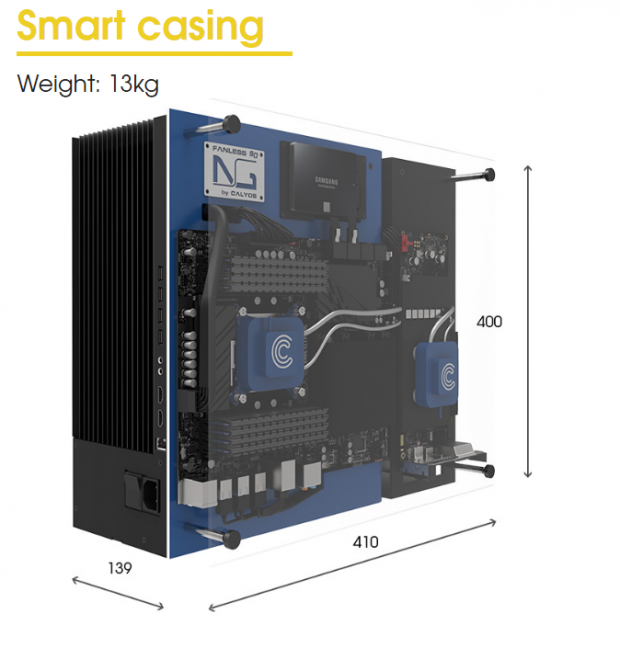 The chassis itself weighs 13kg (almost 29lbs) and has dimensions of 410x139x400mm (LxWxH). Our unit came with a 6700K, and MSI Z170A SLI Plus, 16GB of 3000MHz TridentZ memory, a GTX 1080, and a 250GB Samsung 850 EVO SSD. The hardware used in this build can be bought off the shelf, and other than the VRM and memory cooling on the GTX1080, none of the hardware has been modified.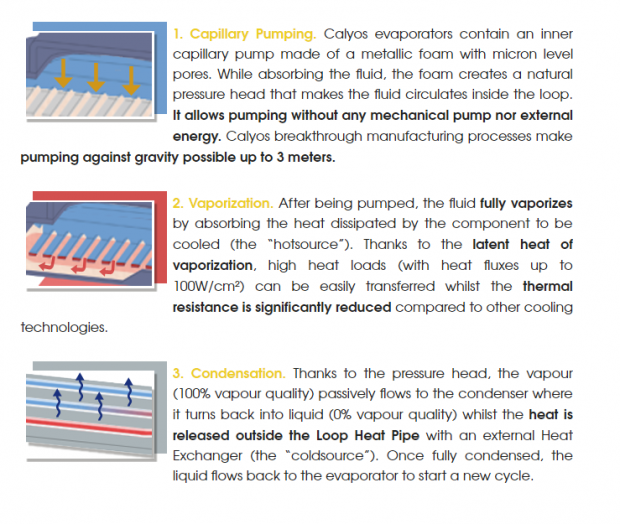 The NSG-S0 can be bought as an independent chassis or as a fully built system. The company's Kickstarter campaign is coming to an end in less than 40 hours from now, but their product is real and not just a prototype. Some have said that a fully functioning fan-less PC is practically impossible, but that couldn't be further from the truth. Using loop heat pipe technology, heat is transferred from the CPU and GPU to giant radiators on the back of the chassis where it is then dissipated.
The neat part of the heat pump is that there is no pump at all; it's the physics of heat transfer, evaporation, and condensation that makes this silent PC possible. There have been phase change coolers in the pasted used for extreme cooling, and this concept isn't significantly different, but the parts and materials are.
Pricing
The Calyos NSG-S0 can be bought as just a chassis or as a fully built system. Our configuration (out of date compared to their Kickstarter) would cost anywhere from $2715 to $3,149, that's going off their Kickstarter page. Prices after their campaign ends could be higher.
Packaging and System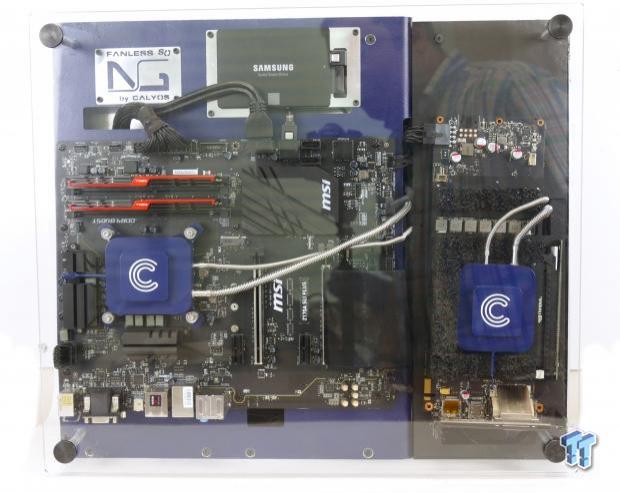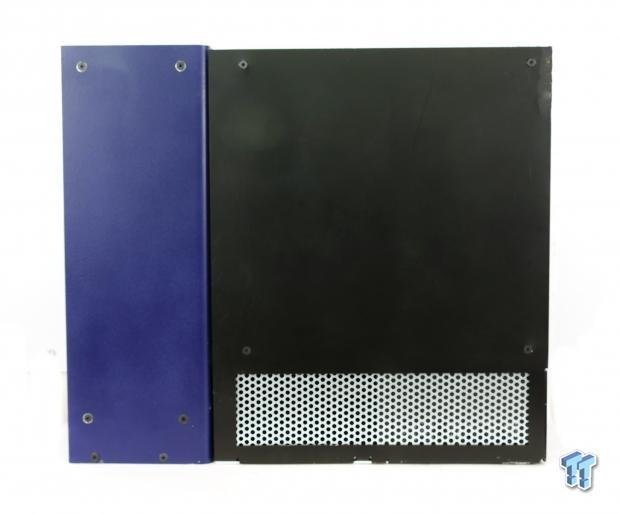 The very heavy NSG-S0 came in a very large protective case. The concept is an open air PC, after all, there needs to be some airflow, and without fans, you are left with natural airflow. The case/chassis is similar to that of ThermalTake's Core series. However, this chassis is totally custom made and has two large sections which house radiators for the GPU and CPU cooling systems. The rear also features a vent, so the PSU gets some airflow.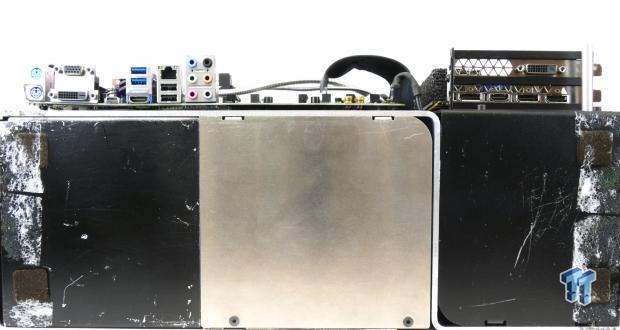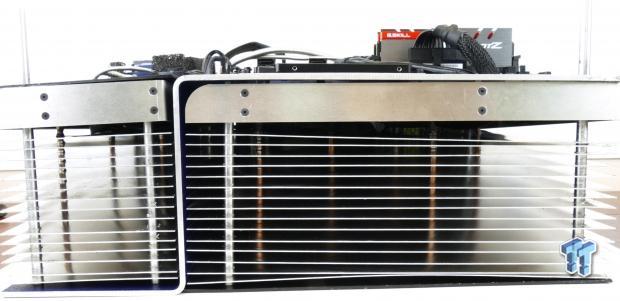 Our unit is a prototype and has been showcased around the globe, so yours will be significantly cleaner. The bottom of the unit features four gripping pads. The top of the unit features open air radiator fins.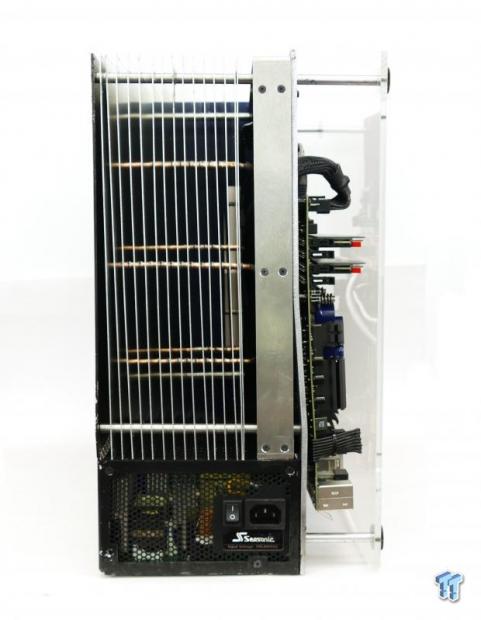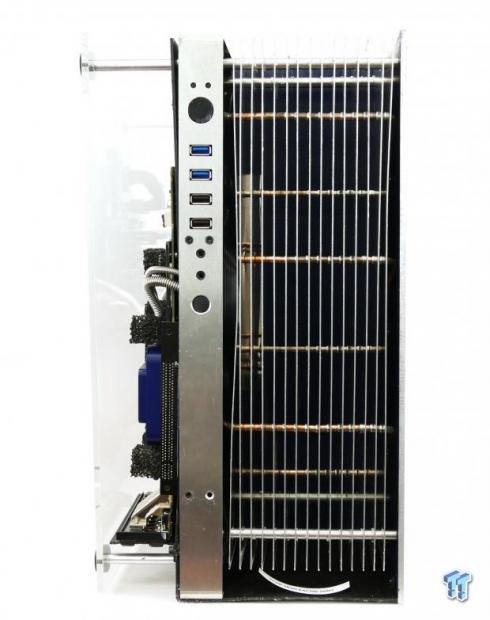 The right side of the unit features more radiator fins, power button, reset button, two USB 3.0 ports, and two USB 2.0 ports. The left of the unit features more radiator fins and the PSU's AC power plug.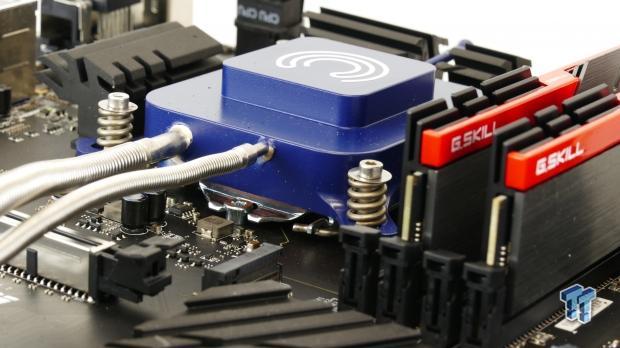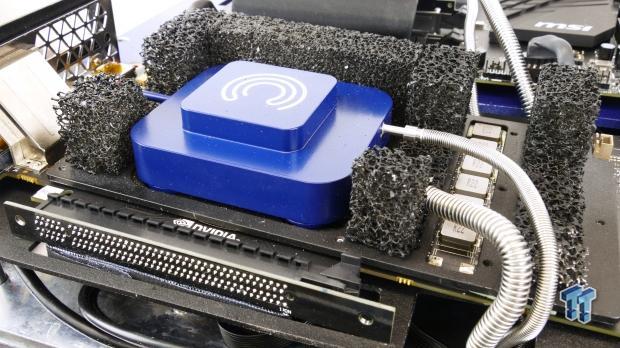 The CPU block is screwed into place, just like a water block. The GPU's block is also mounted in the same way.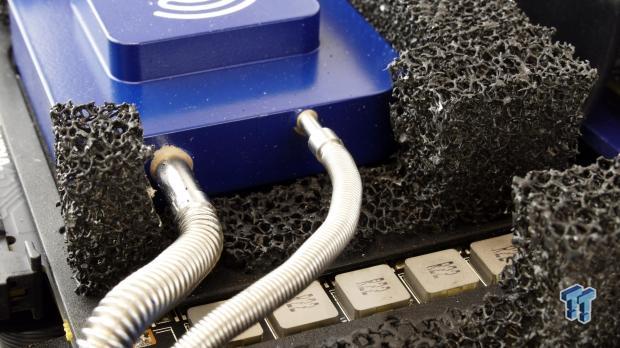 Interestingly enough, Calyos has used some type of metallic foam to act as a heat sink for the GPU memory and VRM. Each block (on the CPU and GPU cores) moves around the phase change liquid through two flexible tubes. The larger one moves heat to the radiator, and the smaller one brings back cooled down phase change liquid.
Teardown of the NSG-S0
The Teardown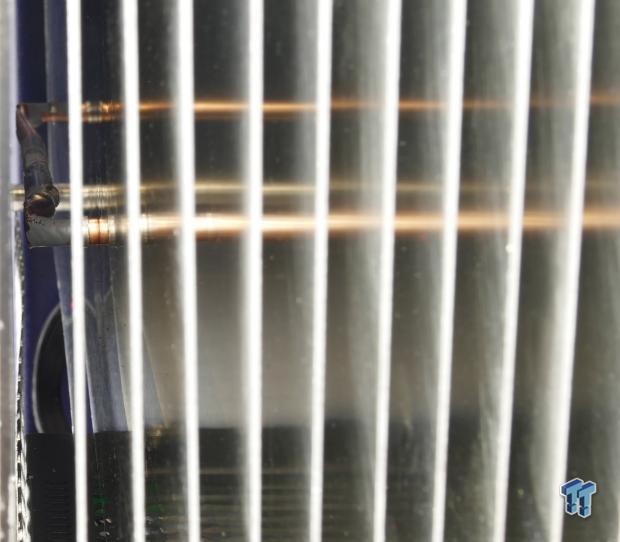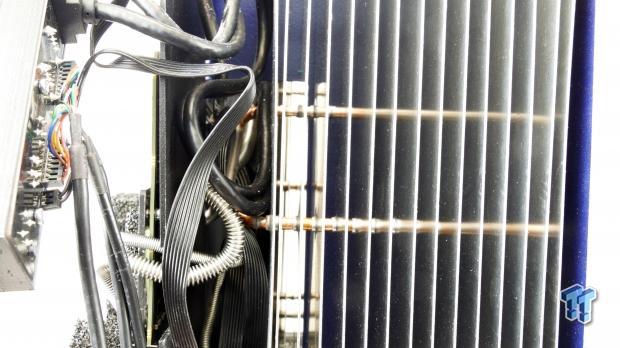 Heat pipes are connected in a network inside each large radiator, and their heat is dissipated by the large aluminum plates/fins. The flexible tubes end up connecting to the heat pipes.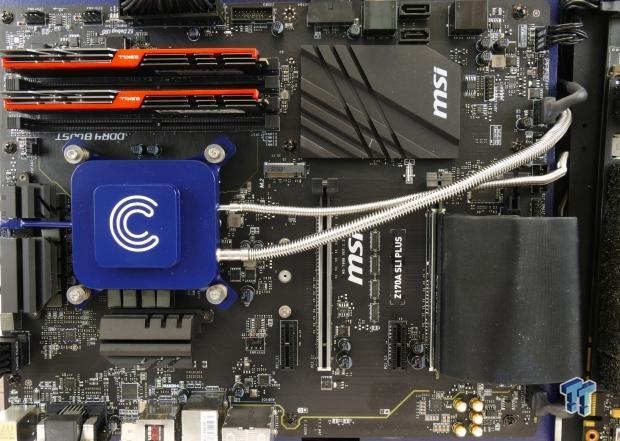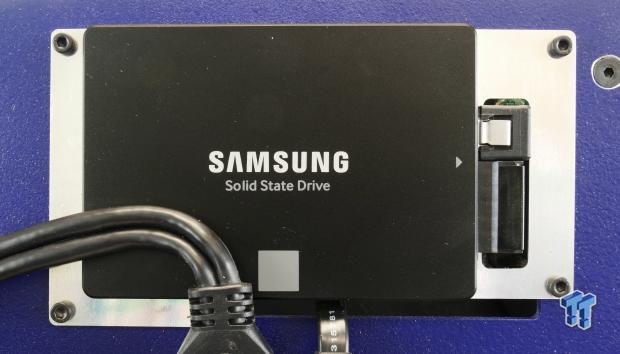 The motherboard is unaltered, meaning that Calyos didn't need to customize it for fanless operation. The GPU is mounted flat, and a riser card is used to extend out the PCI-E slot. The Samsung 850 EVO is mounted flat as well.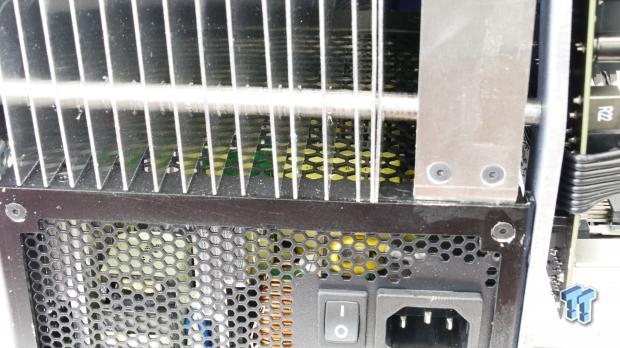 The PSU is a fanless Seasonic PSU designed for this very purpose.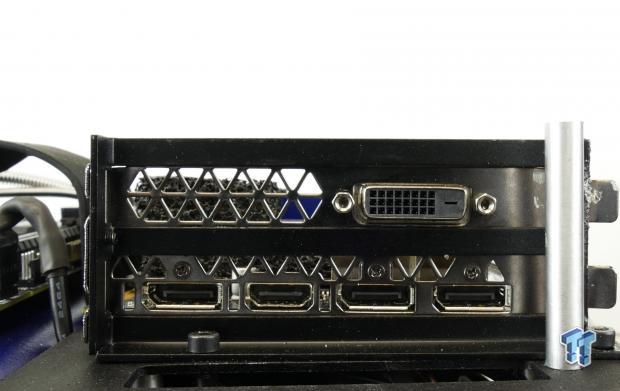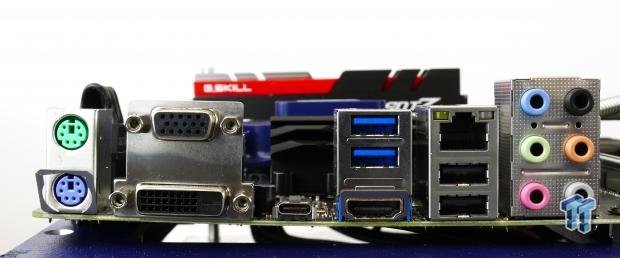 The GPU outputs include three DisplayPorts, HDMI, and DVI. The motherboard offers PS/2 keyboard, PS/2 mouse, VGA, DVI, USB type-C, two USB 3.0 ports, two USB 2.0 ports, HDMI, Gbit LAN, and 7.1 audio outputs.
BIOS and Software
BIOS
Calyos is using a Z170 based MSI motherboard, just like the ones you can buy off the shelf. The motherboard's UEFI hasn't been altered in any way (except maybe some boot options), to facilitate the fan-less 100%-silent design. I was actually expecting some changes, but I was surprised to find that their solution is good enough out of the box to support a wide variety of hardware. Of course, you would be better off with a motherboard with VRM heat sinks.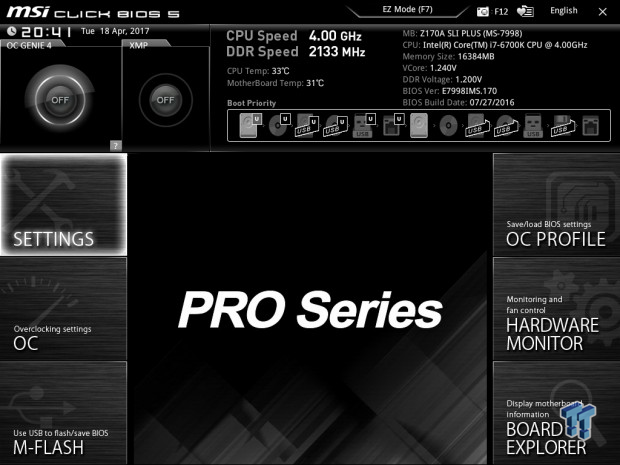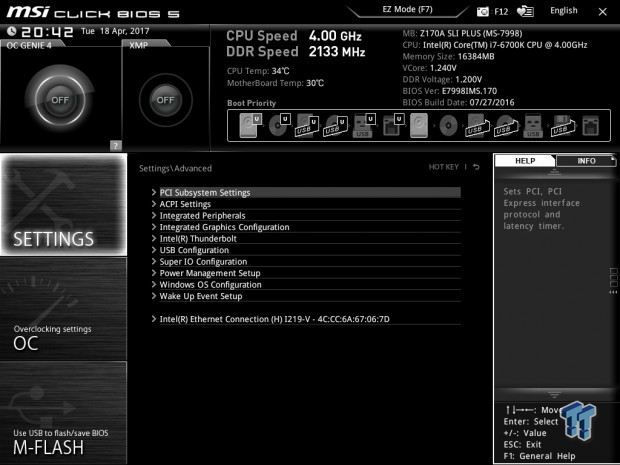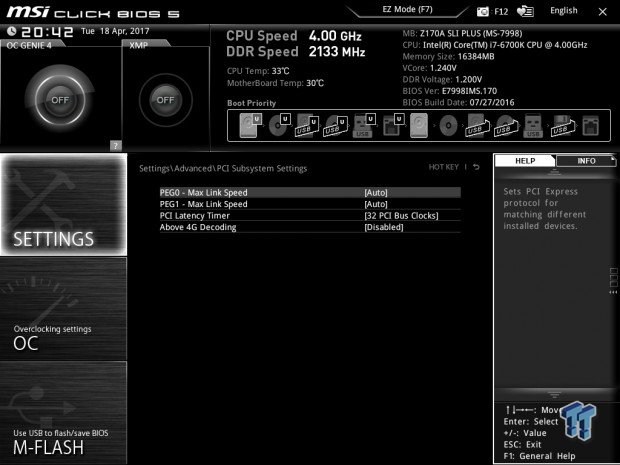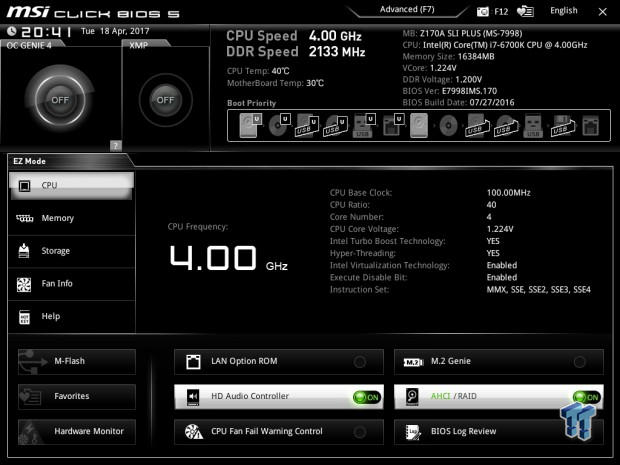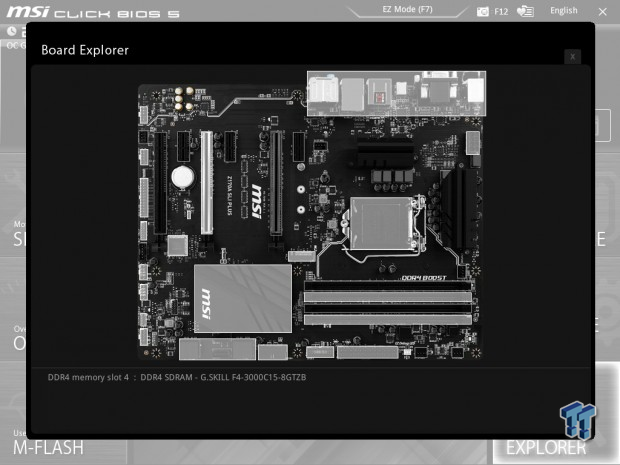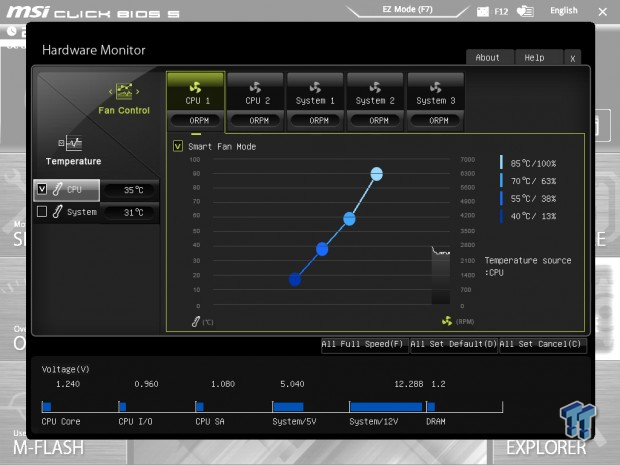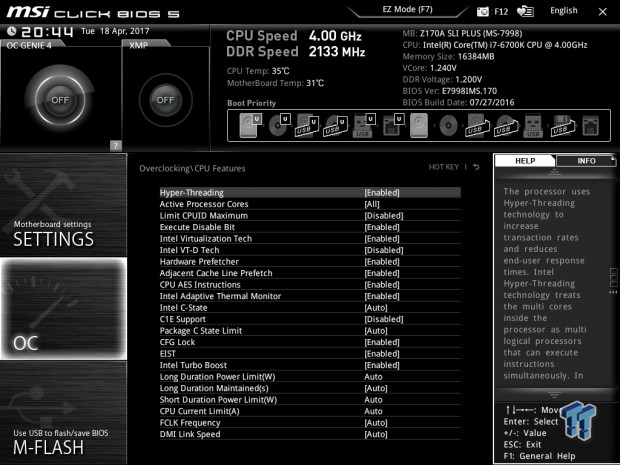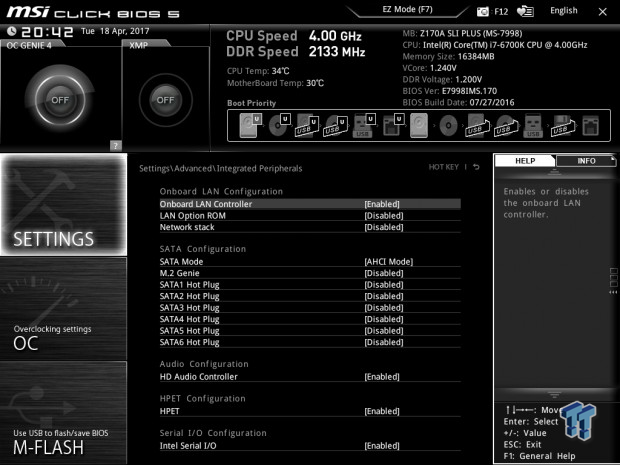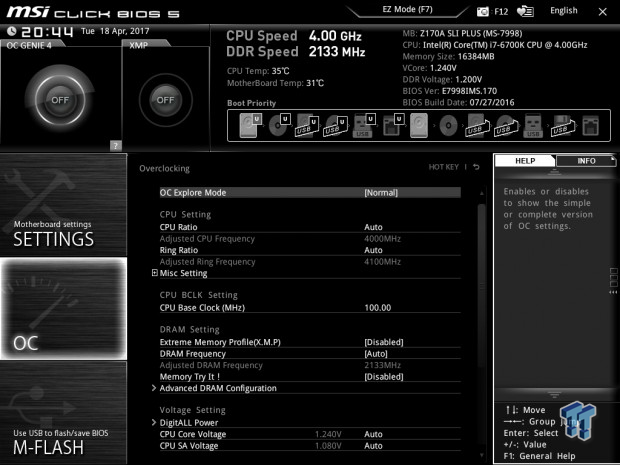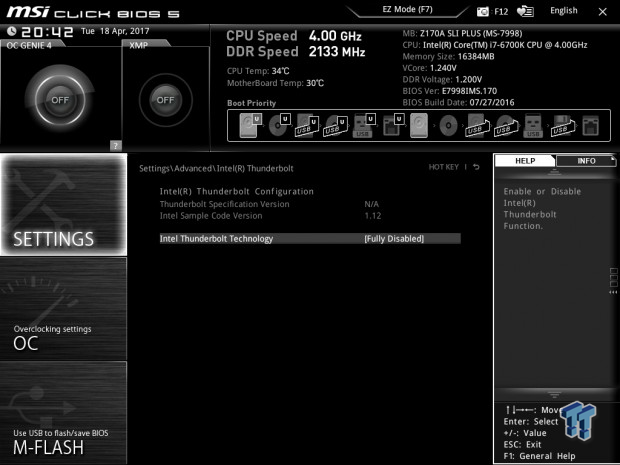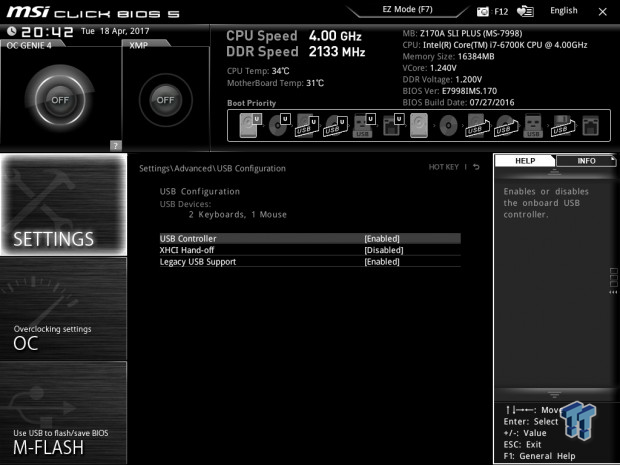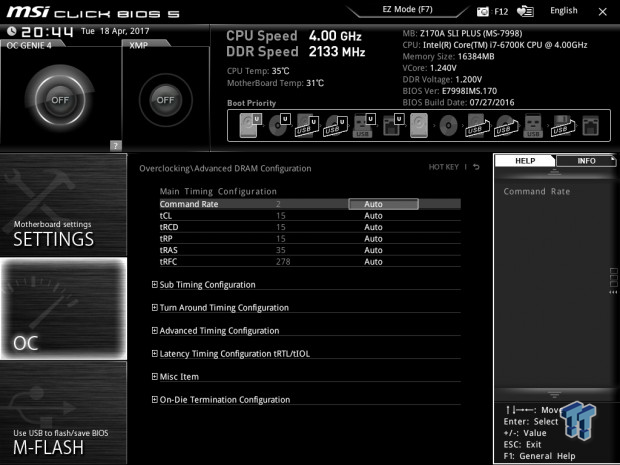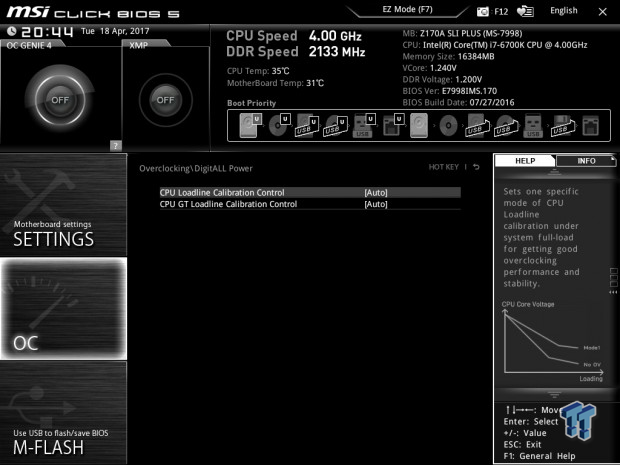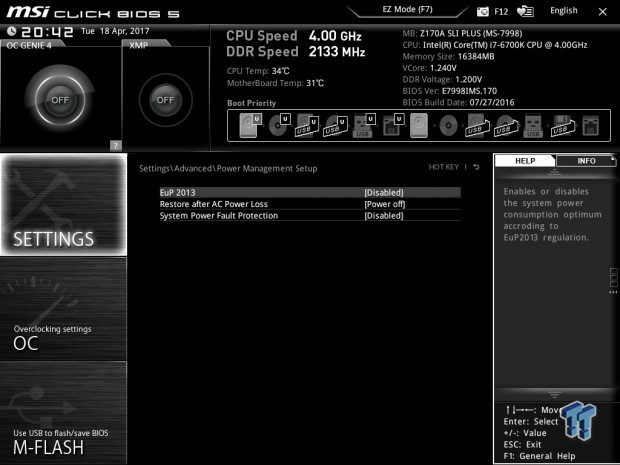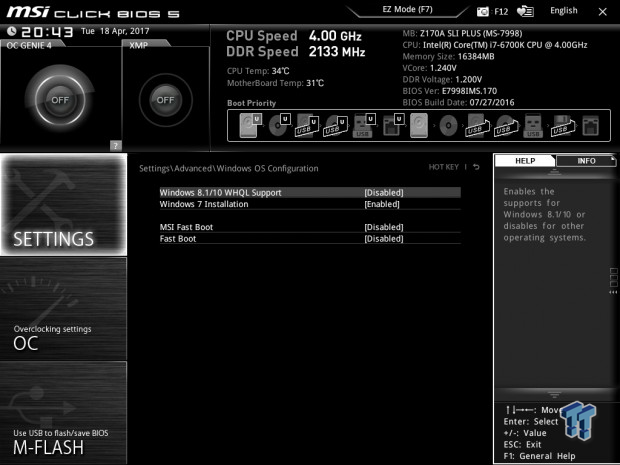 Software
The cooling system is designed to cool off-the-shelf components, and as such can be shipped as a chassis without hardware. The model we are reviewing is pre-built, but the OS is an off-the-shelf OS, without extra software. The good news here is that there is no bloat-ware.
Test Setup and Benchmarks
Test Setup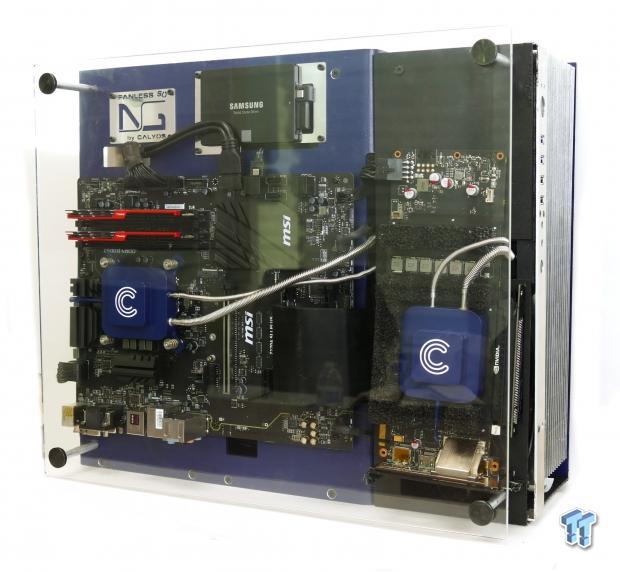 The configuration tested today uses a 6700K (stock), an MSI Z170X SLI Plus motherboard, a GTX 1080 (stock), 16GB (2x8GB) 3000MHz TridentZ (stock 2133MHz), and a 250GB Samsung 850 EVO.
CPU, Memory, System, and Graphics Benchmarks
CINEBENCH 11.5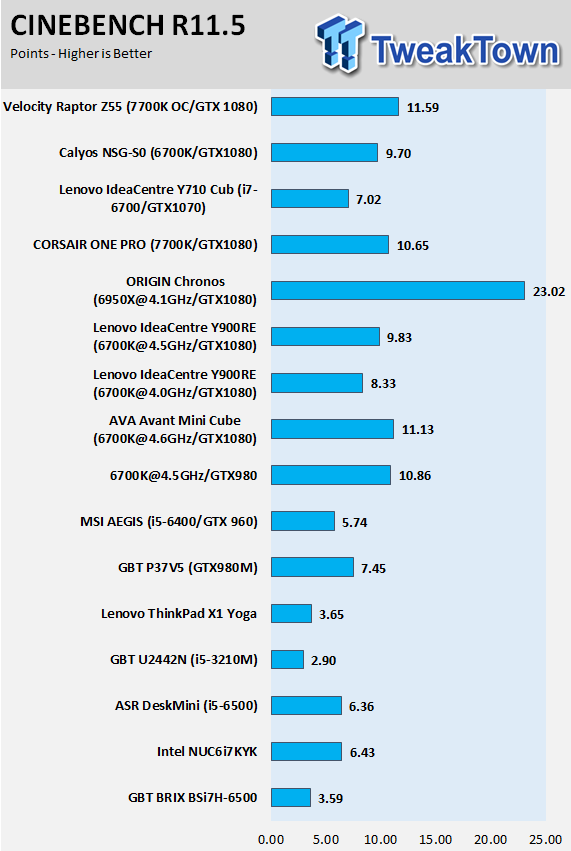 wPrime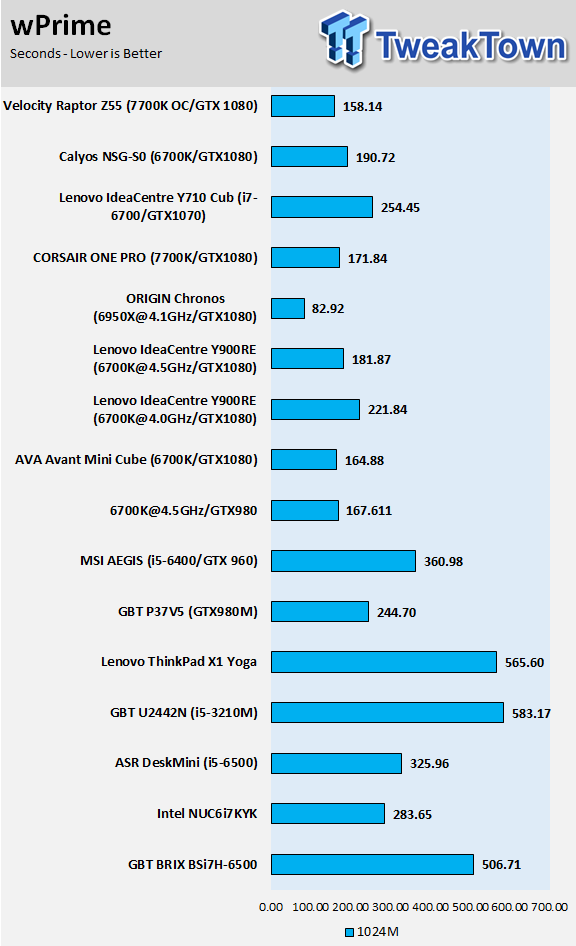 AIDA64 AES and HASH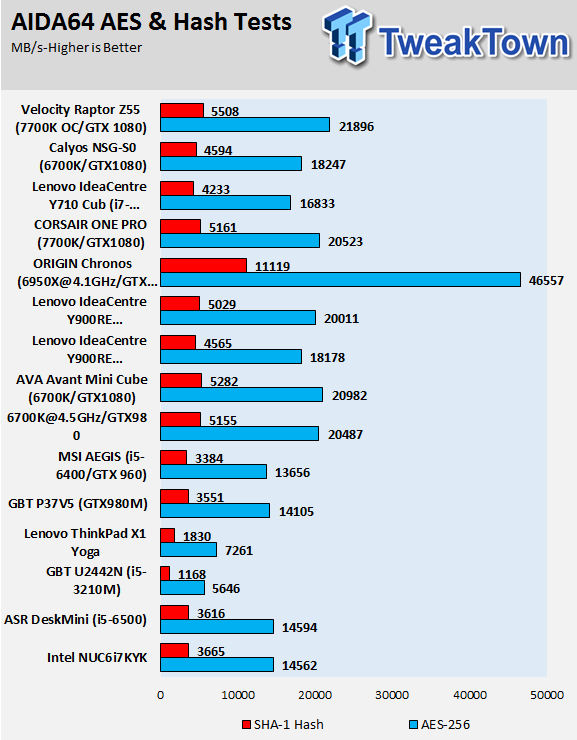 AIDA64 Memory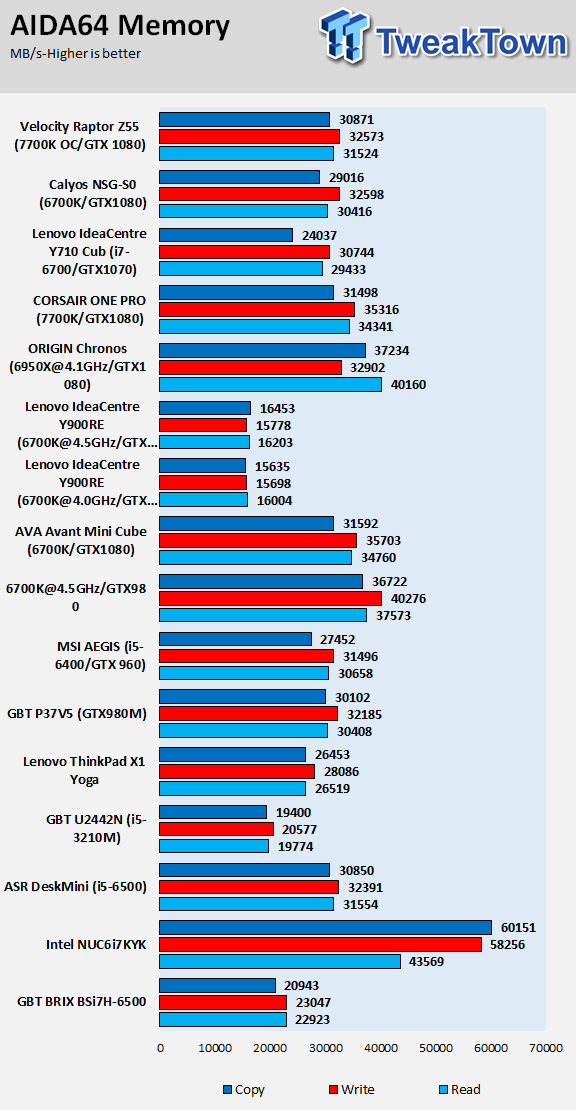 HandBrake Video Encoding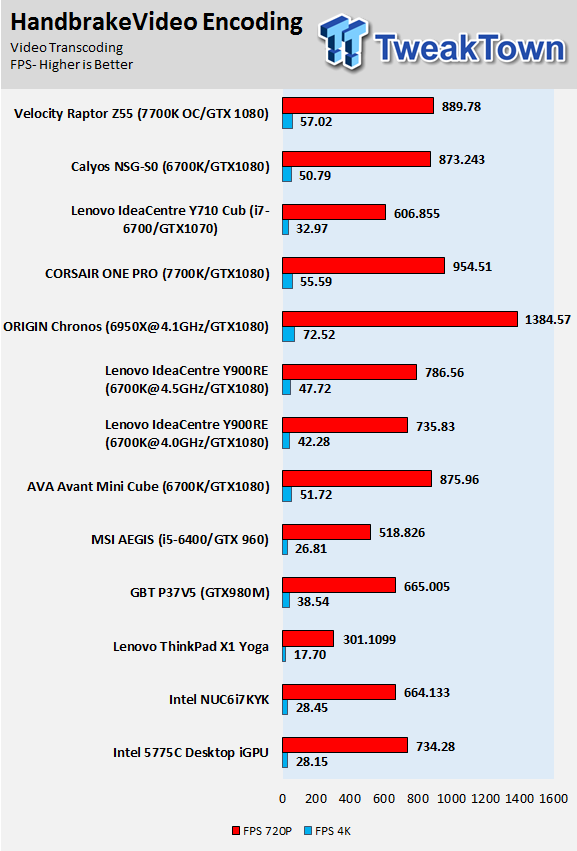 PCMark8 Home Test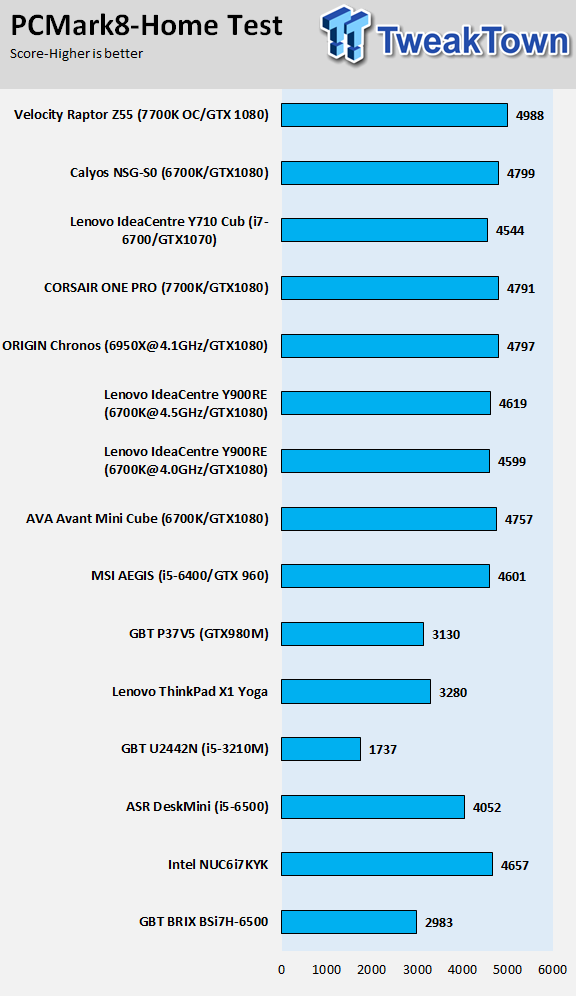 WebXPRT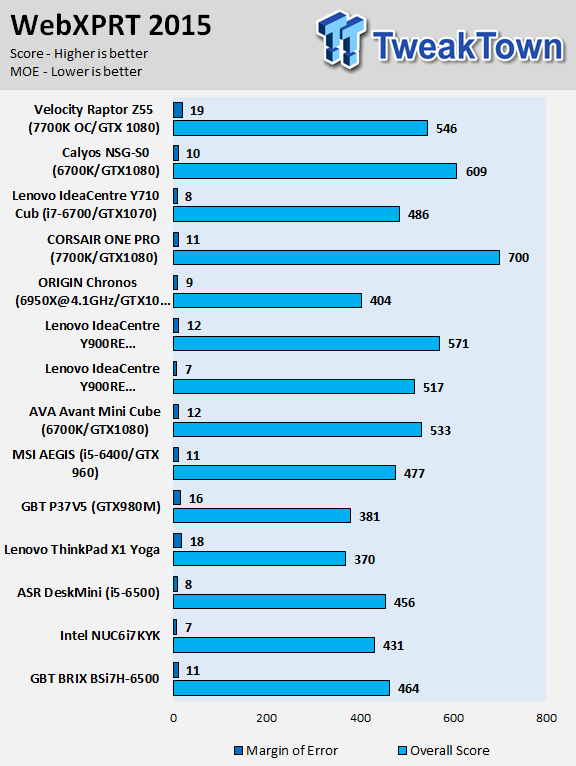 3DMark Cloud Gate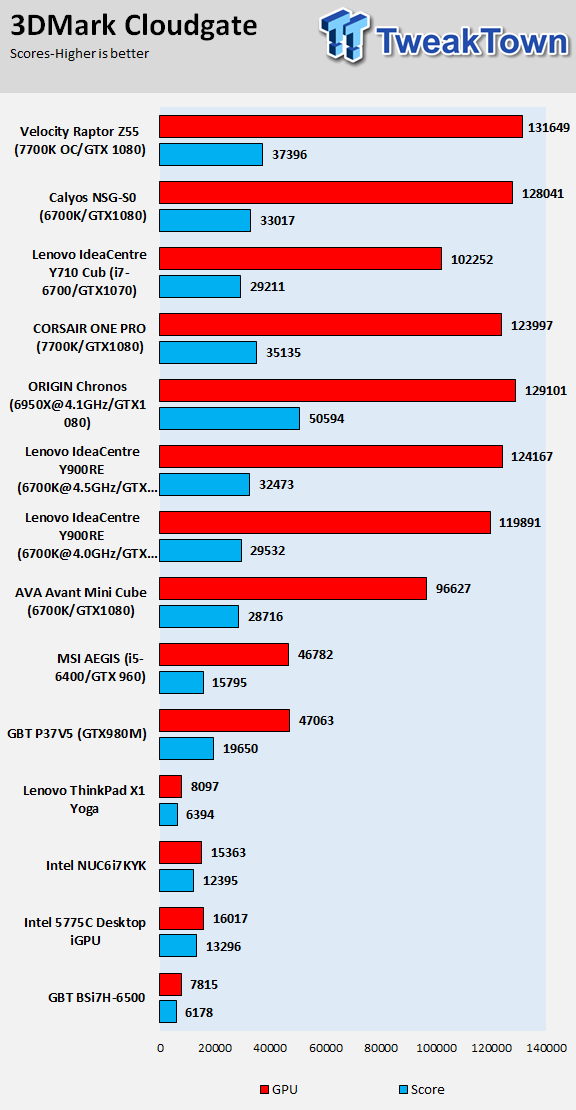 3Dmark FireStrike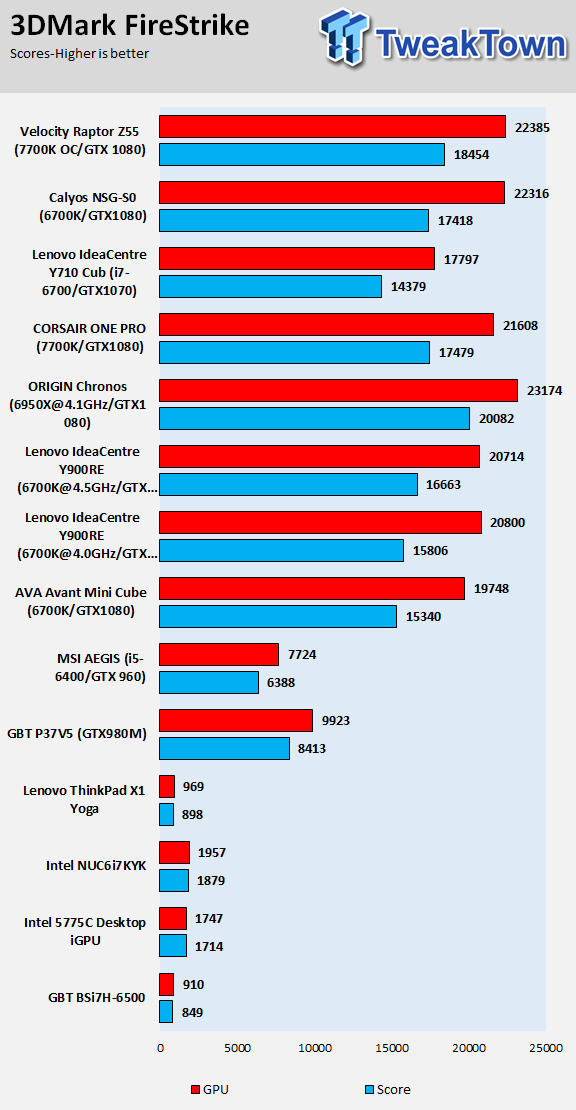 Ashes of the Singularity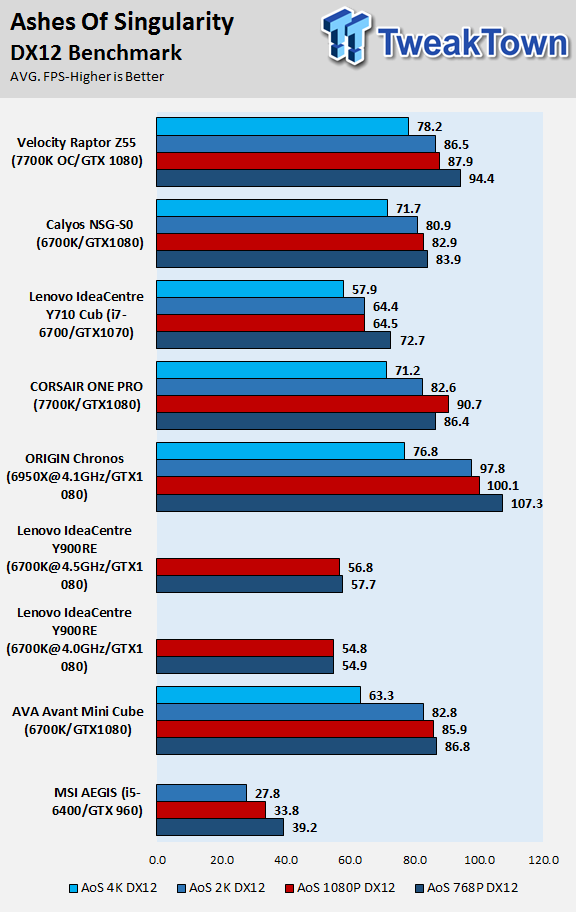 Grand Theft Auto V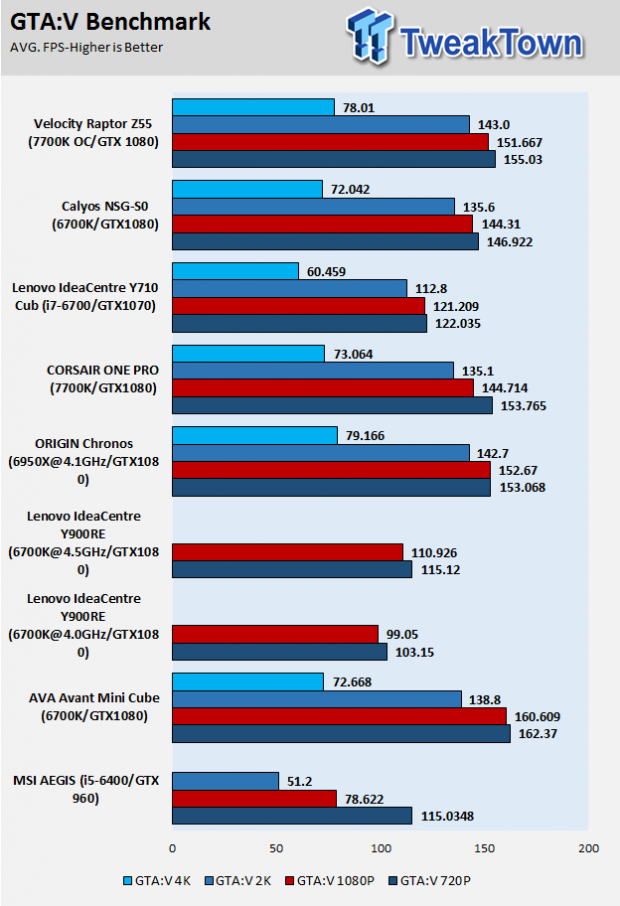 UNIGINE Heaven 4.0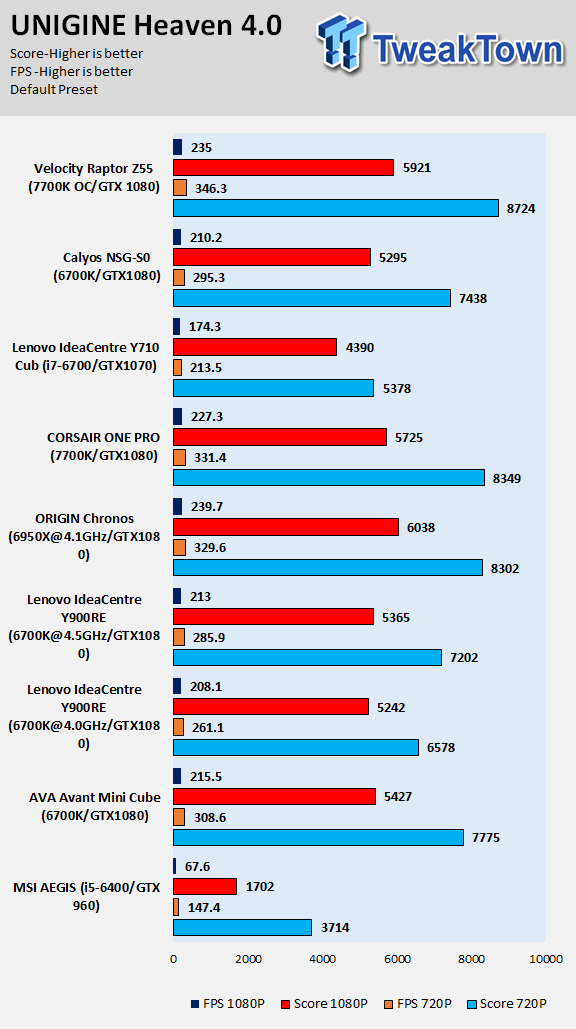 Resident Evil 6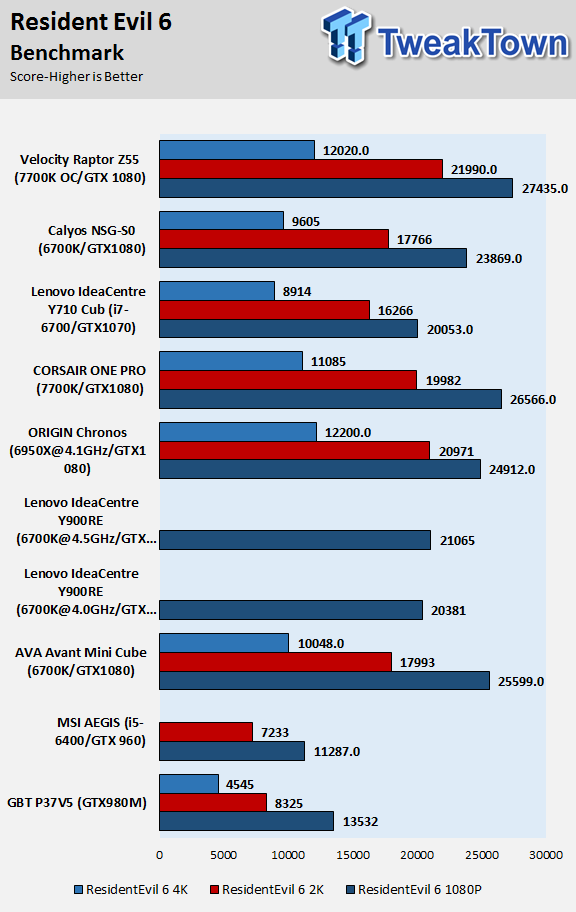 Rise of The Tomb Raider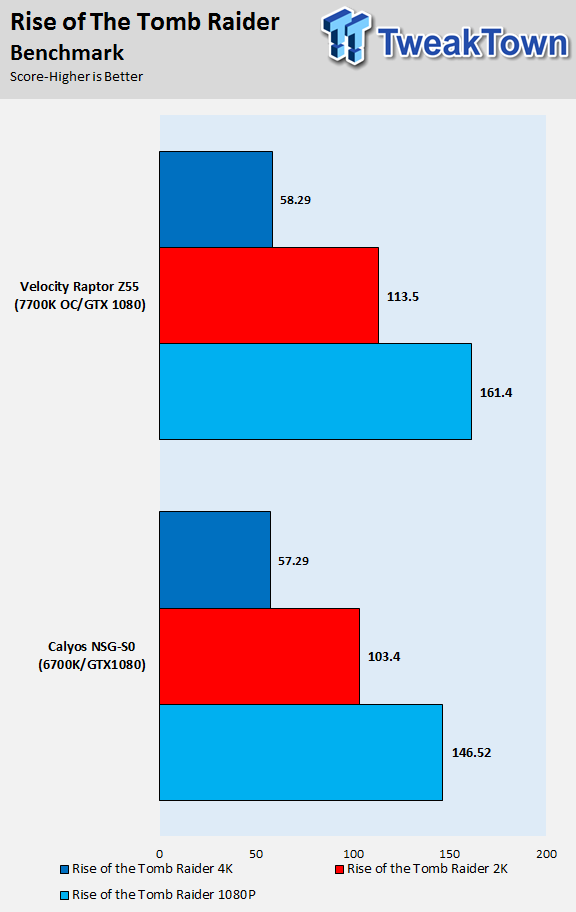 Calyos's NSG-S0 can be configured with a 7700K, which would bring its performance back in line with some of the other Kaby Lake/Pascal based systems. However, our unit uses a 6700K at stock, so performance should be a bit lower in CPU and some gaming benchmarks in regards to 7700K based systems. The latest configurations on Calyos's Kickstarter campaign do use a 7700K, so expect better results if you buy a pre-configured system.
Storage and Network Performance
CrystalDiskBench-Read: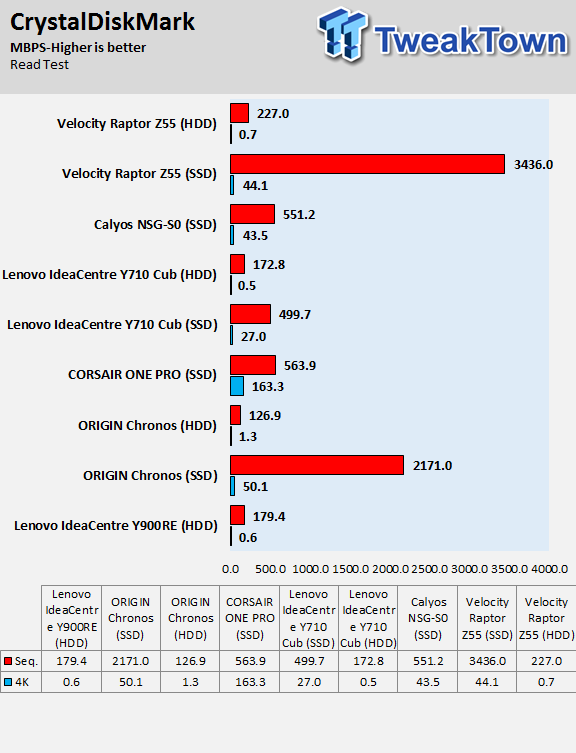 CrystalDiskBench-Write: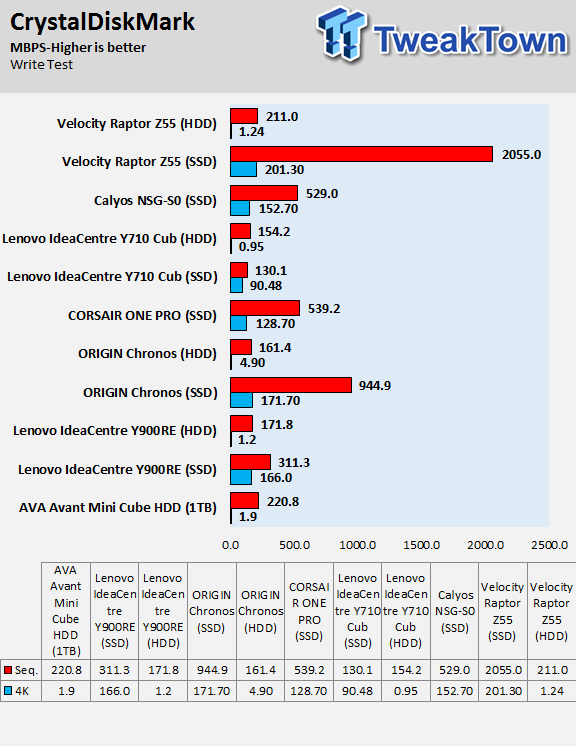 ixChariot Network Throughput: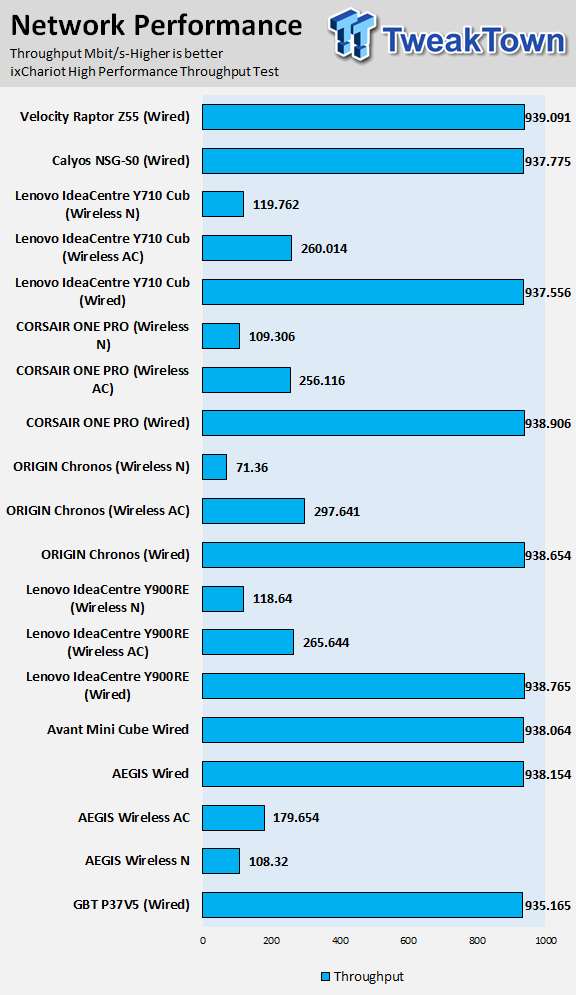 The NSG-S0's SSD is a Samsung 850 Evo SATA6Gb/s drive, so it won't be as fast in sequential read and write tests as a system equipped with an NVMe M.2 drive. I wonder why Calyos didn't go with an M.2 drive, as the motherboard has a slot. I believe the answer to be partly aesthetics (the mounted SSD looks cool), and because M.2 drives without adequate airflow might throttle.
There are some motherboards with hefty M.2 heat sinks, if you buy the chassis without hardware and want to use an M.2 drive, I would look into adding a heat sink to it (a real heat sink).
Temperature and Power Consumption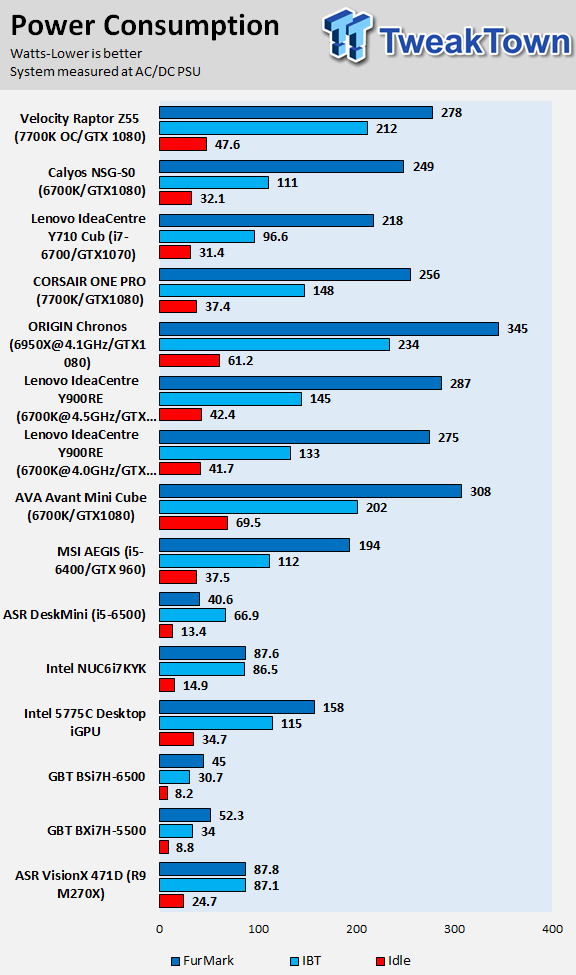 The power consumption of the NSG-S0 is where it should be, indicating that even under these heavy synthetic loads the system doesn't throttle. That's great news, as I was afraid the system might have throttled, but it didn't.
Thermal Testing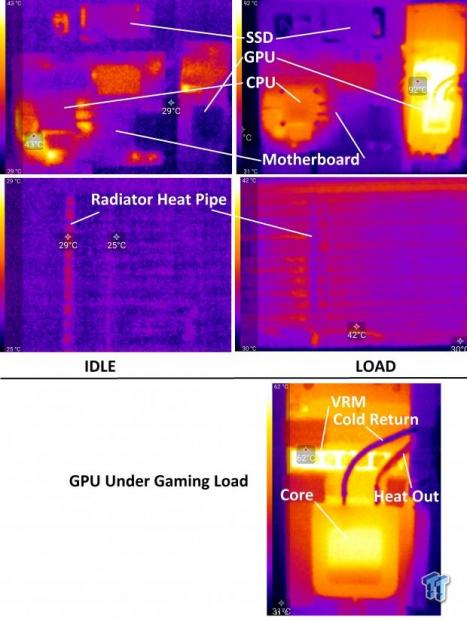 Yes, the unit gets super-hot under IBT and Furmark running at the same time for two hours (this is longer than our normal thermal testing). Linus Tech Tips had also done a video and ran the system for three days under heavy load, and it survived, I just wanted to see how hot it really gets.
We do get a hot reading at idle where the PWM controller of the CPU's VRM is, but at full load, the GPU's heat towers over that of the CPU. It might also be why the GPU's radiator system is twice as big as the CPU's. The GPU and system survived, but I wouldn't touch its VRMs.
What's Hot, What's Not & Final Thoughts
Here are key points about the NSG-S0.
What's Hot
100% Silent: The Calyos NSG-S0 delivers on its fan-less 100% silent PC, but there is a very small sound you can only hear when everything in the room is turned off. You can actually hear the internal phase change liquid boil in the beginning until it reaches some level of equilibrium, it's actually kind of cool to hear physics in action, but you really have to try to hear it.
No Throttling: Under normal and heavy gaming conditions and different room temperatures, I wasn't able to detect any throttling. The NSG-S0's cooling apparatus can keep up with the cooling requirements of the system. I even saw a prototype on their website that cools an X99 CPU; I would assume you would only need a slightly larger CPU radiator.
Supports Wide Variety of Systems: While the 6700K and GTX 1080 are top-notch high-performance parts, it does seem that Calyos has plans to upgrade these components. You can also upgrade the 6700K to a 7700K by just unscrewing the block and reinstalling it like a water cooling block. Calyos also has plans for Intel HEDT systems, and perhaps down the road, even Ryzen.
No Bloatware: While the OS is just off the shelf, that can be a very good thing since you won't get any more software than what Microsoft provides.
What's Not
Heaviest PC I have Ever Reviewed: The NSG-S0 is the heaviest PC I have ever reviewed. The reason is because of its huge radiator system, which takes up more than 70% of the system's volume.
Riser Card Limits GPU to x8: While it's true that the GPU's riser card extension only reaches the second PCI-E slot that provides x8 PCI-E 3.0, the performance impact was unnoticeable. You can use a longer extension of a motherboard with an x16 slot closer to the GPU.
Final Thoughts
The Calyos NSG-S0 is a very nice high-performance gaming PC, and while you can feel it in your wallet, it is possibly the only production PC without any noise, fans, or electrical pumps. Calyos's technology is also being used in other categories such as the data center and even space exploration. It's a novel technology that relies on the physics of phase change, and a non-electrical pump to move the heat.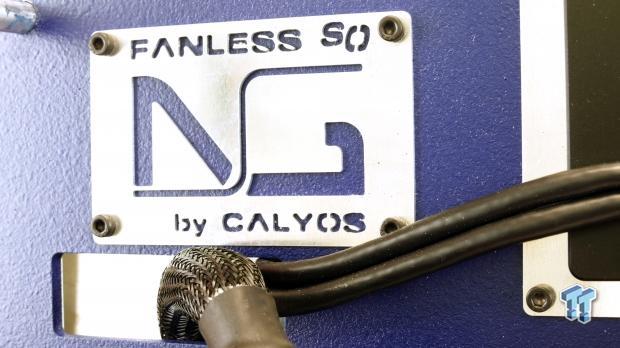 The NSG-S0 isn't the smallest PC, and it's definitely not the lightest. You won't be carrying it around town or to LAN parties, but it's perhaps one of the coolest gaming PCs I have ever reviewed. For those of you who want to use your own hardware, Calyos also offers the chassis separate, but I do recommend buying one of their pre-configured systems as they have tested the hardware to ensure it lives under the heat conditions under full load.
I have to say I am very impressed with the Calyos NSG-S0, it accomplished what some thought was impossible, and by doing so delivers a unique and impactful high-performance gaming PC.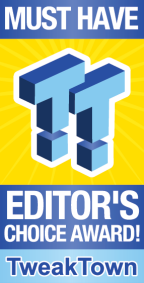 | | |
| --- | --- |
| Performance | 97% |
| Quality | 97% |
| Features | 96% |
| Value | 94% |
The Bottom Line: Calyos's NSG-S0 is a truly silent high-performance gaming PC, and perhaps the most novel one around.
PRICING: You can find products similar to this one for sale below.

United States: Find other tech and computer products like this over at Amazon.com

United Kingdom: Find other tech and computer products like this over at Amazon.co.uk

Australia: Find other tech and computer products like this over at Amazon.com.au

Canada: Find other tech and computer products like this over at Amazon.ca

Deutschland: Finde andere Technik- und Computerprodukte wie dieses auf Amazon.de
We openly invite the companies who provide us with review samples / who are mentioned or discussed to express their opinion. If any company representative wishes to respond, we will publish the response here. Please contact us if you wish to respond.