Lenovo ThinkStation P410 Professional Workstation Review
Lenovo's ThinkStation P410 Professional Workstation computer system gets fully tested as we determine if it's worth buying or not.
Published Jan 17, 2017 11:40 AM CST
|
Updated Tue, Nov 3 2020 6:58 PM CST
8 minute read time
TweakTown's Rating: 91%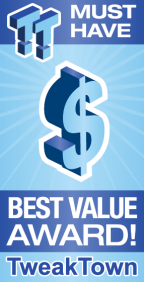 The Bottom Line
Lenovo's ThinkStation P410 is loaded with the latest in powerful workstation-class CPUs from Intel and GPUs from NVIDIA; it can be quite affordable too.
Introduction, Specifications, and Pricing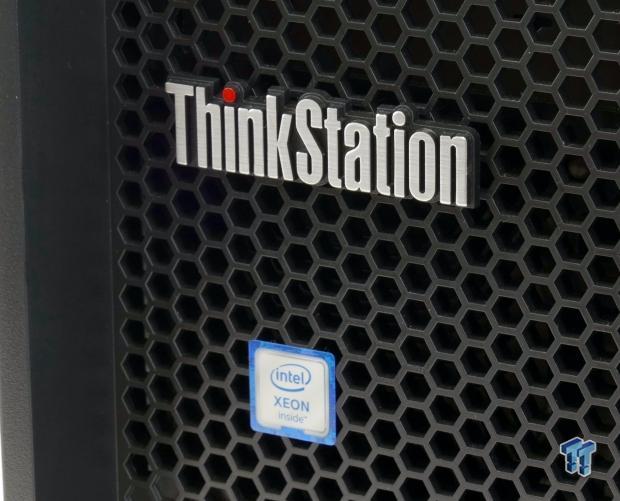 While many of us enthusiasts play with our Broadwell-E systems, we sometimes forget we are playing with a toned down unlocked Xeon; Broadwell-EP. Single socket Broadwell-EP processors (Xeon E5-1600 v4) work with the C610 Wellsburg chipset and have core counts comparable to their Broadwell-E counterparts. The Xeon E5-1650 v4 has 6 cores and 12 threads, just like the i7 6850K, operates at the same frequencies, has the same cache size, and even TDP.
The big differences come in memory support; the Xeon can support up to 1.54TB of DDR4, supports ECC RDIMMs, and other server features such as vPro. These Xeon counterparts of the beloved Broadwell-E enthusiast CPUs are powerful and very capable and are an excellent choice for workstations.
Of course, workstations also need workstation level graphics cards, in this case, an NVIDIA Quadro GPU. The reason is because of professional CAD software's use of OpenGL for which the Quadro is optimized. The Quadro is also better for double precision float computations used in science. They are optimized for certain use case scenarios, even software applications, that are common in the professional world.
The workstation also needs to support error checking, and for this Lenovo offers ECC-RDIMMs to match the CPU's capability. Lenovo has optimized the hardware and even software to produce their professional workstation, one with a long legacy.
Let's take a look at the Lenovo ThinkStation P410 Professional Workstation.
Specifications

The base configuration for the ThinkStation P410 is much difference than our configuration. Our configuration comes with the Xeon E5-1650 v4 (the top most model Lenovo offers), 16GB of DDR4 ECC-RDIMM, NVIDIA Quadro M4000, and a 1TB SATA SSD. The system also comes with a keyboard and mouse.
Pricing
The ThinkStation P410 in this configuration costs roughly $2500, while the base configuration is only $1043, which is of course significantly more affordable.
Physical Overview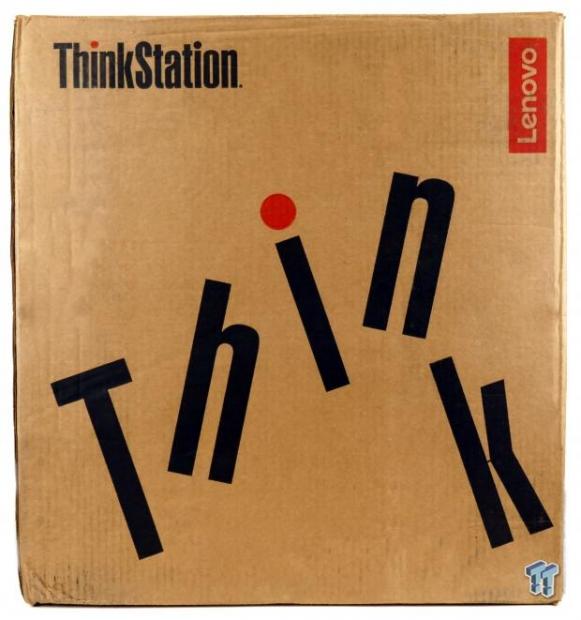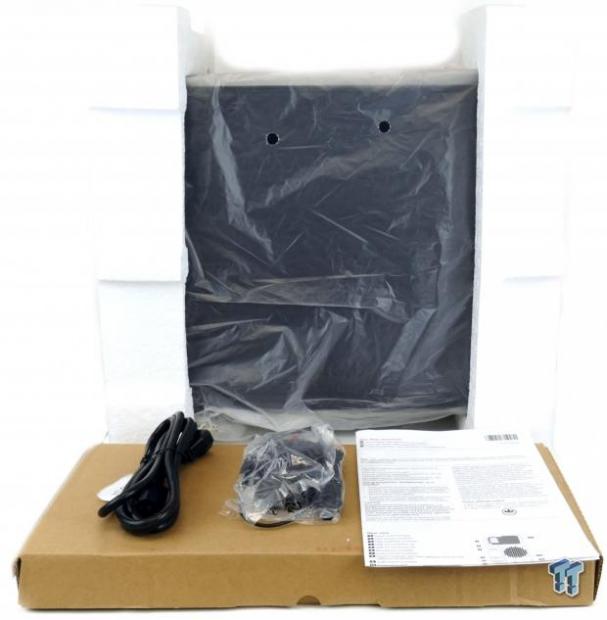 The package comes in a nondescript cardboard box, but everything from the tower to the keyboard and mouse is secured well. There is little chance your unit will arrive damage.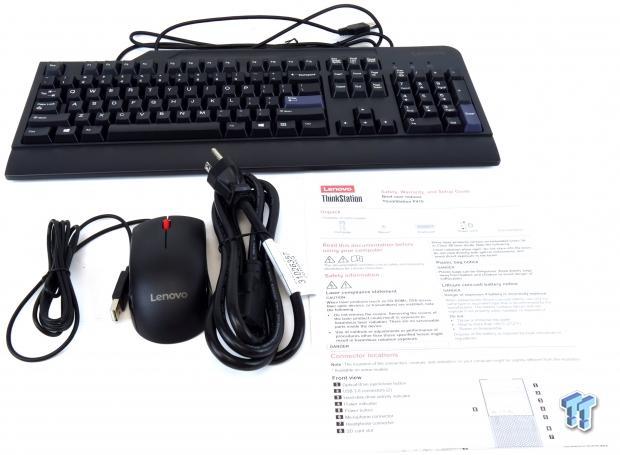 Accessories include a power cable, mouse, keyboard, and documentation.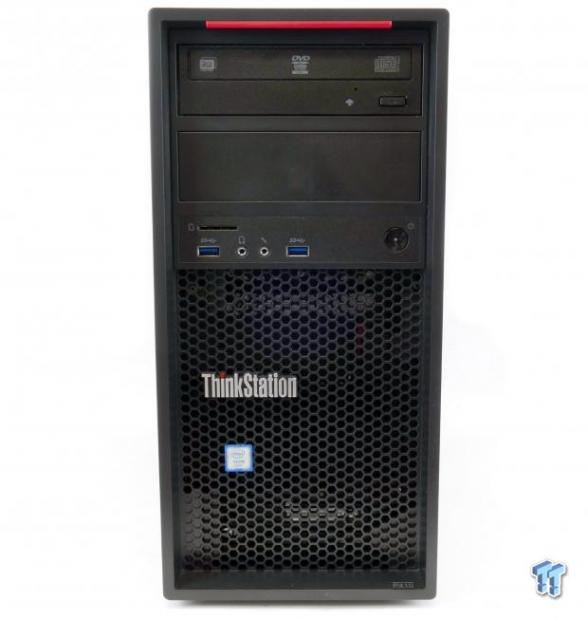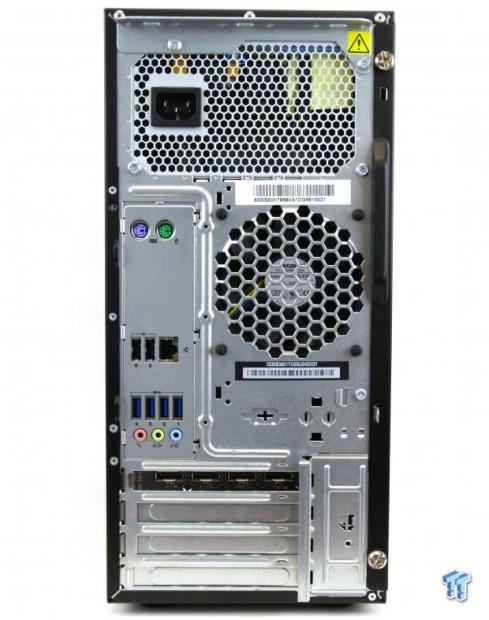 The front of the ThinkStation P410 features a Rambo8 DVD Burner/CD-RW, two USB 3.0 ports, headphone port, microphone port, card reader, and power button. The rear of the tower features an AC power jack, PS/2 keyboard, PS/2 mouse, two USB 2.0 ports, four USB 3.0 ports, a 1Gbit LAN port, four DisplayPorts, microphone jack, headphone jack, and line in jack.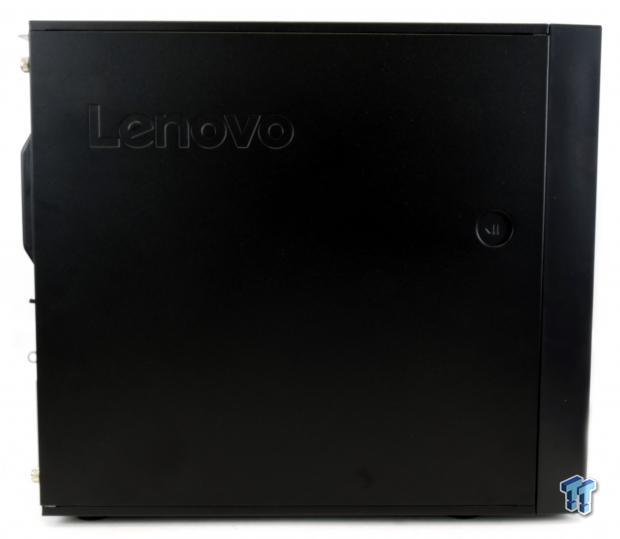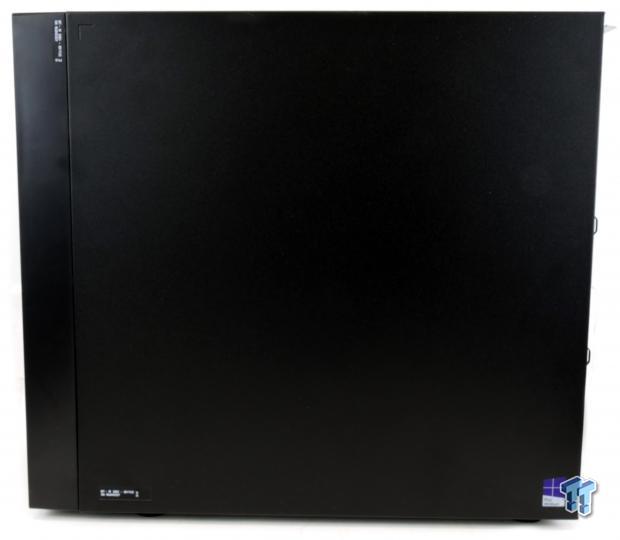 Neither side of the PC has anything worth noting except a button that needs to be pressed to open the side panel.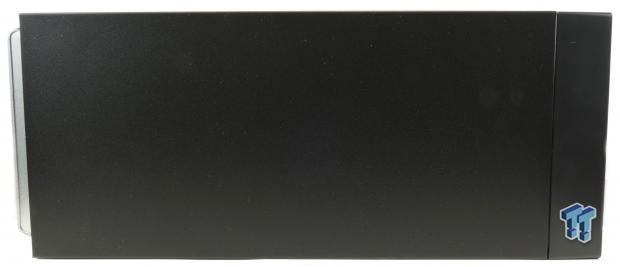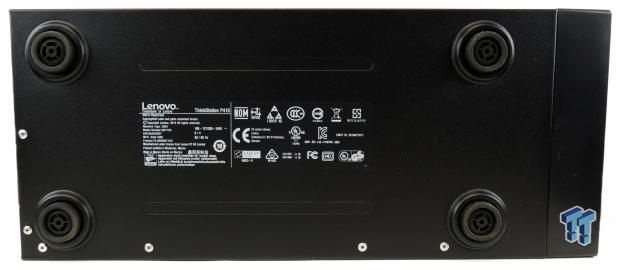 The top of the unit is also, like the panels, black aluminum. There are four large rubber feet at the bottom of the PC.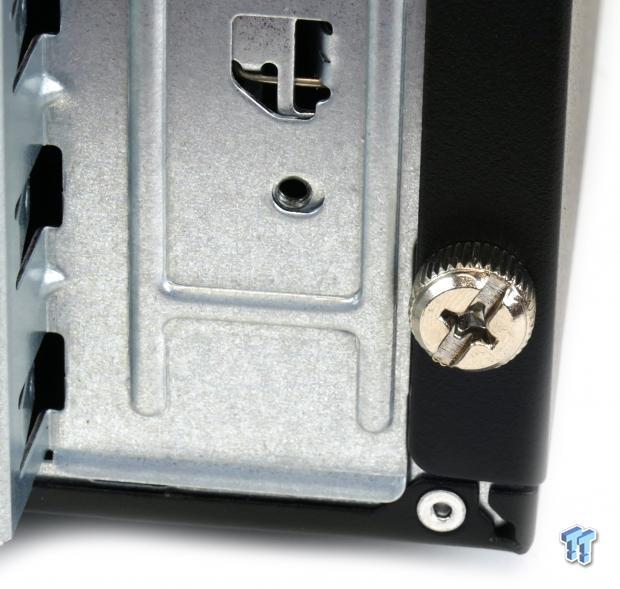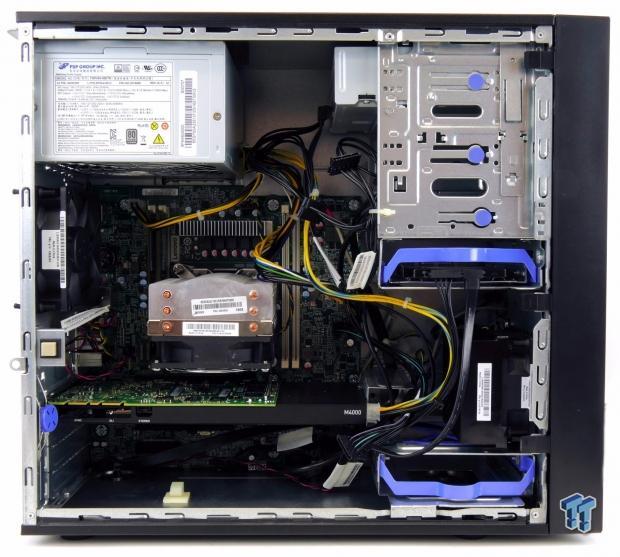 To remove the side panel you first remove two thumbscrews on the left panel and then press the button on the side panel and slide backward. You can upgrade a lot in this unit, including more storage, GPUs, and RAM.
Physical Overview Continued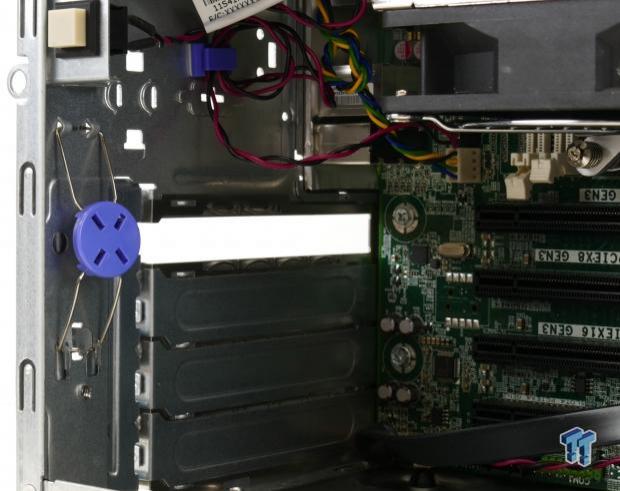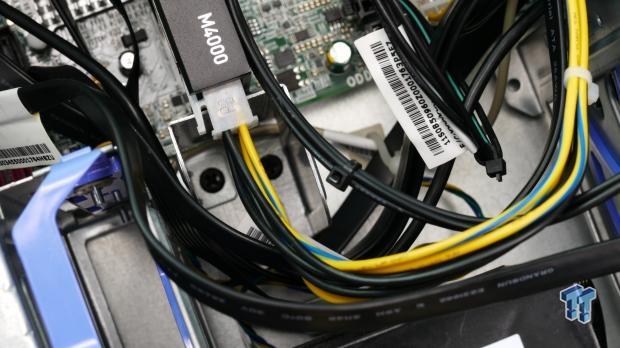 Removal of the GPU requires you to unscrew two screws at the rear of the case, which is a bit hard to get to. These two screws secure a bracket that is screwed into the back of the GPU, so that the GPU doesn't droop during normal use, and doesn't break the PCI-E slot during transport. It's a novel solution to a problem many people don't think about but is the cause of most DOA systems.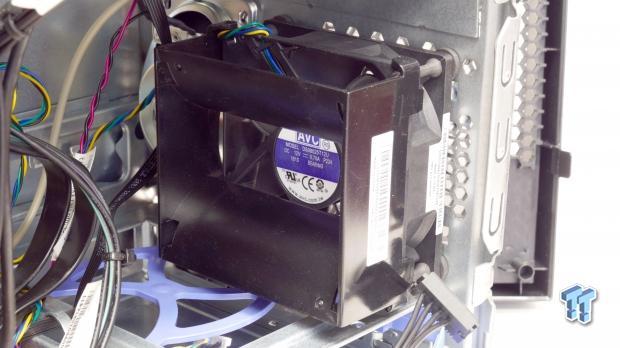 The front intake fan has an exhaust shroud that directs the air intake in three directions. Air is directed upwards towards the top drive, downwards towards the bottom drive, and straight ahead into the case. The rear exhaust fan is attached to the case with four rubber anti-vibration inserts to reduce noise.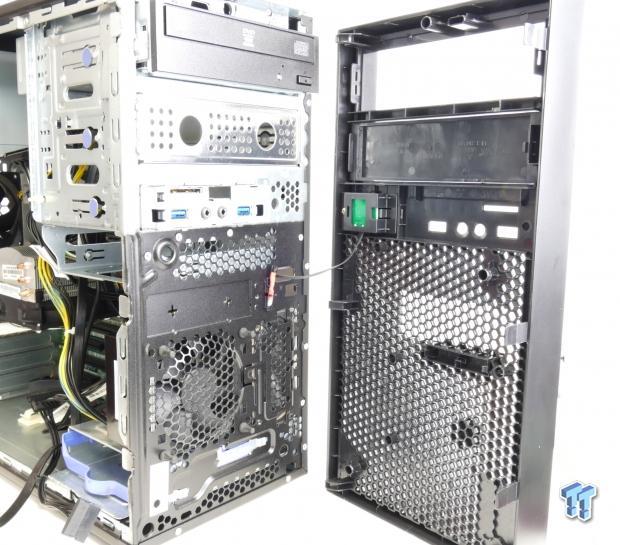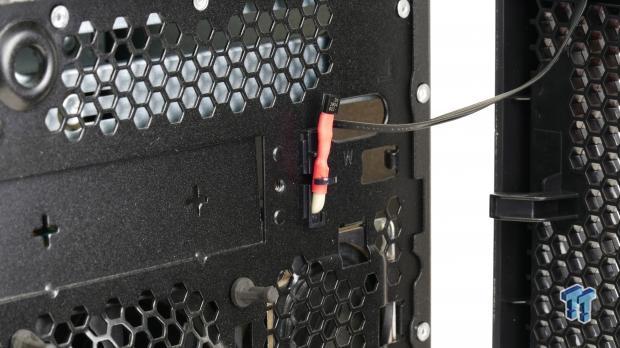 The ThinkStation P410's front panel can be removed quite easily without tools for vent cleaning. The front intake fan also uses rubber anti-vibration inserts. The tower also has an external diode temperature sensor which uses a 2n3904 NPN transistor, and this temperature sensor has a large impact on system fans.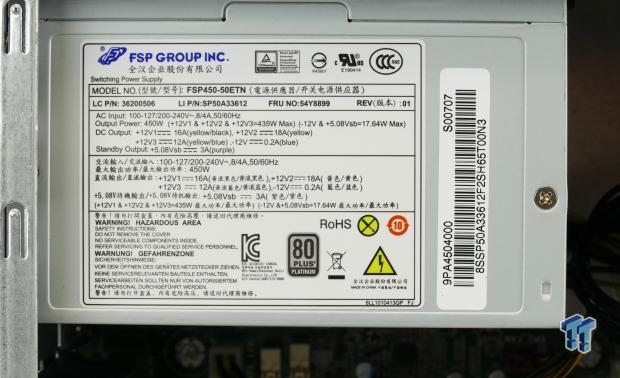 The ThinkStation P410 doesn't have a typical ATX power supply. Instead, it uses a 450W FSP Group PSU which has three separate 12v voltage rails and one standby 5v rail. There are no 5v or 3.3v power cables as you might expect from a consumer system, and there is no need since the motherboard will act as a power supply for devices that might require 3.3v or 5v, such as an SSD.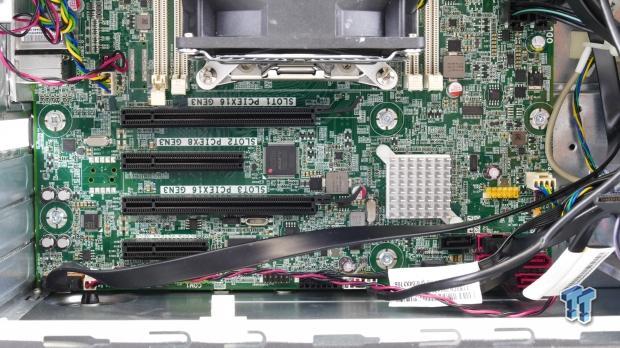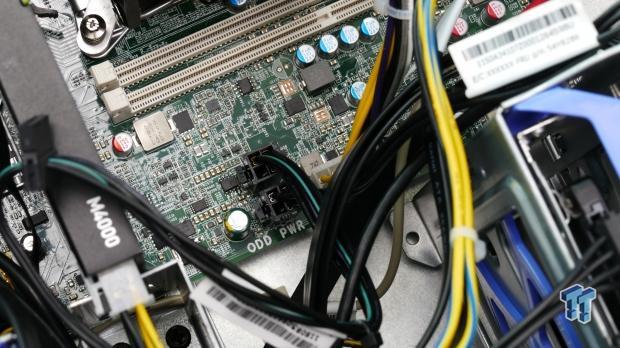 Removing the GPU reveals another full sized x16 and an x8 slot. The two x16 slots and the x8 slot are PCI-E 3.0 compliant and get their bandwidth from the CPU. Since the CPU has x40 PCI-E 3.0 lanes, none of the slots share bandwidth. The last x4 slot is PCI-E 2.0 and is routed to the PCH.
Out of the four memory DIMMs, only the two on the left of the CPU are occupied, you can install matching DIMMs on the right for quad-channel memory support. The SSD and ODD get their power through a special connector on the motherboard, allowing the motherboard to cut off their power and regulate it. There are many extra SATA power connectors that are unused so that you can add more drives.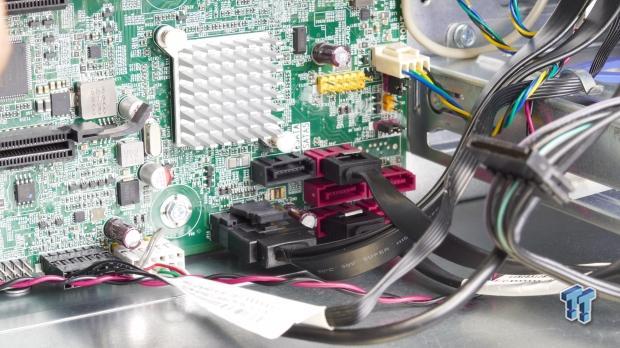 The motherboard also has multiple open SATA ports for storage or ODD expansion. Many of the connectors on the motherboard can be found in servers, but there are also some custom connectors for things such as the external temperature sensor.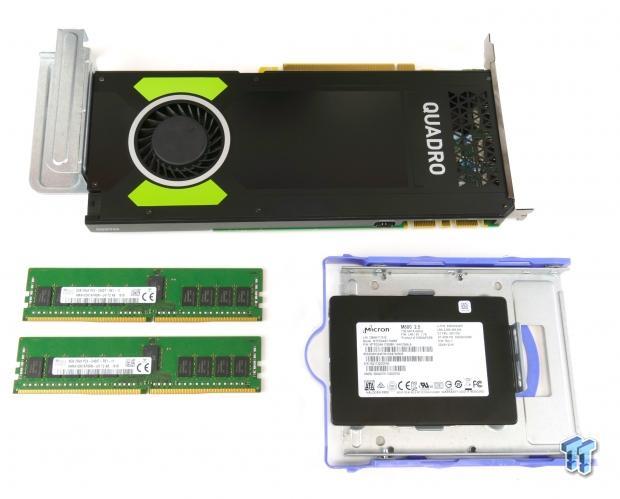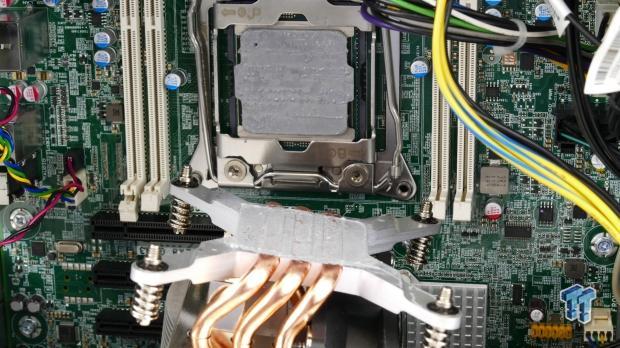 The single slotted Quadro M4000 with bracket, two 8GB Hynix ECC-RDIMMs, and 1TB Micron M600 SSD can be easily serviced. Thermal paste is well applied to the triple heat pipe cooler. The cooler is quite good for an OEM system with three copper heat pipes and direct copper to CPU mounting.
Software and BIOS
Software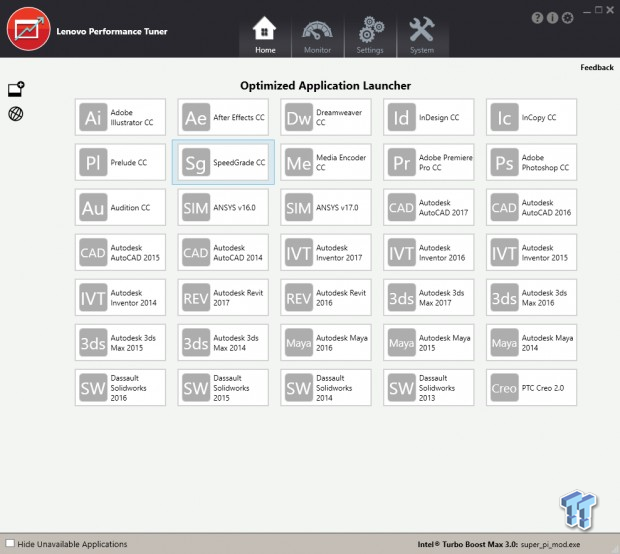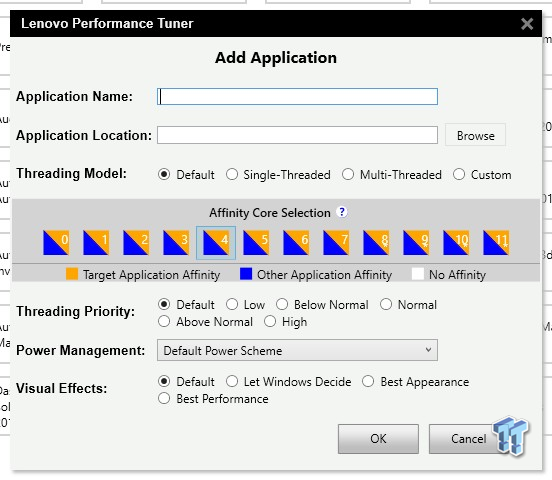 The ThinkStation P410 has its own application launcher that includes most of the latest workstation programs users might be using. It's also a list of applications that this workstation is built for. You can add any application to the list and customize CPU threading, core affinity, power management, and visual effects.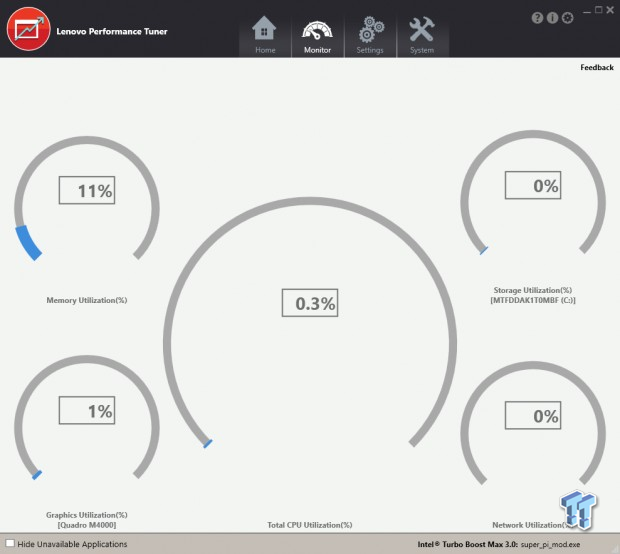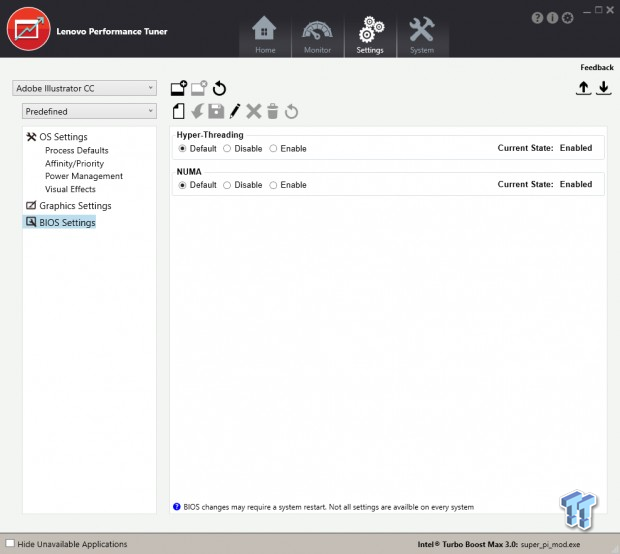 A monitor panel shows system resource usage. There are also some other features such as the ability to control Hyper-Threading and NUMA settings in the BIOS from Windows.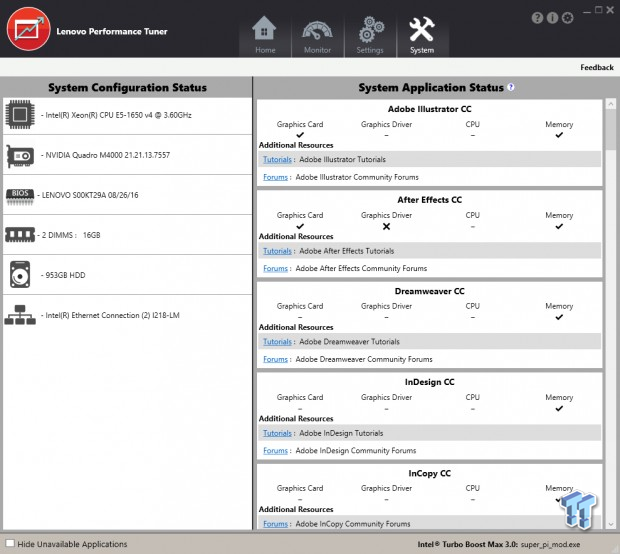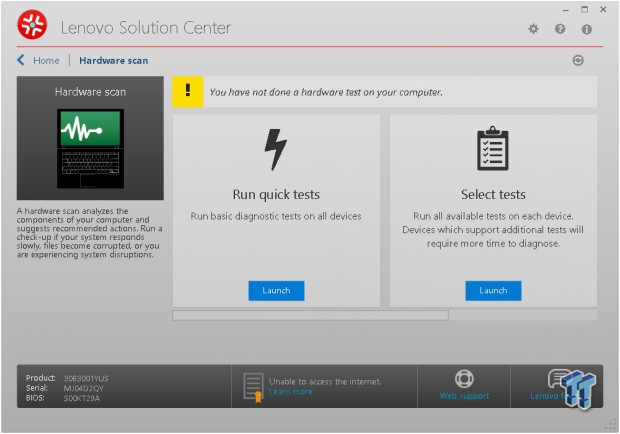 The software also compares your system configuration to software in the list to see if it is compatible. Lenovo's Solution Center offers diagnostic and support capabilities.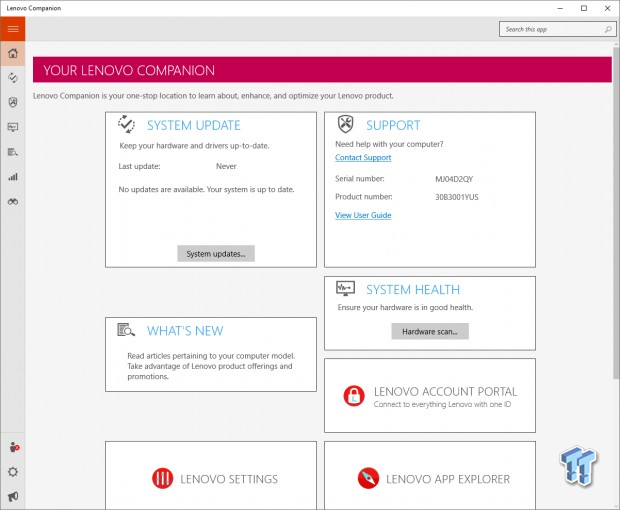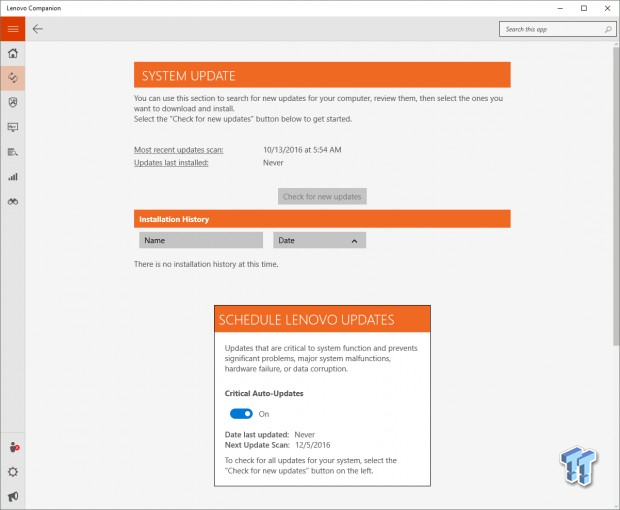 Lenovo Companion is Lenovo's version of Window's Control Panel. You can update Lenovo software through the application.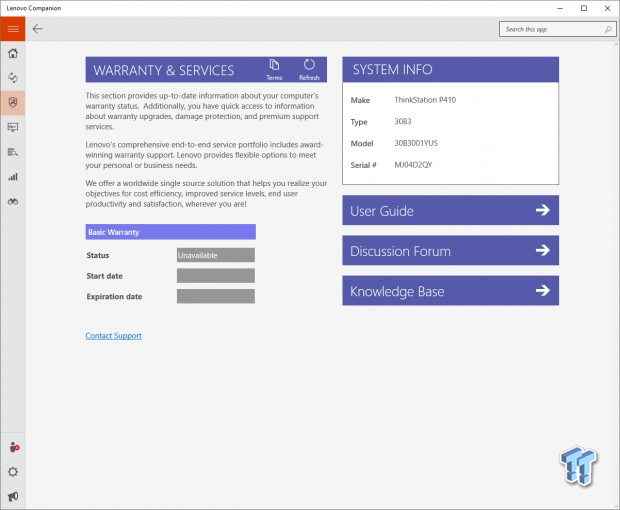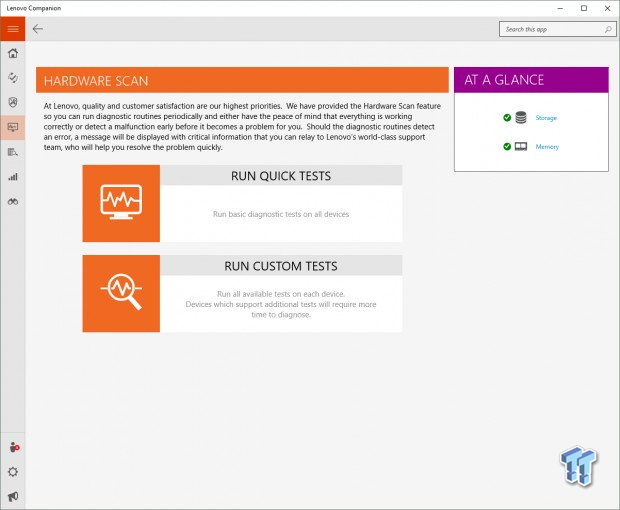 It also offers up warranty information and quick links to the user guide and even discussion forum. It also can test out system hardware.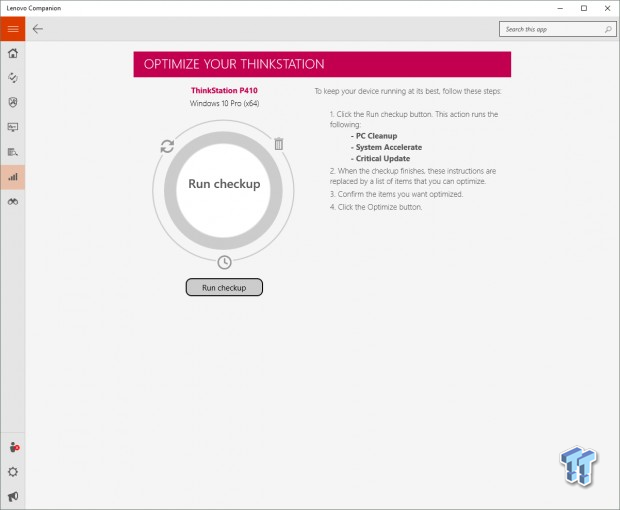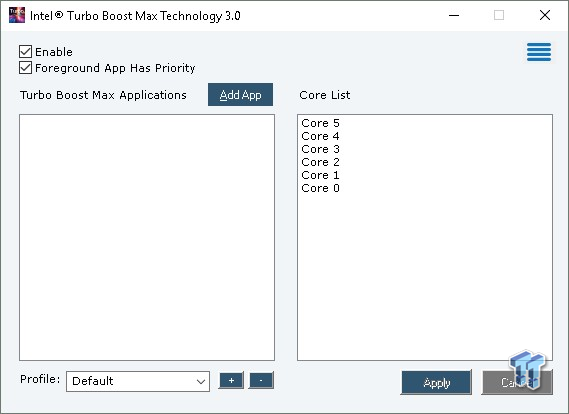 Running a checkup will test the software side of things and optimize them. One useful tool is Intel's Turbo Boost Max Technology 3.0, which allows the CPU to pick the best core and allow you to turbo it above the rest.
BIOS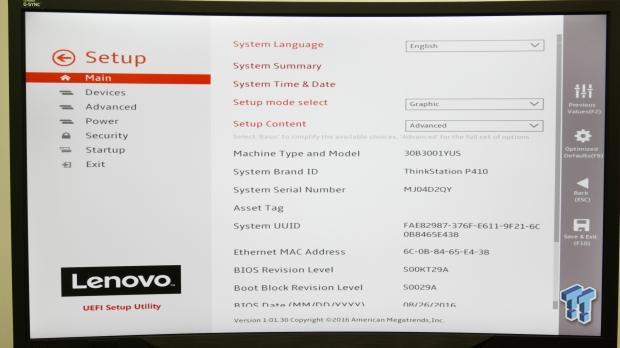 There are multiple BIOS' available to tune, including Lenovo's Nice UEFI Setup Utility, Lenovo Diagnostics, and Intel's ME BIOS. Lenovo's UEFI Setup Utility is loaded with almost every setting a security conscious person might want to control, and if you want to secure your machine, even more, Intel's ME BIOS allows you to lock things down even more.
Most people will never need to go into the BIOS, but if you think you might need to see what settings are available, I made sure to capture everything.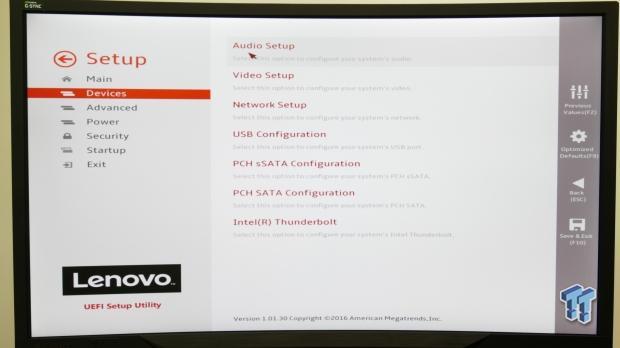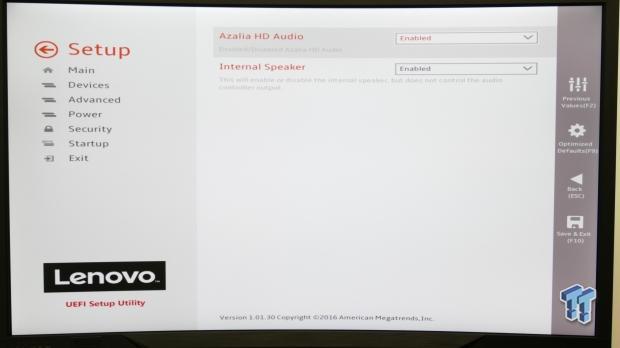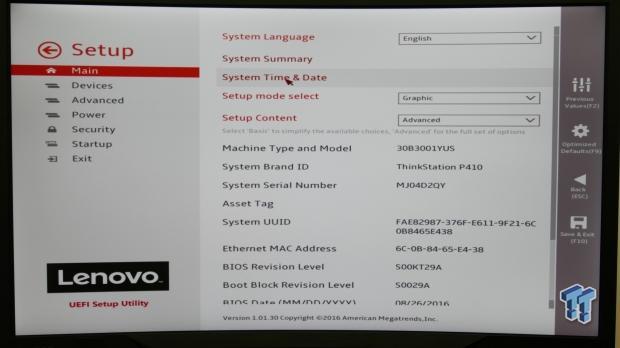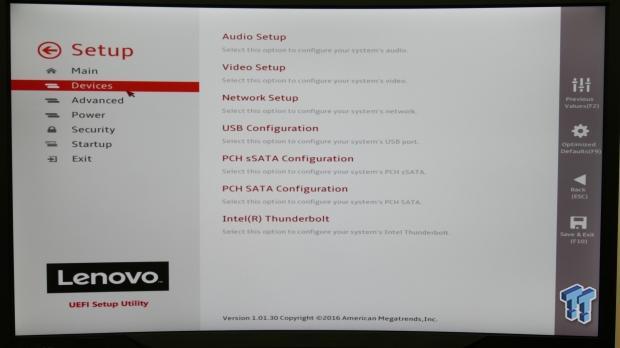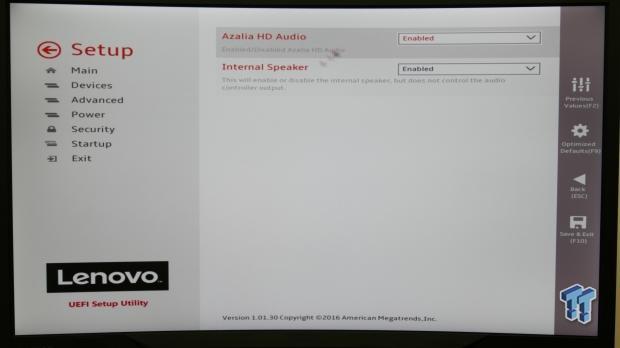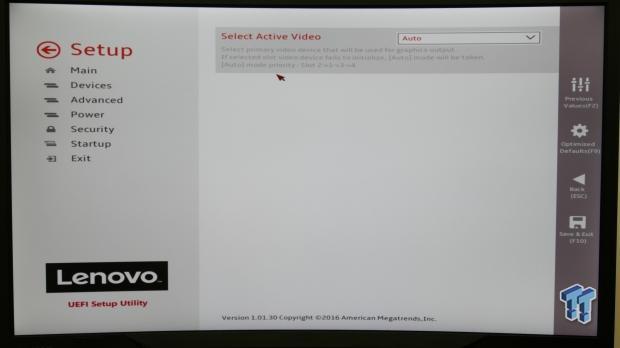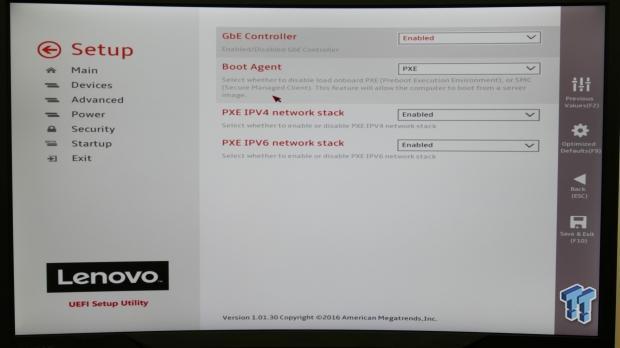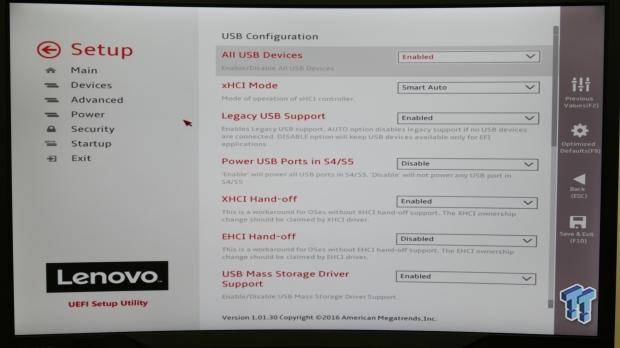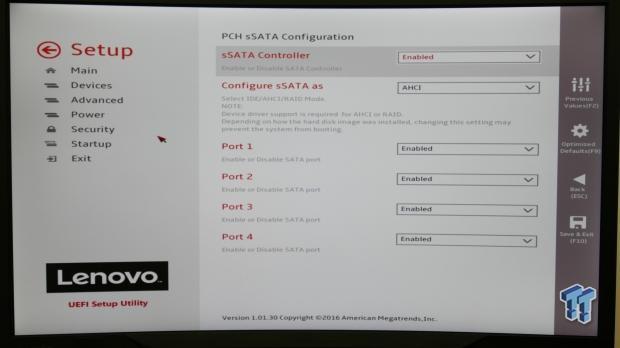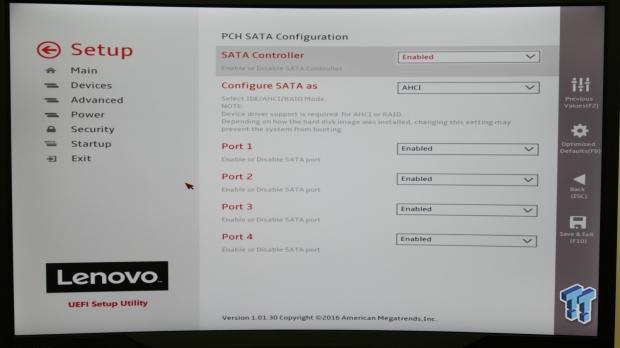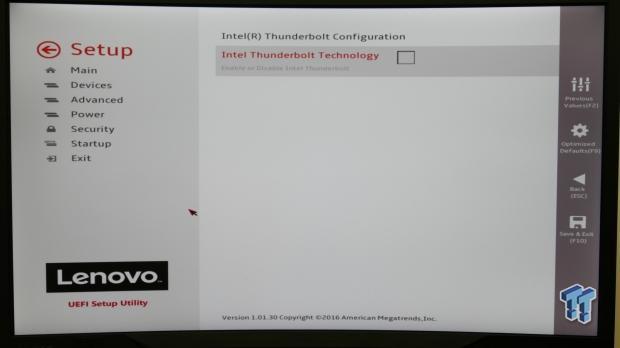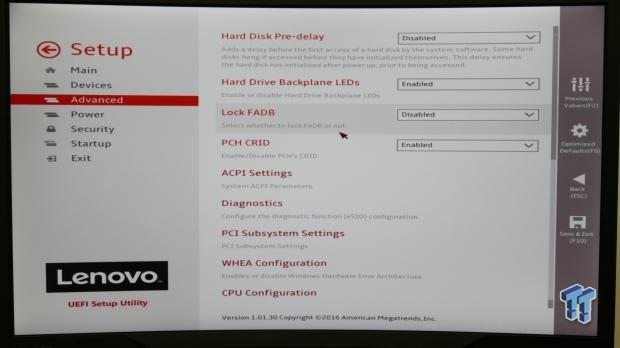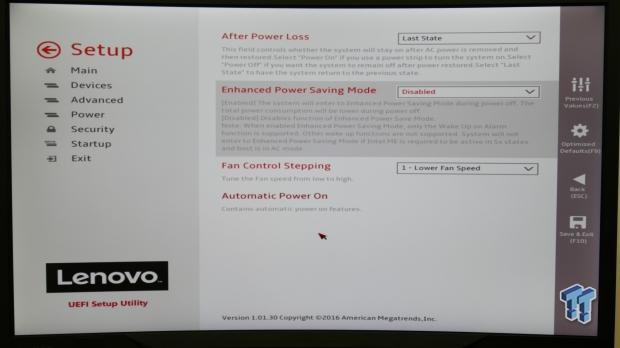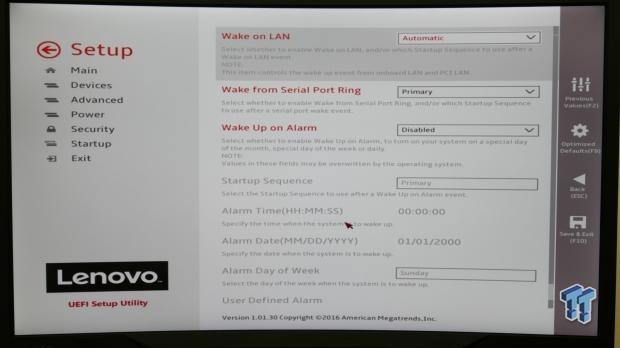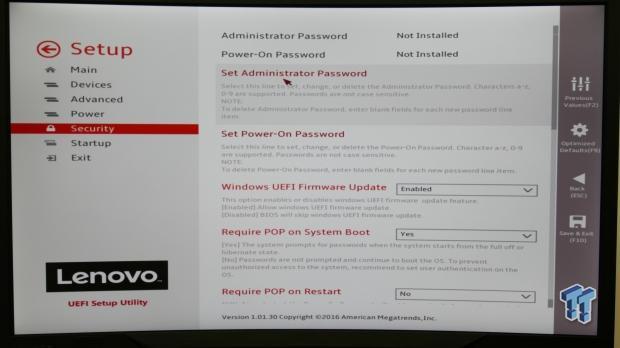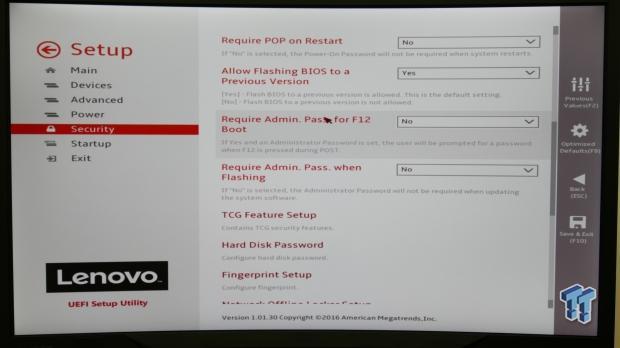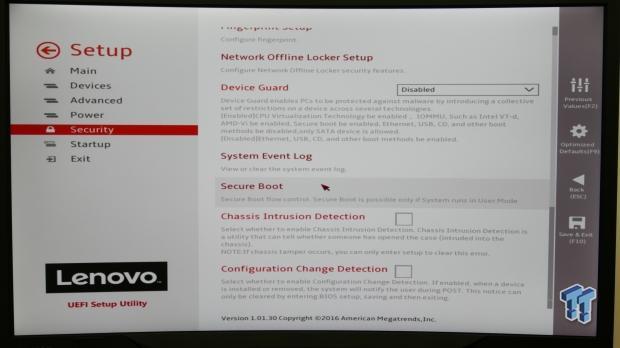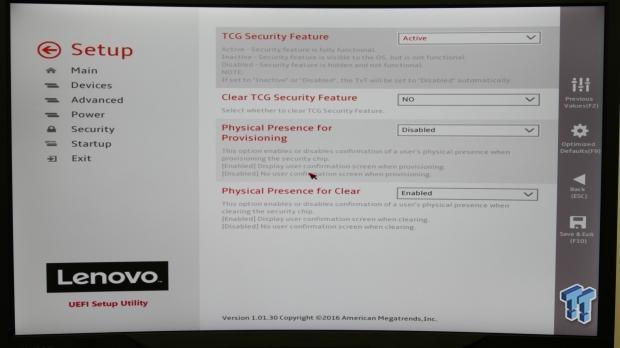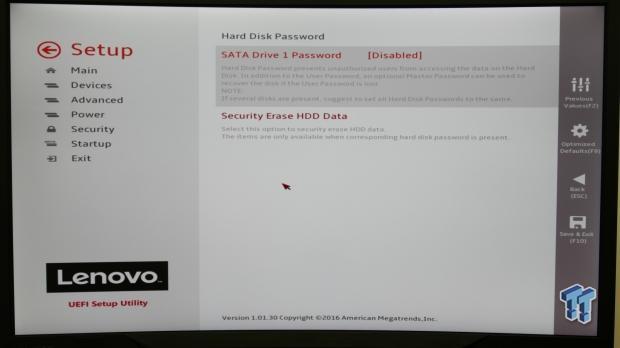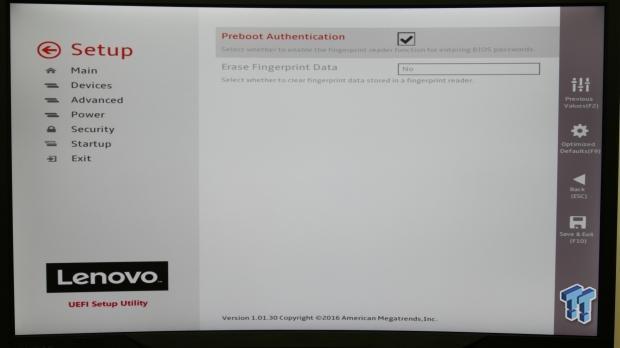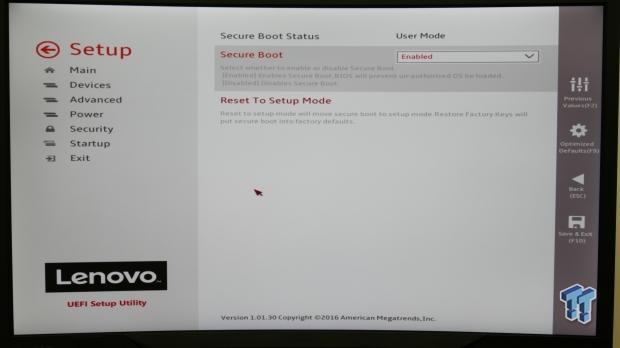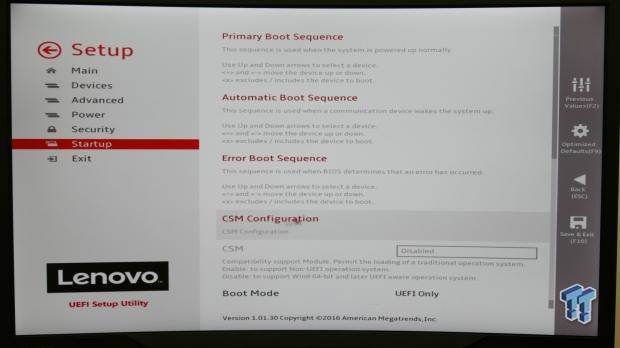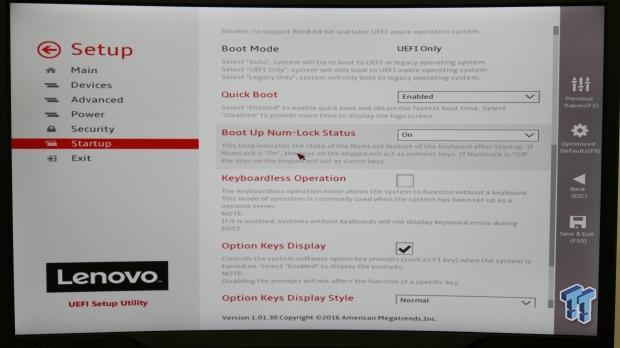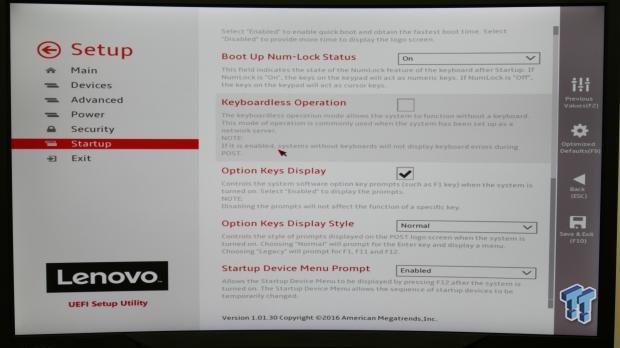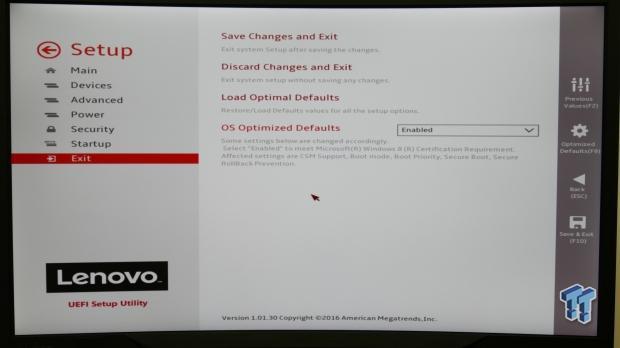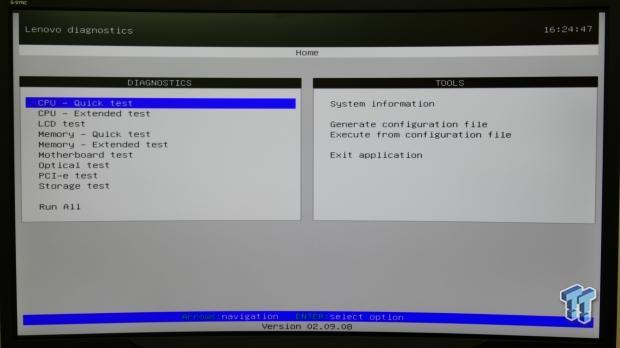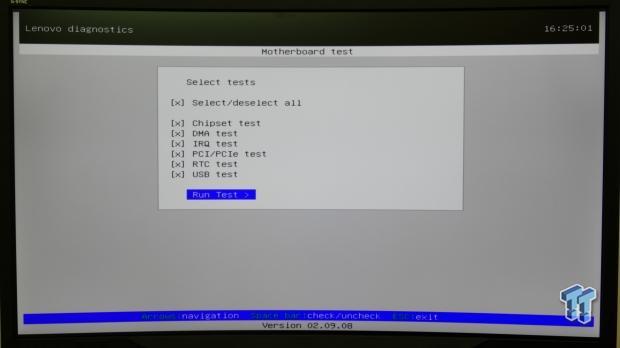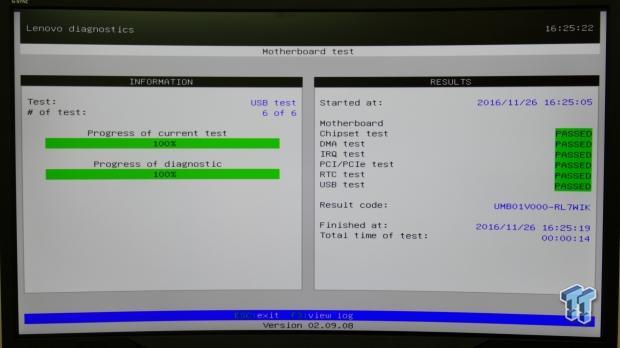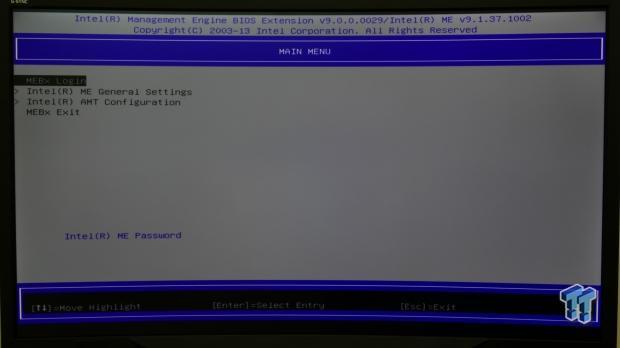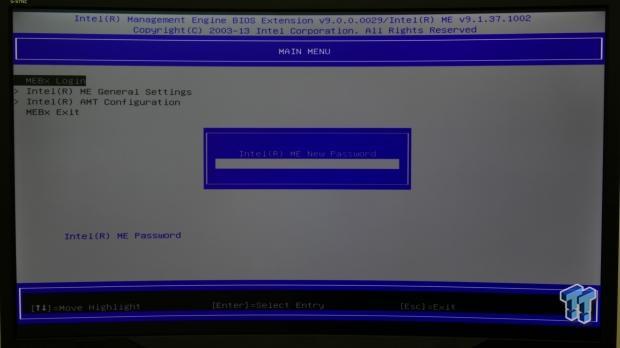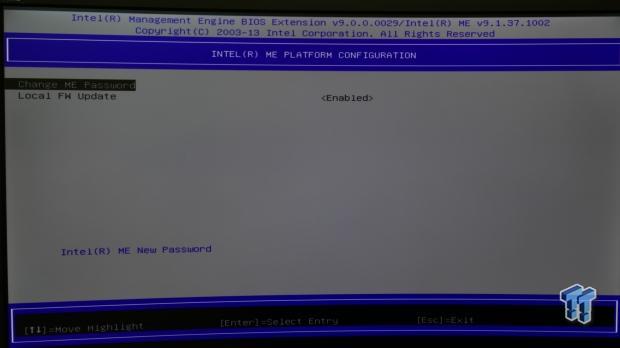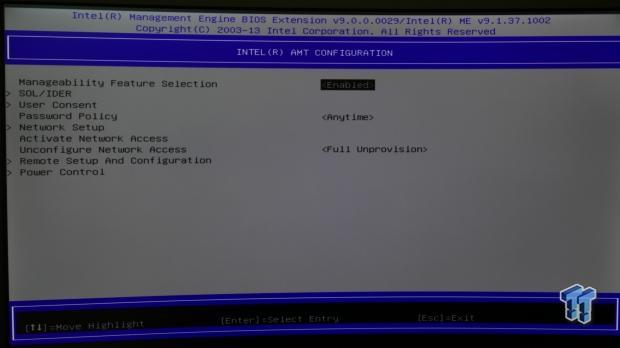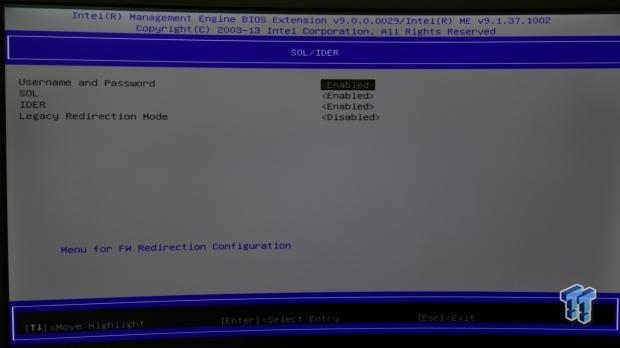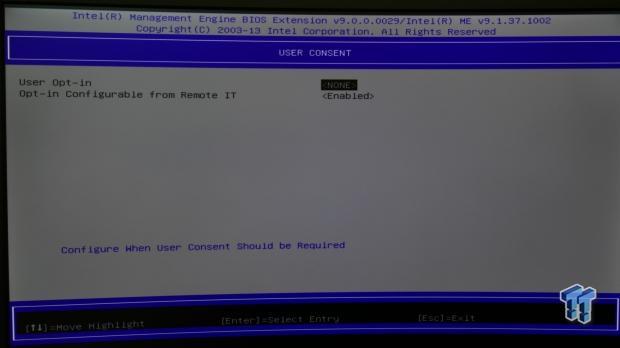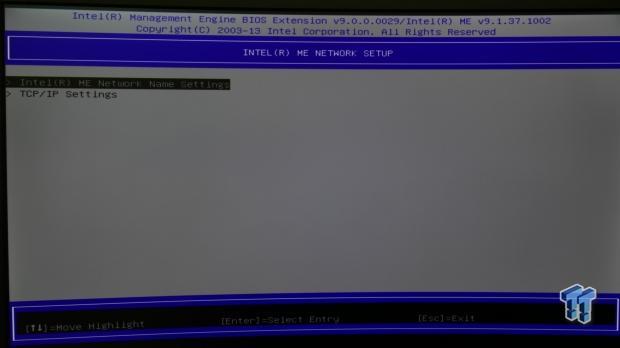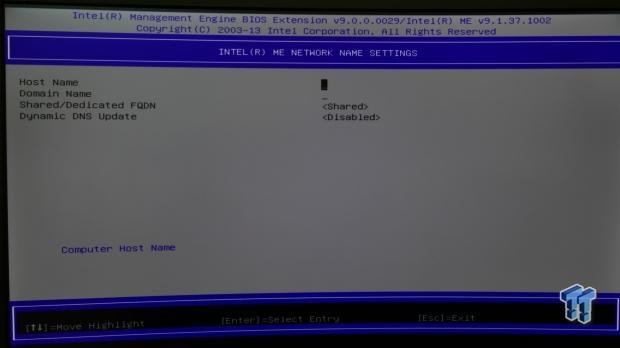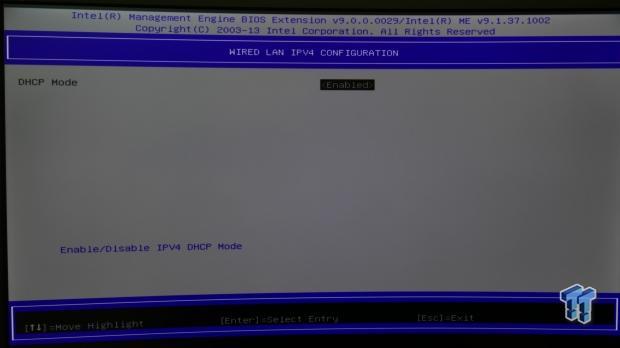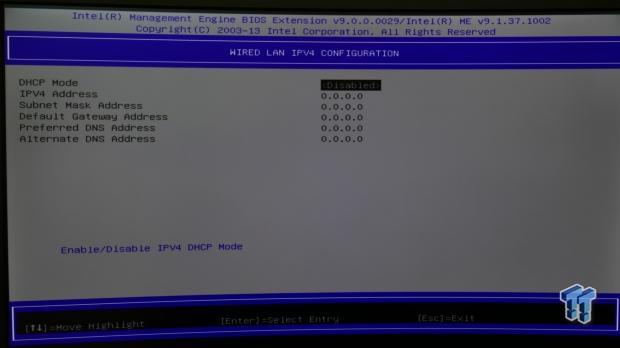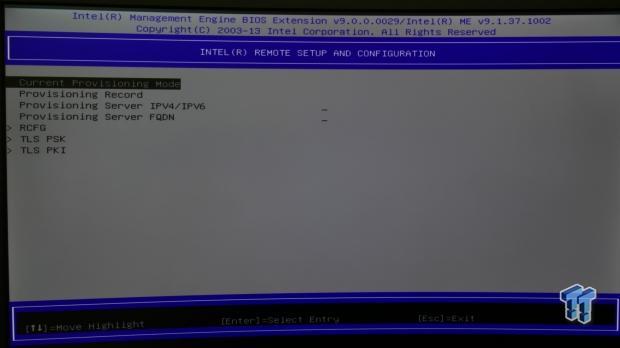 Test Setup & System Performance Benchmarks
Steven's Gaming System Test Setup
System: Lenovo ThinkStation P410 Desktop
Monitor: Lenovo Y27g Razer Edition Curved Monitor
Keyboard: Lenovo Business Mouse
Mouse: Lenovo Business Keyboard
Headset: Corsair VOID RGB Wireless Gaming Headset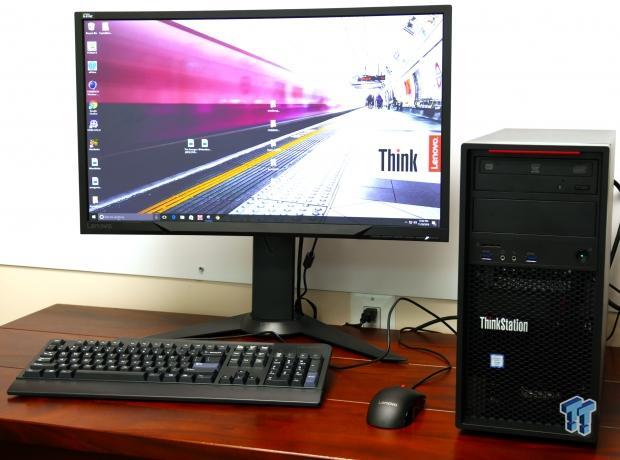 The ThinkStation P410 is your typical looking PC, and that might be a good thing if you don't want people to know how much expensive hardware is inside.
CPU, Memory, and System Benchmarks
CINEBENCH 11.5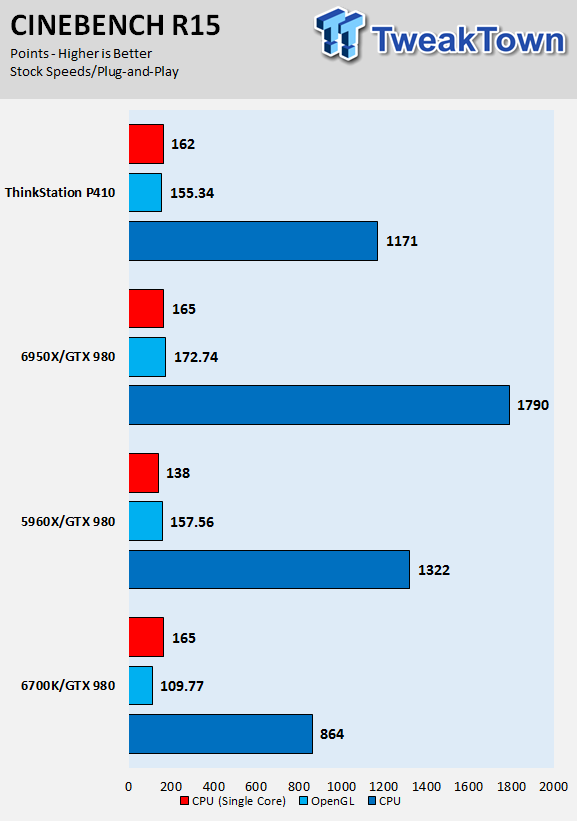 wPrime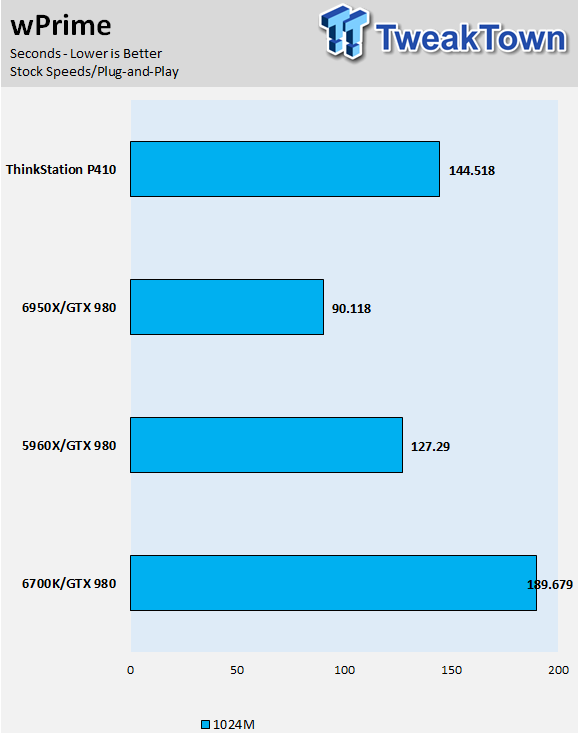 AIDA64 AES and HASH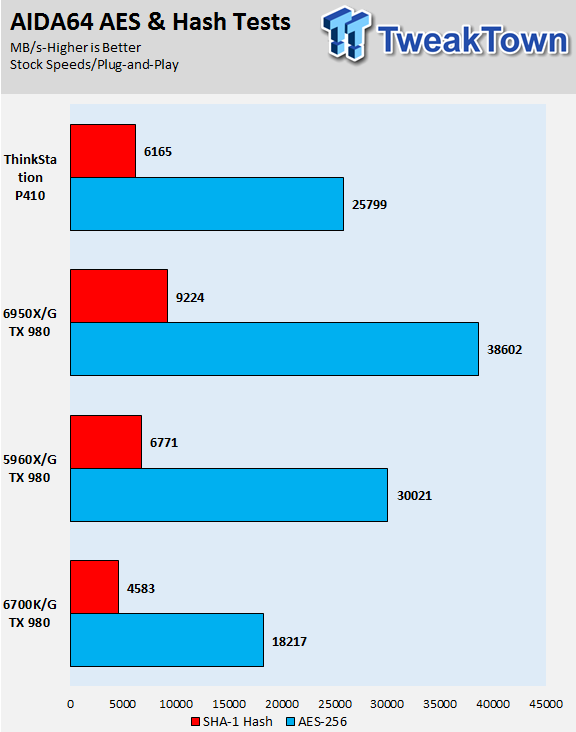 AIDA64 FPU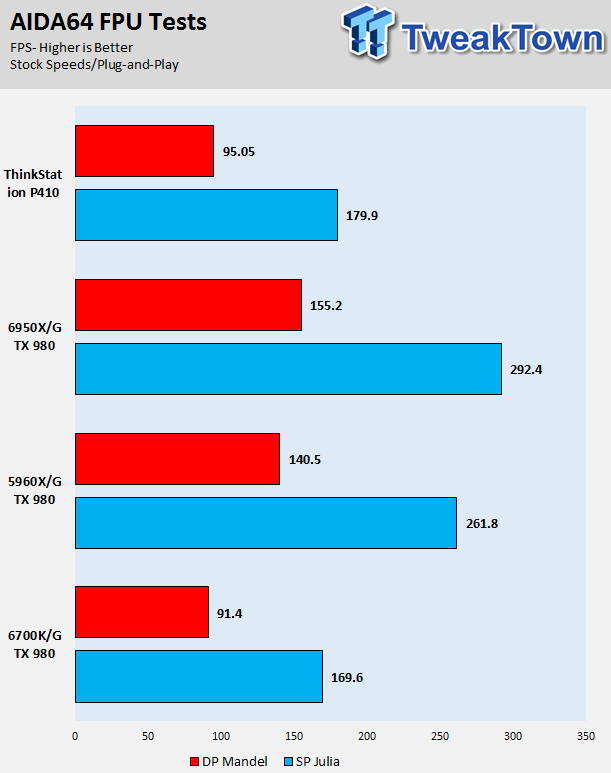 AIDA64 Memory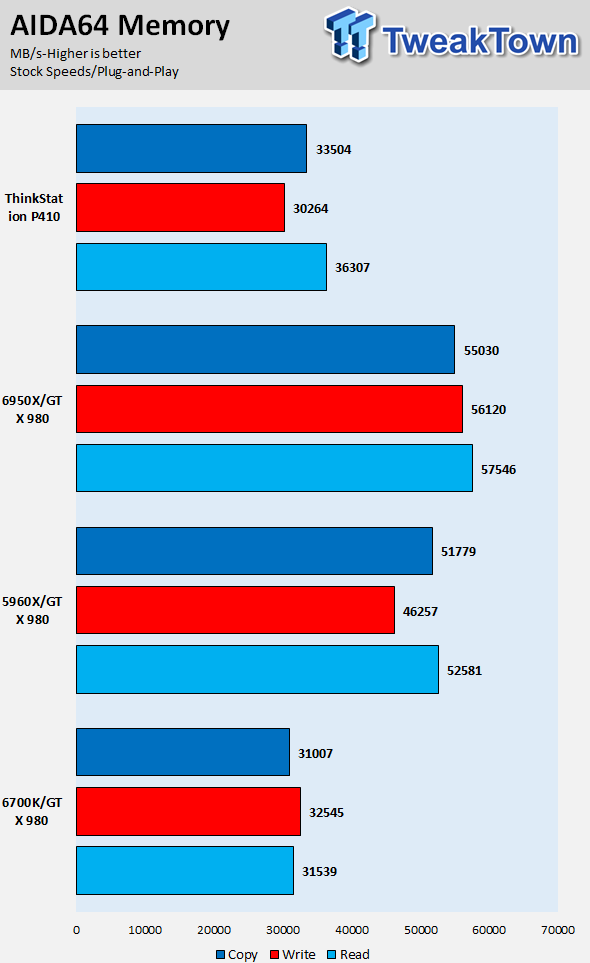 Science Mark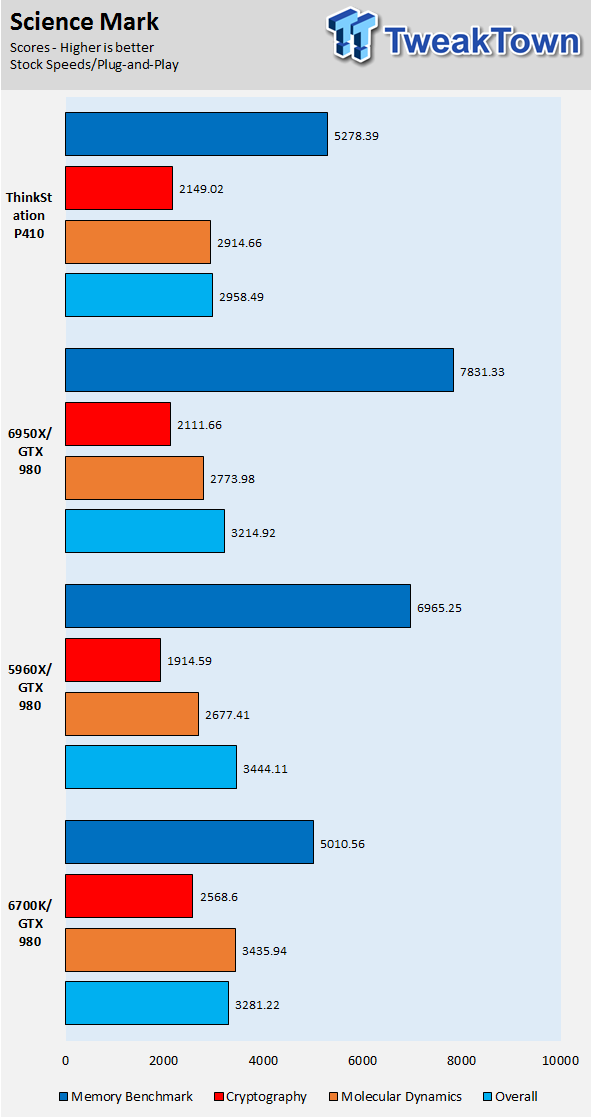 PCMark8 Home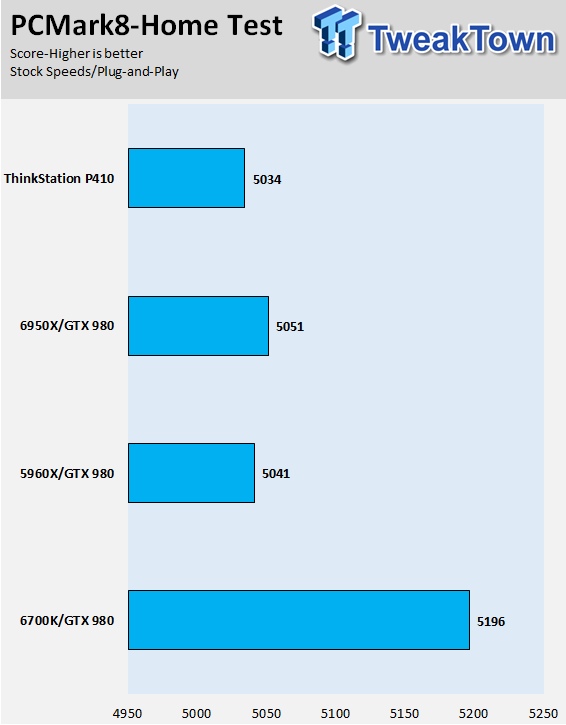 PCMark8 Writing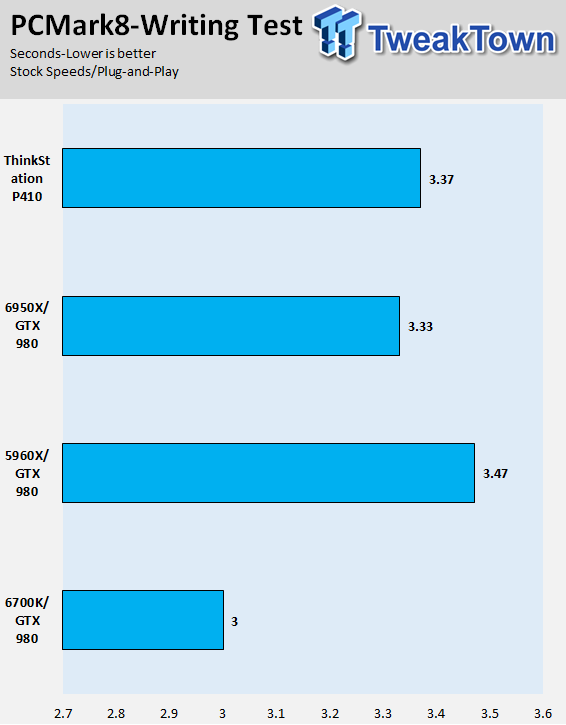 Handbrake 4K Video Encoding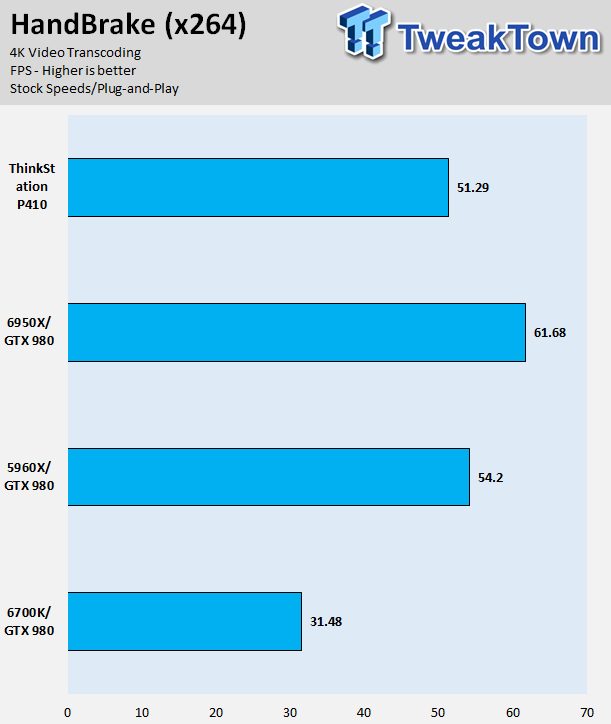 SuperPI 32M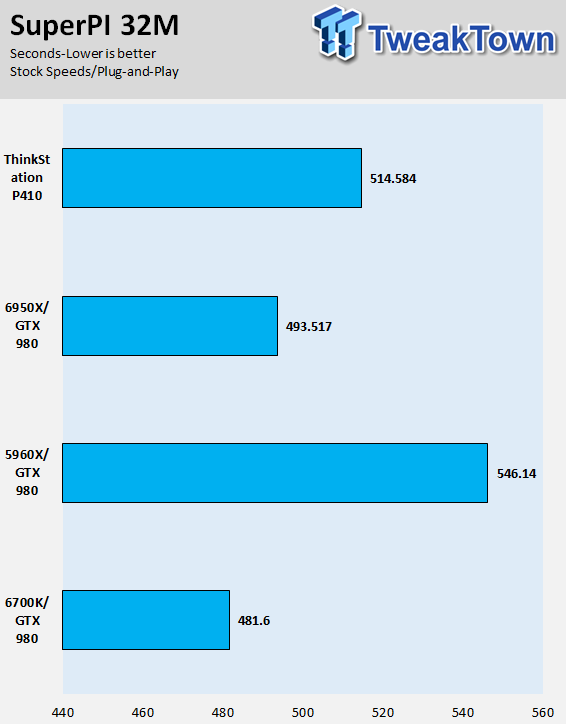 I don't get many workstations in for review, so I don't have a set of benchmarks run on other workstation-class graphics cards and CPUs. What I do have are high-performance CPUs in the enthusiast segment, the 5960X and 6950X, which offer comparable numbers.
The 6950X is based on the same microarchitecture as the Xeon in this review, while the 5960X is a bit weaker, but has more cores.
Overall performance for the CPU is where it should be.
System IO Performance
System IO Benchmarks
Internal Storage Test: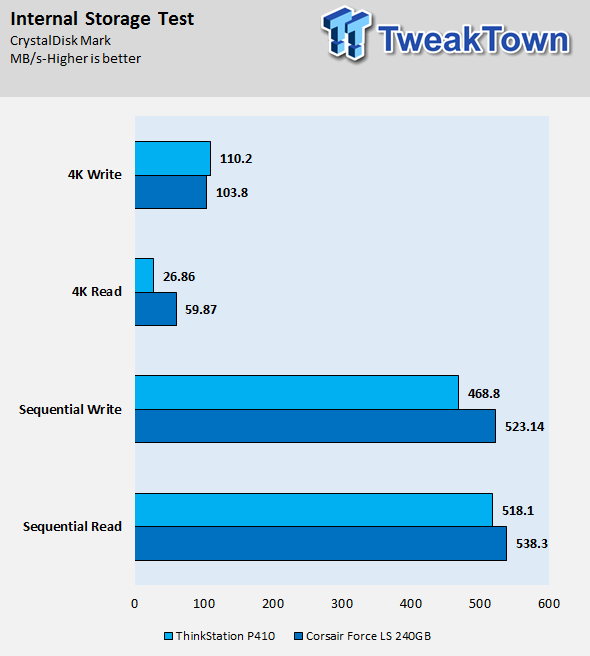 External Storage Test: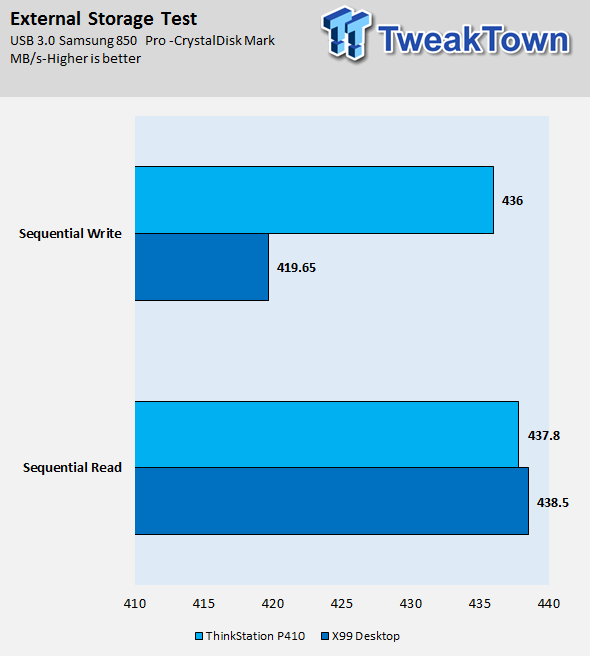 ixChariot Network Throughput: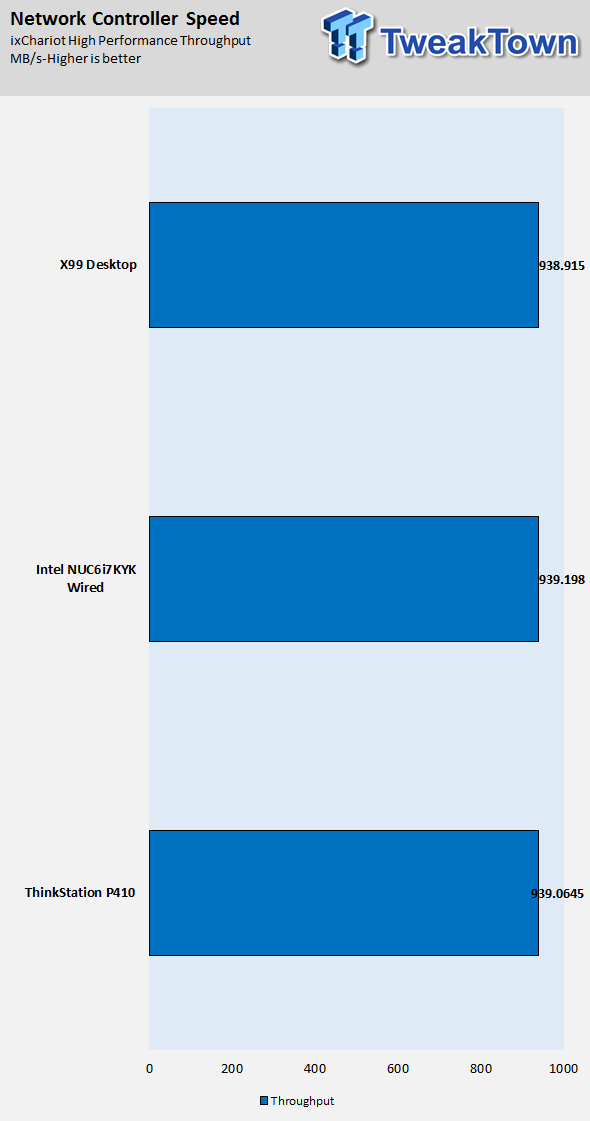 The 1TB SSD is a SATA SSD, so you can't going to get higher numbers for sequential speeds than mid-550s, random writes are very good while random reads could be better.
Network performance is solid, as is USB 3.0 performance.
Thermal Performance and Power Consumption
Thermal Imaging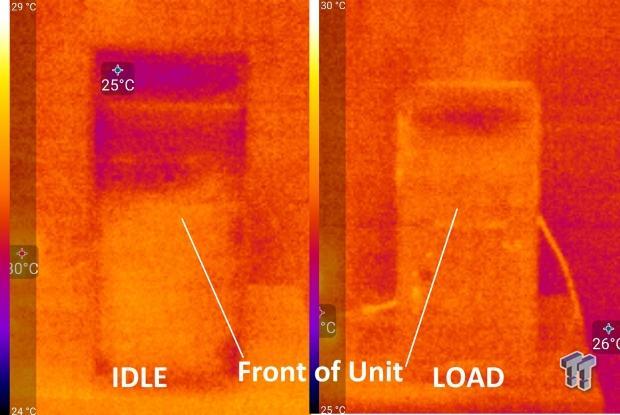 The idle and load shots above are of the front of the unit. Heat never reaches the front, but temperatures even out along the chassis, so temperatures are more uniform when the workstation is under heavy load.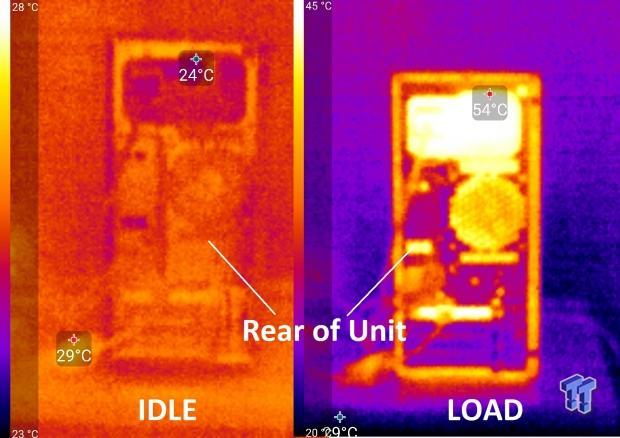 The exhaust vents do warm up when under load, and the fans do a solid job of getting the heat out of the workstation. I won't lie; the unit gets very loud when things get intense.
Power Consumption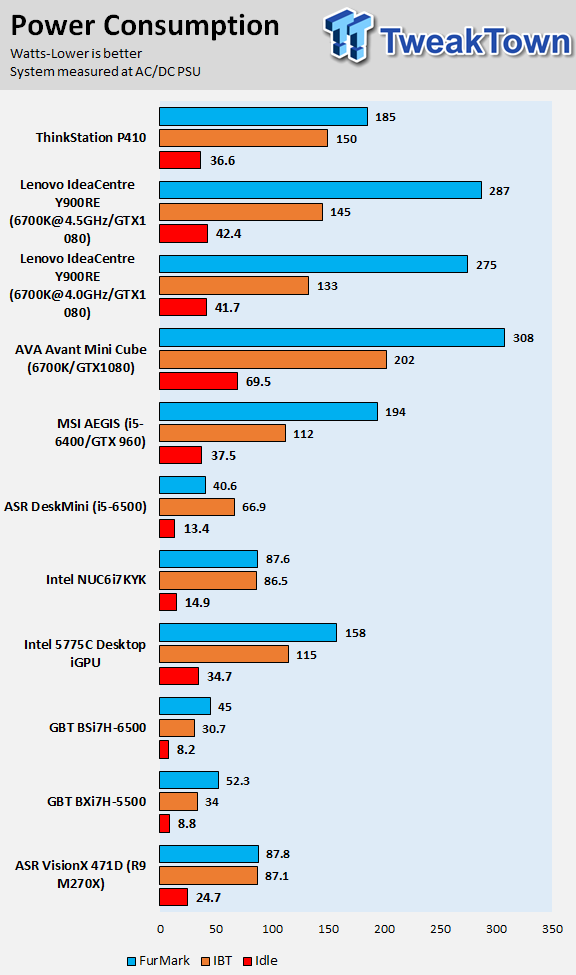 I was surprised by idle power consumption, as it is lower than expected. The unit has a 450W PSU, so I am not surprised about the numbers. While the PC is very powerful, power consumption is reasonable and not through the roof.
What's Hot, What's Not & Final Thoughts
Here are key points about the ThinkStation P410.
What's Hot
Broadwell-EP and Maxwell: The Xeon E5-1650 v4 is based on Intel's Broadwell-EP microarchitecture, the latest Intel has to offer for CPUs with more than four cores. It's fast, and with 6 cores and 12 threads, there isn't much it can't handle. While NVIDIA has more recent Pascal-based Quadro GPUs, the Maxwell-based Quadro M4000 is no slouch.
Easy to Upgrade: Upgrading the ThinkStation P410 is an easy task. There are two extra DIMMs so that you can double the amount of memory. There are multiple open SATA ports and extra SATA power connectors to expand storage. There are also open x16 and x8 PCI-E 3.0 slots and even an x4 PCI-E 2.0 slot.
Extensive BIOS Options: The ThinkStation P410 has a very extensive BIOS with every option you might need to properly configure and lock down the workstation. Intel's ME BIOS is also accessible if you want to configure remote control of the PC.
Well Thought Out: From the GPU support to ensure that the card doesn't wobble or droop during transport to the external temperature sensor to measure ambient air temperature, Lenovo has done a solid job of thinking things through. I also liked how the fan shrouds ensured that both 3.5" HDD drive bays would get direct airflow along with the rest of the system.
What's Not
Can Get Loud: When a heavy load is applied to the system and ambient air temperature increases, the workstation's fans ramp up, and the machine can get loud.
No Air Filter: With the fans ramping up the way they do I was surprised not to find an air filter for the front intake fan. Of course, if you really need to get the dust out, the unit is easy enough to open.
Final Thoughts
The ThinkStation P410 is an extremely powerful workstation machine. It is developed with decades of experience by one of the larger PC OEMs, so you can expect high performance matched with a reasonable price. In fact, the base configuration of the ThinkStation P410 is extremely affordable at under $1100, and if you do things that aren't GPU intensive, it would be an excellent choice. Our configuration is a little pricey, but it also packs a lot more power than the base model.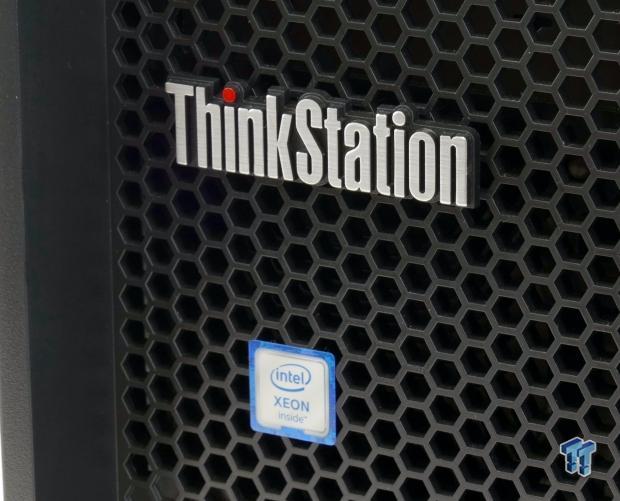 The only thing that bothered me was the loud fan noise. Otherwise, the workstation was a charm to work with; it was quick and stable. I was impressed by Lenovo's attention to detail; everything from the external temperature sensor to the upgradeability features shows that it's a well thought-out product.
If you are looking for an affordable workstation to meet your computing needs, the Lenovo ThinkStation P410 is worth a look.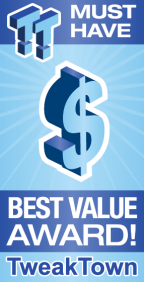 | | |
| --- | --- |
| Performance | 93% |
| Quality including Design and Build | 90% |
| General Features | 90% |
| Bundle and Packaging | 89% |
| Value for Money | 95% |
The Bottom Line: Lenovo's ThinkStation P410 is loaded with the latest in powerful workstation-class CPUs from Intel and GPUs from NVIDIA; it can be quite affordable too.
PRICING: You can find products similar to this one for sale below.

United States: Find other tech and computer products like this over at Amazon.com

United Kingdom: Find other tech and computer products like this over at Amazon.co.uk

Australia: Find other tech and computer products like this over at Amazon.com.au

Canada: Find other tech and computer products like this over at Amazon.ca

Deutschland: Finde andere Technik- und Computerprodukte wie dieses auf Amazon.de
We openly invite the companies who provide us with review samples / who are mentioned or discussed to express their opinion. If any company representative wishes to respond, we will publish the response here. Please contact us if you wish to respond.