Origin EON17-X Gaming Notebook Review
Featuring a desktop Core i7 CPU, mobile GeForce GTX 1080 GPU, and 4K G-Sync, the Origin EON17-X is the fastest gaming notebook we have tested.
Published Nov 22, 2016 11:48 AM CST
|
Updated Tue, Nov 3 2020 6:58 PM CST
12 minute read time
TweakTown's Rating: 95%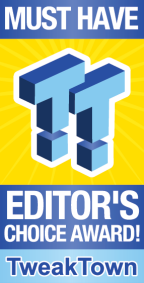 The Bottom Line
The overclocked 6700K, GTX 1080, and DRAM in the Origin EON17-X produce a gaming notebook with tons of bells and whistles and gaming desktop performance, which puts it at the head of the pack.
Introduction, Specifications, and Pricing

Before we start talking about the Origin EON17-X, I want to discuss what sets a notebook/laptop apart from a desktop. These days, with the advent of more efficient devices, many notebook parts are comparable to their desktop variants. However, many are still gimped by their power configurations. Since the desktop has more space than a notebook, vendors can utilize larger cooling systems to combat higher power requirements. However, this doesn't seem to have stopped some vendors from implementing desktop components in notebooks with superior cooling setups.
The Origin EON17-X is loaded with a desktop Intel Core i7 6700K, which Origin custom overclocked to 4.5GHz. It also has an NVIDIA GeForce GTX 1080 8GB mobile Pascal based GPU, which Origin also custom overclocked. If overclocking the fastest consumer CPU and GPU was not enough, Origin went ahead and overclocked the memory as well (with XMP), and then tossed it all into a notebook with a 4K NVIDIA G-Sync panel with all the bells and whistles.
Origin then added an RGB keyboard and a Sound Blaster based audio system with a Sabre DAC and Texas Instruments amplifier. The Origin EON17-X has specs in line with most gaming desktops, so let us look at how a powerful gaming desktop disguised as a gaming notebook fairs in the real-world.
Specifications

These days it is rare to find gaming notebooks designed, manufactured, and sold by the same company. Origin worked closely with a well-established ODM (Clevo) to develop the EON17-X. Our variant comes with a 17" 4K G-Sync enabled panel, an overclocked GTX 1080 8GB, an overclocked 6700K running at 4.5GHz, 16GB of Corsair Vengeance memory running at 2666MHz, a 512GB RAID 0 array using two Samsung 950 Pro SSDs, and a 1TB HDD.
It's only 1.6" thick, weighs 8.6lbs, and measures 16.4" x 11.6" (width x depth). I have seen thicker, larger, and bigger notebooks that don't pack the same punch regarding overclocking and hardware as the Origin EON17-X. The notebook also comes with many different custom paint jobs and Origin's support. The unit has a one-year part replacement, 45-day shipping, and 45-day no dead pixel guarantee. You also get 24/7 lifetime United States based support and lifetime free labor, a huge plus for those who are weary of shoddy outsourced post-purchase support.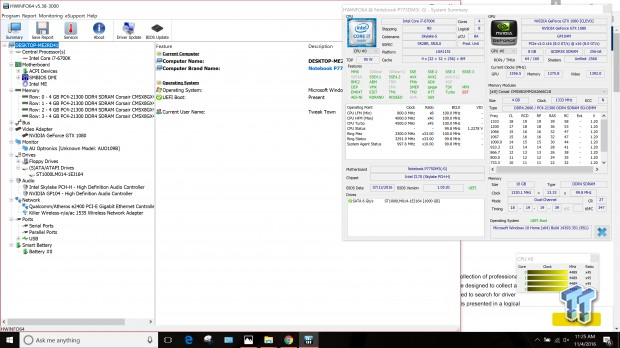 The EON17-X has a customizable backlit keyboard with RGB LEDs, comes with GC-Extreme thermal paste on the CPU and GPU, Windows 10 Professional, Thunderbolt 3, support for up to 64GB of RAM, biometric area fingerprint reader, FHD camera, and Killer wired and wireless LAN. You can order the unit customized to meet your exact needs, with different CPU, GPU, storage, RAM, panel, color, and audio options.
Pricing
The EON17-X comes in different configurations, with ours costing $3572.
Physical Overview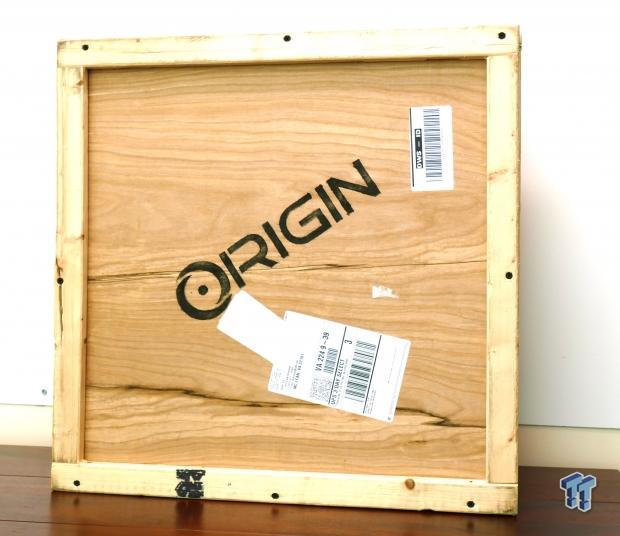 The EON17-X is the first notebook I have seen that comes in a wooden crate. The crate is an optional product, to better your chances of a damage-free delivery. The box protects the notebook very well, and there is not much need for a crate, but it is cool nonetheless.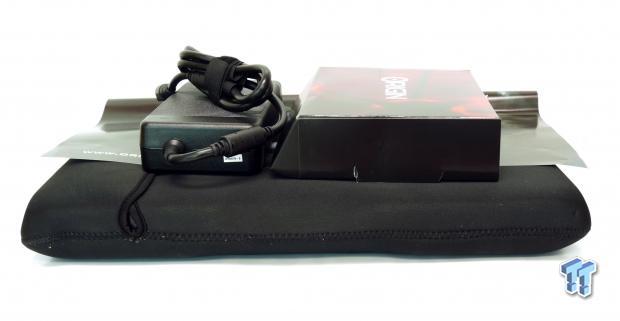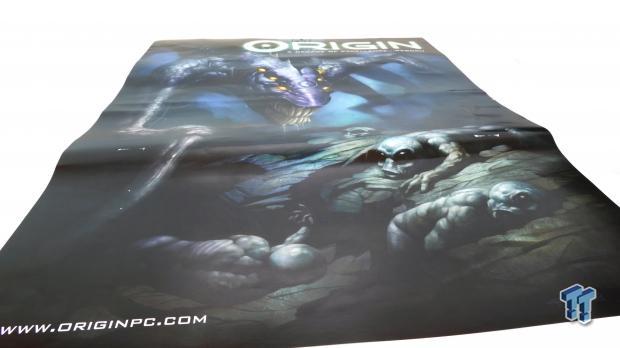 The notebook comes in a custom protective sleeve, specifically designed to fit the EON17-X snuggly. All smaller accessories are packaged in a separate box, and I found a gaming posted wrapped around the notebook.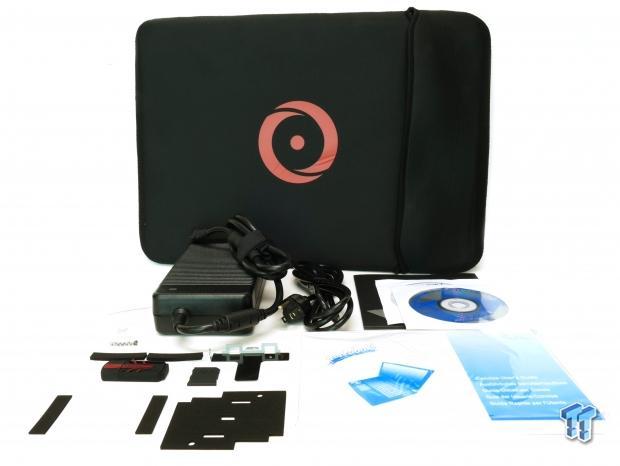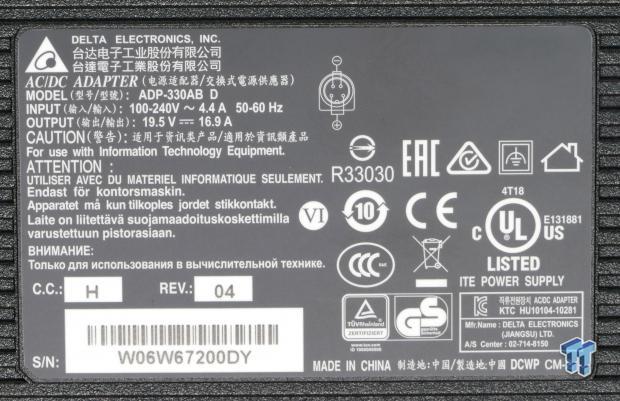 Accessories include the sung fit sleeve, a 330W monster power adapter, inserts for upgrading the notebook, user manual, driver DVDs, and some slot inserts to protect open slots if they are never used. You can also order a backup USB drive for recovery; ours came with one. The power supply is a beast, at 19.5v at 16.9A, it can provide up to 330 watts. GPU overclocking only works with the included power adapter plugged in.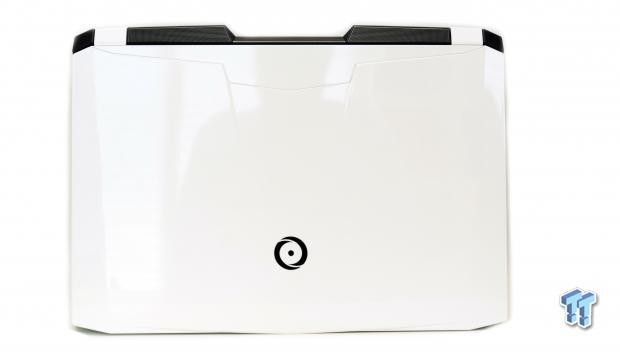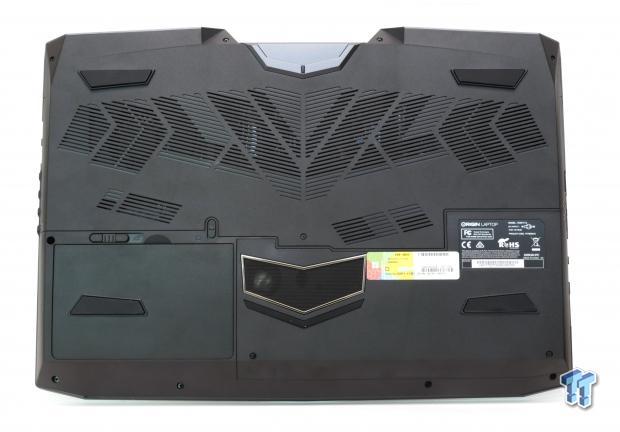 The unit's top uses a custom glossy white finish with an Origin logo at the center. The speakers are exposed when the panel is closed in case you want to blast music with the top down. The bottom of the unit has four large rubber feet, huge air intake vents, a subwoofer vent, and separate bays for upgrading the notebook.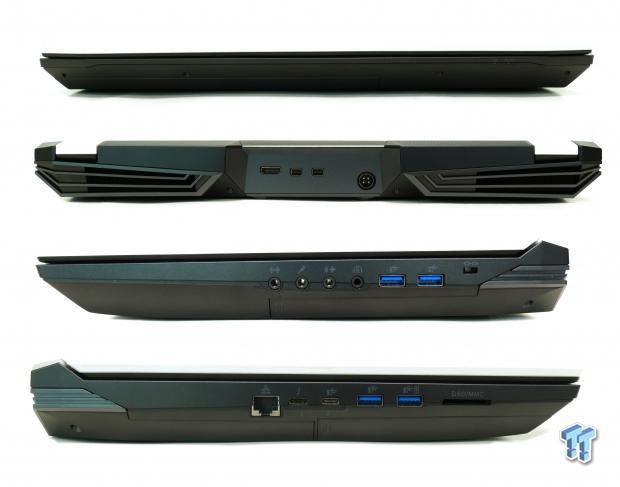 The front of the unit features a few LED power indicators. The rear of the unit features a high current DC-input jack, two mini-DisplayPorts, and an HDMI port. The rear also features two huge exhaust vents, one for the CPU and another for the GPU. The right of the unit features a line-in jack, a microphone jack, a line-out jack, a headphone jack, two USB 3.0 ports, and a Kensington lock slot.
The left of the unit features an RJ-45 1Gbit LAN port, USB 3.1 a type-C/Thunderbolt 3 port, a USB 3.1 type-C port, two more USB 3.0 ports, and a multi-card reader. The notebook has a very healthy number of USB type-A and type-C ports, as well as audio ports, and external display outputs.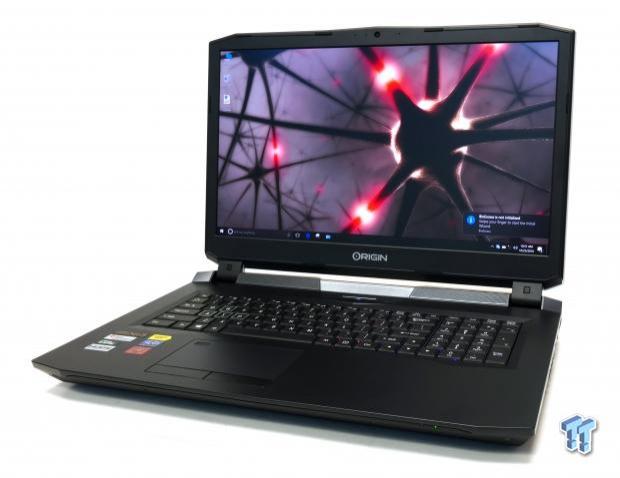 The unit features a 4K panel with NVIDIA G-Sync, and there is an LUT that is loaded on startup to give the unit that crisp gaming style color spectrum.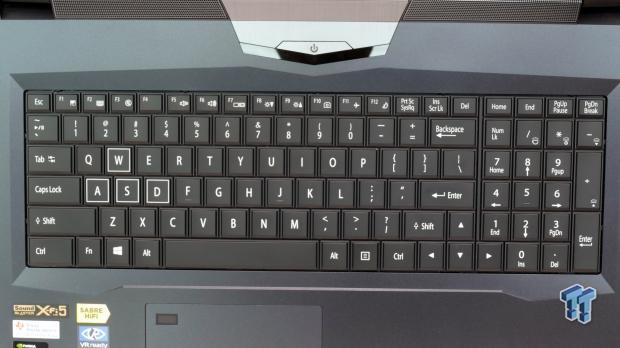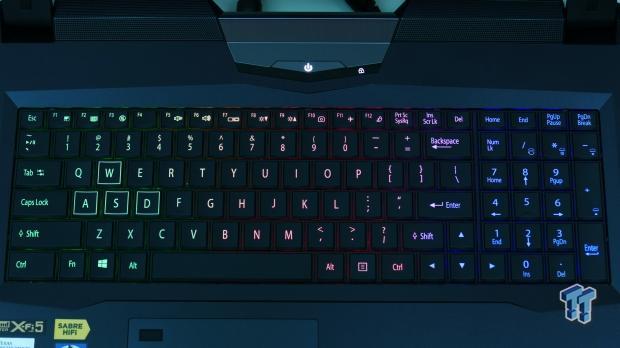 The unit has a full QWERTY keyboard with NUM pad and separate RGB LED zones so that you can customize. The lighting is not the strongest, I was hoping it would be more intense, but it's hard to see in a well-lit room.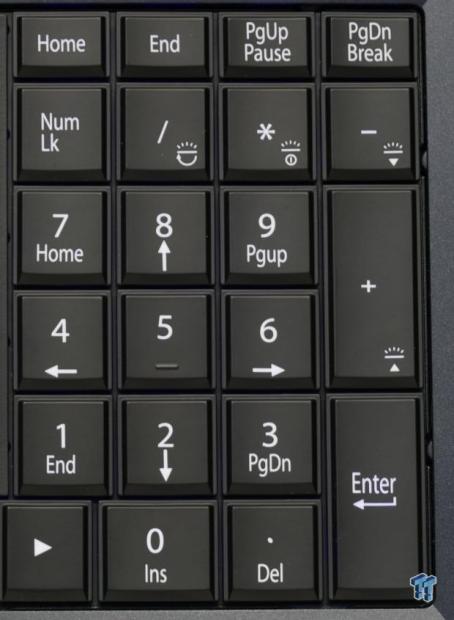 Special function keys are spread throughout the top function keys and the number pad. You can enable airplane mode through the airplane function key. The airplane mode will disable all external signals such as Bluetooth/Wi-Fi/mobile (if you have a cellular modem installed).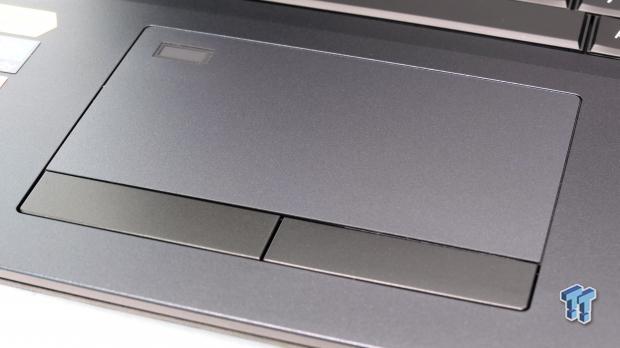 The touchpad allows for multi-gesture support and features a built-in fingerprint scanner. It has a smooth plastic-life surface, just like most of the unit.
Physical Overview Continued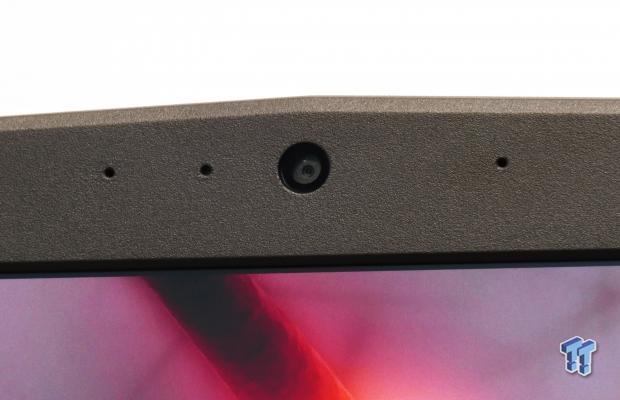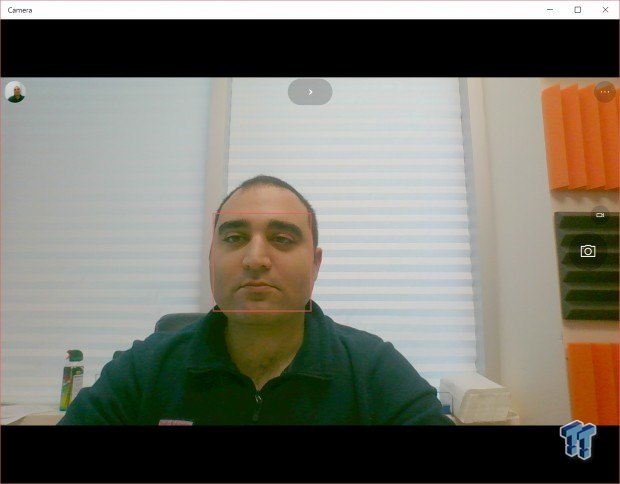 Most notebooks come with 720p cameras, but the EON17-X comes loaded with a full HD 1080p camera, and a nice big LED next to it will illuminate if it's in use. The camera quality is very good, and vastly superior to many of the 720p cameras I see. There is also a dual array microphone system built into the panel.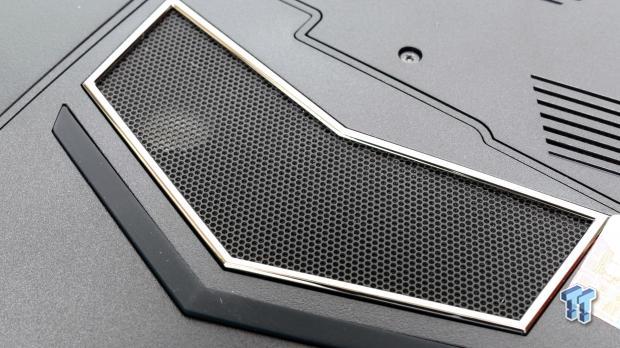 The power button is located right in the center and on either side are two speakers. The speakers are very loud, and even at maximum volume, they do not distort easily. They are high quality, and the speaker at the bottom of the unit helps the low-end of the spectrum. This notebook has one of the best built-in audio systems I have seen and heard.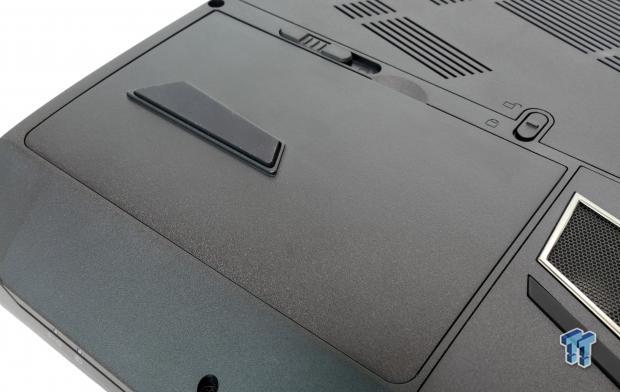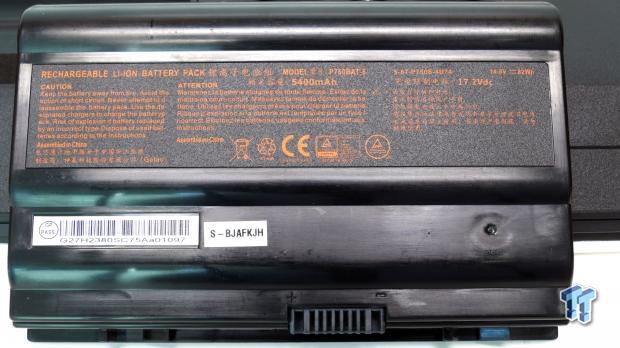 The battery pack can be removed, and it's not very big considering the amount of power the unit uses. Perhaps that is why GPU overclocking is disabled when the unit is unplugged from AC power.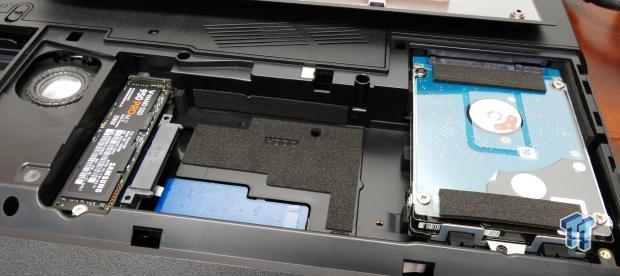 The main bay door for expansion is next to the battery, and it allows for installation of another drive, as well as replacement of one of the M.2 drives and the 2.5 inch HDD. To open the bay door, you just unscrew a few screws and slide the plastic cover off towards the front of the notebook.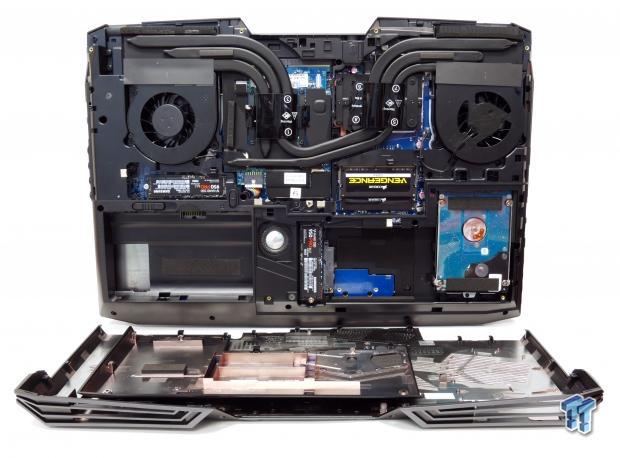 The large rear panel is also removed by sliding it, but towards the back of the unit and not the front. Sliding the unit reveals the huge blower fans and multiple heat pipe configuration. It also reveals the memory slots and second M.2 bay. The EON17-X has one of the most beastly cooling systems I have ever seen.
Software and BIOS
Software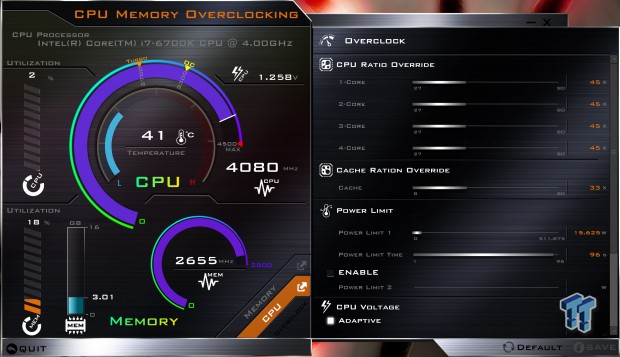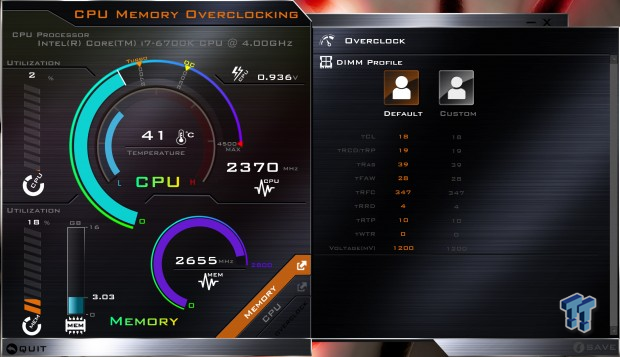 Origin has already configured an overclock for the CPU, but if you want to go in there and tweak the maximum power limit or the voltage, you can do that through the BIOS or the CPU Memory Overclocking program. Memory/DRAM overclocking can also be done through this Windows application or the BIOS. The 4.5GHz overclock is already configured along with XMP on the memory, so you never really need to change any of these settings, but I was able to lower the voltage a little to reduce overall temperatures.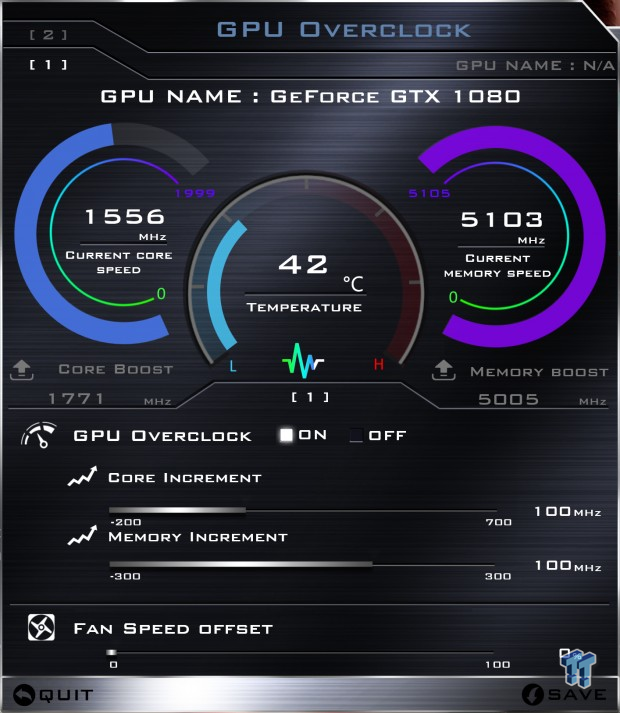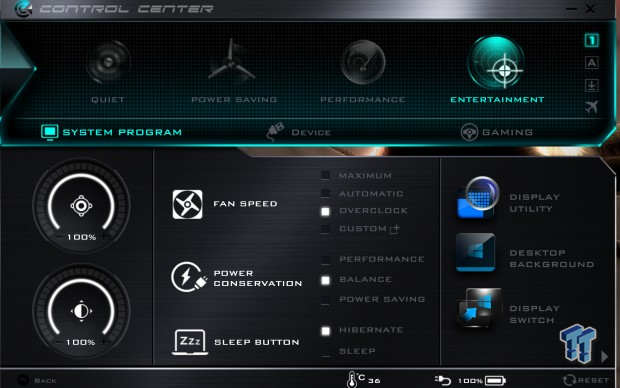 The GPU is also overclocked, but beware that to enjoy GPU overclocking, you must leave the system plugged into AC power. While the system is overclocked, the fan settings adjust to the overclocked preset; you can tweak that if you like.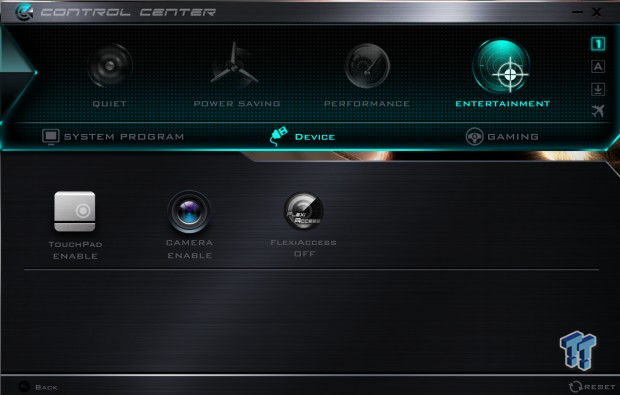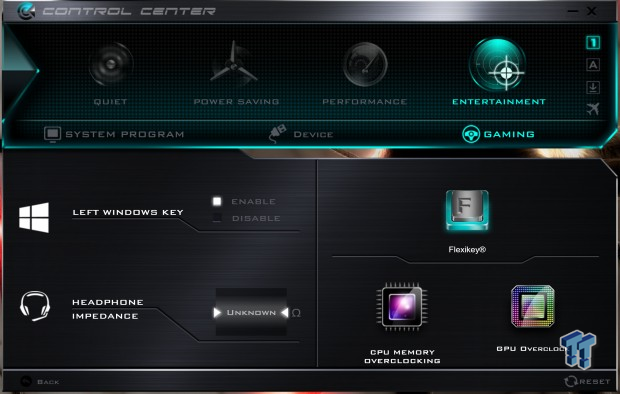 Origin's Control Center is where you can access the overclocking programs as well as many other settings that would otherwise be handled by Fn buttons or through the control panel. Since the unit has a built-in Sabre DAC and Texas Instruments Burr-Brown amplifier, you can tune the correct impedance of your headphones if you know it.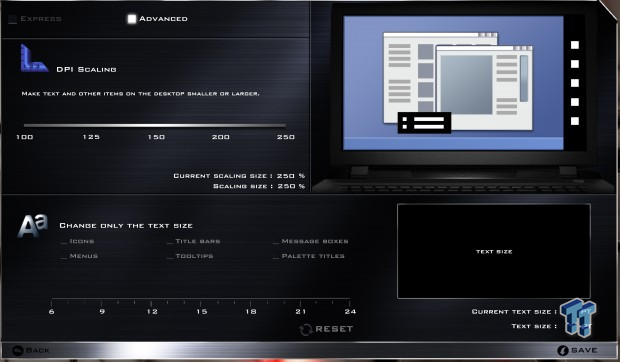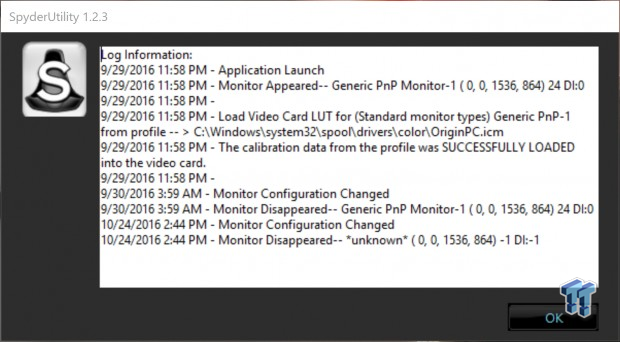 Since 4K displays have a very high level of detail, some users don't like how small icons and other screen images appear, and you can control precise DPI scaling through the Control Center program as well. The SpyderUtility will apply a Video Card LUT (Lookup Table) upon startup.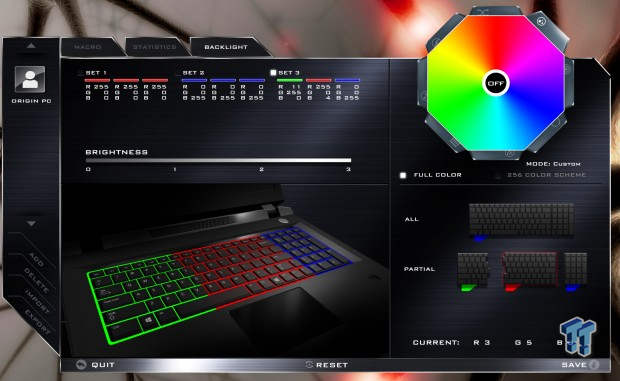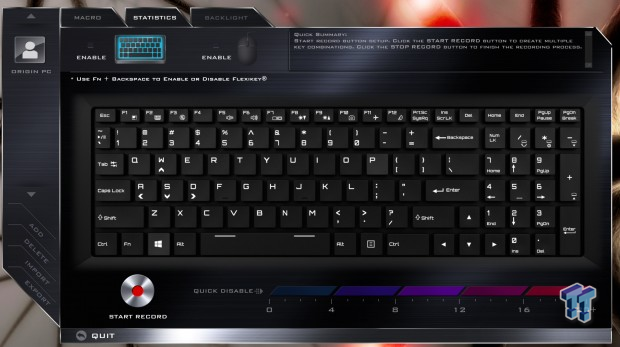 Origin also supplies a keyboard customization application that allows you to set up the RGB keys, setup Macro keys, and even log statistics. It's very extensive and useful.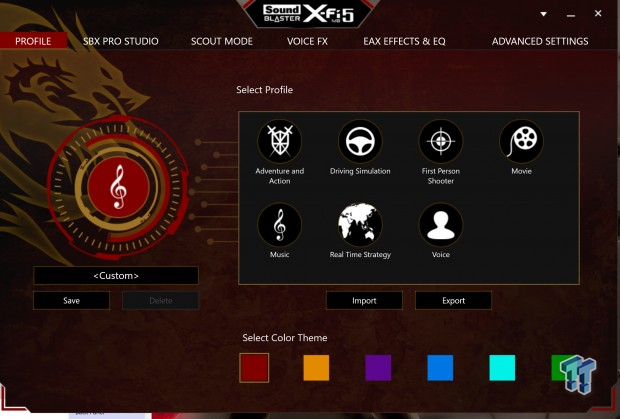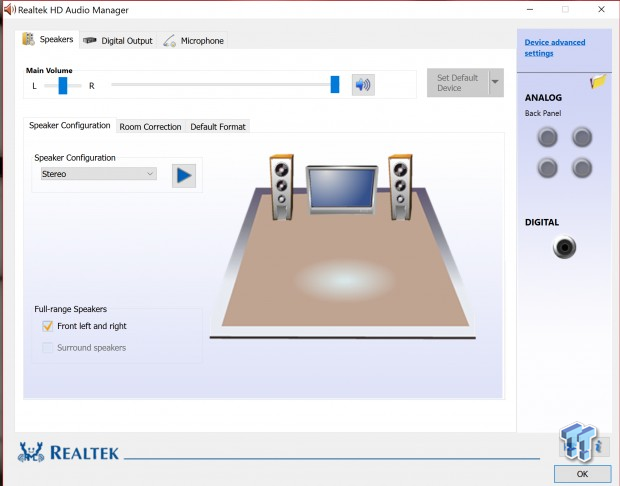 Creative's Sound Blaster X-Fi 5 software suite is included and will help drive the speakers even louder through its many effects and presets. The primary codec is from Realtek, and you can control basic audio settings through the Realtek HD Audio manager.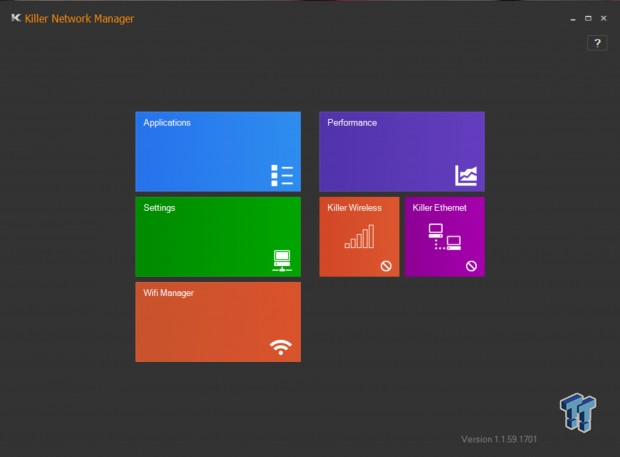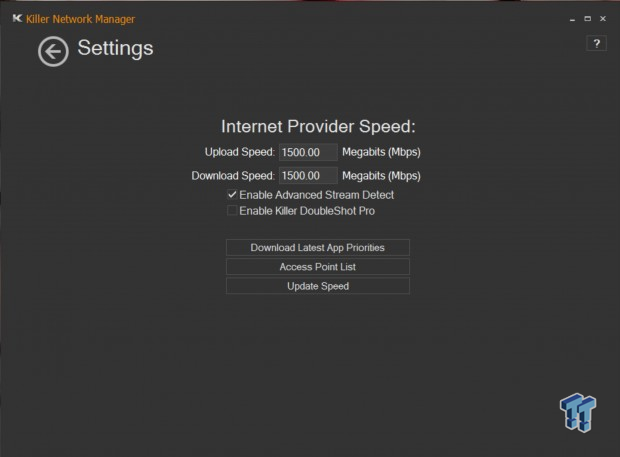 Killer's Network Manager is included, and you can accelerate games to take priority over other network bandwidth if you like. You can also team up the WIFI and Wired NIC to produce a much faster connection through Killer Double Shot Pro.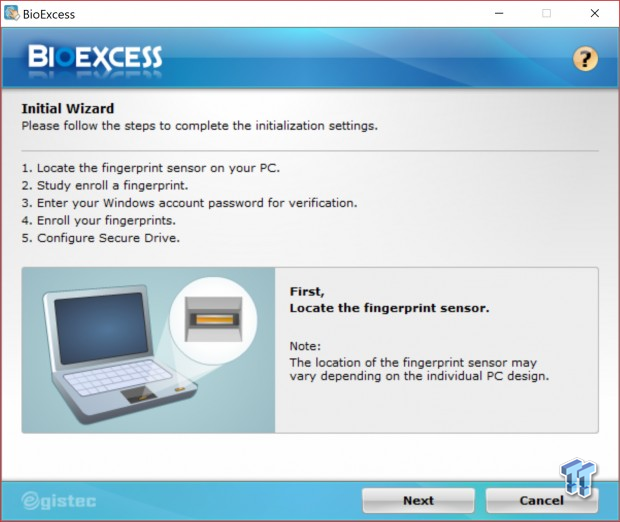 The BIOSEXCESS program will help add in your fingerprint so that you can log in through the fingerprint scanner.
BIOS
I have reviewed a few notebooks with the Intel 6820HK, which is a mobile i7 with overclocking capabilities, but I was not able to overclock them from the BIOS since there were almost no overclocking settings available. The Origin EON17-X is a different story; overclocking settings are present, and you can configure the overclock through the BIOS.
You also have the ability to configure Thunderbolt 3 and the RAID array setup for the two Samsung 950 Pros. If you are going to overclock the included memory beyond Origin's overclock, you can also do that in the BIOS since you will have to restart anyway to apply the memory settings through Origin's application. If your overclock causes the system not to boot, you can restart the PC and press "Fn + D," then hit the power button on startup.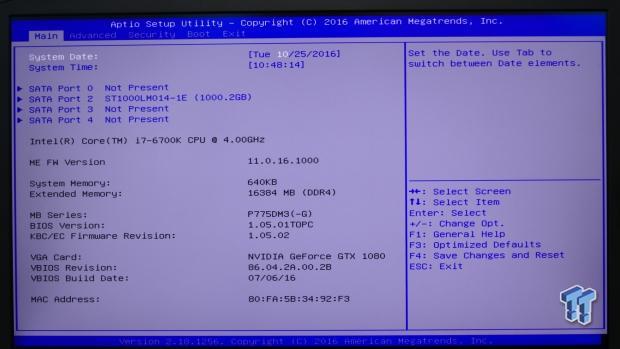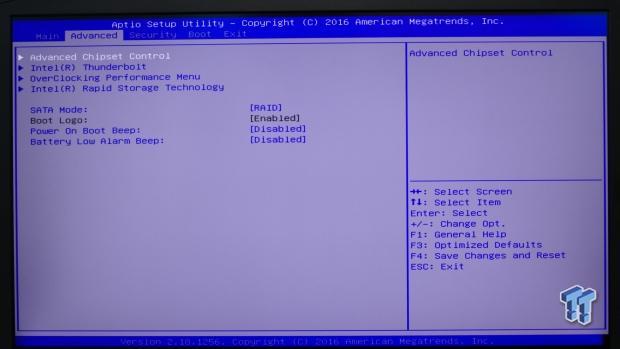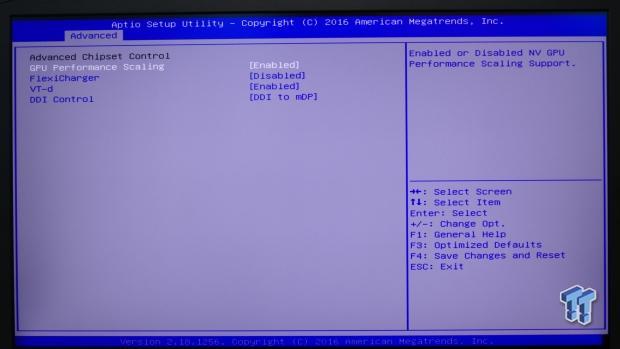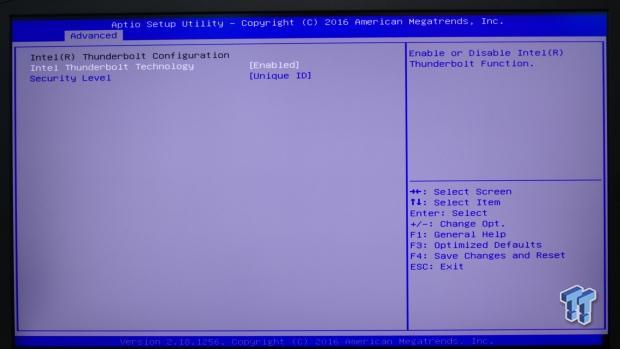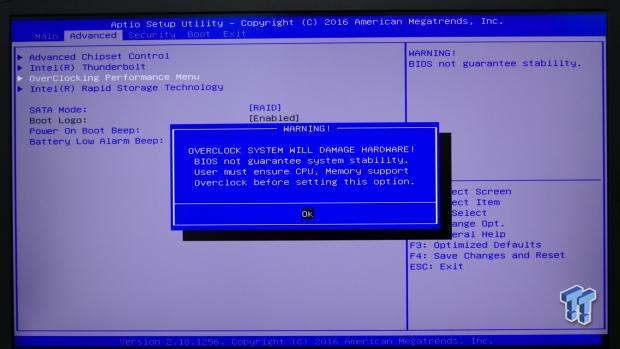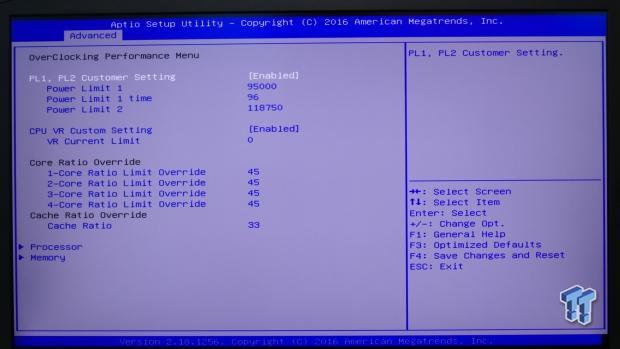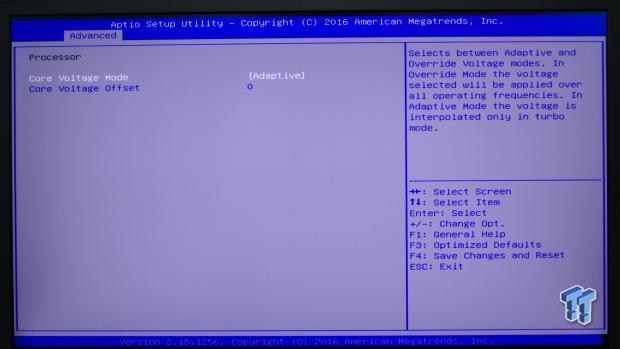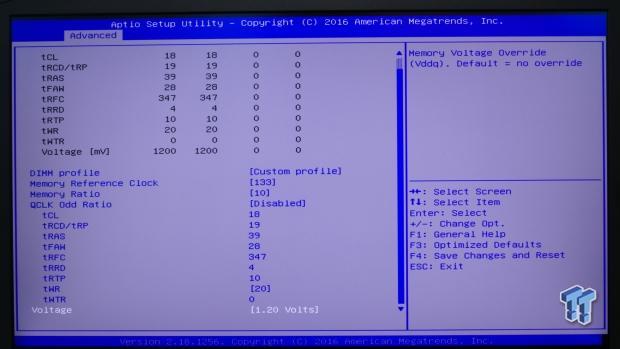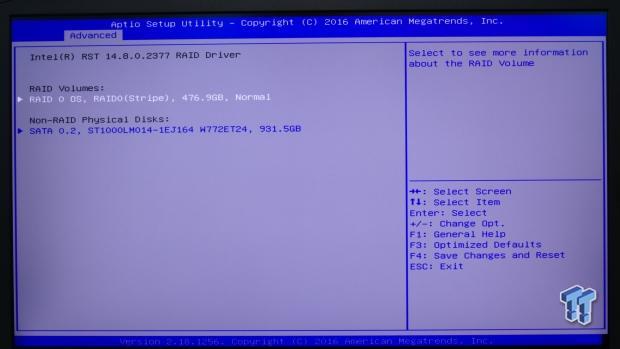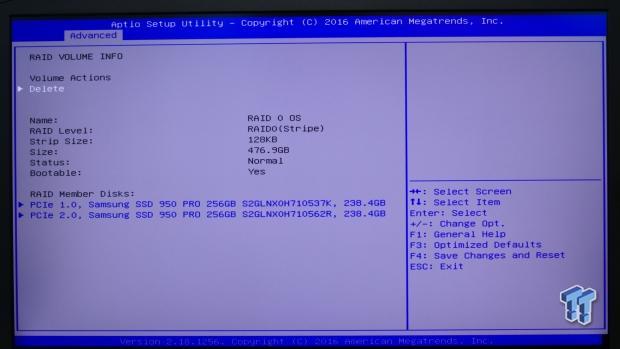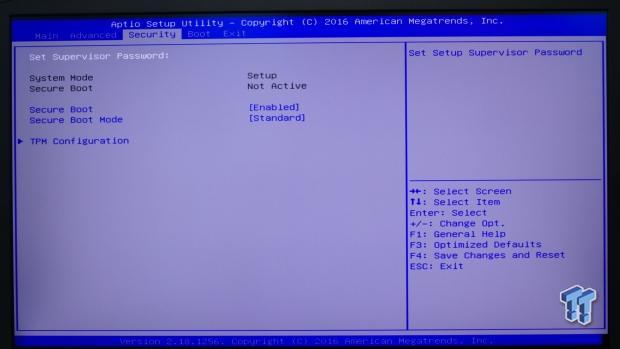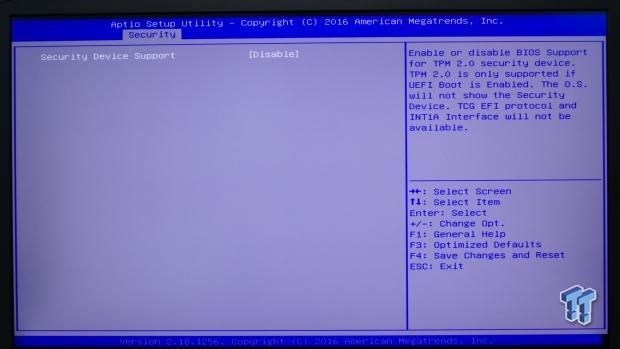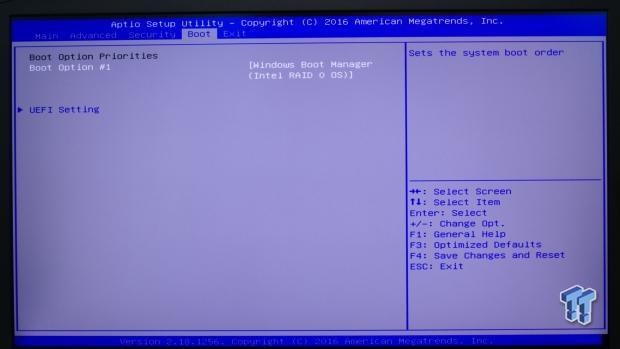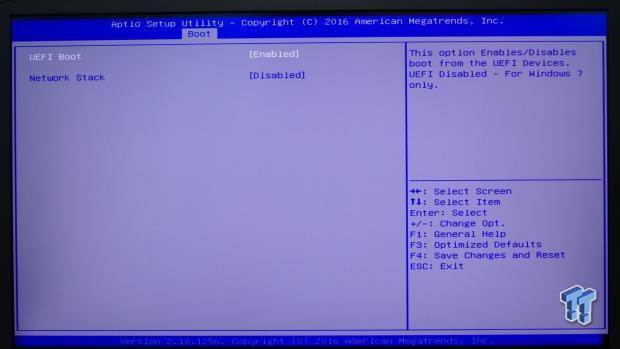 System Performance Benchmarks
CPU, Memory, and System Benchmarks
These benchmarks are run using default settings and configuration.
CINEBENCH 11.5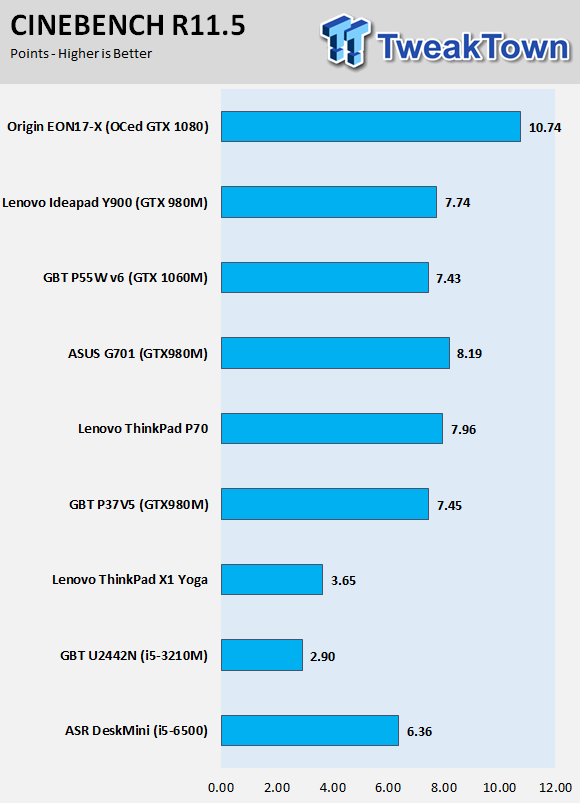 wPrime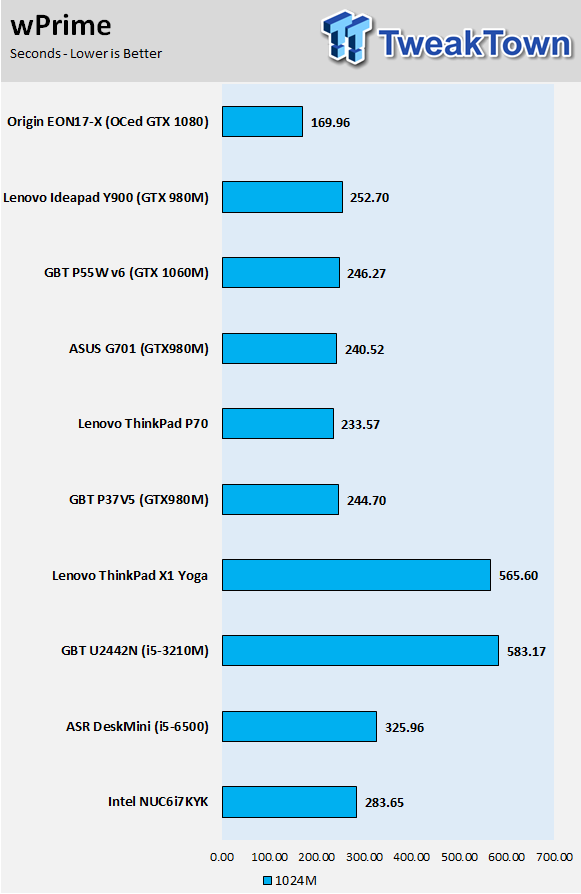 AIDA64 AES and HASH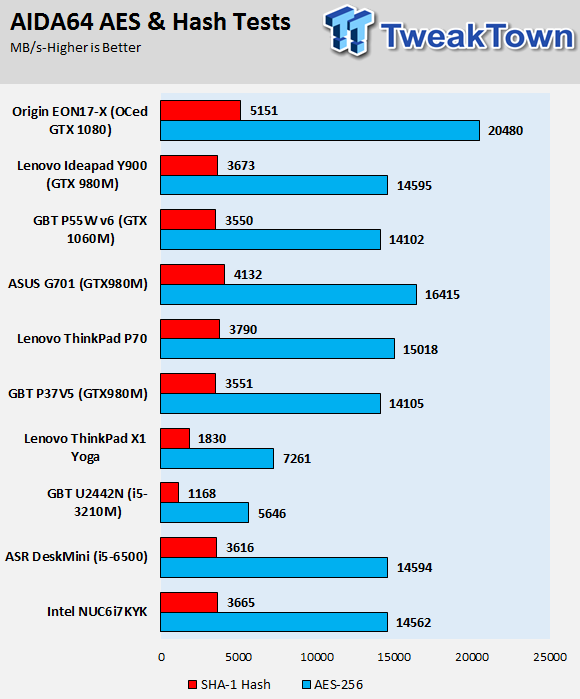 AIDA64 Memory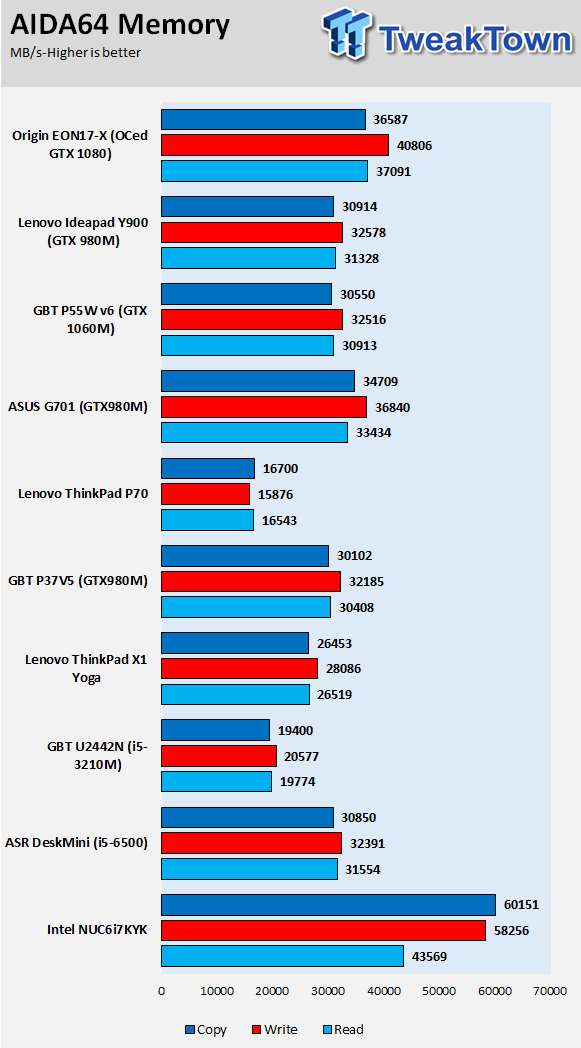 PCMark8 Home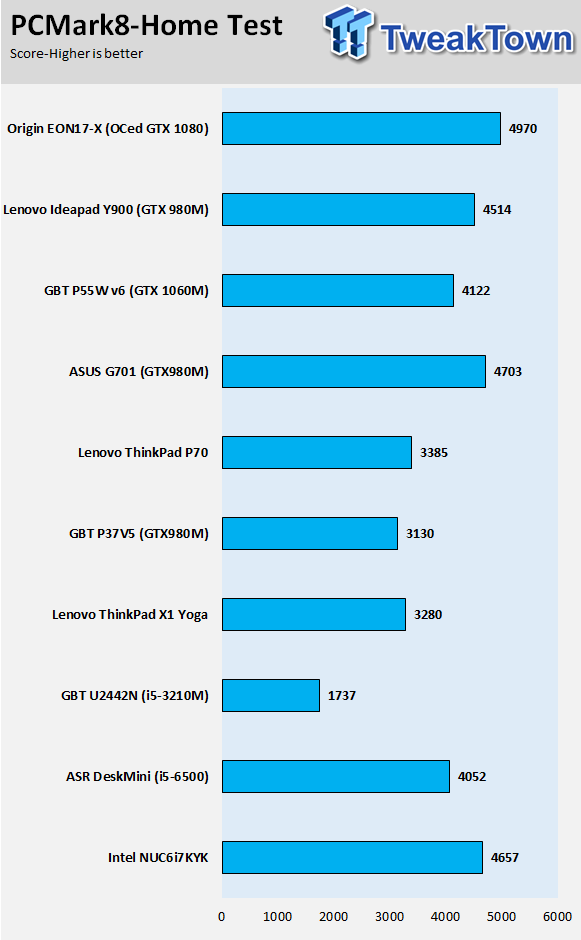 Handbrake 4K and 720P Transcoding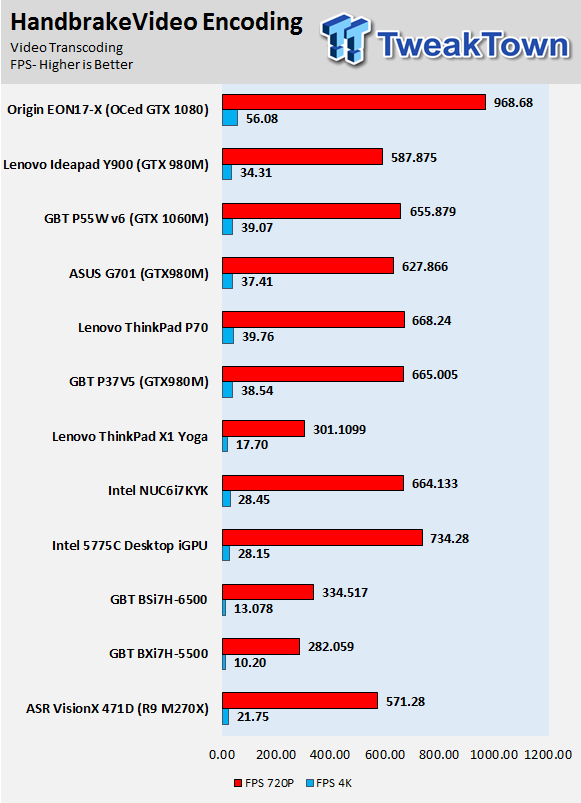 WebXPRT 2015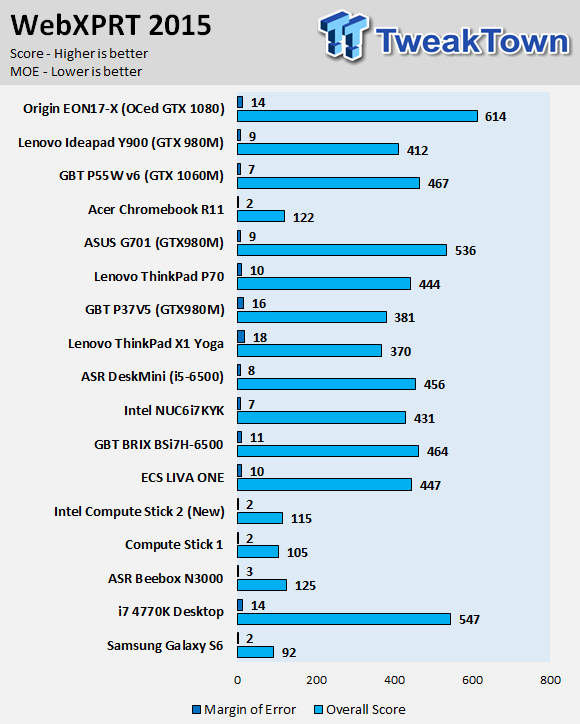 The 6700K is a desktop CPU, and Origin overclocks it to 4.5GHz, producing excellent CPU performance that helps improve performance all around.
The EON17-X is the fastest notebook I have ever tested.
Gaming Performance Benchmarks
3DMark11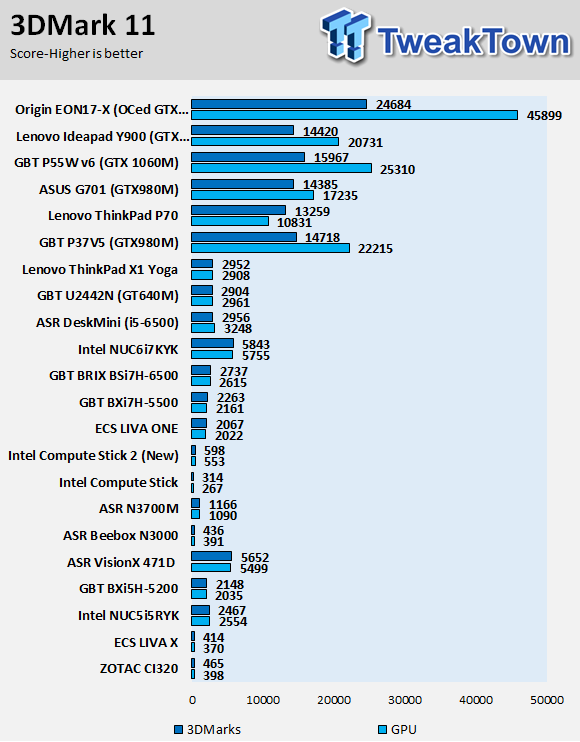 UNIGINE Heaven 4.0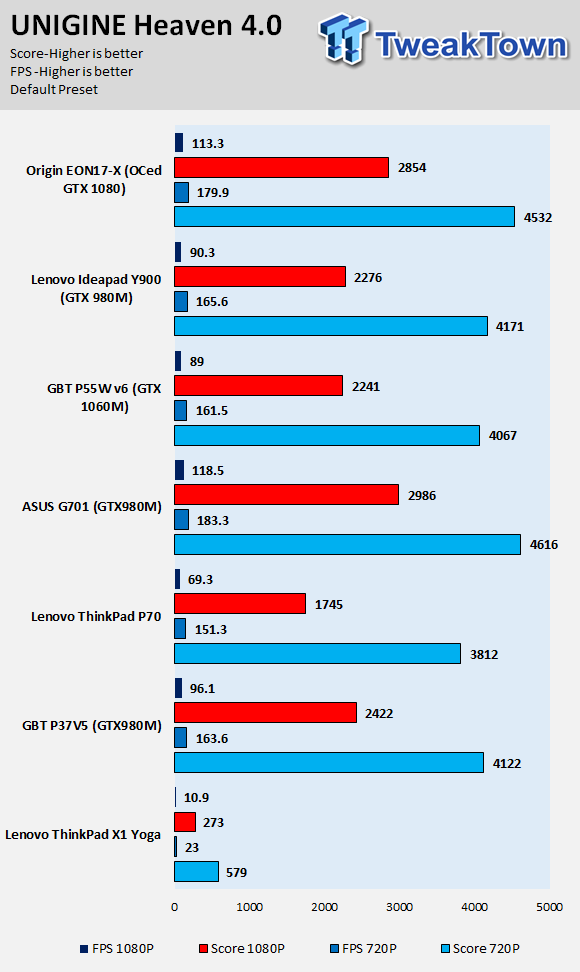 ResidentEvil 6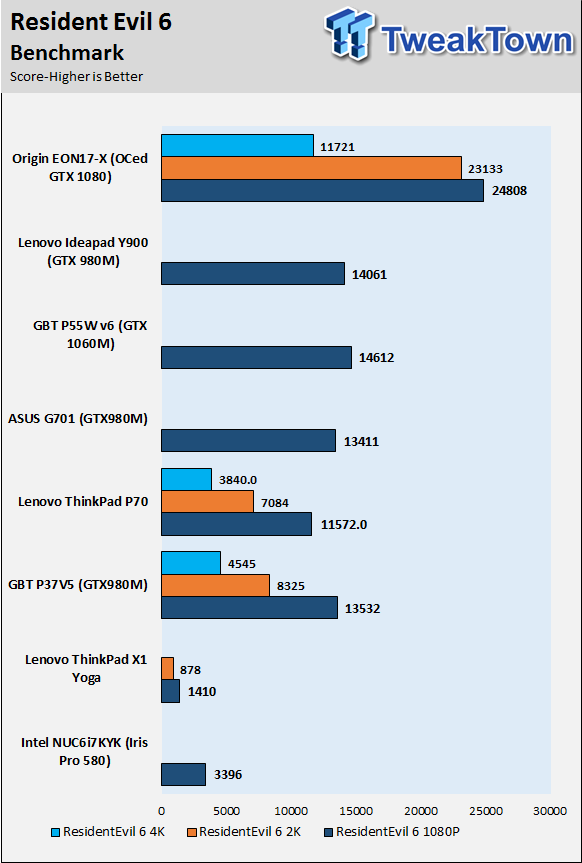 3DMark FireStrike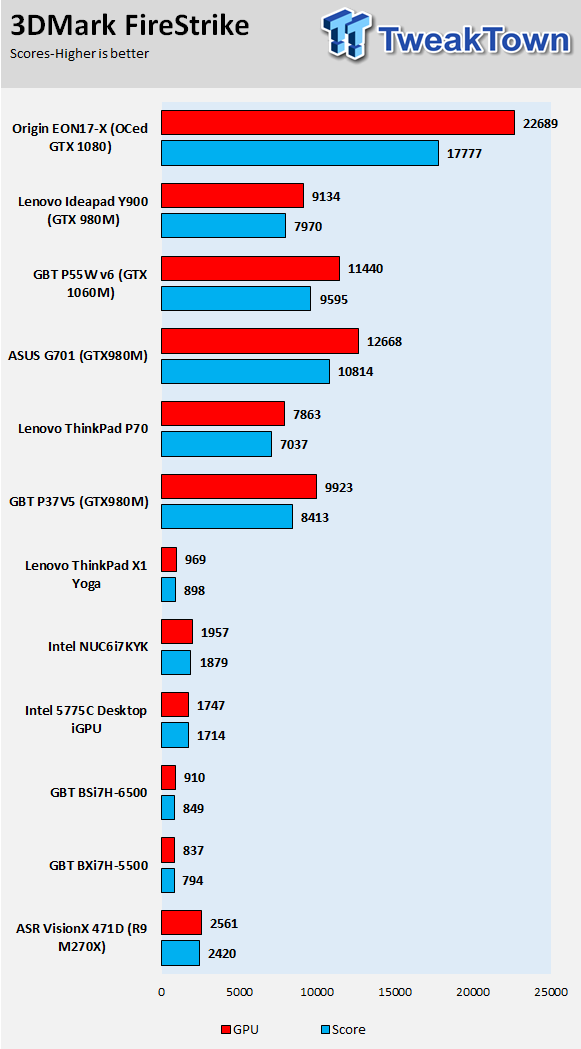 3DMark Cloudgate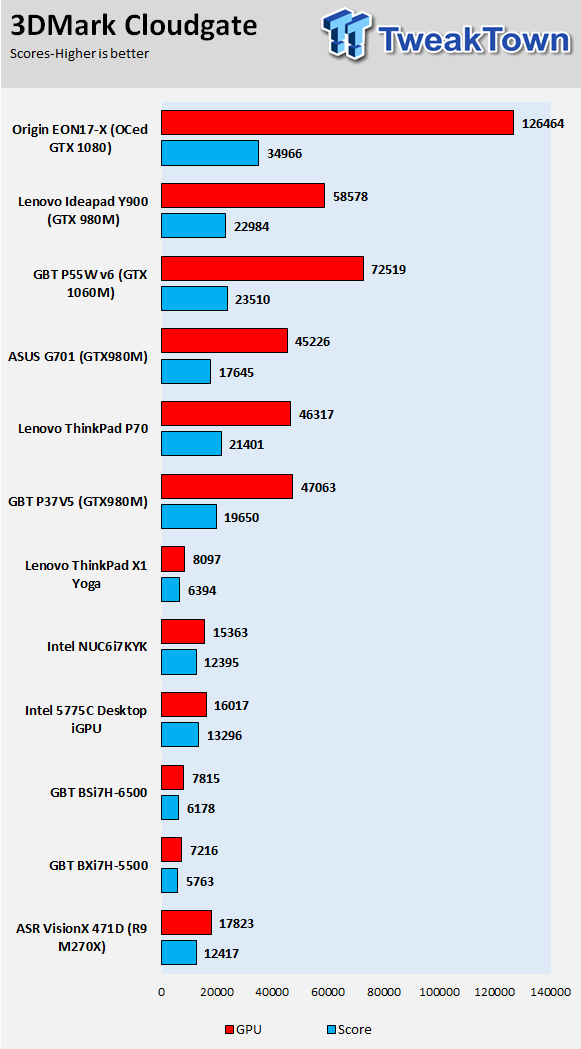 Ashes of Singularity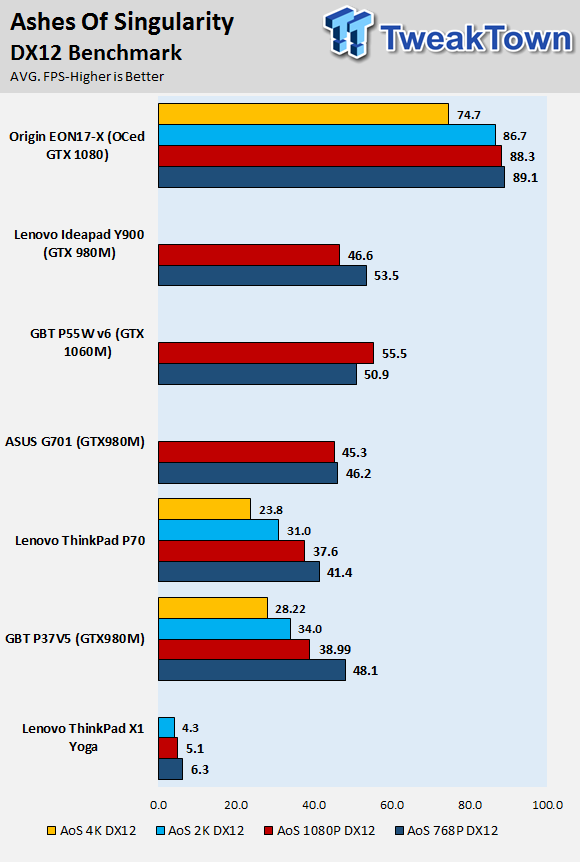 GTA:V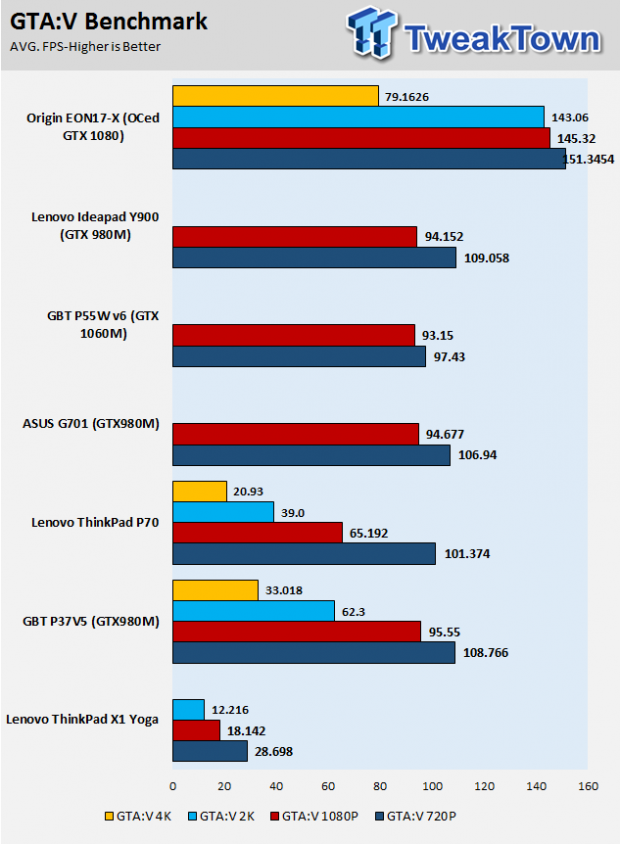 Final Fantasy XIV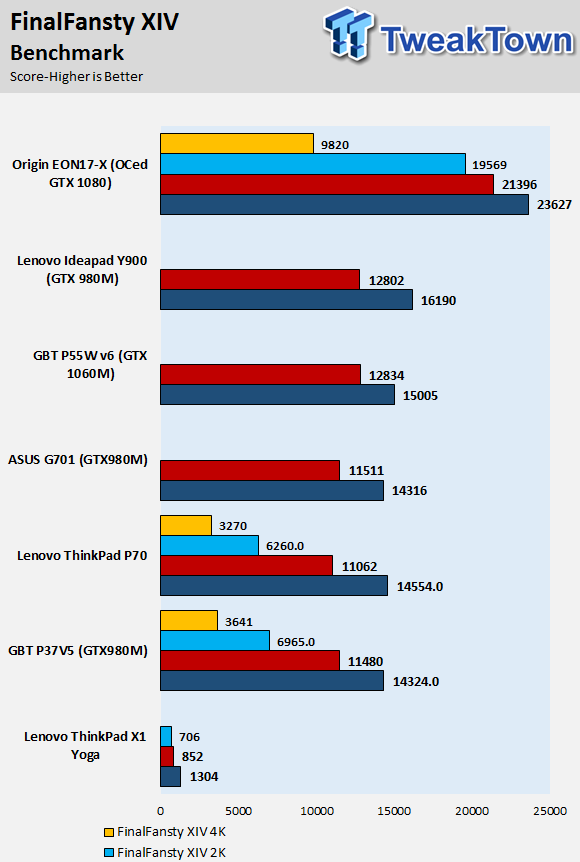 The overclocked 6700K and GTX 1080 make the Origin EON17-X the most powerful notebook I have ever reviewed. It tops the charts in all regards and is up there in performance with a desktop PC. In fact, if you have a 6700K and GTX 1080 in a desktop and don't overclock them, the EON17-X would be faster, even with the much smaller area for cooling hardware.
The fan noise does get very loud; the EON17-X is one of the loudest gaming notebook I have reviewed - that might be why it's audio hardware is so over the top.
System IO and Battery Performance
System IO Benchmarks
Internal Storage Read Test: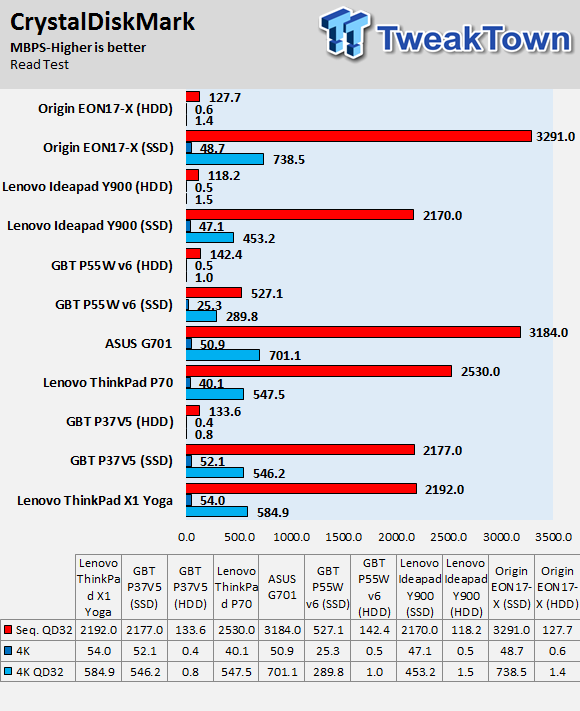 Internal Storage Write Test: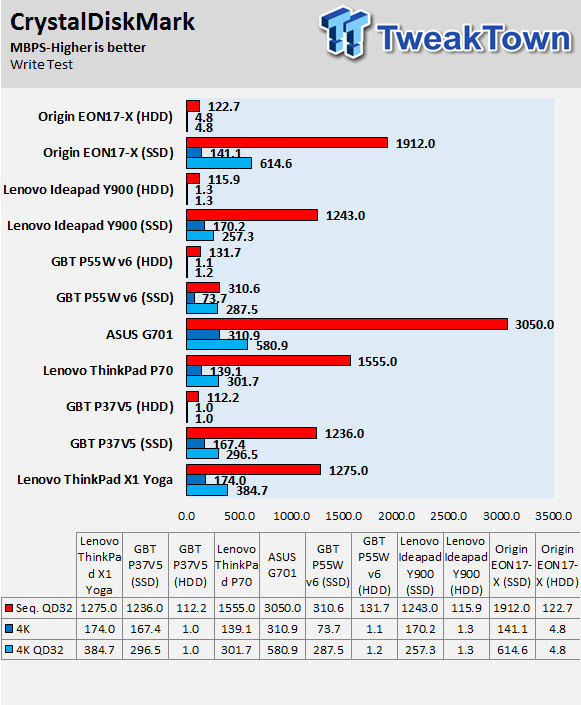 ixChariot Network Throughput: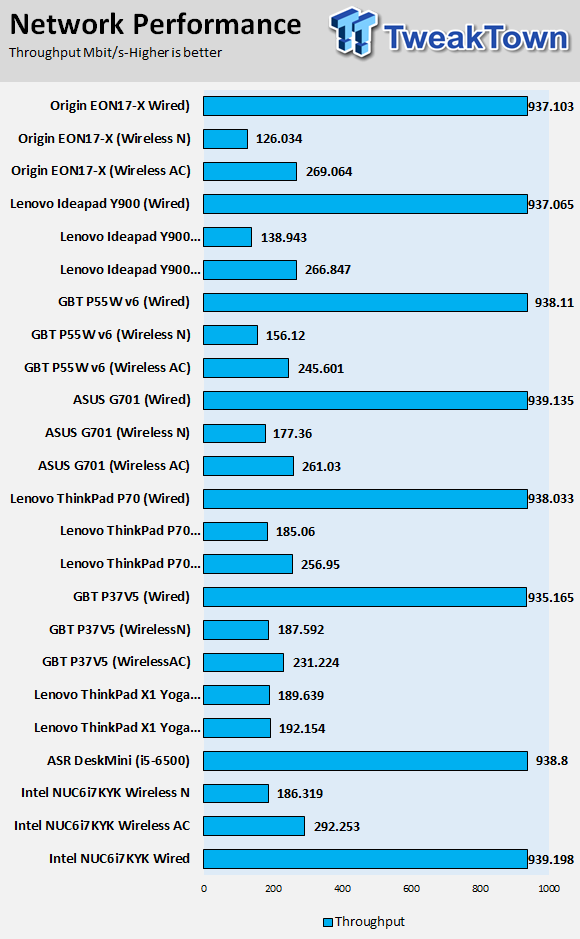 The EON17-X's M.2 SSDs in the RAID 0 array and the Killer networking hardware perform admirably. Rivet does make good wireless LAN controllers, so it is not that much of a surprise.
Battery Tests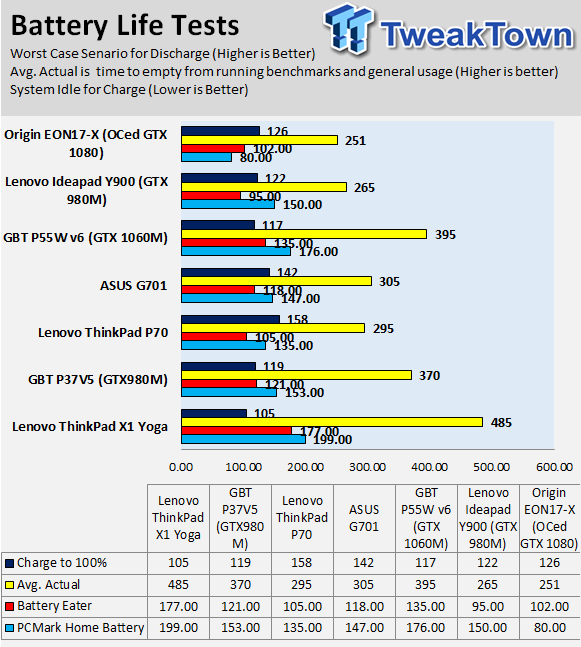 The battery tests reveal how that tiny battery cannot power all that high-end hardware easily.
The EON17-X has pretty short battery life, but at this size and weight, you won't be lugging it around everywhere.
Thermal Performance
Thermal Imaging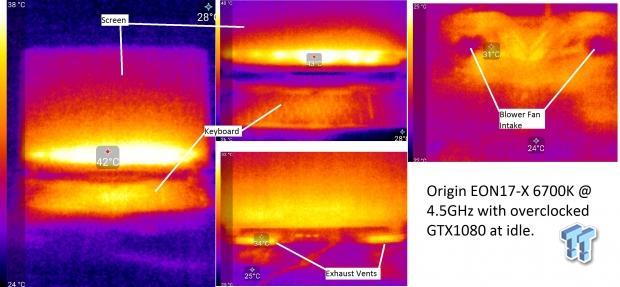 To gauge how well the cooling hardware performs we look at the difference between idle and load temperatures in areas not directly involved with the cooling hardware, such as the keyboard and display. At idle or low load situations the unit is quiet enough, but when load is applied things get very loud.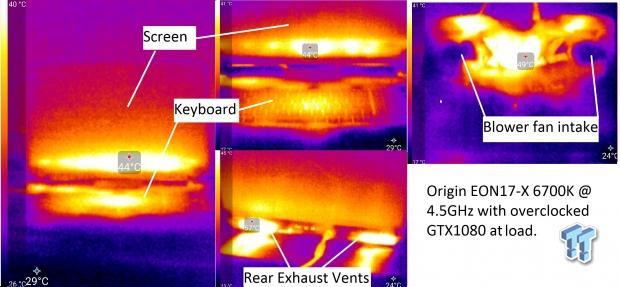 After our 30-minute test, the hot spots on the exhaust and bottom of the notebook increased 20C, but surprisingly the display and keyboard temperatures didn't increase more than 2C in their hotspots. All of these changes point to very effective air cooling, effective but loud.
The unit will roar when you load the CPU and GPU. The fans and heat sinks do all they can, but the CPU temperature hovers in the 95C area, right below throttle point when it is overclocked and loaded with extremely heavy loads.
What's Hot, What's Not & Final Thoughts
Here are key points about the EON17-X.
What's Hot
Overclocked: The 6700K is overclocked to 4.5GHz, and the Corsair Vengeance memory is overclocked with XMP to 2666MHz, providing for excellent CPU and memory performance, topping all previous notebooks tested.
The secret to the Origin EON17-X's gaming performance is the overclocked GTX 1080 8GB. The GTX 1080 8GB is overclocked to 1999MHz on the core and 5.1GHz on the memory. Without the overclock on the 6700K, the overclocked GTX 1080 would be bottlenecked, so together they prove to be a powerful duo. GPU overclocking is only activated when the system is plugged into AC power, and for a good reason. Total system power reaches 324W at maximum load, and the 330W external PSU is required to provide that kind of power.
4K Panel with NVIDIA G-Sync: The 4K panel is brilliant, the applied LUT produces vibrant tones, making the images on display look better in my opinion. Many notebooks have a 4K monitor, but because they use mobile CPUs the power of the discrete cards is usually hampered, but the Origin EON17-X does not have this same limitation. You can actually play titles at 4K without issues, and with frame rates high above 60FPS, using G-Sync provides a smooth experience.
Excellent Audio: The two speakers and third bottom speaker produce very good audio. Usually, notebooks have very weak speakers, but the EON17-X has some good ones. Even at maximum volume with altered gain control through Creative's software, I was not able to distort the audio. It can even get too loud for a small room. The unit does use a Sabre audio DAC, and a Texas Instruments Burr-Brown amplifier is used to produce solid output for headphones. You can even select headphone impedance from Origin's Control Center software, so the audio is optimized for your cans.
Sometimes I wondered whether the impressive audio performance was there to make up for the loud fan noise when at full load, but playing back Netflix on this machine is a nice experience with the built-in speakers since the fans won't be going nuts.
Premium Attention to Detail: From the RGB keyboard with loaded software options to the 1080p webcam that produces relatively high-quality images, Origin has loaded the EON17-X loaded with all the bells and whistles, and none of them feel cheap. I was very surprised to find gain control options for the audio and the applied LUT for the display, both of which are things that do not typically make it to most people's list of requirements for a gaming notebook. The overclocking software was also very easy to use and provided all the options you might need to tweak the system yourself, but don't worry it comes tweaked.
Origin Customization and Support: Origin has multiple color options for the EON17-X - the white one we received looks amazing with Origin's logo on the back. Getting the unit shipped in a crate almost guarantees it will not be damaged, and with the provided sleeve you know Origin means business when it comes to keeping your notebook safe. The included lifetime support is very nice for users who are apprehensive about buying a machine they might not fully understand.
Fast and Expansive Storage: Two Samsung 950 Pros in RAID 0 produce blazing fast storage for your primary OS and programs, and the extra 1TB HDD is great for storing all that data.
So Easy to Upgrade: Just remove some screws and slide the panels to reveal access bays for your storage devices. If you want to remove the second M.2 SSD as well, you will have to remove another larger panel, but it is not hard. You can add in another 2.5" drive, or upgrade the ones included, but Origin does not limit what you can do.
What's Not
Very Heavy: The EON17-X isn't something you lug around with you wherever you go. It's not the biggest notebook I have reviewed nor the heaviest, but with its power brick it will take up most of the space in your backpack.
Can Get Loud: When overclocked and playing a resource intensive game or running a benchmark, the unit can get loud. The fans do need to remove all the heat, and they do a great job, but the tradeoff is noise.
Battery Life: The battery that the EON17-X uses isn't the biggest considering the high level of power consumption. You can get a few hours of gaming out of a full charge.
Final Thoughts
The Origin EON17-X is the fastest notebook I have tested. Its performance is off the charts and rivals that of desktop PCs. The tradeoff is that the CPU and GPU still need to be cooled and since size is limited, high-performance blower fans have to be used to remove all the heat.
A desktop with similar specifications would receive larger fans and heat sinks to help cut down the noise, but a notebook does not get that privilege due to its size. To help with the fan noise, the speakers are strong and get very loud, and there is substantial audio hardware to drive a nice pair of cans.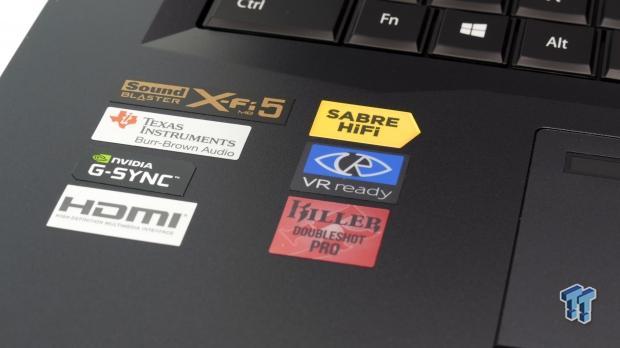 While many vendors are using the mobile overclocking SKU, the 6820HK, using an overclocked 6700K helps to remove any CPU bottleneck a GTX 1080 might face. The overclocked 6700K provides enough headroom for smooth 4K gaming on the go, and while a lot of gaming notebooks now have 4K panels, not many of them can smoothly play many of the latest games.
Overall, the Origin EON17-X is possibly the most loaded and well-equipped gaming notebook I have ever tested. If you need something that can game like a desktop but needs to be portable, the EON17-X is pretty much as good as it gets.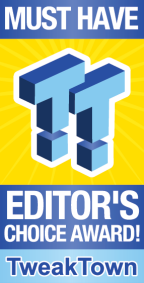 | | |
| --- | --- |
| Performance | 99% |
| Quality including Design and Build | 95% |
| General Features | 96% |
| Bundle and Packaging | 96% |
| Value for Money | 90% |
The Bottom Line: The overclocked 6700K, GTX 1080, and DRAM in the Origin EON17-X produce a gaming notebook with tons of bells and whistles and gaming desktop performance, which puts it at the head of the pack.
PRICING: You can find products similar to this one for sale below.

United States: Find other tech and computer products like this over at Amazon.com

United Kingdom: Find other tech and computer products like this over at Amazon.co.uk

Australia: Find other tech and computer products like this over at Amazon.com.au

Canada: Find other tech and computer products like this over at Amazon.ca

Deutschland: Finde andere Technik- und Computerprodukte wie dieses auf Amazon.de
We openly invite the companies who provide us with review samples / who are mentioned or discussed to express their opinion. If any company representative wishes to respond, we will publish the response here. Please contact us if you wish to respond.