TweakTown's Rating: 87%
The Bottom Line
With a price hovering around $900 at the time of writing, the ASUSTOR AS6208T is a decent appliance with all the connectivity options a small business would need.
Introduction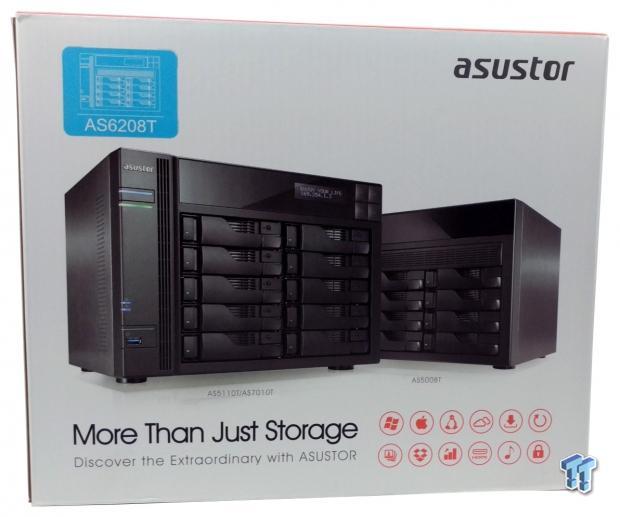 It has been quite some time since I fired up an eight-bay appliance for testing, but today, I have the ASUSTOR AS6208T in the lab ready to go.
The 62xx series offers a good number of features starting with the Intel Braswell platform, and AES-NI hardware encryption, which enables you to secure your data without losing performance, making sure that even if your drives are stolen, your data is safe. At the heart of enabling a feature-rich environment is ADM. This OS, as we will call it, carries complete iSCSI Snapshot and NFS support that is VMWare, Citrix, and Hyper-V ready.
In addition to the virtual machine support, this appliance is ready to roll as your very own surveillance system with support for thousands of IP cameras. On the flip side, this machine can handle all of your media needs with Kodi and 4K support. We have support for RAID 0, 1, 5, 6, and 10 is available along with the JBOD or single disk options, while ASUSTOR is unveiling new tray locks with this model that guarantee to keep drives in place during operation.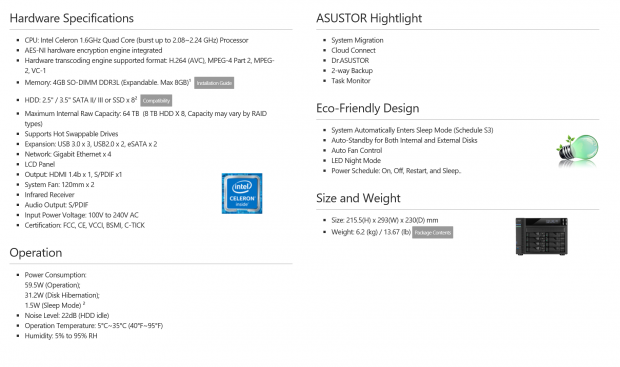 Diving into specifications of this appliance, we start with the CPU that is listed as an Intel Celeron quad-core part operating at 1.6GHz with a boost frequency of 2.24GHz. This is paired with 4GB of DDR3 that is upgradeable to 8GB. Internal capacity is reached with eight 8TB drives for a total of 64TB while supporting USB 3.0 and eSATA expansion. On the connectivity side, this appliance houses four gigabit Ethernet ports next to a HDMI 1.4b port for 4K30 support.
The MSRP of the ASUSTOR AS6208T comes in at $899.99 with a three-year warranty.
ASUSTOR AS6208T
Packaging and a Closer Look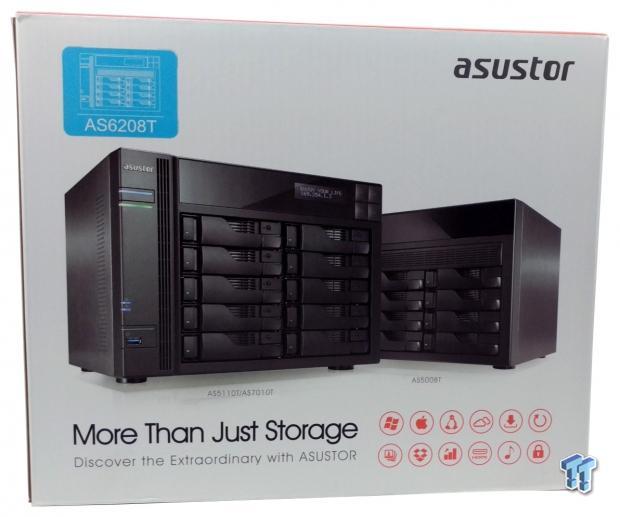 Packaging for the AS6208T is quite colorful with images on the front. Down below there are several logos denoting support for Apple, Windows, and Linux.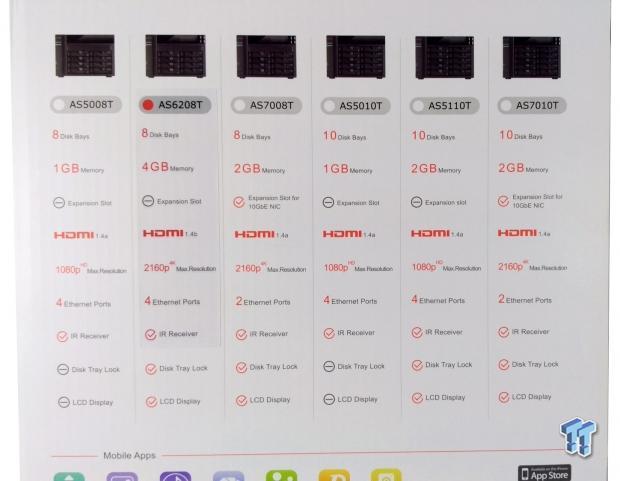 On the side of the box, ASUSTOR gives their own comparison with the 6208 being stacked against older eight-bay appliances.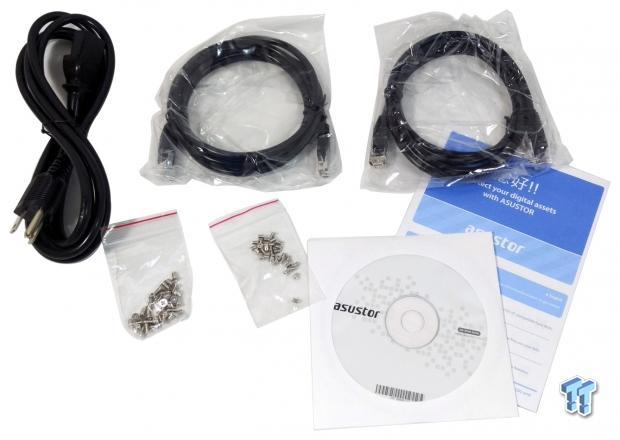 The scope of delivery includes the power cord and two Ethernet cables along with screws and reading materials.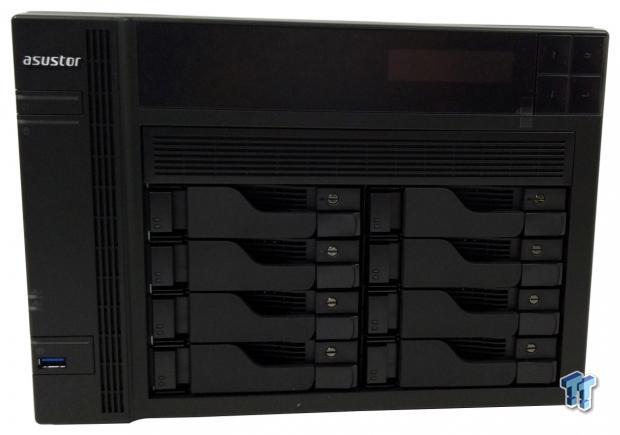 Taking our first look at the 6208, this unit is much larger than what I am used to with the bays laid out in a vertical stacking pattern. At the top, we have a full menu integrated into the LCD while to the far left we see the power and one-touch backup buttons.
This unit is cooled by two large fans that maintain silence during operation. To the top, we have the integrated power supply while the right side houses dual eSATA, and four gigabit Ethernet and USB 3.0 ports.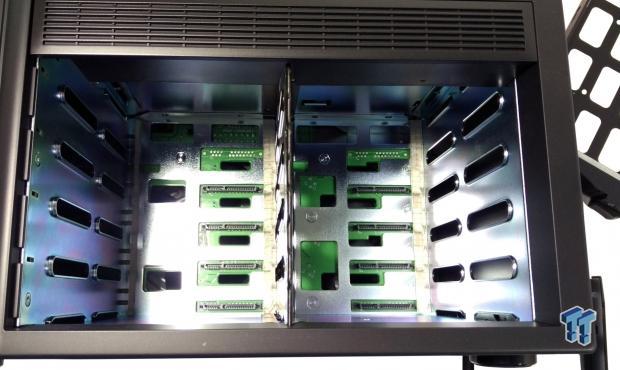 The backplane for the AS6208T is a SATA-only setup.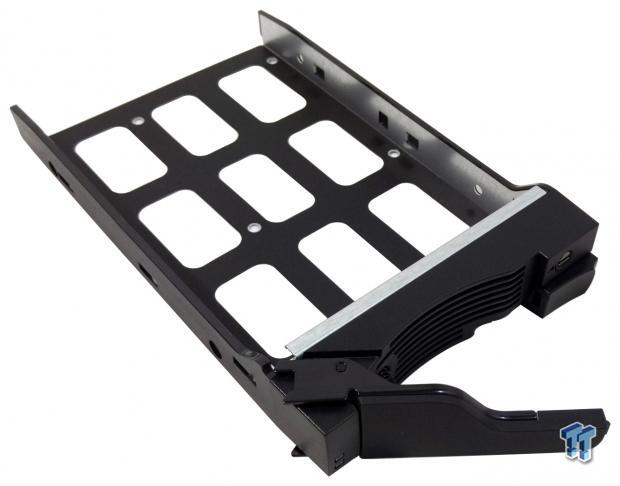 The trays do require you to screw in your drives, but they are plastic coated metal trays for rigidity.
Test System Setup and Web Management
Tyler's NAS Test System Specifications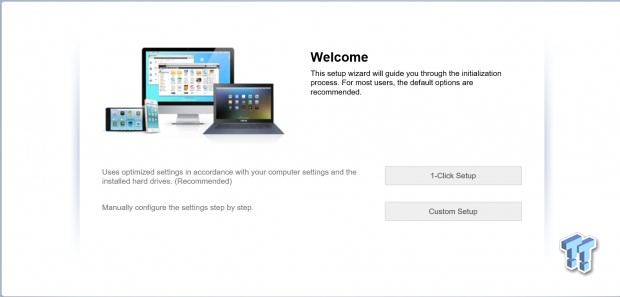 Moving on, we hit the setup wizard that will guide you through the process of installing the firmware and setting up the disks and any services you want to use.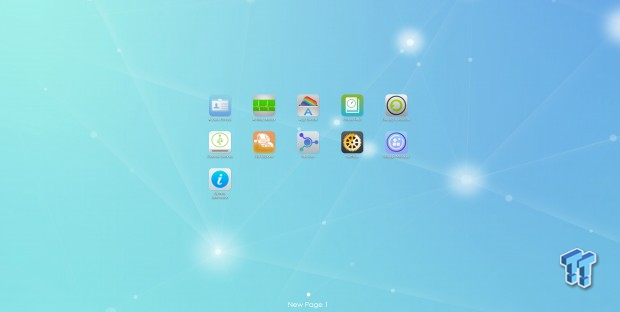 The desktop area in ADM is rather clean and organized with all icons in the center of the screen.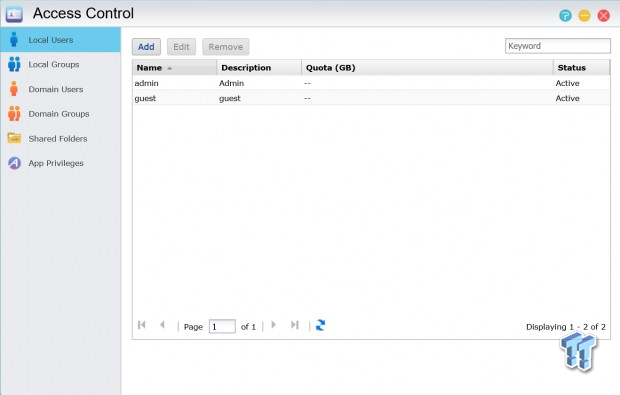 Starting with Access Control, we have the ability to setup users and groups along with shared folders and even assign privileges on an application level.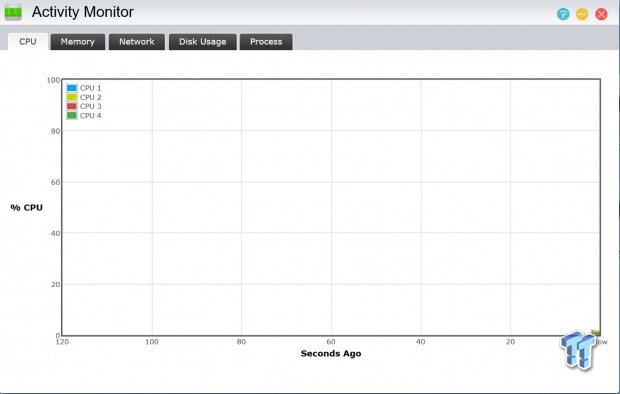 Activity monitor allows you to watch your NAS and coupled with process view, you can see what is using the most resources.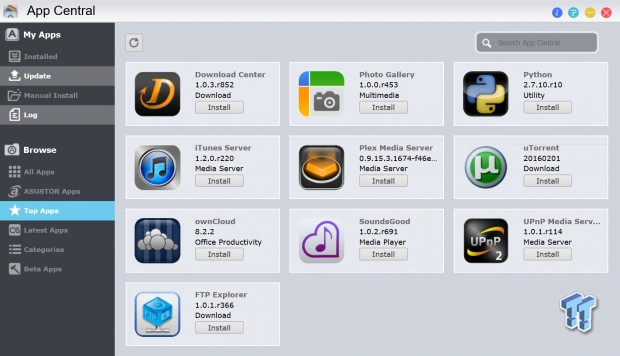 App Central is the library of programs that can run on ADM. Of course, Plex is one of the most downloaded solutions, along with download center and uTorrent.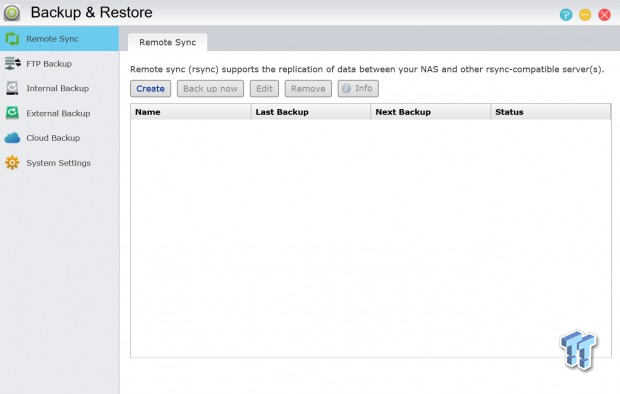 The backup menu allows you to schedule internal or external backups over USB, eSATA, or even your network. There is also the option to use cloud options such as Dropbox and Amazon.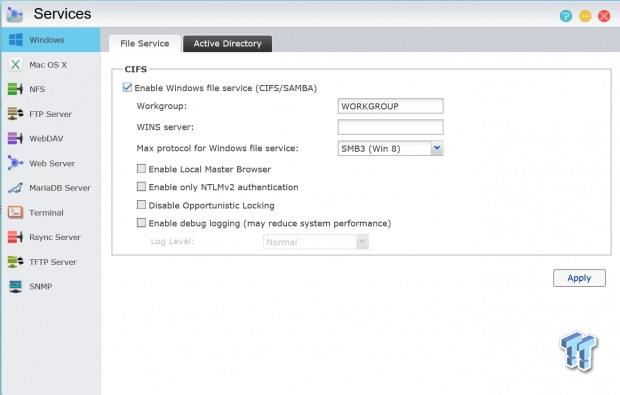 Above, we have a list of file services that come embedded with ADM including SMB3, AFP, NFS, and higher level services such as FTP and Rsync.
Benchmarks – Single Client and SMB Performance
Single Client Throughput
HD Video Play - 720p HD stream from Windows Media Player, 256kB reads
2HD Video Play - 2x playback
4HD Video Play - 4x playback
HD Video Record - 720p HD stream, 256kB writes
File Copy from NAS - 4GB file copy, 64kB reads
File Copy to NAS - 64kB writes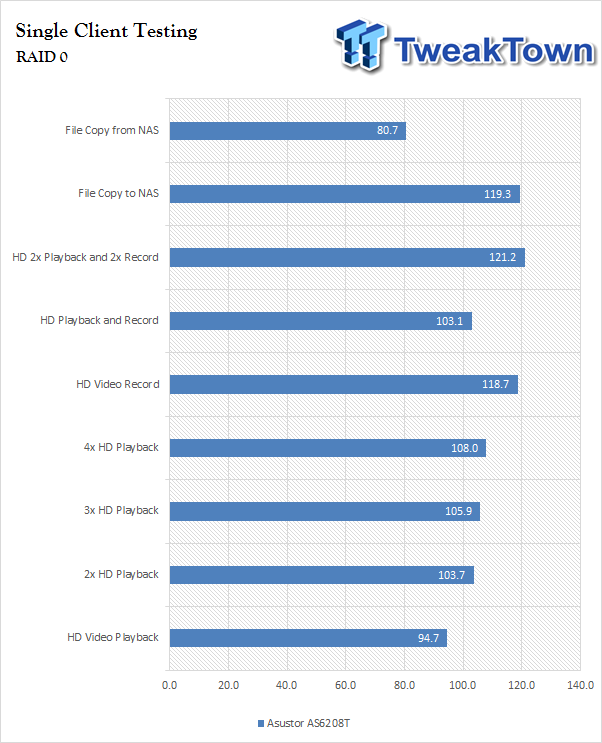 With this appliance being the first eight-bay unit that I have tested in many years, I started with fresh charts with no comparisons. The 6208T with RAID 0 scaled quite well with playback to a peak of 108 MB/s while record operations topped out at 118 MB/s.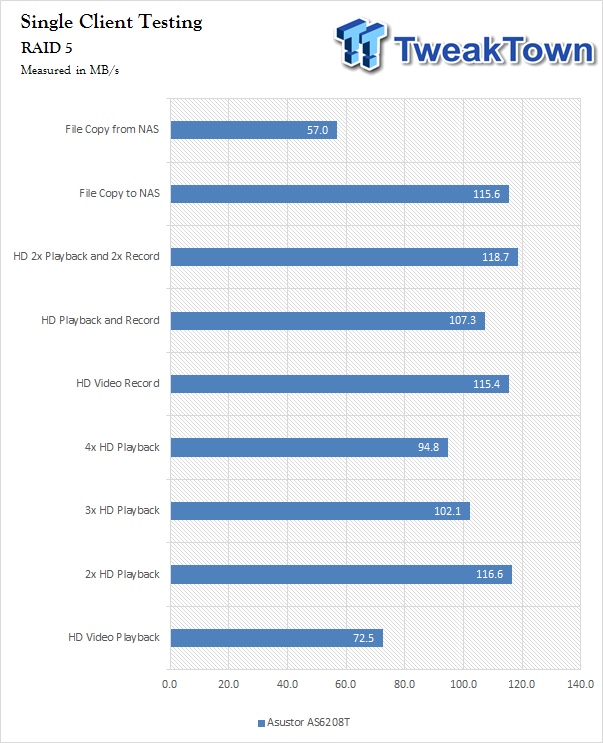 RAID 5 showed peak playback performance with two streams while record showed no performance loss coming from RAID 0.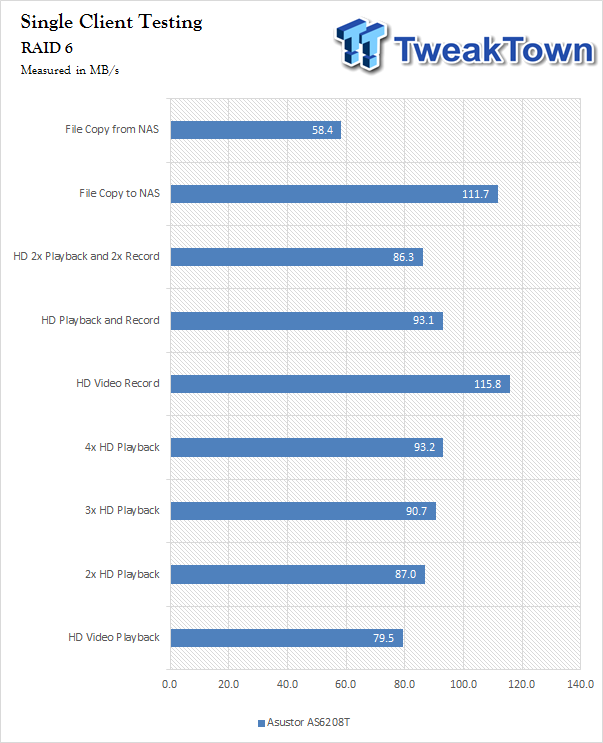 RAID 6 went back to scaling quite well from 79 MB/s with a single stream to 93 MB/s with four streams.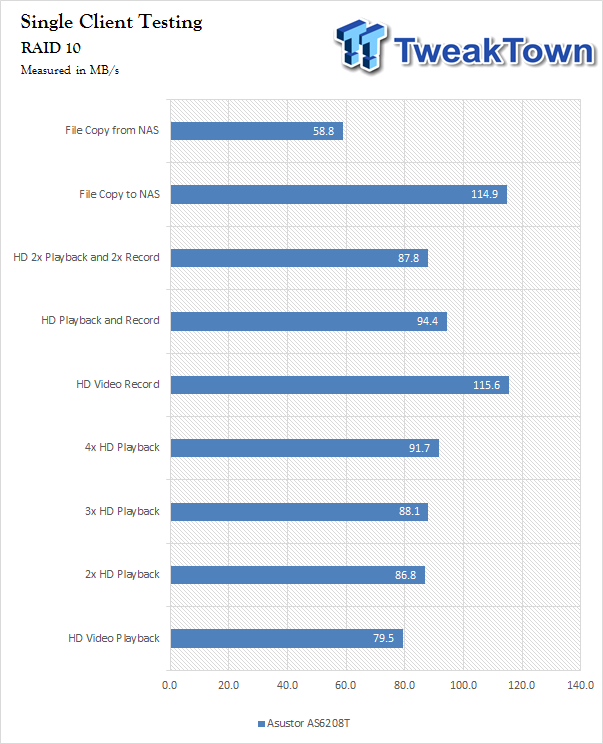 The last of our single-client testing starts with RAID 10 and we yet again see good performance scaling with playback while playback and record did much better with a single stream than two.
Benchmarks – SMB Performance
SMB Performance is tested over several test sizes including 100, 800, 1000, and 8000M with each test ran three times. The average of these three runs is recorded in the charts.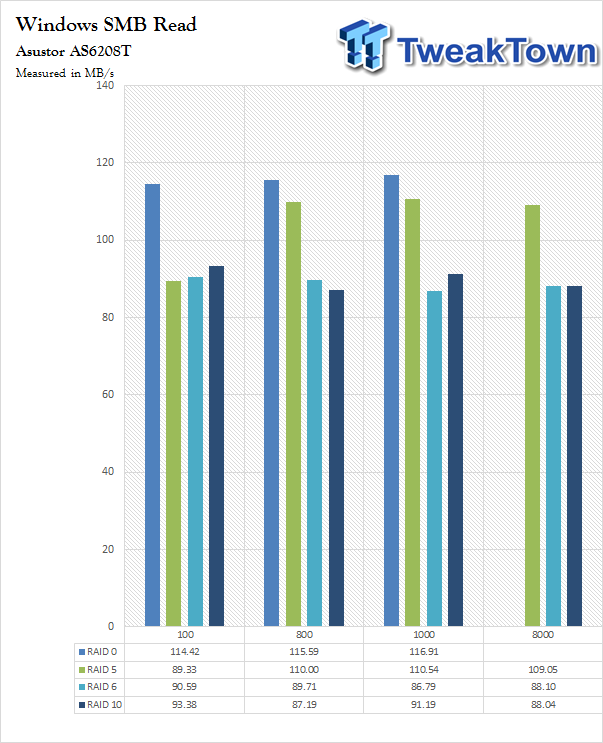 As you can see above in read testing, the RAID 0 array was easily the quickest, reaching the peak of a single gigabit connection at 120 MB/s.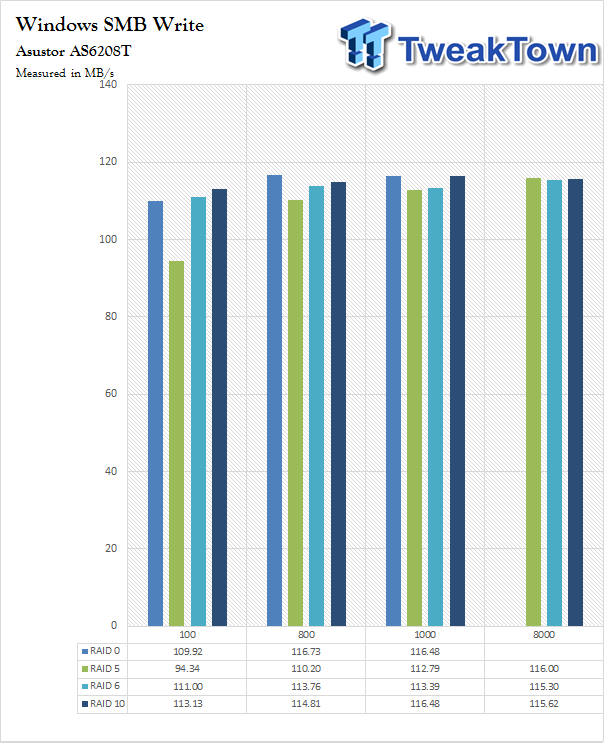 Write performance, on the other hand, showed steady performance across all RAID modes including RAID 5 and 6, where I expected to see more of a performance hit.
SMB Workloads
Benchmarks – SMB Workloads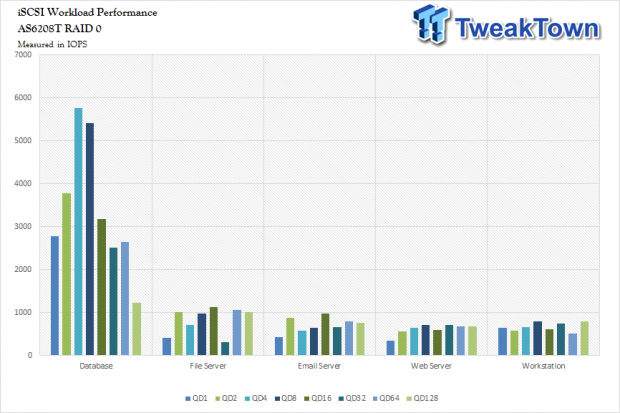 Starting off workload performance, I set up the AS6208T in a RAID 0 array and connected to it via iSCSI. As you can see, database pulled the most performance nearing 6000 IOPS at QD4, while many of the other workloads showed steady performance throughout testing around 1000 IOPS.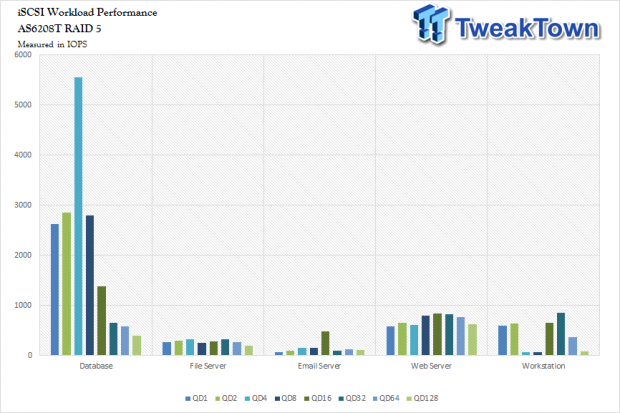 RAID 5 was more of the same as the 6208T excelled at QD4 in database towards 5600 IOPS.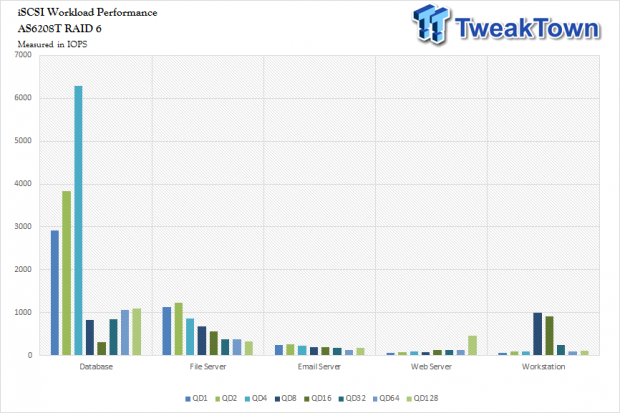 RAID 6 showed some good scaling in database all the way to QD4 after which the NAS appeared to drop off.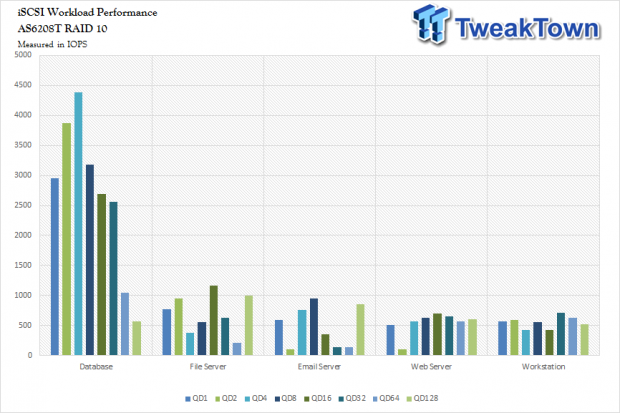 Diving into RAID 10, this was the most impressive set of testing for the AS6208T as it was able to reach a peak of 4500 IOPs in database and close to or a touch over 1000 IOPS for the rest of the workloads.
Power Consumption and Final Thoughts
Power Consumption
To test power consumption of the NAS appliance, I deploy a rather simple Kill-A-Watt device between the receptacle and NAS. I then monitor power usage of several minutes in each stage to get an idea where the NAS lands.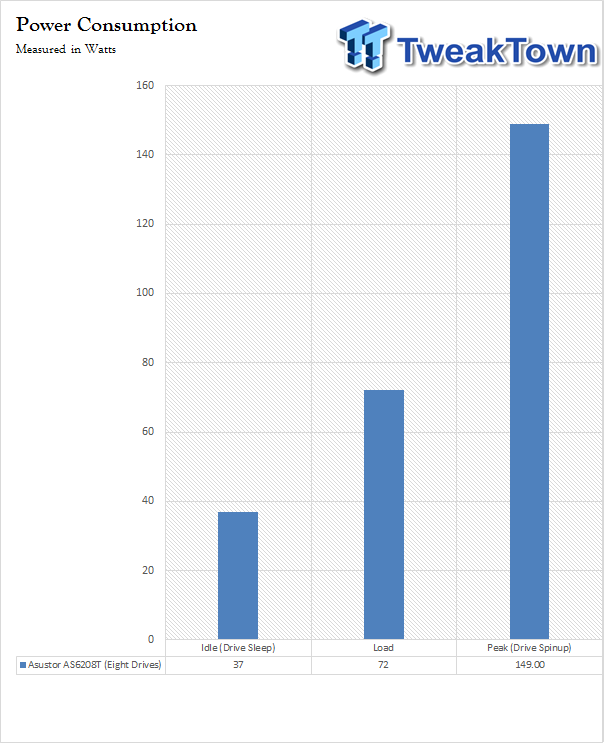 With all eight drives asleep, the AS6208T uses around 37 watts. This was tested with the Ethernet connection disconnected to achieve full sleep. Under test conditions, this appliance with eight 1TB Toshiba drives used 72 watts, and under drive spin up, we saw a peak of 149 watts.
Final Thoughts
I don't typically test too many appliances over four bays, but as of late, it appears these unit are becoming increasingly popular. Whatever the cause may be that is fueling this increase in popularity, the AS6208T carries a good amount of build quality, and while this particular unit doesn't use tool-less drive trays, I prefer to secure my drives with screws anyway. On the flip side, this unit with its eight bays is probably on the edge of what a quad-core Intel Celeron CPU can provide regarding performance. I actually expected this unit to come with the much more powerful Pentium N3710 based purely on the bay count.
In looking at performance after all the testing was done, the AS6208T actually did quite well and with no solid comparison at this time, I'm just going off what I typically see in testing. Single-client playback results peaked at 108 MB/s in RAID 0 while record hovered around 118 MB/s. In RAID 5, 6, and 10, we saw similar performance with RAID 5 peaking with two streams at 116 MB/s, while RAID 6 had substantial scaling from one stream at 79 MB/s to four streams at 93 MB/s. In Windows SMB or file transfer testing, all RAID modes were able to provide more than acceptable performance for moving files across PCs and workloads showed a severe bias towards the database workload.
Overall, the ASUSTOR AS6208T is a decent platform that offers a simple upgrade path to fit your needs while at the same time providing eight bays of capacity and support for the latest 8TB drives. While this isn't an appliance I would choose for the typical consumer wanting to get their first NAS, it is a solid upgrade for anyone that's been using a two or four-bay solution from ASUSTOR and want something more.
| | |
| --- | --- |
| Performance | 87% |
| Quality including Design and Build | 89% |
| General Features | 86% |
| Bundle and Packaging | 86% |
| Value for Money | 87% |
The Bottom Line: With a price hovering around $900 at the time of writing, the ASUSTOR AS6208T is a decent appliance with all the connectivity options a small business would need.
PRICING: You can find products similar to this one for sale below.

United States: Find other tech and computer products like this over at Amazon.com

United Kingdom: Find other tech and computer products like this over at Amazon.co.uk

Australia: Find other tech and computer products like this over at Amazon.com.au

Canada: Find other tech and computer products like this over at Amazon.ca

Deutschland: Finde andere Technik- und Computerprodukte wie dieses auf Amazon.de
We openly invite the companies who provide us with review samples / who are mentioned or discussed to express their opinion. If any company representative wishes to respond, we will publish the response here. Please contact us if you wish to respond.