ASRock Z170M OC Formula (Intel Z170) Motherboard Review
Looking for a pure overclocking motherboard? Then you need to look at ASRock's Z170M OC Formula Micro-ATX board based on Intel's Z170 chipset.
Published Tue, Jun 14 2016 1:15 PM CDT
|
Updated Tue, Nov 3 2020 6:58 PM CST
Rating:

91%
Manufacturer: ASRock
Introduction, Specifications, and Pricing
In years past, it was typical to find the high-end motherboard market split into dedicated gaming and overclocking series, but more recently we have seen a shift towards consolidating the different models into a more gamer-focused lineup. While the dedication to overclocking has waned in recent years for some major brands, it has become even stronger for others. ASRock is a company that will build a product designed to meet the needs of niche markets, and whether it is successful or not, they do get a fair amount of respect from the community for undertaking the endeavor. ASRock has decided to produce a product optimized for the highest memory overclocks.
The Z170M OC Formula is a contender for the overclocking-paradox; a feature that puts the motherboard ahead of its competitors in the overclocking arena also reduces its overall competitiveness on the open market. Voltage regulator upgrades, buttons, and special features usually help on both fronts, but when it comes to memory DIMMs, fewer is usually better. Most Z170 motherboards have two DIMMs per channel. The second DIMM for each channel is typically empty during overclocking, and can have a detrimental impact. Memory DIMM trace routing is extremely important, and more recently DDR4 specifications include a lot of T-topology, which is much better than the daisy-chain topology for two DIMMs on a single channel, but can be worse than daisy chain for single DIMM usage because of the "T" juncture.
By removing the second DIMM for each channel, it is much easier to route the traces to each channel and optimize trace lengths to improve timing. The absence of the second DIMM for each channel is one reason why many memory overclockers prefer smaller motherboards since they typically only have one DIMM per channel. Without further delay, let's dig into the Z170M OC Formula.
Specifications
The ASRock Z170M OC Formula has a lot of high-end features such as Ultra M.2, Intel Gbit LAN, 7.1 Audio, support for 3-way CrossFireX and 2-way SLI, 8x SATA 6Gb/s, and even two SATA Express connectors that are shared with four of the SATA 6Gb/s ports.
Pricing
The Z170M OC Formula is available from many large retailers for roughly $199, which is expensive for a Z170 Micro-ATX motherboard, but people who buy this product won't care since it's a relatively decent price for the overclocking potential.
Packaging and Z170M OC Formula Overview
Packaging and Overview
The Z170M OC Formula's box is simple and carries ASRock's OC logo. The motherboard is well protected by foam lining and sits inside an anti-static bag.
Accessories include 2x SATA6Gb/s cables, IO shield, SLI connector, M.2 screw, driver DVD, and quick reference guide.
The ASRock Z170M OC Formula has five fan headers; the ones circled in blue are auto sensing 4-pin voltage/PWM mode headers and the single header circled in red is a 3-pin voltage mode header. Overall aesthetics of the motherboard are consistent and look quite good. The hints of yellow in the heat sinks and IO/audio shield add to the trademark yellow/black color scheme of the OC Formula series of motherboards. You will find a translucent sliver of PCB along the right-hand side of the motherboard that lights up when the motherboard is powered up. You can disable the LEDs if you don't like them. The back of the motherboard is bare except for some LEDs, the SuperIO, and some other miscellaneous chips.
The IO panel on the Z170M OC Formula carries four USB 3.0 ports, USB 3.1 type-A, USB 3.1 type-C, two USB 2.0 ports, PS/2 keyboard/mouse port, HDMI, DisplayPort, ClearCMOS button, 1Gbit Ethernet port, and 7.1 audio output with S/PDIF.
The PCI-E layout is simple; the first and second PCI-E 16x slots share bandwidth from the CPU, they will operate at 16x/0x or 8x/8x. The last PCI-E 16x slot is 4x electrical and connected to the PCH; it can be used for NVMe RAID.
The Z170M OC Formula has a single M.2 slot located in between the first and second PCI-E 16x slots. There are eight SATA6Gb/s ports. Six of the SATA6Gb/s ports are from the PCH, and four can use used as two SATA Express ports. The extra two ports, the ones nearest the 24-pin connector, come from an ASMedia controller. There is some sharing of the M.2 slot and SATA ports, so you will need to look at the manual for possible configurations.
ASRock provides a myriad of overclocking features. At the top of the board, you will find the power and reset buttons and voltage read points. The plus, minus, and menu buttons provide on-the-fly overclocking using ASRock's application. There are three switches located right above the SATA6Gb/s ports. Starting from the edge of the motherboard their functions are as follows; slow mode, XMP, LN2 Mode. The single button located above the switches is for DirectKey. A single USB 3.0 internal header is located right below the 24-pin motherboard power connector.
A POST code connector is located at the bottom of the motherboard. Near the POST code display are two BIOS ROMs in DIP sockets, the adjacent switch will allow you to switch between them.
The motherboard also has a COM header, two USB 2.0 headers, system headers, Thunderbolt 3 header, and even a header for Thunderbolt 2.
Heatsinks are all secured with metal screws, and they seem to make excellent contact with the chips they cool.
ASROCK Z170M OC Formula Circuit Analysis
Circuit Analysis
This board looks great without heat sinks on.
The VRM on this motherboard has an 8+4+1+1 phase configuration. Starting from the top right of the upside-down L shape, we have four iGPU phases, eight CPU VCore phases, a single phase for the VCCSA, and one more for the VCCIO. Instead of using linear regulators for the VCCSA and VCCIO, ASRock is using individual single phase switching regulators that use the same power stage components like the CPU/iGPU phases.
ASRock is using a mixture of 12K solid polymer, tantalum POSCAP, and multilayer ceramic capacitors for the output capacitor bank. The inductors for all the CPU phases are rated for 60A. The CPU VCore and iGPU phases are controlled by an International Rectifier 6+2 phase digital PWM, the IR35201. The IR35201 is a very popular PWM for high-end overclocking motherboards and is almost synonymous with high-performance voltage regulators. In this case, the IR35201 outputs 4+2 phases which are then doubled to 8+4. Each phase uses a single Texas Instruments CSD87350Q5D, NexFET Power Block. These NexFETs integrate the high-side and low-side MOSFET into a single package and are rated 40A max with 25A output at 90% efficiency. These are high-quality power stages.
There are six IR3598 phase doubler/dual driver units on the backside of the motherboard. Two of these double two PWM phases to four for the iGPU, and four double four phases to eight for the CPU VCore. Using these doublers is the correct way to double phases, rather than the common yet less effective method of just doubling components. The memory VRM is controlled by a uPI uP1674P PWM that controls two Texas Instruments CSD87350Q5D NexFETs (same as the CPU VRM).
ASROCK Z170M OC Formula Circuit Analysis Continued
Z170M OC Formula Circuit Analysis Continued
ASRock is using the ALC1150 with two NE5532 amplifiers for the rear and front panel headphone outputs. ASRock is also using a physical PCB divide for the audio domain and nine Nichicon Gold series electrolytic capacitors to improve audio performance.
An ASMedia ASM1142 is used for the backpanel USB 3.1 type-A and type-C. An EtronTech EJ179V is used as the USB 3.1 type-C switch and power delivery controller.
ASRock is using the Intel i219v Gbit PHY to compliment the Gbit MAC integrated into the PCH. The extra two SATA6Gb/s ports are from the ASMedia ASM1061.
ASRock is using the IDT 6v41542NLG for the clock buffer for better BCLK overclocking. The main SuperIO on the motherboard is a nuvoTon NCT6791D, which is quite common and should be compatible with many software applications.
Four NXP L04083B PCI-E 3.0 quick switches move 8x of CPU PCI-E 3.0 bandwidth between the first two slots. There is one other switch located near the PCH region for switching SATA bandwidth. There are eight yellow LEDs on the backside of the PCB that illuminate the ASRock logo on the edge of the motherboard.
The BIOS
BIOS
One of the main selling points of the OC Formula series is Nick Shih's built-in overclocking profiles. The Z170M OC Formula has these preset built into the UEFI. The ASRock UEFI used here is quite similar to other ASRock Z170 motherboards.
It is easy to use, quick, and overall bug-free. There are a plethora of settings, more than you will probably ever use. ASRock has put a lot of work into its UEFI, and it has been pretty much unchanged for years. Fan control is also present and intuitive, and extensive manual controls are available for tweakers.
Test System Setup
Steven's Motherboard Test System Specifications
The Z170M OC Formula might be small, but it's quite powerful, and it looks good even in a larger case. The LEDs that light up ASRock's "BORN TO BE FAST" logo don't look too bad, and by default, they shut off after the motherboard finishes POST. You can choose to keep the LEDs on in the UEFI, or turn all the LEDs (POST Code included) off.
The new test bench is designed to test every aspect of the motherboard and IO. I have designed it so that the motherboard sits in a case and is cooled by fans always-on at a constant rate to keep the conditions similar during all tests. I have cut out part of the case behind the motherboard so I can get thermal images of the back of the PCB where the VRM heat spreads. System and CPU power measurements are now digitally logged.
I am also using a Netgear Nighthawk X4 AC2350 for our network (including wireless AC) tests. The latest M.2, SSD, and USB technologies are also being utilized to test the maximum potential of the motherboards that are tested.
Overclocking
Overclocking Results
CPU Overclocking
I have decided to reduce the CPU VCore to 1.4v applied (I will measure real VCore at the output capacitors), and see how high I can validate. On most boards it's 5.0.
I wasn't surprised when the Z170M OC Formula hit 5GHz; it's an overclocking motherboard, so 5GHz is to be expected.
Stability testing worked well, but it's obvious that the LLC is very aggressive as the VCore is slightly higher than what I chose in the UEFI and it almost throttled on a few cores.
Compatible Memory Overclocking Kits
Test 1: 2x8GB (16GB) Corsair Vengeance LPX 2666MHz C16
As expected, this 2666MHz kit worked well.
Test 2: 2x4GB (8GB) Corsair Dominator Platinum 3200MHz C16
The Dominator Platinum worked without a hitch.
Test 3: 2x4GB (8GB) G.Skill TridentZ 3733MHz C17
The TridentZ worked well, even at their high speed of 3.733GHz.
Test 4: 2x4GB (8GB) Corsair Vengeance 4000MHz C19
The Corsair Vengeance 4GHz kit is the fastest kit I have on hand, and most Z170 motherboards fail to boot with this kit at XMP. However, the Z170M OC Formula handled this kit like a champ; training was extremely minimal. I expect this kit to work well, as many memory vendors have told me their 4.33GHz kits and faster kits work flawlessly with this motherboard.
CPU, Memory, and System Benchmarks
CINEBENCH 11.5
wPrime
AIDA64 AES and HASH
AIDA64 FPU
AIDA64 Memory
PCMark8 Home Test
3DMark: Cloud Gate
3DMark: Fire Strike
ASROCK's Z170M OC Formula is a strong performer all around. At stock speeds, multi-core enhancement is engaged, producing much stronger results than some other motherboards at default settings. Once we equalize all the settings, we find that the motherboard is very competitive.
The motherboard also has a plethora of tuning options I did not touch, but if you want every drop of performance, you can tune them. Some motherboard reviews put a lot of weight into motherboard CPU, memory, and GPU benchmarks, but for me CPU, memory, and GPU benchmarks on motherboards should be more about finding anomalies, and I do that at standard settings (4.5G in graphs).
System IO Benchmarks
CrystalDiskMark SATA6G:
CrystalDiskMark M.2:
CrystalDiskMark USB 3.0:
ixChariot Network Throughput:
The Z170M OC Formula, like most ASRock Z170 motherboards, is very well tuned for storage and network performance.
Audio RMAA 5.5:
I disable all audio features, set the correct bitrates, and then test the audio with a loopback test.
Sound Judgment by Ear: Very high. While the scores aren't as good as some other motherboard we have seen, the audio output was still very good. There are five ratings for audio: 1. Problems, 2. Okay, 3. Acceptable, 4. Very good, 5. Excellent
Thermal Imaging and Power Consumption
System power usage is measured at the AC/DC PSU (the Corsair AX1200i) which I have connected to another system to measure the test system, and as a backup, I have a wall meter to verify. The CPU power is measured through the 8-pin connector, which is hooked up to a hall effect IC, which measures current and puts out a voltage in proportion to the current. That voltage is logged by a National Instruments ADC, which logs the DC voltage level that I then convert into current.
Note on Thermal Images: In the temperature section, we use our Seek thermal imaging camera to capture the surface temperatures of major components on the board. I look at the VRM and then all other things that light up the screen. If there is something to worry about, then I will state it. Otherwise, I will just show the hotter running parts of the board for fun. Unless some component is over 80-90C, then there isn't anything to worry about.
All systems will act differently, so I will look for commonalities, such as how far from the VRM the heat spreads through the PCB and the difference in temperature between the front side and backside of the PCB. Keep in mind, the majority of the heat from the VRM goes into the PCB as it is a giant soldered on copper heat sink. A larger difference in temperature between the back and front of the PCB points towards a more effective heat sink.
Thermal Testing at Stock Speeds:
The image on the left is always at idle, and the image on the right is at load. During ALL TESTS, fans above the VRM that cool the CPU cooler's (Corsair H110i GT) radiator are turned on to high (12v).
Full frontal.
Up-close of the front of the VRM.
Up-close of the back of the VRM.
Thermal Testing at 4.5GHz Overclocked Speeds:
The image on the left is always at idle, and the image on the right is at load. During ALL TESTS, fans above the VRM that cool the CPU cooler's (Corsair H110i GT) radiator are turned on to high (12v).
Full frontal.
Up-close of the front of the VRM.
Up-close of the back of the VRM.
The VRM on the Z170M OC Formula uses extremely high-quality components for the VRM. The quality is so high that the performance is almost overkill. There is a very minimal rise in temperature between idle and load conditions, and this is due to the high quality of components.
I did see that the heat was more widespread during load, but overall hotspots remained at roughly the same temperatures as when the system was idle. At idle only a few phases are active, and then at full speed, the load is distributed among all phases, which explains why at load the hottest spot might have been lower than at idle. Overall temperatures were under 40C, which is just excellent.
Anything under 60C is great, 60-80C is acceptable, and anything above 80C is a bit worrisome (if at stock).
What's Hot, What's Not & Final Thoughts
Here are key points about the ASROCK Z170M OC Formula.
What's Hot
Memory Overclocking is a Breeze: With its two DIMMs, the Z170M OC Formula blows away most other motherboards when it comes to ease of memory overclocking. Every kit I threw at it, including the Corsair 4000MHz Vengeance, booted the first time with only XMP. It is very rare that a motherboard handles memory so easily, and the Z170M OC Formula is perfect for high-speed memory excursions. We have also been told by more than one memory vendor, that this motherboard is pretty much a staple for reaching speeds over 4.33GHz when using XMP.
Top Shelf VRM: ASRock outfitted the Z170M OC Formula with excellent components. The inductors are rated 60A, the Texas Instruments NexFETs are rated 40A, and the mixture of output capacitors produces one very cool running, yet powerful, voltage regulator.
OC Features: Do you still prefer using buttons to control the multiplier, BCLK, and even VCore? Then the Z170M OC Formula has you covered. There are also switches that will perform other overclocking tasks such as enabling better LN2 performance or enabling quick down clocking of your multipliers for maximum stability in unstable environments.
Good Layout: Most Micro-ATX motherboards don't have spectacular layouts, but ASRock has done a decent job here with the Z170M OC Formula. Five fan headers are scattered in areas accessible even with a full sized GPU installed. PCI-E spacing is designed to support two full sized cards. If you use a single triple slotted card, you can still access the last PCI-E 16x slot for NVMe based storage.
What's Not
Pricey: The Z170M OC Formula is a bit on the expensive side when it comes to Z170 Micro-ATX motherboards.
Specific Use: The Z170M OC Formula's biggest benefit, it's memory overclocking, is also one of its pitfalls. Since the motherboard only has two DIMMs, expanding memory in the future could be an issue, but of course, the benefits will outweigh this downside for many users.
Final Thoughts
ASRock was able to design a motherboard with only two DIMMs, while all its competitors have four, made sure it overclocks very well, and got it into stores. The motherboard has many world records to its name to back up its overclocking genes, and many overclockers have used the board in competitions. Every generation we see a motherboard like the Z170M OC Formula, but rarely does it make it to market and stay in stock at stores. ASRock's marketing of the Z170M OC Formula as an overclocking motherboard, along with its gaming aesthetics and features make it easier to sell to a wider subset of the enthusiast population.
Many times, people ask me what the point of extreme overclocking design and features are, considering most people don't run their computer on LN2 all day long. The answer is simple, look to the automotive scene. You have cars that do 0-60 MPH in under three seconds, and you can find them on the street where most people will never be able to push them to their limits. The Z170M OC Formula is similar to those cars. It can push memory to those extreme limits, and even though you might not utilize the ability to hit 5GHz on your memory, you still have the capability if one day you choose to take it on the track. There is one major benefit to the memory design that is of use to normal users; its superior memory compatibility with 4GHz+ kits.
Most motherboards can pull off close to 4GHz without trouble, but going above 4GHz is where things get tough with XMP and even manual tuning, and it is where the Z170M OC Formula shines. In an era where most motherboards push the CPU and cache clocks to the same degree, memory is what sets overclocking motherboards apart, and the Z170M OC Formula does exceedingly well in that regard.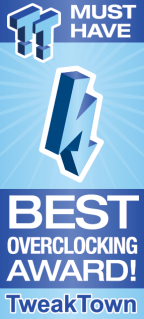 | | |
| --- | --- |
| Performance (including Overclocking) | 95% |
| Quality including Design and Build | 93% |
| General Features | 89% |
| Bundle and Packaging | 90% |
| Value for Money | 86% |
The Bottom Line: In an era where most high-end motherboards overclock the CPU to the same levels, memory is what sets overclocking motherboards apart, and the ASRock Z170M OC Formula is currently the champ.
PRICING: You can find products similar to this one for sale below.

United States: Find other tech and computer products like this over at Amazon.com

United Kingdom: Find other tech and computer products like this over at Amazon.co.uk

Australia: Find other tech and computer products like this over at Amazon.com.au

Canada: Find other tech and computer products like this over at Amazon.ca

Deutschland: Finde andere Technik- und Computerprodukte wie dieses auf Amazon.de