TweakTown's Rating: 92%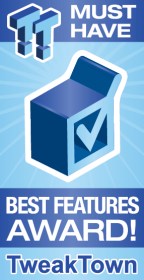 The Bottom Line
GIGABYTE's X170-Extreme ECC is loaded with features you wouldn't expect on a workstation motherboard, and it's the first C236 chipset motherboard with Thunderbolt 3.
Introduction, Specifications, and Pricing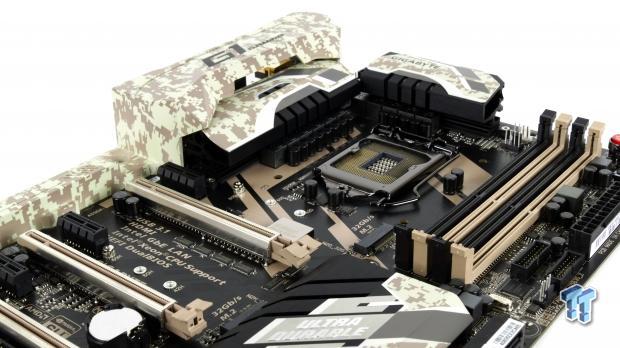 With the introduction of Skylake, Intel moved support for LGA1151 Xeon processors exclusively to C230 series chipsets. There are two major C230 series chipsets, the C232 and C236. The X170-Extreme ECC uses the Intel C236 chipset, which is not only more expensive than the Z170 chipset but also allows for two extra SATA6Gb/s ports directly routed to the PCH. The one thing that is missing from the C236 chipset is overclocking. Otherwise, its support for vPro, RST Enterprise, and ECC memory makes it a much better contender for a workstation or server than the Z170 chipset.
Compared to the C232 chipset, the C236 supports integrated graphics and can provide up to 20 HSIO ports compared to the C232's lowly eight. In recent years, many people have started using their custom PCs for mission critical work, and server/workstation features become useful even in the consumer arena. There are many options for support of E3-1200 v5 series Xeons, but GIGABYTE has taken things to a new level with the X170-Extreme ECC. Features you would have never thought you would find on a workstation motherboard, such as Core3Di audio, can be found on the X170-Extreme ECC. Let's take a look at GIGABYTE's workstation top dog.
Specifications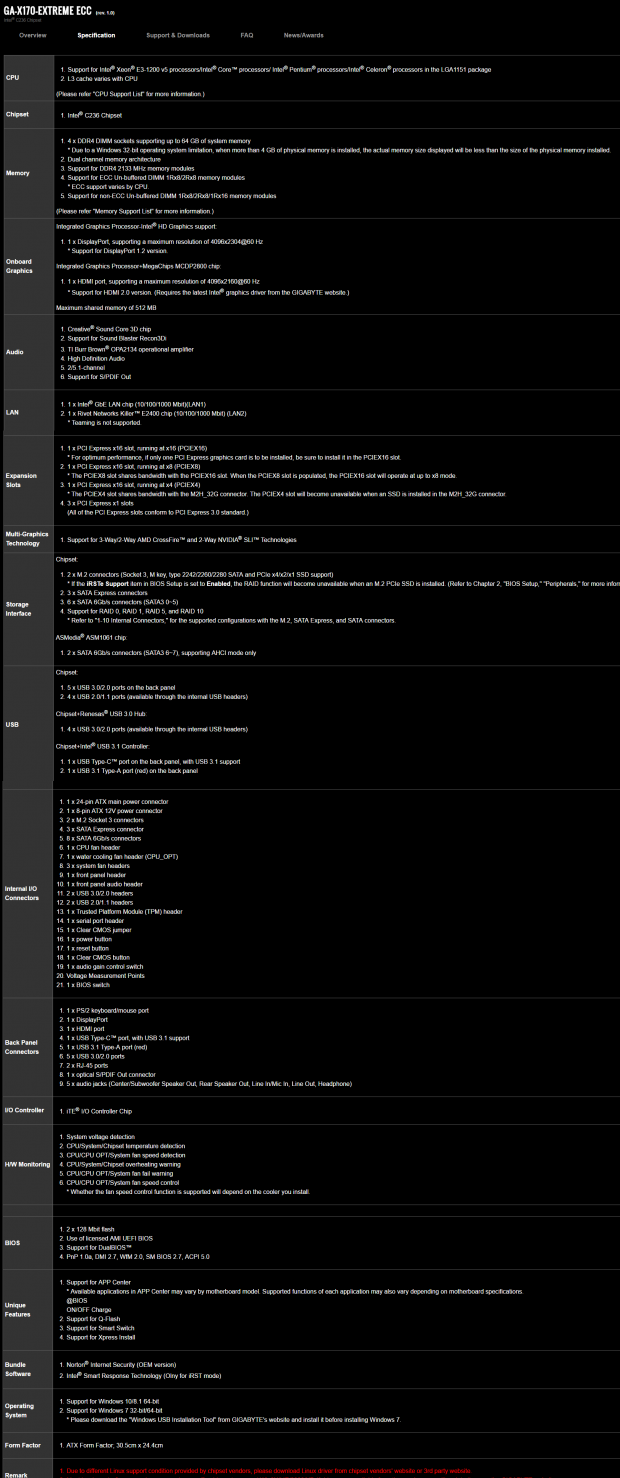 The GIGABYTE X170-Extreme ECC has the latest and greatest when it comes to features. It's the first C230 series motherboard to carry Thunderbolt 3, which means it also supports USB 3.1 type-A and type-C. The board also has two 32Gb/s M.2 slots, and yes, you can RAID them. The motherboard does have eight SATA6Gb/s ports and a slew of USB 3.0 ports. When it comes to audio, it has a configuration very similar to that of the Z170X-Gaming 7.
Pricing
The X170-Extreme ECC is available from many large retailers for roughly $309.
Packaging and X170-Extreme ECC Overview
Packaging and Overview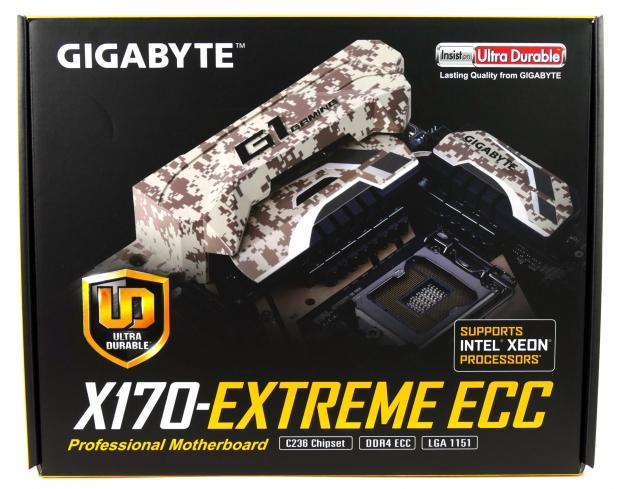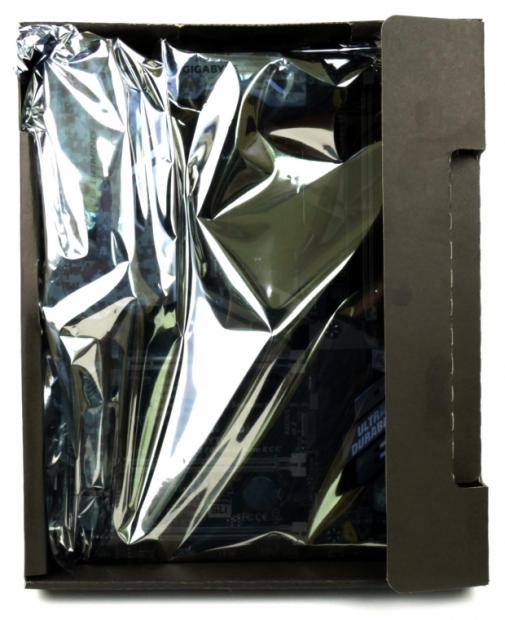 The X170-Extreme ECC's box is sleek and shows off its new camouflage look. There is no mention of Thunderbolt 3 on the box because GIGABYTE had not yet received Thunderbolt 3 certification at launch, but now that they have the board can now officially support it. Packaging is well done, but not the most fancy I have seen.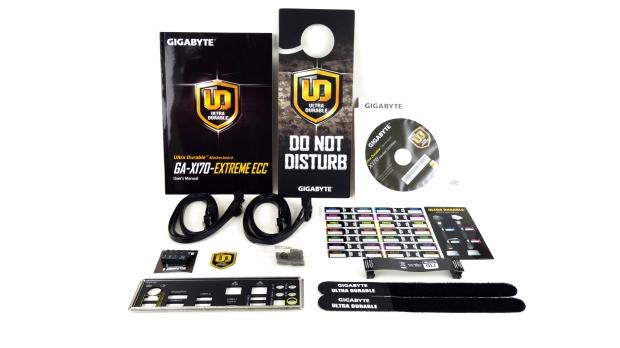 Accessories include 4x SATA6Gb/s cables, G-connector, IO shield, SLI cable, port covers, door hanger, cable ties, cable stickers, driver DVD, and manual.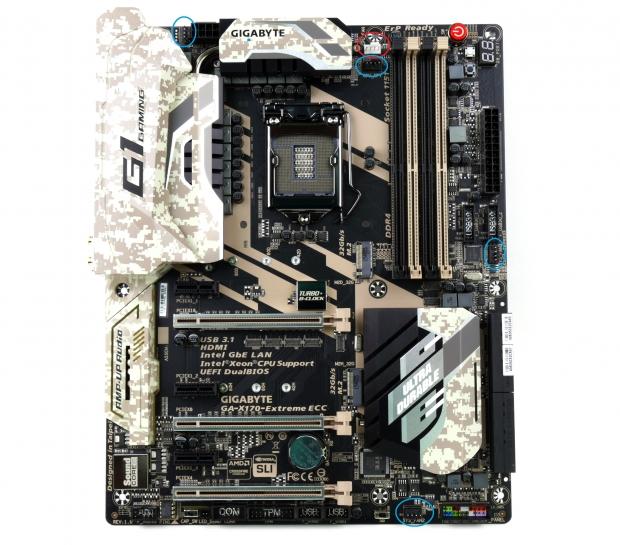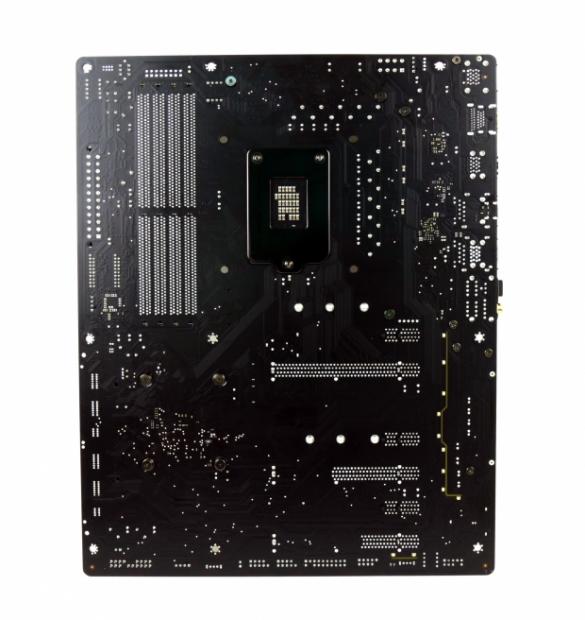 The GIGABYTE X170-Extreme ECC has five fan headers. The single CPU fan header circled in red is the CPU fan header and operates as a 4-pin PWM fan. The four other headers circled in blue are 4-pin voltage mode headers that are compatible with PWM and voltage mode fans. What is blatantly obvious is the new color scheme; even the silkscreen on the motherboard has been painted to match the camouflage color scheme on the shield and heat sinks. In my opinion, it looks somewhat cool; someone could make a nice military themed workstation build with this. The rear of the motherboard is clear of ICs except for some RGB LEDs that illuminate the audio PCB divide.

The IO panel on the X170-Extreme ECC carries five USB 3.0 ports (two yellow are DAC-UP), PS/2 keyboard/mouse, HDMI 2.0, DisplayPort, USB 3.1 type-A, USB 3.1 type-C, two 1Gbit NIC ports, and S/PDIF with gold plated ports for audio output.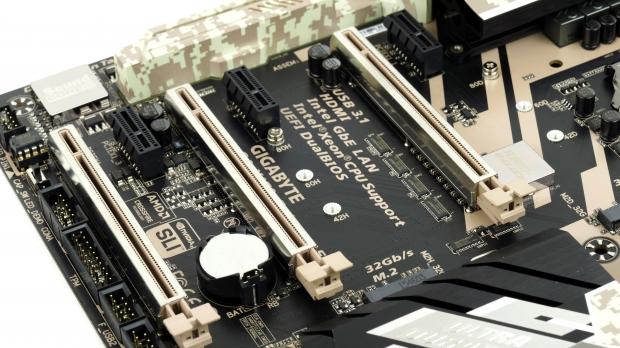 The PCI-E layout is pretty straightforward. The first and second full sized PCI-E 16x slots are hard wired to the CPU and 8x of bandwidth will switch from the top slot to the middle slot if a GPU is installed. The bottommost 16x slot is wired to the PCH and shares bandwidth with the bottommost M.2 slot. The PCI-E slots have metal shielding that is designed to support the weight of a heavy GPU.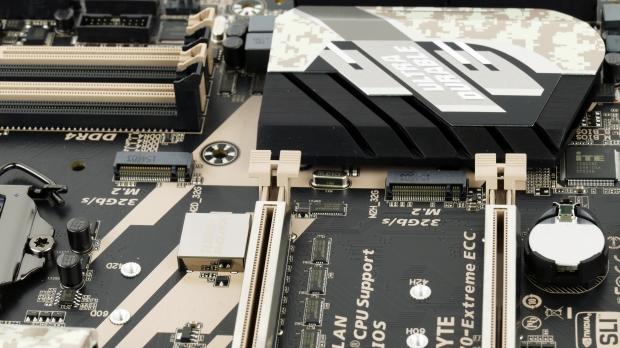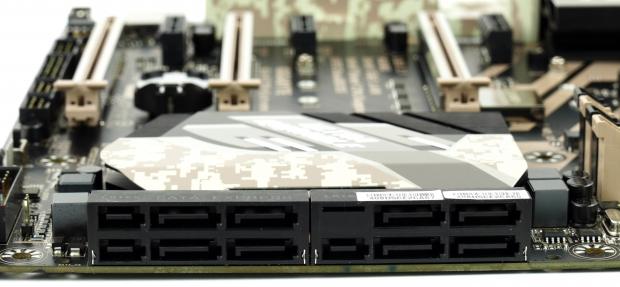 The X170-Extreme ECC has two M.2 slots, and they can be used in RAID at 32Gb/s of bandwidth each. There are also eight SATA6Gb/s ports, six of which are routed to the PCH. If you decide to RAID the M.2 slots then you will lose a total of three SATA ports, the exact ports are mentioned in the manual.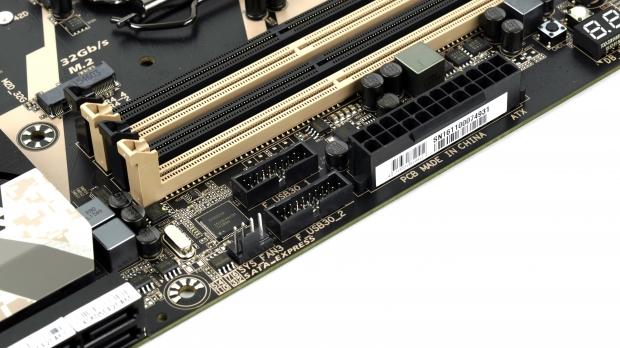 There are two USB 3.0 internal headers located right below the 24-pin power connector. There are also a healthy amount of overclocking features, including power, reset, and clear CMOS buttons along with a POST Code display. Voltage read points are also present, which is a great thing since they are useful for reading the real voltage of the CPU.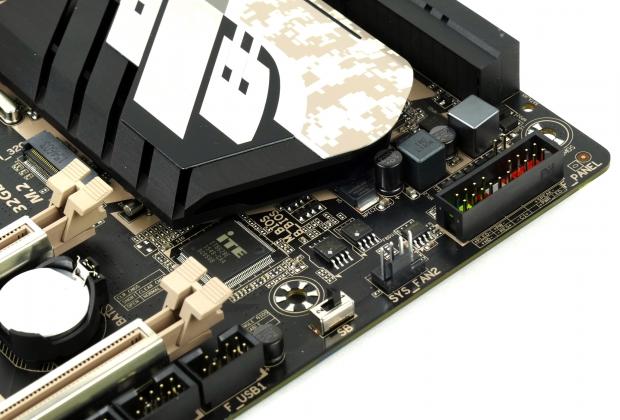 There is a single BIOS mode switch used to disable the Dual BIOS link for debugging and quicker recovery during overclocking (especially BLCK overclocking, like with non-K SKUs, even though that isn't officially supported).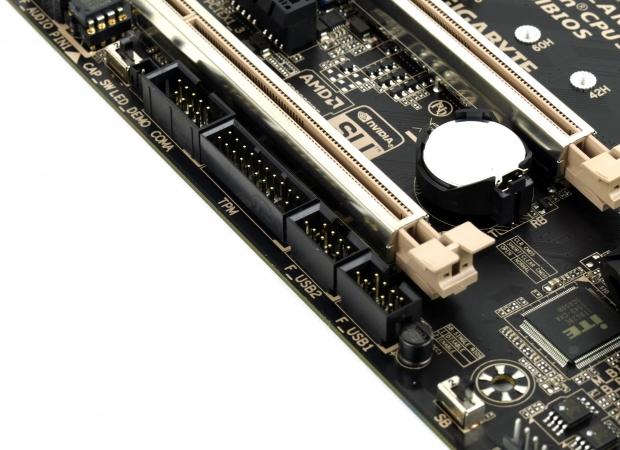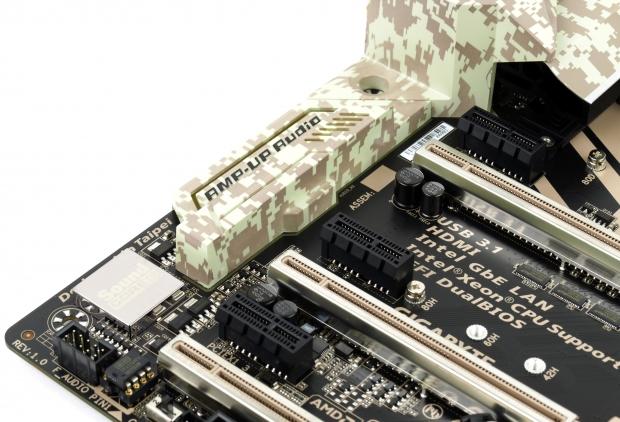 The motherboard also has two USB 2.0 ports, a trusted platform module port, and a COM port. GIGABYTE has kicked the audio section up a notch. I looked at the Z170X-Gaming G1 many months ago, and its audio was top notch.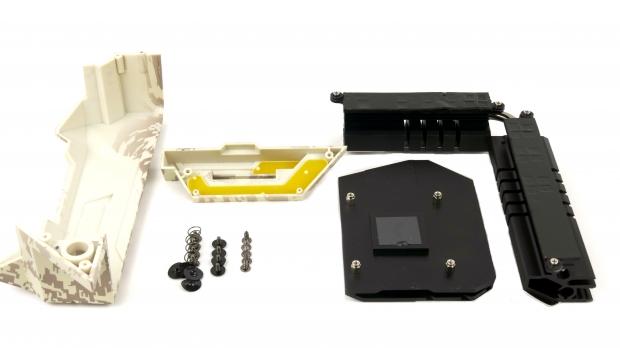 The heat sinks and shield are all screwed into the motherboard, and we can see that the audio shield has LED diffusers.
GIGABYTE X170-Extreme ECC Circuit Analysis
Circuit Analysis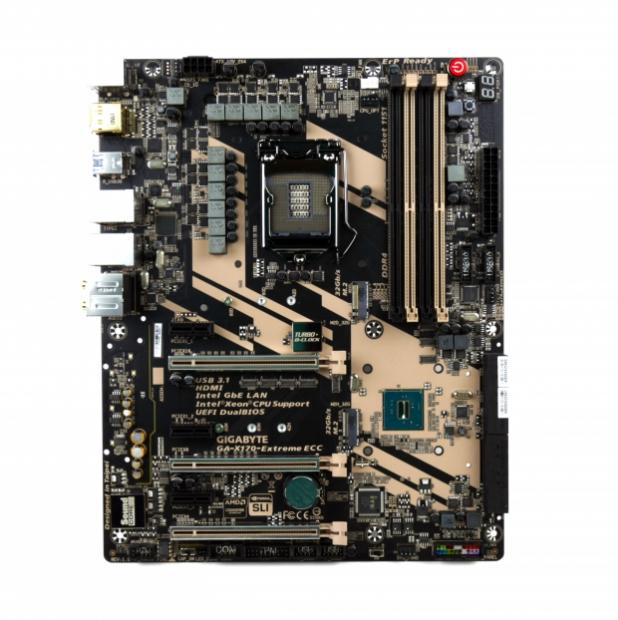 This motherboard looks really good without the heat sinks; the silkscreen is really nice.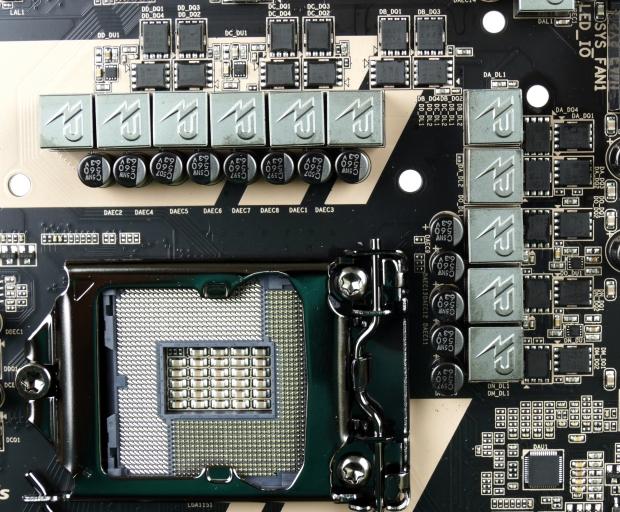 X170-Extreme ECC has an 8+3 phase VRM for the CPU core and iGPU. In this case, each PWM phase is controlling two switching nodes (high-side FET, low-side FET(s), and inductor). It results in more switching components, but also the ability to handle much higher power requirements and run cooler at higher loads.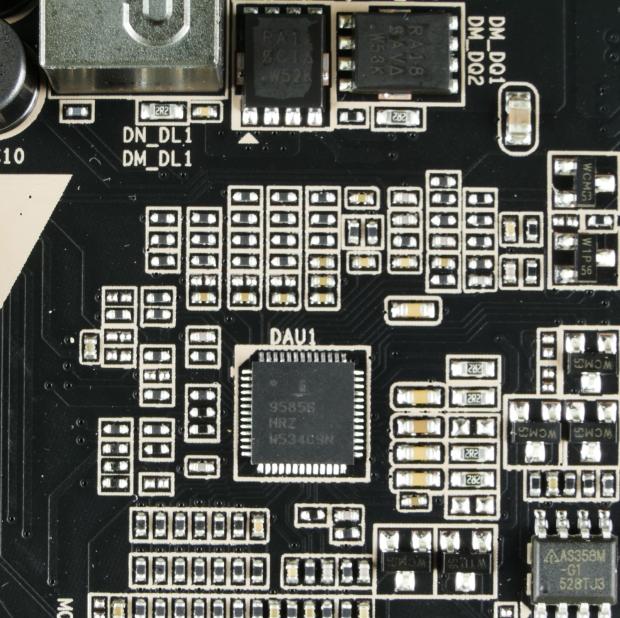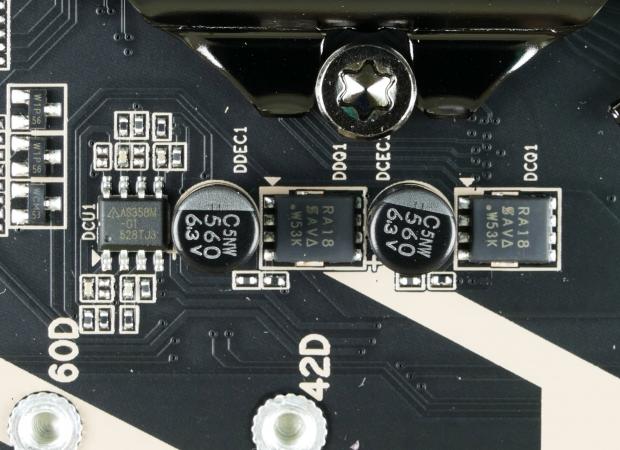 The VRM is controlled by an Intersil ISL95856 Hybrid Digital PWM with multiple outputs and integrated drivers. The CPU VR utilizes four phases from the PWM, two of which have driver outputs from the PWM and two ISL6625A ("5AZ") drivers are used to supplement the phase count to four. The iGPU phases get one integrated driver and two ISL6625A. Vishay SiRA12 are used for the low-side and Vishay SiRA18 are used for the high side. Each phase for the CPU and iGPU gets one of each. GIGABYTE is using custom inductors with the Power logo on it, and their custom 10K polymer capacitors for the output filter. The VCCSA and VCCIO come from a linear regulator like on many other GIGABYTE Z170 motherboards.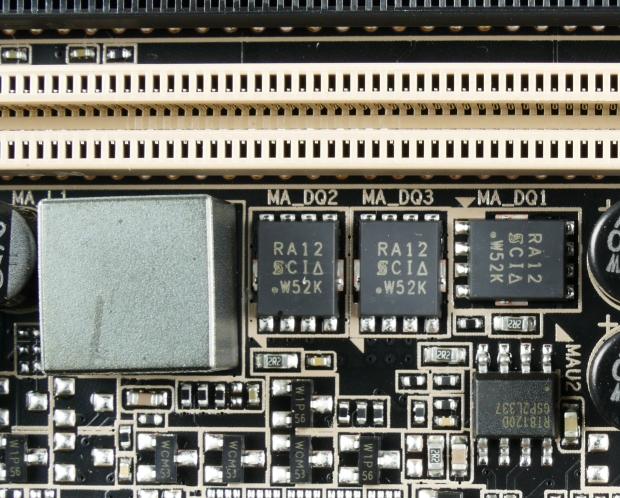 The memory VRM is a single phase controlled by a Richtek single phase PWM with drivers. There are two low-side MOSFETs and a single high-side for this single phase memory VRM, and they do the job just fine.
GIGABYTE X170-Extreme ECC Circuit Analysis Continued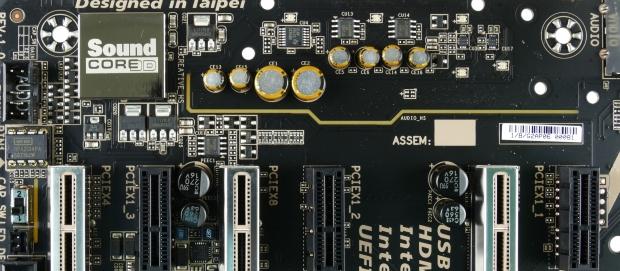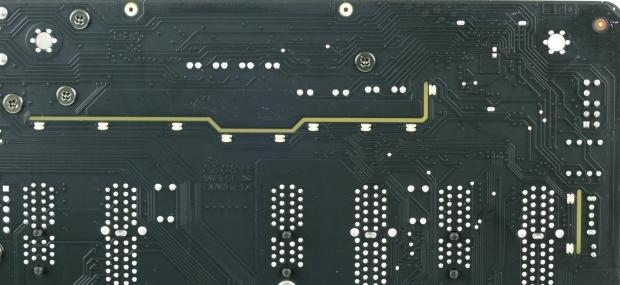 The Core3Di audio chipset (CA0132) sits under the metal shield and is a quad-core audio processor from Creative. A Texas Instruments DRV632 is used as the line-driver for the backpanel output, and an OPA2134 amplifier is used for the front panel and sits in a replaceable socket. A TPS65130 provides +/- 15v for the full range of OAMP support, it is located between PCIE1X_3 and PCIEX8. There are also different sizes of Nichicon Gold Series electrolytic audio capacitors and a PCB divide is illuminated by 11 backside RGB LEDs and 5x topside RGB LEDs.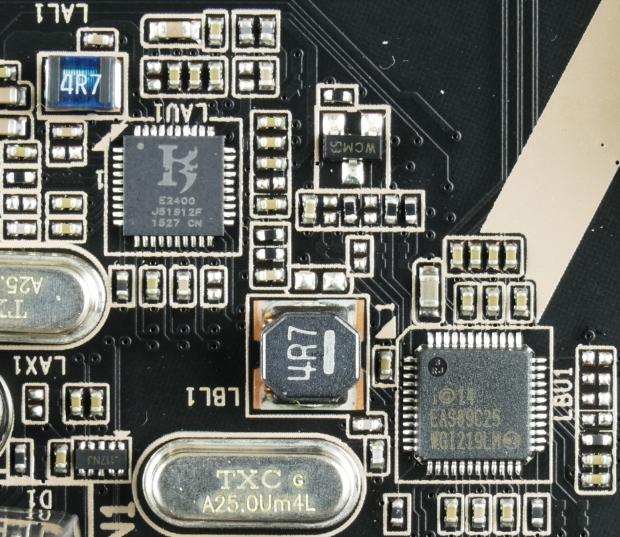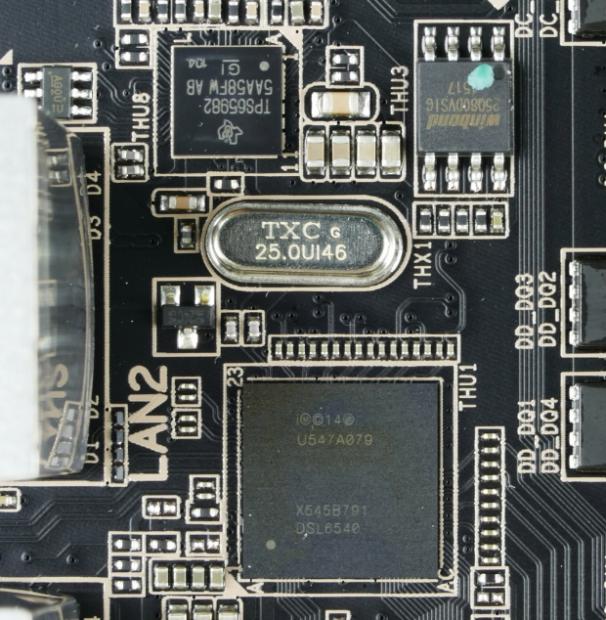 The board carries two Gbit NICs, a Killer e2400 and Intel i219LM (workstation class NIC), offering choice, but I would assume many users would have preferred both Intel on a workstation class motherboard. The motherboard also carries Intel's Alpine Ridge controller, the DSL6540, which provides USB 3.1 or Thunderbolt 3 depending on the design. A TPS65982 is used to provide USB power delivery and type-C switching.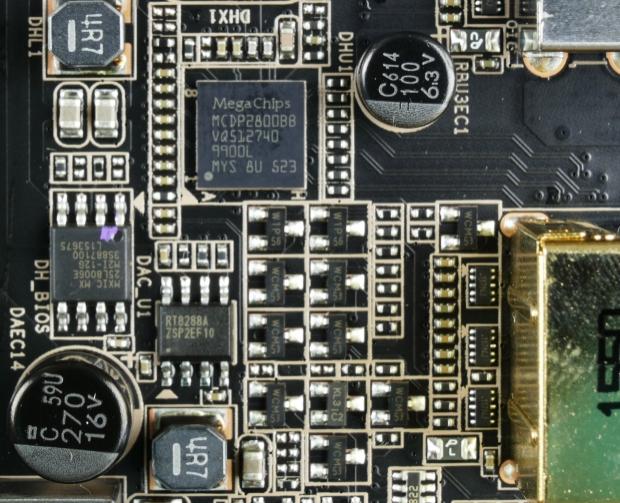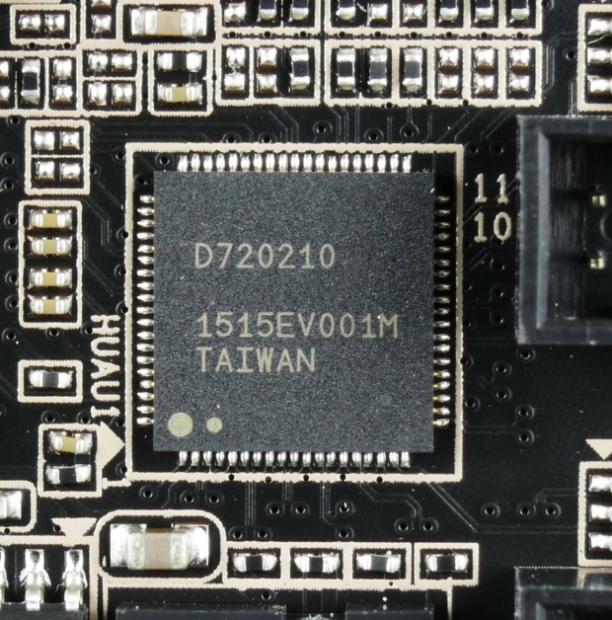 For HDMI 2.0 a MegaChips MCDP2800 is used. We can also see a glimpse of the DAC-UP circuitry powered by a Richtek RT8288A. An NEC D720210 is used as a USB 3.0 hub for the front panel USB 3.0 headers.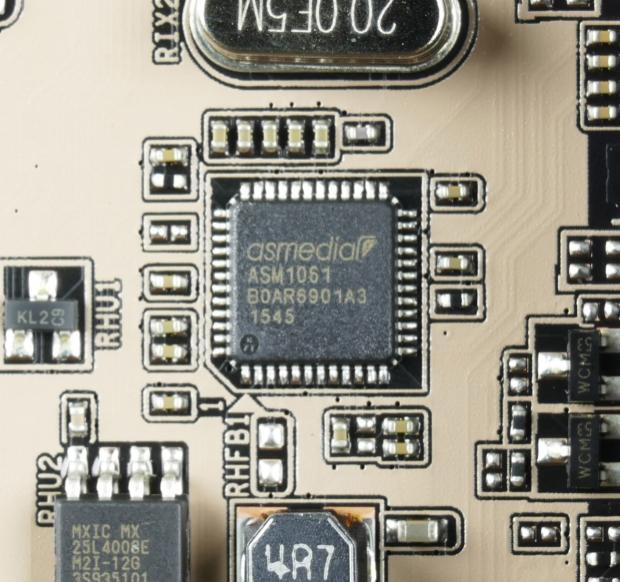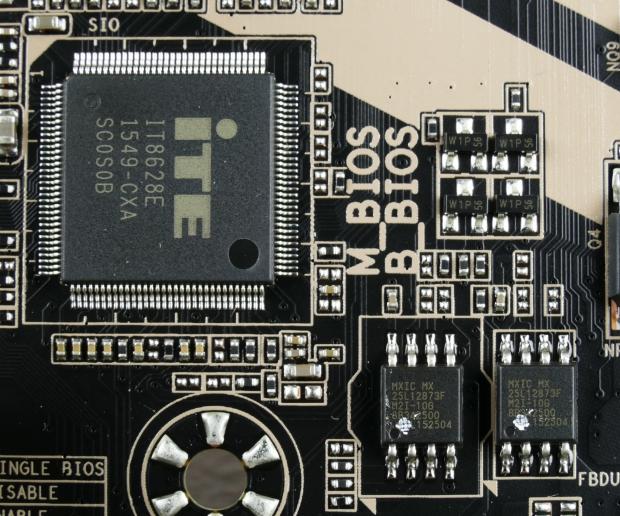 An ASMedia ASM1061 is used to provide two SATA6Gb/s ports. The SuperIO is the IT8628E, and the motherboard uses two 128Mbit BIOS ROMs for redundancy.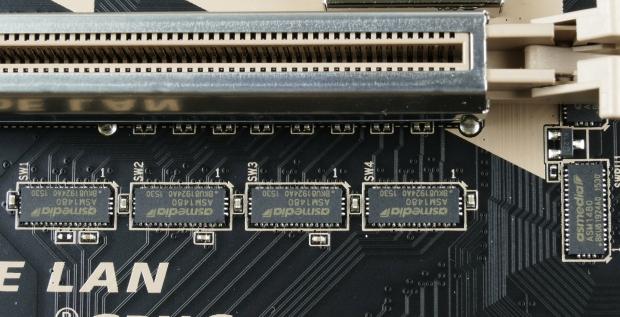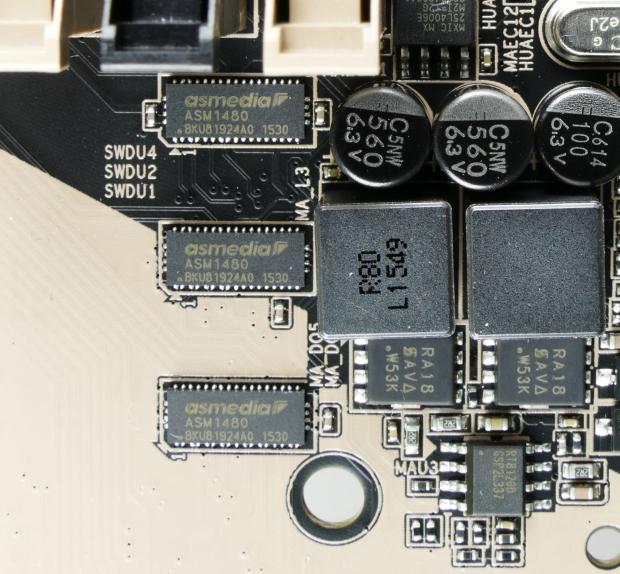 There are four ASMedia 1480 PCI-E 3.0 quick switches that are used to switch 8x of bandwidth from the CPU between the first and second 16x slots. Two other ASM1480s switch 4x between the bottom M.2 slot and the third PCI-E 16x slot. Three other PCI-E quick switches move SATA bandwidth to provide RAID capability for the M.2 slots.
BIOS and Software
BIOS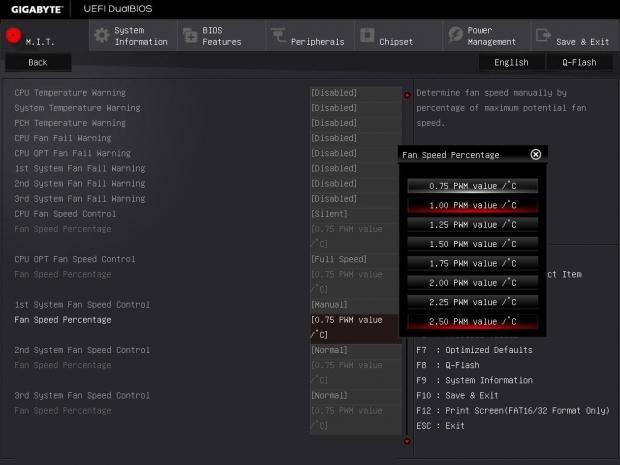 The X170-Extreme ECC's BIOS is very similar, if not identical, to that of other GIGABYTE motherboards. It carries the same fan controls shown in the image above. The only thing missing are overclocking settings, but you can change the basics up to maximum turbo ratio. There is a lot of control provided over boot options and even Thunderbolt 3.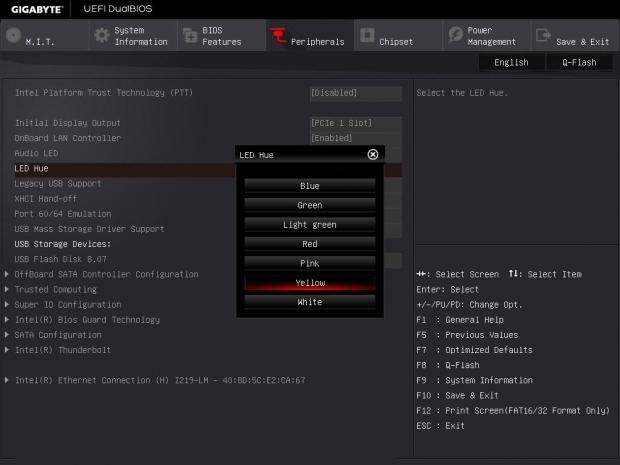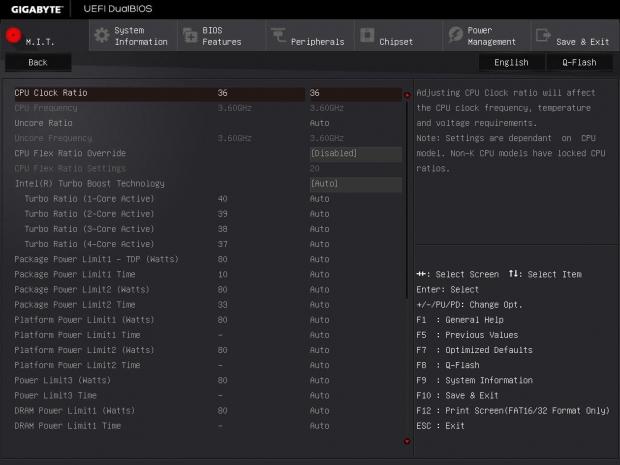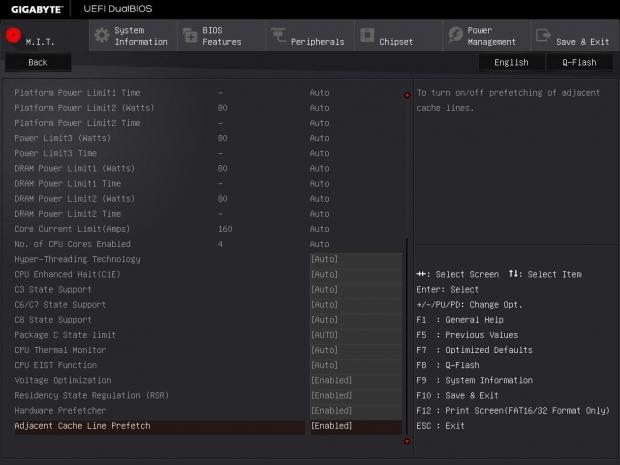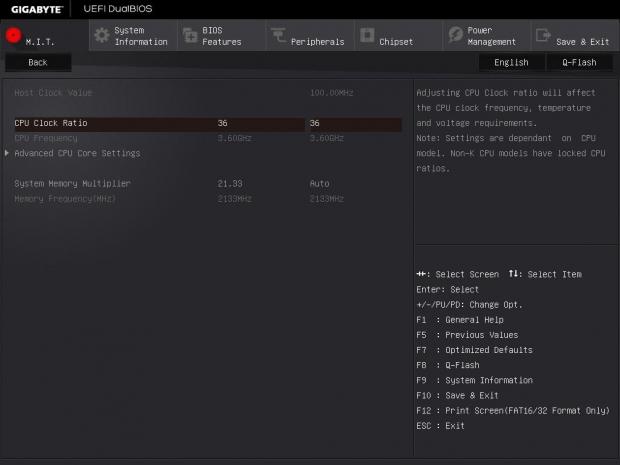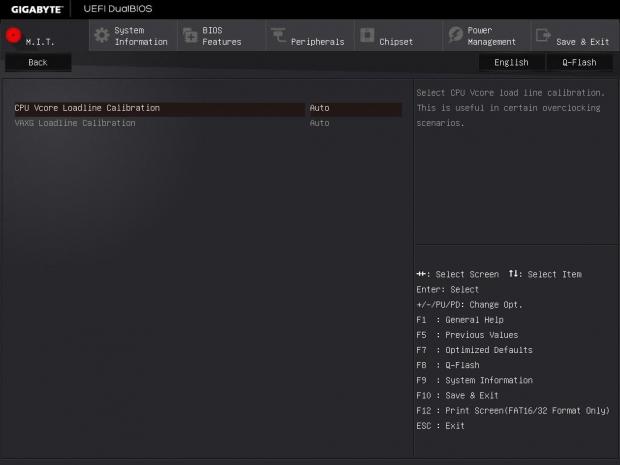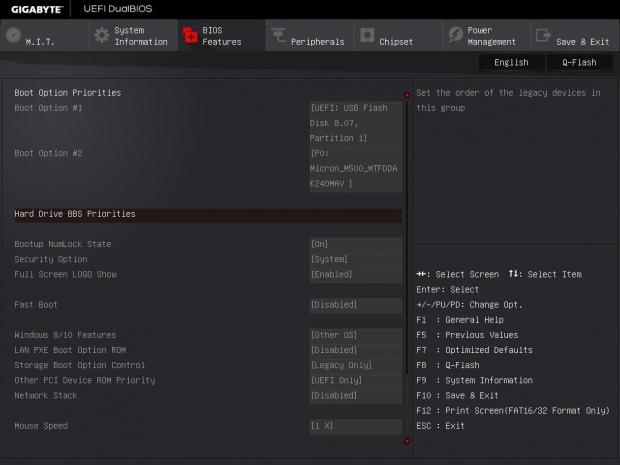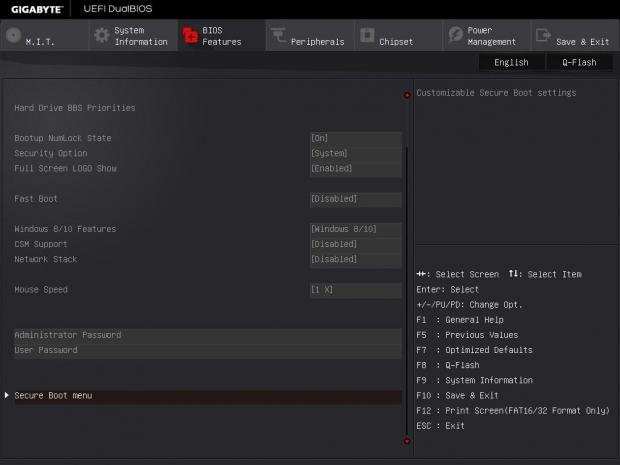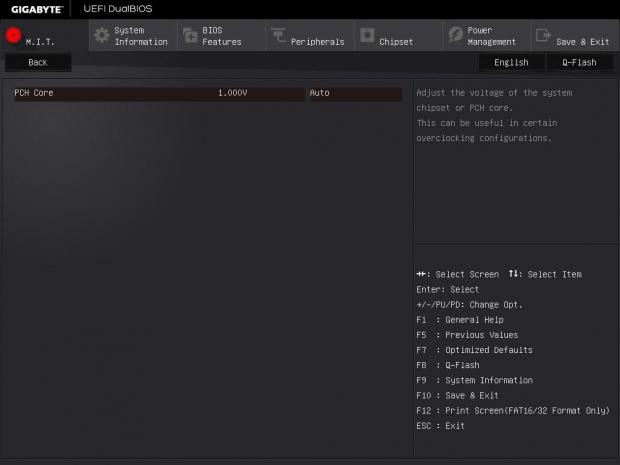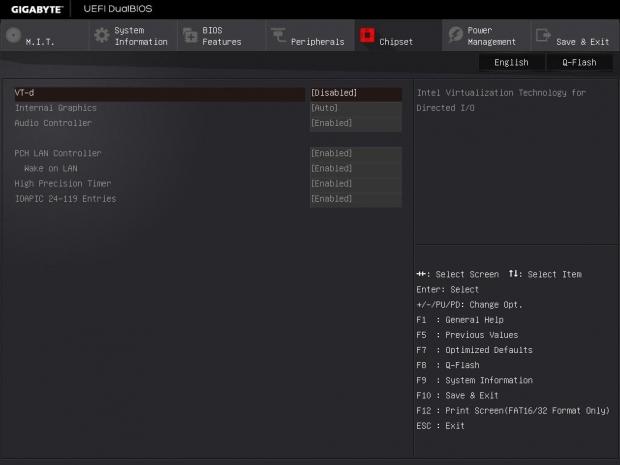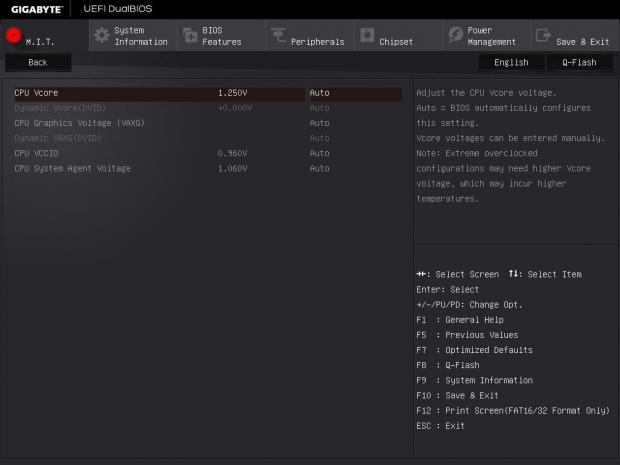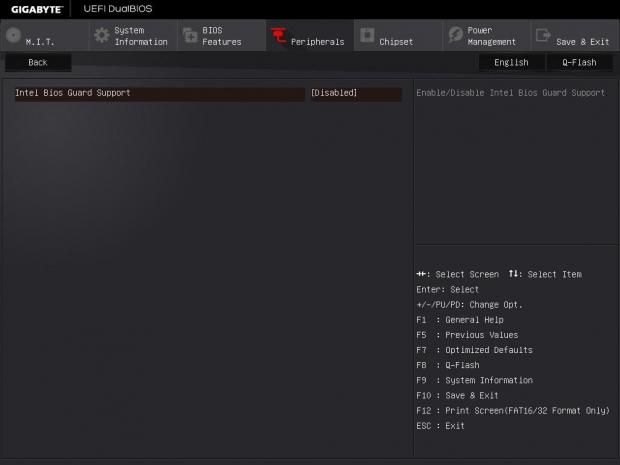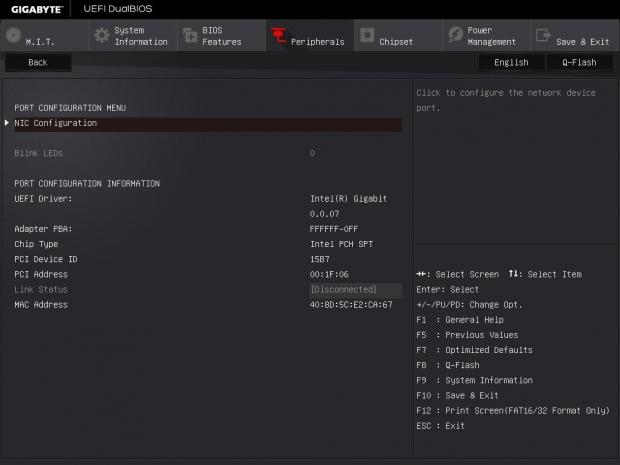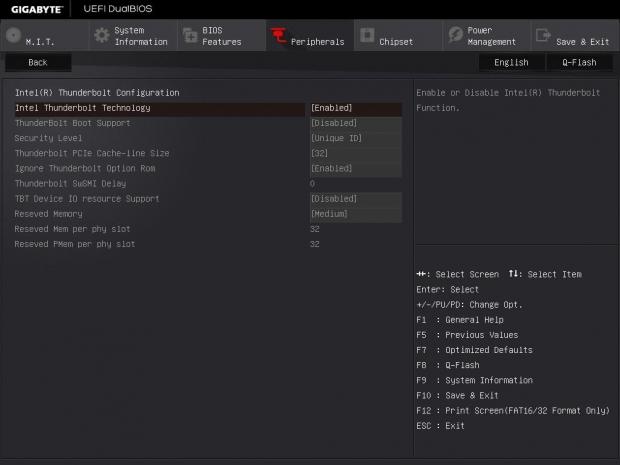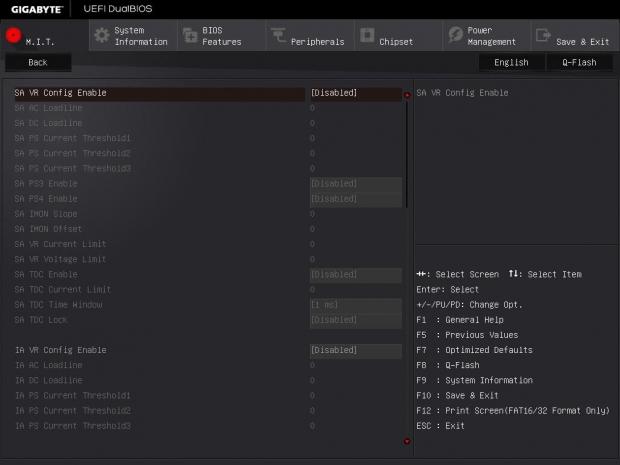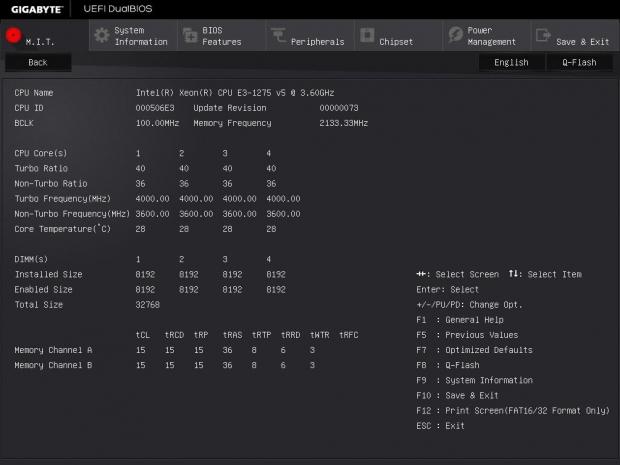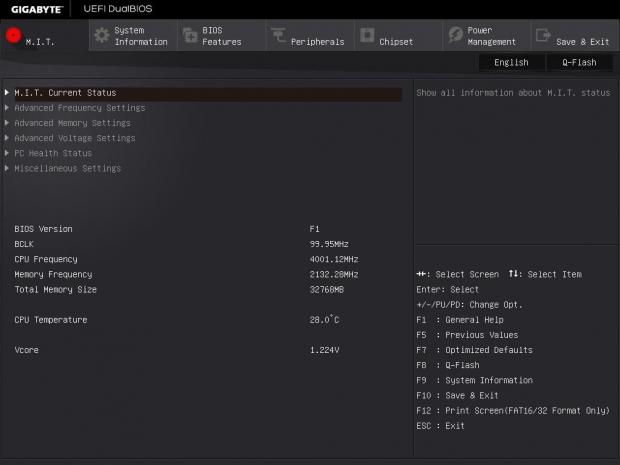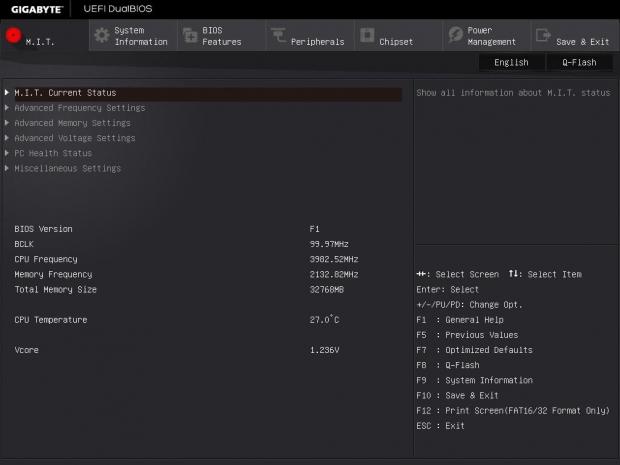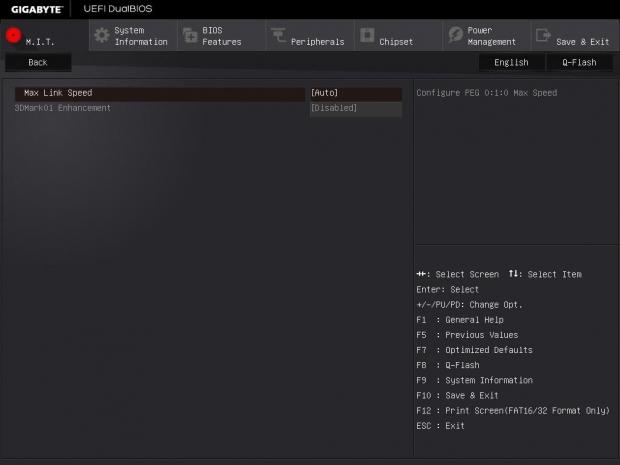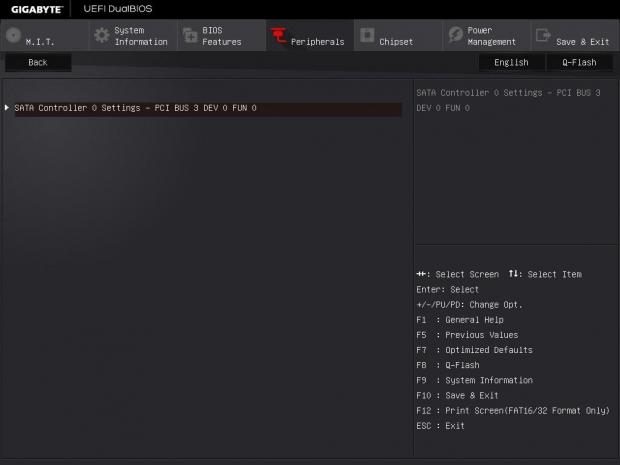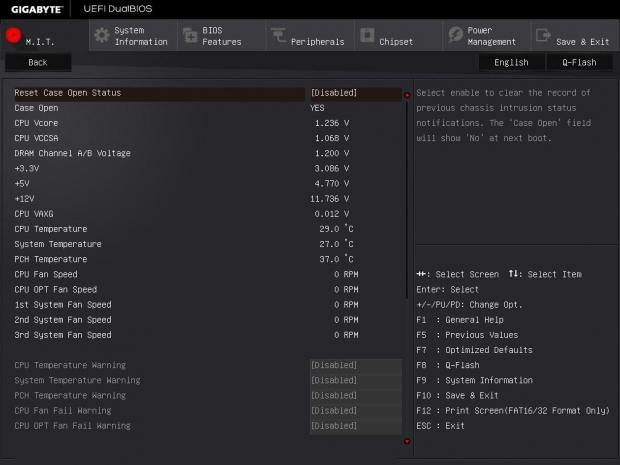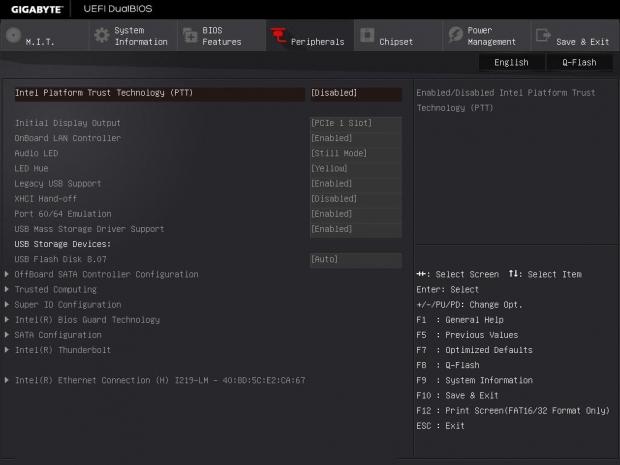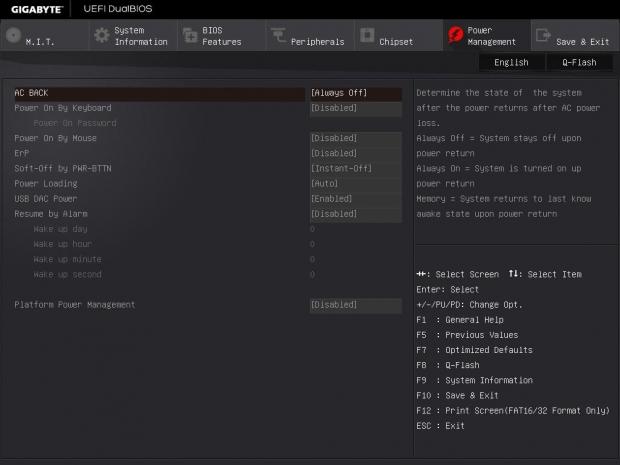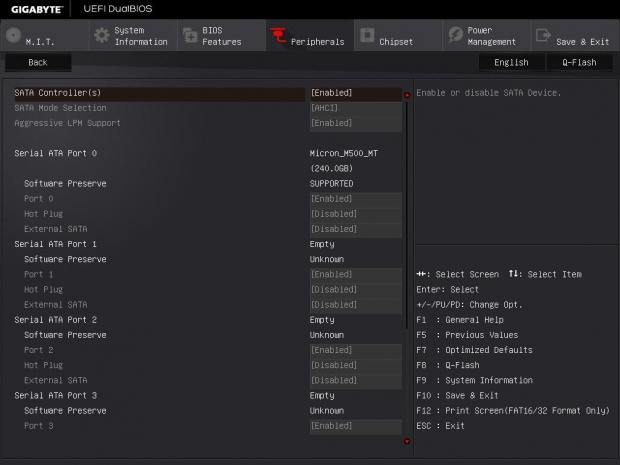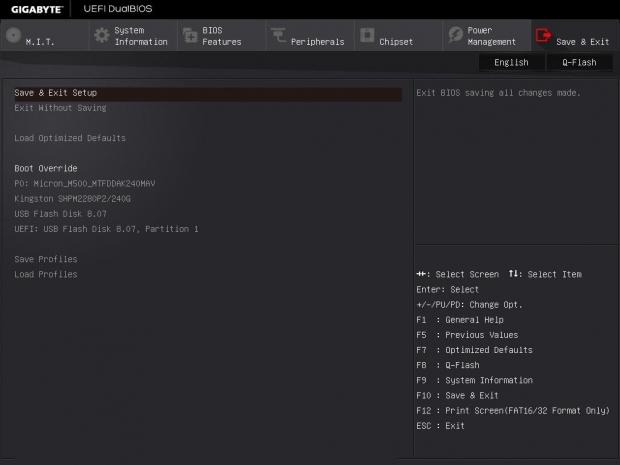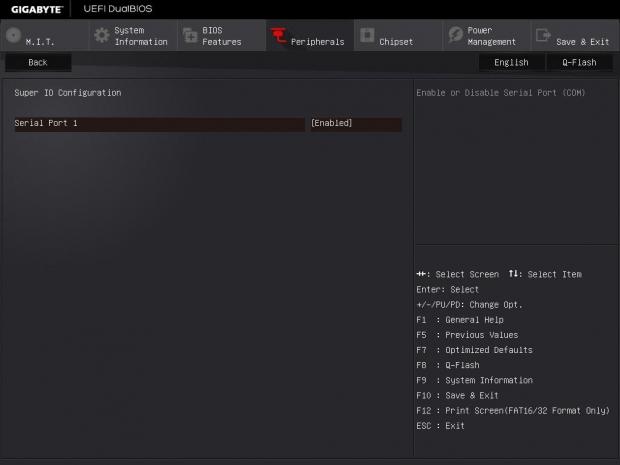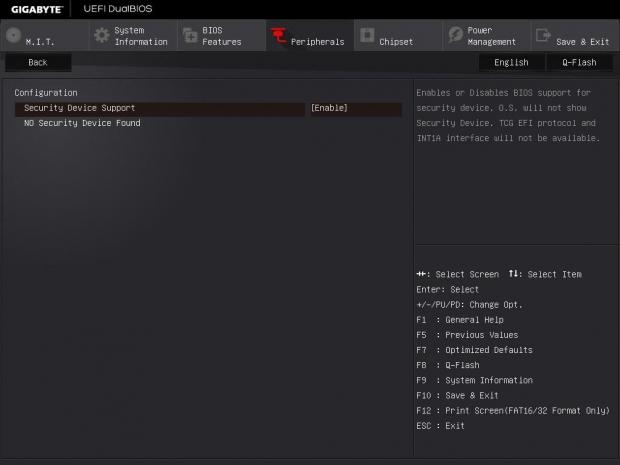 Software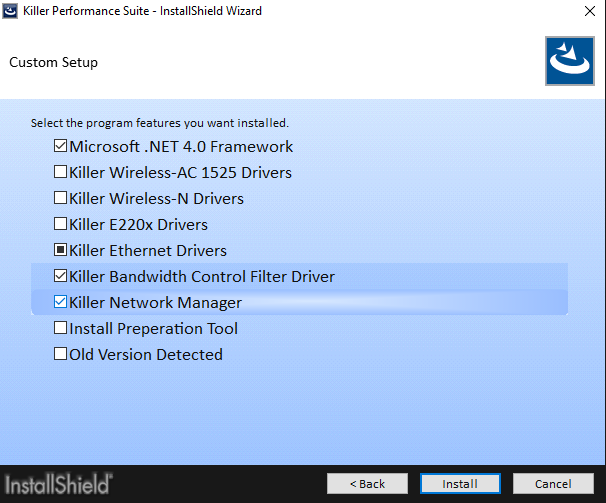 The motherboard has both and Intel NIC and a Killer NIC. The installation procedures for the Killer NIC allow you to install only the driver instead of the entire software suite some users don't enjoy. For audio, the Core3Di software suite is included.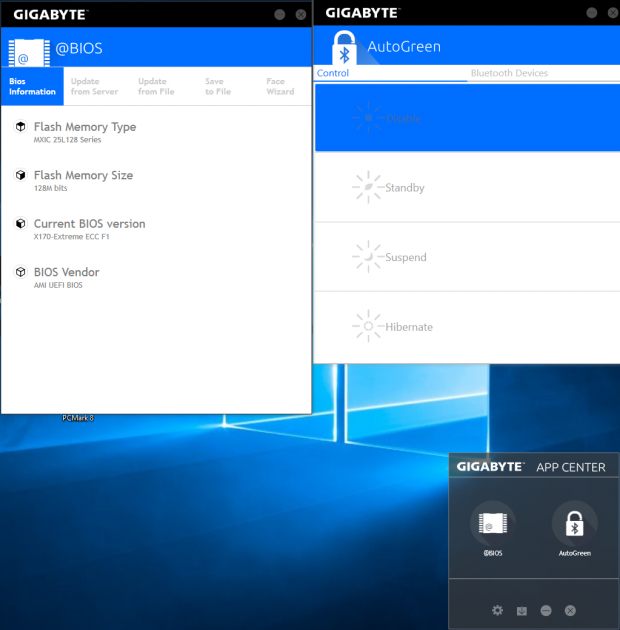 GIGABYTE provides many software titles including @BIOS, Auto Green, and APP Center.
Test System Setup and ECC Memory
Steven's Motherboard Test System Specifications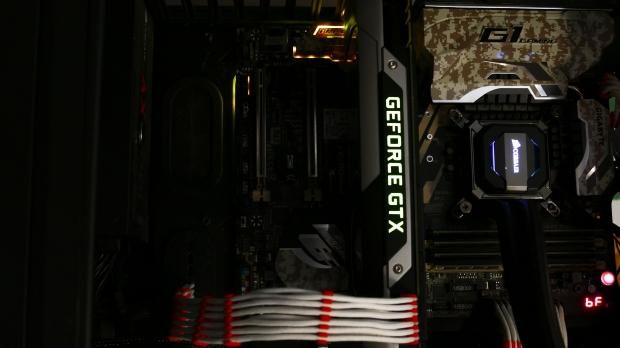 The X170-Extreme ECC looks very sleek, and the RGBs are yellow by default and it creates a very nice gold effect.
The new test bench is designed to test every aspect of the motherboard and IO. I have designed it so that the motherboard sits in a case and is cooled by fans always-on at a constant rate to keep the conditions similar during all tests. I have cut out part of the case behind the motherboard so I can get thermal images of the back of the PCB where the VRM heat spreads. System and CPU power measurements are now digitally logged.
I am also using a Netgear Nighthawk X4 AC2350 for our network (including wireless AC) tests. The latest M.2, SSD, and USB technologies are also being utilized to test the maximum potential of the motherboards that are tested.
ECC Memory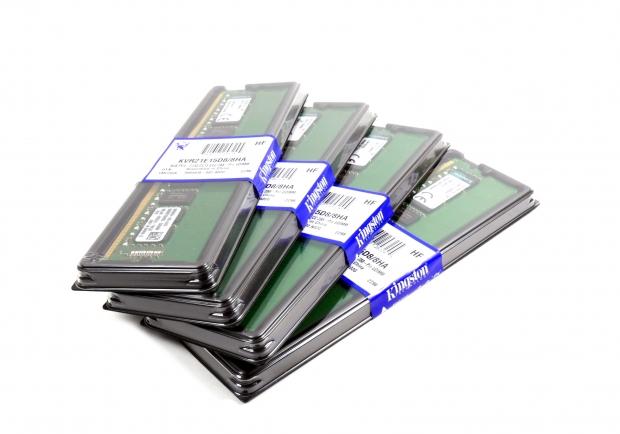 I decided to use ECC memory modules with the X170-Extreme ECC, and in this case, Kingston provided 32GB made up of four KVR21E15D8/8HA modules.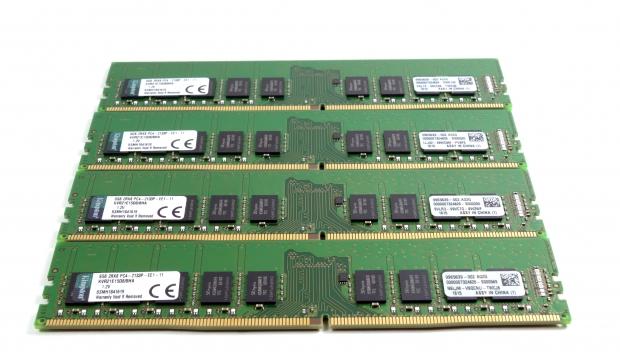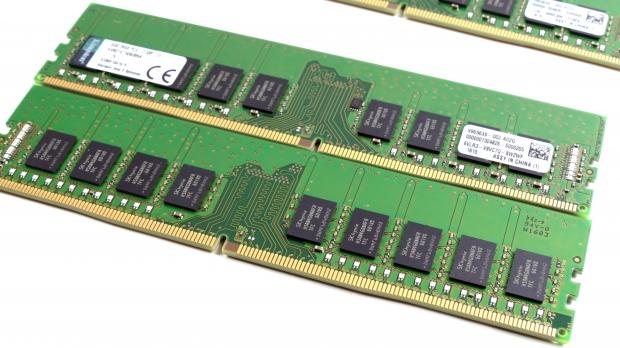 ECC memory is designed to help the system avoid errors in memory. These errors are almost unpreventable; background ration causes random bit flips within memory. At the extreme side of things, there can be five single bit errors in 8GB of RAM per hour. ECC memory uses extra memory to provide extra bits for an error-correcting mode that is executed by the chipset. For ECC memory to work you must use a processor compatible with ECC, in this case, we are using an Intel Xeon E3-1275 v3.
CPU, Memory, and System Benchmarks
CINEBENCH 11.5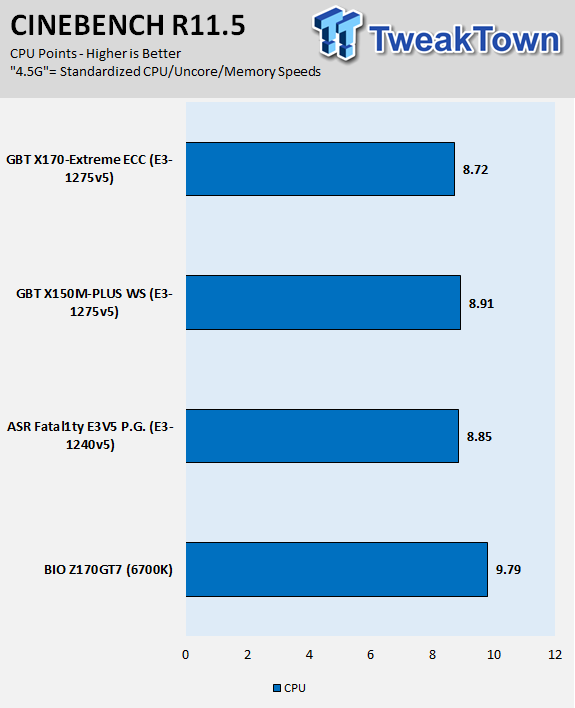 wPrime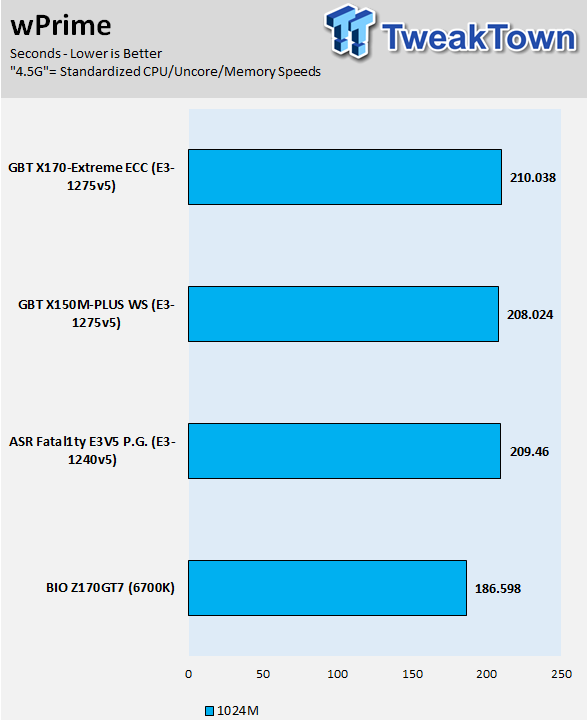 AIDA64 AES and HASH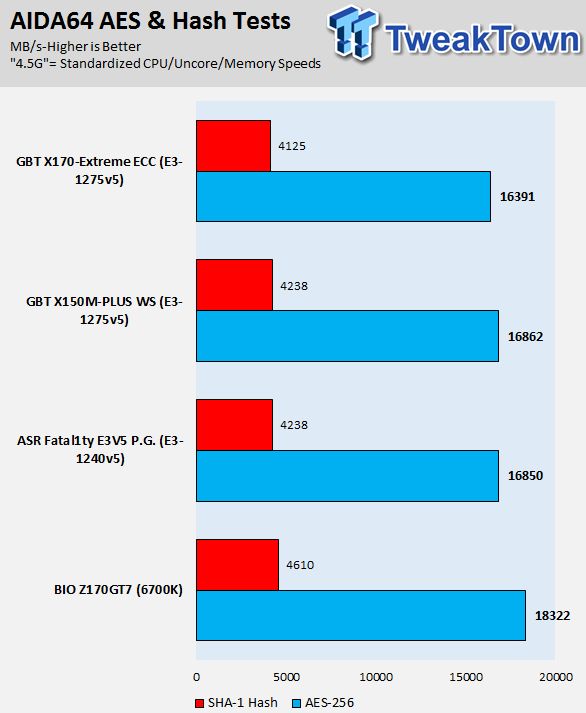 AIDA64 FPU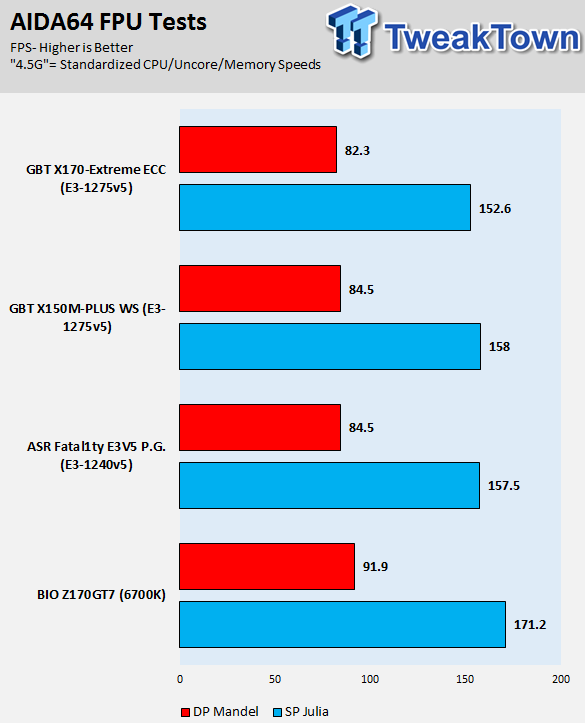 AIDA64 Memory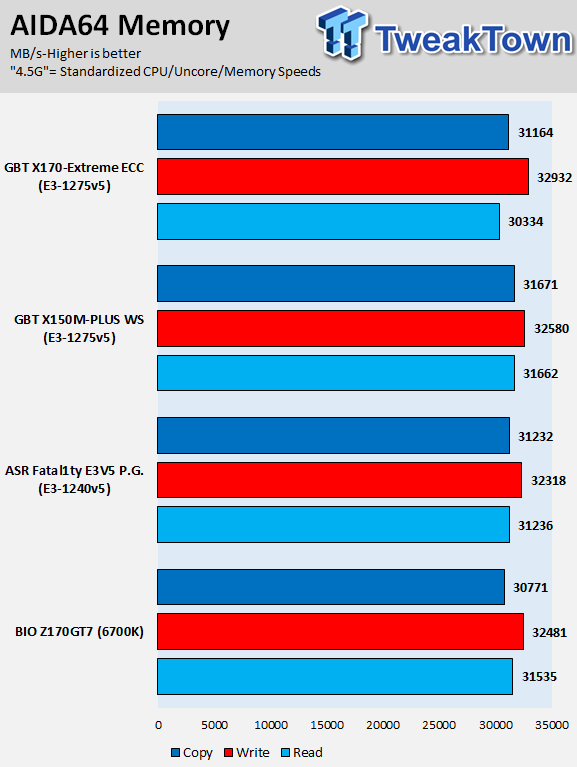 PCMark8 Home Test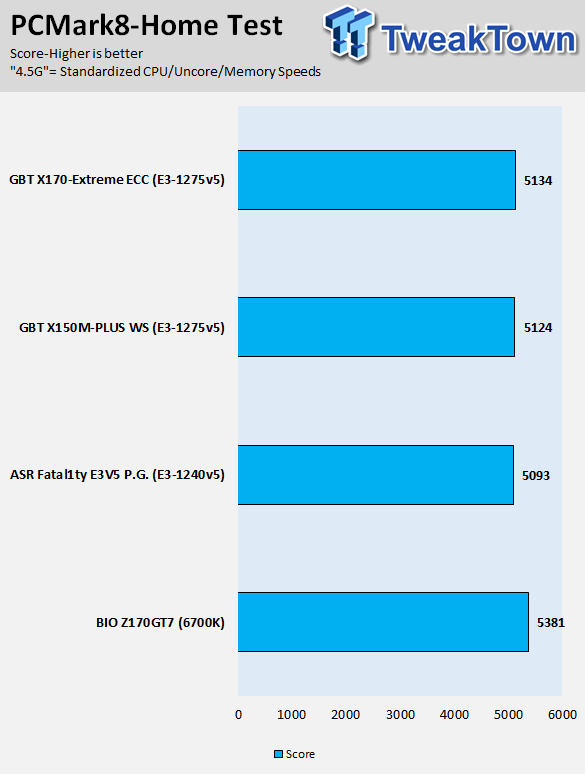 3DMark: Cloud Gate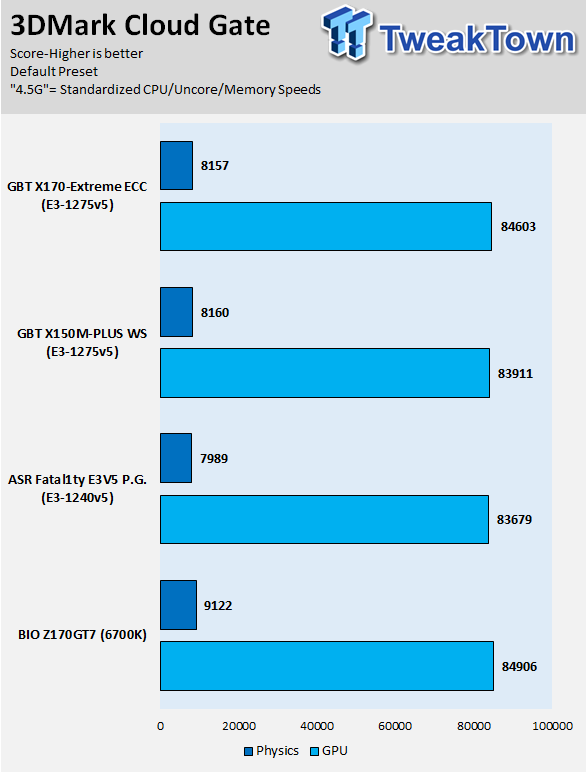 3DMark: Fire Strike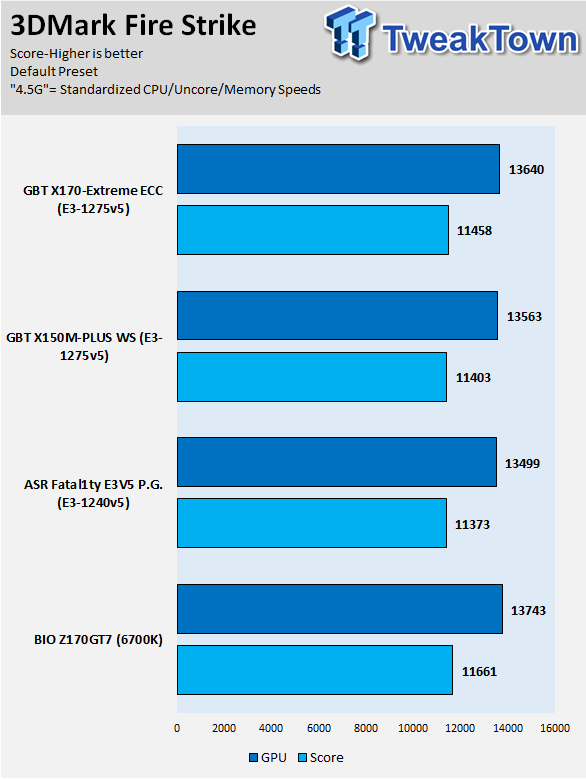 GIGABYTE's X170-Extreme ECC is a solid performer. I found no performance pitfalls or any issues with any major subsystems. ECC memory doesn't seem to have taken a huge toll on performance either. Overall performance is where it should be; the motherboard doesn't show any performance defects.
System IO Benchmarks
CrystalDiskMark SATA6G: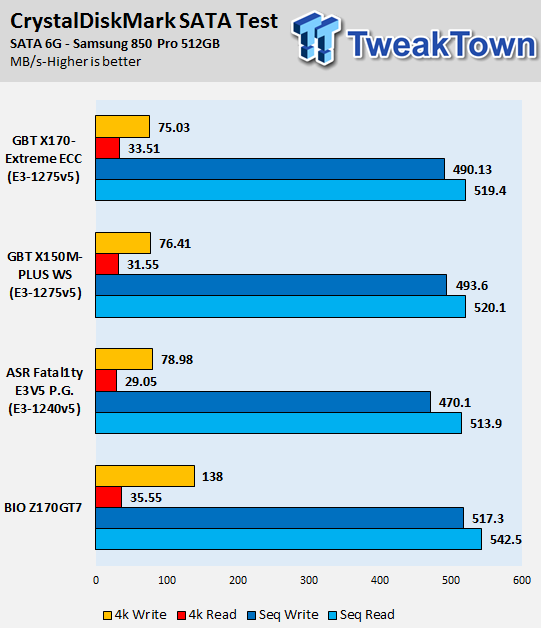 CrystalDiskMark SATA6G: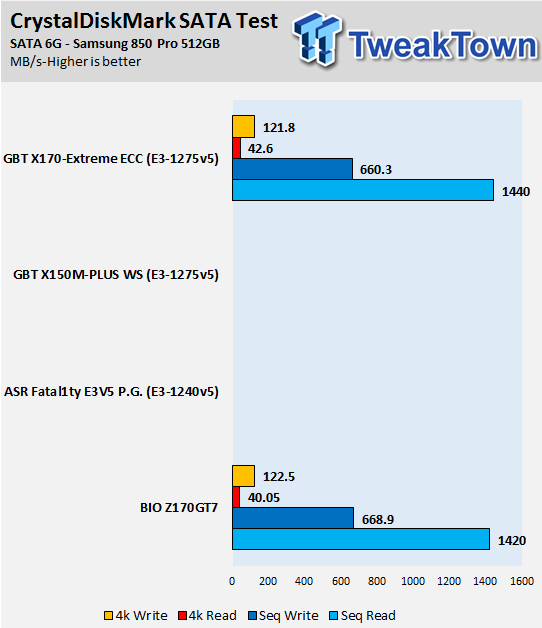 CrystalDiskMark USB 3.0: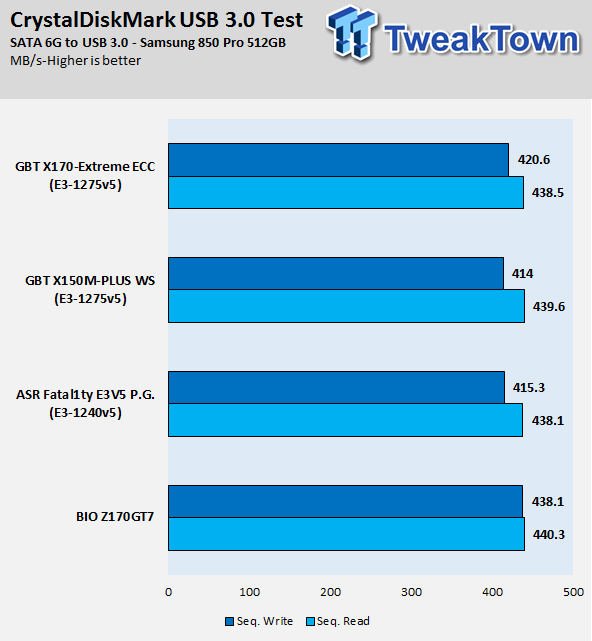 ixChariot Network Throughput: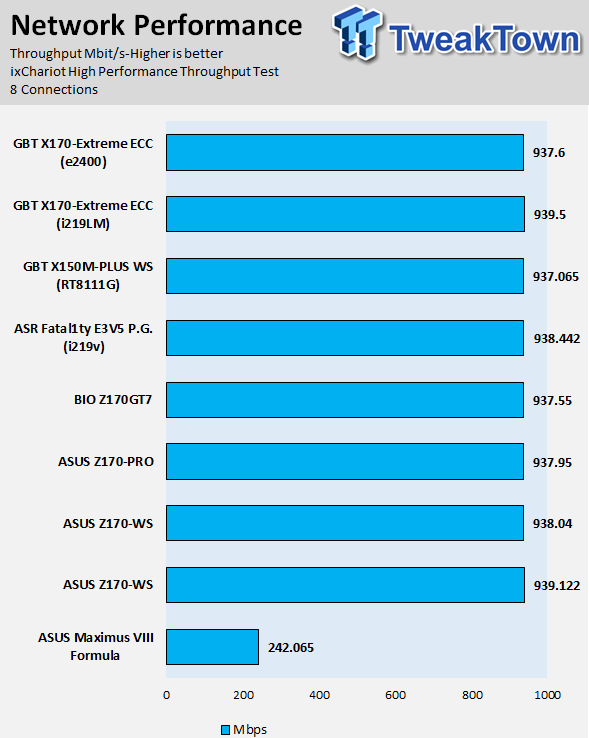 The X170-Extreme ECC has solid performance numbers all around, and it's also one of the only C230 chipset motherboards I have tested that has an M.2 slot.
Audio
Sound Judgment by Ear: Creative audio chipsets report perfect output with RMAA when you follow their testing guide. Since the RMAA results are not very reliable in this case, I decided to just the audio by ear, and I can say it is excellent. There are five ratings for audio: 1. Problems, 2. Okay, 3. Acceptable, 4. Very good, 5. Excellent
Thermal Imaging and Power Consumption
System power usage is measured at the AC/DC PSU (the Corsair AX1200i) which I have connected to another system to measure the test system, and as a backup, I have a wall meter to verify. The CPU power is measured through the 8-pin connector, which is hooked up to a hall effect IC, which measures current and puts out a voltage in proportion to the current. That voltage is logged by a National Instruments ADC, which logs the DC voltage level that I then convert into current.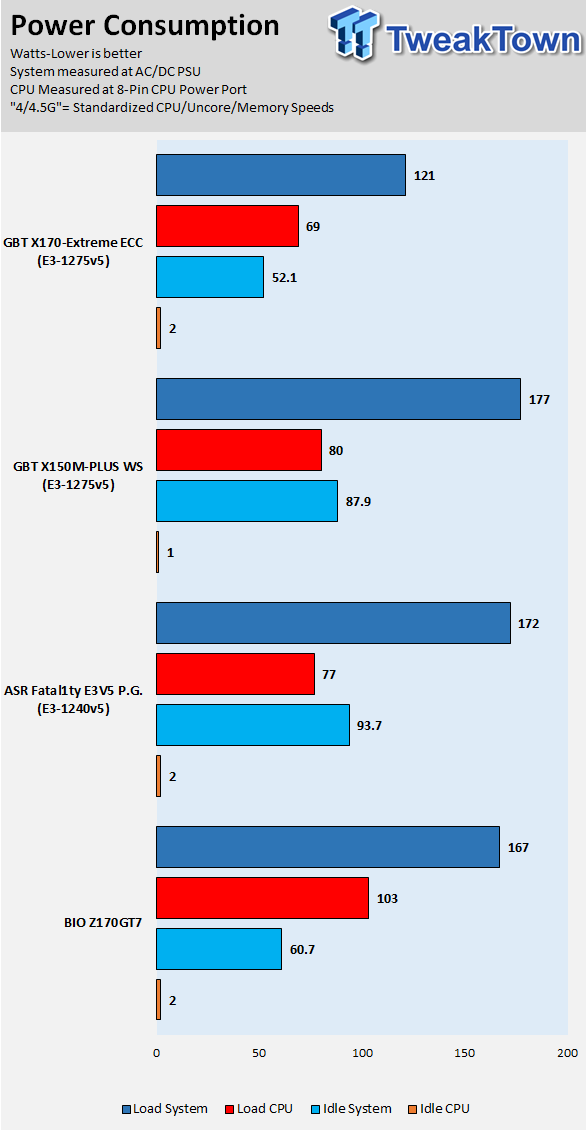 Note on Thermal Images: In the temperature section, we use our Seek thermal imaging camera to capture the surface temperatures of major components on the board. I look at the VRM and then all other things that light up the screen. If there is something to worry about, then I will state it. Otherwise, I will just show the hotter running parts of the board for fun. Unless some component is over 80-90C, then there isn't anything to worry about.
All systems will act differently, so I will look for commonalities, such as how far from the VRM the heat spreads through the PCB and the difference in temperature between the front side and backside of the PCB. Keep in mind, the majority of the heat from the VRM goes into the PCB as it is a giant soldered on copper heat sink. A larger difference in temperature between the back and front of the PCB points towards a more effective heat sink.
Thermal Testing at Stock Speeds:
The image on the left is always at idle, and the image on the right is at load. During ALL TESTS, fans above the VRM that cool the CPU cooler's (Corsair H110i GT) radiator are turned on to high (12v).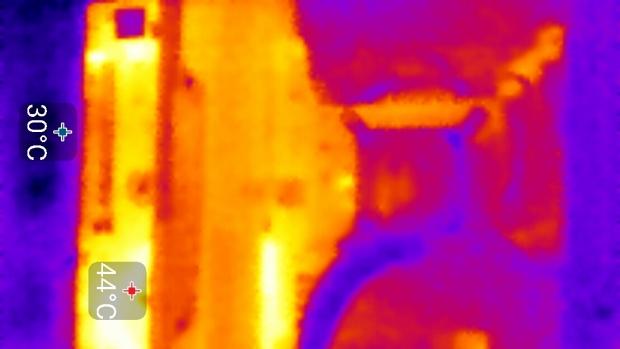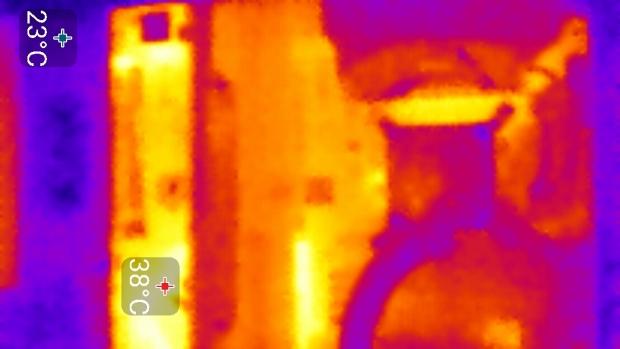 Full frontal.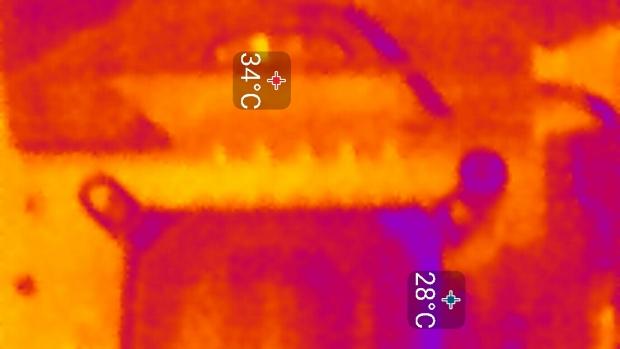 Up-close of the front of the VRM.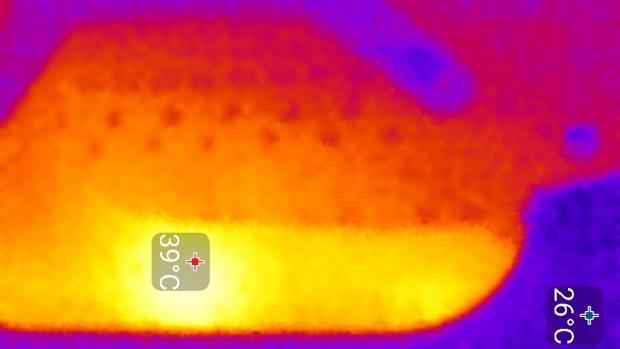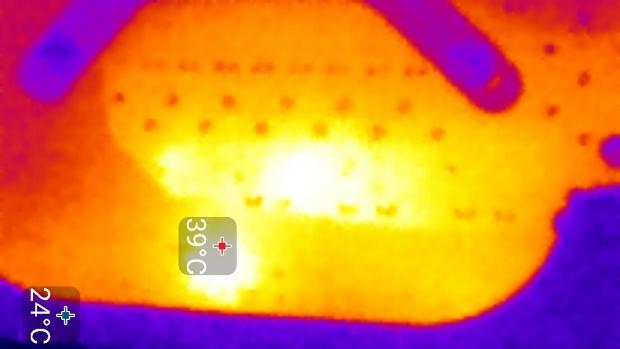 Up-close of the back of the VRM.
The VRM on the X70-Extreme ECC is not the best I have seen, but it is more than enough to provide cool operating temperatures no matter the processor installed because the motherboard cannot overclock. In fact, since the motherboard cannot overclock the processor, this VRM could be considered a slight overkill.
Anything under 60C is great, 60-80C is acceptable, and anything above 80C is a bit worrisome (if at stock).
What's Hot, What's Not & Final Thoughts
Here are key points about the GIGABYTE X150M-Plus WS.
What's Hot
Aesthetics: Some might think that the camouflage aesthetics are a bit over the top for the motherboard, but the motherboard looks really nice in person. I really like what GIGABYTE has done with their theme. The color of the patterns on the shield and heat sinks match the silkscreen on the motherboard well. Actually, the silkscreen (the writing on the PCB) produces a very nice effect.
ECC Memory: Workstations are designed to operate mission critical software applications, and ECC memory is very important to avoid memory errors that are unavoidable. A hardcore workstation can benefit from ECC, and this motherboard supports it.
Thunderbolt 3 and USB 3.1: The X170-Extreme ECC is the first C236 chipset motherboard to have Thunderbolt 3. The Alpine Ridge controller that provides Thunderbolt 3 also provides two USB 3.1 ports; one type-A and one type-C.
Core3Di and AMP-UP: Some might question the need for high-end audio on a workstation motherboard, but I beg to differ. I know many coders who listen to music while coding and the whole concept of this motherboard is to offer gaming features on a workstation motherboard so that the machine can have a dual purpose. In fact, the upgraded audio might make more sense on this motherboard because users might want to fill up all the slots with storage or video cards for computing, and a sound card would take up critical space.
Dual NICs: The X170-Extreme ECC has two NICs that provide variety for buyers. The first NIC is based on the Intel i219LM which is designed for workstations, and the second is a Killer e2400 designed for gamers. With both users can use the Intel when doing workstation tasks and Killer when gaming.
What's Not
High price: At over $300 this motherboard is one of the priciest C236 chipset motherboards, and since it's using a C230 series chipset, overclocking is basically out of the picture.
Final Thoughts
I have seen a lot of discussion about this motherboard on the internet, and a lot of doubt about a workstation motherboard loaded with gaming features. The purpose of this motherboard is simple, to provide a workstation motherboard with gaming features. These gaming features are designed not to interfere with the chipset nor its functions but provide extra value in case a user of a workstation might want to use their computer for gaming. There are also more and more consumers who might want workstation features in a motherboard, but don't want to give up features such as high-end audio, and in that case, a motherboard like this might make a lot of sense.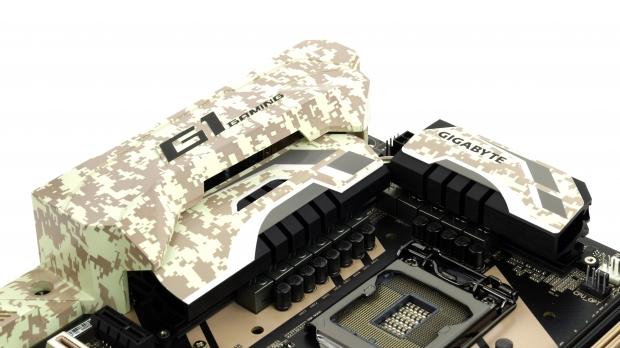 The upgraded audio makes a lot of sense on a workstation motherboard. A lot of people I know who use computers as their main tool for their trade love to listen to music to isolate themselves from their environment so they can perform their work better. With the amplified ports, they can now drive their headphones with ease without much extra hardware.
The X170-Extreme ECC allows for a new breed of PC; the dual purpose workstation/gaming computer. If you want to build a workstation build with workstation features but still have a rig that looks good on the inside and comes with crazy features, then the X170-Extreme ECC might be the right motherboard for you.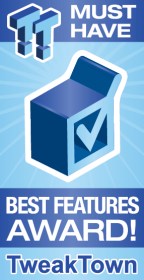 | | |
| --- | --- |
| Performance | 93% |
| Quality including Design and Build | 92% |
| General Features | 95% |
| Bundle and Packaging | 93% |
| Value for Money | 85% |
The Bottom Line: GIGABYTE's X170-Extreme ECC is loaded with features you wouldn't expect on a workstation motherboard, and it's the first C236 chipset motherboard with Thunderbolt 3.
PRICING: You can find products similar to this one for sale below.

United States: Find other tech and computer products like this over at Amazon.com

United Kingdom: Find other tech and computer products like this over at Amazon.co.uk

Australia: Find other tech and computer products like this over at Amazon.com.au

Canada: Find other tech and computer products like this over at Amazon.ca

Deutschland: Finde andere Technik- und Computerprodukte wie dieses auf Amazon.de
We openly invite the companies who provide us with review samples / who are mentioned or discussed to express their opinion. If any company representative wishes to respond, we will publish the response here. Please contact us if you wish to respond.