TweakTown's Rating: 90%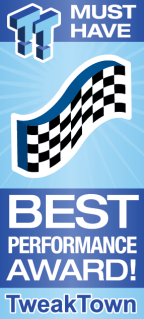 The Bottom Line
It's not often I break 1000 MB/s with external storage, but the LaCie 8big is capable of that and much more - a solid solution for creative professionals.
Introduction
For the longest time, Fibre Channel DAS were at the top of the external storage "food chain", with 16 Gbps data rates there just was not anything that could compete. With the launch of Thunderbolt 2, Intel laid the groundwork for a 20Gbps pipeline, and now a few years later we have a whole host of devices taking advantage of this technology.
One of the higher-end devices that use the superhighway called Thunderbolt 2 is the LaCie 8big Rack. This solution as a few others we have seen allow for eight drives but what make this solution different is those eight drives are in a 1U enclosure. Similar to the way the Seagate Business 8 Bay NAS is configured, the 8big has its SATA backplane in the center of two rows of drives, and as you will see in the images on page two, this allows for double the storage in the same amount of space.
The 8big Rack is designed for 4K workflows and with Thunderbolt 2 as the pipeline between your storage, and computer bottlenecks should no longer be an issue. The LaCie 8big does have several flavors including a 12, 24 and 48TB models lending a variety of options depending on your budget. Performance is said to reach upwards of 1300 MB/s, and while the standard 8big unit does use desktop drives for those that need even more reliability, LaCie has launched an Enterprise Class version alongside.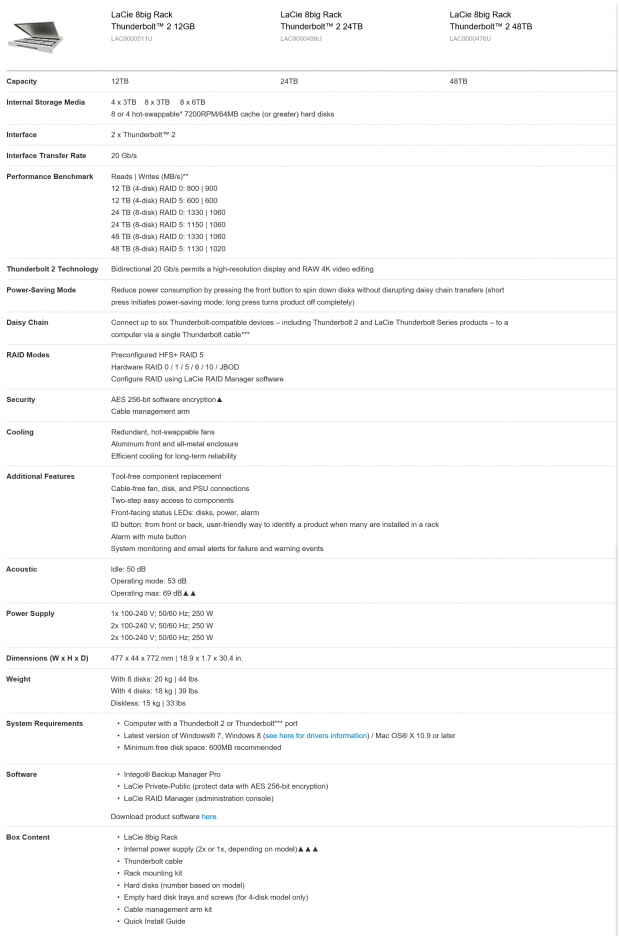 Diving into the spec sheet, you see all three standard models listed across the top. Hardware for all three should be the same minus the drives used. There is no diskless option with this solution, so for those wanting to go higher than 48TB, you will have to purchase your drives separately. With that said, in the case you do go that route, the product warranty will sadly be void.
Diving down through the specs, you will find both of the Thunderbolt 2 interfaces listed as this unit enjoys the ability to daisy chain. Further down LaCie has published expected performance for each of the model listed and with our unit being the 8 x 6TB or 48TB unit we should peak around 1330 MB/s read and 1060 MB/s write. Moving on this solution supports a whole host redundancy with both the power supplies and the internal fans being hot swappable if they should ever fail. Acoustics are putting this device around 50 db at idle and a maximum of 69 db.
Compatibility extends to Windows 7, 8 and 10, along with OS X 10.9+. MSRP is coming in at $4599.99 for the 48TB solution in house today. For those on a tighter budget, you can grab up the 12TB solution for $1599 or the 24TB at $2599. Warranty is listed at one year.
8big Rack Thunderbolt 2 Appliance
Packaging and a Closer Look
Images were a little tougher than normal for this solution, as it is simply too big for the booth where I typically take pictures. With that said, the 8big enjoys some serious packaging.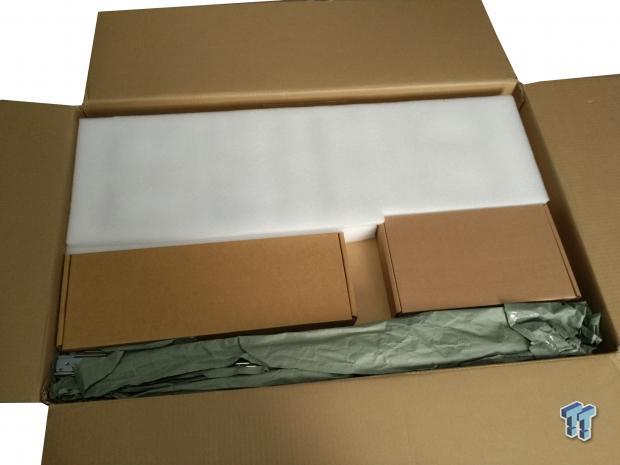 Opening things up, everything has its place and all is packed tightly together.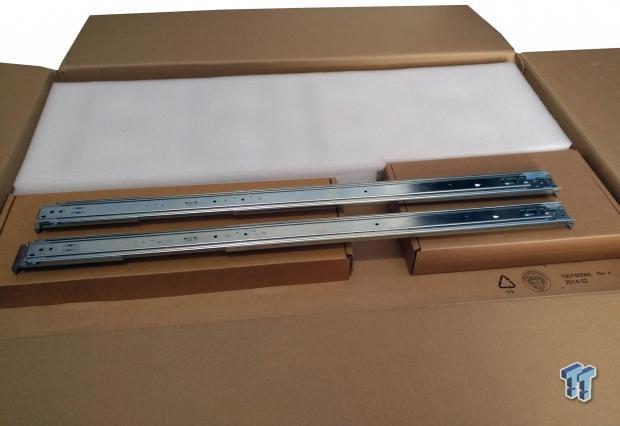 Here, we have the rails for those of you wanting to rack mount this unit. With this unit being on loan, we just placed it on the table and put it to work.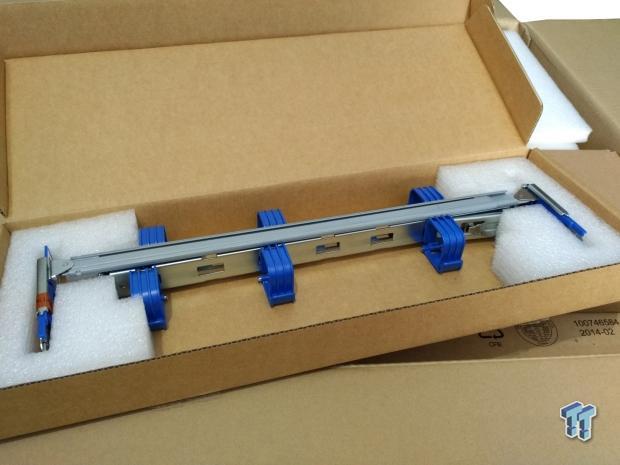 I have never used a device like the one above, but it does appear to be a cable management solution that ships with the 8big.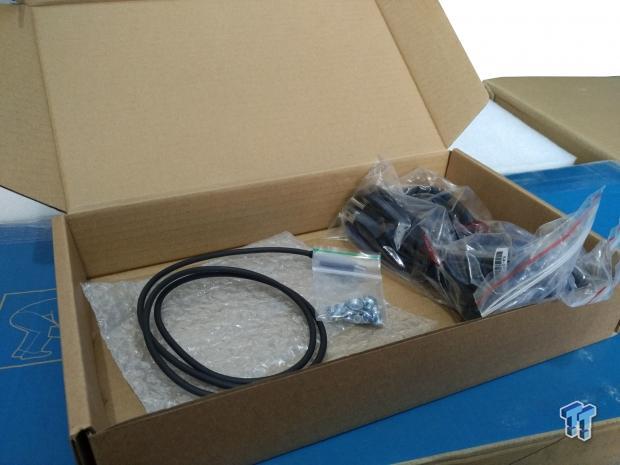 In the accessories box, we found two power cables, screws, and a Thunderbolt cable.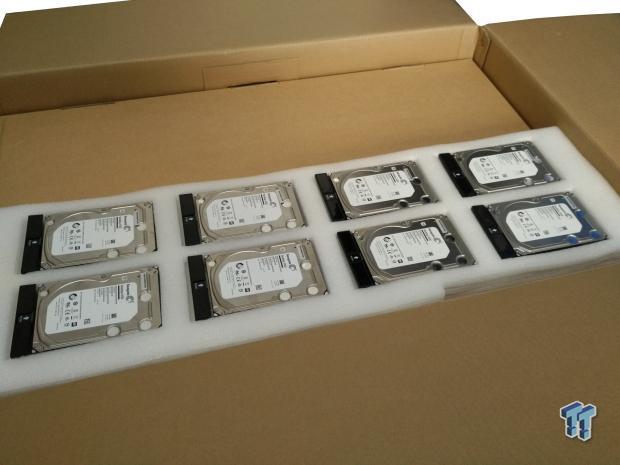 Moving on, all eight of the drives were tucked away in this foam carrier. These are 6TB desktop drives from Seagate.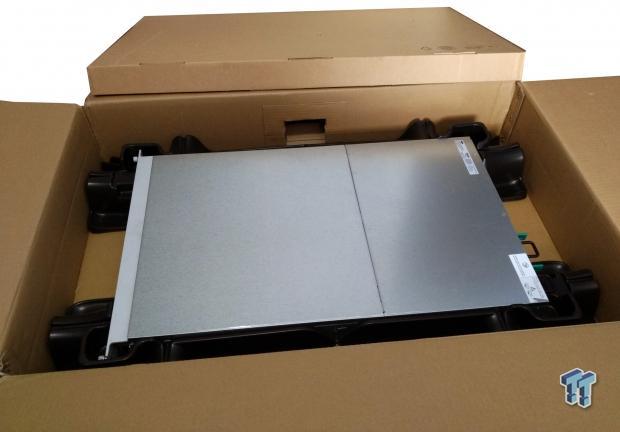 Finally, we get down to the rack itself. As you can see, it too is packed quite well with plastic caps to protect the corners.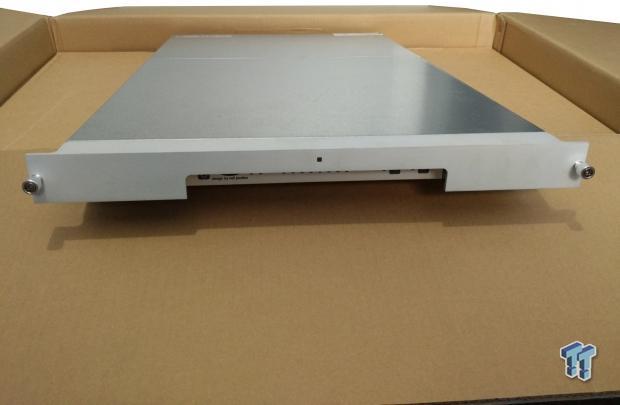 Looking at the front of the 8big, the unit has thumbscrews to secure it on the ends.
Underneath, we have a full host of LEDs for each drive and one for each Thunderbolt connection.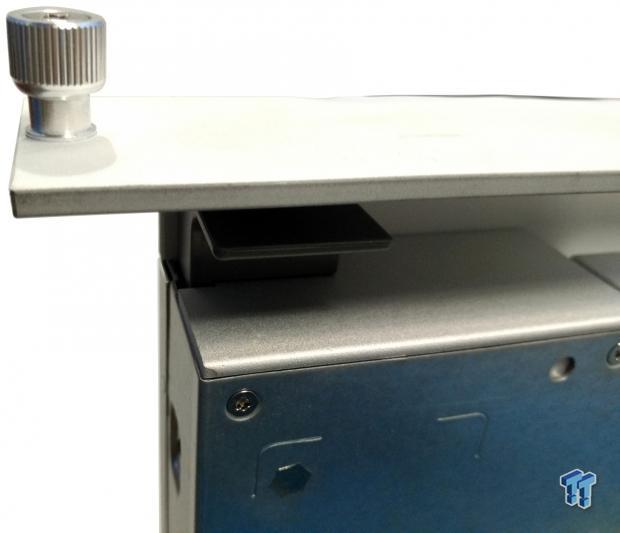 On each end, LaCie gives you a handle that you pull to open the drive bay up.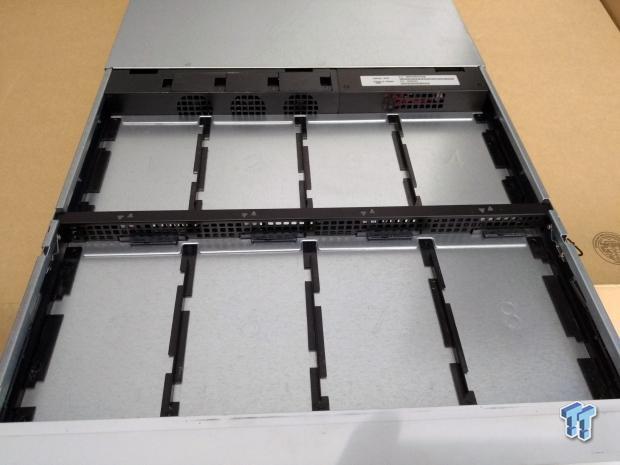 Above, you can see the layout of the drive bays. The backplane rests in the middle to accommodate eight drives in this configuration.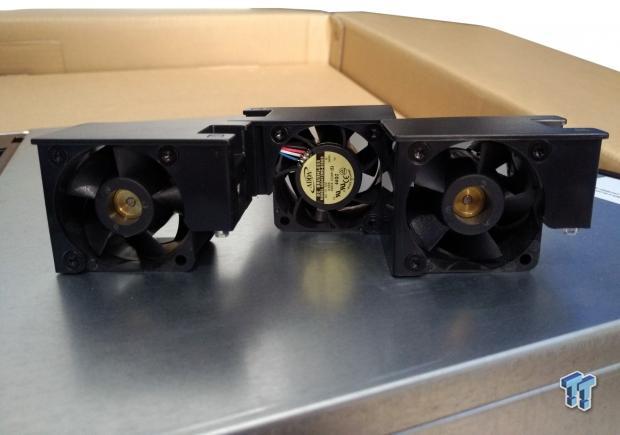 The three redundant fans, hot swappable.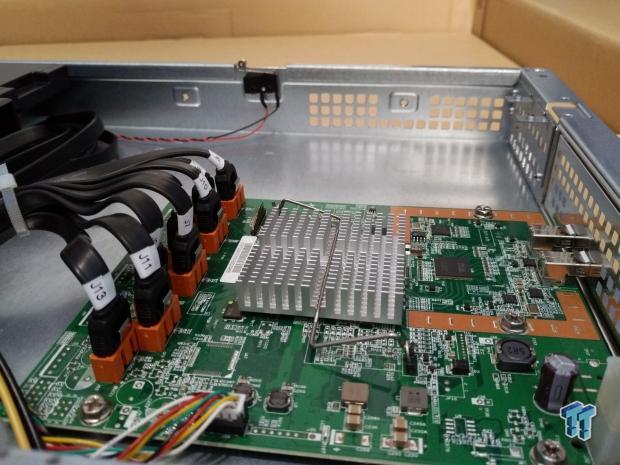 Here we have the PCB that controls the working of the 8big. Behind it, the chassis has what looks like an intrusion switch.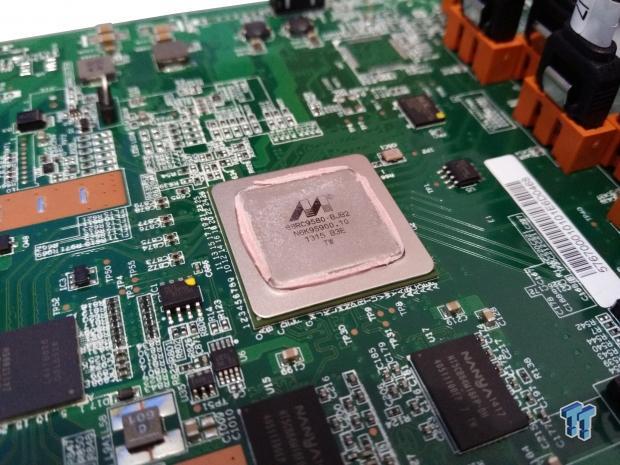 At the heart of this unit is a Marvell 88RC9580 with some Nanya memory below.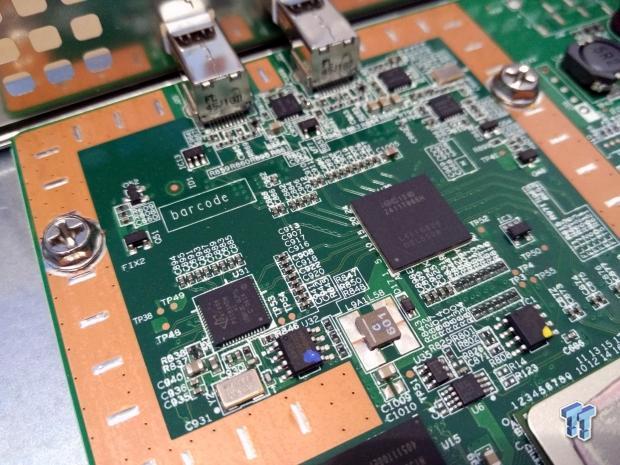 Moving towards the back, we have a DSL5520 Thunderbolt controller and a Parade PS181 for DisplayPort functionality.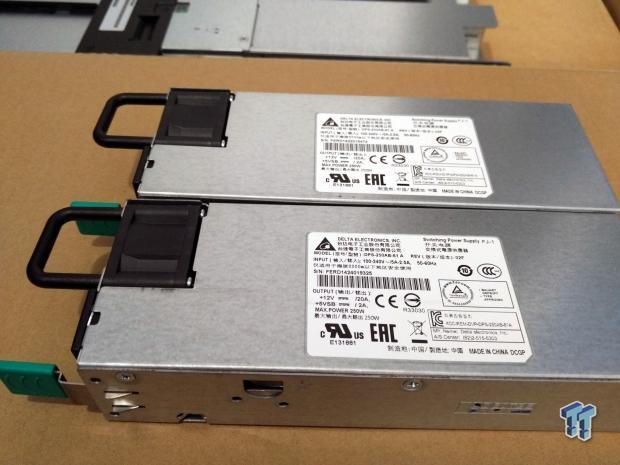 Above, dual power supplies each capable of 250W.
Test System Setup and Management
Tyler's NAS Test System Specifications
To test Thunderbolt solutions, I use a Late 2013 MacBook Pro Model A1502 with an i5 4258U, 8GB of memory and a 512GB m.2 SSD. Benchmarks consist of AJA System Test and Blackmagic Disk Speed Test.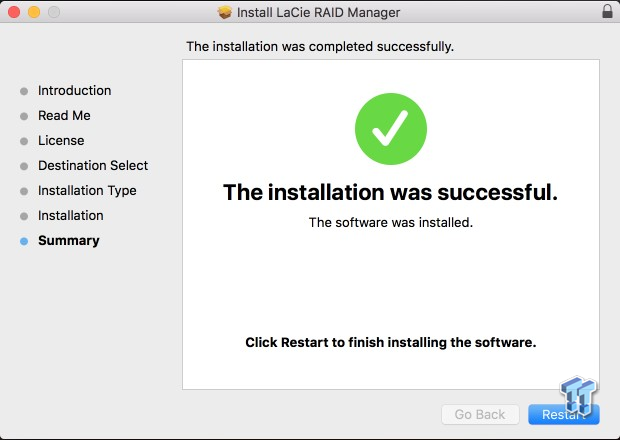 Setup of the 8big starts with the RAID manager. With the introduction of El Capitan, there is no way to configure a simple RAID outside of using Terminal; having the included software makes everything much easier.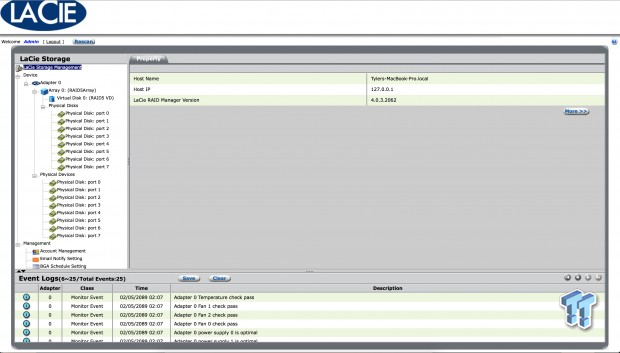 Opening up the RAID manager, everything has completely changed since I reviewed the 5big nearly three years ago. As you can see to the left is a large tree diagram that includes the adapter at the base which is followed by physical volumes and virtual disks.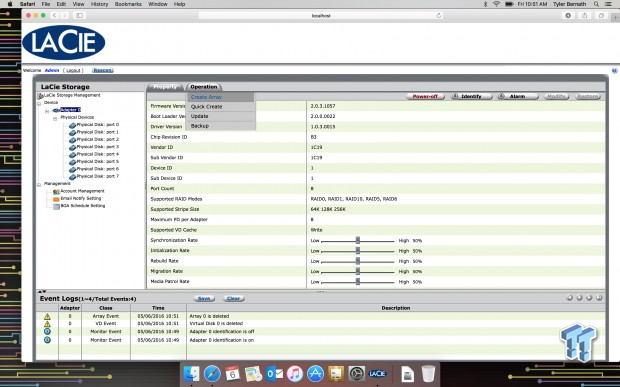 To create an array, we slide to the right side and the operation gives us a drop-down menu.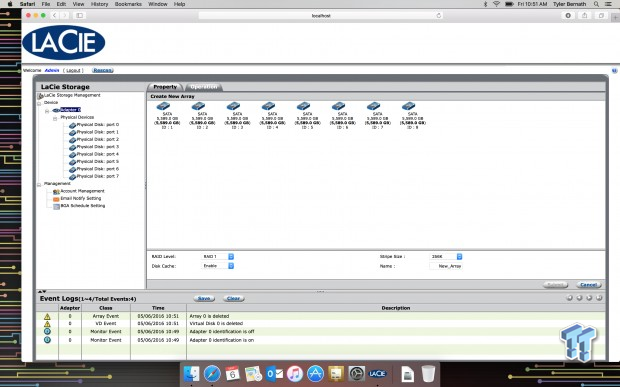 We then can choose which disks we want to include, select the RAID mode at the bottom along with stripe size.
Benchmarks - Capture, Playback, and Sequential
AJA Capture and Playback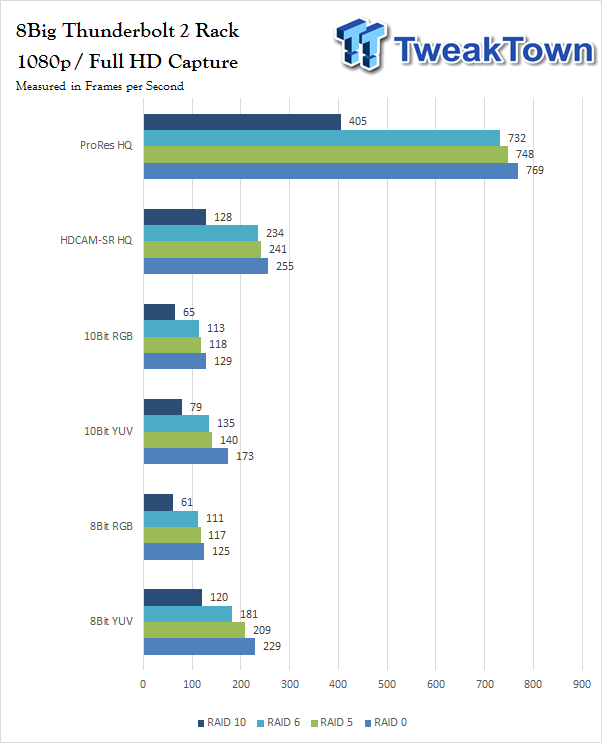 Starting with Full HD, there isn't much holding back the 8big. With both 8 and 10-bit RGB, we got a peak of 125 FPS while HDCAM gave us 255 FPS. Even when using RAID 5, 6, and 10, the 8big was able to produce solid performance with the lowest results coming in 8-bit RBG at 61 FPS.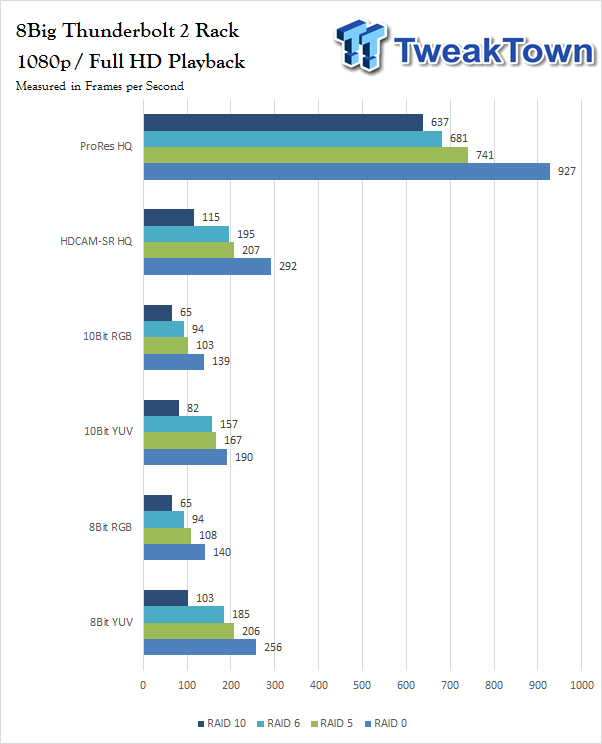 Full HD playback was solid from RAID 10 and 65 FPS to RAID 0 producing a massive 292 FPS. Peak results came with ProRes at 927 FPS while the lowest was 65 FPS in 8 and 10 bit RGB and RAID 10.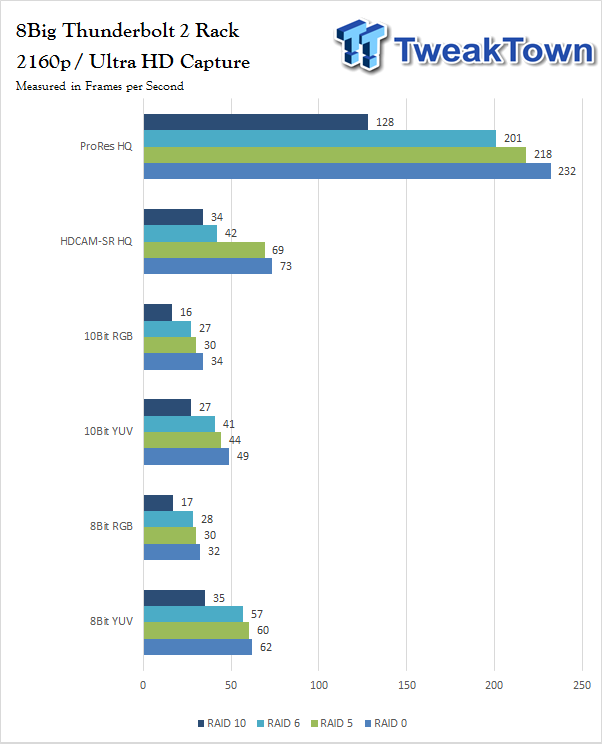 I figured Ultra HD may make the 8big work a little, and as you can see above, our capture results show this device bringing in some rather low FPS with 8 and 10-bit RGB. On the other side, HDCAM and ProRes still produced solid performance of 73 FPS and 232 FPS, respectively.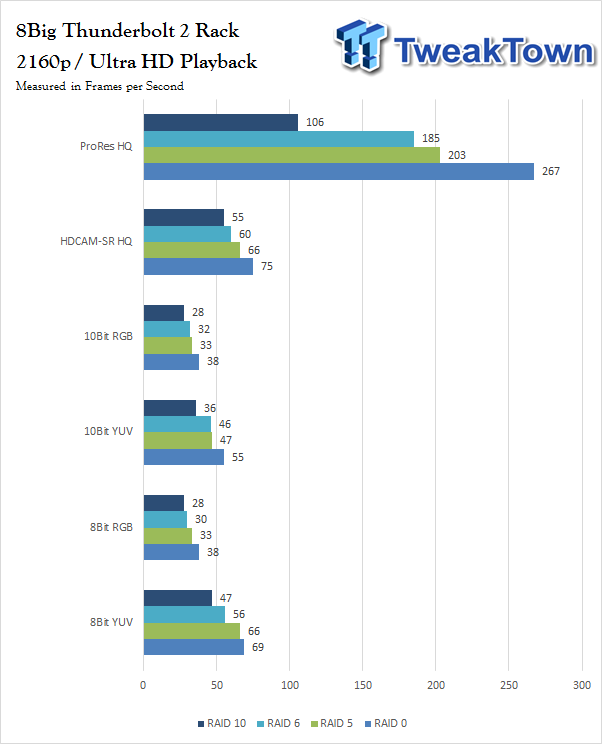 Ultra HD playback topped at 267 FPS with RAID 0 and ProRes while HDCAM gave us 75 FPS at its highest and 55 FPS at the lowest. 8 and 10-bit RGB and YUV topped at 38, 55, and 69 FPS.
Benchmarks - Sequential with Black Magic Disk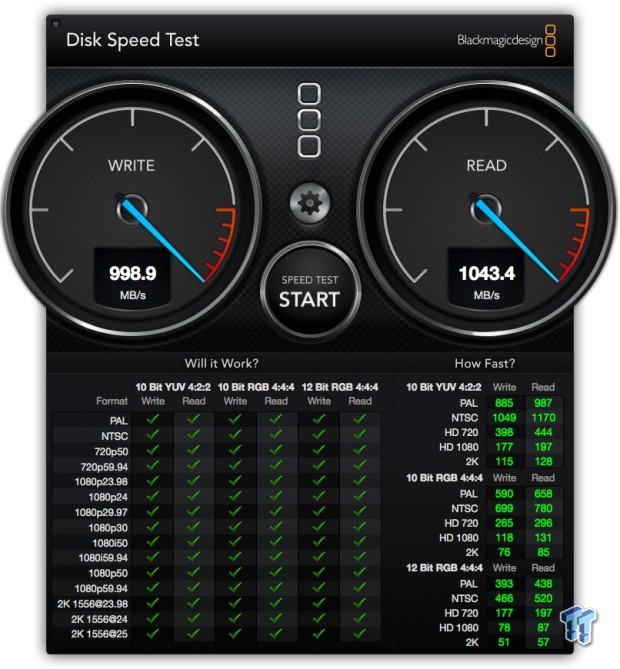 We were not quite able to hit top numbers in terms of the marketing figures, but we did hit 1043 MB/s read and 998 MB/s write with RAID 0.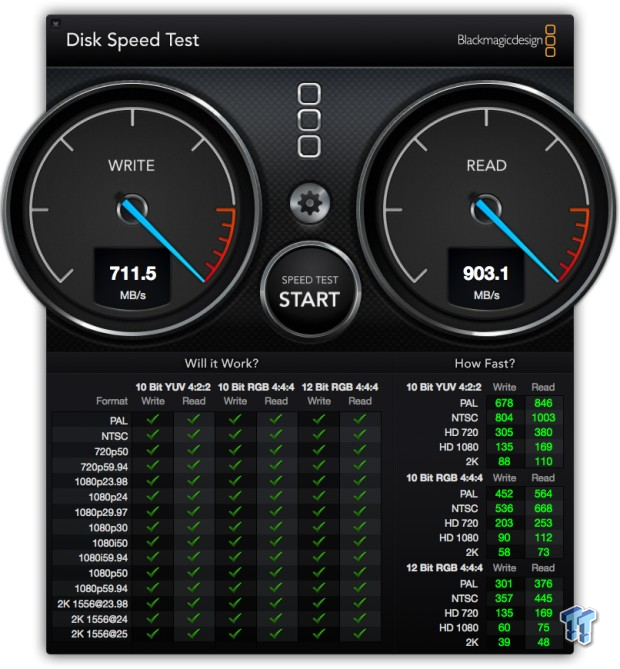 RAID 5 came in at 903 MB/s read and 711 MB/s write.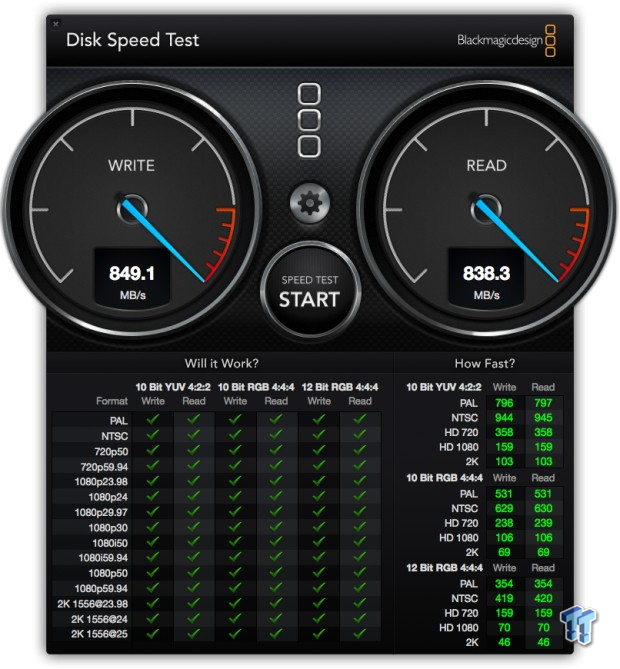 RAID 10 producing 838 MB /s read and 849 MB /s write followed up RAID 5.
Final Thoughts

The 8big is certainly an impressive device, pulling it in from the porch after it was dropped off by UPS, I loathed bringing this thing up that flight of stairs and into the lab. Even if this unit's weight does not impress once you open it up and take a look, the aesthetics are sure to please. With its front panel sharing a Neil Poulton design we know so well, it certainly looks good on the desk next to me and most certainly when racked. Build quality is top notch with everything secured quite well on the PCB, and while the backplane design being a custom design, it does workout quite well in the end.
Performance of the 8big surprised me a little, and while I did want to hit that magical 1330 MB/s read that's advertised with this unit, my little MacBook Pro just couldn't get it done. With the playback and capture testing, the 8big excelled with Full HD peaking somewhere near 800 FPS in ProRes and HDCAM topped 250 FPS. 8 and 10-bit RGB seemed to take more of a toll on the 8big, but it was still able to reach 125 FPS. Ultra HD was quite hard, but it did provide sufficient performance, never going under 30 FPS in RAID 0, no matter the workload. Peak numbers reached 232 FPS with ProRes while HDCAM topped 70 FPS.
As I mentioned in the last few pages, I haven't seen a high-end solution from LaCie for a while, so this was my first experience with the new LaCie manager. It certainly has a much cleaner feel to it that allows for more control over your drives and volumes and the ability to setup multiple volumes or even a single volume is done with ease.
Overall for those needing a one of a kind rackmount solution capable of both Full and Ultra HD workflows, the LaCie 8big may just be the solution for you.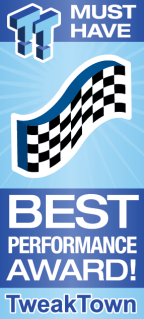 | | |
| --- | --- |
| Performance | 90% |
| Quality including Design and Build | 90% |
| General Features | 90% |
| Bundle and Packaging | 92% |
| Value for Money | 90% |
The Bottom Line: It's not often I break 1000 MB/s with external storage, but the LaCie 8big is capable of that and much more - a solid solution for creative professionals.
PRICING: You can find products similar to this one for sale below.

United States: Find other tech and computer products like this over at Amazon.com

United Kingdom: Find other tech and computer products like this over at Amazon.co.uk

Australia: Find other tech and computer products like this over at Amazon.com.au

Canada: Find other tech and computer products like this over at Amazon.ca

Deutschland: Finde andere Technik- und Computerprodukte wie dieses auf Amazon.de
We openly invite the companies who provide us with review samples / who are mentioned or discussed to express their opinion. If any company representative wishes to respond, we will publish the response here. Please contact us if you wish to respond.