TweakTown's Rating: 93%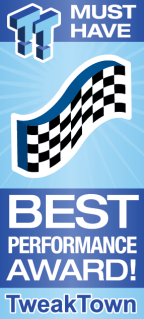 The Bottom Line
Priced right in the middle of the pack, Apacer offers a stunning looking kit of memory. Not only does it look fantastic, but with the highly binned SK Hynix ICs used, there is plenty of room left for the tinkerers out there to really enjoy this 16GB Panther 2666MHz kit.

Not that long ago we caught wind of a news blast that Apacer was releasing a whole new name and design in their DDR4 lineup, and we rushed to our email box to send off a request. Apacer graciously said yes to the request and had since delivered two packages, each containing a single stick of their new Panther DDR4 memory. While this may not be the speediest of kits that money can buy, as you will soon see, we had tons of fun with these sticks, and performance for those willing to overclock this kit also takes a tremendous boost.
As of right now, the Panther DDR4 is shipped as 8GB single sticks, of which we received two of the Panther DDR4 RAM modules at a speed of 2666MHz. This kit supports both Intel Z170 and B150 chipsets via the XMP 2.0 profile programmed to them, sporting timings of 16-16-16-36 2T with the use of only 1.2 volts. These sticks can also be purchased in 4GB density, and speeds range from 2133MHz, 2400MHz, and the 2666MHz sticks we received, the slower speeds, however, do come with slightly lower 15-15-15-36 2T timings.
It does seem that we are getting to review these sticks before they have made it to market. From what we have found on the internet is that they have released an MSRP for each stick, as you have to buy single channel sticks and make the density you wish to end up with. For the 2133MHz stick, expect to pay $49.99 per stick, $53.99 for each 2400MHz stick, and for the sticks we were sent today, they cost $59.99, for a total of $119.98 for the two sticks we are about to show you. In the grand scheme of DDR4 at this speed, you can find some more affordable deals, but we assure you, you have never seen a kit like this, and in our experience testing DDR4, not too many kits are as fun to tinker with as these have proven to be.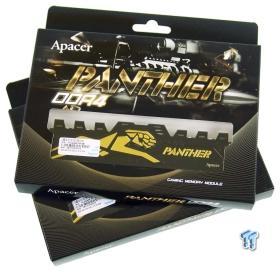 The packaging screams of power and dominance with the automatic rifle image behind the Panther name displayed in gold at the top. The lower section offers a window to get a view of the unique embossments to the side of the heat spreaders, as well as their "claw" tips on the top of them.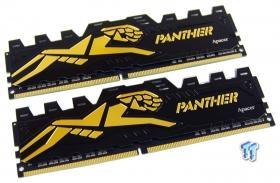 Apacer utilizes a sophisticated technique of shaping and coloring the black spreaders feature a mirror-like finish to the gold of the cat on the left and the Panther naming. Opting to use a multi-layer black PCB sandwiched between the spreaders also makes sure that these sticks will look terrific in any system, but definitely will look better on gold accented Intel Skylake-based motherboards.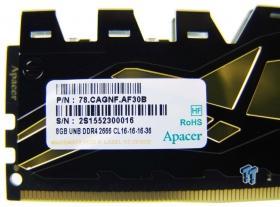 Each stick carries the 78.CAGNF.AF30B part number with an individual serial number found below it. There is also the notation that this is an 8GB stick of DDR4, and the XMP 2.0 profile allows them to run at 2666MHz with 16-16-16-36 2T timings. Although the sticker does not show it, these sticks sip power with only 1.20 volts requires once enabling the XMP profile in BIOS.

While Apacer could have left the tips of the "claw" heat spreaders black, or even just gold, they decided to dress things up a bit more and went with both silver and gold. This design is reminiscent of other RAM we have seen, but the pattern and coloration give users a unique look once these sticks are installed on a motherboard.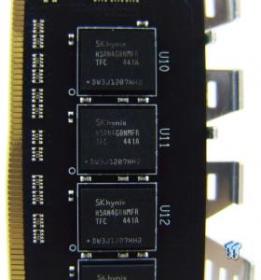 Apacer uses thermal tape to adhere the spreaders to each side of the sticks, which happen to be dual sided with memory ICs on both sides of the stick in this instance. Once removed, we find that not only do the ICs go through an intensive binning process as stated on the Apacer site, we found this kit to be based on SK Hynix ICs.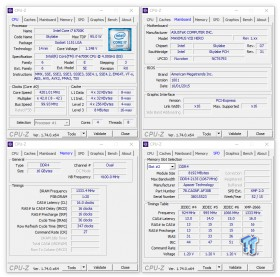 While the kit boots at the JEDEC specification of 2133MHz with straight 15 timings, once we enabled the XMP 2.0 profile, we found the Panther DDR4 to now be running at 2666MHz with 16-16-16-36 2T timings without a hiccup.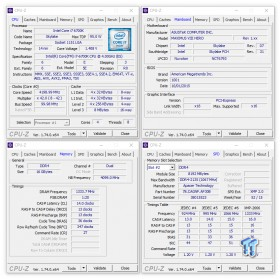 As we tend to do next, we raised the VDIMM voltage to 1.30V and started lowering the timings a bit. While CAS13 resulted in a BSOD, we found that we had no issues running the 2666MHz with 14-13-13-36 timings at 2T command rate. We did try to drop them to 1T but again ran into BSODs in testing.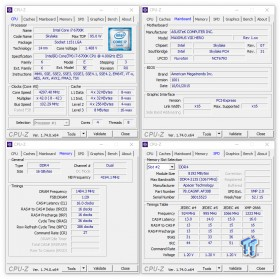 Again, with just a tenth of a volt added to the 1.20-volt default voltage, we were able to take this kit to an incredible 2968MHz with the XMP 2.0 timings used for this run. To us, 300MHz increase is pretty impressive, considering other SK Hynix based kits we have tested offered little movement at all.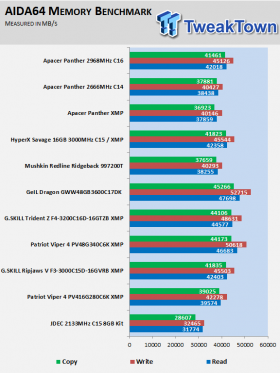 The AIDA64 benching of this kit shows that at the XMP settings, results are right where they should be with other kits tested at the same speed. Lowering the timings increased performance and reduced latency by 10ns, and running them near 3000MHz shows results right in line with other 3000MHz kits in this chart.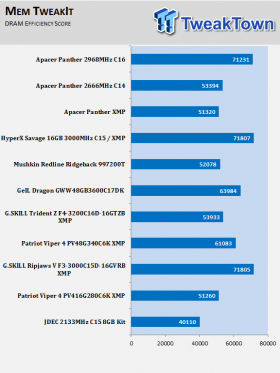 When it came to MemTweakIt testing, again the Panthers fall right into place where they should. Looking at the three runs, XMP is only slightly behind the Ridgebacks and performed better than the Viper 4 kit that runs at 2800MHz. Lowering the timings does not do so much for raising the score, but taking the speed to 2968MHz puts us right in line with other 3000MHz kits again.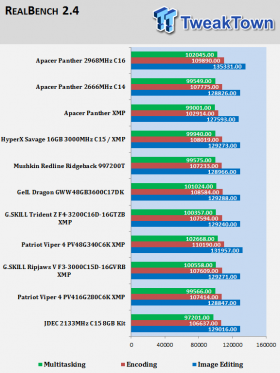 RealBench results are impressive though as we compare things on the chart. Again, the XMP run falls right where it should, and there is a slight increase in performance when the timings are dropped. However, when it came to raw speed, this set of Panther DDR4 came in second for multitasking, second for encoding, but takes top honors in image editing, even against much faster kits.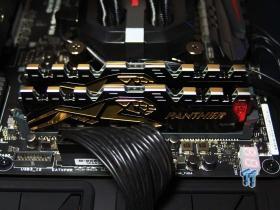 While silver, gold, and black would not be our first choice in color matching the ASUS Hero that we test with, to be honest, with the fun afforded by this kit when overclocking, and the performance offered by doing so, we couldn't care less if this kit was pink and purple. We do like the aesthetic appeal of this kit, even if it doesn't exactly match the theme of our motherboard, and for those that opted for something like the ASRock Z170 OC Formula motherboard, the Panther DDR4 from Apacer is an obvious choice.
To be honest, we feel that even with the impressive results we found with our kit, staying within our rules of overvolting, we feel this kit has even more to offer if you have the grapes to push the voltages to extreme levels. Judging by the post codes when it stopped, we feel that a touch more to the system agent and possibly more VDIMM could have taken us easily over the 3000MHz mark and beyond. Whatever the process of binning being used by Apacer, in this kit of Panther DDR4, they left a lot of meat on the bone for users to try to get from their kits.
Checking against other offerings that match both in density and in speed, we found that they range from $75 to $160 from other manufacturers. Considering that, while these Apacer Panther DDR4 sticks are not the most affordable solution, at $119.98, they fall right in the middle of the heap as far as cost is concerned.
Of course, we have also tested other 2666MHz kits in the past, and not many can match the style of the Panther RAM, nor can it match the overhead left for those willing to tinker around a bit in their BIOS. All things considered, we feel that Apacer is on point with this kit of DDR4 memory.
Chad's DDR4 Dual-Channel Test System Specifications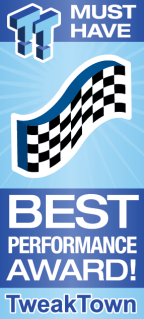 | | |
| --- | --- |
| Performance (including Overclocking) | 95% |
| Quality including Design and Build | 96% |
| General Features | 92% |
| Bundle and Packaging | 93% |
| Value for Money | 90% |
The Bottom Line: Priced right in the middle of the pack, Apacer offers a stunning looking kit of memory. Not only does it look fantastic, but with the highly binned SK Hynix ICs used, there is plenty of room left for the tinkerers out there to really enjoy this 16GB Panther 2666MHz kit.
PRICING: You can find products similar to this one for sale below.

United States: Find other tech and computer products like this over at Amazon.com

United Kingdom: Find other tech and computer products like this over at Amazon.co.uk

Australia: Find other tech and computer products like this over at Amazon.com.au

Canada: Find other tech and computer products like this over at Amazon.ca

Deutschland: Finde andere Technik- und Computerprodukte wie dieses auf Amazon.de
We openly invite the companies who provide us with review samples / who are mentioned or discussed to express their opinion. If any company representative wishes to respond, we will publish the response here. Please contact us if you wish to respond.