LUXA2 Lavi O In-ear Bluetooth Sports Earphones Review
Can LUXA2's new Lavi O sport Bluetooth wireless in-ear earphones make wireless viable for all? Read on to find out in this review.
Published Tue, Jan 12 2016 2:48 AM CST
|
Updated Tue, Nov 3 2020 6:58 PM CST
Rating:

79%
Manufacturer: LUXA2
Introduction
I'm not exactly sure what qualifies a product to become 'sporty', but that's how LUXA2 has decided to brand this product. Seemingly targeted towards those who like the great outdoors and especially running around it, the Lavi O is poised to offer a quality sound experience while remaining firmly planted in your ears while you're walking, running or catching public transport throughout the wide world.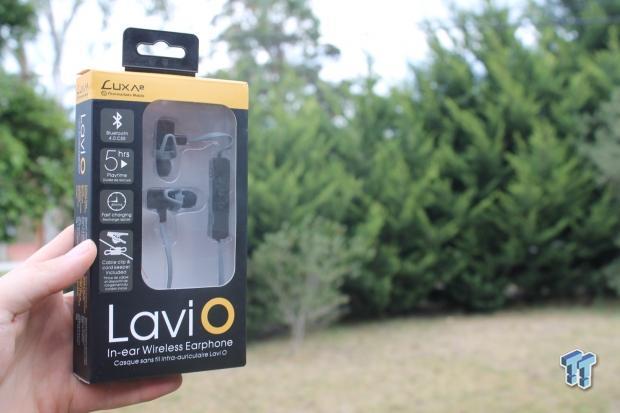 The Bluetooth earphones that I have reviewed recently have contained the same constraints. While this type of product is marketed quite often towards those with an active lifestyle, due to the earphones being Bluetooth in design and needing to incorporate a receiving device, microphone, and battery, they're large, heavy and are prone to feeling awkward or like they're going to fall out of your ear.
While this LUXA2 product is marketed majorly towards those who like to ride, cycle or hike, as written on the product packaging, this review will look at whether the Lavi O is suitable for active or sedentary lifestyles alike.
Specifications
Packing an 80mAh lithium-polymer battery within, this product will reportedly charge after only 40 minutes when plugged in through its micro USB port. The 8mm driver within is rated at 16 Ohms and it produces sound thanks to a Bluetooth 4.0 connection to any smart device, tablet or laptop.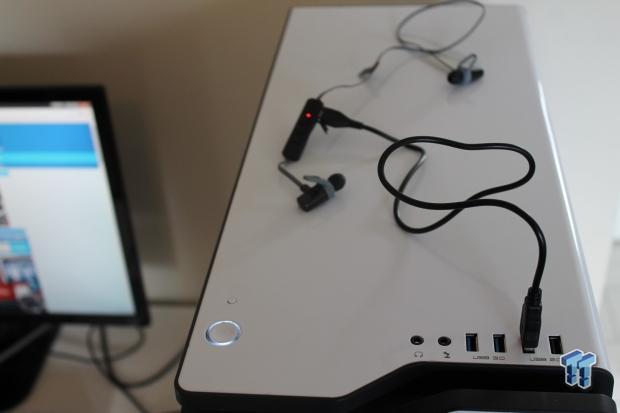 The battery boasts a five-hour total play time, with LUXA2 giving this product a generous 10-metre wireless range. Wrapping up the feature list is the in-line microphone and a 15g weight, sitting around the same rating as competing products.
The earphones further come built with a flat ribbon cable connecting the two ear pieces together, with each earpiece being constructed of shiny black plastic, connected to detachable rubber ear grommets.
Pricing & Availability
Available Amazon for $24.99 plus shipping costs, the LUXA2 Lavi O is ranked cheaper than most wired models I have tested. This begins an interesting review as Bluetooth is often more expensive due to engineering and internal components, leaving us wondering why this wireless model is so cheap. If LUXA2 can nail the comfort, feel and sound quality, we might just have a winner here.
What's in the box?
As expected with this type of product, the accessories are thoughtful and in abundance. First off the rank is an ever-useful carry pouch, not only great for keeping your earphones free or wear and tear while in transit but also great for storing all of the little accessories that are packed within.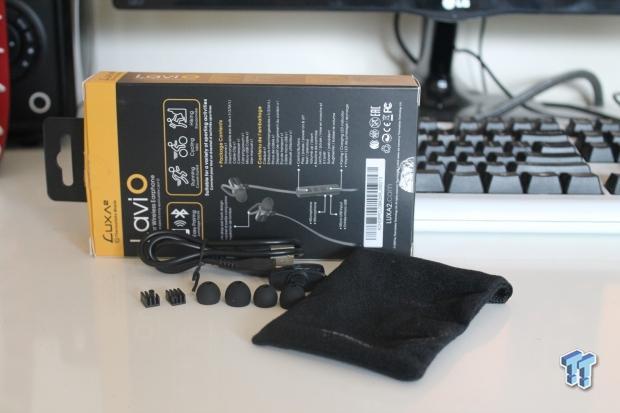 This product comes packaged with three different sizes ear grommets in total, ranging from small to large. Further goodies include an extremely short micro-USB charging cable, a cord keeper, a cable clip, useful user manual and pre-installed rubber 'wings' to keep the earphones in place while you're on the move.
There's nothing else really that LUXA2 could have thrown into this package that would earn it a higher score. As with other Bluetooth earphone units, the supplied charging cable is so short it's almost useless, meaning you're better off using a pre-existing micro-USB option that you may have lying around for an Android phone. If you don't already have one, don't stress, this one will still work.
Let's dig deeper
I opted in for the smaller ear grommets, in this case, finding through my 2015 reviews that I'll often switch between the medium and smaller ear grommets depending on the brand. Being a sister-company to Tt eSPORTS, I expected it to be more around the medium size, but as explained, I ended up on the smaller size of things. As for other wearing issues, if you're a new user, it's likely that you'll have to get your head around the function of the little included stabilizer 'wings', but you'll come to appreciate it after this first teething period.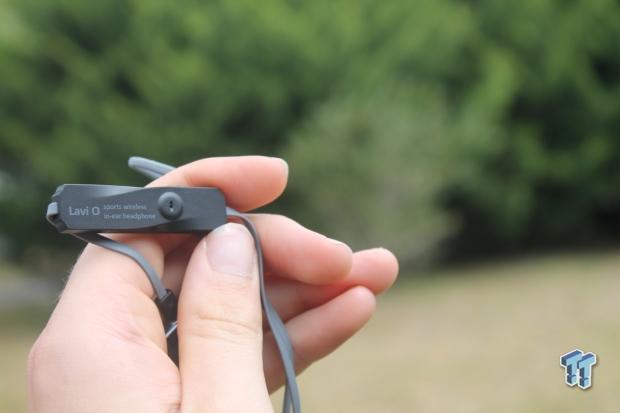 Feeling a bit clumsy on your head at first (when compared to traditional cabled earphones), I ended up getting in the groove with these products after only 20 minutes of use. Constant music pumping on my 70-minute train trip saw no pain experienced, and I ended up with no sore ears afterward. There were some times when I noticed the cable sitting on the back of my head, but once again, that's due to not being used to the product.
It seems that LUXA2 has opted to throw some of the inner workings into the in-line control unit, being an excellent decision, in my opinion, moving some of the weight away from the bulky earphone units themselves, helping with the size and weight. While this product does look a bit weird because they stick out of your ears much more than any cabled product will, they're not annoying to wear - so unless you care about appearance, they'll be fine for you.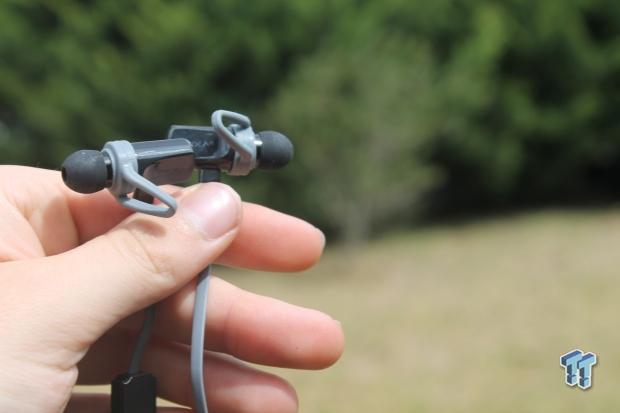 How does it compare?
The thing that stood out the most for me with this product would have been the directional sound. Working well to muffle any outside noise, I often felt quite immersed in the music I was listening to, able to hone in on quiet background sounds and tracks while being a bustling, noisy and busy Melbourne train. This is a great improvement over some other Bluetooth products I have reviewed, with them often feeling quite flat and disinteresting in comparison.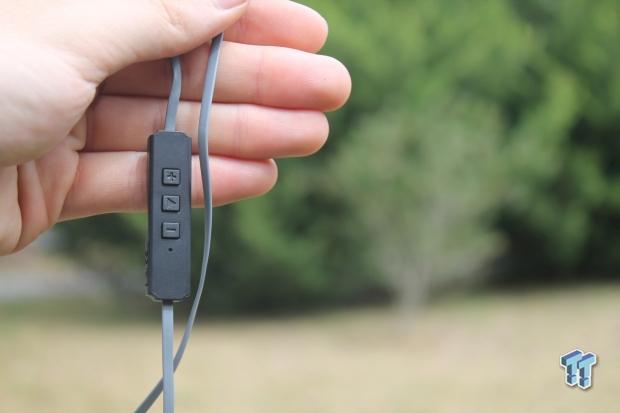 A lack of bass plagued almost all in-ear headsets I reviewed in 2015, be it wired or wireless. The gaming companies I have received products from are not known as amazing bass-heavy deliverers themselves, but a bit of bass never goes astray and often signifies higher attention to detail in this type of product. The bass provided on this model wasn't anything amazing by audiophile standards, but it was certainly stellar for any Bluetooth product I have used to date. The bass is fine for the price point LUXA2 is asking, especially with all finer details being pointed out in the music, something I find it hard to get past.
Some of the music I tested this product with included:
What's Hot
Better bass than most: Self-explanatory, the bass offered here is great for the price point.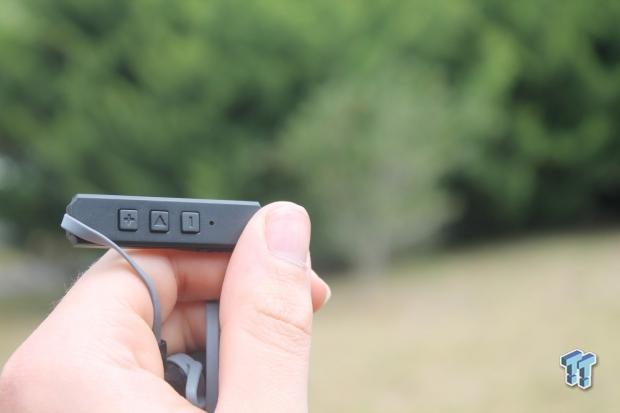 An abundance of accessories: There's anything you could hope, wish or dream for located within the packaging of the LUXA2 Lavi O.
Pricing: This product is cheaper than many wired competitors.
What's Not
It's still awkward: The earphones are big. The stabilizing wings and comfy ear grommets help, but it's still not going to anchor in your ear or feel as great as lightweight wired earphones.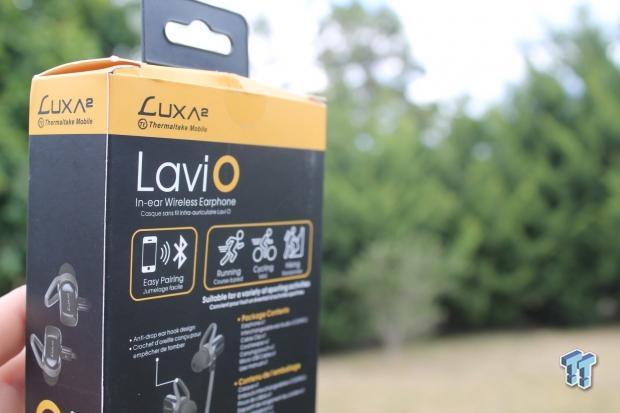 Still looks odd: While the ear pieces are a little smaller than competitors, they still look weird on your head.
Final Thoughts
In conclusion, LUXA2 has gotten closer to a Bluetooth earphone unit I could suggest to the every-day commuter, but the technology is still not quite there yet. They're still too big and they still feel a bit weird when you're wearing them.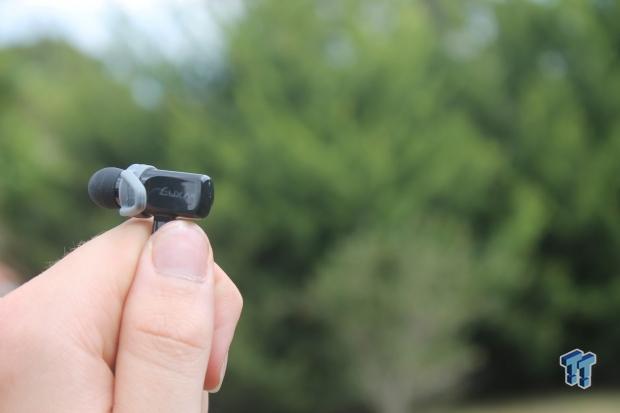 I understand that a Bluetooth unit is going to cost more compared to wired competitors thanks to its engineering and internal components, with the Lavi O being very well priced at $25, but unless you're desperate for a Bluetooth product, I would still suggest you check out a wired option. They're often cheaper, lighter, sound better and provide a higher comfort overall.
Wrapping up this review, LUXA2 has provided a solid competitor in the Bluetooth market and its better than most other products in its price range, however, unless you're desperate for something wireless, wired in-ear products still win out overall, even though this product may be very well priced.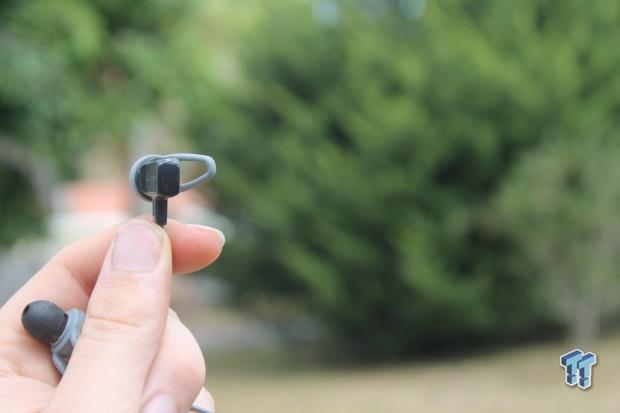 This product was tested using a Samsung Galaxy S4 with Spotify premium.
| | |
| --- | --- |
| Performance | 70% |
| Quality including Design and Build | 60% |
| General Features | 80% |
| Bundle and Packaging | 90% |
| Value for Money | 95% |
The Bottom Line: LUXA2's Lavi O is one of the best Bluetooth models we have tested so far, but it's still not quite good enough to warrant going wireless, however the price is very reasonable.
PRICING: You can find products similar to this one for sale below.

United States: Find other tech and computer products like this over at Amazon.com

United Kingdom: Find other tech and computer products like this over at Amazon.co.uk

Australia: Find other tech and computer products like this over at Amazon.com.au

Canada: Find other tech and computer products like this over at Amazon.ca

Deutschland: Finde andere Technik- und Computerprodukte wie dieses auf Amazon.de