Etekcity Scroll X1 (M555) High Performance Optical Gaming Mouse Review
Etekcity's Scroll X1 (M555) is a high performance optical gaming mouse which includes plenty of great features considering its modest asking price.

Published
10 minute read time
TweakTown's Rating: 91%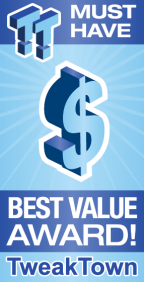 The Bottom Line
The Scroll X1 from Etekcity has truly widened our view on gaming mice. Not only does it look good, it is customizable with software, it comes with extra feet, and can be had for less than $15. At that price, you pretty much have to try one out.
Introduction, Specifications and Pricing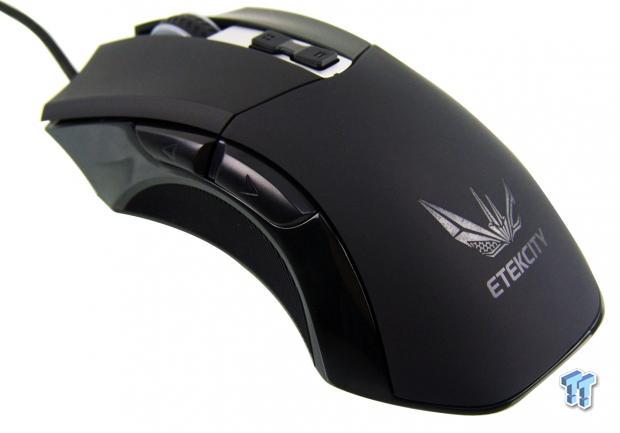 Unless you are one of those people that keeps up with every whisper of what is going on in the tech world, it is highly likely that you will have never heard of Etekcity; we sure hadn't. In fact, as we look a little deeper into things, it seems that Etekcity has its hands in selling just about everything, much like a Newegg or an Amazon, just not on the same scale, yet. In a very full line of products that they offer, you will find this mouse that we are about to get up close and personal with here in just a moment.
What we were told upon receiving a few samples from them is that they are geared to sell products designed to gamers with most of the bells and whistles we have all become very used to in the last few years of mouse development. The thing is, that while they are even opting to offer high-end components included with their products, what will amaze you is the fact that Etekcity is able to offer us something worth our time to have a look at for less than a twenty dollar bill. Considering that top end gaming mice are in the realm of $80 or more, our eyes should not be the only ones widening here.
Today, we are having a go with the Etekcity Scroll X1 (also known as the M555). This mouse is designed for claw or relaxed grip users, which we fall into the latter category, so this mouse should play right into our wheelhouse. While we don't have a previous history with Etekcity, sometimes that is a good thing as we can go in eyes wide open and see just what they are offering. The reality of it all is that if they can indeed offer the Scroll X1 with the parts listed inside, it functions well and feels like it will last a while, at this sort of cost, the Scroll X1 could turn the market sideways as others realize there is someone out there looking to undercut their products by a huge margin. Of course, this is great news for consumers.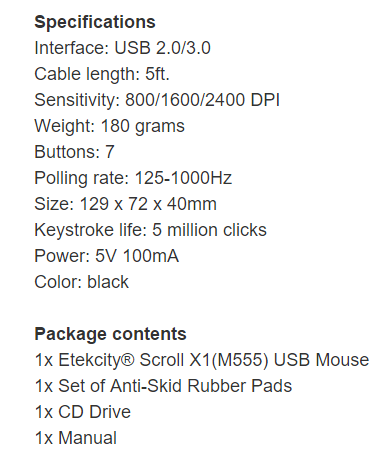 It will work with any USB 2.0 or USB 3.0 port on your motherboard or laptop, and affords five feet of cable to get comfortable with on your desk. We see the DPI is adjustable, but only in the preset increments of 800, 1600, and 2400 DPI as it max. It weighs in at only 180 grams, comes with seven programmable buttons, and even offers polling rate adjustments in four stages, from 125Hz to 1000Hz. We are given the dimensions of 129mm from nose to tail, 72mm of width, and at its highest point, it stands 40mm tall. the last bits we are given is that this offers five million clicks per switch for the main two, uses 5V and 100mA of power, and it comes in black.
We also see that along with the mouse, we get a set of feet, a CD with drivers, and a manual. What we don't see, however, is that there is no mention of materials of components. The mouse is made of plastic, but the Scroll X1 even has a sleeved cable on it, terminating in a gold plated USB 2.0 connection. Inside, you will find the main switches backed by Omron switches, and the secondaries, Etekcity went with Huano switches. There is no mention of the use of the Avago ADNS A5050 optical sensor to track your movements. While there is a mention of the CD and drivers, there is no mention made about the fact that this mouse even goes as far to offer software to customize beyond the default options, and over multiple profiles.
We do know that looking for an Etekcity product, such as this Scroll X1 mouse, leads you to one of four options to buy one. You can buy them direct from Etekcity at the price of $13.98 with free shipping included for starters. You can also find this mouse listed at Amazon for $14.98, but it does not surpass the $35 minimum for free shipping. The last of the options is to venture over to eBay to try your luck there with various pricing, or as the last resort, you can leave the solitude of your house and venture over to Walmart and pick this up off the shelf for $14.98 as well, of course state taxes do apply then and will add to the total price.
So, for less than a twenty dollar note, you can have what all other companies are offering in some form or another, just that this time, you are able to do it for half the price (if not more) than most of those other solutions.
Packaging, Accessories and Documentation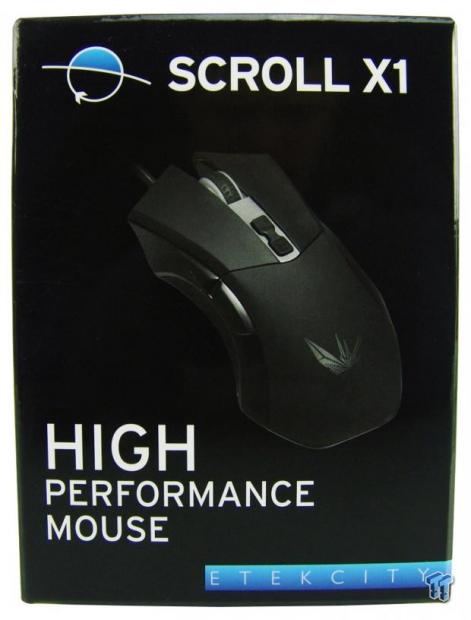 Our Scroll X1 showed up in a black box with the image of the mouse mostly visible in the center. Down toward the bottom it shows that it is a High Performance Mouse from Etekcity.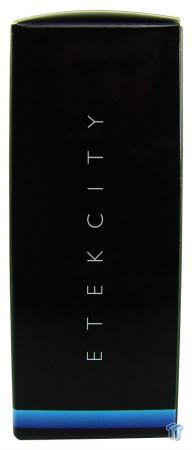 Saving some cost in the packaging, the thinner side of it only offers the Etekcity name and a bright blue line at the bottom.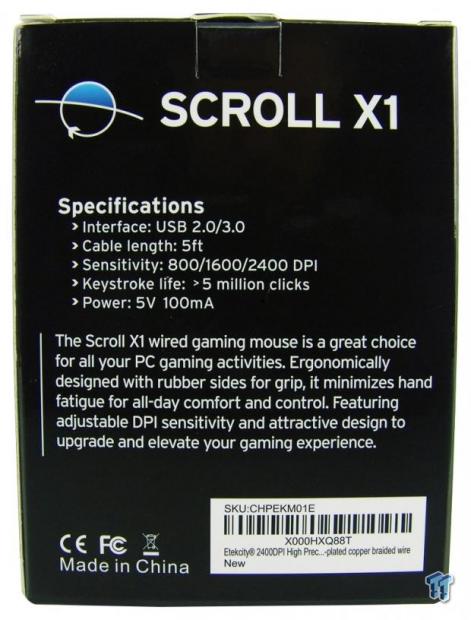 Spinning it now to the back of the box, we find the specifications we covered just under the Scroll X1 naming at the top. Below, we find an explanation of what went into the design and how these things are designed to make your user experience that much better.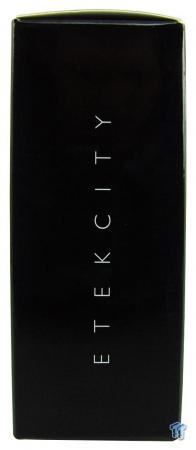 With little else for Etekcity to say about the Scroll X1, this side also only sports the company name, and we even lost the blue line at the bottom this time.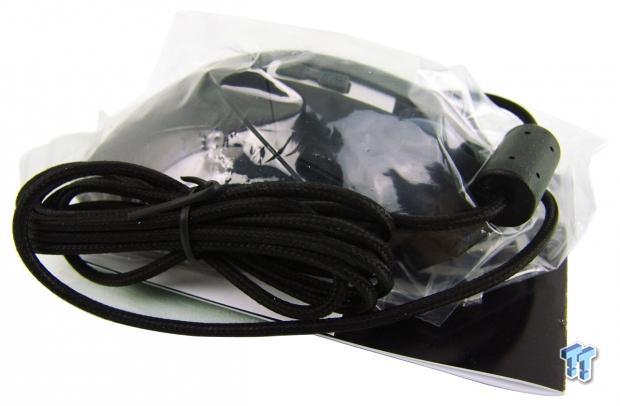 Upon opening the box and sliding its contents onto the table, this is what we found. The mouse is simply put into a plastic bag, with the cable outside of it, left to just sit freely in the box. There is also some paperwork and other goodies slid in under the mouse as well. Even with such unimpressive internal packaging, this Scroll X1 showed up ready to work.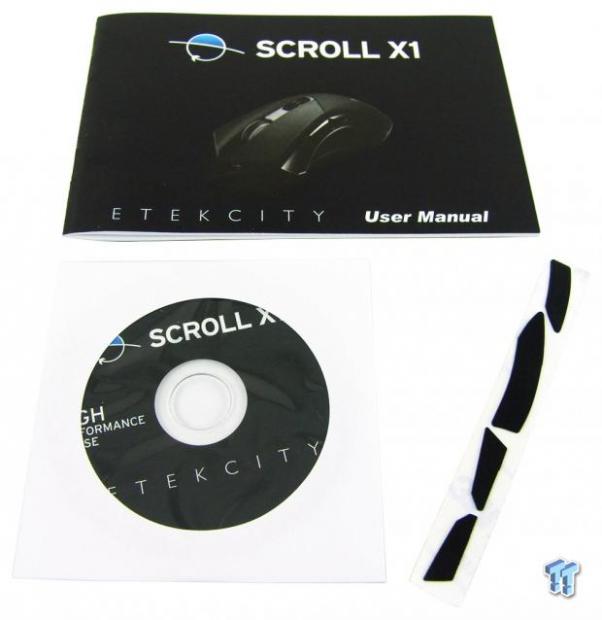 What is seen now is what is shipped under the Scroll X1. There is the user manual to show what the buttons do, that there is software to get, and how that all works to customize this mouse to fit your style. There is also a driver and software disc included, and something we don't even see in $80 mice, an extra set of feet.
Etekcity Scroll X1 Optical Gaming Mouse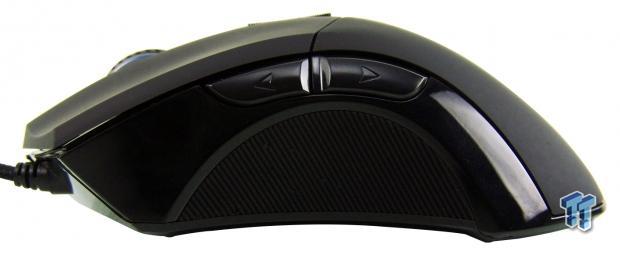 The Scroll X1's left side starts at the bottom with a center section of rubber with ribs to afford a good grip on the mouse. Above that is an arching section of shiny plastic that houses a pair of buttons that offer forward and back click by default, but are programmable.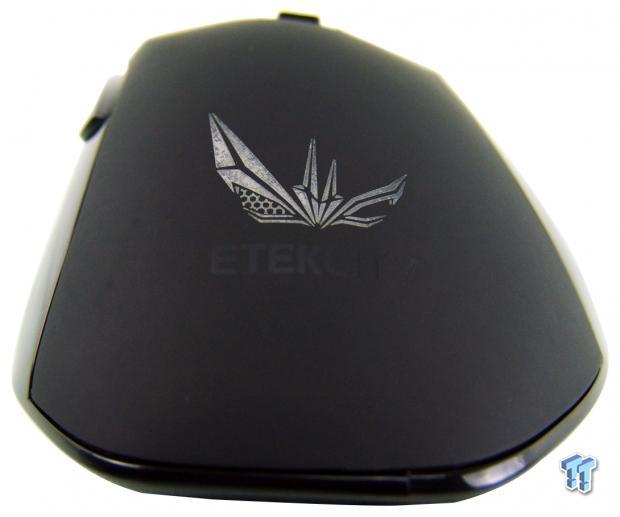 At this end of the mouse, we find no straight angles, the sides are a bit off angled, the heel isn't square either, but the whole mouse has a nice ergonomic lean to the right though. The Etekcity name is painted on, but their logo above will illuminate when powered.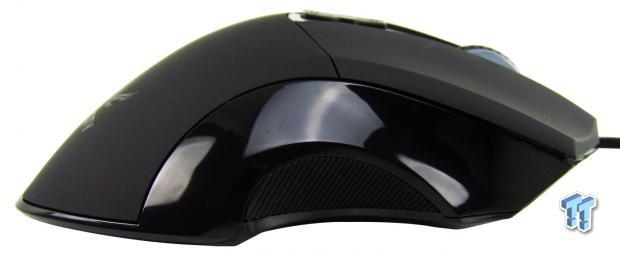 The right side looks much like the left side does, with minor changes. There is still the rubber section at the bottom, this time on a deeper curve, and its size is smaller. Above though, we again find the shiny plastic before moving into the matte finish at the top.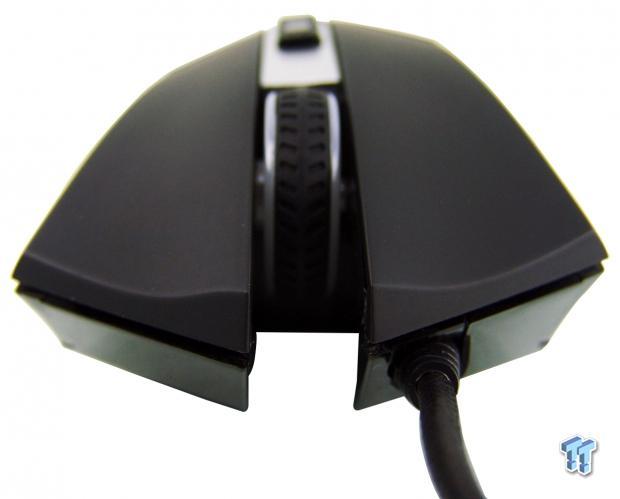 The front of the Scroll X1 is open in front of the wheel, and the buttons on either side come to a point in the middle. The cord then has no option but to be off center as it comes out of the left side of the Scroll X1.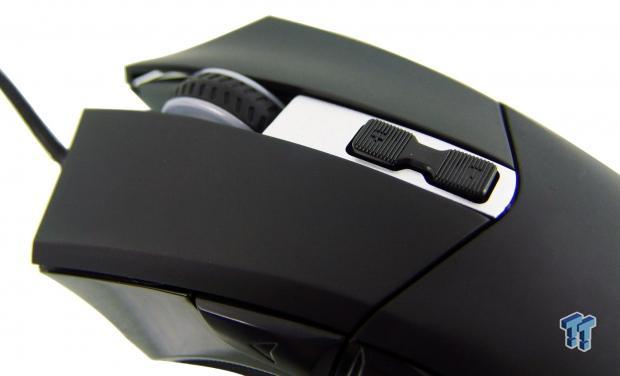 The coating on the top is soft to the touch, almost slick, but is rubberized as well. There is a bit of brushed metal surrounding the DPI selector buttons, with the rubber centered scroll wheel hanging out there by itself.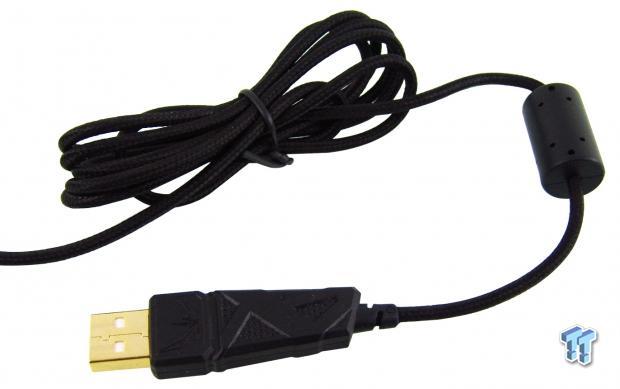 Back to the USB cable that comes from the mouse for a second as we now get a look at the five foot of it bundled up in this image. There is a gold plated USB 2.0 connection inside of a uniquely designed plastic end that will be easy to find in the rear I/O, and the rest of the cable is braided to dress things up.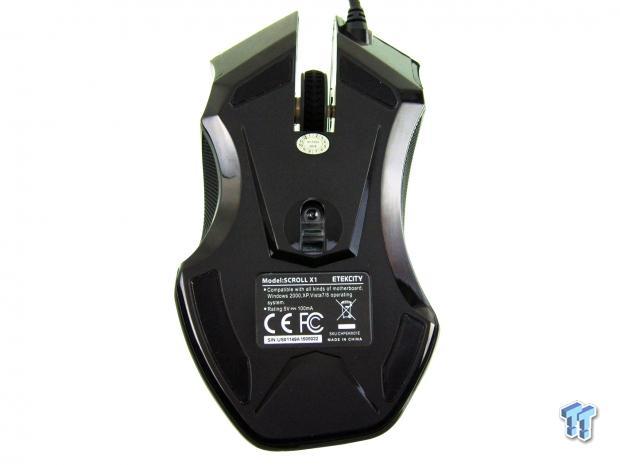 Under the mouse, we find that the sensor eye is right in the middle, and at the points of the X-like shape of this design, we find one of the four feet that this mouse glides on.
Inside the Scroll X1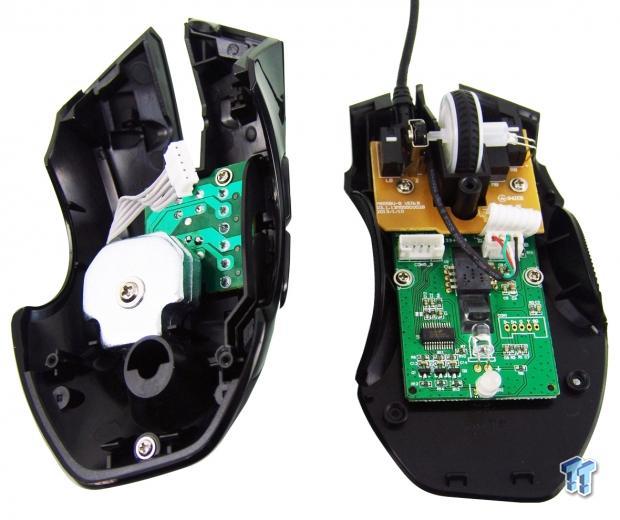 Inside of the Scroll X1, we find duties have been divided into two PCBs, and in the top of the mouse, we also see added steel weights. Things on the lower half look pretty simple too, but let's get in closer to see what they are using in this mouse.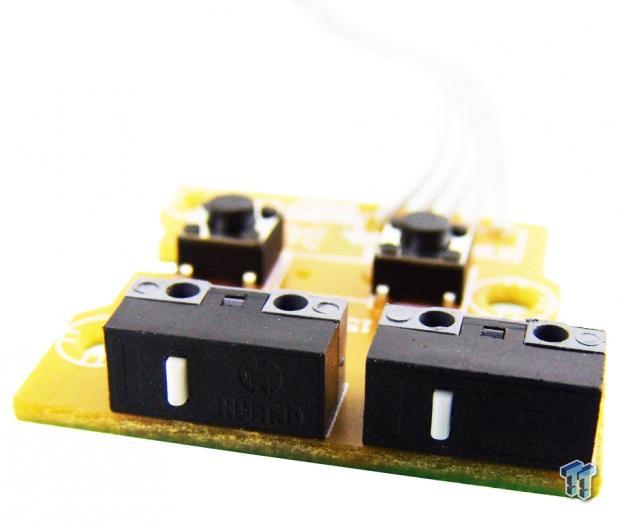 The PCB from the top half of the mouse has a pair of Huano switches on the side of the mouse, and for the DPI buttons, those are backed with typical black pad style switches. Both sets of switches are audible when used, and require a bit of force to use.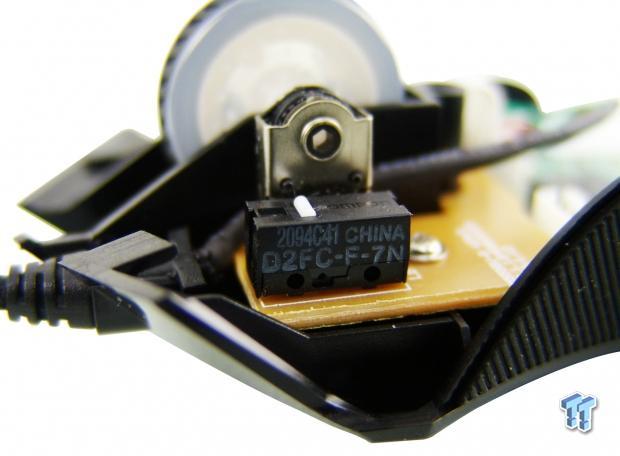 Under the left click button, we find an Omron D2FC-F-7N switch used. This switch is good for five million clicks, and is solid, and again requires some force, meaning it is not easily accidentally pressed.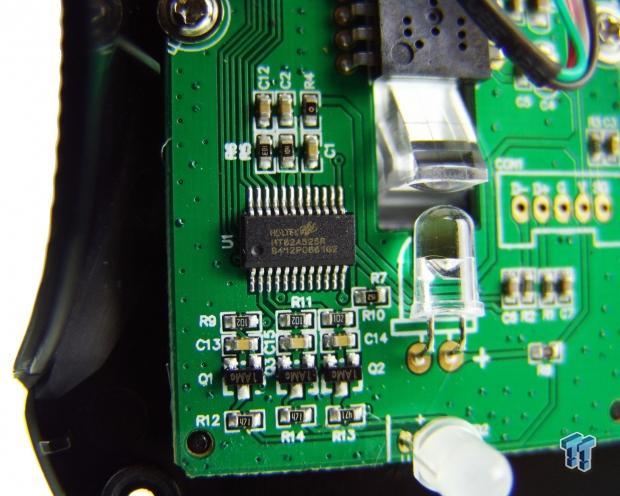 A bit further down the left side of the mouse, we run into the Holtek HT82A525R. This is the USB MCU, the brains of the operation.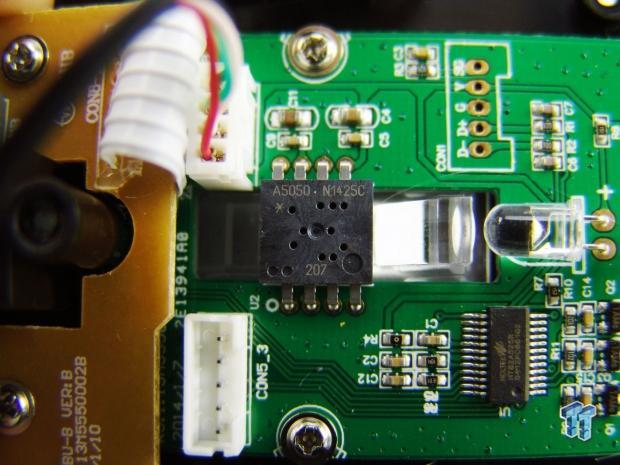 In the center of the PCB, we find Etekcity uses an Avago ADNS A5050 sensor. In this instance, its DPI tops out at 2400, but this optical sensor is still spry enough to make you forget all about super high DPI settings.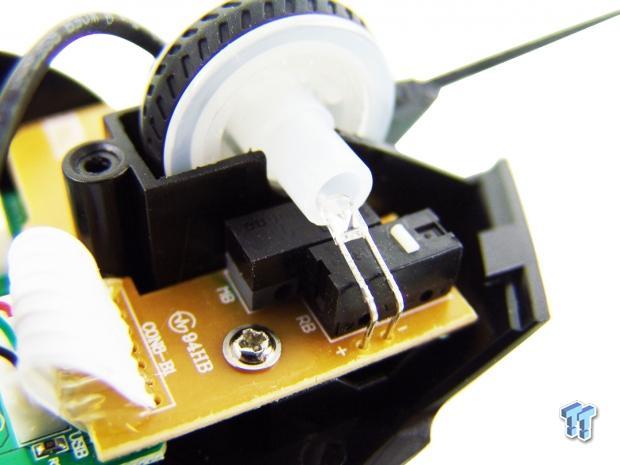 Getting back up to the front, this time on the right side of the mouse, we find a pair of switches under the LED that illuminates the scroll wheel. The one closest is under the right click button and is another Omron switch. The one further away for clicking the scroll is again a Huano switch like those up top.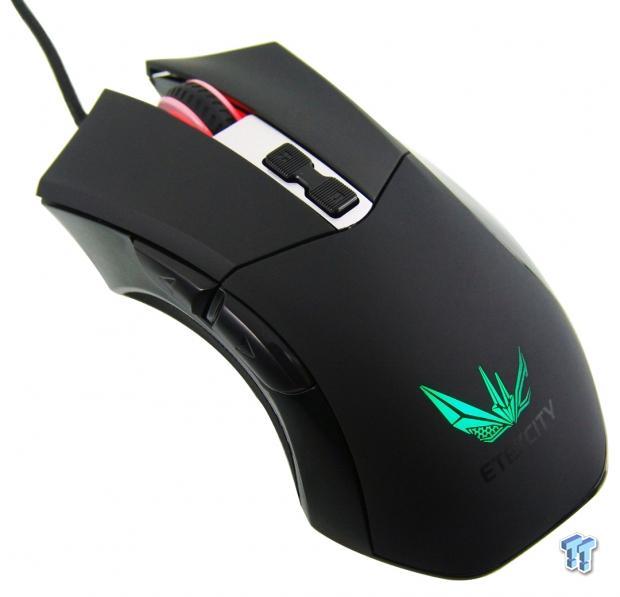 Once the Etekcity mouse is plugged in, software running or not, for the lighting, you have three ways you can have it. The scroll wheel is always red no matter what else you do, but as default, when at 800DPI, the logo on the heel is always green.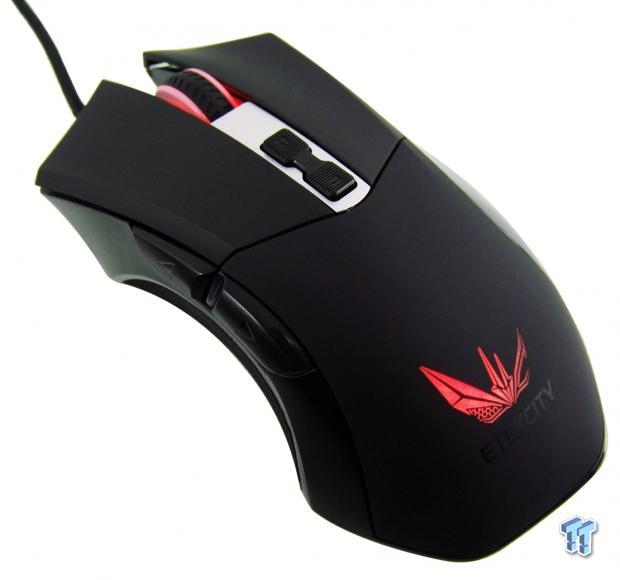 When you move to 1600DPI, the logo turns red to match the scroll wheel. Right now, we feel this is the best look for the Scroll X1, and don't worry, you can change settings around to get red lights and the settings you want.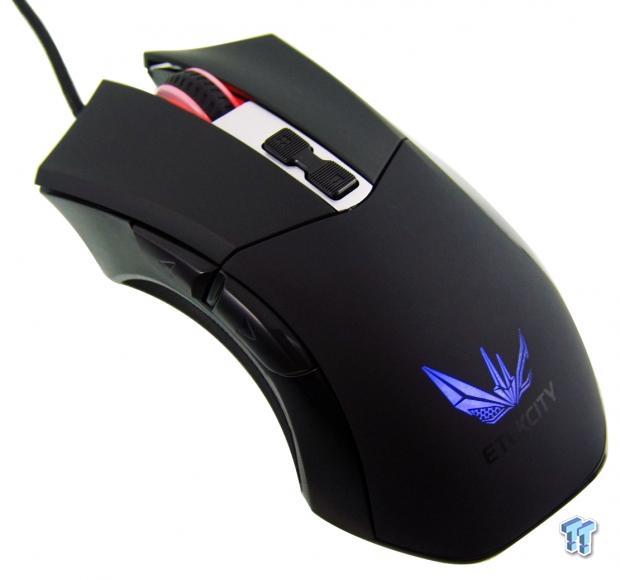 The last option is to press the DPI button a third time and go with 2400DPI. The light in the heel then turns blue to note the switch. Keep in mind, these colors can and will also designate which profile you are using.
Software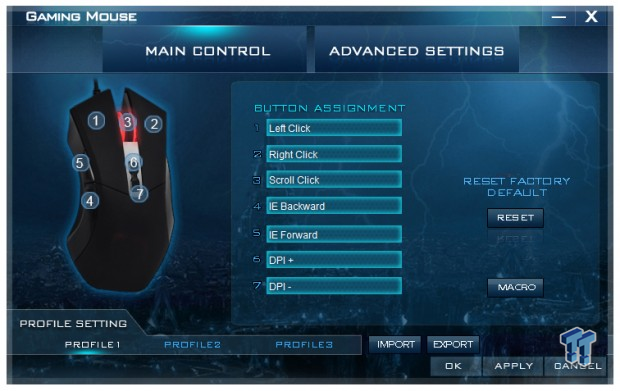 Without an optical drive, we went over to Etekcity and found the driver and software download pretty easily. After the quick installation process, this is what we were given. In the main controls, we find all the buttons labeled at the left with their current functions listed to the right in the button assignments. The profiles along the bottom are also going to use the trio of lights to show which you are using or trying to program.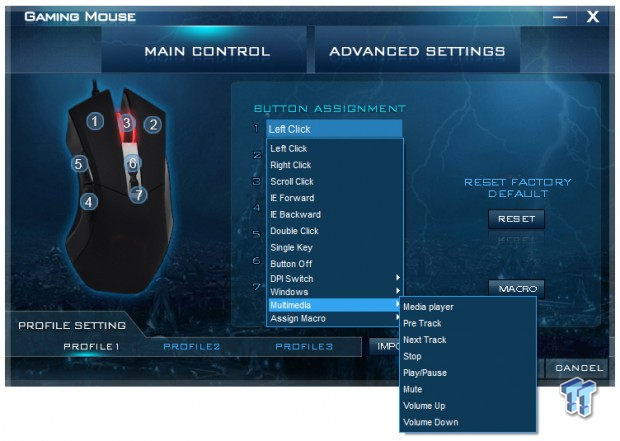 Just to show the options of what can be programmed into the mouse by default, Etekcity offers a decent list of options. For instance, the multimedia optional functions could be handy.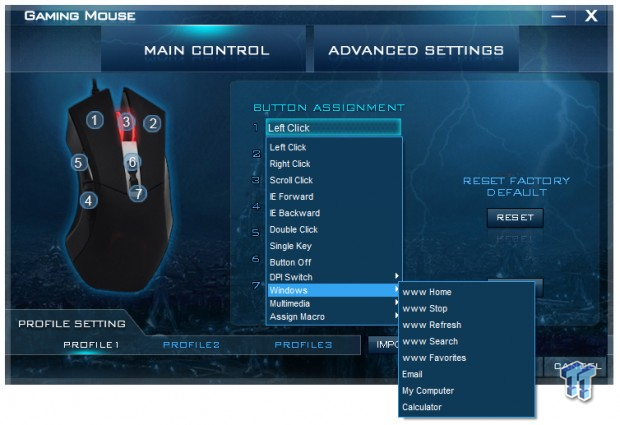 The Windows options for the buttons are a bit less impressive, but handy to have nonetheless. Also, keep in mind that these can all be mixed and matched as well, you don't have to set them all to a group; it comes down to if you can remember what they all are set to.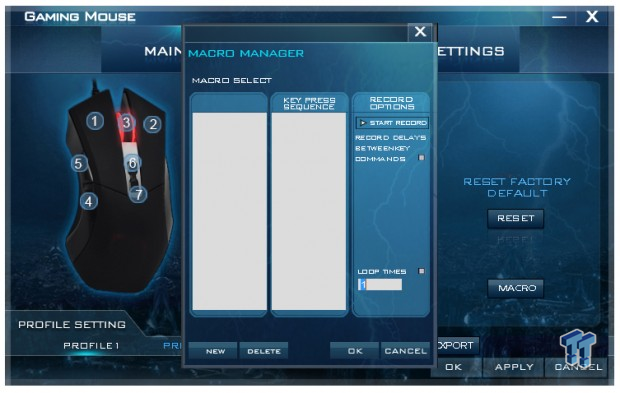 More impressive is that for $15, you even get the option to use Macros. You can import and export on the main window, but here you get the basics like recording time delays, but not manually setting them, and you also get loop counter to set the amount of times it is spammed. Outside of that, you don't get much, but it's still nice to have at our fingertips what is included.
The last thing you can do is switch over to the advanced settings tab. Here you have the ability to change each profile and what they are set to. We are on profile one, and while it shows 500Hz polling rate, we changed to 1600 DPI rather than the default 800, and we can also change the scroll wheel speed and the double click speed.
Final Thoughts
First and foremost with any mouse is the fit and how it feels when using it. While we like the looks of the design, it does not fit our hand very well. The top of the mouse is fine as it caresses your fingers in the slightly welled right and left click buttons, and the scroll wheel is firm in its movements, and easy to reach. The side buttons are in a good location to reach easily with our thumb, but the sides is where we felt our issue was.
While the Scroll X1 is plenty long enough for any relaxed grip user, and therefore more than long enough for claw grippers out there, we found the mouse to be too skinny in its width. For a claw grip, it seems to matter less, but our relaxed grip left us feeling like we were digging under the mouse to move it or lift it. This, of course, is the very subjective part of a peripheral review, and we know not all hands are created equal.
Functionally, we like that they chose well known makers for the components. The Avago optical sensor tracked our every movement, and even with only 2400DPI at its top end, I feel like you don't need more when it comes to gaming, precision in photo editing, or anything you find yourself clicking away at on the PC. The Omron's feel as they should, solid, needs a bit of pressure to actuate, and will give users a long useful life. Huano switches for the secondary switches is a good mate to the Omron's. They almost have the same sound and feel to them, but also are used much less, so there is less need for costly switches here. We have spent many hours with the Scroll X1 in various scenarios of work and play, and with our previous comments stated already, functionally this mouse is rock solid.
What really blows us away though is the complete package. The Etekcity Scroll X1 will fit a lot of gamer's hands, it is readily available, it comes with software to customize things to your needs, it looks really good on the desk, and it even comes with an extra set of feet. Then when you sit back and realize that everything it offers is about the same you get from other manufacturers at double and maybe triple the cost, you do sit and wonder why many mice are indeed so expensive.
While this is not the most evolved in mouse technology, the software isn't the best of the best, and even though the feel was a bit off for us to use long term, it is impossible to deny the display of efficiency and savings passed onto the customer with this optical gaming mouse that costs less than $15. While we may not have known who Etekcity was before this, after seeing something like the Scroll X1 at a steal of a deal like it is, they certainly won't be soon forgotten.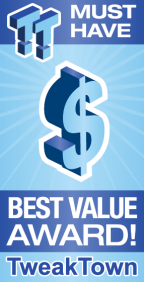 | | |
| --- | --- |
| Performance | 92% |
| Quality including Design and Build | 88% |
| General Features | 89% |
| Bundle and Packaging | 85% |
| Value for Money | 99% |
The Bottom Line: The Scroll X1 from Etekcity has truly widened our view on gaming mice. Not only does it look good, it is customizable with software, it comes with extra feet, and can be had for less than $15. At that price, you pretty much have to try one out.
PRICING: You can find products similar to this one for sale below.

United States: Find other tech and computer products like this over at Amazon.com

United Kingdom: Find other tech and computer products like this over at Amazon.co.uk

Australia: Find other tech and computer products like this over at Amazon.com.au

Canada: Find other tech and computer products like this over at Amazon.ca

Deutschland: Finde andere Technik- und Computerprodukte wie dieses auf Amazon.de
We openly invite the companies who provide us with review samples / who are mentioned or discussed to express their opinion. If any company representative wishes to respond, we will publish the response here. Please contact us if you wish to respond.