TweakTown's Rating: 95%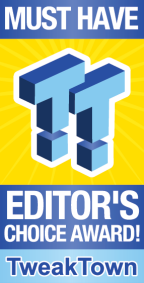 The Bottom Line
It's constructed well, sounds rich and full, plus provides useful accessories at a great price. Pick one up now if you're always on the move and like your music to come with you.
Introduction
Don't let the pastel pink color scheme fool you. LEPA may be new to the portable speaker game, but it seems that its R&D department has someone quite smart at the helm given the quality presented with this product.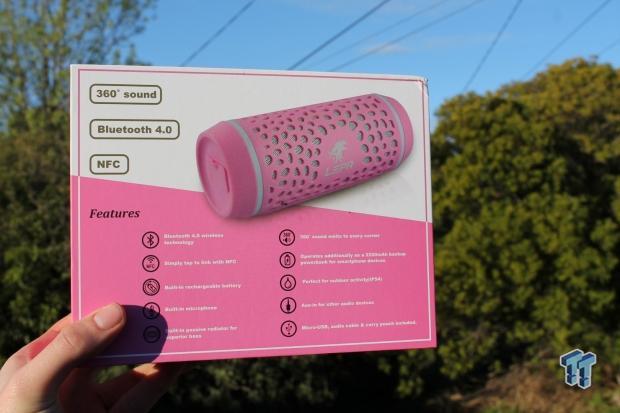 It looks quite similar to another speaker I have tested before, which (as they all do) boasted superior sound quality and bass, but fell short on almost every single level. Because of this, I thought that the LEPA BTS02 was just a rebranded OEM model set to suffer the same fate. I was proven seriously wrong.
Specifications
Featuring two 4 watt drivers rated at a maximum sound level of 90dBA, this lithium-ion powered speaker packs a claimed 10 hours of battery life after a four hour charging period.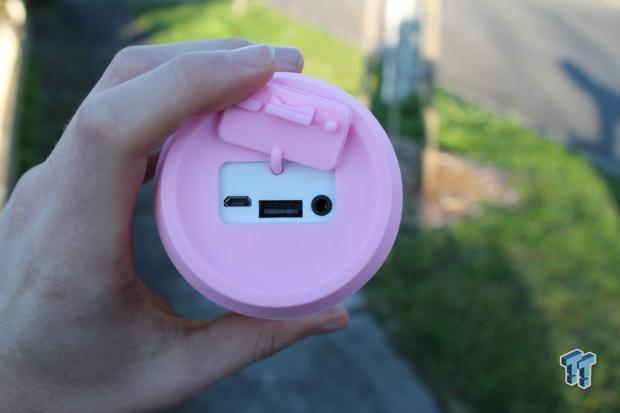 Connectible to your device of choice through Bluetooth 4.0, NFC and AUX 3.5mm options, it measures 188 X 76 X 79 (mm) and weighs in at 550 grams. The 2200mAH internal battery also provides smartphone charging through a single USB port located on one end of the product, next to the micro-USB charging input.
Through my HIS 4-port turbo charger, this product charges at a tested 0.45A stable from under 30% capacity. An interesting feature is the ability for this speaker to project sound in a 360-degree radius and this is something I will be testing in detail.
Pricing & Availability
Coming in at $73.99 on Amazon with free shipping at the time of writing, this is one of the more expensive portable speakers I have reviewed. This isn't a bad thing though, as many companies decide to produce speakers and push them to market with low price points in order to entice users over. However, many miss the mark with quality and sound performance. If the BTS02 can stack up in the sound department, the price will certainly be justified.
What's in the box?
Thankfully for the extra price paid by the consumer, there is a reasonable amount of accessories hidden within. First up is the general inclusion of a micro-USB charging cable, with this one being of adequate length compared to other companies whom have started providing speakers with 10cm long miniature cables.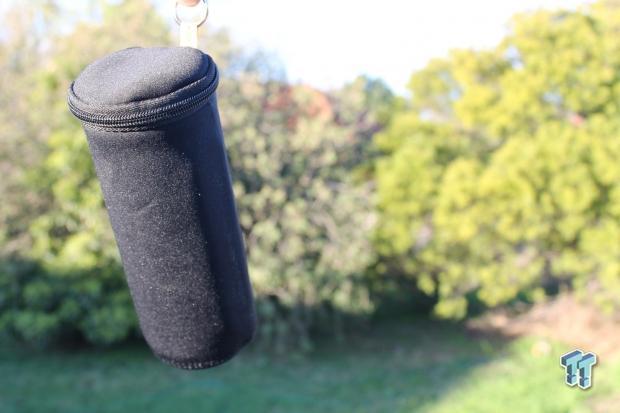 There's also a handy 3.5mm jack cable for AUX input it you're not keen on using the Bluetooth 4.0 and NFC functionality, but be aware that using this means you have to pop open the hatch and remove the water resistant qualities of the device. This cable is also flat in design which is a nice touch. Also included is something that I see as mandatory for almost all accessories - a carry bag. This one is made of wetsuit-like material and has a zip at the top, alongside a small metal loop for storage or hanging. A bag isn't a make or break accessory, but for something that is marketed towards and designed for travel, it seems only logical to have one included.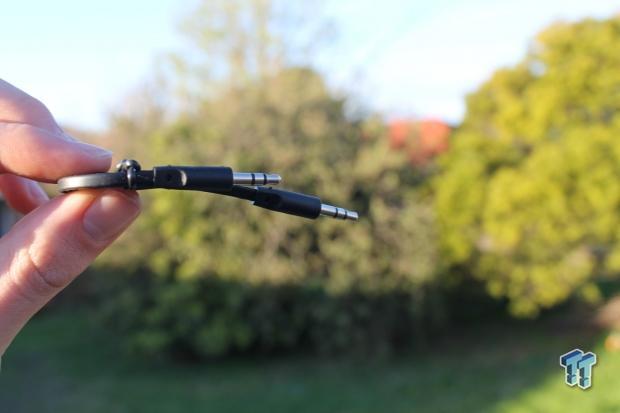 Let's dig deeper
The rubber exterior claims to help prevent knocks and bumps. It feels soft to the touch and attached quite well to the product with the frame itself being sturdy. The small hatch which is designed to stop water from entering the ports also seals extremely well.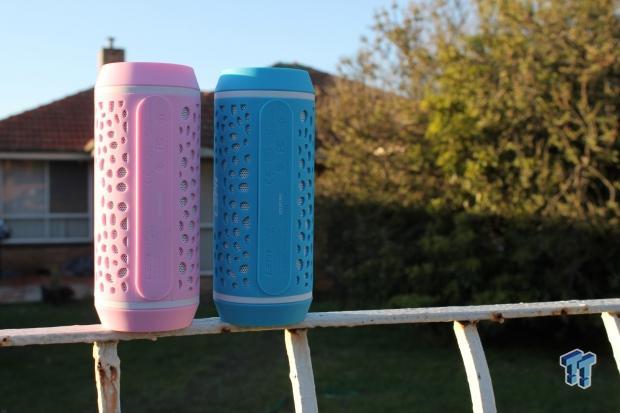 This speaker is perfectly loud enough and the 360-degree sound works as it should. When blasting music at full volume, I was able to spin it around in my hands and hear the same level music no matter which way the product was twisted; certainly a plus for outdoor event and get-togethers. It's as loud as our previously-reviewed Braven BRV-X when in 'outdoor mode' and will make your ears ring when in close proximity and at 100% volume. As seen with other high-quality speakers when played at full volume, there is no distortion of the speakers, no bass rattling the products frame and the only thing moving being my desk vibrating as each punchy bass beat hit in Flume's remix of Disclosure and Eliza Doolittle's song You & Me.
Bass is something that's lacking in almost every audio product I have reviewed thus far. There is often hints of it in the expensive models and the cheaper ones try to blast too much bass through a low quality driver (think: distortion). This product has a distinct punch with each beat, the sound is full and there is no distortion whatsoever. Granted, it's nothing even on my Logitech X-530 desktop speakers set up in 2.1 mode, but for speakers without a dedicated subwoofer, it does extremely well.
The buttons feel great, although there seems to be no 'skip song' mode built into the volume up and down buttons. What I like is that the volume can be changed by either pressing or holding them down due to there being no option to change the song. It makes for a better experience rather than accidentally skipping songs all the time.
Now on to charging. As explained previously, this unit has a single USB port, which is designed for charging other products off the main speaker battery. Bluetooth technology has gotten better power saving wise, but it still causes your phone to drain quickly. I'll start off with the negative in order to get it out of the way and then chat about some test results I have experienced. At first, I thought my speaker was faulty, so LEPA kindly sent me along a second unit. Why did I think this? Because it would not charge my Samsung Galaxy S4, no matter what cable I used. When the second unit got here it wouldn't charge my S4 either, so I picked up my Google Nexus 7 tablet and three different portable chargers I have and they all charged fine! Weird...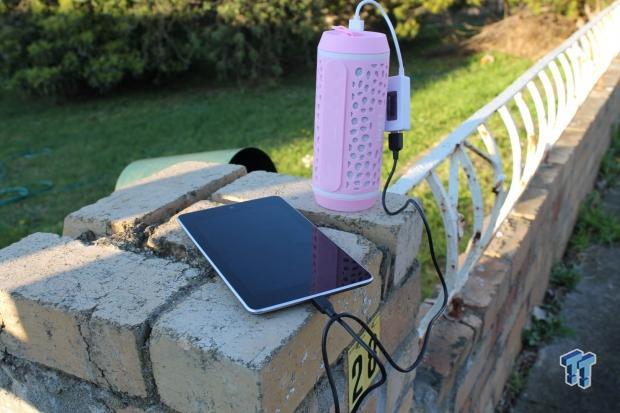 Now I couldn't find exact output readings for this single USB port, so plugging it through my little tester unit and into my Nexus 7 tablet unlocked on full brightness, I was informed that this port was putting out a respectable 0.90A flat and stable. Switching it over to my Patriot FUEL iON portable magnetic charger saw a slower charging rate of 0.23A, but it is worth noting that this charger was very close to being full up itself.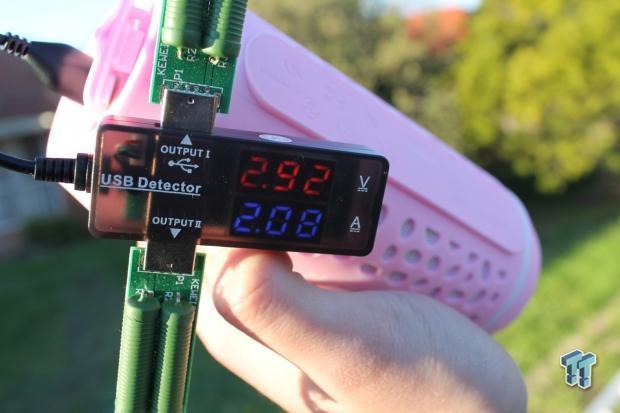 Moving on to a load test with my other testing unit saw a positive result, as 2.05-2.09A was put out when placed under 3.5A of total load. It's possible that the tablet simply can't take any more power through its micro-USB port, but it's a little weird that with 2A of total charging that it would chose to push out only 0.90A in total. All of these tests were undertaken at a similar speaker charge level (within 5%) and through the supplied micro-USB cable.
One of the best
As mentioned, this speaker is loud and it actually provides bass! The 4w dual drivers are slightly more powerful than I have seen in most other speakers provided, sitting around 3w as the average. Like I said before, there isn't a big punch with each bass hit, but the sound is certainly full and much richer than most other units you will see on the market.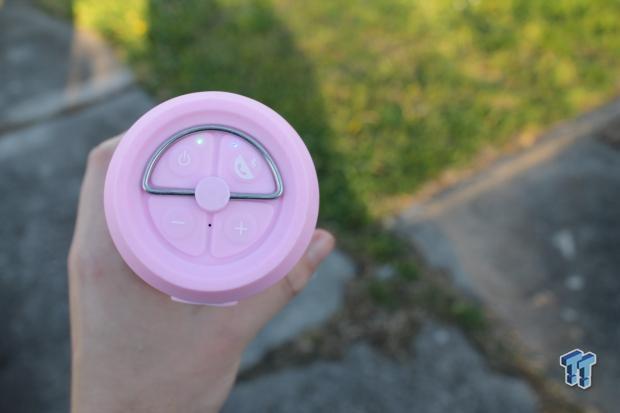 I've found one of the best recent-release songs to test the fullness and bass punch of a speaker is 'Don't Wanna Fight' by Alabama Shakes - loading this up I was certainly impressed.
The clarity is crisp, each bass drum punch is present and the symbols ring as they should. As mentioned previously, most other speakers will completely remove the bass experience in order to stop their speakers distorting or simply distort massively at high volumes trying to push through sound that it is not capable of handling. The bass in the BTS02 won't rattle your teeth, but it's certainly satisfying enough. Listening in to Duke Dumont's 'Wont Look Back' introduction reports fairly good clarity and mid section sounds, there also seems to be minimal hissing as seen with other Bluetooth speakers - maybe Bluetooth 4.0 has fixed this issue.
If you're looking for more of a heavy metal experience like 'The End of Heartache' by Killswitch Engage performs just as you would expect as seen with other speakers like the Braven Mira and the Etekcity T12.
What's Hot
Sturdy and sleek: It's built well, the buttons are responsive, and the provided accessories are useful.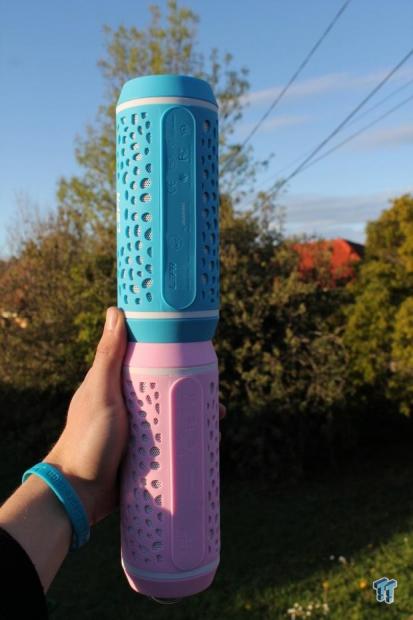 Sound projection: It projects loud sound in a 360-degree radius, plenty enough for a get together of up to 10 people.
Sound quality even when at full speed ahead: Even when jacked up to 100%, this speaker will provide you with clarity in its sound as seen at 20%. The speakers won't distort and the product won't vibrate all over the table.
Bass, finally!: With full sound and a bit of punchy bass, it's about the best you could expect out of a speaker without a subwoofer attached.
What's Not
The price: We've heard speakers that are almost as good as this for $30 less. Is it worth paying $30 for better build quality? That's for you to decide.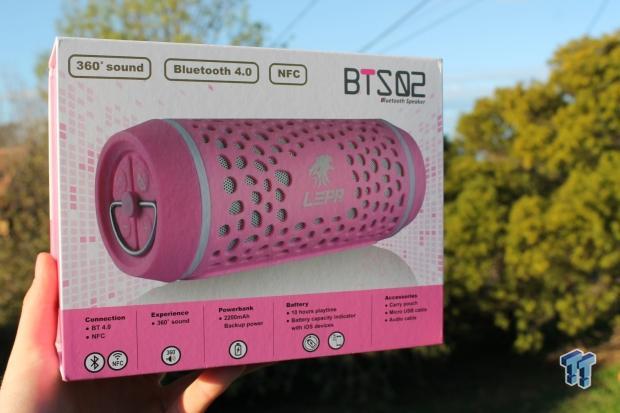 Final Thoughts
This speaker sounds great, looks great, and is built with strong materials. It's one of the best speakers I have reviewed yet and is certainly cheaper than many of the others.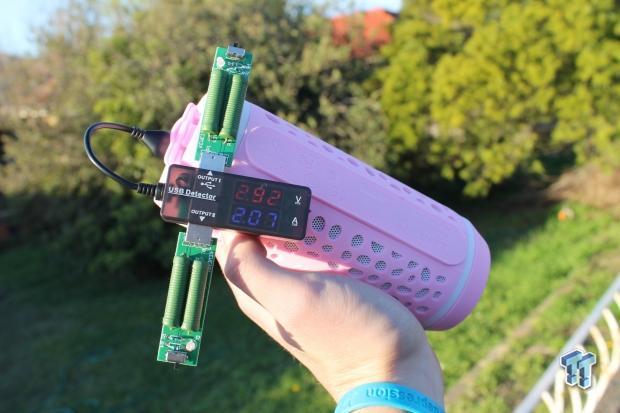 The design styling is certainly not for everyone as many of my friends are not fans of the cylinder shape, but the price and performance match up quite well in my opinion. The optional charging port is semi-useful and also helps set this product apart from others with Bluetooth 4.0 providing an advantage in lowered power usage.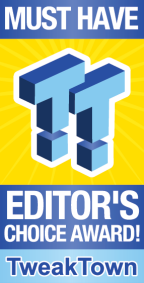 | | |
| --- | --- |
| Performance | 95% |
| Quality including Design and Build | 95% |
| General Features | 95% |
| Bundle and Packaging | 95% |
| Value for Money | 95% |
The Bottom Line: It's constructed well, sounds rich and full, plus provides useful accessories at a great price. Pick one up now if you're always on the move and like your music to come with you.
PRICING: You can find products similar to this one for sale below.

United States: Find other tech and computer products like this over at Amazon.com

United Kingdom: Find other tech and computer products like this over at Amazon.co.uk

Australia: Find other tech and computer products like this over at Amazon.com.au

Canada: Find other tech and computer products like this over at Amazon.ca

Deutschland: Finde andere Technik- und Computerprodukte wie dieses auf Amazon.de
We openly invite the companies who provide us with review samples / who are mentioned or discussed to express their opinion. If any company representative wishes to respond, we will publish the response here. Please contact us if you wish to respond.