TweakTown's Rating: 86%
The Bottom Line
If we were to give them a grade, this Team Group Vulcan kit gets a solid B! They do what they say they will, they even tighten up with a little extra voltage, but the limitation imposed by this kit when it comes to clocking them will turn off enthusiasts.

Just like when we reached out to Kingston and looked at the HyperX fury, we also reached out to Team Group Inc., and after a few emails we were told to expect a set of DDR4 RAM to arrive. What showed up was a 16GB set of Team Vulcan 3000MHz memory. We have had memory this fast, and even slightly faster, so we think we have a good handle on what the system needs to help allow everything to play well together as we get deeper into this Vulcan DDR4-3000 review.
Of course, this 16GB density kit of Vulcan's runs at 3GHz right out of the box, but there are other things to consider. Looks are a big seller, and to help with this, Team shows the Vulcan sticks available in red, orange, a light green, or blue as an option for the aluminium heat spreaders on these kits. Then there are the timings, and here we find a kit running 16-16-16-36 2T, but needs the top of the range in voltage at 1.35V to run this kit stable in any system. We also like the fact that this kit comes with a lifetime warranty.
With this kit, there is the magic of the XMP2.0 profile that allows the memory to get up to speed without impeding on the CPU and IMC as much. While the default speed of this kit is 2133MHz, when enabling the XMP profile, you will find the BCLK changes to 125, and the memory ratio used is 2400MHz. Where we would usually set things up the way we like to level the playing field, we were constantly running into issues of dropping channels or no boot situations. This means we will indeed have to test this kit as it works via its XMP profile, as once we stepped too far out of that realm, everything went belly up.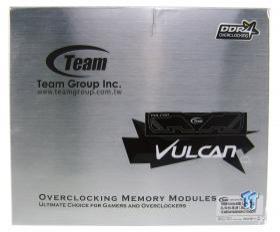 The packaging, while just cardboard on the outside, is stepped up quite a bit from what we are used to seeing. With a brushed metal appearance for the background, Team, Vulcan, and the memory image are both done in black to be easily seen. That goes for the line at the bottom of these being the "ultimate choice for gamers and overclockers". We will see if that holds true.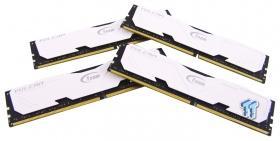 Out of the four color choices implied to this kit online, we were sent a fifth option with the white spreaders on the memory. With very little in the design, and grey paint used on the white spreaders, the Vulcan and Team names are almost stealth in their appearance. We also like the high contrast of the white against the black PCB.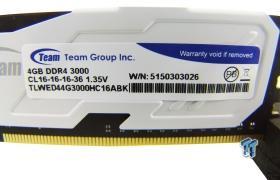 The other side of each stick is identical to the side we just looked at with both the Vulcan and Team name displayed. However, at the right end of the stick this time, we find the product sticker offering the speed, timings, voltage needed, and the TLWED44G3000HC16ABK kit naming.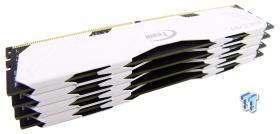 The two piece spreader design comes together at the top of the PCBs, and offers a chevron design at either end, and a large opening in the middle; leaving essentially four thin bits of white to see when in use.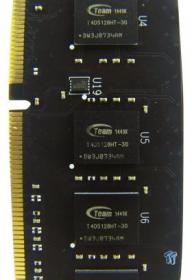 Team is another company that requests the IC manufacturer naming be replaced with their own. We also found no information trying to use Google to sort out the second and third line for specifications pertaining to them. Whatever they are, we will say they are binned to the utmost extreme of what this kit can do.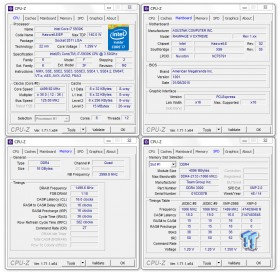 We had to change a couple of multipliers to get the system to the right speeds while using the XMP profile to run this Team Vulcan kit at its rated 3000MHz with 16-16-16-36 2T timings we see in CPU-Z. Trying to boot 100BCLK and the 3000MHz divider either dropped channel C or D, or just would not boot with a post code LED error displayed.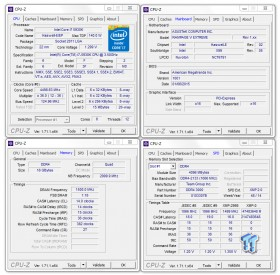 Considering the issues we had getting the system stable where all other kits this fast and faster have done so well, it did break our spirits a bit, and lead us to find that 3000MHz was the maximum we could get, using even 100.1 set in the BCLK option sent them memory into a crazy fit. However, with a slight increase of 1.40V used, we easily dropped the timings back to 14-14-15-36 2T, and to our surprise, it is solid as a rock when set like this.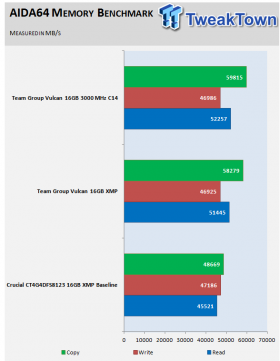 Outside of the write results, we see that the speed and timings of the XMP profile show nice leaps in performance, and while not as dramatic as the first bump in performance, we did almost get into the 60,000 range for copy, and took another solid increase in the reads as well.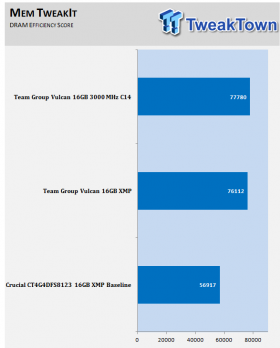 This is one kit that Mem TweakIt liked all the way through. There is a nice jump in the score from 2133 to 3000MHz at CAS 16. Taking that same speed but with CAS14 used now, the score does not jump wildly, but does definitely show the increase in score that reflects to potential performance in other testing.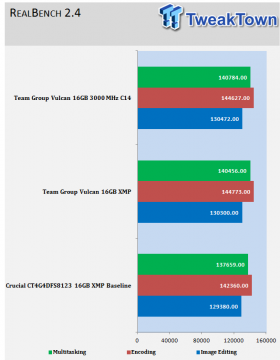 RealBench is the test we use to put the hurt on a kit of memory, and here we find that while there are performance gains to be had in each step, we would expect more jumping the speeds from 2133 to 3000MHz with 14-14-15-36 2T timings, but it is what it is, and running this multiple times has proved to us that this is all there is to be had for this level of testing.
This kit is more on the simple side aesthetically, and only stands a little more than 32mm in height, as to not play up with any CPU cooler you should choose to pick, and that is a huge plus. We also like the white on black look of this set of Vulcan RAM, and it would look very nice on the select few motherboards already themed with black and white. Even with our black and red system in the image below, the white sticks look right at home. Also with or without a system overclock, as long as you play within the confines of the XMP profile and use of the 125 BCLK, you too can get the results we showed here today.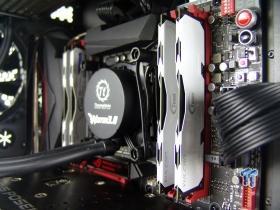 The overclocker in us was almost ready to throw in the towel after a couple of days of no boot conditions, or when it would boot I would not be using quad-channel any longer. Try as we did, and all the time and playing around with voltages we did to make this kit conform to what every other kit previous to this was capable of, we are left with the overwhelming feeling that there is just much easier memory on the market to deal with.
While the Team Vulcan 3000MHz kit does run where it says it will, it is better than the baseline kit in our testing, and does afford a buyer of such memory bragging rights of running the memory at 3GHz, but if you are old school like we are and want a kit that has it all and then some, this may not be the kit for you. We were able to lower the timings, and get decent results and a slightly lower overall latency, but we do wish that we could have gotten even the slightest bit of an OC, or even the ability to run these sticks in the configuration we chose, that other sticks have proven to work in those same conditions, but not with this set.
Looking around as we always do to find the best pricing at the time of the review leaves us quite a bit to be desired. First of all, we were unable at this time to locate any retailer inside of the US to carry this kit. Second of all, when we did find listings over the pond, we see that this kit requires €249.78. For those not on top of the current conversion, that leaves us with a US price point of about $275, which in itself isn't all that bad compared to similar kits offered, but for the amount of hassle we went through, and the temperamental nature of this kits timings and settings, we feel there may be better solutions to pick when it comes to those with serious intention in overclocking. For those looking to lessen the gap in speed between the CPU and the memory, Team and this Vulcan 3000MHz kit will certainly do that, but there are easier and more OC friendly kits to use.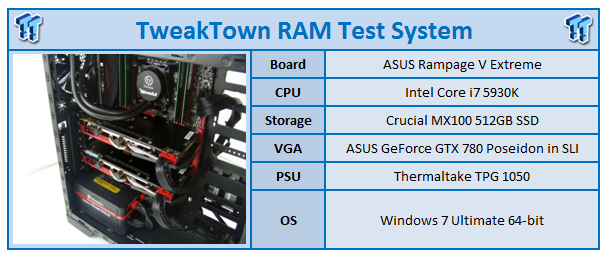 | | |
| --- | --- |
| Performance (including Overclocking) | 85% |
| Quality including Design and Build | 87% |
| General Features | 88% |
| Bundle and Packaging | 93% |
| Value for Money | 78% |
The Bottom Line: If we were to give them a grade, this Team Group Vulcan kit gets a solid B! They do what they say they will, they even tighten up with a little extra voltage, but the limitation imposed by this kit when it comes to clocking them will turn off enthusiasts.
PRICING: You can find products similar to this one for sale below.

United States: Find other tech and computer products like this over at Amazon.com

United Kingdom: Find other tech and computer products like this over at Amazon.co.uk

Australia: Find other tech and computer products like this over at Amazon.com.au

Canada: Find other tech and computer products like this over at Amazon.ca

Deutschland: Finde andere Technik- und Computerprodukte wie dieses auf Amazon.de
We openly invite the companies who provide us with review samples / who are mentioned or discussed to express their opinion. If any company representative wishes to respond, we will publish the response here. Please contact us if you wish to respond.