Avengers: Age of Ultron (2015) Cinema Movie Review
"There is only one path to peace... your extinction."

Published May 2, 2015 12:20 PM CDT
|
Updated Tue, Nov 3 2020 6:59 PM CST
2 minutes & 53 seconds read time

Avengers: Age of Ultron (2015)
Since its purchase by Disney in 2009, the theatrical arm of Marvel as headed up by producer Kevin Feige has undoubtedly gone from strength to strength, churning out hit after hit - regardless of whether the property is well known, as in Iron Man or niche as in Guardians of the Galaxy. But success of course comes with its own drawbacks and when it comes to following up the third highest grossing film of all time, the studio has clearly erred on the side of doing exactly the same as before.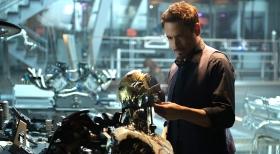 Following on from the events of The Avengers and the separate Marvel Universe films (especially Captain America: The Winter Soldier), the Avengers collective are now operating outside the sphere of the disbanded SHIELD organization, against the remnants of Hydra. During a strike at a Hydra outpost in Siberia, the Avengers are attacked by two genetically enhanced beings, a product of Hydra's human modification programs; Pietro (Aaron Taylor-Johnson) and Wanda (Elizabeth Olsen) before managing to retrieve Asgardian outcast Loki's powerful scepter. When Tony Stark (Robert Downey Jr.) discovers an artificial intelligence at the heart of the weapon, he secretly attempts to harness it for his failed global defense program dubbed Ultron, but when the defense system becomes sentient, it constructs itself into an android hell bent on the destruction of Earth.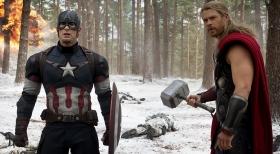 Caution: Here be spoilers.
Without doubt, the first Avengers was a huge spectacle; a 3D tour-de-force which gave audiences something they'd never seen before - namely six superheroes fighting on screen together battling a charismatic villain and a commanding army astride massive warships destroying the city below. But by pulling out all the stops, it makes taking it to the next level very hard. It's obvious that the filmmakers have tried, but the problem is that there's very little to Age of Ultron that we haven't already seen.
The film opens with what should be an impressive opening sequence, with digital crap flying everywhere, things blowing up and the superheroes jumping about in impressive super slow-mo looking buff and, well, cool. But rather than 'hell yes, they're back', I was struck with more of a 'ho hum, here we go again'.
I don't want to sound like an old grumpy man, because for the most part I dig the Marvel Cinematic Universe films. They really do give fans what they want to see - they're real popcorn, big-screen, crowd-pleasing events. They make a lot of people happy and they make a ton of bank. But they aren't infallible.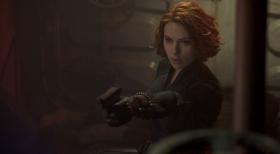 My biggest problem with these films is the general lack of danger, of real peril to the heroes. Whilst there might be a character loss in this film, it's only of passing consequence and besides, death in the MCU isn't necessarily final. Just look at the last film which killed off Agent Phil Coulson, only for him to reappear in the Agents of SHIELD television show. Sadly, this only serves to cheapen and degrade what drama there actually might be.
The cast, led by Robert Downey Jr., are uniformly superb - you simply cannot fault Marvel casting. They've all played their characters a number of times and by this stage have a very good handle on how to play them. As with the first outing, Joss Whedon performed a solid job in balancing the wide lineup and allowing each character their own moment to shine. Jeremy Renner's Hawkeye is gifted a bit more of a backstory this time, but even so, his character still feels mostly perfunctory to proceedings - although this is addressed in the film's narrative. Unlike the first film, the villainous Ultron is considerably weaker, aiming to wipe out the human race, but achieving very little towards that aim. He might be voiced impeccably by James Spader, but the frequent use of humor unfortunately undermines his menace. He's certainly not up to the standard set by the deliciously smarmy Loki in the predecessor.
Age of Ultron is a fun ride. It delivers everything it promises and what fans expect. The problem is that there's a danger in constantly trying to please fans. With the Age of Ultron, that mentality has finally caught up with the studio. Hopefully the Russo brothers can reinvigorate the franchise with the upcoming Infinity War sequels in the coming years.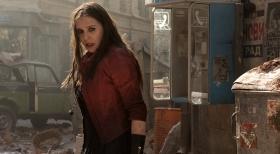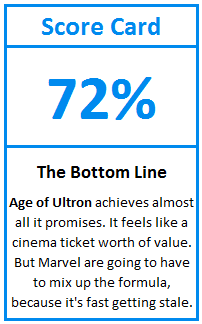 PRICING: You can find products similar to this one for sale below.

United States: Find other tech and computer products like this over at Amazon.com

United Kingdom: Find other tech and computer products like this over at Amazon.co.uk

Australia: Find other tech and computer products like this over at Amazon.com.au

Canada: Find other tech and computer products like this over at Amazon.ca

Deutschland: Finde andere Technik- und Computerprodukte wie dieses auf Amazon.de
We openly invite the companies who provide us with review samples / who are mentioned or discussed to express their opinion. If any company representative wishes to respond, we will publish the response here. Please contact us if you wish to respond.