Guardians of the Galaxy (2014) Cinema Review
"I am Groot!"

Published
2 minutes & 46 seconds read time

You'd be hard pressed to find someone who at least on a superficial level has at least heard of the character 'Iron Man'. Captain America? Ditto. The Hulk? Big green guy. Check. Thor? Yeah, I think so. Then we move down the list. Star-Lord? ... "Umm, from Star Wars?" Rocket Racoon? Err, nope. Groot? Never. Drax the Destroyer? Silence.
The reason why Hollywood loves sequels, remakes and book and comic adaptations so much is because they tap into prior public awareness, guaranteeing a day one audience - even if the film is terrible. As production and marketing budgets expand exponentially, it creates a safety net for the studio, and increasing confidence that they'll not only manage to recover their costs, but perhaps eke out some profit. Hopefully a lot. The problem that Disney and Marvel face with Guardians of the Galaxy is extremely low wide public awareness, which the studio needs to build it from the ground up. So, how successful have they been? Read on.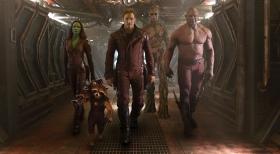 Having stolen a valuable orb of immense power, space mercenary Peter Quill (Chris Pratt) becomes enemy number one in the eyes of the evil Ronan (Lee Pace), who dispatches his henchman Korath (Djimon Hounsou) to retrieve the artifact at all costs. En route, Quill is attacked by Gamora (Zoe Saldana) who also wants the orb, which draws the attention of bounty hunters Rocket Raccoon (voice of Bradley Cooper) and Groot (voice of Vin Diesel). When the entire gang are arrested and incarcerated at an interstellar prison, Rocket, Quill, Groot, Gamora and a fellow prisoner Drax (Dave Bautista) team up to play their part in the shared goal, even if they are compelled to do so for very different reasons.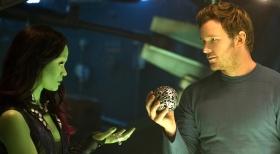 With ten films to the 'official' Marvel Cinematic Universe (not including the numerous Spider-Man, Hulk and X-Men films and spin-offs), Disney and Marvel have got swift efficiency to process their lucrative franchises into successful feature films, such that 2011's The Avengers holds the mantle for the highest grossing film of all time, at $1.5 billion, not including home video, comic and toy licenses. Yeah, just let that sink in a bit.
Unfortunately, in my eyes at least, they've become a victim of their own successes, with recent offerings such as Thor: The Dark World and Captain America: The Winter Soldier staying to script and playing it safe. With the latter, I felt no great sense of peril and little involvement, and therefore entirely detached from what was playing out on screen. My hopes for Guardians of the Galaxy were admittedly scant, with no prior exposure to the characters, no love for star Chris Pratt, and I couldn't even tell you what previous films Director James Gunn has to his name.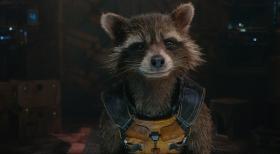 Despite this, I was pleasantly surprised by Guardians of the Galaxy... really surprised. To say that the film is a roller coaster of action, laughs, stunning visual effects and a nostalgic soundtrack simply doesn't do the film service enough. In short, the film's insane script, oddball characters and old school soundtrack gel cohesively in an entirely successful way that I neither expected, nor was prepared for.
The film's cast, led by TV comedian Chris Pratt, sci-fi vixen Zoe Saldana, WWE wrestler Dave Bautista, screen veterans Benicio Del Toro and Glenn Close and the voice talents of Bradley Cooper's wisecracks and Vin Diesel's three word vocabulary really sell the film and help to ground the interplanetary action in a sense of reality.
I admit to being naive to the history of James Gunn, but he's quickly risen to the high ranks as someone to watch in the future. He should be given top marks for executing his eccentric vision on screen so perfectly and for Marvel brass for having the cajones to allow him to do so.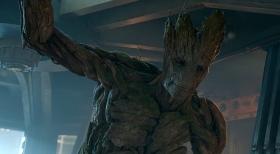 As for Guardians of the Galaxy, with a worldwide gross of $340 million in a matter of two weeks, I think it's safe to say that Marvel's biggest leap of faith has paid off, ensuring the Guardians will be back on our screens in the very near future.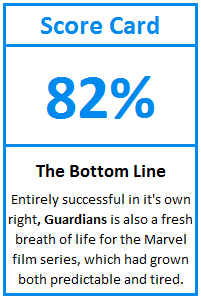 PRICING: You can find products similar to this one for sale below.

United States: Find other tech and computer products like this over at Amazon.com

United Kingdom: Find other tech and computer products like this over at Amazon.co.uk

Australia: Find other tech and computer products like this over at Amazon.com.au

Canada: Find other tech and computer products like this over at Amazon.ca

Deutschland: Finde andere Technik- und Computerprodukte wie dieses auf Amazon.de
We openly invite the companies who provide us with review samples / who are mentioned or discussed to express their opinion. If any company representative wishes to respond, we will publish the response here. Please contact us if you wish to respond.